We Want Bakassi Issue Revisited…. Sen. Florence Ita-Giwa
Why are you still here talking about Bakassi when it is no longer a part of Nigeria?
Why won't I talk about Bakassi? Bakassi is still in the Constitution of the Federal Republic of Nigeria. So, why won't I talk about it? You should realise that the action of ceding Bakassi to Cameroon was not backed by any referendum asking the people where they want to belong. It was a unilateral action and that is why we are asking that the matter be readdressed. There is no legislative approval for Bakassi to be moved out of Nigeria. However, my own position is that I am saving time because I am talking about reality. I am talking about the lives of the people. As we speak, there are thousands of Bakassi people living in refugee camps somewhere in Akpabuyo. They are all exposed to harsh weather conditions of the raining season. They have on their own, offered to come back to the country but they still live as refugees. If you read the Green Tree Agreement very well –I can make copies available. It says you may stay in Cameroon or you may stay in Nigeria. It does not say you are no longer Nigerian neither does it say you must change your citizenship. The agreement allows the people to say where they want to stay. And it further says that if you chose to stay in Cameroon, the administration must allow you live your life in accordance with your culture and traditions. Meanwhile, an area has been allocated where they can resettle but it is not yet developed. We are asking that the area be developed so the people can live meaningful lives. We don't want to be in Cameroon. We want to be in Nigeria. I want to live in Nigeria but all I ask is that the area be developed to help us resettle. So, basically, we are asking for two things: resettlement and compensation.
What sort of compensation?
Compensation to individuals for loss of landmass to the state and compensation for loss of individual property to the state; compensation for the inconvenience caused the people, for their rights that were violated, compensation for all the major things we left behind there. That is what we are asking for.
Can you put this is naira terms?
We are working on the figures.
You said Bakassi is still in Nigeria's Constitution but the Nigerian government ceded it to Cameroon. Don't you see a contradiction here?
Yes, Bakassi is still recognised by the Nigerian Constitution. The Nigerian government ceded Bakassi to Cameroon as a geographical expression, as land. Even that ceding was done without reference to the legislature. Procedurally, you must get legislative approval if you want to cede any land in Nigeria.
How come till this moment there has not been legislative action to ratify or challenge the ceding?
I believe that those who represent Cross River State at the National Assembly have been talking about it, but you know how Nigeria is. You talk and talk and make recommendations but the recommendations never see the light of day. But there is work currently ongoing. There was a committee that was set up recently after much agitation from my people and me. The committee has been there and they looked at the area, gathered information and looked at options available. The committee has been working. We are waiting for the outcome of that committee.
What you said now highlights the problem most delegates have raised at the conference and that is the issue of unjust demarcation of boundaries and alienation of people from their homelands. How do you feel being part of a government that did this?
Well, it is most unfortunate but you should know that most of these actions were not deliberate but done out of carelessness. Just out of carelessness.
Are you suggesting that the administration then was careless to have allowed that happen?
You have to be careful about such use of words. If a president wants to cede an area, and wants to abide by the rules of the land, or the laws of the land, I believe that he would have also referred the matter to the National Assembly. Not forgetting the fact that the president subjected himself to that jurisdiction and once you subject yourself to the jurisdiction of the court, you are obliged to respect and implement whatever is the outcome of the court process. However, before obliging, that matter would have been settled in the National Assembly.
You sit in the conference with the Attorney General who handed over the instrument of ceding to Cameroon. Have you interacted with him on what actually transpired?
I have been handling issues and Nigeria is supposed to come up and back the people of Bakassi to make sure they are resettled. The unfortunate thing about it was that we subjected ourselves to the jurisdiction of the court and once we did that, we were obliged to abide by the outcome. Mind you that (Gen. Sani) Abacha was taken to court and he refused to subject himself to the jurisdiction of the court. Rather, he went to fight. He fought up to a point before he stopped. I do not know where we would have been today were he to be alive. He gave us the local government. Now, when democracy set in, I think we wanted to portray the image of a democratic nation which is willing to go with the world and abide by the tenets of democracy.
In other words, the Bakassi people are pained that Nigeria has not gotten leader with the character of an Abacha?
I am not saying that neither am I denying that we will continue to celebrate him because he gave us the local government.
Are you satisfied with the way things have developed so far at the conference?
Very much satisfied! This is a very well organised conference and people are talking. On the first day we came here, I asked if they will grant every delegate an opportunity to speak even if for five minutes. I am happy that is happening and people are pouring out their hearts. Added to that, the committee of 50, which I am part of, helped doused a flame and stopped anything that would have caused turbulence in the conference.
It is being said that some of you in that committee have gone ahead to form another group?
I don't know of any other group. But at conferences like this, it is not out of place to from groups. There are many groups of which I am member of some. There is no formal group of the 50 but there are many groups which happen at conferences. It is necessary for you to sit down as a group, devoid of ethnicity and religion, to discuss. It happens all the time.
It is being said the group is to push for Jonathan…?
I don't know about that. I did not come here for Jonathan. I came here for Bakassi people. I think it is very unfortunate the way people talk. It is very unfair and they should not bring down the integrity of such a great conference, such a gathering of great people. However, I don't owe any Nigerian any explanation but I have not been invited by anybody to discuss Jonathan. As a PDP member, if I think Jonathan has done well and deserves a second term, I will join his campaign and campaign for him. Not in this conference.
Are you happy with the bickering, by delegates, over food?
That is why I am canvassing for executive session. It is actually out of place for delegates of this calibre to be discussing about food. This is the sort of things you bring up in executive sessions not at plenary. However, there is nothing wrong with people complaining but this food thing should not really be an issue.
But the other day you were seen urging some aggrieved delegates to join you to town for lunch?
That is invasion of my privacy. I am a mother and I am very finicky about food. So, if I have my own food, I can invite my friends to eat with me. I do that all the time. It is not because the food is not good. Meanwhile, I don't mind when the food is not good because I am forever on a diet. Don't you want to be like me?
Culled: The Union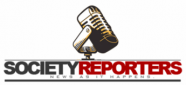 EFCC arraigns couple for alleged N500m fraud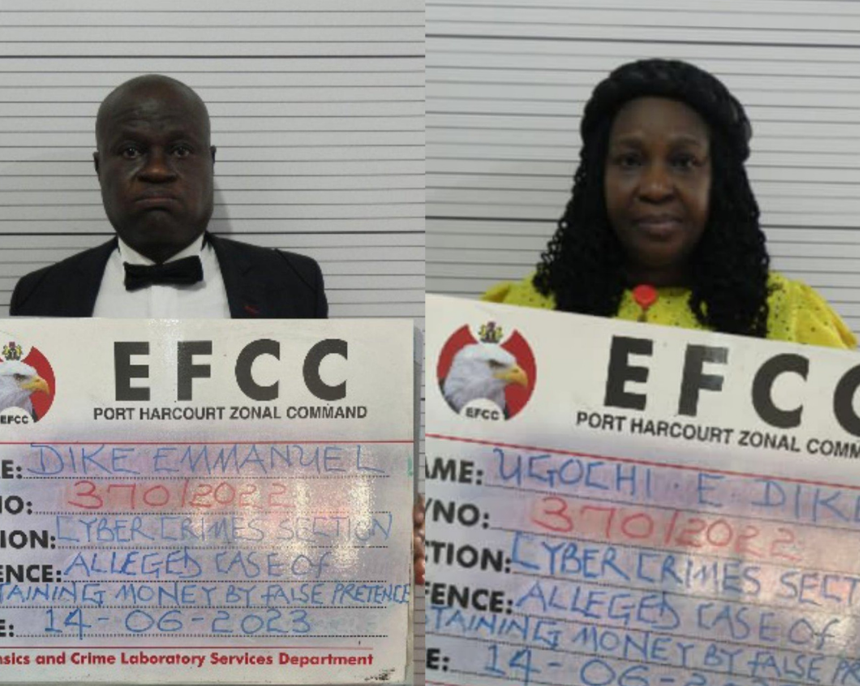 The Port Harcourt Zonal Command of the Economic and Financial Crimes Commission has arraigned a couple, Emmanuel Dike and Ugochi Eziaku Dike, for an alleged N500 million investment scam.
This was disclosed in a statement posted on the official X handle of the EFCC on Thursday evening.
According to the statement, the couple was arraigned alongside their company, Dike & Phil Associates Ltd, on Wednesday, November 29, by the EFCC on five-count charges bordering on conspiracy, obtaining money under false pretence and criminal conversion of funds to personal use.
One of the charges read, "That you Ugochi Eziaku Dike, Emmanuel Dike, Dike & Phil Associates Ltd; Kelechi Chigozirim Ahiawe (still at large), and Ampletech Integrated Services Ltd, sometime between the 24th day of August, 2020 and 15th day of February, 2021, at Port Harcourt within the jurisdiction of this honourable court with intent to defraud obtained the sum of Five Hundred Million Naira only from one Captain Chukwuemeka Stanley Ikeri, a Nigerian citizen and his company- Clipboard Office Superstores Limited, under the pretext that it was for investment purposes that will yield him 10% interest, which you all claimed to have the capability to deliver to him, which pretext you knew to be false and thereby committed an offence contrary to Section 1(1) (b) of the Advance Fee Fraud and Other Fraud Related Offences Act, 2006 and punishable under Section 1(3) of the same Act".
The statement further read that the couple pleaded not guilty to the charges read to them.
In view of their pleas, prosecution counsel Dr. B. Ubi, prayed the court for a trial date, while counsel to the defendants, J. C. Okeke, informed the court of his application for the bail of the first and second defendants. He prayed the court to grant the defendants bail to enable them prepare for trial.
Justice Ajoku granted the defendants bail in the sum of one million Naira each, with two sureties in like sum.
The defendants were remanded in the Port Harcourt Correctional Service pending the perfection of their bail conditions, and the matter was adjourned to January 30, 2024 for commencement of trial.
Gbenga Shaba Wins Online Publisher Of The Year Award At NMNA 2023
Gbenga Shaba, Editor-in-Chief and founder of multiple award winning Online Newspaper, Omonaijablog.com.ng, has emerged winner at the 17th edition of the Nigeria Media Night-Out Awards, NMNA, 2023 in the Publisher of the Year award category.
Nigeria Media Night-Out Awards, NMNA is the leading award dedicated to the celebration of outstanding journalists and media practitioners in Nigeria and this year's edition was a stand-out.
The greatly valued awards which most media practitioners always look forward to was held at the prestigious B-Event hall of the Lagos Airport Hotel and had other media heavyweights, top politicians, and society bigwigs in attendance.
Gbenga Shaba, a multiple award-winning journalist with decades of experience in journalism and public relations was declared winner in the category where he was nominated alongside other experienced newspaper and online platform Publishers.
Speaking on the nomination process for each award category, Sola Olugbenro the Convener of the NMNA noted that "as usual the nomination process is usually the toughest for the Award Committee, but in the end after proper analysis and vetting of the votes, a winner eventually emerges".
A graduate of Mass Communication, Gbenga Shaba joined Encomium Magazine in 2011 as a reporter, where he grew to become one of the finest young reporter being courted by several other organizations including notable online media platforms.
He later joined Yes! Magazine, another award winning tabloid in Lagos as an entertaining Editor and a Columnist.
This accomplished Public Relations Practitioner, Online Media Strategist, Social Media influencer and a dedicated journalist, later established Omonaijablog in 2016 to meet the needs of large percentage of people who craves for credible news online.
Winner of Yomafa Global Awards 2021 as the Best Social Media Blogger the young and energetic writer cum actor is a member of several Media Professional Associations.
He is also an associate member of Institute of Strategic Management, Nigeria.
He is married to a beautiful wife, Folake and blessed with two girls, Ireayo and Iremide, and a boy, Jesukorede.
He loves sporting, cooking, traveling and investigating.
Glo congratulates Nigerians on independence anniversary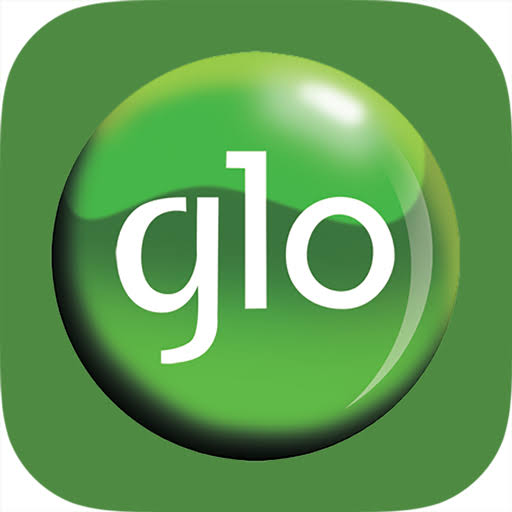 Total telecommunications solutions provider, Globacom, has congratulated Nigerians on the occasion of the country's 63rd independence anniversary celebration.
The company noted that the resilience of Nigerians since independence has been resposible for keeping the country forging ahead despite developmental challenges it has faced over the years.
In a statement released in Lagos on Saturday, Globacom said, "There is cause for Nigerians to celebrate as we have over the decades weathered the storm and made appreciable progress in several areas in our march to development".
"We believe that a major reason for joy is the resilience of Nigerians to rise through every obstacle and remain one united country bound in freedom, peace and unity. Our diversity has become a strong pillar in keeping us stronger to forge ahead with greater optimism".
The statement also encouraged Nigerians to look into the years ahead with positive expectations as the country continues to strive to overcome the challenges that other developing economies are also going through.
Globacom promised to continue to empower Nigerians with world-class telecommunication services to aid individual enterprise and national development.