Senior Special Assistant to the President, Orelope-Adefulire In Touble over N26.9bn SDGs contracts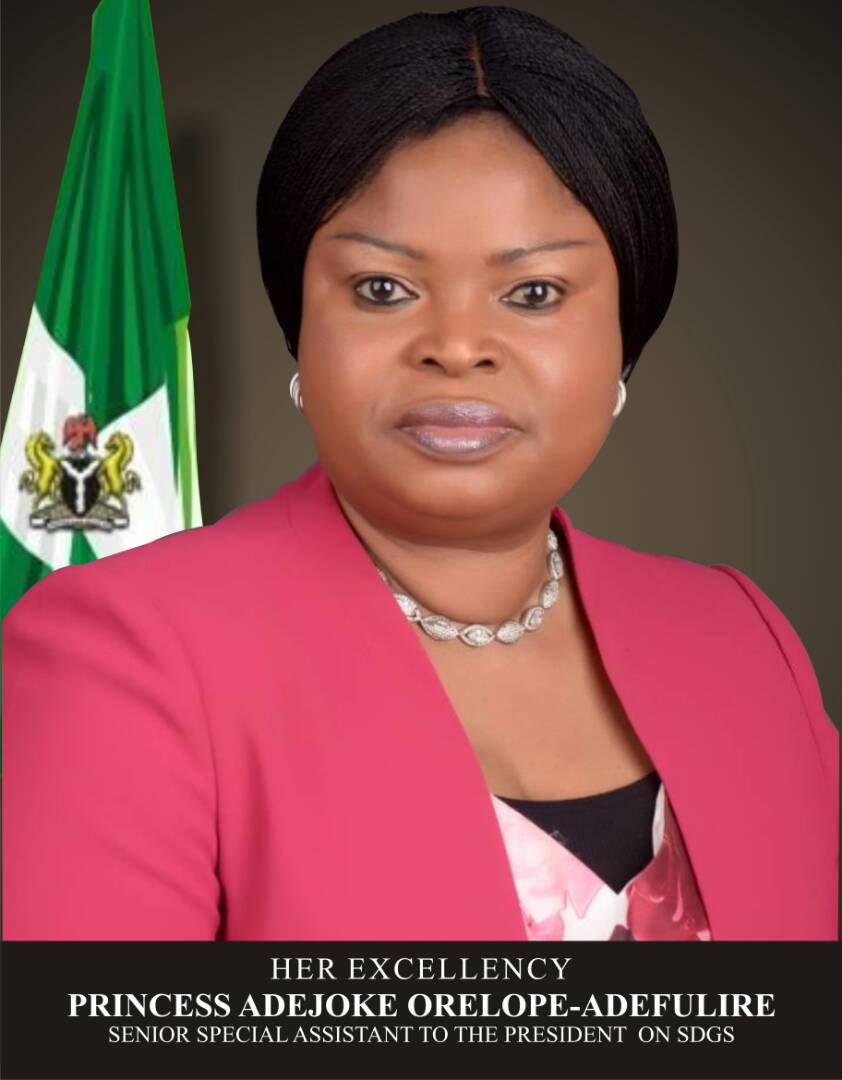 Demand for explanations on how the Senior Special Assistant to the President on Sustainable Development Goals (SDGs), Adejoke Orelope-Adefulire, expended public funds on covid-19 and N26.9billion worth of contracts caused arguments among members of the House of Representatives.
The occasion was the budget defence hearing by the House committee on SDGs led by Mr. Rotimi Agunsonye (APC, Lagos) on Thursday. Mrs. Orelope-Adefulire is a former deputy governor of Lagos State.
There was back and forth between the Chairman and members of the Committee as all efforts to get the SSA to respond to certain tough questions on details of expenditure for projects were stampeded.
This is not the first time the chairman of the committee would appear to be shielding the SDGs aide from thorough scrutiny as he had in June this year, issued a statement dismissing reports of alleged financial impropriety.
The presidential aide, on the other hand, believes her office is doing well in delivering on its mandate.
While, reviewing the 2020 budget of the SDGs, the President's aide disclosed that a total of 459 contracts amounting to N26.851bn were awarded in 2020 with N3.009bn so far paid to contractors and the percentage of performance put at 11.2 percent.
The lawmakers however expressed reservations that individual contract sums were not attached to the projects executed as claimed by the SSA.
Orelope-Adefulire could not disclose how much was spent on the supply of 502,000 face mask, 4,033 specialised hospital beds, 1502 desktops and construction of 1578 classroom blocks fitted with furniture.
Other contracts for which the SSA could not disclose the contract sums are: supply of 1,196 motorcycles, 2,407 grinding machines, 2,500 sewing machines, 1, 134 50kg fertilisers, 1,315 bags of rice and 1,961 bags of 100kg rice.
Earlier, the SSA told the Committee that all projects under her agency as appropriated for in the 2019 budget were completed and fully paid for.
"We do not have any ongoing project for 2019. We do not have any abandoned or uncompleted project. No contractor is currently being owed", she stated.
While giving an update on the 2020 budget performance, she noted that the Covid-19 pandemic and lockdown hindered progress and performance such that most of the projects were still ongoing.
"The 2020 budget performance can be said to hanging due to the Covid-19 pandemic, Nigeria like most countries were affected so it affected our performance. In fact, the lockdown affected us, although we have done all our procurement process, so some projects have already been executed while some are still ongoing. We have completed all our procurement but the payment is ongoing. We have paid N7.5 billion. The problem this time around is procurement is very slow", she said.
Consequently, members took turns to pick holes in both the document and oral presentation made by the SSA.
According to Mr. Ozurigbo Ugonna representing Isu/Njaba/Nkwerre/ Nwangele federal constituency of Imo State, "we would like to know why there is no allocation for Special intervention Projects. Why are we seeing zero, zero everywhere. Does this mean the SIPs are not important? The 2020 special intervention funds nothing has been released or done with just one month to the end of the year. Meanwhile, every other item has gotten funds except that (SIPs) why?"
But just as the SSA was about responding, the chairman of the Committee intervened and requested that she should be given opportunity to make her 2021 budget presentation. He also then said it was not the fault of Mrs. Orelope- Adefulire that there were no releases for projects.
"On the issue of special intervention please colleagues let us calm down. It is not her faut that SIP has not gotten releases, if she does get releases there is nothing she can do. Again honourable colleagues, I will crave your indulgence to allow her to finish presenting the 2021 budget", Agunsoye defended.
Another member, Mr. Bede Eke (PDP, Imo) asked: "We want to know if you got any releases concerning Covid-19 and if you do how was it shared, we want to know the method of distribution?
Mr. Gogo Bright Tamuno, representing Okrika/Ogu-Bolo federal constituency of Rivers State, however raised concern over the non-inclusion of Rivers State in all the programs and projects as captured in the SDGs 2020 budget.
The SSA revealed that: "We work base on releases and if nothing was released there is nothing we can do. The fault is not that of SDG but that of the Minister of Finance. We have just few members that domiciled their zonal interventions with us and we have all implemented them. I want to plead that when we are done with this meeting we can sit down to crosscheck."
Disagreement continued amongst members as some insisted they need more detailed explanation on the 2020 budget performance of the SDGs office before they can progress to 2021 proposals.
On the question on exclusion of Rivers state from the distribution of covid-19 palliatives, the SSA said: "We don't have special funding and we didn't get any. What we did as regards Covid-19 was done equally with our budget, there was no additional funding. Because we are an interventionist agency. We provided 100 beds and facemask for every state except Rivers state because it does not cooperate with us. I don't really know what the problem is if we take anything to them they don't accept. But I'm making out time to meet with the governor."
Bukola Saraki Finally Forgives Sister, Gbemisola Saraki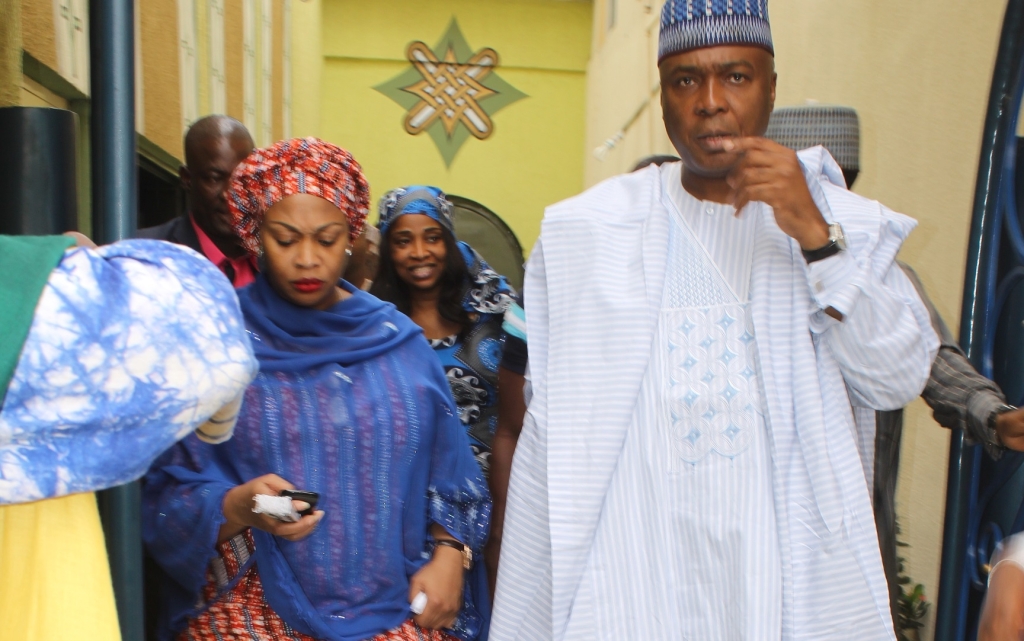 After a long while, most wounds eventually heal.
This is evident in the peace recently found by siblings Gbemisola and Bukola Saraki.
The duo declared war on each other several years back when the former Senate President chose to create his own political structure rather than follow that of his father, late Olusola Saraki.
The situation thus saw the duo charting separate political courses, as Gbemisola remained with her father.
Saraki eventually became lord over Kwara State politics with his candidate Abdulfatah Ahmed winning the gubernatorial election while his sister's political career went into limbo.
Since then, the duo has been at daggers drawn, cutting at each other at every opportunity.
Several efforts geared at seeing both of them sheathing their swords failed, as they hardly saw eye-to-eye during their father's burial.
However, they appear to have made peace with each other, as they were recently spotted at the 8th fidau prayer anniversary of their deceased father smiling with each other.
Regina Daniels Mum, Rita Daniels Dragged For Wearing Bum Short In Public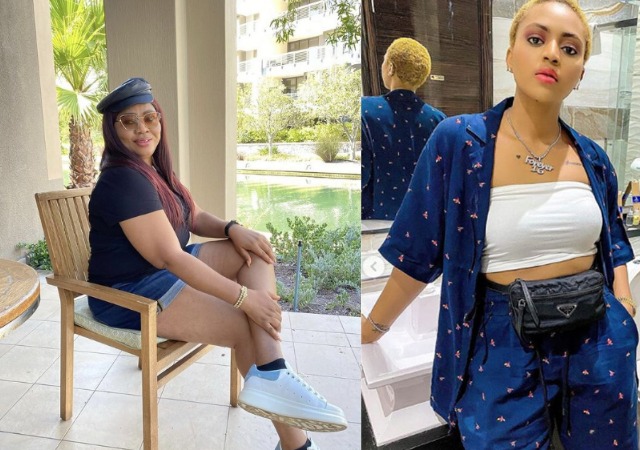 Rita who is currently under the care of her billionaire 60-year-old son-in-law took to Instagram to share a photo of herself look 16.
Sharing the photo, she captioned it;
"The day you plant the seed is not the day you will eat the fruit."
While the multitudes are showering Regina Daniel's mother all the love in this world, an Instagram user lambasted Rita for giving out her daughter to an old for the benefits attached.
He wrote;
"That's why you seed your little daughter into the life of 70 plus old man so that you will be eating fruits, some of your mates are living happily with their husbands, you're here wearing bomshort on IG, sugar mummy."
God Forbid I Marry A Man Who Tweets Like You – Toke Slams Reno Omokri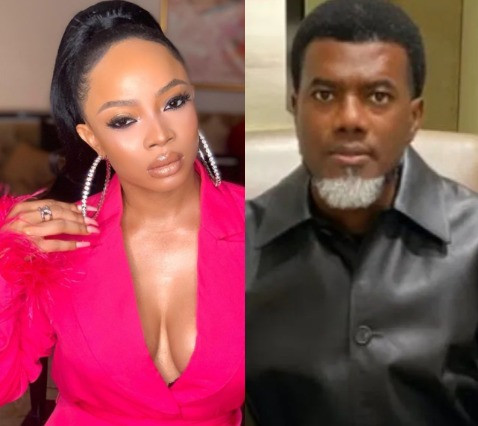 Reno Omokri had in a Tweet on Monday held the former 1st lady Maryam Babangida (the late wife of former Nigerian military president, Gen. Ibrahim Babangida) in high esteem over her natural beauty and in the process blasted slay queens who are divorced.
Toke Makinwa who probably felt hit by the statement took to her page to give a direct response to Reno Omokri.
She wrote:
"Wow, at your age? Your wife and kids must be cringing for you, such an embarrassment. "Divorced" is nothing to shame anyone for, life happens. People like you are the reasons why a lot of people stay in unhealthy situations and lose their dignity and in some cases their lives.
"Enough with the divorce shaming of Anyone, I don't see a divorced man being shamed for living his life after his failed marriage, people like that clown Clown face are probably in unhealthy marriages too. God forbid I marry a man who tweets that kind of garbage, sighhh.
"You can celebrate a version of beauty without putting another down, you don't have to meddle in women's business too. If you have a daughter I hope she gets the courage to never deal with a man as uncouth as you, stop with the misogyny.
"Dragging my divorced slay queen naked ass back to my holiday and waking up to the most beautiful view. In my bed and outside my room. Love and light."