ALL ROAD LEADS TO ADO EKITI AS DAVIDO STORMS THE SPLENDOUR NIGHT CLUB
The city of Ado-Ekiti will be the entertainment Mecca on Saturday April 8 2017, as fun lovers troop to the town this weekend. Pathfinder Hotels, owners of high octane Club Splendour, which has pulled different artists to Ado-Ekiti in the past are set to do it again come 8th April.
This time, they are bringing the city down with the multi-talented and award winning Davido aka OBO! Yes Davido will be LIVE in Ado-Ekiti to perform his hit songs in a special way.
Davido will be joined by other special guests such as Mayorkun, Dremo, Ichaba, and Yonda . The show will be hosted by King Spesh, while DJs Loyalty, Dickson and Tony, will thrill the audience with their sound equipment.
The venue for the show is Oluyemi Kayode Stadium and gate fee is #1,000 only. The after party is at Club Splendour at Pathfinder Hotel and entry is strictly by table reservations.
The new Splendour Night Club, located right inside The Pathfinder Hotel premises on University Road, Iworoko area of Ado Ekiti, is a luxury night club designed for the upscale youth and to meet the business and leisure needs of the discerning business travellers, and holiday makers seeking exclusive treats in a well-appointed hospitality home where professional service delivery amidst sophisticated and luxurious facilities is a culture.
Other celebrities who have visited the club since inception are Governor Ayodele Fayose, the Executive Governor of the State, Popular Socialite Demola Oyefeso, Dotun Rumours, Nollywood actors Francis Duru, Charles Okocha, One of the biggest rockers, King Jafil among others.
You can follow @clubsplendour In all social media platforms for further information and updates.
Sinatra Place Holds Independednce Fiesta As Fuji Icon, Adewale Ayuba, Set To Serenade Guests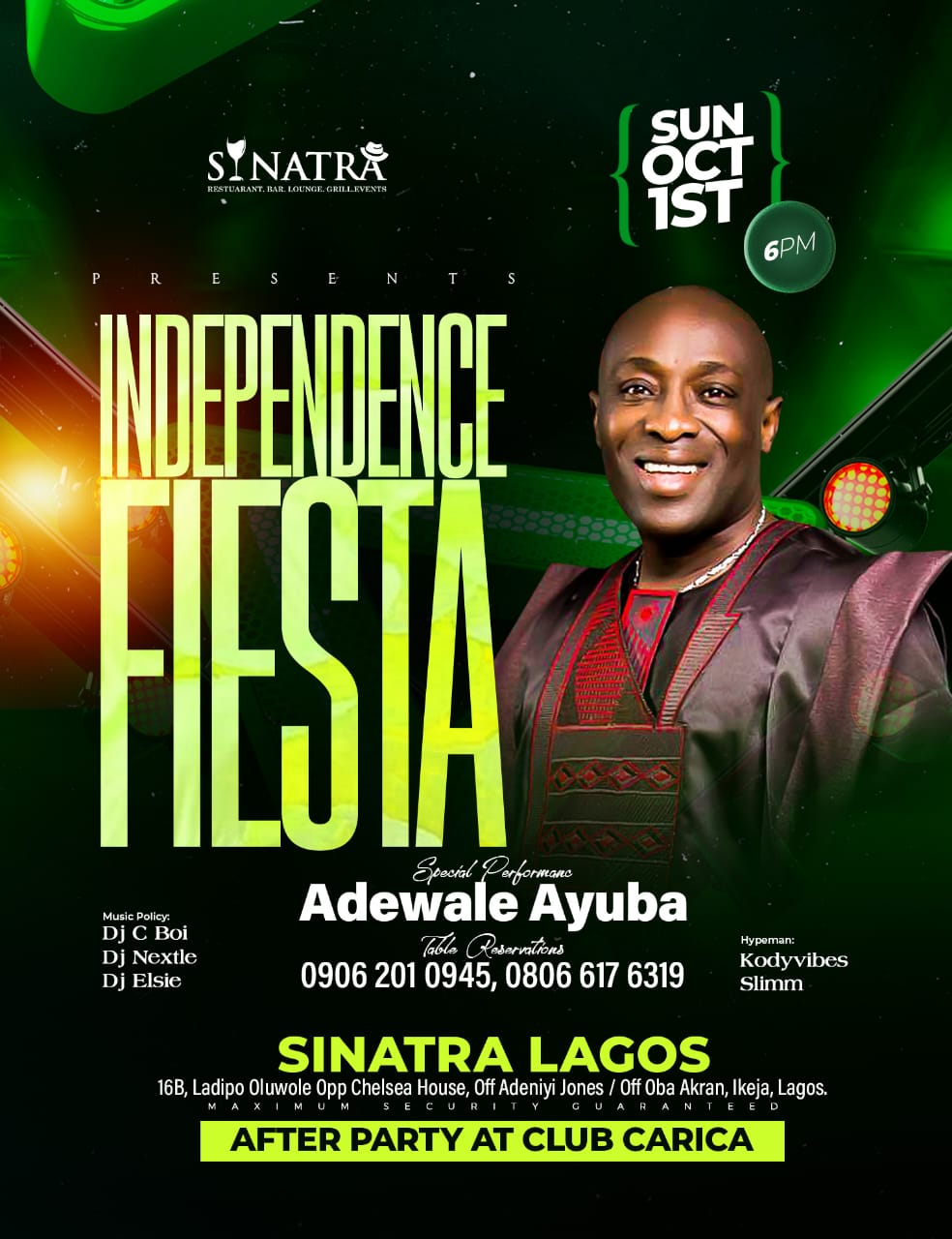 One of the leading mainland hospitality and entertainment outfit in Lagos, Sinatra's Place, is set to celebrate its Independence Fiesta on Sunday, October 1st.
A leading fuji icon and entertainer, Adewale Ayuba, would be the artiste on ground to create the feel-good atmosphere for both music lovers and guests at the event.
Equally, the celebratory season, will feature  extraordinary shows from different up-and-coming artiste invited to create side- attraction.
There would also be some moments of hip-hop music by some disc-jockeys including DJ CBoi, DJ Textile and DJ Elsie to the delight of fun lovers.
The outfit, which officially opened its doors in December 2019, is noted for its serene atmosphere, great food and excellent entertainment options, and can be located at the upscale Ladipo Oluwole Street, off Adeniyi Jones, Ikeja.
AFRIMA CONDOLES WITH MOROCCO, LIBYA OVER EARTHQUAKE, FLOOD, URGES GLOBAL UNITY AND SUPPORT IN CRISIS RESPONSE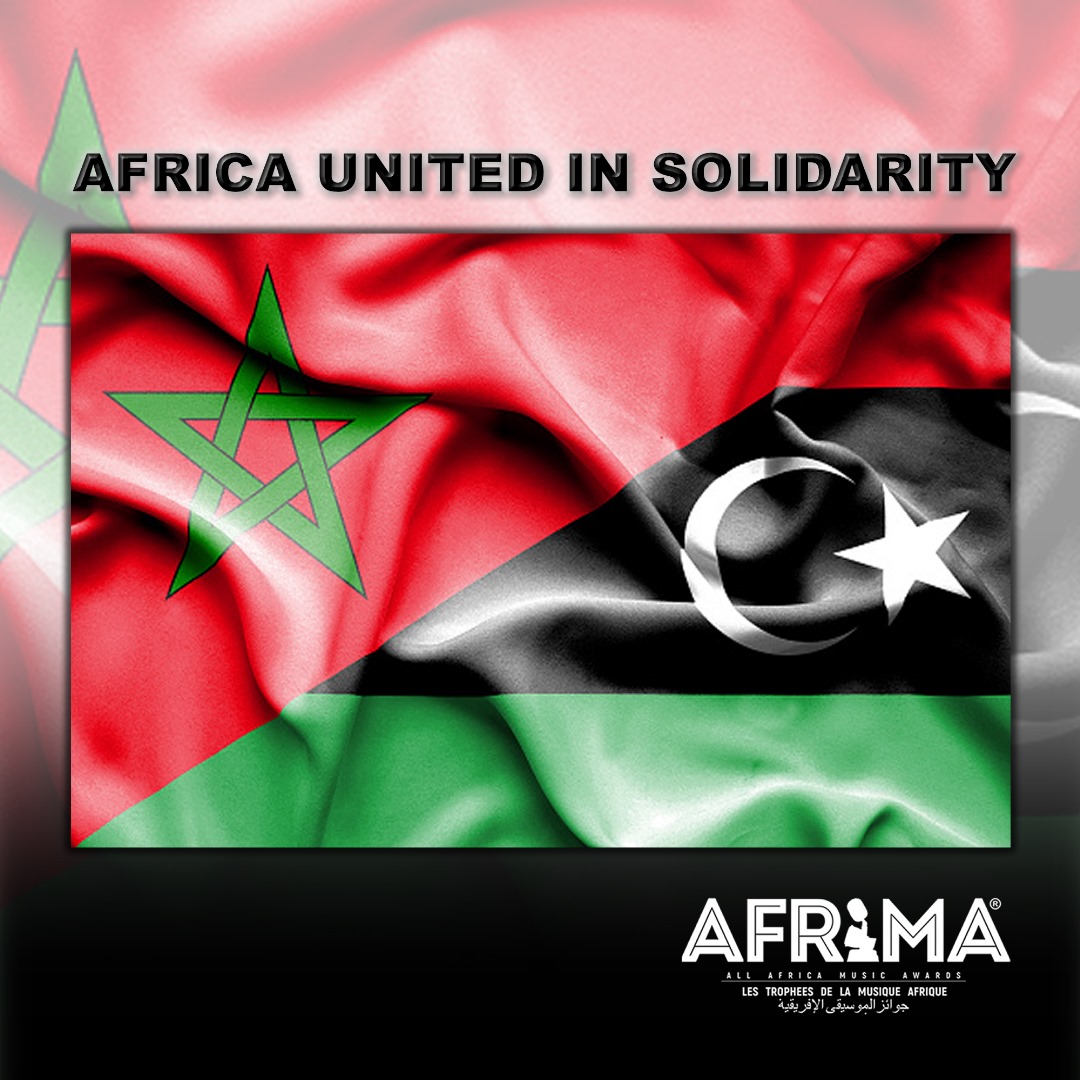 In a sombre update on the situation in Libya's coastal city of Derna, and Morocco's Marrakesh, All Africa Music Awards (AFRIMA) extends its deepest and most profound condolences to the People and Government of Libya and Morocco. The catastrophic flooding following a powerful storm has tragically claimed the lives of 3,958 individuals, displaced more than 43,000 people, leaving a void that can never be filled.
Moreover, the heart-wrenching news of the earthquake in the High Atlas Mountains, southwest of Marrakesh, Morocco leaving at least 2,900 people dead and over 5,500 injured underscores the enormity of the crisis. Families are anxiously searching for their loved ones amidst the aftermath of this natural disaster.
AFRIMA reaffirms its unwavering commitment to assisting in the recovery and reconstruction efforts in Derna and Marrakesh. The healing power of music and art can help mend the hearts of shattered souls and communities.
Describing the situation as "catastrophic", Regional Director, Northern Africa, AFRIMA, Janatte Haddadi called upon the entire global community to join in this moment of solidarity with the Moroccan and Libyan people in their hour of need.
According to her, "The powerful display of unity is a testament to the values that AFRIMA shares in both individuals and African societies.
"As an organization rooted in the sustainable growth of the African music industry and contributor to African economies through music promotion, AFRIMA believes in the power of solidarity, compassion, and love for our nations, irrespective of their religion or race," Hadadi said.
The President and Executive Producer, AFRIMA, Mike Dada expresses the gravity of this situation, saying, "Our hearts are heavy with grief as we stand with the people of Derna and Marrakesh during this time of immense loss. The scale of devastation is beyond words, and our thoughts are with those who are still searching for their missing relatives.
During this time of immense sorrow and distress, AFRIMA calls upon the world to come together and stand with Derna and Marrakesh. The people of Libya and Morocco need our collective strength and solidarity more than ever."
Underscoring the urgency of global cooperation, Director of Communication & Sponsorship, AFRIMA, Matlou Tsotsesi stated "The rising death toll and the vast number of missing persons in Derna demand a united response from the international community. We must act swiftly to provide relief, support, and hope to the survivors and families affected. Our thoughts and prayers are with you as you face this unparalleled tragedy."
AFRIMA (All Africa Music Awards) is the Pinnacle of African Music Globally.
GLOWFUX '23: FANAFILLIT Embarks on a Mission to Break Barriers and Foster Love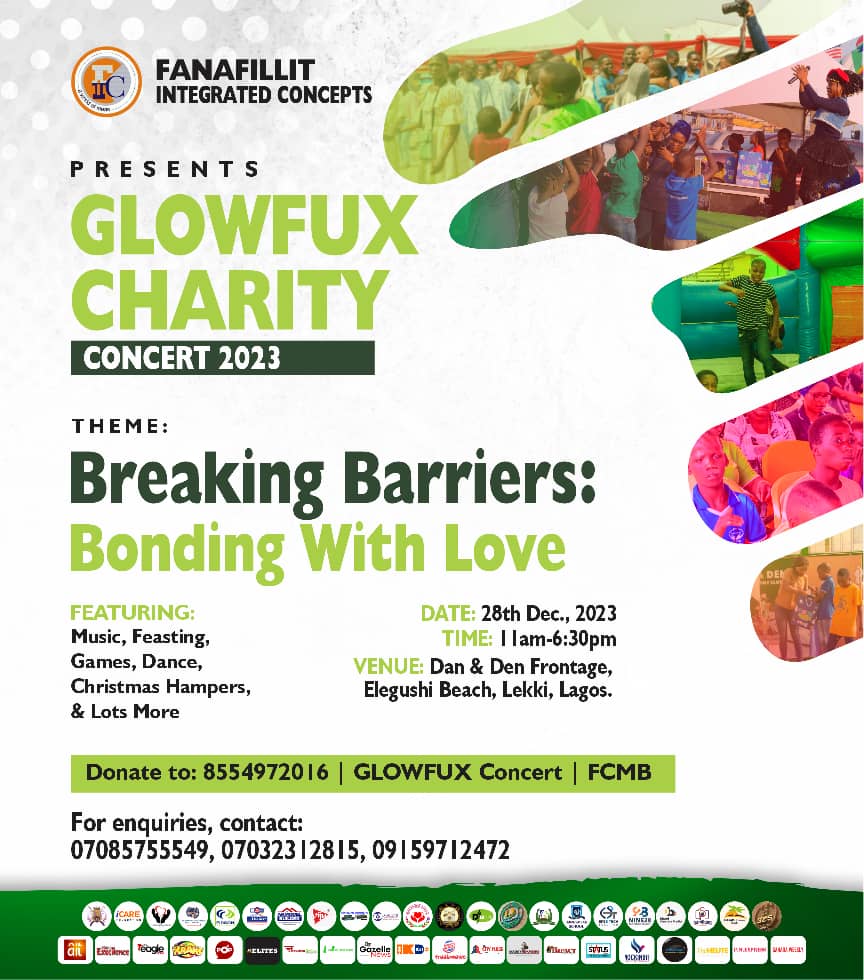 Fanafillit Integrated Concepts, the driving force behind the annual GLOWFUX Charity Concert, has unveiled its ambitious plans for the 2023 edition. This eagerly anticipated event, scheduled for December 2023, aims to unite well-meaning Nigerians in a heartwarming endeavor to bring joy to the lives of special children.
In an official statement signed by Queen Adetutu Oshinowo, the coordinator for this year's event, Fanafillit Integrated Concepts announced the theme for the 2023 GLOWFUX Charity Concert as "Breaking Barriers: Bonding With Love." This theme carries a profound message, focusing on the need to bridge the socio-economic gap that divides our society and connect everyone through the power of love.
"This year's theme, 'Breaking Barriers: Bonding with Love,' encapsulates our mission to obliterate the social disparities in our community and bring everyone together through love," states the press release.
Now in its eighth year, the GLOWFUX Charity Concert continues to raise awareness about the importance of extending love and support to children in orphanages, rehabilitation centers, and other specialized facilities, especially during the festive season. The Lagos leg of GLOWFUX Concert is billed to hold on December 28, 2023, at the Dan and Den Frontage, Elegushi Beach, Lekki, Lagos.
In line with its tradition, the GLOWFUX Charity Concert is open to the public, offering an opportunity for individuals to join in celebrating these special children from organized need homes who are honored as VIP guests. Attendees from the public are encouraged to participate by registering and bringing gift items for the children in need.
In an exciting development, this year's edition will also mark the launch of an NGO under the GLOWFUX banner. This step, according to the organizers, solidifies GLOWFUX's transition from a one-time annual celebration to an institution committed to quarterly outreach programs that extend beyond the holiday season.
Furthermore, the organizers are introducing the "GLOWFUX TOP 50 GIVERS" initiative, which celebrates 50 compassionate and benevolent individuals in society. Leading up to the main event, these kind-hearted individuals will be featured on the GLOWFUX social media platforms.
The 2023 GLOWFUX Charity Concert promises a wealth of entertainment, gifts, food, and refreshments for all attendees. While renowned entertainment practitioners, including Da'Fresh Olorin, Vanessa Jones, Ogbono, Talk Talk, Princephelar, Meyrah, First Class Comedy, FKM, and Chief Adigun Olowe, are already confirmed for the event, talk are ongoing to bring in other prominent entertainment brands like Makayla Malaika, Bimbo Oshin, Ikorodu Bois, and more.
The GLOWFUX Charity Concert 2023 boasts the support of esteemed brands such as Elegushi Royal Stool, iCare Foundation, Courteville Solutions PLC, Hands Lifting Hearts Initiatives, Fidson Healthcare, Beloxxi Biscuits, AkModel Properties, Elegushi Private Beach, VIJU Industries, Corsican Brothers, MALENS Diagnostics, Seniors Well Being Foundations, Headway Events, DJ MAPS Productions, Dan & Den Lounge, Zekod Farms, Epee Tech Solution, DBard Creative Media, Sangloos Media, and 3Zs Fabrics. Similarly, efforts are ongoing to secure the participation of brands like 928 Multimedia, KingsMead Schools, Rite Foods, Flour Mills of Nigeria, Digital Landlord, and others.
The event is guaranteed of garnering substantial media support from notable media platforms such as AIT, Global Excellence magazine, theeagleonline.com.ng, KRAKS TV, newspop.com, theelitesng.com, freedomonline.com.ng, saharaweeklyng.com, Hottestgistinnaija.com, thegazellenews.com, IKD 106.1 FM, pmexpressng.com, freelanews.com, thecitypulsenews.com, societyreporters.com, theimpactnewspaper.com, thestatusng.blogspot.com, mockinbird.com.ng, omonaijablog.com.ng, theheute.com.ng and others.
The GLOWFUX Charity Concert is an annual end-of-the-year charity concert that brings together children from orphanages and special needs homes for a unique end-of-the-year celebration with the general public.
All enquiries for participation, partnership, sponsorship etc can be forwarded to:
– 07085755549
– 07032312815
– 09159712472
To support the noble cause, donations can be made to:
Account Number: 8554972016
Account Name: GLOWFUX Concert
Bank: FCMB
GLOWFUX Charity Concert… Giving Happily to Live Happily