Budding Singer, Duzzi Signs New Deal With 202 Entertainment Record Label
Primed to chart a new direction for her career, budding singer and one of the new on the blog, Gbemisola Roland, popularly known as Duzzi, has joined the elites by signing a deal with 202 Entertainment, A record label based in Lagos Nigeria and Cyprus Istanbul.
The deal was consummated on some days ago at the corporate office of the company in Festac Town, Lagos and witnessed by representatives of both parties.
While receiving Duzzi, Adewale Omotosho, CEO/ Founder, 202 Entertainment noted that Duzzi will revolutionize the place of music in Nigerian, and the industry should watch out for her.
"We recognize the foundation that Duzzi already have in the industry, though she is new but she needed to be watched out for," Adewale said.
"At 202 Entertainment Company, we do not gamble but believe in strategy and pinpoint execution," he added.
He explained further, "With our team and structure, we are here to support Duzzi to actualize her career goals. In Duzzi, we see a brand that has an important and strategic core that we can expand."
In under a year, the management company is now positioned as a powerhouse in the creative sector having amassed artiste from both home and abroad. Some of its artiste include Benger, Duzzi among others from the international environment.
In her remarks, Duzzi said, "For me, this is the right thing to do at this stage in my career and indeed for any forward thinking artiste. I hope and look forward to better development of my creativity and the entire music industry as a whole".
"I am dropping a single very soon and the song is produced by Young John"
"This is the time to give experienced professionals the chance to take care of me because I will become the better for it.
On her new release, Duzzi said that with the backing of her new management, she is working assiduously to release new single that will explore an international fan base.
Globacom announces Kizz Daniel, Asake, Chike as brand ambassadors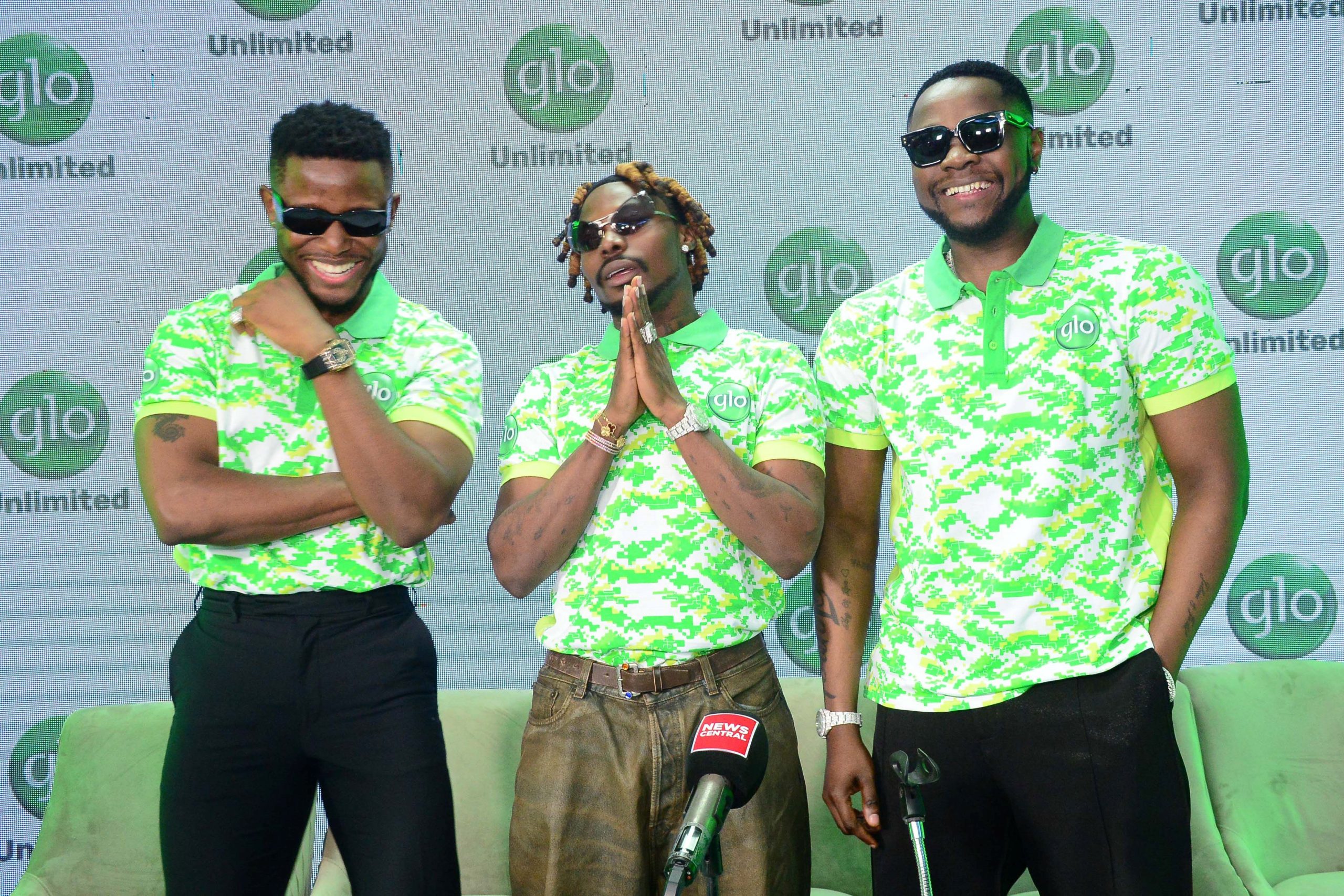 Total digital solutions provider, Globacom, on Friday named three stars of the Nigerian music industry as brand ambassadors. They are Asake, Kizz Daniel and Chike.
At an impressive and colourful ceremony held on Friday at the company's corporate headquarters, Mike Adenuga Towers, the three music stars formally put pen to paper as brand icons of Globacom.
Globacom, which recently marked 20 years of operation in the country, said it "is celebrating it with the appointment of these new ambassadors to project the power of youth and enterprise and how much they can achieve with the right focus, passion and dedication that can come from seeing others who have succeeded. This is very much part of our tradition as we believe the strength of a nation lies in the ability and potentials of its youth".
The company noted that the engagement of these three stars as ambassadors "is meant to project the best Nigerians as models for younger people who are tirelessly aspiring to succeed. This is more important in an era where positive heroes and mentors are scarce and hard to come by. The intention is not just to promote the growth of music, Nollywood and sports where we have been very prominent, but also to encourage our teeming youths to aspire toward realizing their dreams by looking up to these ambassadors as mentors".
These three stars, Ashake, Kizz Daniel and Chike are "role models who have gone through the grind to stand on the highest pedestal of their dreams," Globacom revealed.
Aside from sponsoring major events in several spheres of Nigeria's national life, the company said it had always identified talented and enterprising Nigerians and supported their endeavours by making them Glo ambassadors, adding that It is a practice for which Globacom has always led the way in Nigeria.
Ahmed Ololade, known worldwide as Asake, is a graduate of the Obafemi Awolowo University, Ile Ife, Osun State, while Oluwatobiloba Daniel Anidugbe, known to all music lovers as Kizz Daniel, has a degree in Water Engineering from the Federal University of Agriculture, Abeokuta, Ogun State. On his part, Chike Ezekpeazu Osebuka, known simply as Chike to lovers of music, graduated with a degree in Computer Engineering, from Covenant University, Ogun State.
While congratulating the new ambassadors, the company called on young people not to allow their dreams to die but to emulate these  3 stars who kept their dreams alive until they succeeded. Having these stars as ambassadors of "is our way of inspiring a whole generation of young people with vision who can do better and achieve more without losing hope along the way, even when confronted with challenges," the statement also noted.
While noting that the unveiling of these three stars as further confirmation of its commitment to the empowerment of Nigerians and the development of the Nigerian entertainment industry, Globacom pledged to continue to promote the sector as it held great prospects to promote Nigeria to the world and also transform lives.
On their part, the new ambassadors expressed gratitude to the founder and Chairman of Globacom, Dr Mike Adenuga Jr., for the honour done to them and promised to represent the Glo brand by projecting the ideals of the company at all times.
Sinatra Place Holds Independednce Fiesta As Fuji Icon, Adewale Ayuba, Set To Serenade Guests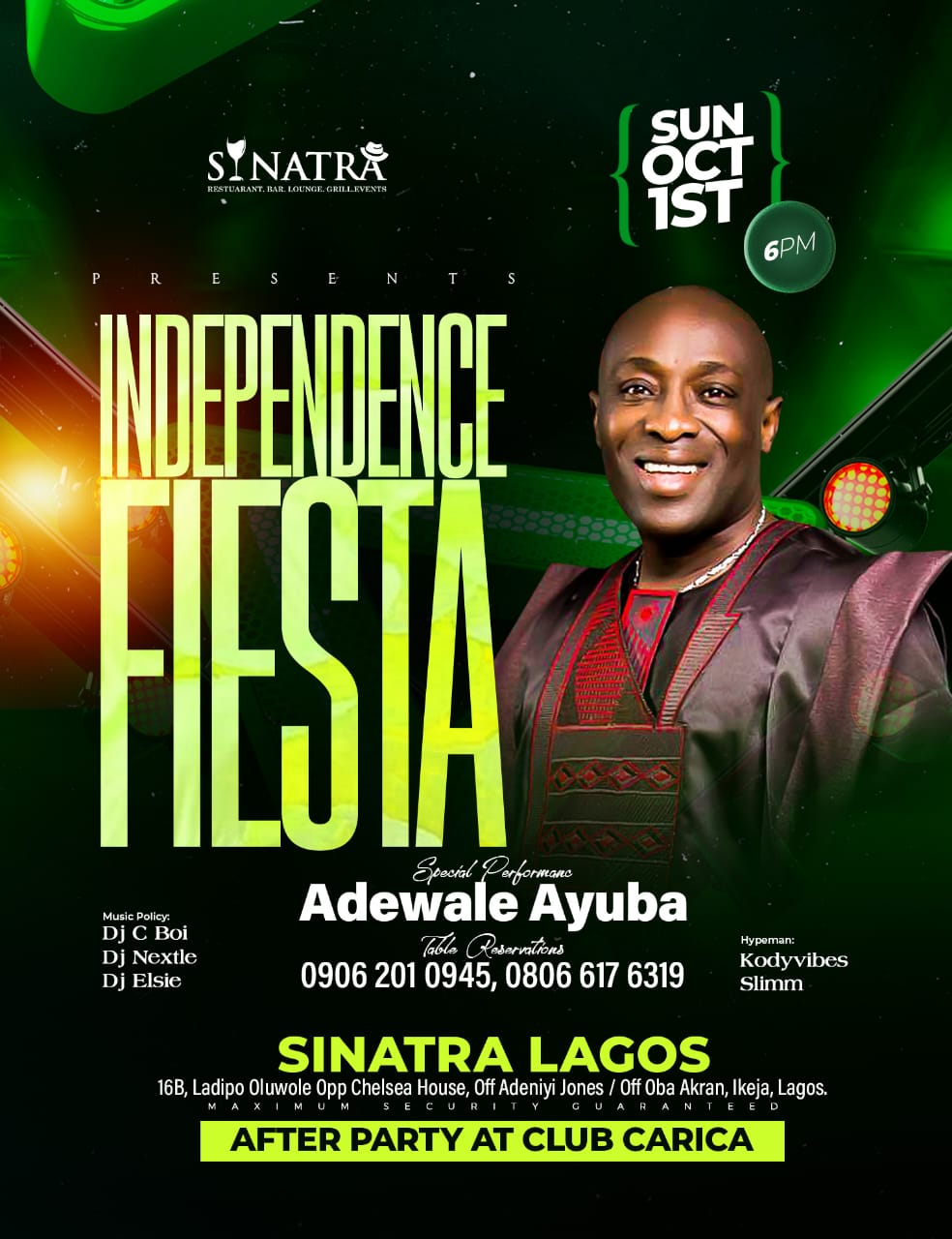 One of the leading mainland hospitality and entertainment outfit in Lagos, Sinatra's Place, is set to celebrate its Independence Fiesta on Sunday, October 1st.
A leading fuji icon and entertainer, Adewale Ayuba, would be the artiste on ground to create the feel-good atmosphere for both music lovers and guests at the event.
Equally, the celebratory season, will feature  extraordinary shows from different up-and-coming artiste invited to create side- attraction.
There would also be some moments of hip-hop music by some disc-jockeys including DJ CBoi, DJ Textile and DJ Elsie to the delight of fun lovers.
The outfit, which officially opened its doors in December 2019, is noted for its serene atmosphere, great food and excellent entertainment options, and can be located at the upscale Ladipo Oluwole Street, off Adeniyi Jones, Ikeja.
AFRIMA CONDOLES WITH MOROCCO, LIBYA OVER EARTHQUAKE, FLOOD, URGES GLOBAL UNITY AND SUPPORT IN CRISIS RESPONSE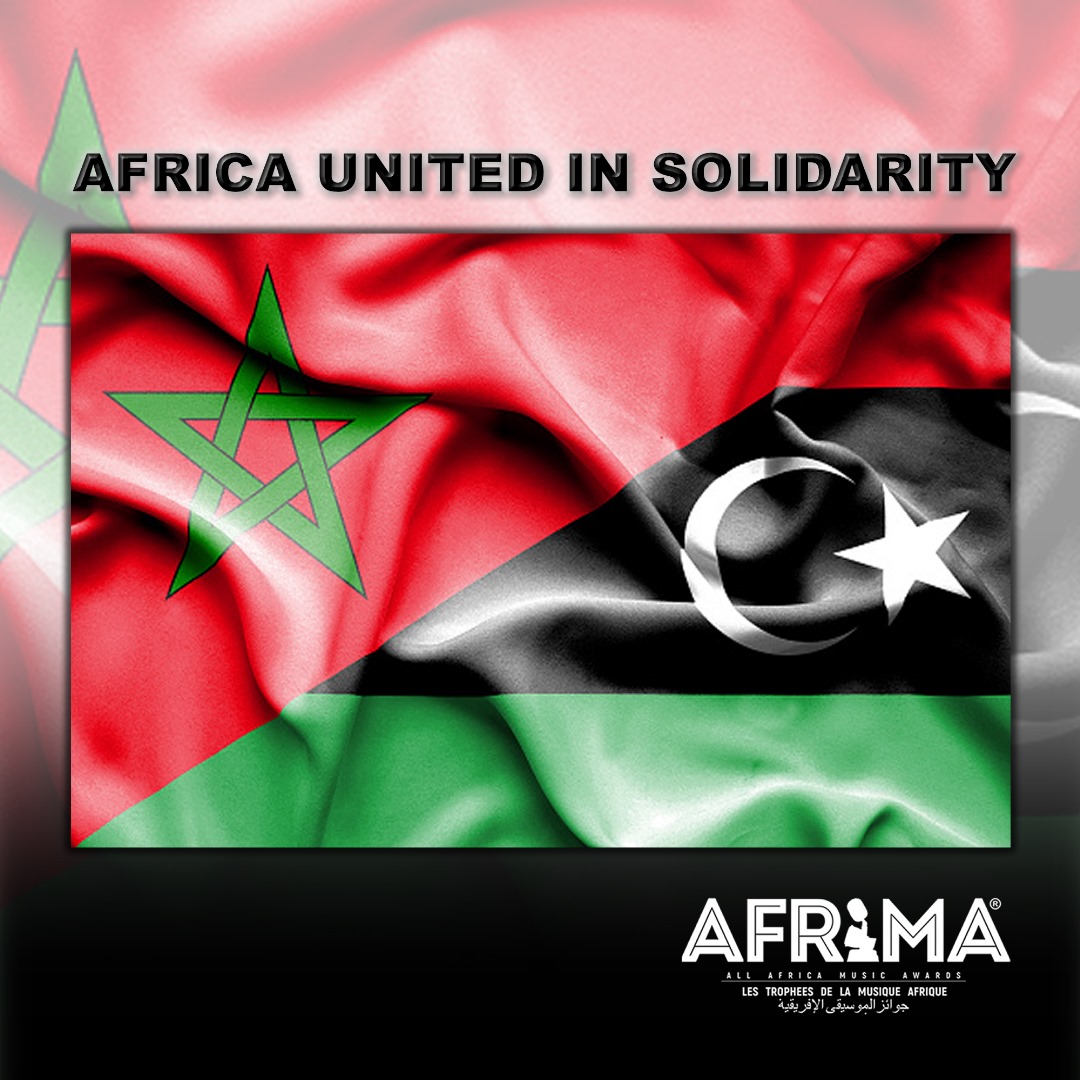 In a sombre update on the situation in Libya's coastal city of Derna, and Morocco's Marrakesh, All Africa Music Awards (AFRIMA) extends its deepest and most profound condolences to the People and Government of Libya and Morocco. The catastrophic flooding following a powerful storm has tragically claimed the lives of 3,958 individuals, displaced more than 43,000 people, leaving a void that can never be filled.
Moreover, the heart-wrenching news of the earthquake in the High Atlas Mountains, southwest of Marrakesh, Morocco leaving at least 2,900 people dead and over 5,500 injured underscores the enormity of the crisis. Families are anxiously searching for their loved ones amidst the aftermath of this natural disaster.
AFRIMA reaffirms its unwavering commitment to assisting in the recovery and reconstruction efforts in Derna and Marrakesh. The healing power of music and art can help mend the hearts of shattered souls and communities.
Describing the situation as "catastrophic", Regional Director, Northern Africa, AFRIMA, Janatte Haddadi called upon the entire global community to join in this moment of solidarity with the Moroccan and Libyan people in their hour of need.
According to her, "The powerful display of unity is a testament to the values that AFRIMA shares in both individuals and African societies.
"As an organization rooted in the sustainable growth of the African music industry and contributor to African economies through music promotion, AFRIMA believes in the power of solidarity, compassion, and love for our nations, irrespective of their religion or race," Hadadi said.
The President and Executive Producer, AFRIMA, Mike Dada expresses the gravity of this situation, saying, "Our hearts are heavy with grief as we stand with the people of Derna and Marrakesh during this time of immense loss. The scale of devastation is beyond words, and our thoughts are with those who are still searching for their missing relatives.
During this time of immense sorrow and distress, AFRIMA calls upon the world to come together and stand with Derna and Marrakesh. The people of Libya and Morocco need our collective strength and solidarity more than ever."
Underscoring the urgency of global cooperation, Director of Communication & Sponsorship, AFRIMA, Matlou Tsotsesi stated "The rising death toll and the vast number of missing persons in Derna demand a united response from the international community. We must act swiftly to provide relief, support, and hope to the survivors and families affected. Our thoughts and prayers are with you as you face this unparalleled tragedy."
AFRIMA (All Africa Music Awards) is the Pinnacle of African Music Globally.