Prophet Fufeyin Partners Boldfaces Psychologist In Fight Against Child Sèxual Abuse
Boldfaces International took the fight against child sexual abuse to
the house of God by partnering with the General Overseer and Founder
of Christ MercyLand Deliverance Ministry, Prophet Jeremiah Omoto
Fufeyin, one of the fastest growing deliverance and healing ministries
in Nigeria with millions of followers across the globe.
Famed for healing veteran Nollywood actor, Ernest Asuzu, from demonic
attack and stroke, and also empowering him spiritually and
financially, this man of God is someone with a heart of gold, who is
willing to help humanity.
He believes in a ministry that not only delivers people spiritually
but must empower with a physical deliverance breakthrough as well.
A passionate father with a mandate to protect young vulnerable
children before they are harmed by sexual predators within the
society, his passion for the safety and wellbeing of children
initiated his willingness to be Boldfaces Psychologist Special Marshal
Ambassador in the fight against child sexual abuse in Nigeria and
across the world.
During the partnership inauguration meeting, he stated on behalf of
himself and his wife, Prophetess Antonia Fufeyin, and the entire
MercyTV Sons and Daughters and Partners that together they will work
closely with Boldfaces Psychologist in educating his congregation,
followers and community on the need to be vigilant and pay more
attention to children and watch out for any unusual changes in them.
He also promised to personally drive home the message on how to watch
out for the vital signs of child sexual abuse.
He commended Mrs Tricia Eseigbe Kerry and the entire Boldfaces
Psychologist On The Move crew for their commitment towards advocating
for the welfare of women and children in the society and then appealed
to other religious organizations, government, ministries, public and
private sectors and individuals to do more in the fight against child
sexual abuse in Nigeria.
Prophet Fufeyin used the opportunity to thank God for saving the lives
of Boldfaces and MercyTV 12-man crew that was involved in the recent
boat mishap while filming his biographical documentary titled – BEHIND
THE PULPIT' – An exclusive new series of Boldfaces Documentary, first
of its kind in Nigeria, profiling a man of God. Filmed in Lagos and
across Delta State.
In her response, the CEO of Boldfaces International, Mrs Tricia
Eseigbe Kerry, thanked Prophet Jeremiah Omoto Fufeyin for the
wonderful works that God has been doing through him, and she stated
that with this partnership and the millions of his followers locally
and internationally, she believes that Hundreds and Thousands of our
children will be well protected from sexual predators looking to harm
this innocent children.
She prayed that God will continue to uplift him and his ministry in
the partnership and fight against child sexual abuse.
She called on viewers across the world to watch out on the exclusive
Boldfaces Documentary 'BEHIND THE PULPIT' currently being filmed and
waiting to be broadcast in major television stations across Nigeria,
Europe and America, to be shown later this month and into the first
quarter of 2017.
Top Actress, Tricia Eseigbe, Survives Boat Mishap In Delta
Report reaching us indicates that ace Nollywood actress and producer,
Tricia Eseigbe, recently cheated death in Delta State.
Information scooped by us revealed that the boat conveying the actress
and her crew during a film production in Delta State capsized in the
middle of water.
Tricia Eseigbe, we learnt, was shooting a documentary on a man of God,
when suddenly their boat reportedly hit something and overturned.
Tricia was shooting a documentary on the General Overseer and Founder
of Christ MercyLand Deliverance Ministry, Prophet Jeremiah Omoto
Fufeyin.
Prophet Fufeyin recently healed star actor, Ernest Asuzu, from demonic
attack and stroke, and also empowered him spiritually and financially
afterwards.
It was gathered that immediately the incident happened, members of the
crew starting saying different prayers and were thrown into confusion.
However, we were informed that when one of them remembered the mantle
given to them by Prophet Fufeyin before the shoot, and prayed with it,
others followed suit. It was said that shortly after this, things took
a sweet turn and none of them lost their lives in the ugly incident.
Prophet Fufeyin, who confirmed this, thanked God for saving the lives
of Boldfaces and MercyTV 12-man crew that was involved in the boat
mishap while filming his biographical documentary titled – BEHIND THE
PULPIT'
Full List: Newly Sworn In Lagos State Executive Council And Their Portfolio……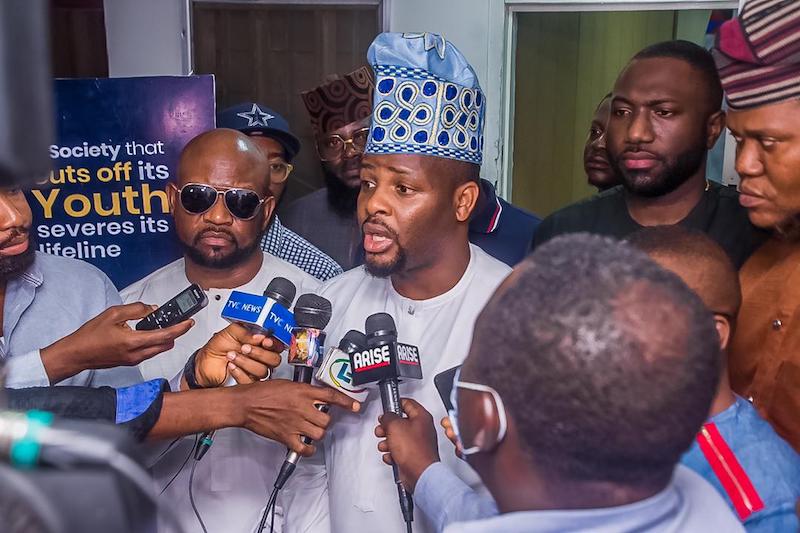 Governor of Lagos State, Mr Babajide Sanwoolu swears-in the Lagos State Executive Council, today at the Adeyemi Bero Auditorium, Alausa Ikeja.
Here are the executive council and their portfolio…….
Mr. Afolabi Ayantayo – Commissioner for Establishment Training and Pensions
Mr. Jamiu Alli-Balogun – Commissioner for Basic Education
Mr. Gbenga Oyerinde – Commissioner, Special Duties
Mr. Lawal Pedro (SAN) – Attorney-General and Commissioner for Justice
Mr. Mobolaji Ogunlende – Commissioner for Youth and Social Development
Hon. Ibrahim Layode – Commisioner for Home Affairs and culture
Mrs. Toke Benson-Awoyinka – Commisioner for Tourism
Olakunle Rotimi-Akodu – Special Adviser, Environment
Mr. Abdulkabir Ogungbo – Special Adviser, Taxation and Revenue
Engr. Abiola Olowu – Special Adviser, Commerce and Investment
Dr. Adekunle Olayinka – Special Adviser, Works (to report to the Deputy Governor)
Mrs. Bolaji Cecilia Dada – Commissioner for Women Affairs and Poverty Alleviation
Mr. Idris Aregbe – Special Adviser, Tourism Arts and Culture
Mr. Yakubu Adebayo Alebiosu – Commissioner Waterfront Infrastructure
Mr. Tokunbo Wahab – Commisioner for Environment
Hon. Bola Olumegbon – Special Adviser, Central Business District (CBD)
Dr. Oreoluwa Finnih-Awokoya – Special Adviser Health
Mr. Kayode Bolaji-Roberts – Local Government Affairs
Mr. Moruf Akinderu Fatai – Commissioner for Housing
Mr. Seun Osiyemi – Commissioner for Transportation
Ms. Barakat Bakare – Special Adviser, Housing
Prof. Akin Abayomi – Commissioner for Health
Mr. Gbenga Omotoso – Commissioner for Information and Strategy
Dr. Rotimi Fashola – Special Adviser Agriculture
Mr. Mosopefolu George – Commissioner for Economic Planning and Budget
Mr. Tunbosun Alake – Commissioner for Science and Technology
Ms. Ruth Abisola Olusanya – Commissioner for Agriculture
Mrs. Kaosarat Folashade Ambrose – Commisioner for Industries, Trade and Investment
Dr. Olumide Oluyinka – Commissioner for Physical Planning
Mr. Yomi Oluyomi – Commissioner for Finance
Dr. Jide Babatunde – Special Adviser E-GIS
Dr Afolabi Abiodun Tajudeen – Special Adviser, Political, Legislative and Civic Engagement
Hon. Sola Shakirudeen Giwa – Special Adviser Transportation
Dr Mrs Iyabo Oyeyemi Ayoola – Special Adviser, Central Internal Audit
Mr Ajigbotafe Akinyemi – Commissioner, Weath creation
Mr Nurudeen Lanre Yekini-Agbaje – Special Adviser, Rural Development and Chieftaincy Affairs
Mr Tolani Sule Akibu – Commissioner for Tertiary Education
EFCC arraigns Lee Fakino Nigeria Limited Director, Emmanuel Ajibola Obakin over N251.6m fraud in Ibadan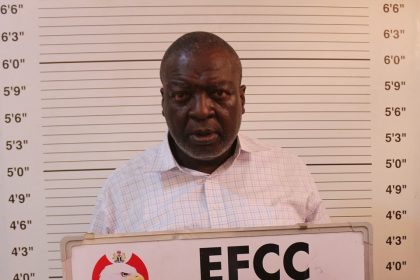 The Ibadan Zonal Command of the Economic and Financial Crimes Commission has arraigned Emmanuel Ajibola Obakin for allegedly stealing N251,685,000 belonging to a firm, Lee Fakino Nigeria Limited.
The EFCC made these declarations via a statement issued on Tuesday.
Wilson Uwujaren, Head, Media and Publicity of EFCC, in the statement, noted that the commission on Tuesday arraigned the suspect before Justice Ladiran Akintola of Oyo State High Court.
He added that the commission dragged the suspect to the court on a four-count charge bordering on alleged stealing.
It maintained that the suspect, one of the two directors of the company and a signatory to the company's account, committed the alleged offence in December last year.
The commission, while speaking further, revealed that the suspect allegedly withdrew the money without authorization and consent of the Managing Director and Chief Executive Officer, Akindele Fajemiyo.
The prosecution counsel, Oyelakin Oyediran, asked the court for a trial date.
It also prayed the court to remand the defendant in the correctional facility pending the determination of the case.
But, counsel to the defendant, Ibrahim Lawal, in his remarks, urged the court to admit his client to bail.
Akintola, after listening to the two parties, admitted the defendant to bail in the sum of N50 million and two sureties, preferably the wife and younger brother to the defendant, in like sum.
The judge then ordered that the defendant provide the court with his National Identification Slip and residential addresses.
He, however, adjourned the matter till 23rd October, 2023 for further hearing.
Former Managing Director Of NDDC, George Turnah, Two Others Jailed Six Years Over N2.9bn Fraud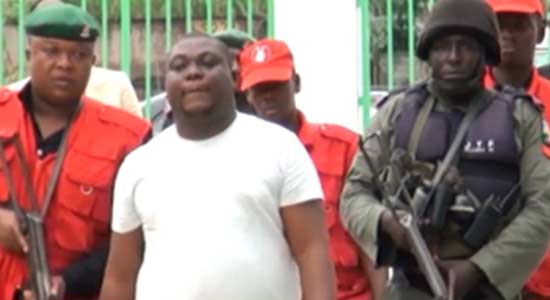 A Federal High Court in Port Harcourt, Rivers State, has convicted and sentenced George Turnah, a former Special Adviser to Dan Abia and former Managing Director of the Niger Delta Development Commission, and two others to six years in jail for acquiring money by deception.
Ebis Orubebe and Uzorgor Chidebere, who were sentenced alongside Turnah by Presiding Judge Justice A. T. Mohammed, were also found guilty of money laundering, conversion of funds, and forgery, all in violation of Section 1 (1) (a) of the Advance Fee Fraud and Other Fraud Related Offences Act, 2006, and punishable under Section 1(3) of the same Act.
The defendants were first arraigned by the Economic and Financial Crimes Commission (EFCC) in May 2017 and re-arraigned on January 25, 2021, on 23 counts of acquiring by false pretense, money laundering, and abuse of office totaling N2,894,500,000.
This was contained in a statement issued on Monday by the EECC spokesman, Wilson Uwujaren, and made available to newsmen.
The statement said, "They were jailed on Thursday, September 7, 2023, having been found guilty of charges preferred against them by the Port Harcourt Zonal Command of the Economic and Financial Crimes Commission.
"Count six of the charge reads: 'that you, George Turnah Alabh, Uzogor Silas Chidiebere, El-Godams Global Services Ltd., Turnoil and Gas Nigeria Ltd, Kolo Creek Petroleum Dev. Ltd, Celtic Pride Consult and Events Ltd, Yenagoa Mall Ltd, the Incorporated Trustees of Concerned Niger Delta Initiative, Adaka Boro Marine Services Ltd, Sugarland Integrated Farms Nig. Ltd, Geohan Telecommunication Nig. Ltd and others at large, on or about the 24th day of November 2014, at Port Harcourt, within the jurisdiction of this honourable court did take possession of the sum of Seven Hundred and Eight Million Five Hundred Thousand Naira (N708,500,000.00) which you reasonably ought to know that the money was obtained by a false pretence from the Niger Delta Development Commission purportedly for the purpose of providing quick win jobs for 300 youths and women groups and thereby committed an offence contrary to Section 15(2)(d) of the Money Laundering (Prohibition) Act, 2011 as amended and punishable under 15 (3) of the same Act.'"
It added, "Count 23 of the charge reads: 'that you George Turnah Alabh in 2014 within the jurisdiction of this honourable court did receive the sum of $1000,000.00 (One Million United State Dollars) (at the exchange rate of N184 to a Dollar) cash from one Umar Lawal of Hakuri Global Concept exceeding the statutory limit without going through a financial institution and thereby committed an offence contrary to Section 1 (a) of the Money Laundering (Prohibition) Act 2011 (as amended) and punishable under Section 16 (2) (b) of the same Act.'"
According to the statement, they pleaded "not guilty" to the charges.
It added that the prosecuting counsel, I. Agwu, called several witnesses and tendered documents to prove the case against the defendants.
Justice Mohammed convicted and sentenced them to two years imprisonment each, starting from the date of their arrest.
The 1st defendant was ordered to pay N1,000,000 as an option of fine while the 2nd and 3rd defendants were to pay N500,000 into the Consolidated Revenue Account of the Federal Republic of Nigeria.
Additionally, the 4th, 6th and 10th defendants were to return the sum of N180,000,000. Other restitutions include, N5,000,000 traced to the 1st convict, N100,000,000 traced to the 6th and 10th convicts, and N50,000,000 traced to Optimal Standard. They are to be forfeited to the NDDC.
Others are N46,760,843.61, N494,371.86, N13,000,000, and N23,500,000 to be forfeited to the NDDC by the 9th, 4th, 2nd and 3rd defendants respectively.
Turnah was the political godson of former President, Dr Goodluck Jonathan.