Omawumi, Awilo Logomba, J Martins, Adewale Ayuba, Koffi, Jenifer Eliogu, others Headlined The FIRST HEALTH INSURANCE CONVENTION ……
The first edition of the Nigerian Entertainment Industry Health Insurance Convention held to a thunderous applause on Tuesday July 22, 2014 at the Grand Ball Room of Eko Hotel & Suites in Lagos. It was indeed a child of necessity as top dignitaries from different walks of life graced the event and made indelible contributions to the commencement of the Nigerian Entertainment Industry Health Insurance Scheme.
The keynote address, 'The Health Implications of Celebrity Lifestyle' was presented by the Director General of National Agency for Food and Drug Administration and control (NAFDAC), Dr Paul Orhii who gave a good account of himself as a well experienced medical doctor. His key note address explored sensitive issues and its attendant dangers ranging from the choice of foods, drinks and creams adopted by many celebrities all in an attempt to stay trendy.
Shortly after that, the first session of the convention titled 'The Benefits of Health Insurance' commenced with the Executive Secretary of National Health Insurance Scheme (NHIS), Dr Femi Thomas as the main speaker. The panelists of the session were Dr Tosin Awosika (MD Healthcare International), Ms Adesimbo Ukiri (MD Avon Healthcare) and Mr Chinedu Chukwuji (GM COSON) while the commentators were Veteran DJ and president of Deejays Association of Nigerian, DJ Jimmy Jatt, Veteran producer- OJB Jezreel, President of Actors Guild of Nigeria, Ms Ibinabo Fiberesima and founder of Nigerian Music Video Awards- Mr Cally Ikpe. The session attempted to break down the different plans available under health insurance and its benefits. It was a real eye opener for a lot of attendees as over 90% of the attendees indicated interest in the questionnaire to subscribe to health insurance.
The second and last session of the event featured 'The Roles of Government in Health Insurance'. The session was led by Lagos State Commissioner for Health, Dr Jide Idris who was represented by two prominent directors from the Ministry of Health, Dr. E A Erinoso and Dr Bukola Ayinla. The panelists were Mr. Kola Awokoya (MD Metrohealth) and Mr. Ayo Osinlu (Head of Media & PR NHIS) while the commentators were ace actor, Jide Kosoko, and MD/CEO Megaletrics- Mr Chris Ubosi . The roles of government towards achieving a sustainable health insurance scheme was well evaluated with valuable contributions from the speakers. The plans for the proposed Nigerian Entertainment Industry Health Trust Fund was later unveiled by respected comedian, Mr. Gbenga Adeyinka.
The Nigerian entertainment industry was well represented at the event, as attendees covered the comedy, movies, music and other sectors respectively. Present at the event were; Daddy Showkey, Omawumi, Awilo Logomba, J Martins, Adewale Ayuba, Koffi, Jenifer Eliogu, Terry G, Okey Bakassi, Saidi Balogun, Foluke Daramola, Edi Lawani, Tee A, Dupe Jaiyesimi, Grace Amah, Joseph Benjamin, Audu Maikori, Sheyman, Kene Mkparu, Ngozi Nwosu, and many more. Also present was chief executive officers of various health insurance companies including the MD of Premium Health, Dr. Ladi Okuboyejo and MD of United Healthcare- Dr Kola Owoka. The event was hosted by veteran comedian, Julius Agwu.
Speaking concerning the event, the initiator, Mr. Seun Apara said the success of the event is a testimony that the entertainment industry in Nigeria is ready for a uniform customised health insurance scheme. "From what we have seen here today, it is definitely a confirmation of the fact that the Nigerian Entertainment Industry Health Insurance Scheme is a child of necessity needed to safeguard the health and future of our industry. We have all assembled and listened and also shared ideas on the subject matter. Some that couldn't make it here will definitely be informed of the development. In the next couple of weeks, we will roll out the plans. Already, over 90% of attendees have indicated their willingness to be part of the Nigerian Entertainment Industry Health Insurance Scheme".
The Nigerian Entertainment Industry Health Insurance Convention was organised by the Nigerian Entertainment Industry Lecture Series (NEILS).
Globacom announces Kizz Daniel, Asake, Chike as brand ambassadors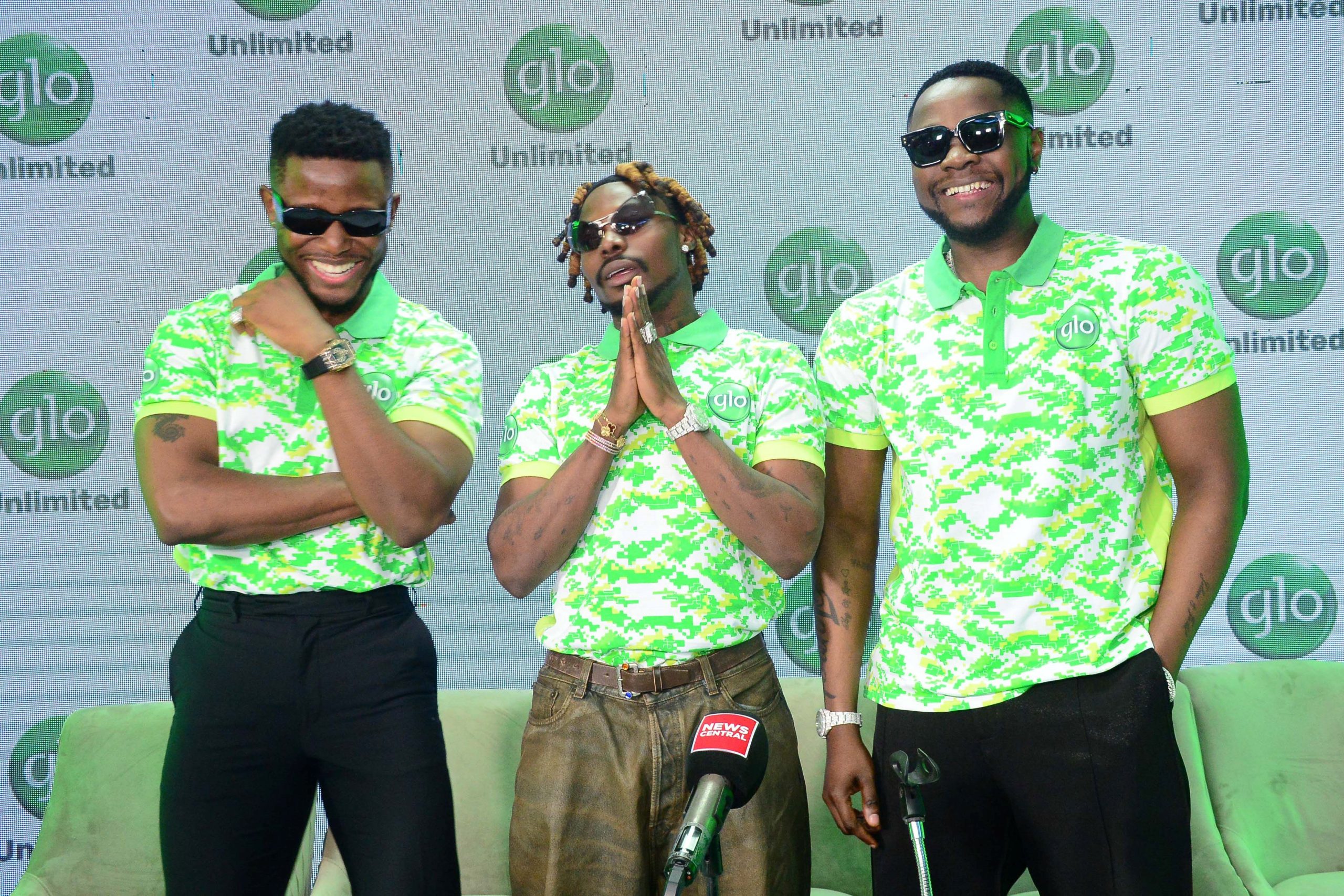 Total digital solutions provider, Globacom, on Friday named three stars of the Nigerian music industry as brand ambassadors. They are Asake, Kizz Daniel and Chike.
At an impressive and colourful ceremony held on Friday at the company's corporate headquarters, Mike Adenuga Towers, the three music stars formally put pen to paper as brand icons of Globacom.
Globacom, which recently marked 20 years of operation in the country, said it "is celebrating it with the appointment of these new ambassadors to project the power of youth and enterprise and how much they can achieve with the right focus, passion and dedication that can come from seeing others who have succeeded. This is very much part of our tradition as we believe the strength of a nation lies in the ability and potentials of its youth".
The company noted that the engagement of these three stars as ambassadors "is meant to project the best Nigerians as models for younger people who are tirelessly aspiring to succeed. This is more important in an era where positive heroes and mentors are scarce and hard to come by. The intention is not just to promote the growth of music, Nollywood and sports where we have been very prominent, but also to encourage our teeming youths to aspire toward realizing their dreams by looking up to these ambassadors as mentors".
These three stars, Ashake, Kizz Daniel and Chike are "role models who have gone through the grind to stand on the highest pedestal of their dreams," Globacom revealed.
Aside from sponsoring major events in several spheres of Nigeria's national life, the company said it had always identified talented and enterprising Nigerians and supported their endeavours by making them Glo ambassadors, adding that It is a practice for which Globacom has always led the way in Nigeria.
Ahmed Ololade, known worldwide as Asake, is a graduate of the Obafemi Awolowo University, Ile Ife, Osun State, while Oluwatobiloba Daniel Anidugbe, known to all music lovers as Kizz Daniel, has a degree in Water Engineering from the Federal University of Agriculture, Abeokuta, Ogun State. On his part, Chike Ezekpeazu Osebuka, known simply as Chike to lovers of music, graduated with a degree in Computer Engineering, from Covenant University, Ogun State.
While congratulating the new ambassadors, the company called on young people not to allow their dreams to die but to emulate these  3 stars who kept their dreams alive until they succeeded. Having these stars as ambassadors of "is our way of inspiring a whole generation of young people with vision who can do better and achieve more without losing hope along the way, even when confronted with challenges," the statement also noted.
While noting that the unveiling of these three stars as further confirmation of its commitment to the empowerment of Nigerians and the development of the Nigerian entertainment industry, Globacom pledged to continue to promote the sector as it held great prospects to promote Nigeria to the world and also transform lives.
On their part, the new ambassadors expressed gratitude to the founder and Chairman of Globacom, Dr Mike Adenuga Jr., for the honour done to them and promised to represent the Glo brand by projecting the ideals of the company at all times.
Sinatra Place Holds Independednce Fiesta As Fuji Icon, Adewale Ayuba, Set To Serenade Guests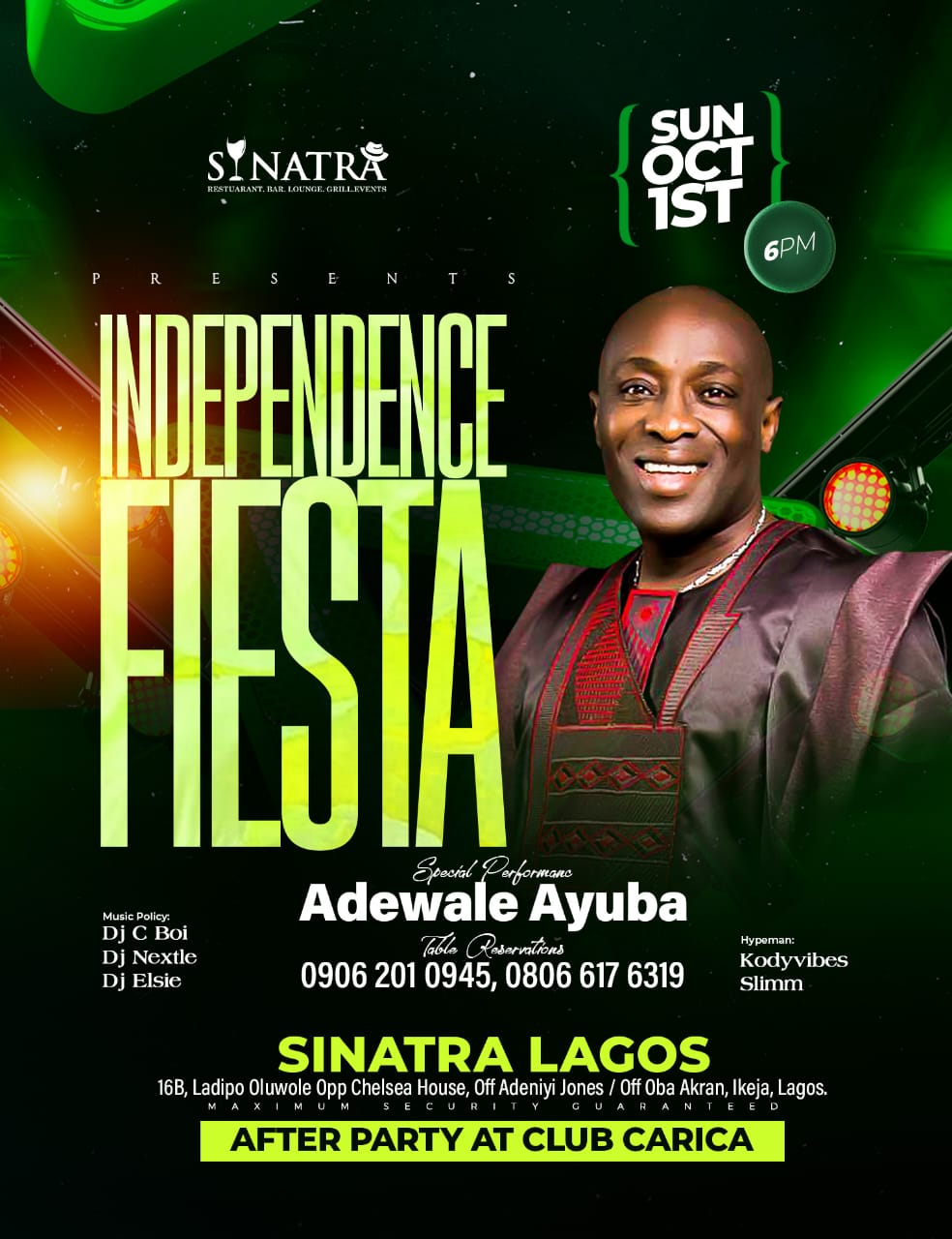 One of the leading mainland hospitality and entertainment outfit in Lagos, Sinatra's Place, is set to celebrate its Independence Fiesta on Sunday, October 1st.
A leading fuji icon and entertainer, Adewale Ayuba, would be the artiste on ground to create the feel-good atmosphere for both music lovers and guests at the event.
Equally, the celebratory season, will feature  extraordinary shows from different up-and-coming artiste invited to create side- attraction.
There would also be some moments of hip-hop music by some disc-jockeys including DJ CBoi, DJ Textile and DJ Elsie to the delight of fun lovers.
The outfit, which officially opened its doors in December 2019, is noted for its serene atmosphere, great food and excellent entertainment options, and can be located at the upscale Ladipo Oluwole Street, off Adeniyi Jones, Ikeja.
AFRIMA CONDOLES WITH MOROCCO, LIBYA OVER EARTHQUAKE, FLOOD, URGES GLOBAL UNITY AND SUPPORT IN CRISIS RESPONSE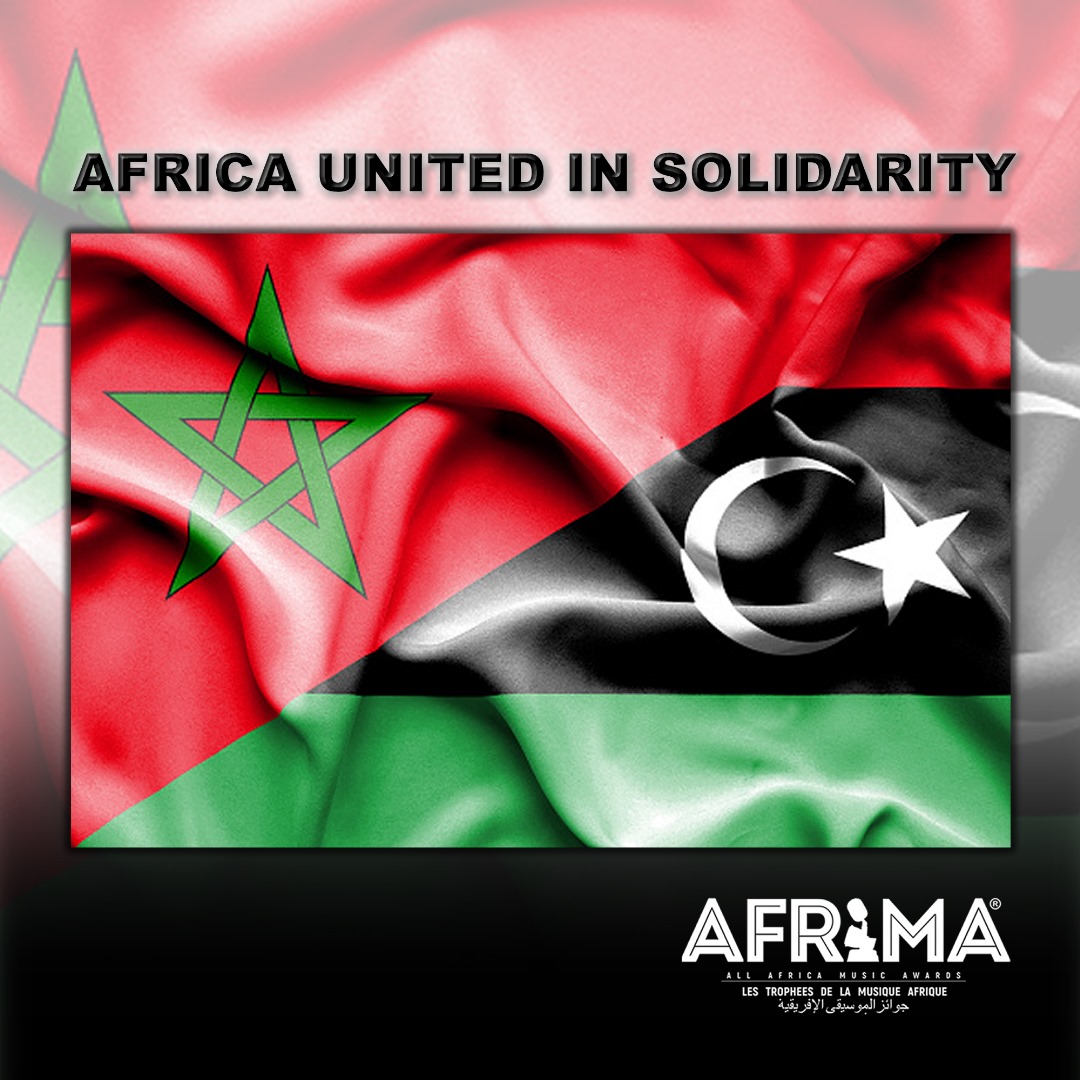 In a sombre update on the situation in Libya's coastal city of Derna, and Morocco's Marrakesh, All Africa Music Awards (AFRIMA) extends its deepest and most profound condolences to the People and Government of Libya and Morocco. The catastrophic flooding following a powerful storm has tragically claimed the lives of 3,958 individuals, displaced more than 43,000 people, leaving a void that can never be filled.
Moreover, the heart-wrenching news of the earthquake in the High Atlas Mountains, southwest of Marrakesh, Morocco leaving at least 2,900 people dead and over 5,500 injured underscores the enormity of the crisis. Families are anxiously searching for their loved ones amidst the aftermath of this natural disaster.
AFRIMA reaffirms its unwavering commitment to assisting in the recovery and reconstruction efforts in Derna and Marrakesh. The healing power of music and art can help mend the hearts of shattered souls and communities.
Describing the situation as "catastrophic", Regional Director, Northern Africa, AFRIMA, Janatte Haddadi called upon the entire global community to join in this moment of solidarity with the Moroccan and Libyan people in their hour of need.
According to her, "The powerful display of unity is a testament to the values that AFRIMA shares in both individuals and African societies.
"As an organization rooted in the sustainable growth of the African music industry and contributor to African economies through music promotion, AFRIMA believes in the power of solidarity, compassion, and love for our nations, irrespective of their religion or race," Hadadi said.
The President and Executive Producer, AFRIMA, Mike Dada expresses the gravity of this situation, saying, "Our hearts are heavy with grief as we stand with the people of Derna and Marrakesh during this time of immense loss. The scale of devastation is beyond words, and our thoughts are with those who are still searching for their missing relatives.
During this time of immense sorrow and distress, AFRIMA calls upon the world to come together and stand with Derna and Marrakesh. The people of Libya and Morocco need our collective strength and solidarity more than ever."
Underscoring the urgency of global cooperation, Director of Communication & Sponsorship, AFRIMA, Matlou Tsotsesi stated "The rising death toll and the vast number of missing persons in Derna demand a united response from the international community. We must act swiftly to provide relief, support, and hope to the survivors and families affected. Our thoughts and prayers are with you as you face this unparalleled tragedy."
AFRIMA (All Africa Music Awards) is the Pinnacle of African Music Globally.