Life in Boko Haram camps, by female ex-captives…..
Many women and girls have been abducted by the Boko Haram sect in the past four years in Borno State, but this only attracted public attention after the abduction of more than 200 girls from the Government Secondary School Chibok on April 14.
Few victims of such abduction are willing to speak on their experiences after regaining freedom, findings show.
But us gathered that the captives have been used as sex slaves, cooks and nurses. They also do the laundry of the sect members.
There have been many cases of abduction in Maiduguri, Bama, Konduga, Damboa, Gwoza, Marte and Mallam Fatori, but most abductees who managed to escape are reluctant to tell their stories, neither are their families. Only a few or those close to them spoke on condition of anonymity, citing fear of stigmatisation as the major reason when our correspondents approached them.
Many women and men, especially from the wealthy class, that were abducted regained freedom after their families paid ransom. Such people also prefer to remain silent after release.
The wife of a prominent politician and a businessman from Damboa was abducted and released the next day. The father of a serving commissioner in Borno State was also abducted and released many days after. Many of such families insist that nothing was paid before those abducted regained freedom. Sources said such families are apparently complying with the warning from their abductors to keep quiet.
Checks in Abbaganaram, Budum, Kofa Biyu, Ruwan Zafi and Gwange in Maiduguri metropolis reveal that many women have been abducted in the past three years. It was gathered from relations and competent sources that some have returned home while many others have become 'war brides' in the hands of their abductors. A 44 year old divorcee who lives around Muna General Area in Maiduguri said she was held for 17 days and was subjected to untold experiences, including rape by young boys that are of the same age with her son.
"I was severally raped by boys that were not more than 18 years," she said. She said prior to the rout of Boko Haram insurgents from Maiduguri in mid 2013, four gunmen in a Golf car entered her house, took away her jewelleries and whisked her away.
"They took me to an unknown destination which I later found out to be Bulabulin-Ngrannam. The most painful part of the abduction is that throughout my stay in captivity, I was raped by boys that are as young as my first son who was 18 years old then. They (Boko Haram) learnt that I trade in gold. As such, while in their enclave, the boys would come over every morning, look at me with disdain and said I accumulated a lot of money but was not willing to give sadaqa (alms). They would then forcefully have sex with me," she said.
She said after 17 days she was released but did not explain how. "I left many women there and I don't know if they have been released or not," she said.
A relative of another girl who was kidnapped in Bama in January this year said she was later dumped by her captors when she took ill.
"When she got missing for over two months, she was one day found by the roadside along Bama-Damboa road and taken to the University of Maiduguri Teaching Hospital (UMTH). She was diagnosed with spinal cord injury and we learnt that she was mercilessly raped and that caused the complications," he said.
In May, 2013, shortly after the Boko Haram insurgents were driven from their camps in Marte LGA, some parents in Kanamma, the headquarters of the council, told our correspondent that their daughters were seized by the insurgents and many did not return.
A parent said, "The insurgents really had a field day here after chasing away security operatives for months. One of the insurgents approached me saying he wanted the hands of my daughter in marriage. A few days after, he returned with some of his friends and directed that the wedding Fatiha must be conducted that same day. He offered N2, 000 as dowry…that was all and they went away with my daughter".
A parent in Gwange ward in Maiduguri whose daughter was taken and later released said he preferred not to talk. "I feel allowing her talk is like exposing her identity…what has happened has happened. Would you marry her if I allow you talk to her?" he asked.
Many parents in Maiduguri share the same view. To them, narrating their ordeals will only satisfy the curiosity of journalists and not heal the wounds of victims.
Daily Trust
Controversial Sterling Bank caught in the act! CBN sanctions, parades officials for hoarding new naira notes [VIDEO]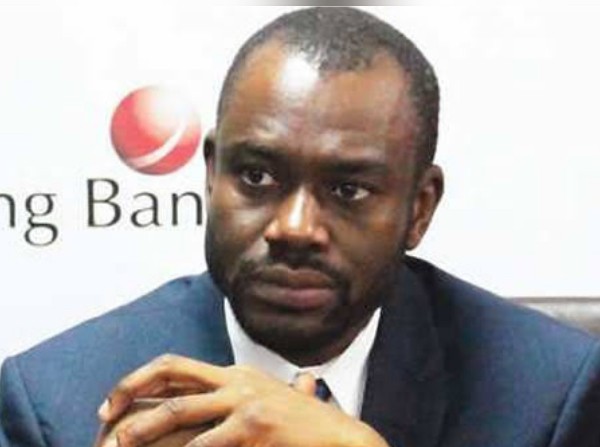 Officials of the Central Bank of Nigeria (CBN) have discovered N6 million of the new naira notes hoarded in Sterling Bank Plc, Ado Ekiti branch on Bank Road, Ado Ekiti in Ekiti State, having received the funds for over two weeks, THE WITNESS reports.
In a trending video on social media, seen by THE WITNESS, a man who identified himself as Oluwole Owoeye, a deputy director of CBN, while monitoring the distribution of the new naira notes in the state, was seen questioning the bank officials as to why they have not uploaded the funds into their Automated Teller Machines, (ATMs), despite having six of the machines in place.
The CBN director also announced a fine of N1 million for each day the fund was in the bank's custody.
The CBN official said, "I am currently at Sterling Bank, on Bank Road as part of the new naira notes monitoring compliance with the guidelines by CBN. They have N6 million, which they collected from the bank for almost two weeks, they have not disbursed any. They said they are yet to configure their ATMs, I do not know why that and I have brought attention to the penalty clause of N1 million per day, because they have five ATMs here, they have no reason for keeping this money.
"The zonal service manager, Tunde Onipede promised that by 10:00am latest tomorrow (Monday), because I told him by latest 10:00 am I'll be here and I want to see the machine dispensing this money.
"What is the name again? Olumide Owolabi (Service Manager, Ado) & Motunrayo Babayele. My name is Oluwole Owoeye and I am a deputy director of CBN."
WATCH VIDEO HERE:
FCMB Manager Arrested For Hoarding New Naira Notes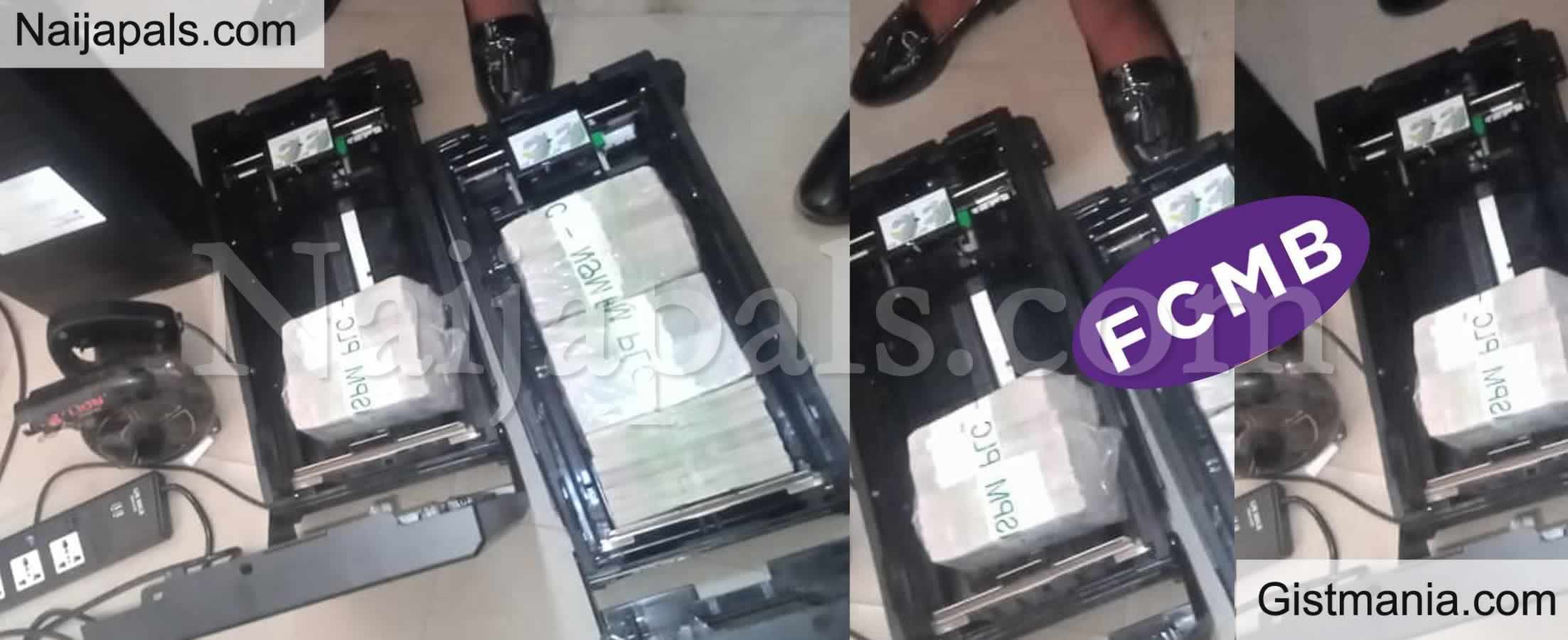 A manager of the First City Monument Bank (FCMB) branch in Osogbo, Osun State capital, has been arrested for allegedly preventing Automated Teller Machines (ATMs) loaded with cash from dispensing money to customers.
The spokesperson of the Independent Corrupt Practices and other related offenses Commission (ICPC), Azuka Ogugua, in a statement on Friday said the cash bundles were loaded into the ATMs while still wrapped, and as such, could not be dispensed through the machines
"The ICPC Compliance Team in Osogbo has busted an FCMB in Osogbo, Osun State, where some ATMs were loaded with cash with their wrappers un-removed, thus preventing the cash from being dispensed.
"The Team, therefore, directed that the wrappers be removed, and the cash loaded properly'.
Similarly, seven Point of Sale (POS) operators as well as a security guard were arrested during the ongoing exercise in Osun State for charging exorbitant commissions for cash.
Investigations, however, revealed that they got the money from Filling Stations that collect new notes from fuel buyers, but they then resell the cash to the public at exorbitant rates.
The arrested persons are helping the Commission with information to assist investigations and bust any syndicates involved in the hoarding or sales of the redesigned notes.
New naira: ICPC arrests Stanbic IBTC Bank manager over sabotage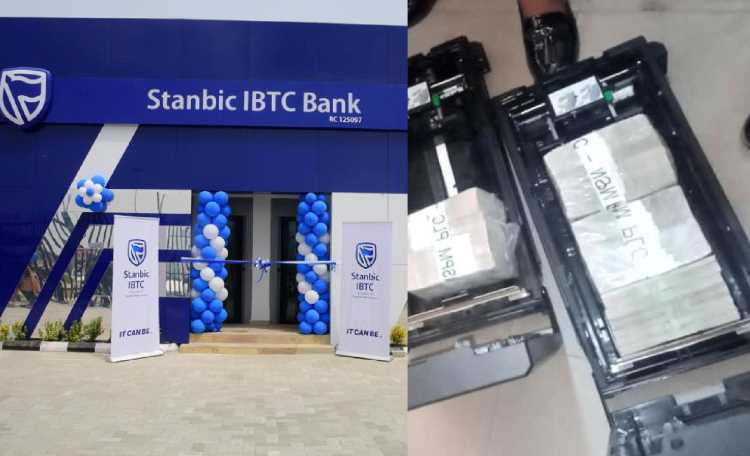 The Independent Corrupt Practices and other related offences Commission (ICPC), has arrested an official of Stanbic IBTC Bank in Abuja for alleged sabotage.
The ICPC spokesperson, Azuka Ogugua, said the development was in continuation of ICPC's clampdown on elements frustrating efforts in making the redesigned Naira notes available to members of the public.
The bank official, who is the branch service head of Stanbic IBTC Bank, Deidei Branch in Abuja, was taken into custody for her deliberate refusal to upload cash into the branch's Automated Teller Machines (ATMs) even when the cash was available and people were queuing at the ATM points.
The statement reads: "When the ICPC monitoring team stormed the bank at about 1:30pm on Friday to ensure compliance, and demanded explanation as to why all the ATMs were not dispensing cash, the team was informed by the branch's head of operations that the bank just got delivery of the cash.
"However, facts available to the ICPC operatives indicated that the branch took delivery of the cash earlier around 11:58am and either willfully or maliciously refused to feed the ATMs with the cash.
"Against this backdrop, the ICPC team compelled the bank to load the ATMs with the redesigned Naira notes and ensured that they were all dispensing before arresting the culprit.
"The ICPC said investigations were still ongoing and the Commission will take appropriate actions as soon they are concluded.
"Similarly, seven Point of Sale (PoS) operators as well as a security guard were arrested during an ongoing exercise in Osun State for charging exorbitant commissions for cash.
"Investigations, however, revealed that they got the money from Filling Stations that collect new notes from fuel buyers, but they then resell the cash to the public at exorbitant rates.
"The arrested persons were helping the anti-graft commission with information to assist investigations and bust other syndicates involved in the hoarding and sales of the redesigned Naira notes," the anti-graft agency said.