Breaking: Ooni of Ife's Father (BabaOba Aderopo Ogunwusi) Crashes His Son's Marriage…. ————– How his plan to marry another woman for Ooni of Ife Failed Him!!!
The marriage of Popular Yoruba monarch , Ooni Of Ife, Oba Adeyeye Enitan Ogunwusi Ojaja II who got married seventeen months ago to his bride, Olori Wuraola has hit the wall.
Palace sources claim the ooni's father is solely responsible for the recent collapse of the marriage. Reports claim that olori wuraola's father inlaw Aderopo Ogunwusi  has not played the role of a yoruba elder in pacifying both parties in the marriage hence leading to the breakdown of the marriage. Palaces sources indicated that olori wuraola has been very quiet lately and is watching eagerly to see what new tricks her husband has lined up.
OONI OF IFE, OBA ADEYEYE OGUNWUSI & FATHER BabaOba Aderopo Ogunwusi
A source hinted SOCIETY REPORTERS NG that the OOni  tried to chase olori wuraola away to make room for the incoming olori but the afobajes (Kingmakers) and other elites pleaded with the Ooni to settle things amicably with olori wuraola.
The report of the royal breakup surfaced online just days ago, and has since gone viral.
However, a new report has revealed and confirmed that the baba Oba is the third wheel that has caused serious strain on the marriage.
According to palace sources the whole royal rumble started last year but only got worse few weeks ago on the couple's return from their trip to London.
Subsequently, Olori wuraola consulted former president Obasanjo who advised her to manage the situation in her marriage. Olori was also said to have consulted her father in law to mediate on the troubles in her marriage but Aderopo Ogunwusi instructed her OTHERWISE.
Which yoruba elder or would advise or instruct his daughter in law in such manner?
This is where our investigation begins..
By Tradition Ooni's father is not meant to lay his eyes on his son the Ooni after being  crowned as king but palace sources say the Ooni and his father see each other every day. Sources in the palace claim that the Ooni is being controlled by his father and does his father's bidding. The afobajes  (Kingmakers) have warned of the danger associated to this unholy alliance between the father Babaoba Aderopo and Oba Adeyeye but all the warnings fell on deaf ears. Aderopo's interference with palace politics has caused many to question if Oba Adeyeye is fit to rule. Mostly in social gatherings he is now referred to as the "FIGURE KING" that has brought opprobrium to the most revered stool in all of Africa.
Another palace sources also hinted SOCIETY REPORTERS that while olori wuraola is hibernating far away from ife her beloved husband the Ooni of Ife has gone on an alleged sponsored media rampage to discredit his wife with insinuations of infidelity and unpublishable accusations. Our further investigation also revealed that there was an agreement before their wedding that ooni would not marry another woman, and they both agreed to it but now the ooni is willing to take another woman, reneging from the earlier conceded agreement which has led to the genesis of this crisis.
According to our Palace source, "It was the ooni that wanted to send her out of the palace, he is already planning to bring another woman into the palace and he knows he cant achieve that having Olori Wuraola in the same palace".
Further findings revealed that some elders are insisting that Olori Wuraola should stand her ground and remain in the palace, even if Ooni's intentions were to bring in another woman, she will remain the one and only recognized Olori in the palace of the Ooni. " after all, when they got married a lot of negative stories were written about her, and after a while they were forgotten, same thing will happen now, but if she quits her stand now, Oba Adeyeye will think he can do the same thing he did to his former wife, Bukola to Olori Wuraola. Ooni of ife has always been alleged to be  the problem in his marriages;  Ooni at some point told his close friends he can't stay with olori wuraola any longer. This got olori wuraola  because she has invested a lot in the Ooni of Ife. Asides the emotional trauma she has had to endure, she has been drained financially by the Ooni of all her life's savings and now the Ooni wants to throw her out for a new bride" according to royal sources.
Another reliable source added that, since the beginning of this royal marriage, olori has always been an independent woman who was self made before falling for the young monarch.
A friend who Ooni recently asked for financial assistance said to Society Reporters NG "People will think that the ooni is a rich man but in fact he is not, he is only good at doing otherwise to people and fantastic at making unimaginable promises.   This is why in social gatherings he is referred to as the child that is stilled tied to his father's apron strings.
WATCH OUT FOR THE PART 2 OF THIS REVELATION.
2023 Ogwashi-Uku Carnival Holds 25th Dec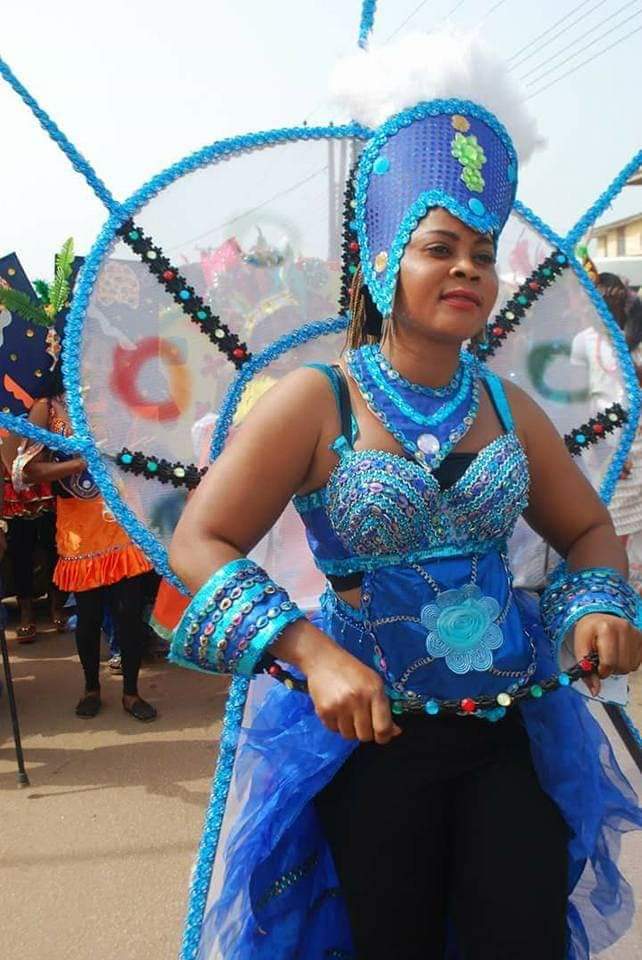 The Ogwashi-Uku Carnival, the biggest carnival in Delta state is set to hold its 13th anniversary carnival on the 25th December 2023.
The Founder/Chief Host of the Carnival, Anthonia Oguah disclosed this in a press statement on Thursday.
Ogwashi-Uku Carnival is a celebration of the rich cultural heritage of the Ogwashi-Uku people in Delta State, a period to merry, bond and reunite with loved ones from Nigeria and the diaspora.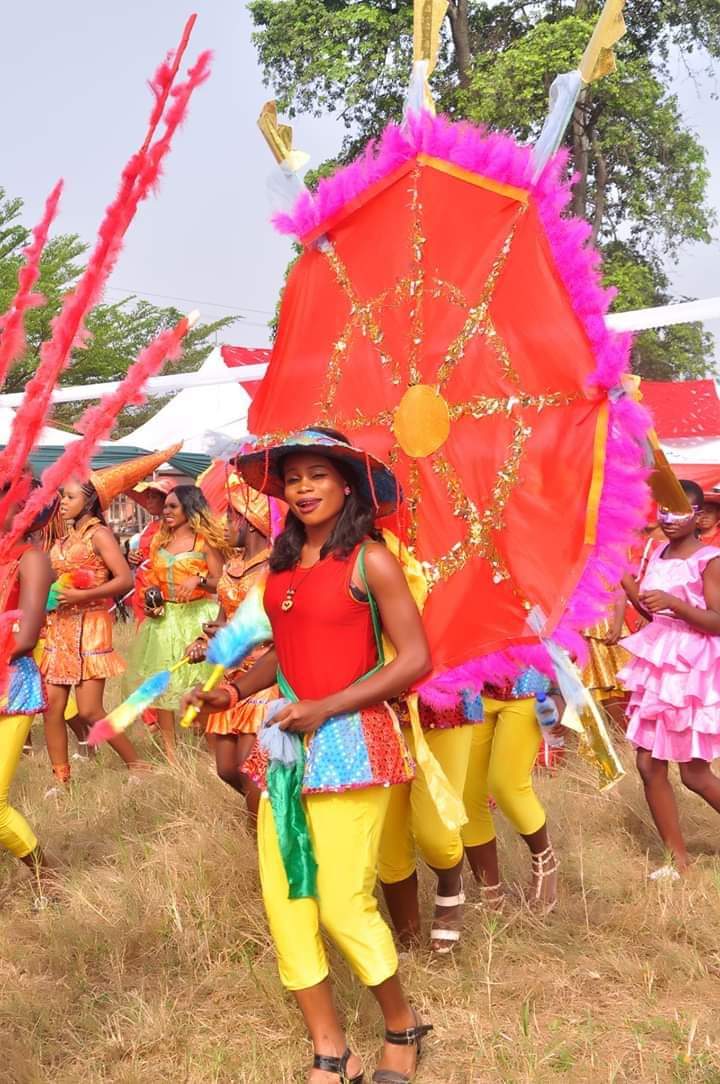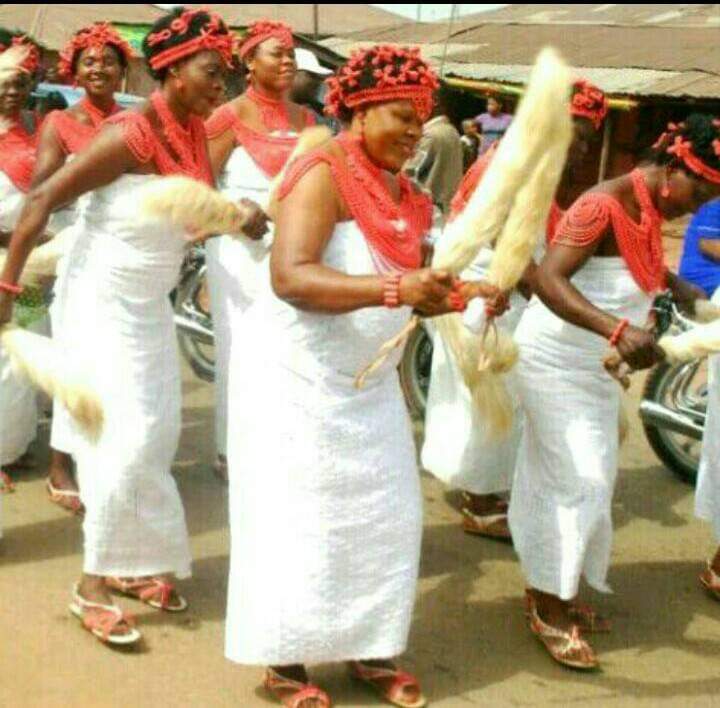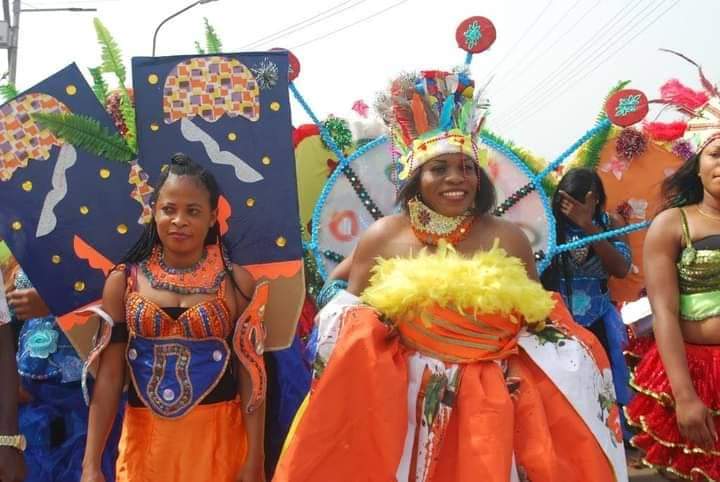 This season, the Carnival will feature road walk, Fashion Parade
Cultural Dance Troupes
Local Delicacies and lots more.
It is sponsored by Ogwashi-Uku Association USA Incorporated.
Oguah promised that this years carnival is going to be a special one with lots of varieties and great Ogwashi-Uku sons and daughters all over the world from far and near.
She said this year's event will surpass other previous carnivals because she and her team have really worked hard to put the carnival together, studying the past Ogwashi-Uku Carnivals they have held and have planned excellently well to put this year's event together.
"It's going to be something big and different,very interesting, exciting and entertaining with lots and lots of fun,fully packed," the statement said.
ONDEA Unveiled as Headline Sponsor For 2023 Lead Awards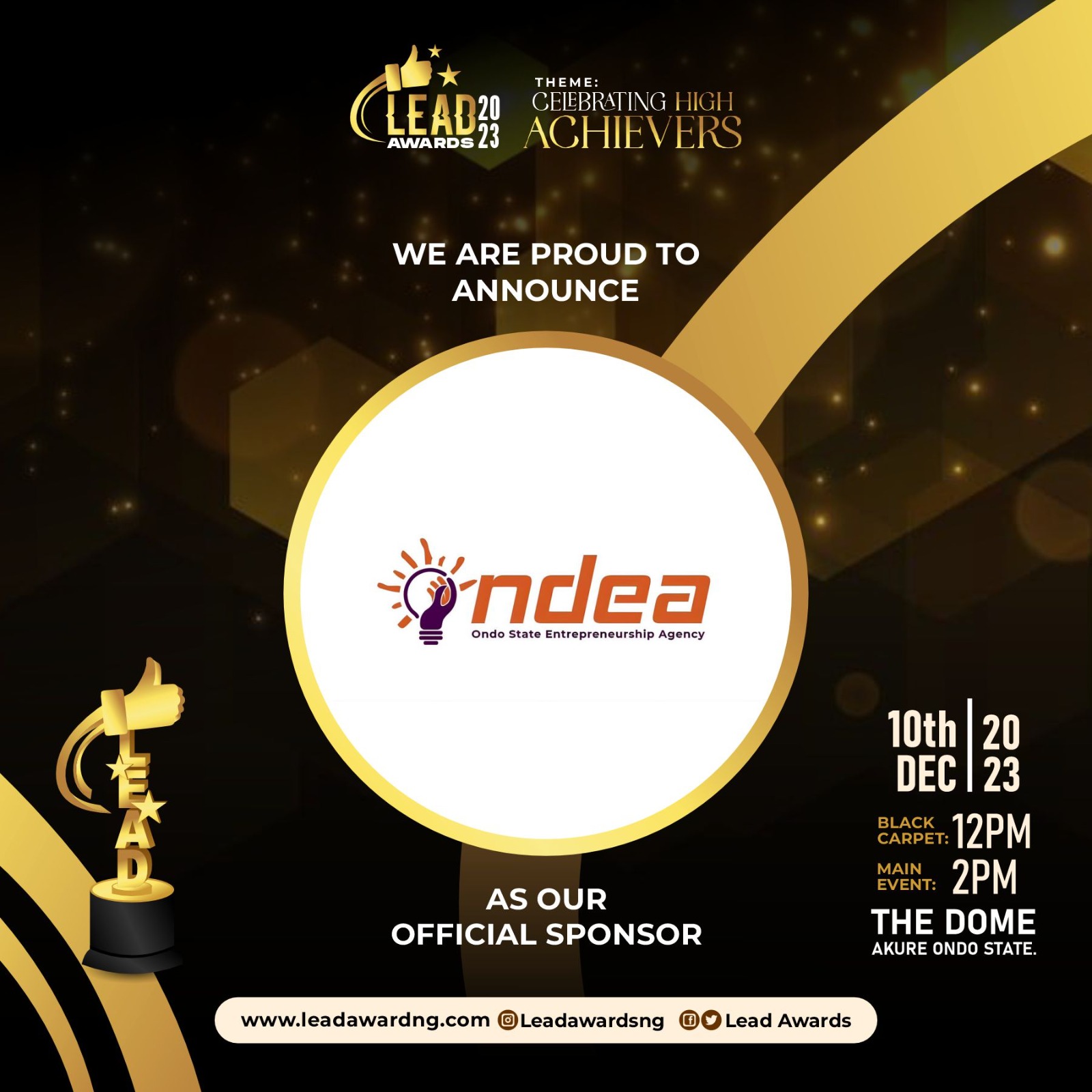 Project Lead Africa is thrilled to announce Ondo State Entrepreneurship Agency (ONDEA) as the official sponsor for the 2023 Leadership Excellence and Dignity Awards. According to the organizers, the 2023 Lead Awards ceremony promises to be bigger and better, with the support of leading organizations driving innovation and growth within and outside Ondo State.
In a press statement made available to journalists in Lagos, the Principal Consultant and Executive Director, Project Lead Africa, Mr. Abiola Alaba Peters said "We are glad of this collaboration, having Ondo State Entrepreneurship Agency (ONDEA) as our headline sponsor for this year, is such a honor, the aim is to inspire more these generations to keep doing more for our dear Sunshine state".
Also referred to as "Ondo State Most Prestigious" Leadership Excellence and Dignity Awards is an annual award ceremony that celebrates individuals and organizations that are proudly Ondo State indigenes.
Themed, 'Celebrating High Achievers", "the 2023 Lead Awards aims to unearth the giants of the Sunshine state that are yet to be celebrated" says the Project Director, Adebukola Oba, who also confirmed that the event will showcase a new wave of super creative and talented individuals, including organizations that are eager to take Ondo State to the next level.
On his part, the Special Adviser to the Ondo State Governor on Entrepreneurship Development, Dr. Summy Smart Francis (hc) stated that the ONDEA's decision to sponsor the 2023 Lead Awards was borne out of the desire to inform, educate and encourage creative's and other professionals, particularly young people in Ondo State.
Mr. Smart who is also the founder and President Africa's Young Entrepreneurs (A.Y.E) while thinking His Excellency, the Executive Governor of Ondo State, for providing the platform for young people to thrive in the state, express his enthusiasm to speak and interact with fellow compatriots at this year Lead Awards.
While Lead Awards aim to drive collaboration, foster partnerships, and provide a platform for quality leaders to share insights that can shape future generations, Ondo State Entrepreneurship Agency (ONDEA) which is an initiative of Akeredolu led administration, aimed at providing professional guidance to local entrepreneurs, empowers SMEs and MSMEs in Ondo State.
Associate sponsors for the 2023 Lead Awards include Dejavu Hotels, AutoProbe, Shaunze Royal and Aristo Games & Bristrol among others.
EFCC ARRAIGNS COUPLE FOR ALLEGED N2.7BN FRAUD IN LAGOS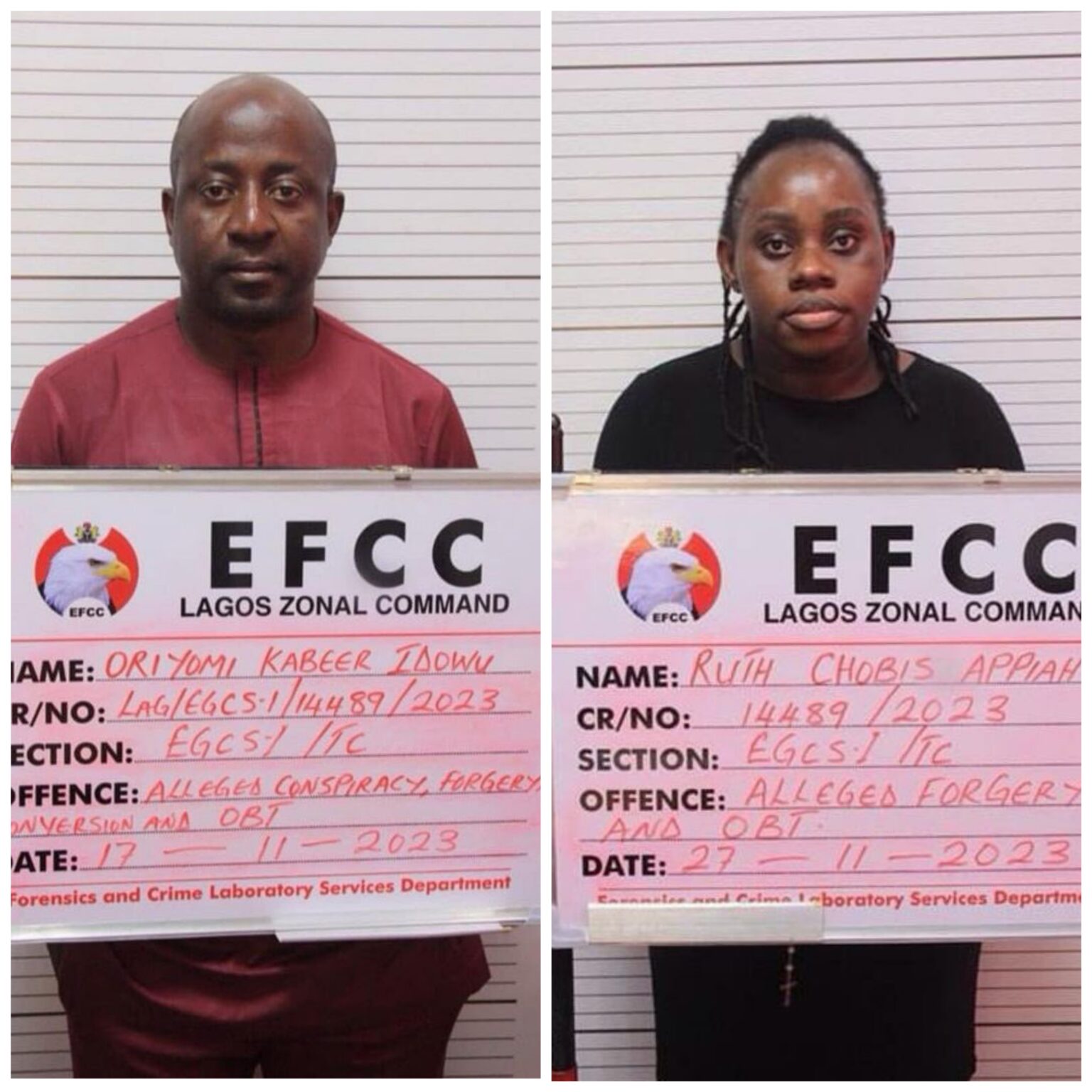 The Economic and Financial Crimes Commission, EFCC, on Tuesday 28 November arraigned a couple, Oriyomi Idowu and Ruth Idowu, before Justice Mojisola Dada of the Special Offences Court sitting in Ikeja, Lagos on 20-count charges bordering on obtaining money by false pretence, money laundering, stealing, retention of stolen property, and forgery to the tune of N2,757,188,000.00 only.
The couple were arraigned alongside Food Commodity Processing Enterprise, Bonway Food Processing Company Limited, Samee Idowu Company Limited and Farmex Integrated Companies Limited, which all belong to Ruth Idowu.
One of the counts reads: "Ruth Sameeha Idowu, aka Loiry Ventures, Oriyomi Kabeer Idowu, aka Yocli Ventures, Food Commodity Processing Enterprise, Bonway Food Processing Company Ltd, Samee Idowu Company Limited, Farmex Integrated Companies Limited, sometime in 2023 in Lagos, within the jurisdiction of this Honourable court, converted the sum of N10,000,000 to purchase a GLK Benz, purchase sum derived from converting the sum of N500,000,000 belonging to Creditpro Business Support Services with the aim of disguising the illegal origin of the funds."
Another count reads: "Ruth Sameeha Idowu, aka Loiry Ventures, Oriyomi Kabeer Idowu, aka Yocli Ventures, Food Commodity Processing Enterprise, Bonway Food Processing Company Ltd., Samee Idowu Company Limited, Farmex Integrated Companies Limited, sometime in 2023 in Lagos, within the jurisdiction of this Honourable court, dishonestly retained the sum of N936,619,876 in your UBA bank account, property of Creditpro Business Support services knowing same to be funds fraudulently obtained from Creditpro Business Support Services."
The defendants pleaded "not guilty" to the charges when they were read to  them.
In view of their pleas, prosecution counsel, Bilikisu Buhari, prayed the court for a trial date and the remand of the defendants  at a Correctional Facility.
Counsel to the first defendant, G. Onwubuya, informed the court of the bail application of his client, which had yet to be served on the prosecution.
He prayed the court to remand the defendants in the EFCC custody and also sought a short adjournment for the hearing and determination of the bail application.
In her objection, Buhari informed the court that the holding facility of the EFCC was already overstretched.
She also told the court that the appropriate place, following arraignment, was a Correctional Centre.
The Judge held that there was no bail application before the court for the second defendant, whose counsel, J.J. Ogunyemi, had yet to file.
Consequently, Justice Dada adjourned the matter till December 15, 2023 and ordered that the defendants be remanded at the Correctional Centre "pending hearing and determination of their bail applications".