Witness Revealed How N1.5Bn Was Transfered To Maina's Private Account From The N14Bn Stolen From Pension Account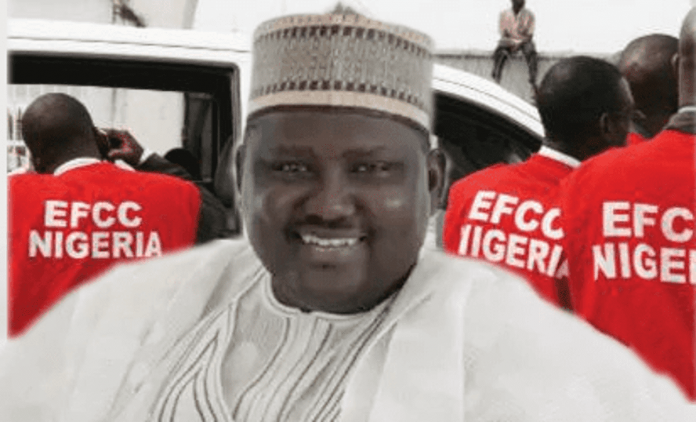 The trial in absentia of Abdulrasheed Maina, former Chairman, Pension Reform Task Force Team, (PRTFT) continued on Wednesday, November 25, 2020 before Justice Okong Abang of the Federal High Court, Abuja.
The Economic and Financial Crimes Commission, EFCC is prosecuting Maina, alongside his firm, Common Input Property and Investment Ltd on 12-count charge of operating fictitious bank accounts, corruption, and money laundering to the tune of N2 billion.
At the trial, counsel to Common Input Property and Investment Ltd (the second defendant), Adeola Adegbite told the court of his intention to disengage as the company's counsel, but even though Prosecution counsel, M.S. Abubakar, acknowledged the receipt of the defence counsel's disengagement application, dated November 25, 2020, and made
no objection to it, Justice Abang, ruled that Adegbite remained counsel to the second defendant by the court records.
The testimonies against Maina, continued with that of the ninth prosecution witness, (PW9), Rouqayyah Ibrahim, a principal investigation officer with the EFCC in Anti Money Laundering and Combating Terrorism Financing (AML CFT) unit of the Commission and member, Pension Fraud Team, who stated that he knew Maina and Input Property Investment Ltd, following the invitation of the EFCC in 2010, to join in the pension
verification exercise.
According to him, a payment mandate, bearing the names of several individuals, totaling N94 million was discovered during the cause of the verification, and that some of the pensioners' names on the list were fake, for which a report was made to the EFCC by the team, leading eventually to the creation of the Pension Fraud Team.
The Pension Fraud Team, he said, wrote to about 30 banks, requesting the bank accounts of Mr. Steven Oransanya as the Head of Service, in which it turned out that Mr. Oransanya at that time, operated 66 illegal bank accounts, unknown to the Accountant General.
"Our investigation revealed that there were five modus operandi that the suspect whom we were investigating at that time was using to steal money from the pension account. In total we were able to deduce that N14 billion was stolen from the pension account. In the five modus operandi was payment to fake pensioners, non-existing contracts, illegal payment
to National Union of Pension NUP and illegal payment to another association called Association of Retired Federal Civil Servants.
"We discovered that the suspect will often pay companies for non-existing biometric contract and once the payment is made, they withdraw cash and hand it over and likewise payment to the two association of NUP and Association of Retired Federal Civil Servants.
They will withdraw the money cash and hand it over to the person who
asked them to supply the account.
"Once we concluded the investigation of those who were indicted, they were charged to court, and some have been convicted," the witness said.
According to him, Abdulrasheed Maina was part of those indicted and charged before Justice I. Ekwo of the Federal High Court, Abuja, but that he ran away for six years. And was arrested and charged before the present court.
The PW9 revealed that Maina as chairman, PRTT was deeply involved in stealing pension funds. One of the things discovered was the payment of N133 million for a non-existing contract to Xanjhi Technology, a company he appointed to computerize the pension payroll. The money was withdrawn in cash, converted to dollars and handed over to Khalid Biu (PW5), a staff of Fidelity Bank and handed over to Maina's secretary, Ann Igwe Oluchi, who is now standing trial at FCT High Court Gwagwalada. Xanjhi Technology and its owner, Ahmed Mazangari are also standing trial for inserting about 15 fake persons into the pension payroll which they were engaged to computerize.
According to the witness, "We also discovered that Frederick Hamilton Ltd, owned by Osa Afe, presently standing trial with Steven Oransanya who received payment for a non-existing biometric contract handed over about N250 million to Maina.
"Our investigation further revealed the existence of six accounts with Fidelity Bank, out of the six, five were linked to Abdurrasheed Maina. We discovered that there was nowhere in the accounts opening packages of these accounts where the name, birthday or signatures of Abdurrasheed Maina appeared. These account are: Nafisatu Aliyu Yeldu (PW4) Drew
Construction, also an account Kangolo Dynamic Cleaning Services Ltd, Cluster Logistics Ltd, Fatima Aliyu, he also had a personal account in his own name with Fidelity Bank, and also in the name of Dr. Abdullahi Faizal.
"For example Nafisatu Aliyu Yeldu's account bears the name of Abdurrasheed Maina's sister. It also bears her passport, photograph. On the face of it, it appears the account belonged to her, but when we invited her for investigation, we discovered she didn't know anything
about the account, even though it contains her name and children but it was not her signature. She informed us that she remembers at one point that Toyin Meseke (PW2), who is a Fidelity Bank staff requested for her PHCN (power utility) bill but she wasn't sure what he wanted it for and that was one of the document that was used in opening the account. She also informed us that when she started receiving alerts, she contacted
Toyin Meseke and he promised to deal with the issue."
The turnover in Yeldu's account, the witness said, was over N300m. The analysis of the identity used in the opening of Abdullahi Faizal's account, (one of the many variants of the name Maina used for his son and himself) showed that it was forged, even as Meseke, the account officer, confirmed that Maina had complete control over the account, though his name, signature and photograph did not appear anywhere in the account opening packages. The account had a turnover of about N1.5 billion within nine months from mostly cash deposits from unknown sources.
"We called for the statement of Drew Construction and of his Fidelity Bank, and discovered the same modus by Maina, concealing and stealing the identity of his family members, registering companies in their names, opening corporate bank account without their knowledge.
"In the case of Drew Construction, it was the name of his other sister, Fatima Abdullahi Aliyu. When she was confronted, it showed that she had no knowledge of the account, even though it bore her name and other similar information that belonged to her. The turnover was about N55 million all from cash deposits within a few months.
"We also discovered from Common Input, a company registered by Maina and his wife, using the details of his sister (PW2), taking advantage of his sister-in-law, Mairo Bashir (PW1), who deliberately allowed Maina to conceal his identity without doing the 'Know Your Customer' and allowing him to operate the accounts as Fatima Abdullahi. When Fatima was
invited, we confronted her that her BVN was linked to Common Input and Kongolo Dynamic Cleaning Services Ltd and she confirmed that she did not know about the existence of the company and that Maina requested her to give her BVN so that she will be removed as a signatory from the company and she wasn't aware of being a signatory of any company but innocently gave them the BVN, believing that will make her stop being a signatory
of the said company.
Justice Abang adjourned the matter till December 3, 2020 for the continuation of trial.
FIRSTBANK DEEPENS FINANCIAL INCLUSION WITH LARGEST AGENT BANKING NETWORK, EMPOWERS SMES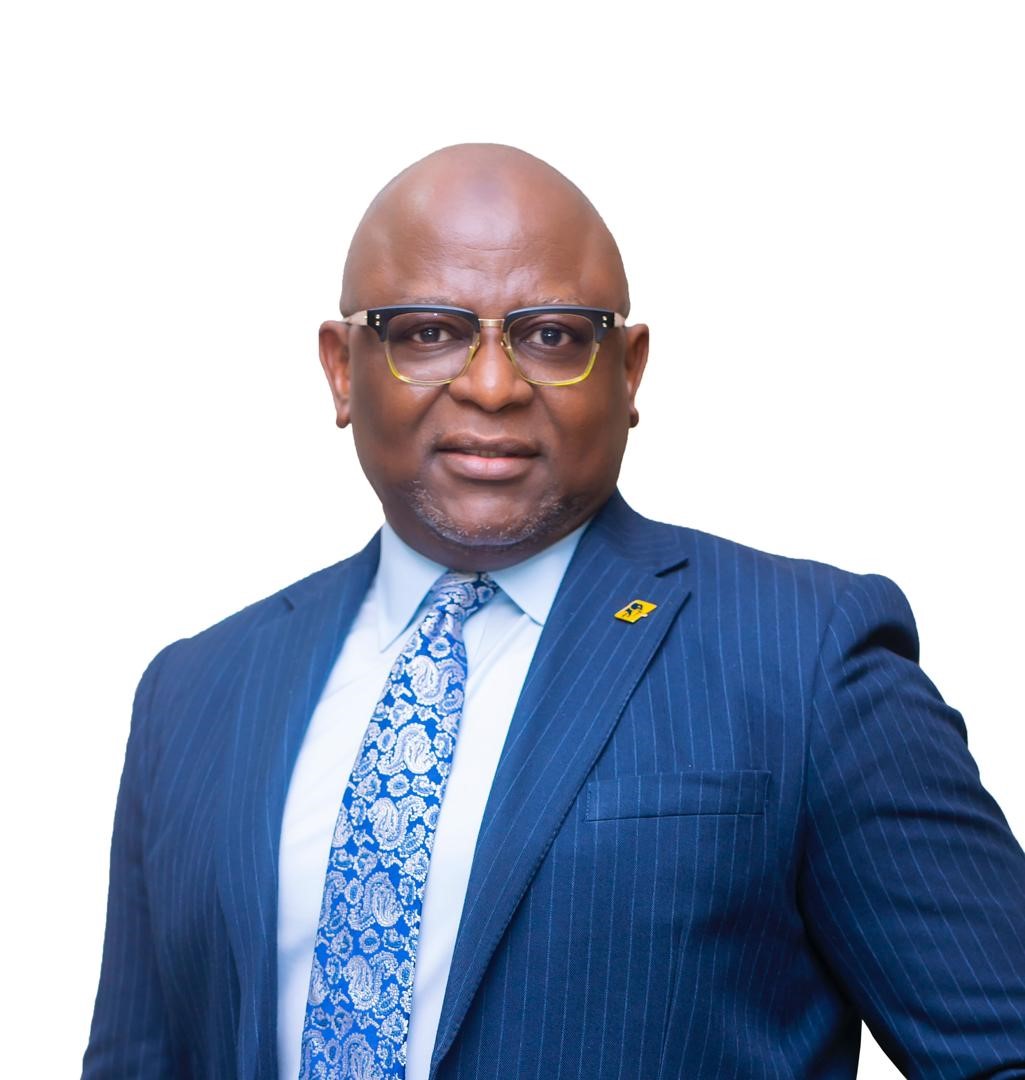 At present, there are over 86,000 banking agents across 772 out of the 774 local government areas in Nigeria, a demonstration of FirstBank's commitment to deepening financial inclusion and ensuring the unbanked are adequately catered for. In an interview with BusinessDay, Adesola Adeduntan, FirstBank's CEO, noted that over N9.6 trillion had been processed through the bank's agent network.
As he explained, FirstMonie agents have supported several government and NGOs' cash transfers to the poorest of the poor in the rural areas. Additionally, selected FirstMonie agents in the rural communities are equipped with BVN enrolment devices; as such they are able to enrol and open accounts for rural dwellers that hitherto may not have had the opportunity to be included in the formal financial services system.
The bank's commitment to providing access to finance for Small and Medium Enterprises (SMEs) was also highlighted by the CEO, who hinged this on "their potential to impact the economy".
He discussed the bank's value adding solutions that have created a functional ecosystem for SMEs to thrive. The ecosystem includes propositions such as connection of the SMEs to talents and resources/cutting edge tools, access to business finance and market, capacity building opportunities and policy advocacy.
These are all aggregated on its SMEConnect platform as value adding products and services for easy access and at rates (prices) that are competitive and mostly discounted. The SMEConnect is a digital platform that allows the SMEs connect to FirstBank's offerings from the comfort of their locations anywhere in the world.
This, according to Adeduntan, has been well received by the SME community as we engage across the country.
Culled from BusinessDay
UBA's LEO: Celebrating three Years of Revolutionised Banking Services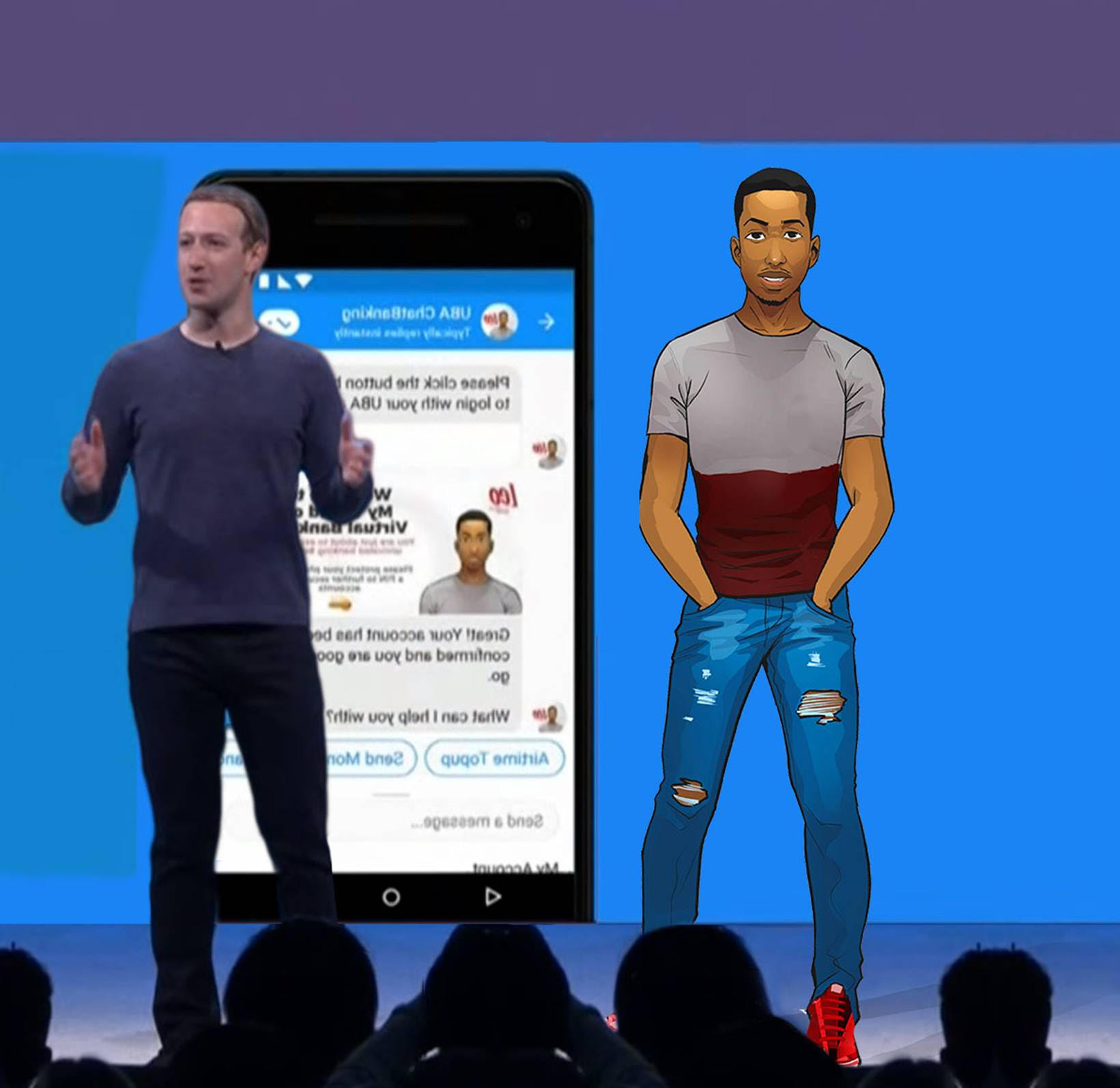 Technology has been a veritable gift to mankind, and over the years, it has been responsible for creating amazingly useful resources which put all the information individuals need at their fingertips. The development of technology has also led to so many mind-blowing discoveries, better facilities, and better luxuries, which has in-turn helped to improve lifestyle and standard of living.
For instance, through relevant technological development, the average individual has been empowered to shop online and carry out seamless transaction any time of the day or night from the comfort of his own home or business place.
To this end, forward thinking companies and financial institutions with eyes in the future who have been conversant with the new trend in customer behaviour, have painstakingly designed new products and services tailor-made to meet the growing needs of customers anytime anywhere.
It is bearing this in mind that Pan-African financial Institution, United Bank for Africa (UBA) Plc, changed the face of e-banking in the African continent for the first time with the introduction of Leo – UBA's Chat Banker. The idea of Leo, which was birthed in 2018, was to enable customers make use of their social media accounts to carry out key banking transactions with ease.
This is the first time ever that a financial institution in Africa evolved a one-stop solution to simplify the way customers transact, a key essential in today's fast-paced world with demands for quick-time transactions and response.
With Leo's help, customers have been able to open new accounts with ease, receive instant transaction notifications, check their balances on the go, transfer funds and airtime top up. Cheque confirmation, bill payments, loan application, account freezing, request for mini statements, flight bookings, airtime and data purchases, are some other services that the chat banking BOT has been helping customers to carry out since 2018.
And Leo, the Artificial Intelligent Bot which carries out seamless conversations with his customers – who he calls his friends by the way- has achieved this and more in its three-year existence; allowing users to carry out quick, fast and recurring transaction with ease from their popular social media accounts such as Facebook and Whatsapp.
No wonder the bank has earned a lot of laurels and accolades in the last three years confirming Leo's global acceptance and recognitions, as pointed out by UBA's Group Manging Director, Mr. Kennedy Uzoka, some of which are:
'Africa's Best Digital Bank of the year' by Euromoney; The Most; Innovative Bank of the year' by International Finance; 'Best Customer Engagement Tool' by Africa Fintech; Pulse magazine rated Leo on WhatsApp as 'The best WhatsApp Banking App'; 'The Best Social Banking platform' in Uganda; 'Excellence in Automated Chatbot Initiative' by Finnovex Awards; 'Next Generation Class of 2019' by CIBN; 'Best Automated Chatbot Initiative, Application or Programme' by The Asian Banker. The list is endless.
"The formulation of this product, is consistent with UBA's Customer 1st philosophy, where we have been doing things not the way we like, but focusing on what the customers want, where they want it, and in the exact platform they want it; Uzoka explained. "At UBA, we have been continuously working with technology giants that have the global capacity to ensure not only seamless but also effortless banking for the millions of our customers across Africa; as all the bank's subsidiaries in Africa have activated Leo to perform financial services for customers.
Continuing, he said, "Since 2018, Leo has been helping with most transactions and to deliver any form of banking services. And this has been highlighted more especially during the lockdown occasioned by the COvid-19 virus, as Leo assisted all its users on all major social media platforms to carry out all their banking activities without having to physically visit a branch. This, to us, remains an admirable feat because with Leo, the banking needs of our customers have become easy and simple – as simple as chatting"; Uzoka pointed out.
Within three years of operations, UBA's Leo has recorded a number of milestones including opened a total of 390,756 accounts; achieving 2,169,384 subscribers; conducting a total of 9,605,703 transaction count worth a value of N81,530,918,868. Leo which has over 2.1m unique users has also generated over 20 million conversations and over 85 million engagements; with such impressive feedback and usage and remains the only AI BoT showcased at the F8 in Mark's Zuckerberg's opening remarks.
UBA's Group Head, Digital Banking, Sampson Aneke, reiterated that Leo is not just a chat machine, but an artificial intelligence personality meant to address any type of banking concerns raised by customers.
"Leo has been operating a secure lifestyle banking platform on Facebook messenger, WhatsApp and IOS and Andriod to assist customers with their transactions while chatting with your friends and business partners. The security with this platform has been that for every transaction, a One Time Password (OTP) is generated to the phone number that is registered on your account," he explained, and added that the bank is working tirelessly to improve LEO's services to the customers in the coming weeks.
United Bank for Africa Plc is a leading Pan-African financial institution, offering banking services to more than twenty-one million customers, across over 1,000 business offices and customer touch points, in 20 African countries. With presence in the United States of America, the United Kingdom and France, UBA is connecting people and businesses across Africa through retail; commercial and corporate banking; innovative cross-border payments and remittances; trade finance and ancillary banking services.
The Dangote Group completed Nigeria's longest rigid pavement located in Kogi State.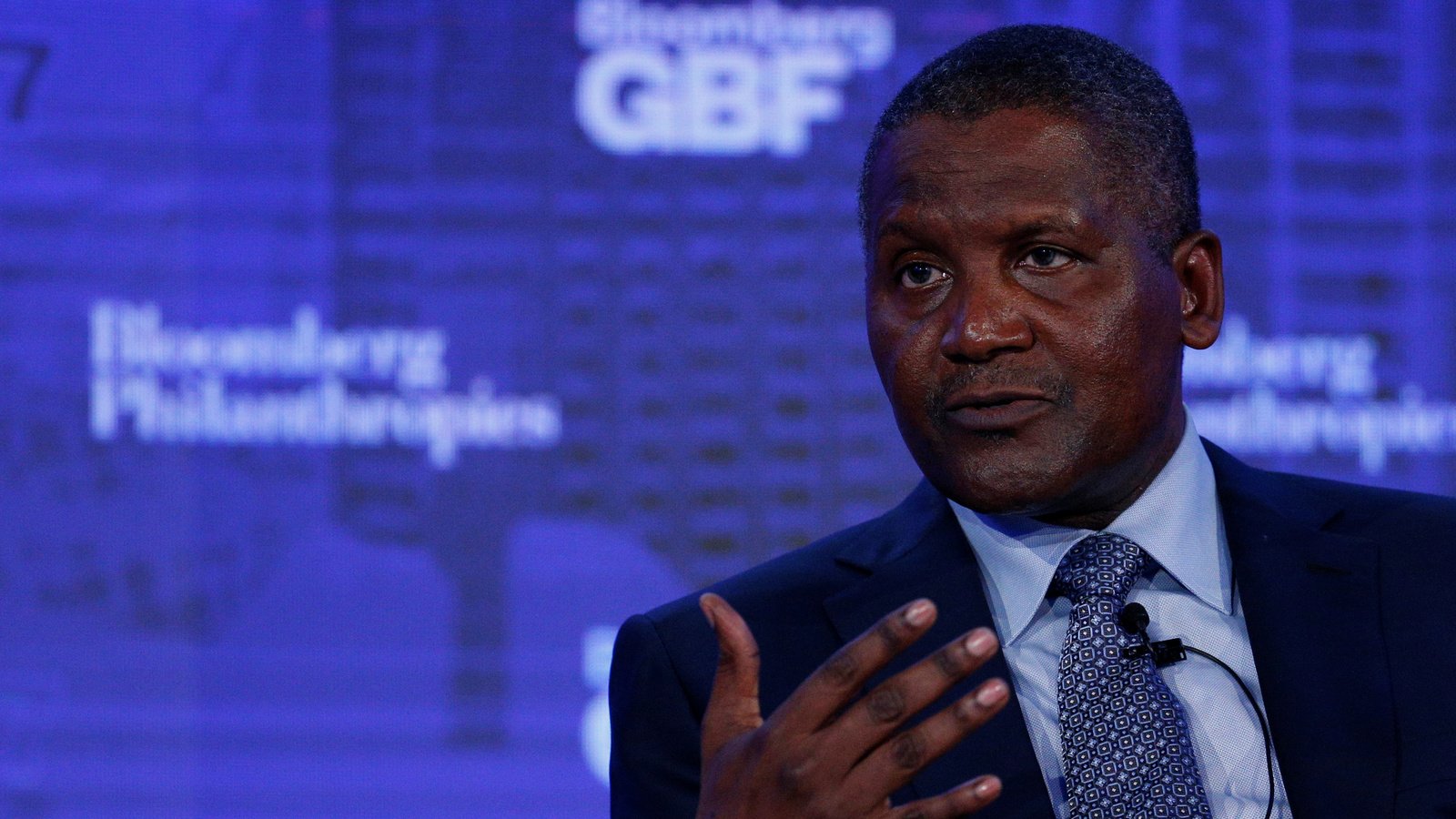 It is the first of its kind, top engineers say.
The 43KM Obajana-Kabba road constructed by Dangote Industries Limited (DIL), as
been described by motorists as the country's most strategic highway that is aiding travelers between the North and the South.
Olatunbosun O. Kalejaiye, the Project Director, said he was excited that the Corporate Social Responsibility Project is being delivered for use by Nigerians, adding that while the rigid pavement has been completed, the company was dressing the shoulders.
Site Engineer Samuel Obosi assured that the dual carriage way will be durable and less susceptible to potholes and repairs like asphalt road, adding that it would crash the rate of road accident in the country.
Motorists said it is now one of the busiest roads linking the two regions in the country.
"Thank God it is a concrete road. It can withstand any heavy duty vehicle," Alhaji Lamidi Sikiru, a driver expressed optimism.
John Moses, a member of the National Union of Road Transport Workers, said his taxi business is booming compared to when the road was very deplorable with potholes and barely used by motorists.
A community leader of Apa Bunu Kingdom and spokesperson for the community Sam Omosayil commended the Dangote Group, saying that the road has attracted a lot of businesses along the road.
Traditional and community leaders eulogized the President of the Dangote Group.
The Bajana of Obajana Land, King Idowu Senibi described the project as gigantic and the first of its kind anywhere in Nigeria.
"Dangote is our son. We would protect his huge investment and gigantic concrete road. I am happy that this is happening in my lifetime and in my Kingdom. This is a great opportunity for us and many generations to come. Our society will be opened as you can see vehicles and commercial activities have started coming up. May God Almighty bless Dangote and all his staff."
Speaking in the same vein, the traditional head of Akpata Land Frederick Durojaiye Balogun said his people were very proud of Alhaji Aliko Dangote, adding that the Dangote Cement, Obajana plant, which is the single largest cement plant in the world, has brought honour and respect to their Kingdoms.
"His presence has brought a total turnaround in our lives. Also permit me to appreciate the Federal Government for this joint effort. We are very grateful," he said.
Speaking, the King of Okebunku Land in Kabba Bunu Local Government, Timothy Omonile commended the President of the Dangote Group and charged other philanthropists to emulate him, adding that that is the only way Nigeria can develop its economy and infrastructure.
He said the construction of the road has helped cut down the rate of criminality in the state, while describing the Group President of Dangote Group Aliko Dangote as God sent.
Rechel Olatunji, a businesswoman said she makes more money now and that business is booming because of the road.
Another businesswoman Veronica Samuel prayed fervently for the Dangote Group, adding that the new road has changed her life, and enabled her to sponsor her children to school.
Worried by the huge sum of money used in road repairs, President of the Dangote Group Aliko Dangote had said plans were afoot to revolutionize Nigerian roads with concrete, stressing that resources used in road repairs and maintenance would be channeled to other more important needs of the nation.
"We are going to be building concrete roads in the country so that anytime we build a road, we do not have to go back to repair after the third raining season, but move on and use the resources to address other pressing needs of Nigeria," Mr. Dangote had said.
It would be recalled that as part of its Corporate Social Responsibility (CRS), the Dangote Group had earlier commissioned the 26 km Itori-Ibese Concrete Road.
At the commissioning, the Minister of Power, Works and Housing, Babatunde Raji Fashola, had noted that the stride by the Dangote Group demonstrated the unwavering commitments of an indigenous investor towards the industrialization of Nigeria.
A statement from the Corporate Communications Department of the Dangote Group said: "Concrete road last longer than asphalt roads and do not have potholes. It does not require frequent maintenance as asphalt roads. It saves fuel for motorists and protects tyres from wear and tears."
The statement said it is part of the Group's determination to support government and Nigerians in order to grow the economy and facilitate ease of doing business.