UNTOLD STORY OF HOW ZENITH BANK JIM OVIA FORCED HIS NEPHEW EBENEZER ONYEAGWU AS MD TO MAKE HIM RULE VIA PROXY
The last may not have been heard over the crisis rocking Zenith Bank Plc following the appointment of Ebenezer Nduka Onyeagwu as the bank's Managing Director/Chief Executive Officer. Fresh information reaching us reveals that the Governor of the Central Bank of Nigeria (CBN), Godwin Emefiele is currently under pressure from the Presidency to sack the Zenith Bank boss following his (Onyeagwu) relationship with the founder/board chairman of the bank, Mr. Jim Ovia, which is against corporate governance compliance as stipulated in the Code of Corporate Governance for Banks and Discount Houses in Nigeria of May 2014. According to inside sources, the Presidency is said to be embarrassed by the development
THE GENESIS OF THE CRISIS
A civil society group identified as the Transparency Advocacy for Development Initiative (TADI), recently sued the CBN governor, Jim Ovia and four others over the appointment of Onyeagwu as the head of the financial institution. In a suit filed on January 14, 2021, marked FHC/ABJ/CS/29/2021 and seen by this newspaper, Abiodun Babalola, the counsel to TADI, claimed that Onyeagwu's emergency as Zenith Bank MD was an aberration and a violation of the Code of Corporate Governance for Banks and Discount Houses in Nigeria, which kicked towards the appointment of blood relations to the place. The counsel to TADI requested the Federal High Court sitting in Abuja to declare that by the true interpretation of Section 2.3.3 of the Code made by Central Bank of Nigeria in May 2014 pursuant to the powers bestowed on it by the Central Bank of Nigeria Act, 2007 and Banks and Other Financial Institutions Act, 1991 the appointment of Onyeagwu, as the Managing Director/Chief Executive Officer of Zenith Bank Plc is in gross contravention of the mentioned Code. Additionally, Babalola sought a declaration 'that Ebenezer Nduka Onyeagwu joined as 2nd Defendant in the suit is unqualified based on Section 2.3.3 of the aforesaid Code to be appointed as Managing Director/Chief Executive Officer of Zenith Bank Plc being the 3rd Defendant by virtue of his blood ties and or relationship with Jim James Ovia, that is the 1st Defendant.' The counsel further urged the 'honourable Court to make an order directing the Central Bank of Nigeria (CBN) led by Godwin Emefiele to forthwith exercise its powers under the Banks and Other Financial Institutions Act, 1991 as well as other extant laws by relieving the 2nd Defendant of his appointment as Managing Director/Chief Executive Officer of Zenith Bank Plc on account of his blood ties and or relationship with the 1st Defendant and replacing him with another qualified person.' Babalola demanded that order of exemplary damages in the sum of N1 billion be made towards the Central Bank of Nigeria and its Governor, 'sued as the 4th and 5th Defendants respectively, being the apex authorities regulating the financial activities and operations of Banks and other Financial Institutions in the country for approving the appointment of Ebenezer Nduka Onyeagwu as Managing Director/Chief Executive Officer of the 3rd Defendant on 1st June 2019 even when they were aware that he lacked the qualification to occupy the said position due to his blood ties and or relationship with the 1st Defendant.' The counsel to TADI stressed that the resolution of its shopper, TADI, to hunt authorized redress "was based mostly on his mandate to work with related stakeholders for functions of preventing corruption in any establishment that holds the public belief, spends public funds or is regulated by authorities companies such as the Central Bank of Nigeria."
MORE REVELATIONS
Furthermore, the group, TADI, during a protest rally to the Abuja headquarters of the bank recently, described Onyeagwu's appointment as nothing but the expansion of nepotism and cruel practice of impunity in the corridors of authority in Nigeria. Comrade Taiwo Adeniran, the Assistant Secretary-General, TADI said "The war against nepotism, impunity, bad leadership and corruption should not be a course only within the public institutions but also should be reinforced within the private sector. He said, "The flagrant disregard for the rule of law and guidelines has been a major plague that has marred our corporate existence as sovereign entity. It is therefore imperative for well-meaning stakeholders and Nigerians to rise-up to the challenge of fighting and stamping out this menace from our society. "The appointment of Ebenezer Onyeagwu is in fact one example of gross disregard for due process and rule of law. His appointment as the Managing Director/Chief Executive Officer of Zenith Bank Plc is evidently an example of the deficit in corporate governance compliance as stipulated in the Code of Corporate Governance for Banks and Discount Houses in Nigeria of May 2014 and as such should not be allowed to stand. It should be noted that this deficit or thwarted compliance to these codes were majorly responsible for woes experienced in our banking sector prior to the bank consolidation policy of 2006. "Rules and regulations are guiding principles as enforced by the law, has no exceptions to it compliance. These and more could be said about the potency of this important provision – the Code of Corporate Governance for Banks and Discount Houses in Nigeria – because with sensitive nature of banks and it inherent pivotal and crucial roles in our nation's economy. Section 2.3.3 of the Code of Corporate Governance for Banks and Discount Houses in Nigeria made by the CBN in May, 2014 is crystal clear on the guidelines for composition of bank's management. "However, it is quite unfortunate to discover that the Jim Ovia led board of Zenith Bank Plc will appoint his NEPHEW (Mr. Ebenezer Nduka Onyeagwu) as the Managing Director/Chief Executive Officer of Zenith Bank while the Central Bank of Nigeria in-turn tactically endorses this illegality. It is true that a man can falsify everything about himself but one thing that cannot be changed is the lineage blood-tie of relations. THE BLOODLINE (Ovia and Onyeagwu) Speaking further, the group said: "The records have it that, Jim James Ovia and Ebenezer Nduka Onyeagwu are both from Ika South Local Government Area in Delta State. The indigenes of Ika South Local Government Area are generally called Ndi Agbor, which comprises Ogbemudien, Ogbease, Ihogbe, Obielihe, Ekuku Agbor, Ihaikpen, Ogbeisore and Ogbeisogban. While Jim James Ovia hails from Obielihe, Ebenezer Nduka Onyeagwu is from Ogbemudien, Agbor Obi also in the same Ika South Local Government Area. "The truth about their genealogy happens when a woman named Oror was married in Ogbemudien Quarters and had two sons namely, Nwatukele and Onyeagwu. The said Onyeagwu alias "Old Soldier" gave birth to Ebenezer Nduka Onyeagwu. This same woman, who later remarried in Obielihe to Pa Ovia and gave birth to Jim James Ovia. By implication, the father of Ebenezer Nduka Onyeagwu is an elder brother of Jim James Ovia both of them having come from the same womb. This cumulated as a perfect disguise due to their different surnames to perpetrate this illegality. "Several reports have revealed that, sit-tight syndrome of management and unhealthy influence from personalized interests which plagued the corporate governance of our banking sector contributed in no small measure to the Nigerian banking crisis. The appointment of Mr. Ebenezer Nduka Onyeagwu is an abuse of financial probity and flouting of the existing code of corporate governance for banks and discount houses in Nigeria which were to establish and strengthen corporate governance practices in our banking sector. "This nepotistic practice is criminal and inimical to the integrity of our financial system and institutions as a nation. Owing to the sensitive and important role of our banking sector to development of our nation and also; any economy that desires to be taken seriously by investors, whether local or foreign should avoid this kind of corporate disaster in the interest of her shareholders. "Therefore, it is our collective duty as Nigerians and stakeholders in the polity of our dear nation to rise up and champion the campaign/fight to flush out agents and elements of retrogression from our systems. This embarrassing cycle of corporate disasters in Nigeria has to STOP and the culprit be duly sanctioned. "Furthermore, as the saying goes in legal parlance, you cannot put something on nothing and expect it to stand. The appointment of Ebenezer Nduka Onyeagwu as Managing Director/CEO of Zenith Bank Plc is fraudulent and illegal from the beginning and must not be allowed to stand. "Mr. Ebenezer Nduka Onyeagwu should be relieved of his duties as the MD/CEO of Zenith Bank PLC with immediate effect. "The process of his (Mr. Ebenezer Nduka Onyeagwu) appointment and ratification by CBN should be investigated and every individual involved in the illegal appointment of Mr. Ebenezer Nduka Onyeagwu should also be exposed and sanctioned. "We hereby call on the all the anti-graft agencies to prosecute all the parties involved in this appointment illegality in accordance to the provisions of the law of the Federal republic of Nigeria. "The Governor of the Central Bank of Nigeria should ensure that the credibility and integrity of our financial institutions are sabotage by unscrupulous elements that with their selfish interest results in dubious means to have their unholy intentions actualized. "We call on handlers of private institutions especially banks and other financial institutions to embrace the rule of law and regulations by adhering strictly to the guidelines and codes governing their establishment, he said. This report is in series. Stay tuned on the brother's internal fraud in the bank and the cover-up.
Ebenezer Onyeagwu: Zenith Bank GMD Preaches increased impact investment for Africa at global summit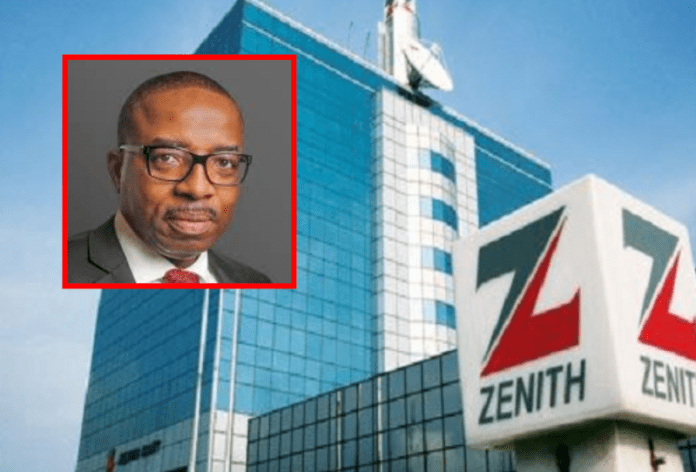 Group Managing Director/Chief Executive of Zenith Bank plc, Mr. Ebenezer Onyeagwu, has called for increased impact investing in Africa to enable it attain its full potential. He made the call during his keynote address at the Africa Investment Risk & Compliance Summit 2021 organised by the Emerging Business Intelligence & Innovation (EBII) Group which held at the prestigious University of Oxford, United Kingdom, at the weekend.
Onyeagwu delivered his keynote address after the special keynote address by President Nana Addo Dankwa Akufo-Addo, who was Special Guest of Honour.
Also at the event was Dr Amani ABOU-ZEID, African Union Commissioner in charge of Infrastructure and Energy, who delivered a keynote address at the Summit.
Delivering the keynote address with the theme "Leveraging Impact Investment Opportunities for Growth in Africa", Onyeagwu described impact investing as an investment that yields optimal returns for investors, value for all stakeholders, and guarantees continued sustenance and existence of humanity. He decried the shallowness of Africa's financial market as reflected in the fact that no African exchange is among the Morgan Stanley developed markets index, with only two African exchanges (Egypt and South Africa) in the MSCI Emerging Markets Index, and just six African exchanges in the MSCI Frontier Market Index.
He noted that although the International Finance Corporation (IFC) estimates that the global investors' appetite for impact investing could total as much as $26 trillion, only approximately 8percent of the assets of impact intent funds are focused on Africa. According to him, this is not significant enough, and Africa appears to be in the room but not on the table, considering that the continent is in dire need of investment with its estimated 1.3 billion people represent about 17percent of the global population of about 7.8 billion.
Citing the immense opportunities in Africa that represent enormous investment proposition for discerning investors, including the huge population, large market and active labour force, and the rich natural endowment, Onyeagwu described Africa as "the new frontier" for global growth. He made a case for increased impact investment in in the continent noting that investment opportunities cut across agriculture, healthcare, housing, infrastructure, electricity, and the creative sectors.
Onyeagwu expressed optimism on the coming into effect of the African Continental Free Trade Area (AfCFTA) initiative, targeting to create a single, continent-wide market for goods and services, business and investment that grants investors access to the entire continent. He also called on investors' attention to Africa's rich natural endowment, which includes 60percent of the world's uncultivated arable land and 9 percent of the world's freshwater bodies, noting that Africa holds enormous potential for organic food production. He, therefore implored investors in the agribusiness value chain to focus attention in Africa for organic food production instead of genetically modified food in other climes.
Onyeagwu also noted that as a socially responsible organisation, Zenith Bank would continue to promote impact investment in Africa, stressing that the bank has maintained strong advocacy for investment in Africa through its flagship sponsorship of "Inside Africa" on CNN for 16 consecutive years, which is helping to highlight the immense creativity and talent that abound on the continent and the enormous investment opportunities on the African continent. He also said that the bank leverages its in-depth knowledge of the African market to guide investors and hedge their exposures. According to him, the bank has been on a steady Environment, Social and Governance (ESG) investment journey, which started with ESG integration as a business strategy as well as being a signatory to the Nigerian Principles for Sustainable Banking and the United Nations Environment Programme Finance Initiative (UNEP FI) Principles for Responsible Banking.
EFCC arraigns four for N900 million POS fraud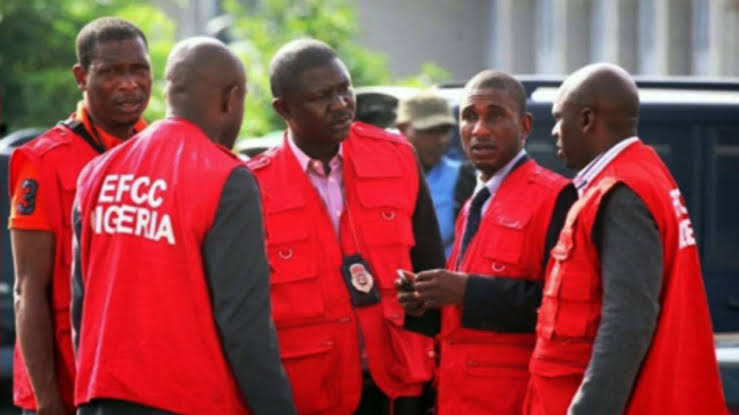 The anti-graft agency says the prime suspect connived with some staff members of First Bank to defraud customers using a POS terminal allocated to him.
The Economic and Financial Crimes Commission (EFCC) on Monday arraigned four defendants for fraud involving over N900 million Point of Sale (POS) transactions.
A statement by the commission said Naankang Dawan was arraigned along with his companies – Taen Nigeria Ltd, Lataen Engineering Ltd – and Moruf Tunji Olukanmi, at the Federal High Court in Jos, Plateau State.
Wilson Uwujaren, EFCC's spokesperson, who signed the statement, said the defendants were arraigned on 31 counts of "conspiracy, money laundering and obtaining N908, 108, 974.52 by false pretence."
The commission alleged that Mr Dawan who inherited some companies including a petrol station from his family, connived with some staff members of First Bank, including Moruf Tunji Olukanmi (fourth defendant), to defraud customers using a POS terminal allocated to him.
They pleaded not guilty to the charges when read to them before the trial judge, D. V Agishi, the statement said.
READ FULL STATEMENT
EFCC Press Release
EFCC Arraigns Four for N900m POS Fraud in Jos
The Economic and Financial Crimes Commission, EFCC, today July 12, 2021 arraigned Naankang Dawan, his companies: Taen Nigeria Ltd, Lataen Engineering Ltd alongside Moruf Tunji Olukanmi before Justice D. V Agishi of the Federal High Court, Jos, Plateau State on a 31-count charge bordering on conspiracy, money laundering and obtaining N908, 108, 974.52 (Nine Hundred and Eight Million, One Hundred and Eight Thousand, Nine Hundred and Seventy Four Naira and Fifty Two Kobo) by false pretence.
Naankang Dawan (first defendant), who allegedly inherited some companies including a petrol station from his family, connived with some staff of First Bank, including Moruf Tunji Olukanmi (fourth defendant), to defraud costumers using a Point of Sale (POS) terminal allocated to him.
Count two of the charge reads, "That you, Naankang Dawan being the Managing Director and Chief Executive Officer of Taen Nigeria Limited, Taen Nigeria Limited, Doyin Adesanya (at Large), Samuel Temitope Falese (at large), Ebenezer Oni Kehinde (at large) and Mariam Babatunde Olabisi (at large) between October 2017 to November 2017 within the jurisdiction of this Honorable Court, with intent to defraud, manipulated First Bank of Nigeria Plc Point of Sale (POS) terminal issued to Taen Nigeria Limited and by so doing fraudulently credited Tean Nigeria Limited account Number: 2025956973 domiciled with First Bank Nigeria Plc with the sum of N908,108,974.52 (Nine Hundred and Eight Million, One Hundred and Eight Thousand , Nine Hundred and Seventy Four Naira and Fifty Two kobo) only and thereby committed an offense contrary to Section 30(1) of the Cybercrime (Prohibition, Prevention, Etc.) Act, 2015".
The defendants pleaded not guilty to all charges.
Based on their pleas, prosecution counsel Benjamin Manji asked for a trial date and that the suspects be remanded at the Correctional Centre pending trial.
But defence counsel, A.G Yirvoms informed the Court of a pending application for the bail of his clients.
Justice Agishi adjourned the case till July 26, 2021 for consideration of bail application and October 6, 2021 for trial.
Wilson Uwujaren
Head, Media & Publicity
ALAT to reward customers with cash prizes for Referrals throughout 2021.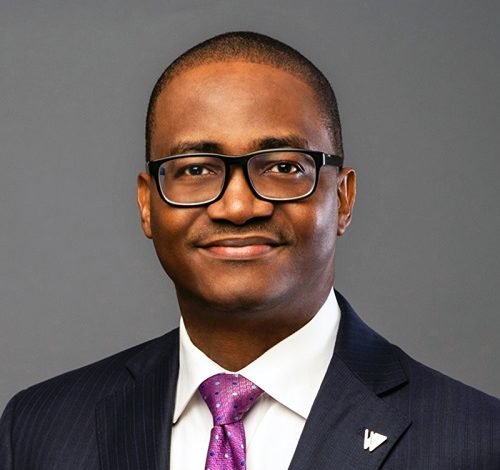 ALAT users nationwide with active accounts who have done at least three transactions in the last six months as well as referring other users are to be rewarded with cash prizes and may also win one of the three star prizes in the ongoing earn on the go campaign.
At the beginning of this year, ALAT, Wema Bank's revolutionary digital banking app, launched its earn on the go campaign, allowing members of its Trybe to not only earn money on the app but also stand a chance to win one of the three grand prizes at the end of the year.
For the duration of this campaign, all ALAT users with an active account, who have carried out at least 3 transactions in the last 6 months will be given a unique referral code.
"This code is used to track the number of referrals made from a single account, whereby a customer receives one thousand Naira for every successful invitation to join the ALAT Trybe.
"While referrals are ongoing, we will be tracking all our users' progress and by December reward the top three referrers with prizes worth our one hundred thousand Naira", the bank said in a sattement..
The first-place winner will receive the grand prize worth N350,000, while the second place and first runner up, will get a prize worth N200,000.00, and finally in the user that makes it to third place will be giving a prize worth N150,000.00.
To reward the efforts of all participating users, a quarterly raffle draw will be held twice in the year, where twenty people from the list of top hundred referrers will stand a chance to win Ten thousand Naira each.
Founded in 2018, Alat by Wema is the first fully Digital Bank in Nigeria, providing banking services through the bank's Andriod, iOS, and Web apps to over a hundred thousand users in Nigeria.