United Bank for Africa (UBA) Plc is on the top list of companies with well-rounded performance. UBA's top-of-the-chart performance at the stock market combines with considerable growth in all key fundamental indicators to make the bank the best performing banking stock in recent period. Capital Market Editor Taofik Salako, in this report, reviews the interplay of fundamental earnings and share price appreciation
United Bank for Africa (UBA) Plc outperformed all banking stocks in the first quarter of 2017 with a share price appreciation of 28.22 per cent. It had recorded the second highest price gain of 33.1 per cent in 2016, just slightly under three points behind Guaranty Trust Bank (GTB), which led the sector with 35.9 per cent.
Altogether, UBA's share price had grown by more than 60 per cent in the past 15 months, the highest by any bank and one of the few bright spots in the long-running depression at the stock market. Average return at the Nigerian Stock Exchange (NSE) in the first quarter of 2017 was negative at -5.05 per cent.
The NSE Banking Index was down by 0.03 per cent while the NSE 30 Index, which tracks large-cap stocks, was almost on the average with a three-month return of -4.93 per cent. In  2016, the stock market had recorded a full-year average return of -6.17 per cent, equivalent to net capital loss of N604 billion.
Only 19 companies, including three banks, recorded a capital gain of 20 per cent and above in 2016, underlining the general downtrend that marked price changes during the period. A long-running depression had seen quoted equities losing N4 trillion in the past three years, including N1.75 trillion and N1.63 trillion in 2014 and 2015 respectively.
UBA's share price appears to be riding on the crest of positive analysts' reviews. There is almost analysts' consensus on the attractiveness of the UBA. Investment research and rating firms such as Renaissance Capital, CSL Stockbrokers, Fitch and Augusto among others had maintained that UBA has strong fundamentals to support substantial price appreciation. UBA Group's audited report and accounts for the year ended December 31, 2016 supported the positive view of its earnings potential, in spite of the Nigerian economic recession.
Improving earnings
Key extracts of the Group's audited report showed impressive growths in the top-line and the bottom-line as it continued to expand its assets base. Group;s gross earnings rose by 21.9 per cent from N314.84 billion in 2015 to N383.65 billion in 2016. Interest income had grown by 15 per cent from N229.63 billion in 2015 to N263.97 billion.
With 2.9 per cent increase in interest expense from N96.03 billion to N98.77 billion, net interest income rose by 23.7 per cent to N165.2 billion in 2016 compared with N133.6 billion in 2015. This underlined the profitability of the group's core banking business. Group profit before tax grew by 32.4 per cent to N90.64 billion in 2016 as against N68.45 billion in 2015. After taxes, net profit rose by 21.1 per cent from N59.65 billion to N72.26 billion. With these, earnings per share increased from N1.79 in 2015 to N2.04 in 2016.
UBA Group's balance sheet also emerged stronger with total assets rising by 27.3 per cent from N2.75 trillion in 2015 to N3.5 trillion in 2016. Customers' deposit rose by 19.7 per cent from N2.08 trillion to N2.49 trillion. Loans and advances recorded above average growth of 44.2 per cent to N1.50 trillion in 2016 as against N1.04 trillion in 2015, underlining  the bank's commitment to economic development. Shareholders' funds also increased by 33.5 per cent from N325.83 billion in 2015 to N434.85 billion in 2016.
Key underlying ratios showed that the growth in 2016 was driven by improvements in the intrinsic operational performance and management. Net interest margin, which underlines the profitability of the core banking business, improved to 62.6 per cent in 2016 as against 58.2 per cent in 2015. This corroborated the reduction in cost of fund. Pre-tax profit margin, which measures the underlining profitability of the group's businesses, also improved from 21.7 per cent in 2015 to 23.6 per cent in 2016.
On the back of improved earnings, the bank increased dividend payout to shareholders by 25 per cent, further enhancing the total real return on investment built up significantly by capital appreciation. Shareholders received final dividend payment of N19.9 billion for the 2016 business year, in addition to N7.3 billion interim dividend paid after the audit of its 2016 half-year results. With this, shareholders received a final dividend per share of 55 kobo in addition to interim dividend of 20 kobo, bringing total dividend for the 2016 business year to 75 kobo as against 60 kobo paid for the 2015 business year. A dividend yield of more than 14 per cent further placed UBA within the top yields at the stock market. This surpassed the 13.01 per cent coupon on the two-year tenored Federal Government National Savings Bonds.
Sustained growth
The latest audit report confirmed UBA Group's steady performance over the years. A five-year medium term review showed that total assets have grown steadily from N2.27 trillion in 2012 to N3.50 trillion in 2016. Net loans and advances more than doubled from N658.9 billion in 2012 to N1.50 trillion in 2016. Customers' deposits also followed the uptrend, jumping from N1.72 trillion in 2012 to N2.49 trillion in 2016. Shareholders' funds rose consecutively from N189.11 billion in 2012 to N434.85 billion in 2016. Profit before tax, which stood at N52.01 billion in 2012, had defied recession to rise to N90.64 billion in 2016 while profit after tax rose from N54.77 billion in 2012 to N72.26 billion in 2016.
Most analysts have rated UBA Group high on its fundamentals. "We note improvement in profitability and the bank's good asset quality. The rating takes into cognizance the weak macroeconomic climate on the banking industry's asset quality, in which we do not expect UBA to be excluded. Nonetheless, we note positively its diversified geographical reach, which will cushion to an extent the impact of the weak Nigerian economic climate," Agusto & Co stated in its recent credit rating report.
Nigeria's foremost local rating agency, Agusto & Co,  had upgraded UBA's rating from "A+" to "Aa-", with a stable outlook, citing the bank's improved capitalisation, good liquidity and large pool of stable deposits, strong domestic presence supported by the bank's extensive branch network and growing alternative banking channels.
Also, Fitch International, one of the foremost global rating agencies, in its latest report affirmed and upgraded its ratings for the bank citing strong earnings and asset quality. Fitch affirmed UBA's viability rating at "B" as the pan-African banking group continues to sustain its benchmark asset quality and strong profitability amidst industry and macroeconomic challenges. UBA is one of the few banks with strong risk management framework, which has helped kept non-performing loans ratio at a moderate level of 1.74 per cent as at the end of March 2016.
Strength in diversity
Other African subsidiaries contributed about one hird of the group's profit in 2016, reflecting the increasing market share of the group outside its Nigerian home. UBA operates in 18 other African countries including Ghana, Republic of Benin, Liberia, Cote d'Ivoire, Burkina Faso, Guinea, Senegal, Sierra Leone, Mozambique, Zambia, Uganda, Tanzania, Kenya, Congo DR, Congo Brazzaville, Cameroon, Chad and Gabon. UBA also has presence in United Kingdom, United States and France.
Geographical segment analysis showed the group performance was buoyed by above average growths in its foreign subsidiaries. The other 18 African subsidiaries recorded pre and post tax profit of N31.4 billion and N24.32 billion respectively on total earnings of N121.9 billion in 2016, considerable growths on pre-tax profit of N18.8 billion and post-tax profit of N14.14 billion recorded on total incomes of N67.72 billion in 2015. Other non-African global operations also improved in 2016 with total income of N9.8 billion and pre and post tax profits of N3.4 billion and N3.37 billion respectively. Other non-African global subsidiaries had recorded gross earnings of N6.01 billion and pre and post tax profit of N1.95 billion each in 2015.
Operating segment analysis also showed that the overall performance rested on evenly spread improvements across the key business segments. Corporate banking recorded gross earnings of N116.63 billion, profit before tax of N43.46 billion and profit after tax of N37.69 billion in 2016 compared with N101.07 billion, N29.04 billion and N25.31 billion recorded respectively in 2015. Retail and commercial banking segment, the largest segment, grew top-line to N227.57 billion in 2016 with profits before and after  tax of N29.44 billion and N20.05 billion respectively. Total revenue in the segment had stood at N185.19 billion in 2015 with profit before tax of N26.52 billion and profit after tax of N23.11 billion.
Outlook
The board and management of UBA said the banking group is well-positioned for sustainable long-term growth that will continue to ensure commensurate returns to shareholders. Chairman, United Bank for Africa (UBA) Plc, Mr. Tony Elumelu, noted that most African countries were implementing policy measures that should help stimulate inclusive economic growth, ease macro pressures and lower the cost of doing business. According to him, while Africa has experienced a difficult period; the UBA group welcomed 2017 with renewed optimism as it truly believes that "Africa is Rising".
"Our pan- Africa operations have delivered on the promises we made at the outset of our growth strategy and we are beginning to reap the benefits of one the largest network in Africa. As we navigate the fast changing market place, we are increasingly digitalising our core business, as we explore new markets and means of embracing customers experience, gain increased share of customers' wallet and offer new services. I am very optimistic that we will sustain the strong growth trajectory, as we continue to gain market share, leveraging our core values of enterprise, excellence and execution," Elumelu outlined.
Group managing director, United Bank for Africa (UBA) Plc, Mr. Kennedy Uzoka also assured that the bank is optimistic of continuing growth in the years ahead.
"The 2017 outlook remains positive in most of our markets. We are not aware unaware of the macro challenges, competition and constantly changing customer preferences.  We will further sweat our unique Pan Africa platform to improve productivity, extract efficiency gains and grow our share of customers' wallet across all business lines and markets," Uzoka said.
According to him, as the banking group continues with its customer first philosophy, shareholders can look forward to better performance, especially with the outlook remaining positive in most of the group's markets.
"We will build on our strong governance culture, zero-tolerance for infractions and transparency in furthering our frontiers of leadership in the African market," Uzoka said.
http://thenationonlineng.net/uba-outperforming/
More Troubles For Umo Eno As Court Rejects Stay-of-execution Request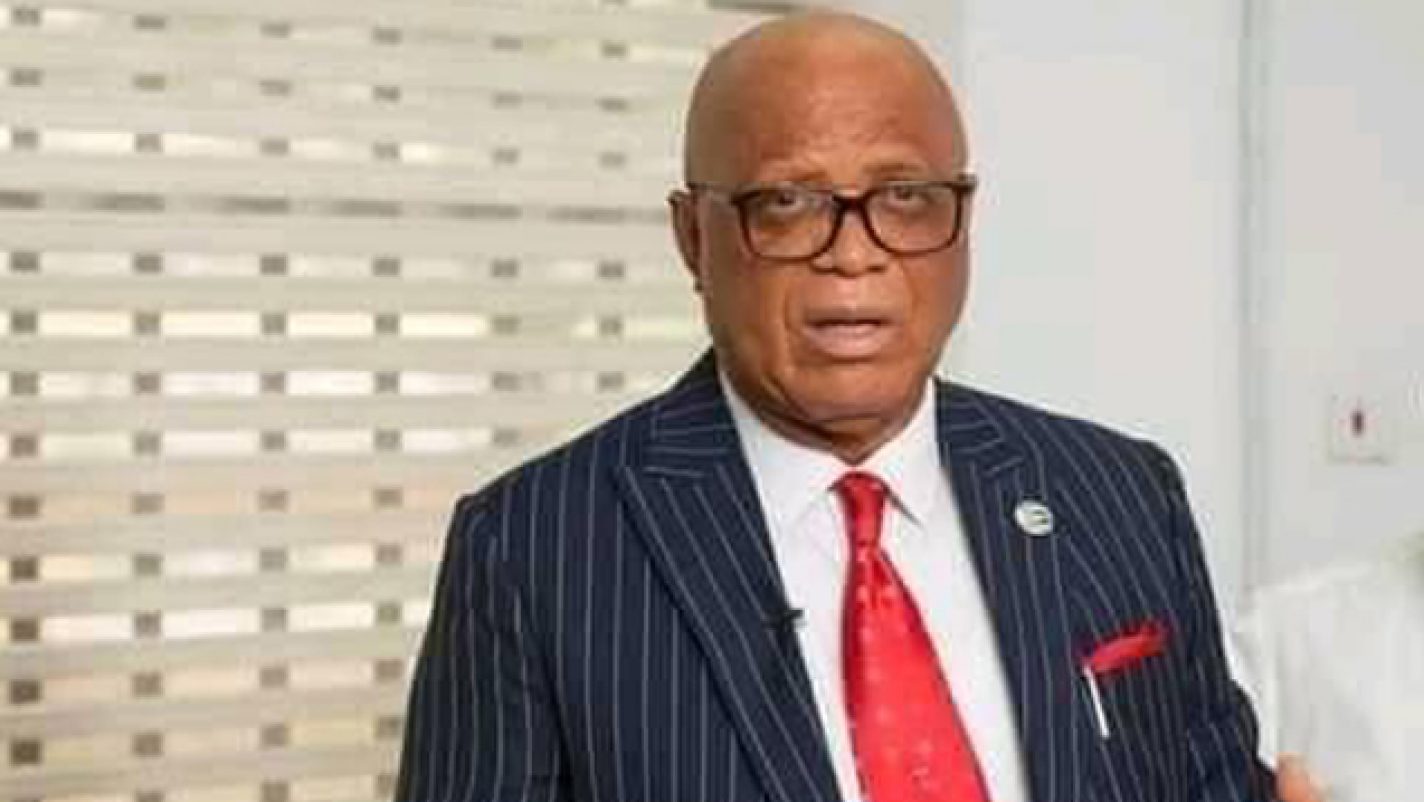 A Federal High Court in Abuja on Tuesday dismissed an application filed by Pastor Umo Eno seeking a stay-of-execution of the Order which had nullified his nomination as the PDP governorship candidate in Akwa Ibom State.
The court which nullified Eno's nomination, ordered that he should be replaced with Rt. Hon. Michael Enyong as the authentic PDP candidate.
In throwing out the request for stay of execution, the Court ruled that Umo Eno was never a party to the case filed by Enyong, and so his request could not be entertained by the COurt. The court therefore described Umo Eno as ''meddlesome interloper'' for seeking to file an application in a matter he was never a party of.
Recall that in a judgement delivered on January 20, Justice Fadima Aminu of the FHC, Abuja, had ordered the PDP to submit Enyong's name to INEC as its candidate. In a suit marked FHC/ABJ/CS/1295/2022 filed in August, Enyong had submitted that he won the party's primary held on May 25. The defendant in the case was PDP. Enyong did not join Eno as a party in his case. How clever!
This means that it is only the PDP that has the locus to file an appeal or stay of execution application against the judgement which sacked Eno. So far, the PDP's National Legal Adviser (NLA) is not willing to participate in the matter especially since he was never carried along in all the Umo Eno legal matters. Rather, the Akwa Ibom State Chapter of the Party had always engaged Barr. Emmanuel Enoidem (the former NLA) as its legal counsel, totally sidelining the current National Legal Adviser. Recall also that the PDP National Legal Adviser had a few weeks ago issued a public statement announcing that it is only the NLA that has the authority to brief and engage lawyers holding briefs for the party. The public statement had also warned party members to desist from engaging lawyers without his knowledge.
Meantime, I understand that Enyong's lawyers had served INEC with the Court order and his name would soon be published by the electoral umpire as PDP's authentic governorship candidate.
My Take:
1. The chances of Umo Eno returning to his former status as the governorship candidate is very, very slim. It probably will not happen.
2. Gov. Udom Emmanuel and the PDP have yet to come to terms with the fact that Umo Eno's name has been deleted as the candidate. They are inconsolable in anger, grief and pain. ''They are experiencing a great sense of separation, akin to the overwhelming feeling of loss which one experiences when he is bereaved'', says a political analyst and business man, Elder Aniefiok Isatt.
3. This development is also the greatest setback and the most devastating blow the PDP has ever suffered in the state since 1999. This case might just be some kind of ''Nunc Dimittis'' for the PDP in the State.
4. Privatively, PDP stalwarts are quick to blame the governor for the woes that has befallen the party this season. They believe that by imposing a very unpopular person as the candidate, the governor had bruised and hurt the majority of the members.
5. The question many are pondering is: Will Udom Emmanuel take to Enyong and accept him as the PDP candidate, thus conceding that Umo Eno was never God's revelation, contrary to what he told the people; or will the governor leave Enyong to his own devices and embrace a different person?
Our Client Wanted To Say 'Pupsy', Not Her Private Parts — Lawyer Defends Embattled Nigerian Polytechnic Female Graduate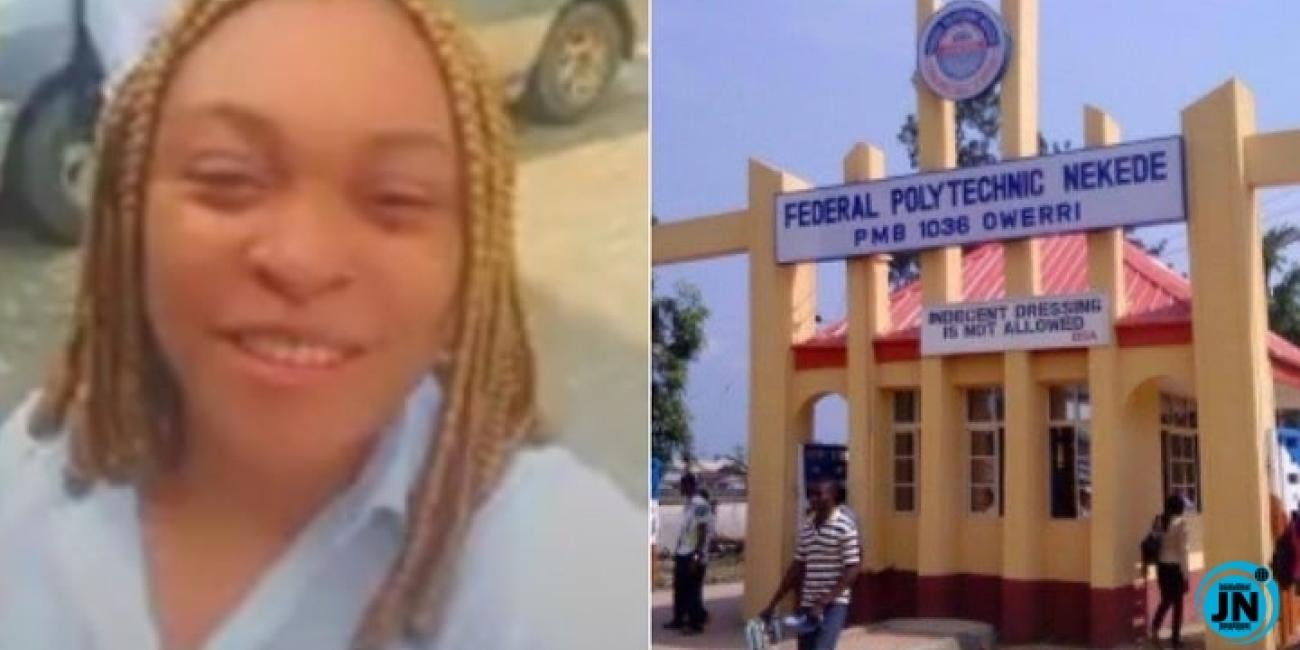 Barrister Ikechukwu Nwaopara, a legal practitioner representing the interest of Sharon Ogechi Okoroafor, the graduating student of the Federal Polytechnic Nekede, Owerri, Imo State, who went viral on social media for saying that she graduated with the help of God and her private parts, has said his client was misinterpreted.
The lawyer, who made the appeal to the institution's management in a statement made available to newsmen, claimed that their client had no intention of disparaging the institution's reputation, standards or integrity.
The statement reads: "We are solicitors to OKOROAFOR OGECHI SHARON (our client under our Pro Bono (Free Legal Services) on whose behalf we write this memo to you.
"We are aware that she will be facing the school disciplinary panel this morning, and we wish to use this medium to express our confidence that the panel will carry out their duties in compliance with the principles of Fair hearing, good conscience and natural justice, devoid of harassment, intimidation, and threats.
"We have met and discussed with our Client and evidence before us shows that she has no intention to defame the character, standard and integrity of the institution. In her words what happened in the said viral video was a slip of tongue as a result of her uncontrollable ecstasy over her graduation. Her intended words were "God and Pupsy" in appreciation of the Almighty God and her dad.
"It is clear, therefore, that she had no intention whatsoever to use such a "foul word" in the said viral video to cajole or blackmail the institution, as no lecturer or name of the institution was mentioned or referred to in the said viral video.
"Our lawyers are already on ground at the institution now to follow up the proceedings at the panel against any form of intimidation or harassment. The integrity and standard of the said institution is not in doubt especially since my senior brother, Rev Dr Arimanwa took over as the Rector. Indeed, justice is for all parties."
We had reported that after Sharon's video went viral on the internet, the management of the institution announced that it would investigate her action as it was capable of dragging the reputation of the school to the mud.
Alleged N1.4bn Fraud: Witness Reveals How Kogi Assembly Candidate, Atumeyi Fraudulently Benefitted N681m from Union Bank Customers' Accounts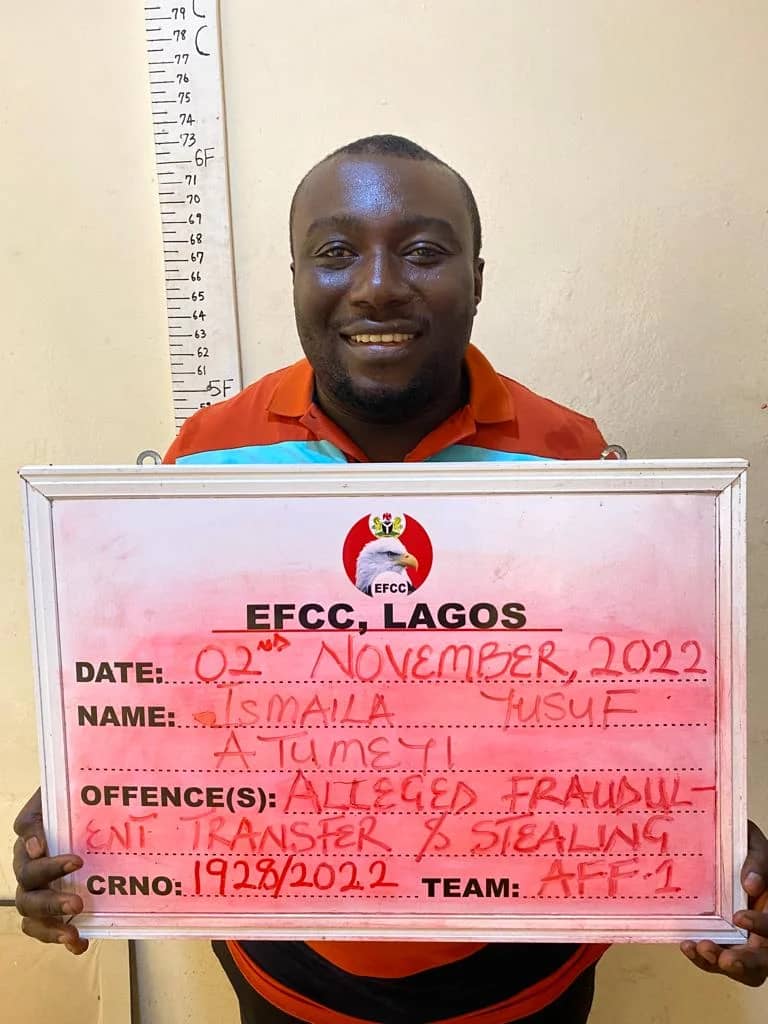 The first prosecution witness, PW1, Olusegun Falola, in the ongoing trial of Ismaila Yousouf Atumeyi, a Kogi State House of Assembly candidate of the New Nigeria Peoples Party, NNPP, and two others, on Monday, January 31, 2023, told Justice Tijani Ringim of the Federal High Court sitting in Ikoyi, Lagos how the sum of N681m (Six Hundred and Eighty-one Million Naira) was paid into Atumeyi's business account.
Atumeyi is standing trial alongside Ngene Joshua Dominic and Abdulmalik Salau, a former employee of Union Bank Plc, on an 18-count charge bordering on alleged cybercrime and money laundering to the tune of N1.4bn.
Led in evidence by the prosecution counsel, Rotimi Oyedepo, SAN, Falola, an Internal Auditor and Team Lead, General Investigations, Union Bank Plc, told the court that "sometime in October 2022, during the periodic internal review of accounts of customers, we observed that some accounts that were placed on No-debit were debited.
"In the course of our review, it was observed that the methodology employed in debiting the said accounts was different from the way accounts are being debited in the normal banking activity.
"Based on this, the case was assigned to me for further internal investigation. During the review, I observed that beyond the few accounts that were referred to me for investigation, there were other numerous accounts that were being debited.
"Furthermore, the debits on these accounts were traced to two beneficiaries, Atus Homes Limited account and Fav Oil and Gas Limited.
"These two accounts received the sum of N681m and N1.38bn, respectively from the account of 429 customers."
He also told the court that further investigations revealed that Atumeyi is the signatory to the Atus Homes Limited account, while the signatories to Fav Oil and Gas are Shuaibu Yusuf and Nurudeen.
According to him, all illicit debits on the customers' accounts were done via internet banking on one of the bank's platforms known as Union 360.
Giving further testimony, he said: "As at the time of investigation, over 600m had been withdrawn from the account of Atus Homes Limited and over N800m withdrawn from Fav Oil and Gas.
"We also realized that they were able to make those fraudulent transfers because the bank system was fraudulently manipulated.
"It was this realization that made us know that only a person with privileged information on the bank's information technology could have carried out such illicit transactions.
"It was based on that knowledge that we reported the matter to the EFCC for further investigation."
Oyedepo sought to tender the petition written to the EFCC, the correspondences between EFCC and the bank as well as the defendants' statements of account that had been identified by the PW1.
However, counsel to the third defendant, Babatunde Ogunwo, objected to the admissibility of the attached statement of account on the grounds that the prosecution had not sufficiently complied with Section 84 (2) 2(4) of the Evidence Act.
"I strongly believe that the prosecution has not satisfied the provisions of Section 84 (2) 2(4) of the Evidence Act. All I heard the witness say is questions put to him by the prosecution.
"However Section 84(2) of the Evidence Act gives conditions more than what the witness has stated.
"There are four legs as stated by the Evidence Act and the witness has only answered one. These conditions have to be complied with.
"I humbly submit that the prosecution has not complied with the conditions stated for the admissibility of the statements of account", Ogunwo argued.
Responding, Oyedepo said that the argument of the defence counsel was misconceived and also missed its target.
He, therefore, urged the court to discountenance the objection of the defence.
He also submitted that the certificate of identification as enshrined in the Section of the Evidence Act "is not a ritual that must be performed in achieving admissibility of computer-generated evidences."
He further argued that "where the issue is as to the failure to comply with procedural steps towards admissibility, the order the court will make is not to reject the document, but to urge the tendering party to regularize.
"This document is relevant in the determination of this matter and I urge my Lord to so hold."
In a short ruling, Justice Ringim overruled the objection of the defence and admitted the evidence in exhibit.
Justice Ringim also granted the second defendant, Dominic, bail on the same terms of the 3rd defendant, as granted on January 6, 2023.
The matter was adjourned to February 2, 2023 for continuation of trial.