Tony Elumelu Sees Africa on the Rise and Calls for Stronger Business Relationships between Africa and France
At the recent MEDEF Summer University Forum in Paris, the annual meeting of French business and political leaders, Tony Elumelu, Chairman, Heirs Holdings and UBA Plc and Founder of the Tony Elumelu Foundation, stressed the opportunities Africa offers and urged stronger business relationships between France and Africa; calling for a deepening of commercial relationships based on mutual respect and interest.
The Forum is one of France's leading gatherings, bringing together over 7,500 business and opinion leaders, including Heads of State, government officials, political and business leaders, academics and over 450 French and international journalists. Elumelu was one of the select representatives from Africa, where he contributed to the opening panel debate, 'The World is Watching Us'. Moderated by Frédéric Ferrer, journalist, consultant and professor at ESCP Europe, other participants were the President of MEDEF, Pierre Gattaz; Gary Coombe, President of Proctor & Gamble Europe; and Oudet Souvannavong, Executive Vice-President of the Lao National Chamber of Commerce and Industry, and President of Lao Hotel & Restaurant Association.
As a leading advocate for the African private sector and champion of African entrepreneurship, Elumelu began his speech by thanking France for the cordial business relationship between France and Africa. "When we as Africans look at France, we see a long standing friend of Africa. Looking forward, France and Africa must continue to partner in a manner that brings about positive change."
Mr. Elumelu is known as the proponent of Africapitalism, the philosophy that Africa's private sector can and should drive economic change on the continent. Fundamental to this is the role of entrepreneurship, which creates wealth and jobs on the scale needed in Africa. Mr. Elumelu pursued this theme, stating that the solutions to issues of social exclusion are enterprise and entrepreneurship.
He urged France to look beyond its traditional relationships with Francophone countries, important as they are, and to embrace Anglophone and Lusophone Africa. He called on small and large businesses in France and in Africa to seek ways of collaborating in order to deepen economic ties. "France has very strong links with Francophone Africa, and we would like to see you engage more commercially with the Anglophone countries; creating a new form of economic and commercial partnership between France and the whole of Africa," he said.
Mr. Elumelu has long been an advocate of Africa on the rise and seized the opportunity to encourage businesses to invest on the continent, which has so much to offer in returns. He highlighted the role of Africans themselves investing on the continent, while making a call to the French public and private sector to do the same, stating that there is nowhere else that can give as much return on investment as in Africa.
"There is a reason MEDEF has a new economic interest in Africa. Africa is home to the largest and fastest growing consumer population globally. It is a huge opportunity for both international and domestic businesses – and African businesses are increasingly competing successfully. What we all want to see is Africa growing its own value adding industries; the days of commodity extraction are over."
Elumelu advised governments to support the private sector, in order to create more value in the society. "What is good for the private sector is also good for society. The private sector is best placed to assist government achieve its mandate. If the private sector succeeds, it creates more jobs, enhances security, and improves living standards".
Pierre Gattaz added to this statement saying: "Full employment should be on the agenda of any political programme that is worth any value or worth its name. This should take up 70% of any political agenda moving forward. We must encourage and trust those who bring enterprise and create jobs".
Elumelu himself has an extraordinary track record of job creation, including creating the UBA Group, which now employs over 20,000 people in 19 African countries. And he is giving back, through the Tony Elumelu Foundation's $100m commitment to support 10,000 entrepreneurs over a period of 10 years. Mr Elumelu concluded the session by encouraging the entrepreneurs present to reach for their dreams. "Entrepreneurs are able to bring their ideas to fruition through the support we give them. This is helping them not just to dream, but to turn their ideas into successful ventures – and create the foundation for broad based and meaningful change in Africa".
The event was closed by the moderator, Frederic Ferrer, who applied the tag line of the Tony Elumelu Foundation's entrepreneurship programme to France, "Your ideas can transform France too and not just Africa!".
My son's death a test from God – Heartbroken Gov. Sule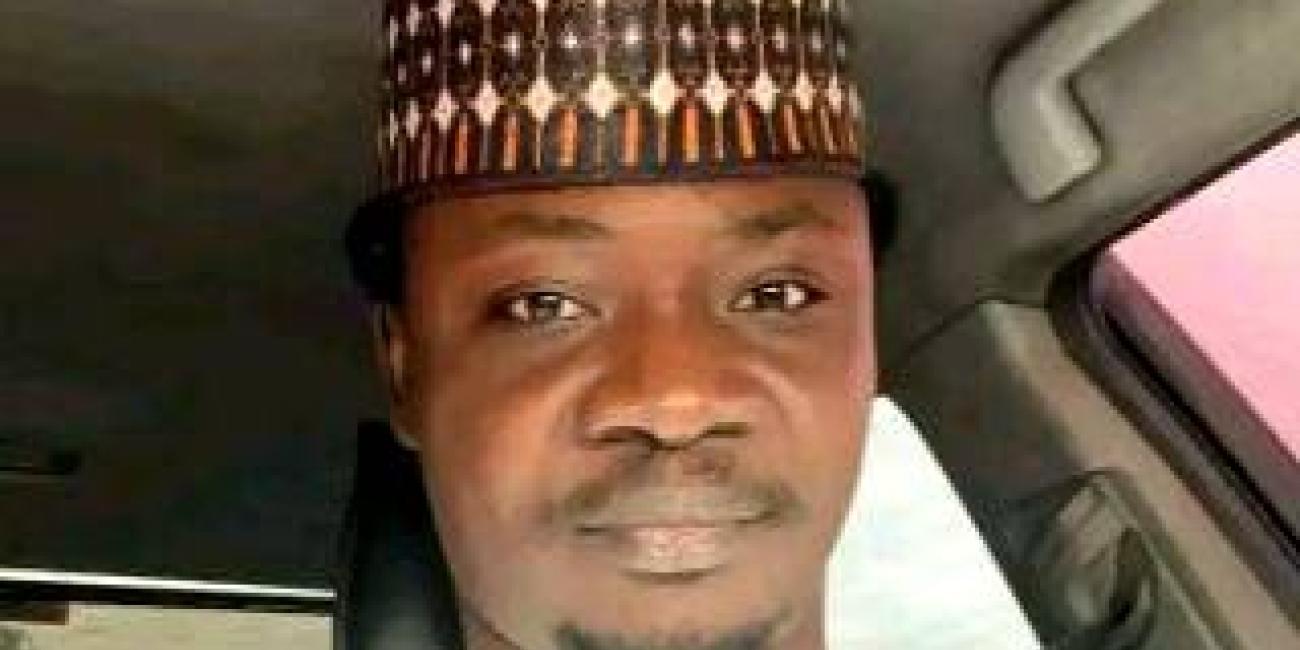 Heartbroken Governor Abdullahi Sule of Nasarawa State on Friday said the death of his son, Hassan, is a test from God.
Hassan, 36, died on Thursday after a brief illness.
He spoke while receiving condolences at the palace of his father, the Sarkin Gudi, Alhaji Sule Bawa, in Akwanga LGA.
Sule said he was the one consoling somebody who lost his nine children and 70 cows the previous day and that today God decided to test him, to see whether he was sincere in consoling that bereaved father.
"This is my time to be tested. I see this as a test from God. I was the person consoling somebody that lost his 9 children and 70 cows yesterday, and today God decided to test me, to see whether I was sincere in consoling that bereaved father," he said in a report by The Punch.
According to him, his son grew up carrying all his siblings along, saying that it was only God that has the power to take him away.
Sule added that his son was the one taking decisions on their businesses, saying that he was always on hand to advice him on what next to do, as his schedule would not allow him to run any business.
The governor insisted that God took him away to test hi resilience and faith.
"God didn't seek my advice when he gave Hassan to me and he will not seek my advice when he takes him away," he said.
Senate summons Kyari, CEO NNPCL over N48 billion pipeline surveillance contract awarded to Tompolo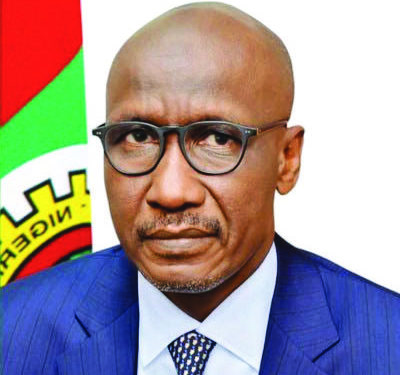 The Senate Committee on Ethics, Privileges and Public Petitions has summoned the Group Chief Executive Officer of the Nigerian National Petroleum Company Limited (NNPCL), Mr. Mele Kyari, over a N48 billion pipeline surveillance contract awarded to stakeholders in the Niger Delta region.
The pipeline surveillance contract was awarded by the Federal Government to Global West Vessel Specialist Limited, a private maritime security firm founded by Government Ekpemupolo, an erstwhile Commander of the Movement for the Emancipation of the Niger Delta (MEND) also known as Tompolo.
The Tompolo-owned firm was expected to protect all the oil pipelines criss-crossing nearly all the states in the Niger Delta in collaboration with other major stakeholders in the oil bearing communities in the region.
Specifically, Tompolo is expected to carry out the N4 billion per month contract that covers Delta, Ondo, Imo, Rivers and some parts of Bayelsa State in collaboration with major tribes along the communities that host the oil pipelines.
However the Isoko Ethnic Nationality has petitioned the Senate alleging that their young men were not being carried along in the multi-billion naira project.
The Isoko people under the auspices of Interested Isoko Youth Groups, through a petition sent to the Senate on their behalf by Stanley Okonmah, said they were completely marginalised in the contract award.
The lsoko Ethnic Nationality requested the Senate to probe the award of the contract and prevail on the NNPCL's management to award a fresh contract to a company owned by an Isoko person.
Specifically, the people urged the Senate to look into the matter and urged the Minister of Petroleum Resources and the Group Chief Executive Officer of Nigerian National Petroleum Company Limited (NNPCL) to correct the anomaly.
They want the NNPCL to award the pipeline surveillance contract to a company to be chosen by stakeholders of Isoko nation.
The Chairman, Senate Committee on Ethics, Privileges and Public Petitions, Senator Ayo Akinyelure (PDP – Ondo Central), at a session in Abuja, said the GCEO of the NNPCL was being summoned to the Senate for him to come and assure the Isoko people that the agency would do the needful to avoid economic sabotage by the aggrieved youths of the area.
He said, "The GCEO of the NNPCL is hereby summoned by the Senate Committee on Ethics Privileges and Public Petitions (to appear before this committee) on January 25.
"We want him to come and assure Nigerians that he would do the needful to calm down the youths so that they will not engage in pipeline vandalism."
Earlier, the leadership of the Isoko youths told the panel that since oil was discovered in their land and pipelines installed there in 1958, till date, no case of vandalism had been recorded in the area.
Confusion at Lagos Airport as Workers Embark On Strike…… Passengers Stranded!(Photos)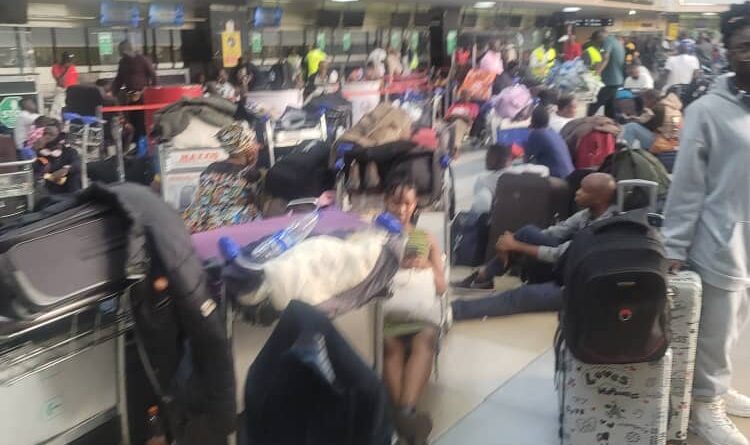 Several passengers were stranded this morning at the Murtala Mohammed International airport as airport workers began strike starting from midnight.
passengers were spotted all around with airlines having little information on the way forward.
for instance, virgin Atlantic passengers that were due for London trip this morning were helpless as many had to reschedule their flights and many left loitering around
more details………