Timipre Sylva Accept Defeat: "I couldn't have won Bayelsa poll with PDP in charge" — Sylva
Former Governor of Bayelsa State and candidate of the All Progressives Congress in the 2015 governorship election, Timipre Sylva, who blames his loss in the recently held poll on malpractices, spoke to select journalists in Yenagoa, the state capital. Society Reporters bring to your his excerpts….
The Bayelsa State governorship election has been won and lost. What is your assessment of the prolonged Bayelsa State 2015 governorship election which was concluded on January 9 this year?
The results of the Bayelsa State governorship election declared on Sunday, January 10, 2016, did not meet with our acceptance at all, as a party and as a person.
What are your misgivings?
Ab initio, I am sure you are familiar with the fact that I have always complained about the Independent National Electoral Commission in Bayelsa State. Even in a court of law, if an accused person is to stand trial before a judge and the accused person says that he cannot expect justice from a particular judge, usually something is done about it. In this case, we were contesting an election and I said from the beginning that I did not have confidence in the Resident Electoral Commissioner and in the Administrative Secretary (of INEC), and that I did not expect a free and fair election if these people were going to preside over the election.
What actions did you take to express your worries?
I complained about the issue over and over again. I even reduced it (complaint) to writing and we sent a petition. Usually, before an election of this nature, INEC officials are switched; sometimes they send them to another state and bring another electoral commissioner. But this time, they chose to keep this team that was already in place, set up by the Peoples Democratic Party as a rigging machine. This was the same team that returned almost 100 per cent of all voters in Bayelsa to the former President (Goodluck Jonathan) in Bayelsa State. And we felt that these people could not have given us a free and fair treatment. We said it over and over again.
What did the electoral body do in its response to your complaints and petition?
Unfortunately, our cries fell on deaf ears. On Sunday, they proved themselves true to type. We believed that the election could even have been declared inconclusive on Sunday because there were still a lot of votes outstanding — 53,000 votes — and they still declared the results against the law.
Are you saying the election was skewed against you?
If you look at the whole election, the election was skewed against the All Progressives Congress from the very beginning. Anywhere APC won, results were cancelled; anywhere PDP won, results were entered. The process of distributing materials was rigged. We had it on good authority that all the vehicles to move electoral materials were all provided by the PDP for INEC.
Was it an understanding the political parties had with the INEC?
Of course, INEC will say that they provided the money but some officers decided, probably, to pocket that money and went for those vehicles from the PDP. The understanding we had with INEC was very clear: take materials to the Registration Area Centres and then move materials from the RACs to the various units. Suddenly, that was changed by INEC here in Bayelsa and they started moving materials to communities and to units, in some cases, from Yenagoa. So, while our people gathered at the RAC to be part of the process of distributing the materials, they suddenly heard that their materials were already in their communities. By the time they got to their communities, a lot of our leaders in these communities could not even enter their communities anymore because the communities had been taken over by gunmen and thugs of the PDP.
Are you inferring that there was collusion between INEC and the PDP?
There was collusion between INEC and the PDP. Even the cancellations were clearly collusion. We feel that we have not had a free and a fair treatment. I believe that in any free and fair election in Bayelsa — I am sure all of you will bear me witness — APC will win. But, unfortunately, while we were trying to be fair, the opponent was bent on rigging the process. As we heard, they were bent on keeping Bayelsa. Then, there was no way one could win because they (the PDP) were just bent from the beginning on rigging the process.
Now that the results have been declared and your opponent returned as governor, what is your next move?
Yes, the results have been announced but as far as we are concerned, as a party, these results are completely unacceptable to us. However, we have called all APC members to keep calm; there is no need for anybody to take law into their hands. We will seek redress in a competent court of law. But I will like to just put this on record that as far as APC is concerned, what happened in Bayelsa was not a proper election. It was just the normal impunity of the PDP that played out. Of course, these institutions were already set up by the PDP. They were inherited by this government and it will take a while before we see a complete disappearance of this attitude in Nigeria. So far, we have told our supporters to stay calm and wait for instructions from us. I thought I should address you and let you know the position of our party.
What does the law say about cancelled votes; does it say that during supplementary poll, cancelled votes do not count or is it that this election is a unique one?
The law did not say that cancelled votes will not matter at any stage at all. The law is clear: if the votes that are cancelled are more than the difference between the winner and the next person, then elections should hold again in those areas where results were cancelled. That is the position of the law. But, unfortunately, the law was turned upside-down very clearly in this case and we feel that that is not right. I think at some point, the PDP and INEC were desperate to announce a winner; they just didn't want to go through that process all over again. I think that's what happened but, of course, that doesn't make it right at all. And as far as we are concerned, we are going to discuss with our lawyers.
You raised issues against the REC and the administrative secretary. The Edo State Governor, Adams Oshiomhole, had raised a similar issue against the REC in Edo and the REC was changed. What response did you get from the INEC on your petition?
As far as the REC was concerned, I did not just write a petition; I did not just ask for the change of the REC. Even the REC, at some point, began to take issues with us (candidates), accusing a faceless candidate of offering him bribe. A REC like that, who is already quarrelling with the candidates in an election, was allowed to conduct the same election. I have never seen this; it has never happened anywhere, not even in Nigeria before. But, unfortunately, I didn't get a reprieve as you know. In that case, you don't expect me to now opt out of the election because they had refused to change the REC.
I was forced as a candidate. If I said I wasn't going to subject myself to the election, what were the options? I don't have any option. INEC is the body to conduct the election. I have cried out to INEC over and over again to change the REC but INEC refused to change the REC. What will I do? Of course, I went into the election, unfortunately hoping that the REC would have a change of heart. But, you can see from the event that they were just bent on making sure that the APC loses that election. If you look at the event from the very beginning on December 5, we won in a local government area, they cancelled a section of that local government and reordered (rescheduled the) election the next day, almost without informing us. We didn't even know on December 5, 2015 that election was holding in those areas.
Meanwhile, there were other areas as well that were outstanding from that same election but those areas that they were interested in, they quickly held a rerun on Sunday and then said there was going to be a rerun for the rest of other areas on the 9th of January. Why didn't they shift the rerun in those areas as well? Why didn't they hold the rerun that were pending also on Sunday that they held those other elections?
What happened on January 9?
You can see INEC was playing a game from the beginning. The INEC in Bayelsa was set as part of the rigging machine of the PDP and I have said it over and over. If you look at what happened on Saturday (January 9), how can they ever justify a situation where materials to the farthest communities were sent last and materials to the nearest communities were sent first? They knew that the farthest communities were some of our strongholds. They sent materials to communities like Enewari a day before. Enewari is like 30 minutes from Yenagoa. But they didn't send materials to a place like Forupa, to a place like Azuzuama and to a place like Ikubie. These are places that are six hours by speedboat. And they started the journey by boat in the morning of the election and when they got to Ikubie, they insisted that they were going to deliver these materials from one community to community. At six o'clock in the evening, my people were calling me that they were still distributing materials in those communities. What the PDP wanted to do, we knew about it. Their strategy was to frustrate the election in Southern Ijaw because they felt that they already had a lead; they felt if the election held in a few places, it will be enough for them (INEC) to declare them (winner).
They colluded with the INEC to frustrate the election in Southern Ijaw. The election really didn't hold in Southern Ijaw. In most places where the election held, as long as it was the APC that won, it was cancelled. Not at the unit level; no result was cancelled at the unit level. The cancellation was done mostly at the local government area collation level, which is a misnomer. And when we said that results should be cancelled at the state level, the panel said they didn't have any powers to cancel election results at that level. That same panel that claimed that they did not have powers to cancel results invoked the power to cancel Southern Ijaw results on the 5th of December, even before the results arrived and while collation was ongoing. But suddenly, they didn't have that power anymore, as long as it was the APC that was making the case.
But INEC sent two additional RECs. Didn't it?
Clearly, there was collusion between the local INEC and the PDP. Some people will say it was okay that they sent more RECs — two other RECs from Cross River and Delta States. But then, you ask the question: when did those RECs arrive? By the time those RECs arrived, the damage had already been done. All the Supervising Presiding Officers had been appointed and the SPOs were mostly their people. When I made a case that the SPOs were mostly their people, the REC told me that the instruction was for him to use experienced SPOs. That means these SPOs should be SPOs that have conducted an election before. And what were those elections before: The presidential election and the House of Assembly elections, and you know the outcome of those elections. The same set of SPOs was used; the same set that rigged the other elections for them.
The same set of collation officers was appointed. When we protested, they said they had to appoint only the same people. How were we expected to win an election where the PDP rigging machine was still very (much) intact and its people were just drafted? It was very clear. I likened it to a rat being in a cat's court. Of course, the result can be guessed by anybody because the rat can never be right in a cat's court. That was the kind of situation that we found ourselves.
One of the issues that marred the election was violence. The APC was accused of perpetrating violence during the poll. Do you agree?
We agree that there was violence during the election but that violence can be traced, in all cases, to the doorstep of only the PDP. Our people were actually the victims of the violence — before, during and after the election. I said 'after' because even as I speak, some unknown people went to the country home of my state agent and destroyed it. Today, as I speak, some PDP thugs went and dealt machete cuts on an APC member in a place in Nembe. All these are still ongoing. As far as we are concerned, this senseless violence must stop. The violence in Ekeremor, you are all familiar with. This election was procured by the PDP, I am sure, wholesale. I am sure it was a turnkey project; they were supposed to return everything wholesale for certain things to be paid; I do not know how much. If you look at the election in Yenagoa, one of the collation officers was the younger sister of the Director of Publicity of Dickson Campaign Organisation, Mr. Jonathan Obuebite. How can anybody win in her unit or ward. Of course, they had the materials and everything in a corner and wrote (the) results and came back. Of course, INEC was on hand to receive the results. That is what happened all through that election.
In Southern Ijaw, it was learnt that election did not hold in Ward 17 and over 39,000 votes were cancelled. What actually happened?
Those results were not meant to be entered at all. It was deliberate. Materials for the whole of those areas were sent deliberately late on the day of that election. And that is our stronghold. The materials arrived there very late. It was a collusion between INEC and the PDP.
@ Sunday Punch
FCTA uncovers illegal oil refining warehouse in Abuja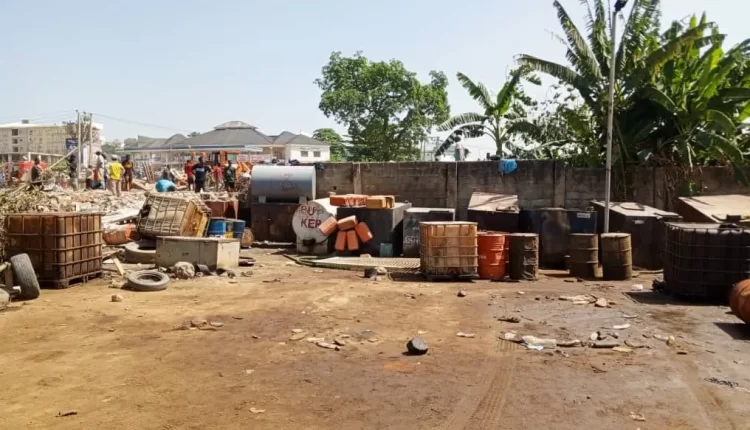 In continuation of the city cleaning exercise, Authorities of the Federal Capital Territory Administration (FCTA) with operatives of security personnel have uncovered an illegal oil refining warehouse in Mabushi, opposite Mobile filling station on Ahmadu Bello way in Abuja.
The Director, Department of Development Control, FCTA, Mukhtar Galadima after the operation on Thursday, said the illegal refining site was discovered during the continuation of the city cleaning exercise.
According to him, about three to four plot of lands designated for commercial purposes have been converted to an area where oil and diesel are being adulterated and circulated to other parts of the city.
Galadima explained that the city sanitation task force will look into the provision of the law and make necessary recommendations to the FCT Administration for further actions on the plots used for the activity.
He said there was no arrest but the items used in carrying out the illegal refining have been impounded.
Galadima said, "During the continuation of our city sanitation exercise in Mabushi opposite Mobile filling station on Ahmadu way, we discovered an illegal refining site where oil and diesel are being adulterated, we have done the needful by moving the items to Nigerian Security and Civil Defence Corps.
"From what we have seen so far, about three or four pilot of lands designated for commercial purposes have been converted to unapproved activities, which we believe the owners are fully aware, there will be consequences.
"We are going to look at the provision of the law and make necessary recommendations to the FCT Administration"
He said the administration will continue to go tough on activities being carried out without government approval,  especially revocation of the titles.
Collaborating, Head, operations FCT Directorate of Road Traffic Service (DRTS), Deborah Osho said the city management team during the exercise also discovered that most of the areas in the Nation's capital have been converted to illegal car mart and motor parks.
She disclosed that fifteen vehicles have so far been impounded since the operation commenced about two days.
Central Bank To Freeze Accounts Without BVN, NIN From April 2024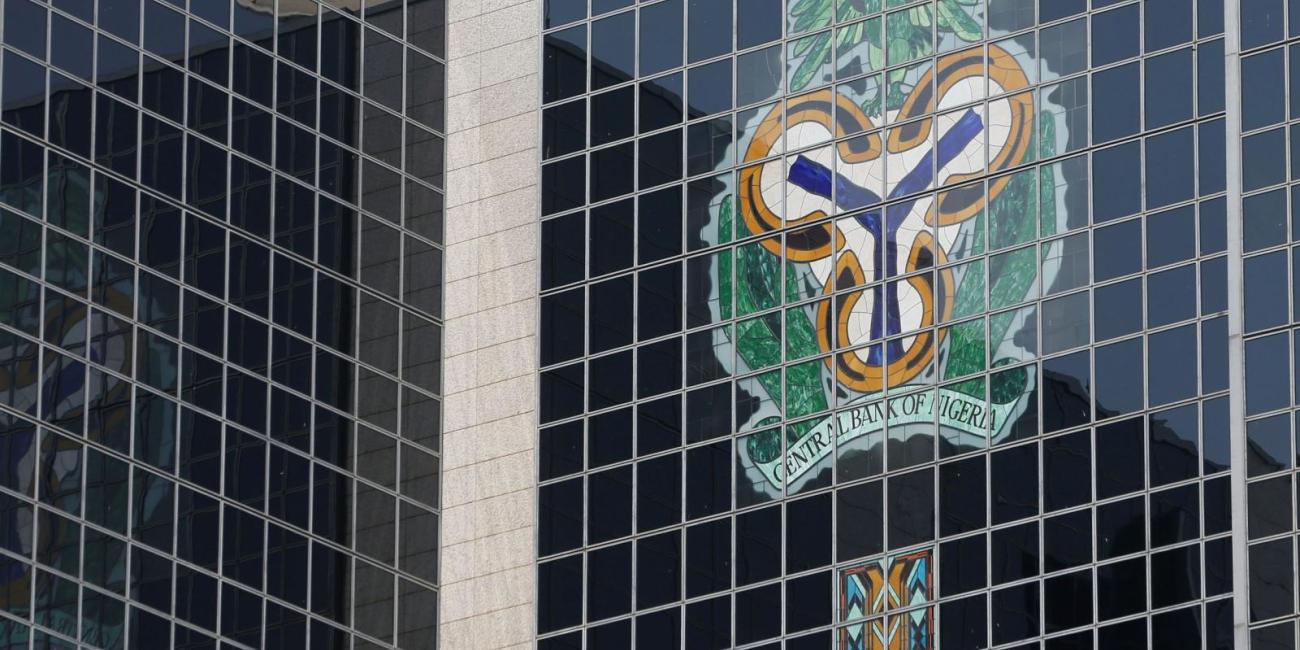 The Central Bank of Nigeria (CBN) said on Friday that it will freeze accounts without a Bank Verification Number (BVN) or National Identification Number (NIN) from April 2024.
This is according to a Friday circular by the apex bank which said a BVN or NIN verification will be "conducted shortly".
It also said all BVN or NIN attached to accounts/wallets must be electronically revalidated by January 31, 2024, according to the circular by the CBN Director of Payments System Management Department Chibuzo Efobi, and the Director of Financial Policy and Regulation Department Haruna Mustapha.
More details later….
Adebayo Alli: Guinness Nigeria gets new Managing Director, Its first Nigerian CEO since 2015 …..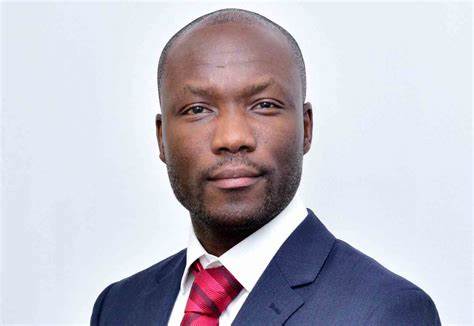 Guinness Nigeria has announced the appointment of Mr Adebayo Alli as its new Managing Director, its first Nigerian MD since 2015.
The appointment comes after John Musunga, the now erstwhile MD of Guinness Nigeria moved to become Diageo Africa's Managing Director for Southern, West, and Central Africa.
The announcement was given after the company's board meeting held on Monday, November 27, 2023.
According to the corporate filing on NGX's website signed by the Company Secretary, Abidemi Ademola, Adebayo Alli would resume his new role within the company on January 1, 2024.
Profile of Adebayo Alli …..
Adebayo Alli, a mechanical engineer by training, holds a B.Sc. in Mechanical Engineering from the University of Ibadan and an MSc in Advanced Process Engineering from Loughborough University, UK.
He joined Diageo, owner of Guinness Nigeria in 2005 as a Packaging Operations Support Manager. Since then, he has gone on to work as project lead for a business transformation project in Meta Abo Brewery Limited, Ethiopia, another of Diageo Africa's businesses. In 2014, he became a plant manager at the Meta Abo Brewery, and in 2015, Supply Chain Director.
Upon his return to Nigeria in 2017, he assumed the role of Operations Director at Guinness Nigeria before shifting his focus towards general management, venturing into multiple senior commercial sales positions within Guinness Nigeria PLC.
His trajectory saw a brief tenure between 2019 and 2020 as the Director for IPS, Reserve & Modern Trade. Subsequently, in 2020, Bayo ascended to the role of Commercial Director at Guinness Nigeria.
What you should know….
Guinness Nigeria's last Nigerian MD was Seni Adetu who served between 2012 and 2015. Since him, John O'Kefee an Irish man became the MD, followed by Peter Ndegwa, a Kenyan, Baker Magunda, another Kenyan, then John Musunga, also another Kenyan.
Guinness Nigeria Plc is majorly owned by Diageo Plc with a 58% stake. In the past, Diageo's only footprint in Nigeria was through Guinness Nigeria and the Managing Director of Guinness Nigeria also doubled as the head of the Diageo brand in the country.
However, after Diageo announced a discontinuation of its import deal with Guinness Nigeria, which meant Guinness Nigeria would no longer import Johnnie Walker and Baileys into Nigeria, it was also announced that Diageo was creating a new "wholly owned spirits-focused business" to manage the importation and distribution of those premium spirits brand in West and Central Africa. Presumably, John Musunga is resuming to head this new business.