SOLITAIRE MEDIA ENTERTAINMENT BERTHS WITH HOME SWEET HOME CULTURAL CARNIVAL
HOME SWEET HOME, is a family event, a cultural carnival, which awakens our lost pride for our culture.
Africa is blessed with variety of culture. As one moves from one region to another in Nigeria, one experiences diversified rich culture. From food to wine, dressing and dance steps. Or is it the different masquerades? These rich cultural heritage are fast fading out, courtesy borrowed culture. Our children only get excited, perhaps frightened, dependent on the scenario, at the mention of (EGUNGU CALABAR) masquerade. This they might never have sighted.
It's clear evidence that our culture excites us. It thrills our children.
HOME SWEET HOME. …Our Culture, Our Pride, will sure take us back memory lane and create something to remember for the children. The food will be traditionally classic. The likes of Ekpang Nkukwo, Afia Efere, coconut Rice, Local Fish etc, from the masters of the game, hospitality. Our non adulterated palm wine will be drank with local calabash (does it remind you of something?). Our beautiful and flamboyant masquerades, like Ekpo, Ekpe, Ntok odio-odio, Ekpo Ntok etc will be on parade with beautiful dance steps. Then the Ekombi dance, Asian Ubo-ikpa, Itembe, Ubom Isong etc are dances you wouldn't want to miss, not for all the tea cups in China. Just to add a little spice to pure culture, the life band will be on stage to give some evergreen tunes. And selected musical legends will put you on your feet with live performances.
HOME SWEET HOME, a cultural carnival, slated for December 27, at The People's Club, 21 Ajao Road, off Ogunlana Drive, Surulere Lagos. 11:00AM to 6:00PM.
It promises to be a full day of leisure and relaxation with family and friends.
Online Tickets; www.ariiyatickets.com
Offline Ticket Sales; The following Sweet Sensation outlets: (i) Adeola Odeku, Victoria Island. (ii) Awolowo Road, Ikoyi. (iii)Bode Thomas, Surulere. (iv) Alagomeji, Yaba. Also; Genesis Deluxe Cinemas. The Palms Victoria Island. U.S. Polo Ikeja Mall. U.S. Polo Adeniran Ogunsanya Mall.
TICKETS:
Regular —- N1,000. Children —- N500. V.I.P —-N2,500. Family Table —- N25,000.
Uwem Umoh, the host is a famous actor, especially with the Akwa Ibom and Cross River States language movies. (AKWACROSS FILMS). The Lead Consultant/CEO, SOLITAIRE MEDIA ENTERTAINMENT LTD.
you can't have it better.
…Our Culture, Our Pride.
AFRIMA 2022: PUBLIC VOTING STARTS SUNDAY AS PWC AUDITS AWARDS PROCESS

The voting portal for the 2022 edition of the All Africa Music Awards (AFRIMA) opened on Sunday, September 25, at 21:00 (CAT), to the public, globally, to decide the winners of each of the 39 award categories. 
The International Committee of the All Africa Music Award (AFRIMA), in conjunction with the African Union Commission (AUC), made this announcement, encouraging African music lovers to vote intensively using the voting portal live at www.afrima.org, before the portal closes on December 10, 2022, which is the eve of the awards.
More information on the voting process, which would also be audited by the International auditing firm, PriceWaterHouseCoopers (PWC), can also be found on the website, as well as AFRIMA's social media (Instagram/TikTok – @Afrima.official; Facebook – Afrimawards; Twitter – @afrimaofficial).
Like it did at the AFRIMA 2021 edition, the PWC, which has audited other major global awards including the Oscars, will audit the voting portal, collate the votes and present them at the awards.
According to AFRIMA's Executive Producer/President, Mike Dada, "AFRIMA'S core values of FACE IT – Fairness, Authenticity, Creativity, Excellence, Integrity and Transparency remain at the heart of our operations. With PWC, we are further reinforcing these value drivers, ensuring that we remain as inclusive, credible and authentic as always."
The list of nominees were unveiled globally, penultimate Wednesday, revealing a total of 382 nominations across all 39 categories.
The nominations, which have been greeted with positive acclaim across the world, are the fruit of a rigorous 10-day adjudication held by AFRIMA's 13-member jury, in July.
Also, only entries within the validity period of August 20, 2021 to August 5, 2022, were considered for nomination for this year's awards.
According to Mike Dada, the awards body remains the ultimate recognition of African music globally, also serving as a muse to other award bodies across the continent.
"We are not oblivious to the fact that there are some other award bodies that copy our nominations every year. As the ultimate recognition of African music, globally, we are a source of inspiration to both music gatekeepers and music lovers across the entire industry. AFRIMA continues to blaze the trail in celebrating African talent and developing our creative ecosystem, and this year's edition is a step further in that direction," he said.
On her part, the African Union Commission's Head of Culture, Mrs Angela Martins encouraged music lovers to vote decisively and objectively.
She said, "We have done our part. It is left to you the fans to now decide your winners. Remember that these categories are highly competitive and are based on merit. Let your votes help the best person(s) emerge as champion."
The 2022 All Africa Music Awards will now be held from the 8th to 11th December, 2022.
A special announcement will be made on the host country and location for the awards, on 30th September, 2022.
The AFRIMA awards ceremony will feature a 4-day fiesta of music, glitz, and glamour aimed at celebrating Africa, recognising talents and expanding the economic frontiers of the culture and creative industry on the continent.
The event is scheduled to commence with the welcome soiree, followed by the AFRIMA Music Village, the host city tour, Africa Music Business Summit, and the exclusive nominees' party and concluded with the live awards ceremony broadcast to over 84 countries around the world.
African music lovers can take part in the events on social media, live stream on the AFRIMA website at www.afrima.org and visit the social media platforms (IG/TikTok – @afrima.official; Facebook – Afrimawards; Twitter – @afrimaofficial; LinkedIn – AFRIMA) ), and they can watch the event coverage by tuning in to their local and cable TV providers.
In partnership with the African Union Commission, AFRIMA is a youth-focused music platform that recognizes and rewards the work and talents of African artistes across generations.
AFRIMA primarily stimulates conversations among Africans, and also the rest of the world, especially on the potential of the creative arts for fostering real human enterprise, as well as contributing significantly to social cohesion, as well as sustainable development in Africa.
The Programme of events is in line with the AU Agenda 2063 which outlines Aspiration 05 as the development of the arts and culture sector including its cultural and creative industries, to boost the development of the African economy.
Bad Boy Timz, SB Live, Others Set For Sinatra's 'A Night Under The Sky'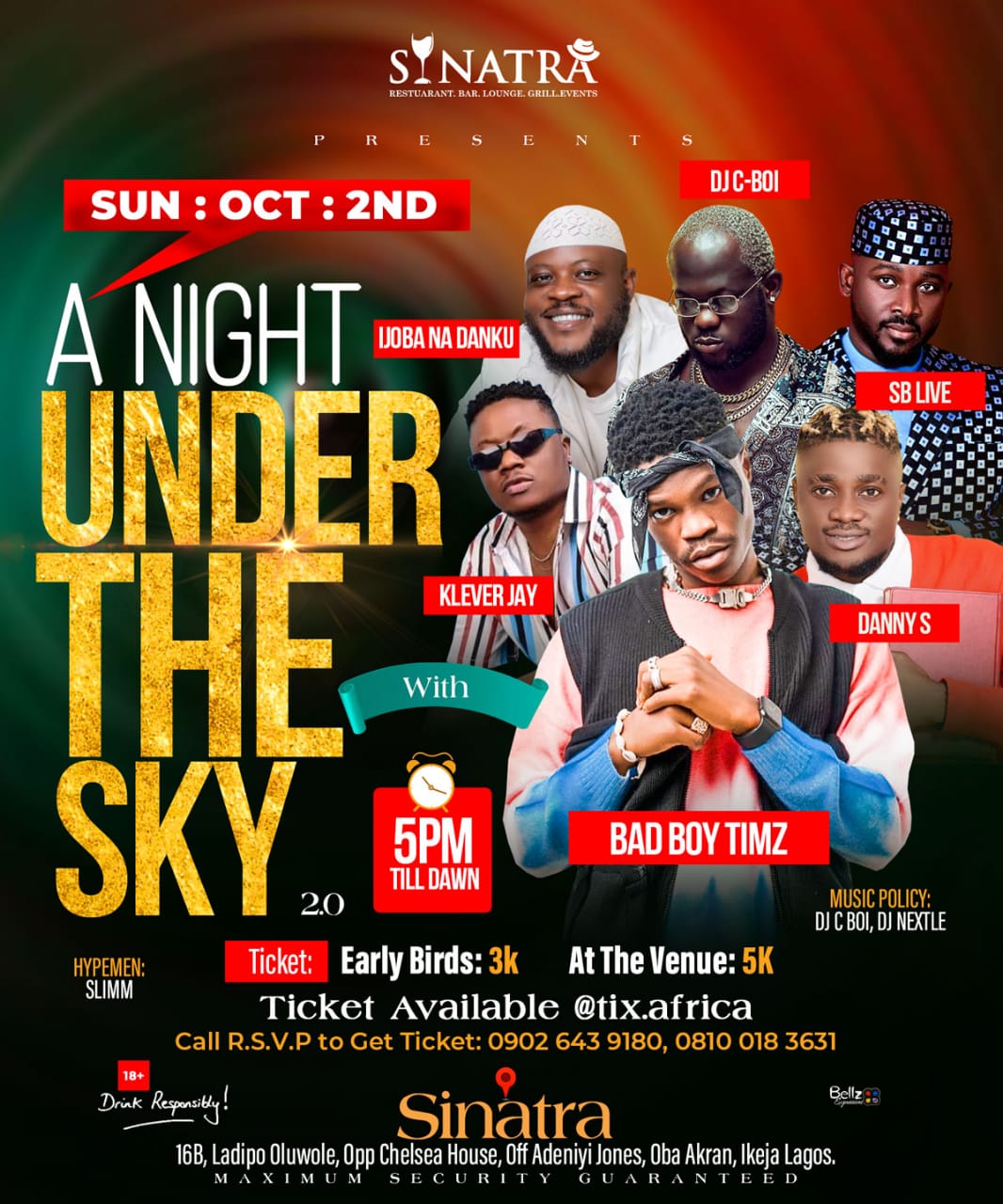 Bad Boy Timz, SB Live, Klever Jay, Ijoba Na Danku, Danny's and five others are set for Sinatra's Place's second instalment of 'A Night Under The Sky', scheduled to hold on Sunday, October 2.
Following an explosive maiden edition with Ahmed Ololade, popularly known as Asake, Mr Money in July, the second edition with a lineup of 10 talents, including DJ C-Boi promises to be bigger and better.
'A Night Under The Sky' is a series created by Sinatra for fun lovers and party people who love to dance and vibe to good music away from the confines of enclosed walls.
Held in the open-air Sinatra garden, the event, which traditionally starts at 6 PM in the evening spills into the early hours of the following day.
With the skies getting clearer and the rainy season fading, the series is back with a 2.0 edition that is bigger and better.
Also, while the headline liquor brands for the 1.0 edition were Jägermeister and Glenfiddich, this edition promises to have even more especially with the lineup of artistes billed for the event.
In the past, Sinatra's Place, located in the heart of Adeniyi Jones on Ladipo Oluwole has been a hub for lovers of good music, quality entertainment and relaxing ambience. Stars like K1, Pasuma, Peruzzi, Bella Shmurda and many others have graced Sinatra's stage and its adjoining club, Carica.
King Sunny Ade Finally Agrees To Meet 52-year-old Woman Claiming To Be His Daughter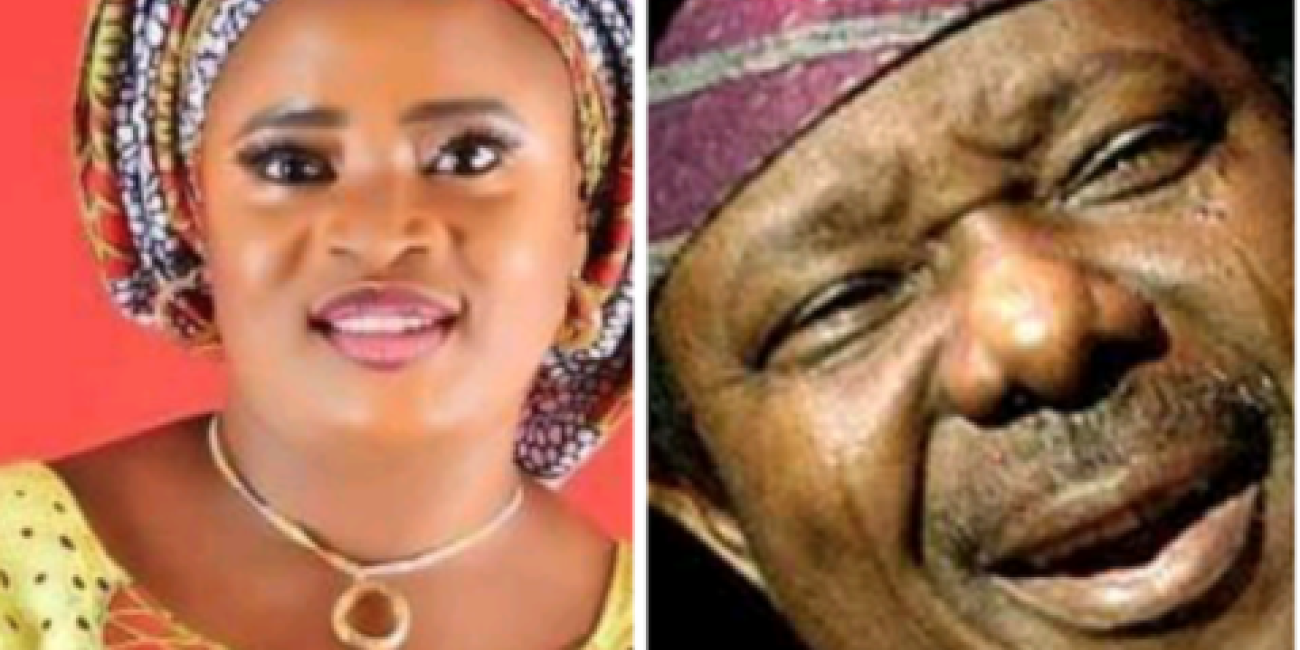 His lawyer, Donald Ajibola, told an online newspaper on Monday that a meeting would be set up with Ayeni and the musician said he would meet her when he had some free time.
Veteran "juju" musician, Sunday Adegeye, more commonly called King Sunny Ade (KSA), has agreed to see Elizabeth Ayeni, 52-year-old woman, who claims to be his daughter.
His lawyer, Donald Ajibola, told an online newspaper on Monday that a meeting would be set up with Ayeni and the musician said he would meet her when he had some free time.
Ajibola said, "I contacted Ayeni some days back and told her that I had spoken with Sunny Ade. What I told her was that I spoke with him and he agreed to meet her.
"The only thing is that he is too busy and cannot meet her now. It was even difficult for me to meet him. When he has time, he will meet with her."
The woman also confirmed that Ajibola had reached out to her and spoken of a meeting, but did not give a specific time.
Now 52, Ayeni said she intended to conduct a DNA test to confirm her paternity and get a sense of identity.
In June, SaharaReporters reported that Elizabeth Temitope, her mother, told her the man she had always known as her father was not her biological father but King Sunny Ade was.
However, several efforts to get in contact with King Sunny Ade had proved abortive, she said.
The woman said she approached the Human Rights Commission and wrote Sunny Ade twice but there had been no response from the musician.
She noted that she was not making efforts to contact Sunny Ade for his fame or riches but she wanted to confirm if she was his father or not.
The juju king, singer, songwriter, and multi-instrumentalist has been hailed as one of the most influential musicians of all time and is regarded as one of the first African pop musicians to achieve international recognition.
Sunny Adé formed his own backing band in 1967, eventually known as his African Beats.
After achieving national success in Nigeria during the 1970s and founding his own independent label, Sunny Adé signed to Island Records in 1982 and achieved international success with the albums Juju Music (1982) and Synchro System (1983); the latter garnered him a Grammy nomination, a first for a Nigerian artist. His 1998 album Odu also garnered a Grammy nomination.