Revealed: How Nigerian Women Do Prostitution In Dubai……
A journalist, Precious Igbonwelundu has narrated how her trip to Dubai, the commercial nerve of the United Arab Emirates, UAE revealed how Nigerian ladies with 'big' businesses back home thrive on 'runs' in the Islamic region.Dubai
Across big cities in Nigeria, Nigerian big babes dubbed 'Asewo Dubai' cruise around in flashy cars, own good businesses, blinking bank accounts, but as soon as they are back to Dubai, they engage in prostitution to keep their businesses afloat.
On the streets of Dubai, these ladies are the centre of attraction, they call the shots as far as prostitution is concerned in Dubai. They acquire two months visa to Dubai for no reason other than to indulge in commercial sex. With the help of syndicates, they secure accommodation in hotels and apartments.
It came as a shock to Precious, whose first time it was in Dubai. Having booked her accommodation online at the Africana Hotel, Deira, she was hopeful to have some quiet time.
Arriving the Dubai International Airport and seeing the Arabs all covered, with warnings prohibiting indecency, she thought: "At last, there is some decency here!" But she was soon to realize that beneath the cleanliness and splendor of the city lies a dirty trade, which even 'Sheiks' are said to patronize when no one is watching.
The moment this reporter stepped into the hotel she had reserved online, she saw an army of half-nude women, parading the premises. Shocked by the contrast, she quickly asked: "What's going on here?" the reply from the smiling front desk person was: "they are from your country, Nigeria. They are our guests. See these ladies, they pair themselves in a room, some even stay three in a room. So, in case you want to save money, you can pair with any of them".
But her response did not quench the reporter's curiosity. It did not answer why half-nude Nigerian women, as early as 9am, were flaunting their bodies in front of the hotel with some black guys giving them signals.
At that moment, she made up her mind she was not going to stay in that hotel but would definitely visit the place at night for a better understanding of the puzzle. Having successfully checked into another hotel, with the help of an agent whose number she got from her friend who frequents Dubai, the reporter revisited the Africana Hotel.
The time was 11pm and the environment well lit, with a beehive of skimpy dressed ladies moving in and out of the hotel. Observing quietly, the reporter overheard some of the ladies, seated at the reception complaining how the business has gone sour.
One of the ladies said: "Things are not as easy as they used to be when I started this business. There were some weeks I made about $5,000 from these Arab and European men.
"But since more babes from Nigeria got into it, there are so many 'runs girls' in Dubai that for the past one month, I have not made up to $5,000.
"Worst still, some of my clients have suddenly changed and started demanding anal sex. I had a terrible experience recently with an European whom I met inside an elevator at a big hotel.
"We exchanged contacts after he paid $300 for a 'blow job' in the elevator. Then, subsequently, we met and had pizza and he offered $1,000 for sex in his apartment.
"I thought he was a decent guy until I got to his apartment. He threatened me with a knife to accept sex with me through the anus or he will kill me.
"I begged him to collect his money and let me go but the Oyinbo man refused and had his way. Imagine what I have denied most of my contacts, who would have even paid more for it, that stupid European got it by force and still he collected his money back.
"I am just tired of this business. Though I own a big boutique in Festac, it is through these 'runs' that I foot my bills because there is little profit in the boutique business."
Another one, whom they called Jane while sympathizing with her friend, told the girls that Alhaja (her pimp) had earlier warned her not to carry money to her customer's place.
"Alhaja warned me that these days, the men will sleep with you and still collect your money. So, since then, I usually drop any advance payment with her.
"I do not want a situation whereby one stupid man will collect the money I have laboured for. Any valuable thing I have, I usually drop them with Alhaja and she gives me back once I demand for them.
"So, my dear, learn from this experience and most times, it is better you tell the men ahead of time what you can do and what you cannot do," said Jane.
Jane, who claimed she resigned from her place of work in Lagos where she served as a marketer, attributed her resignation to meagre salary.
"I graduated from the university two years ago and got a job where I was paid N20,000 per month. The hardship and frustration in Nigeria pushed me into prostitution and I have no regrets because I now have a better life. I own my own apartment, a car and a big saloon in Lagos," she said.
Baffled by the revelations of the ladies, the reporter asked a travel agent how the women were able to practice open prostitution in a Muslim country.
Hear him: "Is there anything Nigerians cannot do? Most of these girls I know them in Nigeria. Some are rich and own big businesses, while some are students.
"They apply and acquire two months' visa and with the help of travel agents and some big women, they get accommodation in hotels and even apartment. Then, those women who also have guys working for them usually link them up with men.
"Most of them register and submit their international passports to the women or their contact persons and every night; this is how they keep going about.
"It is very embarrassing that Nigerian ladies, including married women, come here for prostitution. That is how one of them saw me in Festac last year and she was hiding because she knows I know what she does in Dubai.
"Once a woman calls me that she wants two months' visa, I just know that is what she is coming for and I turn them down. Some will say there is no job in Nigeria and they want to come and hustle.
"The painful aspect for me now is that this nonsense that they do has made it difficult for us to secure genuine visas for decent people. Also, most hotels have increased their rates, with some even refusing to give their rooms to single women coming to stay that long.
"If you go around this neighbourhood (Deira), you will see that these stupid girls even rent apartments, which they keep and pay for even while they are in Nigeria, yet they claim it is unemployment and poverty that led them into prostitution.
"It is a serious issue and I think the Federal Government needs to act on it urgently, if not, these girls will spread diseases in Nigeria, aside the bad image they are painting the country already," said the travel agent.
Continuing, the agent narrated how one of the prostitutes approached a client of his who lodged in the hotel sometime in June.
"The girl just knocked on the door and when my client opened, she called her outside and was telling her to stop acting like a child. I just stood by the door and was listening to their conversation. She told my client that most of the men who have seen her want her to play by the game.
"But my client refused and told the lady that she was in Dubai for business and not prostitution and the girl, while insisting, said most of them own businesses in Nigeria and that they prostitute to cover their expenses.
"She even said that my client can make the money she will use to buy her goods in one night, meaning that she would not spend the money she came with or buy more things.
"I was so angry that I had to come out and warn the girl.
"Yet in this city, there are strict religious laws against prostitution. A western woman once got a month imprisonment for a peck on the cheek. The law in Dubai has clear rules that prostitution is illegal. If you are caught by the police, both you and the prostitute will be put into jail and wait for the sentence of the local court.
"If you are not a citizen, apart from the punishment of being sentenced by the court, you will be asked to leave the UAE and will not be allowed back in again.
2023 Ogwashi-Uku Carnival Holds 25th Dec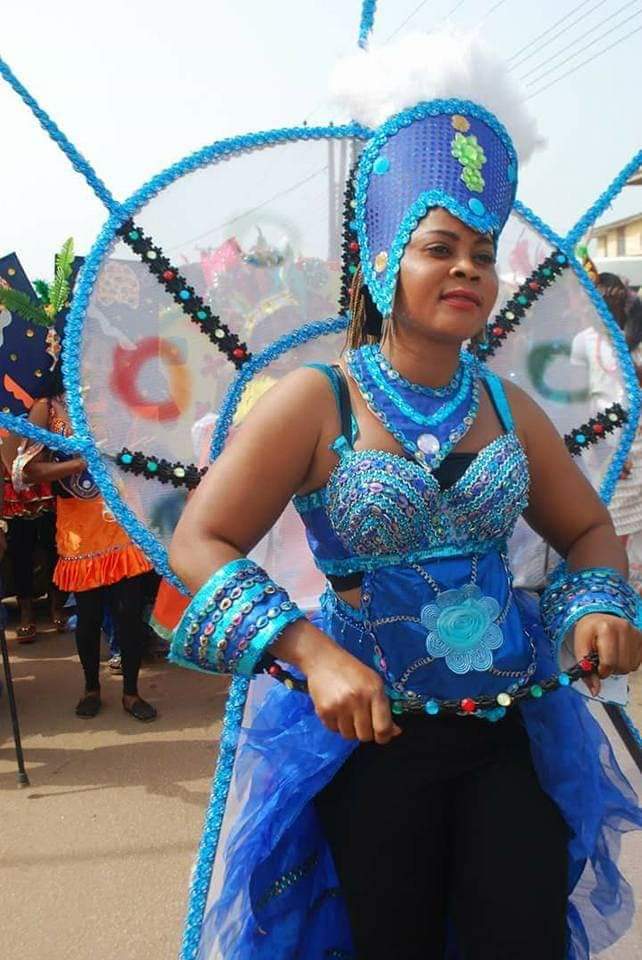 The Ogwashi-Uku Carnival, the biggest carnival in Delta state is set to hold its 13th anniversary carnival on the 25th December 2023.
The Founder/Chief Host of the Carnival, Anthonia Oguah disclosed this in a press statement on Thursday.
Ogwashi-Uku Carnival is a celebration of the rich cultural heritage of the Ogwashi-Uku people in Delta State, a period to merry, bond and reunite with loved ones from Nigeria and the diaspora.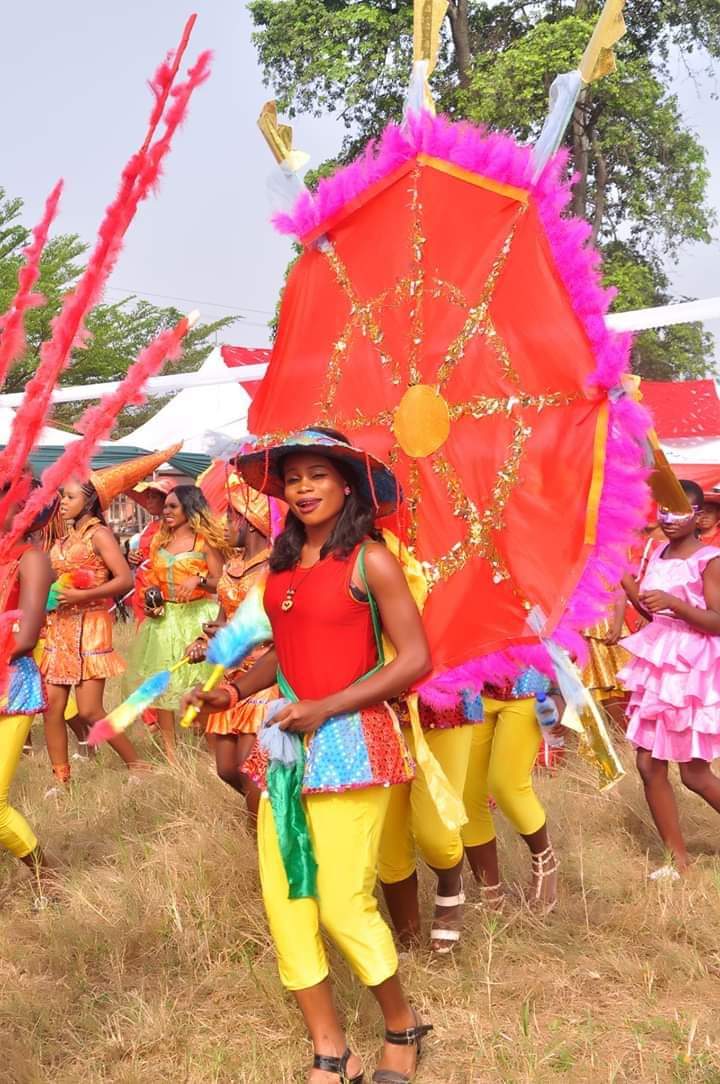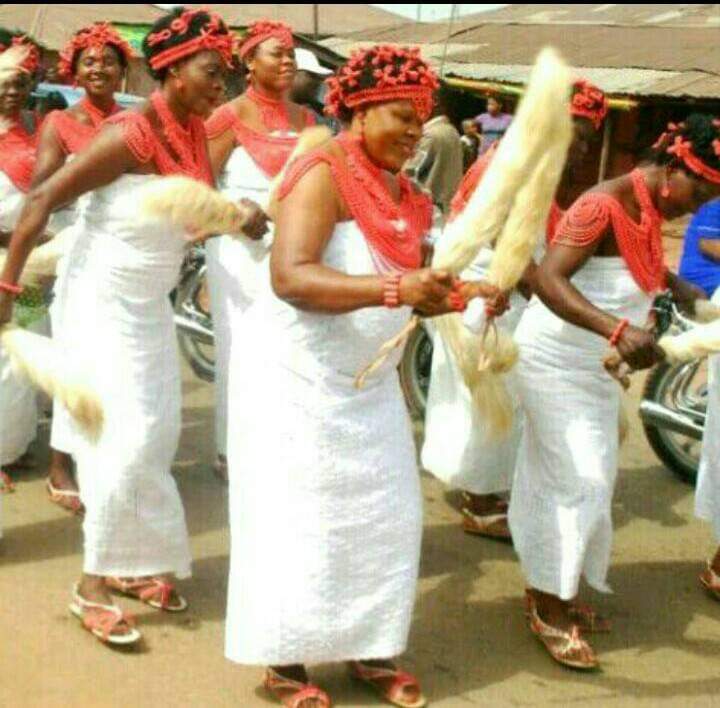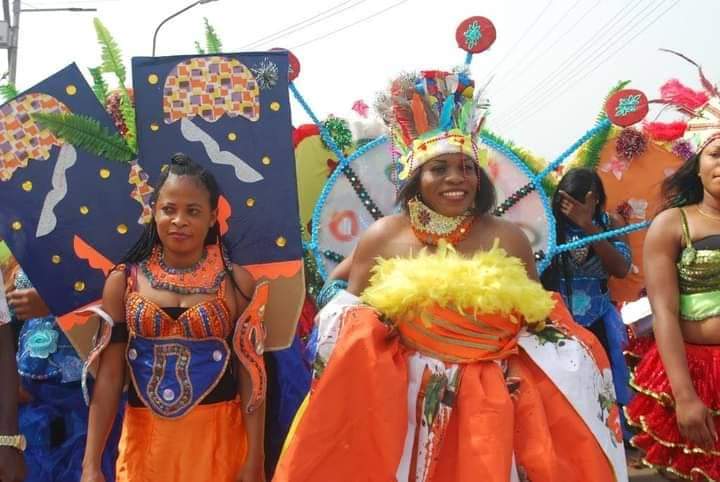 This season, the Carnival will feature road walk, Fashion Parade
Cultural Dance Troupes
Local Delicacies and lots more.
It is sponsored by Ogwashi-Uku Association USA Incorporated.
Oguah promised that this years carnival is going to be a special one with lots of varieties and great Ogwashi-Uku sons and daughters all over the world from far and near.
She said this year's event will surpass other previous carnivals because she and her team have really worked hard to put the carnival together, studying the past Ogwashi-Uku Carnivals they have held and have planned excellently well to put this year's event together.
"It's going to be something big and different,very interesting, exciting and entertaining with lots and lots of fun,fully packed," the statement said.
ONDEA Unveiled as Headline Sponsor For 2023 Lead Awards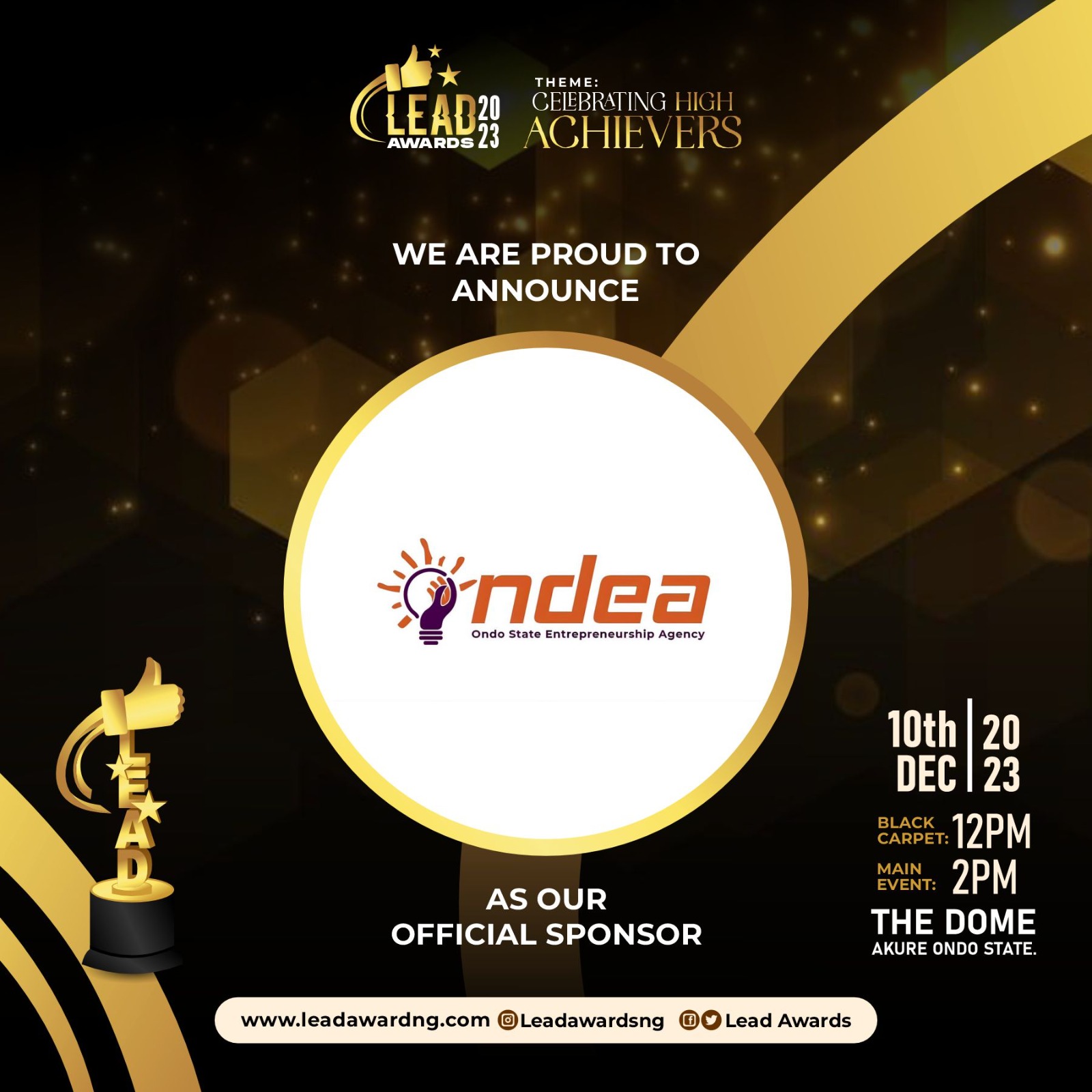 Project Lead Africa is thrilled to announce Ondo State Entrepreneurship Agency (ONDEA) as the official sponsor for the 2023 Leadership Excellence and Dignity Awards. According to the organizers, the 2023 Lead Awards ceremony promises to be bigger and better, with the support of leading organizations driving innovation and growth within and outside Ondo State.
In a press statement made available to journalists in Lagos, the Principal Consultant and Executive Director, Project Lead Africa, Mr. Abiola Alaba Peters said "We are glad of this collaboration, having Ondo State Entrepreneurship Agency (ONDEA) as our headline sponsor for this year, is such a honor, the aim is to inspire more these generations to keep doing more for our dear Sunshine state".
Also referred to as "Ondo State Most Prestigious" Leadership Excellence and Dignity Awards is an annual award ceremony that celebrates individuals and organizations that are proudly Ondo State indigenes.
Themed, 'Celebrating High Achievers", "the 2023 Lead Awards aims to unearth the giants of the Sunshine state that are yet to be celebrated" says the Project Director, Adebukola Oba, who also confirmed that the event will showcase a new wave of super creative and talented individuals, including organizations that are eager to take Ondo State to the next level.
On his part, the Special Adviser to the Ondo State Governor on Entrepreneurship Development, Dr. Summy Smart Francis (hc) stated that the ONDEA's decision to sponsor the 2023 Lead Awards was borne out of the desire to inform, educate and encourage creative's and other professionals, particularly young people in Ondo State.
Mr. Smart who is also the founder and President Africa's Young Entrepreneurs (A.Y.E) while thinking His Excellency, the Executive Governor of Ondo State, for providing the platform for young people to thrive in the state, express his enthusiasm to speak and interact with fellow compatriots at this year Lead Awards.
While Lead Awards aim to drive collaboration, foster partnerships, and provide a platform for quality leaders to share insights that can shape future generations, Ondo State Entrepreneurship Agency (ONDEA) which is an initiative of Akeredolu led administration, aimed at providing professional guidance to local entrepreneurs, empowers SMEs and MSMEs in Ondo State.
Associate sponsors for the 2023 Lead Awards include Dejavu Hotels, AutoProbe, Shaunze Royal and Aristo Games & Bristrol among others.
EFCC ARRAIGNS COUPLE FOR ALLEGED N2.7BN FRAUD IN LAGOS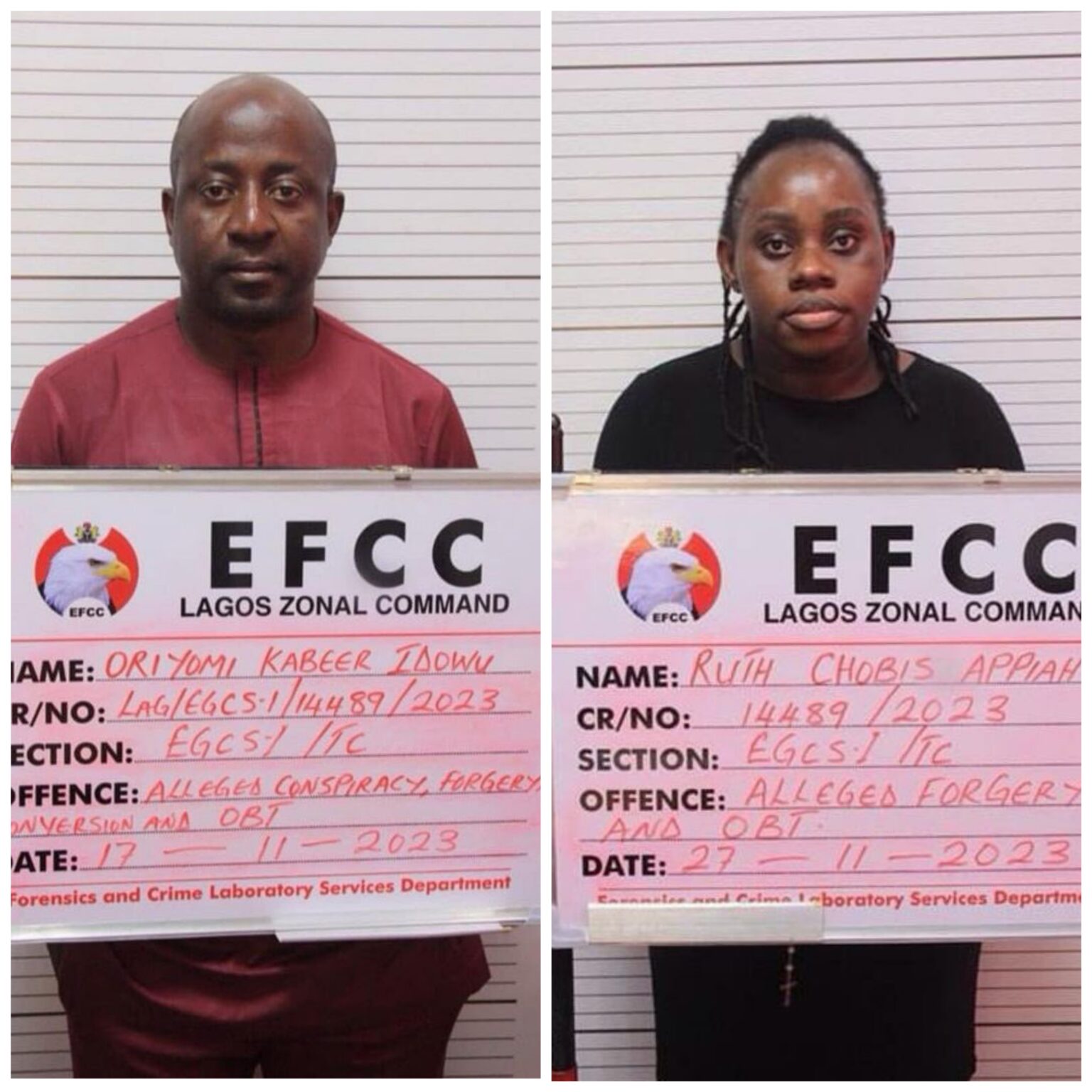 The Economic and Financial Crimes Commission, EFCC, on Tuesday 28 November arraigned a couple, Oriyomi Idowu and Ruth Idowu, before Justice Mojisola Dada of the Special Offences Court sitting in Ikeja, Lagos on 20-count charges bordering on obtaining money by false pretence, money laundering, stealing, retention of stolen property, and forgery to the tune of N2,757,188,000.00 only.
The couple were arraigned alongside Food Commodity Processing Enterprise, Bonway Food Processing Company Limited, Samee Idowu Company Limited and Farmex Integrated Companies Limited, which all belong to Ruth Idowu.
One of the counts reads: "Ruth Sameeha Idowu, aka Loiry Ventures, Oriyomi Kabeer Idowu, aka Yocli Ventures, Food Commodity Processing Enterprise, Bonway Food Processing Company Ltd, Samee Idowu Company Limited, Farmex Integrated Companies Limited, sometime in 2023 in Lagos, within the jurisdiction of this Honourable court, converted the sum of N10,000,000 to purchase a GLK Benz, purchase sum derived from converting the sum of N500,000,000 belonging to Creditpro Business Support Services with the aim of disguising the illegal origin of the funds."
Another count reads: "Ruth Sameeha Idowu, aka Loiry Ventures, Oriyomi Kabeer Idowu, aka Yocli Ventures, Food Commodity Processing Enterprise, Bonway Food Processing Company Ltd., Samee Idowu Company Limited, Farmex Integrated Companies Limited, sometime in 2023 in Lagos, within the jurisdiction of this Honourable court, dishonestly retained the sum of N936,619,876 in your UBA bank account, property of Creditpro Business Support services knowing same to be funds fraudulently obtained from Creditpro Business Support Services."
The defendants pleaded "not guilty" to the charges when they were read to  them.
In view of their pleas, prosecution counsel, Bilikisu Buhari, prayed the court for a trial date and the remand of the defendants  at a Correctional Facility.
Counsel to the first defendant, G. Onwubuya, informed the court of the bail application of his client, which had yet to be served on the prosecution.
He prayed the court to remand the defendants in the EFCC custody and also sought a short adjournment for the hearing and determination of the bail application.
In her objection, Buhari informed the court that the holding facility of the EFCC was already overstretched.
She also told the court that the appropriate place, following arraignment, was a Correctional Centre.
The Judge held that there was no bail application before the court for the second defendant, whose counsel, J.J. Ogunyemi, had yet to file.
Consequently, Justice Dada adjourned the matter till December 15, 2023 and ordered that the defendants be remanded at the Correctional Centre "pending hearing and determination of their bail applications".