Revealed: How Nigerian Women Do Prostitution In Dubai……
A journalist, Precious Igbonwelundu has narrated how her trip to Dubai, the commercial nerve of the United Arab Emirates, UAE revealed how Nigerian ladies with 'big' businesses back home thrive on 'runs' in the Islamic region.Dubai
Across big cities in Nigeria, Nigerian big babes dubbed 'Asewo Dubai' cruise around in flashy cars, own good businesses, blinking bank accounts, but as soon as they are back to Dubai, they engage in prostitution to keep their businesses afloat.
On the streets of Dubai, these ladies are the centre of attraction, they call the shots as far as prostitution is concerned in Dubai. They acquire two months visa to Dubai for no reason other than to indulge in commercial sex. With the help of syndicates, they secure accommodation in hotels and apartments.
It came as a shock to Precious, whose first time it was in Dubai. Having booked her accommodation online at the Africana Hotel, Deira, she was hopeful to have some quiet time.
Arriving the Dubai International Airport and seeing the Arabs all covered, with warnings prohibiting indecency, she thought: "At last, there is some decency here!" But she was soon to realize that beneath the cleanliness and splendor of the city lies a dirty trade, which even 'Sheiks' are said to patronize when no one is watching.
The moment this reporter stepped into the hotel she had reserved online, she saw an army of half-nude women, parading the premises. Shocked by the contrast, she quickly asked: "What's going on here?" the reply from the smiling front desk person was: "they are from your country, Nigeria. They are our guests. See these ladies, they pair themselves in a room, some even stay three in a room. So, in case you want to save money, you can pair with any of them".
But her response did not quench the reporter's curiosity. It did not answer why half-nude Nigerian women, as early as 9am, were flaunting their bodies in front of the hotel with some black guys giving them signals.
At that moment, she made up her mind she was not going to stay in that hotel but would definitely visit the place at night for a better understanding of the puzzle. Having successfully checked into another hotel, with the help of an agent whose number she got from her friend who frequents Dubai, the reporter revisited the Africana Hotel.
The time was 11pm and the environment well lit, with a beehive of skimpy dressed ladies moving in and out of the hotel. Observing quietly, the reporter overheard some of the ladies, seated at the reception complaining how the business has gone sour.
One of the ladies said: "Things are not as easy as they used to be when I started this business. There were some weeks I made about $5,000 from these Arab and European men.
"But since more babes from Nigeria got into it, there are so many 'runs girls' in Dubai that for the past one month, I have not made up to $5,000.
"Worst still, some of my clients have suddenly changed and started demanding anal sex. I had a terrible experience recently with an European whom I met inside an elevator at a big hotel.
"We exchanged contacts after he paid $300 for a 'blow job' in the elevator. Then, subsequently, we met and had pizza and he offered $1,000 for sex in his apartment.
"I thought he was a decent guy until I got to his apartment. He threatened me with a knife to accept sex with me through the anus or he will kill me.
"I begged him to collect his money and let me go but the Oyinbo man refused and had his way. Imagine what I have denied most of my contacts, who would have even paid more for it, that stupid European got it by force and still he collected his money back.
"I am just tired of this business. Though I own a big boutique in Festac, it is through these 'runs' that I foot my bills because there is little profit in the boutique business."
Another one, whom they called Jane while sympathizing with her friend, told the girls that Alhaja (her pimp) had earlier warned her not to carry money to her customer's place.
"Alhaja warned me that these days, the men will sleep with you and still collect your money. So, since then, I usually drop any advance payment with her.
"I do not want a situation whereby one stupid man will collect the money I have laboured for. Any valuable thing I have, I usually drop them with Alhaja and she gives me back once I demand for them.
"So, my dear, learn from this experience and most times, it is better you tell the men ahead of time what you can do and what you cannot do," said Jane.
Jane, who claimed she resigned from her place of work in Lagos where she served as a marketer, attributed her resignation to meagre salary.
"I graduated from the university two years ago and got a job where I was paid N20,000 per month. The hardship and frustration in Nigeria pushed me into prostitution and I have no regrets because I now have a better life. I own my own apartment, a car and a big saloon in Lagos," she said.
Baffled by the revelations of the ladies, the reporter asked a travel agent how the women were able to practice open prostitution in a Muslim country.
Hear him: "Is there anything Nigerians cannot do? Most of these girls I know them in Nigeria. Some are rich and own big businesses, while some are students.
"They apply and acquire two months' visa and with the help of travel agents and some big women, they get accommodation in hotels and even apartment. Then, those women who also have guys working for them usually link them up with men.
"Most of them register and submit their international passports to the women or their contact persons and every night; this is how they keep going about.
"It is very embarrassing that Nigerian ladies, including married women, come here for prostitution. That is how one of them saw me in Festac last year and she was hiding because she knows I know what she does in Dubai.
"Once a woman calls me that she wants two months' visa, I just know that is what she is coming for and I turn them down. Some will say there is no job in Nigeria and they want to come and hustle.
"The painful aspect for me now is that this nonsense that they do has made it difficult for us to secure genuine visas for decent people. Also, most hotels have increased their rates, with some even refusing to give their rooms to single women coming to stay that long.
"If you go around this neighbourhood (Deira), you will see that these stupid girls even rent apartments, which they keep and pay for even while they are in Nigeria, yet they claim it is unemployment and poverty that led them into prostitution.
"It is a serious issue and I think the Federal Government needs to act on it urgently, if not, these girls will spread diseases in Nigeria, aside the bad image they are painting the country already," said the travel agent.
Continuing, the agent narrated how one of the prostitutes approached a client of his who lodged in the hotel sometime in June.
"The girl just knocked on the door and when my client opened, she called her outside and was telling her to stop acting like a child. I just stood by the door and was listening to their conversation. She told my client that most of the men who have seen her want her to play by the game.
"But my client refused and told the lady that she was in Dubai for business and not prostitution and the girl, while insisting, said most of them own businesses in Nigeria and that they prostitute to cover their expenses.
"She even said that my client can make the money she will use to buy her goods in one night, meaning that she would not spend the money she came with or buy more things.
"I was so angry that I had to come out and warn the girl.
"Yet in this city, there are strict religious laws against prostitution. A western woman once got a month imprisonment for a peck on the cheek. The law in Dubai has clear rules that prostitution is illegal. If you are caught by the police, both you and the prostitute will be put into jail and wait for the sentence of the local court.
"If you are not a citizen, apart from the punishment of being sentenced by the court, you will be asked to leave the UAE and will not be allowed back in again.
EFCC quizzes ex-Women Affairs Minister Pauline Tallen over N2 billion fraud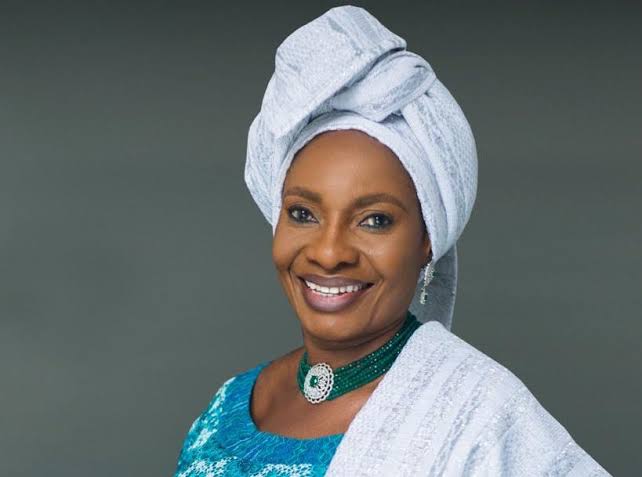 The Economic and Financial Crimes Commission (EFCC) on Friday quizzed the former Minister of Women Affairs, Pauline Tallen, over alleged fraud.
A source close to the commission said the ex-minister, who arrived at the Abuja zonal command of the commission on invitation at noon, was still being grilled by investigators of the commission till late Friday night.
Though details of the allegations against the ex-minister were sketchy, a source familiar with the case informed that it bordered on alleged corrupt enrichment to N2 billion.
Part of the money was allegedly diverted from the African First Lady Peace Mission Project.
The spokesman of the commission, Wilson Uwujaren, could not be reached for confirmation.
Gov. Makinde Appoints Perm. Secs, Accountant General, Executive Secretaries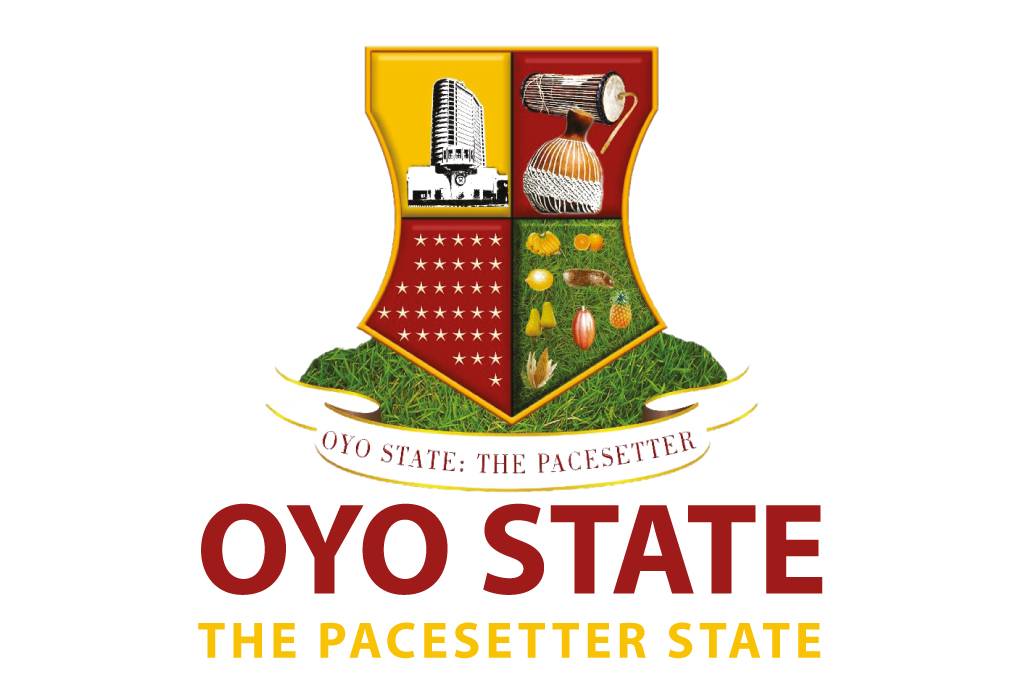 Governor Seyi Makinde has approved the appointment of Kikelomo Adijat Adegoke as the substantive Accountant General of Oyo State.
The Head of Service, Mrs. Olubunmi Oni mni, made this known in a statement on Friday in Abuja.
Oni said the appointment took effect on Thursday, May 26, 2023.
The Oyo State Governor has also approved the appointment of eleven Permanent Secretaries in the civil service.
The Permanent Secretaries include: Dr. Olabode Ladipo; Dr. Oyewole Tunde Aremu; Abosede Esther Owoeye; Ismail Abass Adebukola Bioku; Folajinmi Daramola Oni; Dolapo Oluremilekun Popoola; Hakeem Toyin Salami; Tajudeen Raji; Paul Amole Okunloye Oyekunle; Bassir Kolawole Kazeem and Taiwo Olafimihan Adewale.
Governor Makinde also appointed two Executive Secretaries. They include Olusola Orobode and Muibat Olaide Lasisi.
The Head of Service said the appointments came as a result of thorough screening and outstanding performance of the affected officers.
Austin Avuru's books now available following vacation of court orders.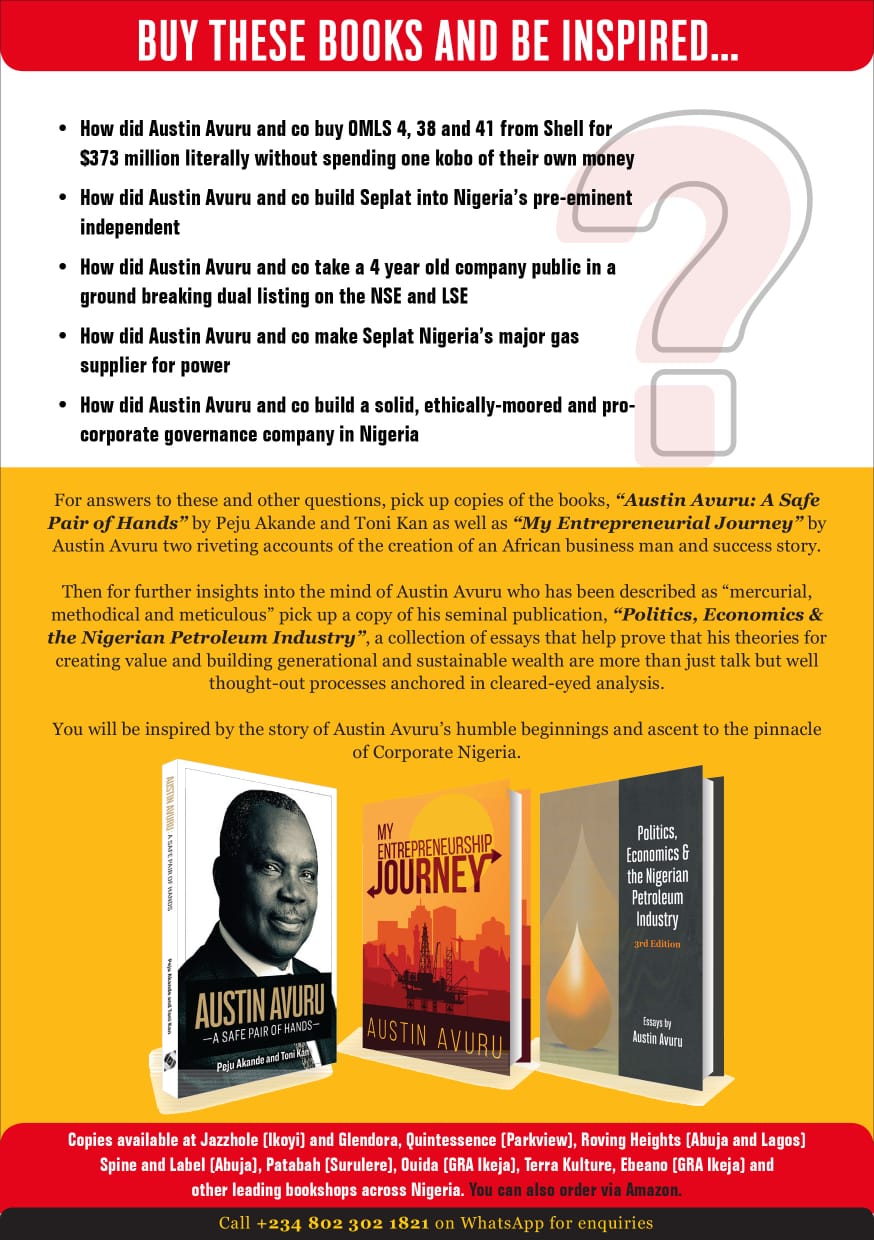 Austin Avuru's books are now available for purchase following the vacation of court orders issued by Federal High courts in Abuja and Lagos.
The Abuja court issued the injunction in July 2022 following a motion exparte filed by Tochukwu Peter Tochukwu, Esq but moved by Nsikan Samuel Ekpeyong Esq with motion No. M/9442/2022 dated 26th Day of July 2002 at an an Abuja High Court presided over by Justice SB Belgore.
The injunction was issued days to the scheduled public presentation of the books – My Entrepreneurship Journey and Politics, Economics and the Nigerian Petroleum Industry all by written by Austin Avuru – Founding CEO, Seplat Energy. The third book, Austin Avuru: A Safe Pair of Hands is a biography of the mercurial and methodical oil man written by the duo of Peju Akande and Toni Kan
Avuru had informed his invited guests of the suspension of the event and sale of the books via an e-message personally signed by him: "this event has been suspended by an Abuja High Court Injunction. Our lawyers are at work and, when we are permitted, we shall re-assemble at a later date."
The retirement party and book presentation event had been scheduled for the 4th of August, 2022 at the Eko Hotels and Suites Victoria Island.
The court order had, among other prayers, restrained "the defendants, their privies, assigns, agents and howsoever described from proceeding to temper with the res – by taking any step geared at releasing or public presentation of the book titled or any other book(s) or any other venue pending the hearing and determination of the motion on notice."
With the vacation of both injunctions, the reading public and friends of the author can now purchase copies of the books – My Entrepreneurship Journey, A Safe Pair of Hands and Politics, Economics and the Nigerian Petroleum Industry – from leading bookshops like Jazzhole, Terra Kulture, Quintessence, Glendora, Roving Heights, Spine and Label, Patabah etc as well as via amazon.com.
The books provide incisive and unique insights into the Nigerian oil and gas industry with special emphasis on the emergence of indigenous oil and gas players as well as Avuru's place in the mix as founding partner and pioneer CEO of Seplat Energy Plc, a Nigerian and African success story that is listed both on the Nigeria and London Stock Exchange..
Geologist and publisher, Toyin Akinosho described My Entrepreneurship Journey as "a narrative on how to build, grow and sustain an upstream oil company" and "a masterpiece of economic and business analysis," while A Safe Pair of Hands has been described as telling "a compelling story of excellence, resilience, doggedness and that unique can-do Nigerian Spirit," and a "must-read for anyone who believes in potential."
The third book, Politics, Economics and the Nigerian Petroleum Industry, is made up of 74 essays written and published between 1991 and 2022, in which Austin Avuru, "oil man, corporate mandarin and public intellectual shows by the example of thriving companies he has founded, nurtured and built into successful enterprises that his theories for creating value and building generational and sustainable wealth are more than just talk but well thought-out processes anchored in cleared-eyed analysis. In the book, Avuru provides clear insights that should guide policy and decision making at the highest levels."