Reps Probe Attorney-General Of Federation, Malami, IGP Over Police Invasion Of Magodo Estate In Lagos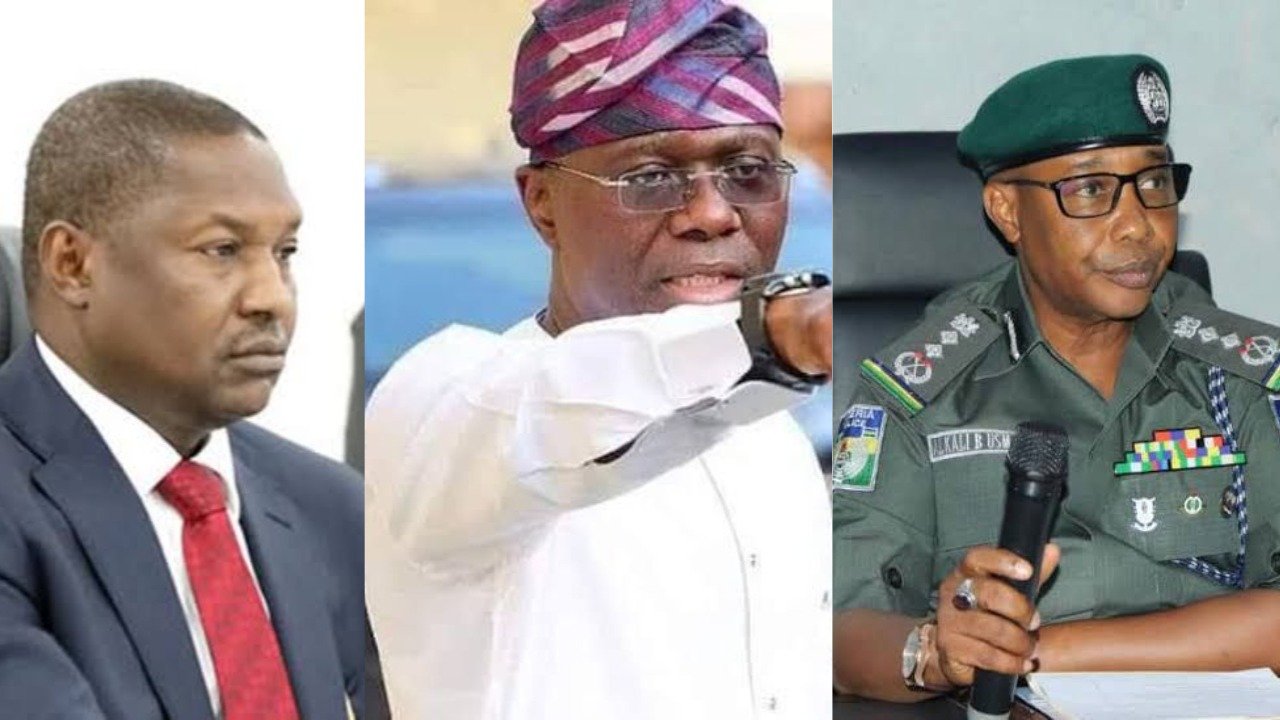 Lawmakers at the House of Representatives on Tuesday mandated its Committees on Justice, Public Petition and Police to investigate the involvement of the Attorney-General of the Federation, Abubakar Malami, and Inspector-General of Police, Usman Baba Alkali, over their alleged involvement in the police invasion of Magodo Estate in Lagos.
It was learnt that the committees are to ascertain the alleged attempt to destabilise the peace of Lagos State and scuttle the ongoing settlement process and enforce an illegality.
The committees will also appropriate sanction for any police officer found culpable in the illegal enforcement and breakdown of law and order.
This was after a motion of urgent public importance moved at the plenary by Ademorin Kuye and Rotimi Agusoye at the Wednesday plenary.
Kuye recalled that the residents of Magodo GRA Phase 2, Shangisha, Lagos, woke up on the morning of December 5, 2020 to the sight of hundreds of armed thugs, stern-looking and fully armed policemen and members of the Shangisha Landlords Association purportedly to execute a judgment.
"The judgment that was supposedly being enforced was delivered in 2012 by the Supreme Court in Military Governors of Lagos State & Ors Vs Adebayo Adeyiga & Ors in Appeal No SC/112/2002 wherein the apex court affirmed the judgment of the Court of Appeal and the High Court delivered on the 31st of December 1993 in suit No ID/795/88.
"The declaratory judgment of the Supreme Court only recognised the judgment creditors as being entitled to the allocation and reallocation of 549 plots of land in Shangisha Village, not possession of any land.
"Several attempts have been made by the Lagos State Government from 2012-2015, to settle the matter amicably making different engagements with the judgment creditors presenting a proposal for reallocation in the Magotho Residential Scheme within the Badagry area of the state which some of them accepted.
"The Lagos State Government again in 2016 initiated a settlement to reallocate Ibeju Lekki Coastal Scheme located in the Ibeju Lekki Area but this was rejected by the lead plaintiff Chief Adebayo Adeyiga, as government continue to dialogue with majority of the judgment creditors to reach a concession towards implementing the judgment
"Despite the ongoing settlement efforts and the pendency of an interlocutory injunction dated Dec 1st 2020 before the Court of Appeal seeking an order restraining him and his agents, Chief Adeyiga purportedly encouraged by the Attorney-General of the Federation and the Inspector-General of Police stormed the estate with unknown bailiffs and armed security operatives to execute a judgment that was purportedly delivered by Lagos High Court.
"The execution being presently executed through the office of the AGF with the connivance of the IGP is illegal as only the Lagos State Deputy Sheriff can execute same and not thugs aided by Police men.
"The highhandedness and reckless show of force on the 5th of December, 2021 and the 4th day of January 2022 in Magodo by Chief Adeyiga and his cohorts in blatant disregard to Order 8 Rule 17 of the Supreme Court Rules 2014 and Section 37 of the Enforcement of Judgment and Order Part III of the Sherriff and Civil Process Act, LFN 2004 can lead to loss of lives and properties and ultimately breakdown of law and order.
"The Attorney-General of the Federation is destabilising Lagos State by using is office to back this illegality as a meddlesome interloper and the instrumentality of state – the Nigeria Police Force and their illegal court bailiffs, to scuttle ongoing settlement between the Lagos State Government, Magodo GRA 2 residents and the judgment creditors," he said.
The motion was supported by majority of the members when put to voice vote by Speaker Femi Gbajabiamila and was eventually adopted.
Heritage Bank leveraging technology to promote financial inclusion for inclusive growth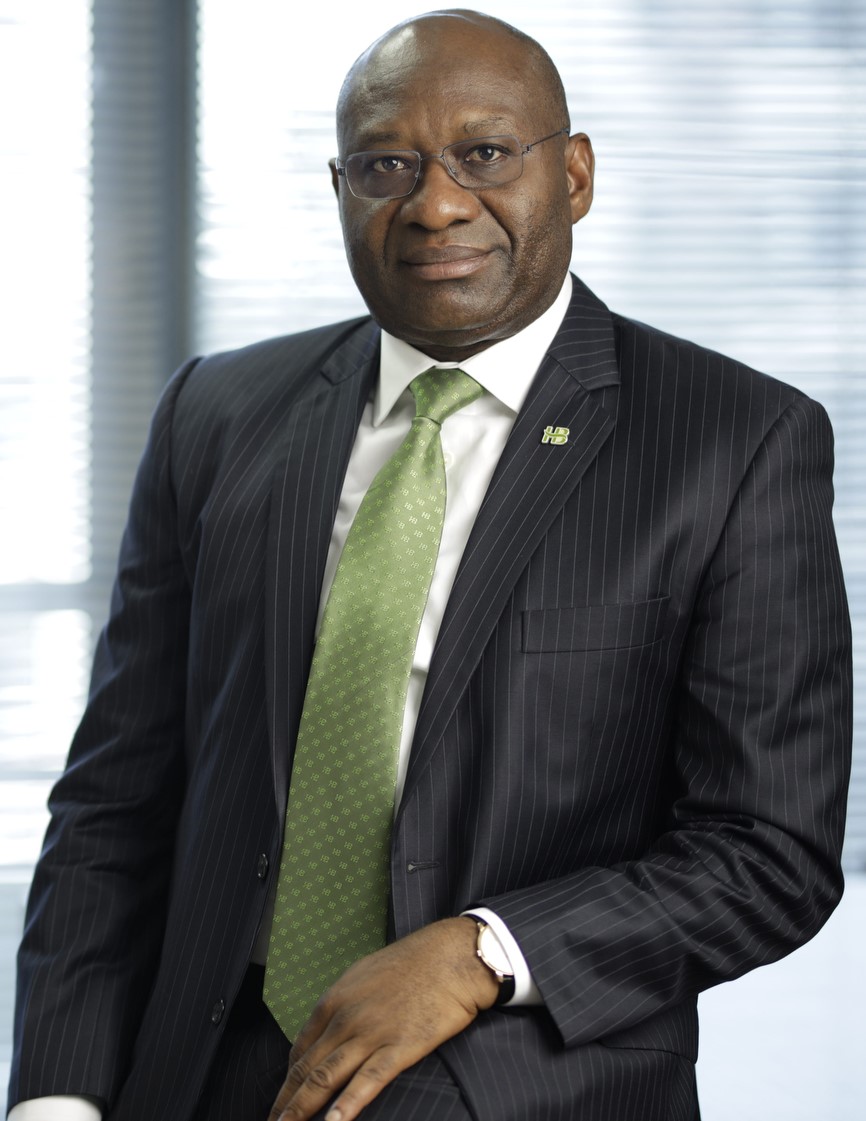 In today's world, making financial services accessible is fast becoming a key area of concern to policymakers for the well-known reason that it has far reaching economic implications. To this end, financial inclusion has assumed a greater level of importance due to its perceived relevance as catalyst for economic growth since it is critical for attaining inclusive growth in an economy.
In 2012, Nigeria took major steps in its journey by launching the National Financial Inclusion Strategy (NFIS). The main goal of the NFIS is to ensure that 80per cent of Nigerian adults are financially included by 2020. Before this, the formal use of financial services by the adult population stood at 36.3per cent in 2010. To achieve the 2020 goal, the Central Bank of Nigeria (CBN) introduced strategies to spike innovation in the financial services sector in Nigeria and by 2017, one amongst the achievements was that the CBN had given over 20 licenses to mobile money operators, which has currently grown to 21.
According to 2018 data from Enhancing Financial Innovation and Access (EFInA), 38.1million of Nigeria's 106million (18years and above) adults or 36 percent of Nigerians remain completely financially excluded.
In a recent survey by Augusto & Co on Consumer Digital Banking, only 34per cent of the respondents said they had experienced the service of digital banks. Only 17per cent of respondents above the age of 55 are aware of their services, while for people aged 41-54, the awareness rate stood at 31per cent. This spells the need to deepen the financial inclusion drive if Nigeria is to attain the NFIS target and accelerated economic growth.
The apex bank may have missed the 2020 target of 80 percent for financial inclusion, but it stands a better chance of meeting the target of 95per cent by 2024, as industry players have argued that to achieve the NFIS target for inclusive economic growth, the financial sector must strongly leverage technology (mobile and digital channels) to promote financial inclusion and enhance access to financial services for the unbanked and underserved segments of the population.
One of the financial institutions that has continued to leverage on technology to revitalize the industry via deploying its huge resources and vast networks to deepen financial inclusion in the country for inclusive economic growth is Heritage Bank Plc, Nigeria's most innovative banking service provider.
The MD/CEO of Heritage Bank, Ifie Sekibo, affirmed that banks cannot push financial inclusion unless they also push secured technology inclusion.
According to him, Heritage Bank has continued to entrench financial inclusion across board via creating access to accounts and other financial products, savings, mobile money systems and payment systems that provide opportunities for financially excluded Nigerians and Micro, Small and Medium Enterprises.
Introducing HB API Sandbox & Banking as a service via One Pipe
The Bank launched an API Sandbox to accelerate the ideas of technology entrepreneurs to build innovative and commercially viable products that were birthed through HB LAB. This platform provides a suite of financial and non-financialAPIs targeted to meet the needs of FinTech, Tech SMEs, and Communities. Our APIs grants Tech Companies, third-party developers, and non-Fintech companies access to multiple payments and financial services required by their customers.
Following the launch of HB's API Sandbox, the Bank partnered with API aggregator Companies to extend the Bank's API services to a wider audience, layering their value-added services to deliver our BaaS platform. Banking as a Service (BaaS/Open Banking) is an end-to-end business process that allows FinTech and other third-party service providers to offer core financial services to their customers by integrating with the Bank via our readily available APIs. This is a billed service that also provides relevant data insight required to pursue aggressive retail accounts acquisition by leveraging the aggregator robust retail prospect pipeline.
Redefining digital banking space with 'Octiplus'
Sekibo promised that his bank would continue to drive financial inclusion through a robust, innovative, and advanced digital banking solution, 'Octiplus' which it recently launched.
Octiplus is a bank-agnostic, all-in-one digital banking application, which grants users access to a bouquet of financial, lifestyle and social networking features with the added convenience of converging card-based payments within one application irrespective of the issuing Nigerian bank. Ifie Sekibo stated that, "with Octiplus, we are redefining the concept of digital banking for the discerning mobile user, as the app is equipped with several exciting features that reiterate the bank's commitment to expand its digital architecture and modernize its interactions with the banking public, irrespective of your preferred financial institution."
Octiplus promises an intelligent Omni-channel experience which augments the usual transactional features including bills payment, funds transfer and airtime recharge with its unique ability to facilitate person to person/group interactions which encourages small businesses and a thriving side hustle for young professionals. The App is now available for download on the Google and iOS App Stores.
Catching them young with HB BUD Account
HB Bud account is a savings account for children and the younger demographic aimed at introducing financial literacy and inclusion. The account can be opened in trust for a child by the parent/guardian who will be the primary account holder with the responsibility of running this account until their child attains adulthood and can solely operate their own accounts or possibly move to other age-appropriate products. This product was initially launched in 2014 as a unique proposition to cater mostly to the educational needs of children and young adults who are preparing and saving up for further education and, as well, deepen brand visibility and increase the bank's market share. However, some operational exigencies and regulatory framework have necessitated the modification and adjustment of this product to serve the customers optimally. Children and teens from 0 to 18yrs are the target market.
The features are unique as outlined: Access to cash backed loan by parent/guardian/sponsor for school fees/education loan. You can access up to 70per cent of your balance held with the Bank as cash backed loan. Thecustomer must have run the BUD account for a minimum of 6 months to access the cash backed loan. Ease of saving through standing order instructions. Access to exclusive events. Free participation in the BUD MINI career mentoring and coaching sessions once a year. Opportunity to act as a Heritage Bank Executive Committee member for one day.
Catering for the unbanked via HB Starter Product
This is the banks flagship CBN KYC Tier 1 savings account to cater for the unbanked. It is a level 1 entry into savings account category in Nigeria, in which an individual can open without having the mandatory requirements/documents to open a standard or regular account in Nigeria. This is one way of ensuring that all citizens of Nigeria are financially included since the account can be opened with or without a smart phone at the bank or online. In essence, this type of savings account doesn't require any utility bills, or even an ID to open.
Most people who fall under this category usually do not see the need to open an account because they find it easier to save whatever money they have in their houses. This category of people wants to avoid bulky manual account opening process and have a better time management. This product is very precise and requires minimum account opening documentation, also it can be done at the comfort of one's home. Customers can in addition be assisted by the Bank's relationship managers and sales teams. Also, customers can get on the bank's website to initiate a new account opening process from start and receive the account number at the end of the process.
Product targeted at individuals across all market segments
This is known as HB Individual Current Account Product, which is a checking account for all individuals across market segments above the age of 18years. This account has been made seamless with unique features for individuals' access to loan products, minimum balance of N0.00, No COT on all transaction, account opening balance N5, 000 and access to clearing check book.
Customization of payment gateway on HB CheckOut and Virtual Accounts
Heritage CheckOut is a fully integrated payment processing platform with infrastructure for digital payments across Africa. Olusola Longe-Okenimkpe, Divisional Head, E-Business & Collections disclosed that the platform provides an underlying technology platform that allows businesses to receive and issue payments from anywhere in the world, with robust inbuilt fraud management, compliance, and security applications.
She also defined Virtual Accounts as series of off-balance accounts whose total balance mirrors the balance in pool account. According to Olusola, pool account is linked to all the virtual accounts and the balance in the pool account mirrors the total balance in the virtual accounts.
Opportunities for financially excluded with HB Business Account
The Heritage Bank Business Account is a cost-effective current account that provides flexible, affordable, and transparent pricing grid based on debit monthly turnover covenant. The product is targeted at all Micro and Small Enterprises of SME and Retail segments.
Ensuring seamless transaction using HB transfer code
The transfer code *745# of Heritage bank guarantees seamless usages and reduces the stress of going to the branch of Heritage bank to make payment. Just like other banks, you can use Heritage bank mobile banking code which is *745# to check your account balance, transfer money to Heritage bank or other banks, pay for utility bills and cable TV subscription, pay for church's services everywhere you are using your mobile phone.
Capturing educational sector via Alumni Banking service, Acada Portal Solution
To further capture individuals in educational sector into the financial inclusion space, Heritage Bank unveiled the Alumni Banking Service and Acada Portal Solution which are internet-based solutions that seamlessly integrate school'sportal and Alumni platforms that benefit the different stakeholders and complement efforts in attaining the best global practices in school management. Alumni Banking service is an educational provision by Heritage Bank that seeks to utilize and track, engage, endow, and invest a model to help secondary and tertiary educational institutions create modern alumni systems that contribute to their financial stability just like great alumni do in the best global schools.
Inclusion of creative industry, e-sport gaming on HB YNSPYRE Account
YNSPYRE Account is a product targeted specifically at the creative economy populated by not only youths in video and film, and music. It goes much more than that as it involves people in technology, the creative industry and gaming as part of the creative industry.
Addressing the press about the initiative in gaming as a creative endeavour, Dike Dimiri, Heritage Bank Regional Executive, Lagos, and South-West explained that the involvement of the bank is to identify income-earning opportunities for some people in the economy.
According to him, "HB has designed a product that identifies and finds a mechanism that guides Nigerians in gaming or e-sports. The bank is set to revolutionize e-sports by bringing it to an acceptable level attained by football, lawn tennis and other crowd pulling games."
Heritage Bank is fast changing the narratives of the banking landscape through the adoption of more secured technology (product and channels) for seamless services that guarantee the larger part of the population is involved in economic activities as well asbeing financially included.
For this to be effective, Sekibo affirmed that the population must access financial services and products which ensure that households and businesses irrespective of income levels have access to and can effectively use the appropriate financial facilities they need to improve their lives and further their savings and investments.
Aura by Transcorp Hotels Wins Tourism Innovation Award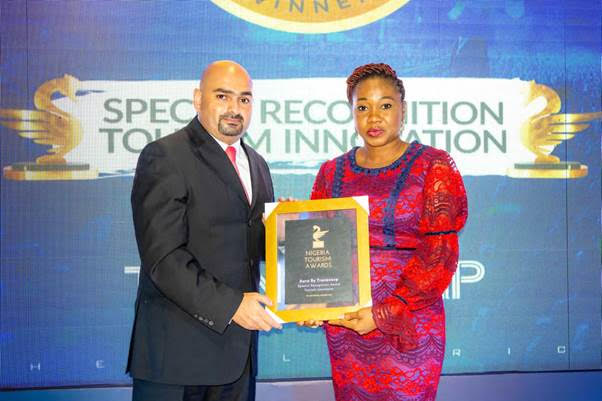 Aura by Transcorp Hotels, the online booking platform which allows people to book hotels and short let apartments, experiences, and order food anywhere in Nigeria, has received a Special Recognition Award for Tourism Innovation at the 5th edition of the Nigeria Tourism Awards. According to the organisers of the award, the recognition is aimed at celebrating industry icons who have contributed to the growth of tourism in Nigeria.
"We are proud to receive the Special Recognition Award for Tourism Innovation less than a year after our official launch. With aura by Transcorp Hotels, we cater to the three major things people think about when they travel – where they stay, what they eat, and things to do. With our verified accommodation – hotels and apartments – and carefully curated experiences, we have over the past 10 months shown people reasons to travel within the country, whether for business or leisure, solo or as a family or group," said Ifeoma Okafor-Obi Business Development Director, aura by Transcorp Hotels.
"With just a few clicks on our platform, users can be on their way to enjoy their best staycation ever, visiting hidden gems in different parts of the country and staying in hotels and apartments that feels like home, Okafor-Obi added.
Also commenting on the recognition, Dupe Olusola Managing Director/CEO Transcorp Hotels Plc, owners of aura by Transcorp Hotels stressed that the platform has proven to be a tool for revolutionising domestic tourism in Nigeria.
"World over, governments use domestic tourism as a tool to eliminate poverty, generate employment, improve economic growth, upgrade infrastructure, as well as support and develop local and national pride. As Nigeria's leading hospitality company, we have set the pace in providing a platform that shows people beautiful places to travel across Nigeria, and gets the perfect place to stay, improving the attractiveness of different destinations in the country," the MD/CEO added.
"It is quite encouraging that our investment in aura by Transcorp Hotels to support the development of domestic tourism has not gone unnoticed."
Aura by Transcorp Hotels provides a great selection of exquisite properties at the best prices, carrying out verification on all listings on the platform to ensure that guests are choosing from the right pool of options, and in keeping with the known high standards of the parent company Transcorp Hotels Plc.
To enjoy access to unique accommodation, food and localised experiences listed on aura by Transcorp Hotels, users must register at aura.transcorphotels.com. They can also download aura by Transcorp Hotels on Google Play and Apple App Store. Aura by Transcorp Hotels is very easy to use, but should users need any support, they can reach out via WhatsApp (+234 812 003 000) or the dedicated customer experience number 01 3434499.
FIRSTBANK REWARDS CUSTOMERS IN ITS FIRSTMOBILE CASH-OUT PROMO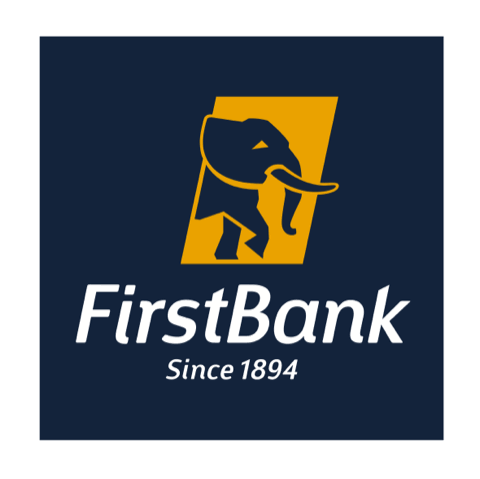 In collaboration with Interswitch, FirstBank has launched a promo to reward users of the FirstMobile app, its industry-leading mobile banking application. The promo tagged FirstMobile Cash-out Promo will run for 3 months. The promo, which started on Monday, 21st March 2022 will end on Tuesday, 21st June 2022.
Various prizes including, N1,000,000, N40,000, N10,000.00 cash prizes, N40,000 Airtime, LED Televisions, refrigerators, washing machines, air conditioning systems will be won in the course of the three months campaign. A minimum of two bills payment worth N1000 and five airtimes of at least a total of N2000 in a week qualify a customer for any of the prizes. The promo is open to new customers and existing users of the FirstMobile app.
FirstMobile customers who do a minimum of 6 transactions weekly on the FirstMobile app, will be eligible for the respective rewards: N10,000 cash for 200 winners; Gift items (TVs, Refrigerators and AC) for 10 winners; N10,000 airtime for 340 winners.
On the other hand, 500 customers that carry out a minimum of 10 transactions monthly will win N30,000 cash. The Grand Prize of N1,000,000 will be won by 2 lucky customers who carry out a minimum of 20 transactions or a minimum of two bills payment of N1000 plus five airtime transactions of at least a total of N5000 in a week.
Speaking on the campaign, Chuma Ezirim, FirstBank's Group Executive, e-Business & Retail Products said, "as the leading financial inclusion services provider in Nigeria, we are delighted to partner with Interswitch, an Africa-oriented technology-driven company, to reward our customers for their continuous patronage. Together with Interswitch, we remain committed to ensuring the continued safety of customers' funds across multiple electronic payment channels irrespective of where our customers may be across the world. FirstMobile remains another obvious step towards leveraging evolving technologies to bring fast and convenient digital banking solutions to our customers".
FirstMobile is built to reflect FirstBank's resolve at reinforcing the digitisation of payment systems, whilst putting customers at an edge to conveniently meet their everyday needs at any time, irrespective of where they are. The app provides convenient access to both financial and non-financial transactions by FirstBank account holders via their mobile devices. It is sleek and convenient to use – evident in its easy enrolment process as all FirstBank customers with Verve and Naira Mastercards can begin using the app without having cause to visit a FirstBank branch. It is also poised to offer a more reliable and more convenient overall digital banking experience.
To set up the FirstMobile app, customers with android phones should visit the Google Play store to download and install the FirstMobile app. Customers with Apple devices can download it from the Apple Store. Once installed, customers are required to open the app, tap the register button, and use their FirstBank issued Naira MasterCard or Verve card to activate the app. After details have been inputted, an OTP code will be sent via an SMS to your phone number that is linked to your bank account and you are then required to Input a 5 digits code that will be your login password, select two security questions and answer them, create a personalised 4 digits transaction pin that will help your confirm transactions. Upon the conclusion of these steps above, click Done and start enjoying the app.