Rave Of The Moment "Ashake" Set To Thrill Fun Lovers At Sinatra This Weekend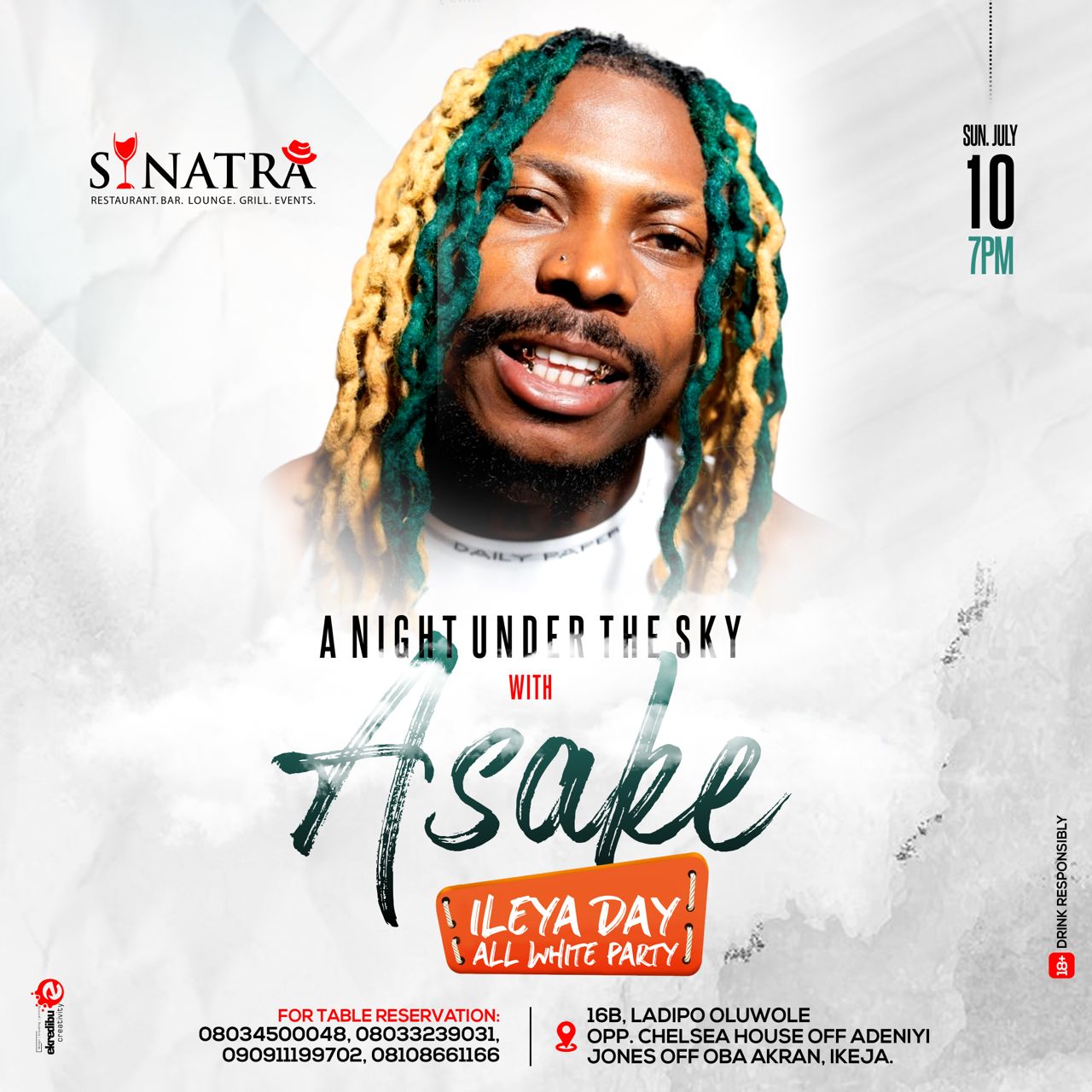 Ikeja, Mainland fun seekers are in for another fun-filled and enjoyable weekend as top one-stop spot where fun-seekers rev up their nightlife, Sinatra, is set to bring Nigerian current king of the air waves , Asake to entertain their numerous customers on Sunday 10th of July.
The show tagged 'A Night Under The Sky with Asake' and it's slated to come up on Sunday, 10th of July at the Sinatra Place, 16B, Ladipo Oluwole Street, off adeniyi jones ,Opposite Chelsea House, Ikeja, Lagos.
It promises to be one in a life time show as many musicians and entertainers like Grandmaster, Klever Jay, Steven Adeoye (alli go to sch), DJ C-Boss and many others would be in attendance.
According to the General Manager of the hospitality outfit, Tunji Lawal, they have decided to bring one of Nigeria's most talented entertainers, Asake, fondly called Mr Money by his numerous admirers to thrill their customer during the 'Ileya Festival' period in a proper concert format.
We decided on a concert to give the opportunity to every member of sinatra community and lovers to enjoy the rave of the moment and its also a platform for new musicians making waves to sell themselves to the world.
"For sometime now, Asake has been thrilling people with is numerous song on the airwaves and we decided to bring him for our patrons to enjoy and we can say with confidence that your security is guaranteed with fully guaranteed. You can come and enjoy yourself with your families with us on Sunday from 6pm till the next day. Sinatra remains the choice, and our previous events have continued to be memorable to our patrons," Lawal said.
Tems, Rihanna lose Oscar to India's 'RRR'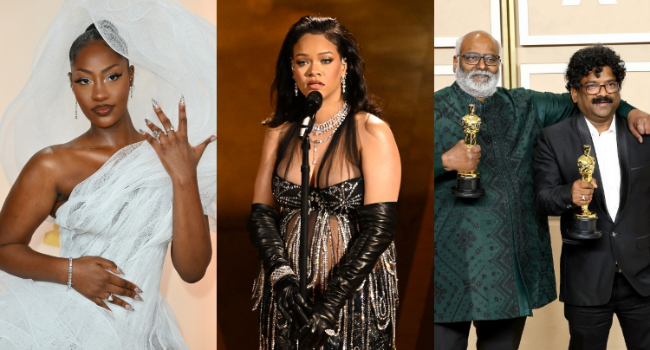 It was a disappointing night for global sensation, Temilade Openiyi popularly known as Tems, and co-songwriters Rihanna, Ludwig Göransson, and Ryan Coogler at Sunday evening's Oscars ceremony.
With the foursome losing the Academy Award for best original song, the viral dance song "Naatu Naatu" made Oscars history as the first song from an Indian film to snag the prize, thanks to composer M.M. Keeravani and songwriter by Chandrabose.
The win for the Telugu-language song followed an exuberant performance, including the famed "hook dance" steps from the crowd-pleasing film "RRR" rejigged for the Dolby Theatre stage.
Fresh off her career-spanning Super Bowl halftime performance, during which she revealed her second pregnancy, Rihanna performed her nominated song, 'Lift Me Up', in what was one of the night's most anticipated moments.
Donning black and silver beaded wide leg pants with elbow-length black leather gloves, swathes of sheer tulle dripping with rhinestones cascaded over her baby bump, the superstar sang "Lift Me Up" from the sequel "Black Panther: Wakanda Forever."
It was a soft but impassioned tribute to the late Chadwick Boseman, who starred in the original film before losing a battle with colon cancer.
Following Rihanna's performance, the last of the evening, her partner A$AP Rocky cheered her on, raising a champagne glass to the global icon and mother of his children.
And Lady Gaga delivered a surprise performance she wasn't originally slated to perform of her nominated song "Hold My Hand," which she wrote for the Tom Cruise blockbuster sequel "Top Gun: Maverick."
After hitting the carpet in high-glamour Versace and heavy red-lipped, smoky-eyed makeup, Gaga stripped back her look to match her raw, sparsely-produced performance.
The versatile pop phenom who has already won an Oscar for her song "Shallow" from "A Star is Born" wore a black t-shirt and jeans ripped at the knee, capping off the look with Converse sneakers, a French braid and barely-there makeup.
Calling her song "deeply personal," Lady Gaga offered a heartfelt message before launching into her set: "We need a lot of love to walk through this life."
"We all need a hero sometimes there are heroes all around us in unassuming places," she continued. "But you might find that you could be your own hero even if you feel broken inside."
The 14-time Oscar-nominated songwriter Diane Warren joined performer Sofia Carson onstage to perform their nominated song "Applause" from the movie "Tell It Like a Woman."
That preceded a bizarre performance featuring none other than David Byrne that aimed to achieve the level of wackiness in the film "Everything Everywhere All At Once" the night's big winner.
The track "This Is a Life" also earned a nomination for best song, performed for the film by Byrne, Mitski and Son Lux.
Mitski did not join Sunday's festivities, with "EEAAO" cast member Stephanie Hsu who earned a best supporting actress nomination for her role in the film taking the stage in her place, wearing, like Byrne, all white.
From martial arts choreography to googly-eyed back-up dancers to the infamous hot dog fingers, the staging was rife with references to the film including a visual of Raccacoonie, the film's absurdist riff on animated classic "Ratatouille."
Lenny Kravitz graced the Academy with his presence to deliver a touching, piano-driven version of his song "Calling All Angels" for the night's in memoriam segment.
John Travolta choked back tears as he introduced Kravitz's performance to honor those who've died over the past year Ray Liotta, Jean Luc-Godard and Angela Lansbury among them referencing his beloved "Grease" co-star and friend, the late Olivia Newton-John, with a play on her famous song "Hopelessly Devoted To You."
Hollywood maestro John Williams whose iconic compositions include the scores to "Jurassic Park," "Jaws" and "Star Wars" fell short of setting the record for oldest Oscar winner ever (though he's still the oldest nominee).
At 91, his work on Steven Spielberg's "The Fabelmans" was up for best score, his 53rd nomination but that prize went to Volker Bertelmann for "All Quiet on the Western Front."
Channels
Cubana Chief Priest denies having child with Kenyan woman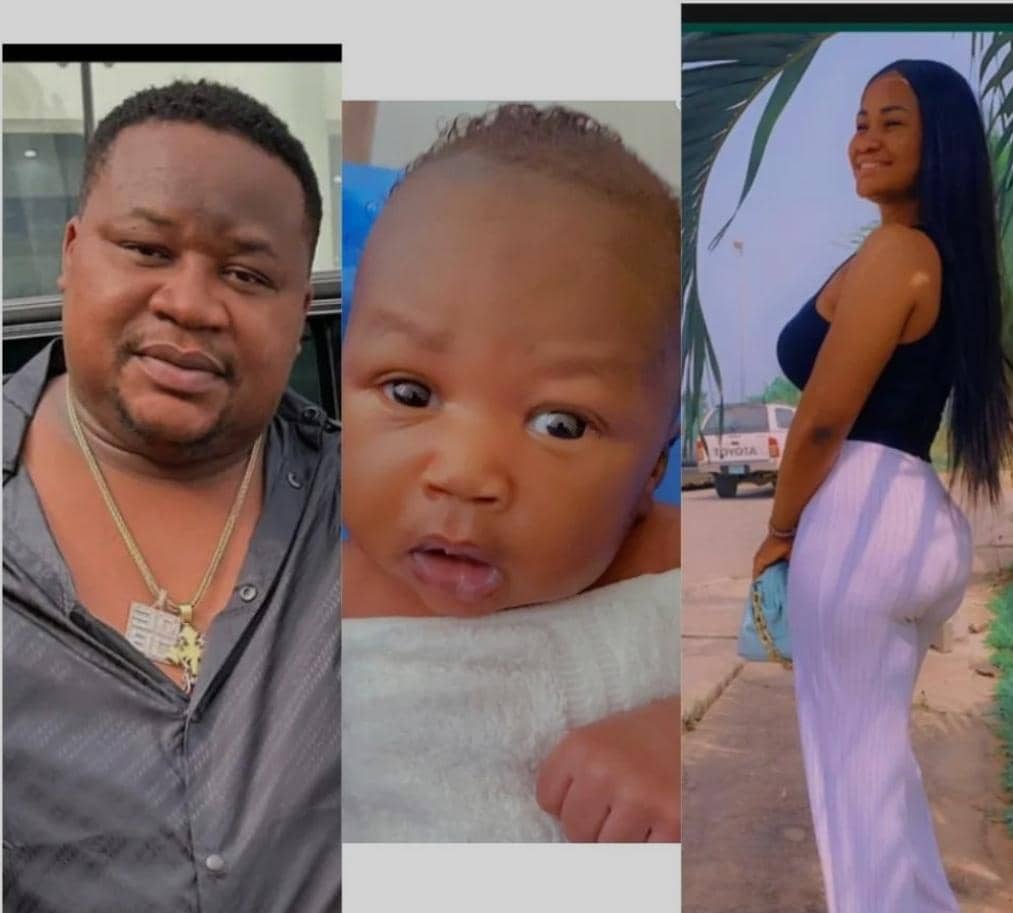 Popular businessman, Pascal Okechukwu, also known as Cubana Chief Priest, has debunked the rumour of fathering a child with a Kenyan woman outside marriage.
An Instagram blogger, Gistlover had earlier reported that the businessman had a child from an extra-marital affair.
Cubana Chief Priest debunked the rumours on Sunday on his Instagram story.
He wrote, "I'm so rich that if I have a child outside my marital bliss, no one will ever know about it. Gistlover feels I can pay him/her for blackmail that's so funny, me of all people. Oba without palace. If e sure for you, pay for the logistics for the DNA with your money, I go run am.
"If the baby is mine, I will double your expenses. If you can't afford to pay, show yourself and I will spend my money to do it."
He added, "It's a huge disrespect to me to say my child was born in Kenya of all places. God forbid. I assemble my babies in Nigeria and make them in America. I'm too detailed to do such low key."
Speaking on his marriage, the socialite noted, "My marriage is bulletproof. My relationship with my wife is built on so much love, loyalty, respect, and wealth. It's indestructible."
Popular Nigerian Highlife Singer, SB Live, Announces UK Tour.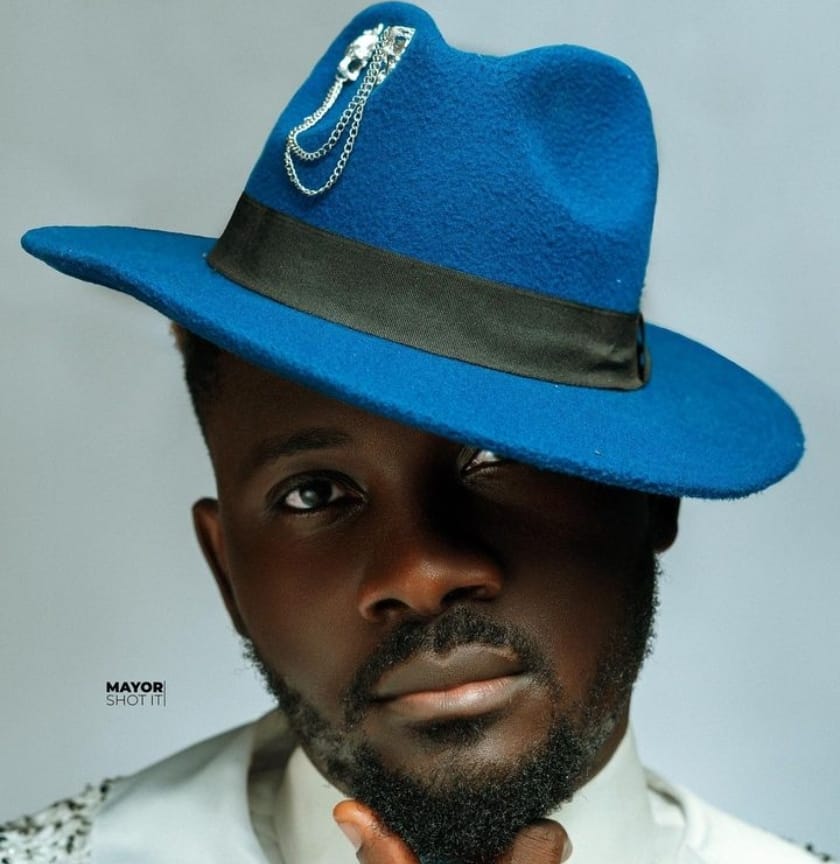 SB Live brings Nigerian Highlife vibes to the UK, announces UK tour in 5 major cities…
London, UK – Seun Bankole, popularly known as SB Live, is set to thrill his UK fans with a highly-anticipated tour in partnership with UK promoters, Alexxkay, and KAG Global Entertainment. The tour is scheduled to kick off on the 28th of March and run through to the 23rd of April, 2023, with electrifying performances slated for major cities including London, Manchester, Coventry, Birmingham, and Southampton.
SB Live has become a household name in the Nigerian music industry, thanks to his unique style of Highlife music that is infused with elements of Afrobeat, Jazz, and Soul. He has also won over many with his raw energy and passion for music, and his ability to command the stage with his seven-piece band.
The tour is set to be an electrifying experience, as SB Live brings his captivating live performances to his UK fans. He has promised to deliver an unforgettable experience, with a setlist that will include some of his hit songs.
"I'm really excited about this tour, and I can't wait to share my music with my UK fans," said SB Live. "I've been working hard on my live performances, and I promise to give my all on stage. I'm looking forward to seeing everyone there."
Tickets for the tour are available now and can be purchased through KAG Global Entertainment.