QUINTESSENTIAL SOCIALITE, KEMI NELSON CELEBRATES 65TH BIRTHDAY TODAY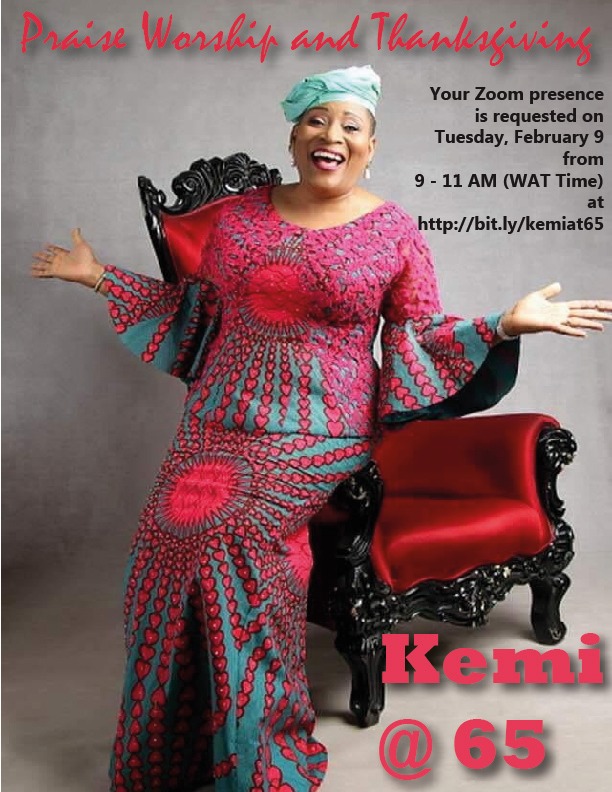 BY: SUNDAY ADEBAYO
Chief (Mrs.) Kemi Nelson, the South West Women Leader of All Progressives Congress (APC) and one of the heartbeats of social life in Lagos metropolis is 65 today, Tuesday, February 9, 2021.
That, you will say is a piece of good news but the toast of social parties in Lagos metropolis is not throwing any big party to mark her diamond jubilee.
After the ageless socialite cum politician has been unjustifiably relieved of her appointment at the Nigeria Social Insurance Trust Fund-NSTIF, many people have been wondering what her next move is as she has since preferred a low key lifestyle. This her quiet mien must have informed the unfounded rumors which busybodies have been peddling about her personal life. As of the time of this publication, the woman of means, timber, and caliber is doing great as she is going to be having a zoom meeting commemorating her birthday, thanking God for a great and fruitful 65 years on planet earth.
A reliable source hinted that people have been spreading a false rumor about her just because she has reduced her party attendance, but we gathered further that most of the unfounded rumors are baseless and nothing to consider giving ears to.
It would be recalled that in her recent interview with a magazine Chief Mrs. Kemi Nelson admitted that she is getting tired of attending every party as she has made her mark in the social scene over the years and she now has more important things to consider but not partying.
SOCIETY REPORTERS gathered reliably that friends and well-wishers are expected at the zoom thanksgiving, and they have been informed through SMS.
Chief (Mrs.) Nelson was born in Lagos 65 years ago to a Lagos born mother and Ijebu father. She had her secondary school education at Anglican Girls Grammar School, Ijebu-Ode, and her tertiary education at the University Teaching Hospital (UCH), Ibadan, where she trained as a nurse and midwife.
She later attended Lagos State University (LASU), Ojo, where she had a diploma in Law and a Master's Degree in Business Administration.
Her work career started with UCH, Ibadan, as a nurse and midwife. Upon her graduation, she left UCH, Ibadan to become the medical representative of Beecham Ltd, in Lagos. She later opened the first business center on Allen Avenue, Ikeja, Lagos.
Her foray into politics started in the 80s during General Babangida's regime when she joined the defunct National Republican Convention (NRC). She was NRC senatorial candidate for Lagos West Senatorial district in 1992 and was defeated by Bola Ahmed Tinubu in that year's National Assembly election.
Again, during Abacha's regime, she was a member of UNCP, the political platform she contested for Ikeja Federal Constituent in 1998 and won before the death of Abacha truncated her dream of becoming a member of House Representatives.
In 1999, she joined the Alliance for Democracy (AD) and later became a member of Bola Tinubu's cabinet first as Commissioner for Establishment, Training and Job Creation and later Commissioner for Women Affairs and Poverty Alleviation, the position she held till 2003.
Today, aside from being the Women Leader, South West, and Lagos State for All Progressives Congress (APC), she is one of the deciding factors in Ikeja politics.
Chief (Mrs.) Kemi Nelson is married to Mr. Adeyemi Nelson, a retired director of the Federal Ministry of Internal Affairs. Their love affair started during their secondary school days when she was just in form two at Anglican Girls Grammar School, Ijebu-Ode and Adeyemi was in form four at Birch Freeman High School, Surulere, Lagos. They got married in 1987 and had three children two of whom are already parents themselves.
Chief (Mrs.) Kemi Nelson is well known in the social circle for her low cut hairstyle, her unique head-gear, and her dancing prowess.
BY: SUNDAY ADEBAYO
All You Need To Know About Otunba Tomori Williams Conferment As Aare Onikoyi Of Yorubaland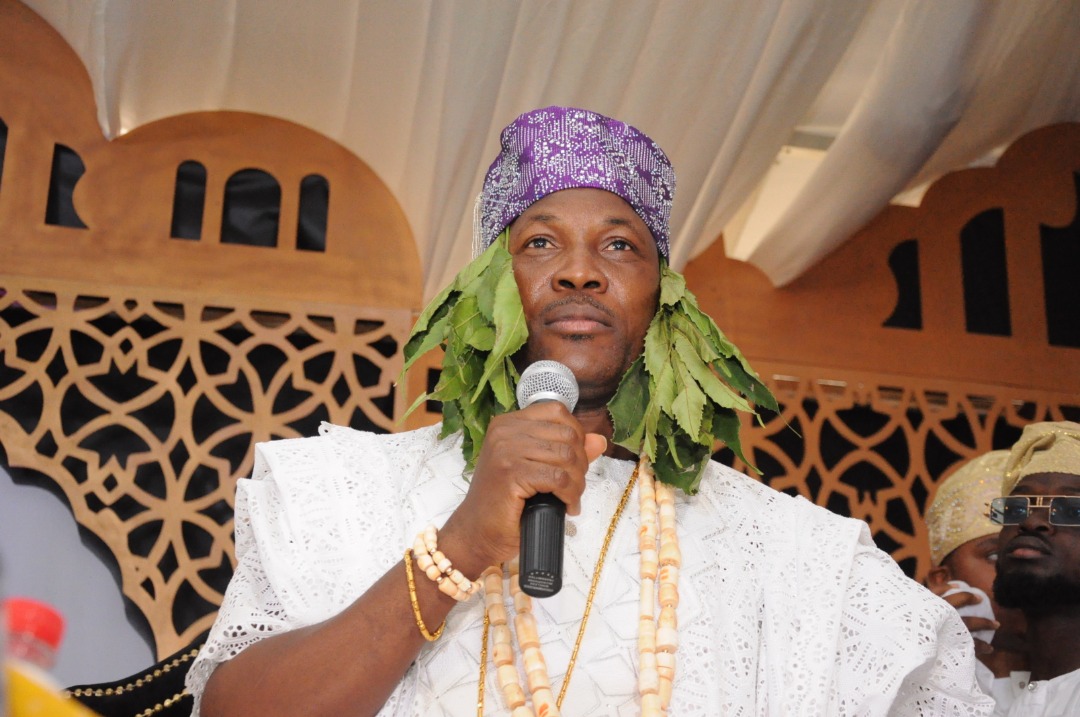 Sunday, February 28, will be etched in the history of Oyo Town for a very long time.
This is because it was the day that the Alaafin of Oyo, Oba Lamidi Olayiwola Adeyemi III, conferred the title of Aare Onikoyi of Yorubaland on Otunba Tomori Williams.
Indeed, on that day, endless blessings flowed, as the town was agog with activities.
The three days event was incomparable to anything that had been seen in the state, as mouths were left agape by the display of wealth, opulence and taste.
Kicking off with a DJ night on Friday, February 26, guests were treated to a night of dance music.
If the first day was for the young at heart, the second day which saw guests hosted to a Sabaka Night was something else, as a blend of adults and youths enjoyed themselves to traditional old school music.
The climax of the event was on Sunday, February 28. Guests witnessed a show stopper event with people from all works of life in attendance.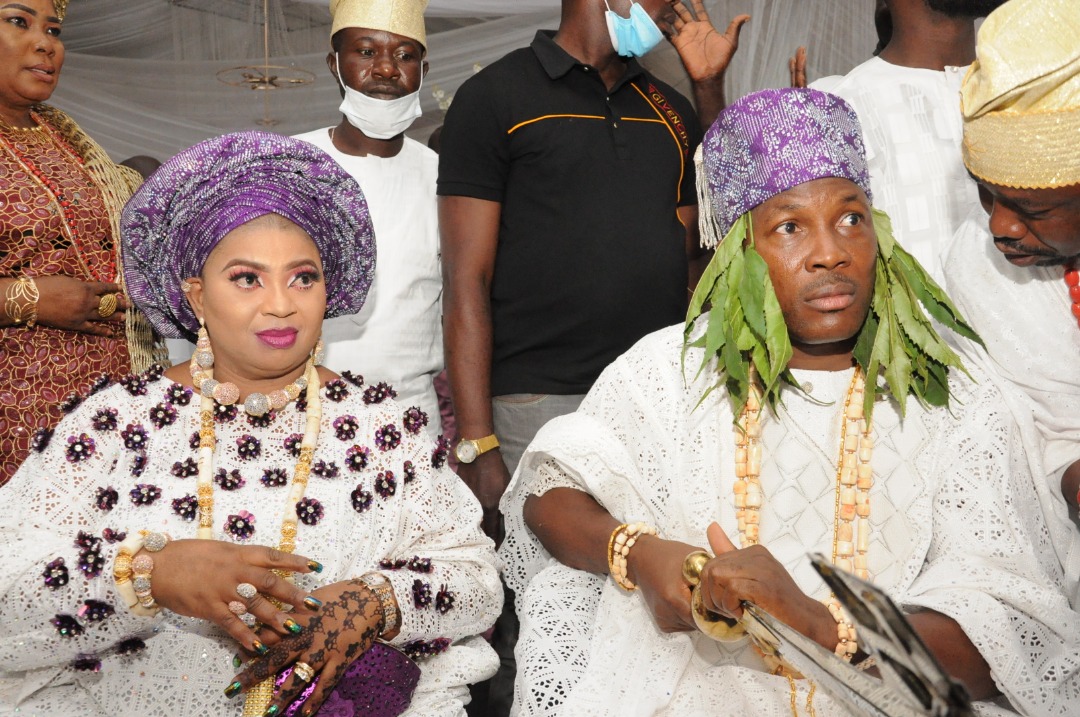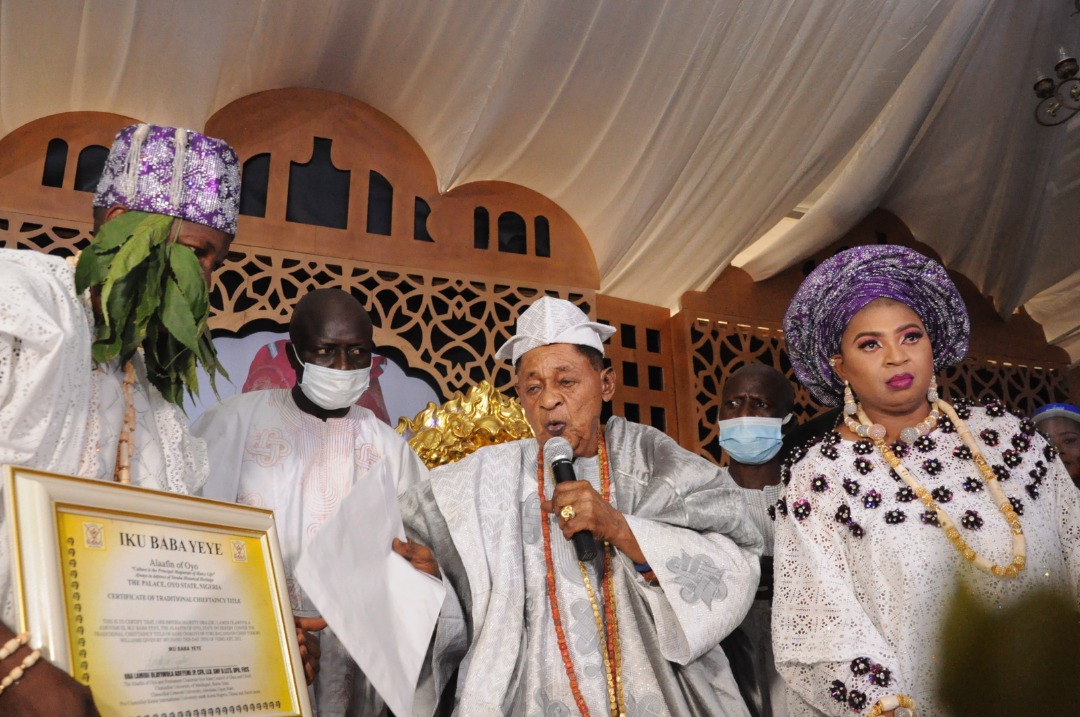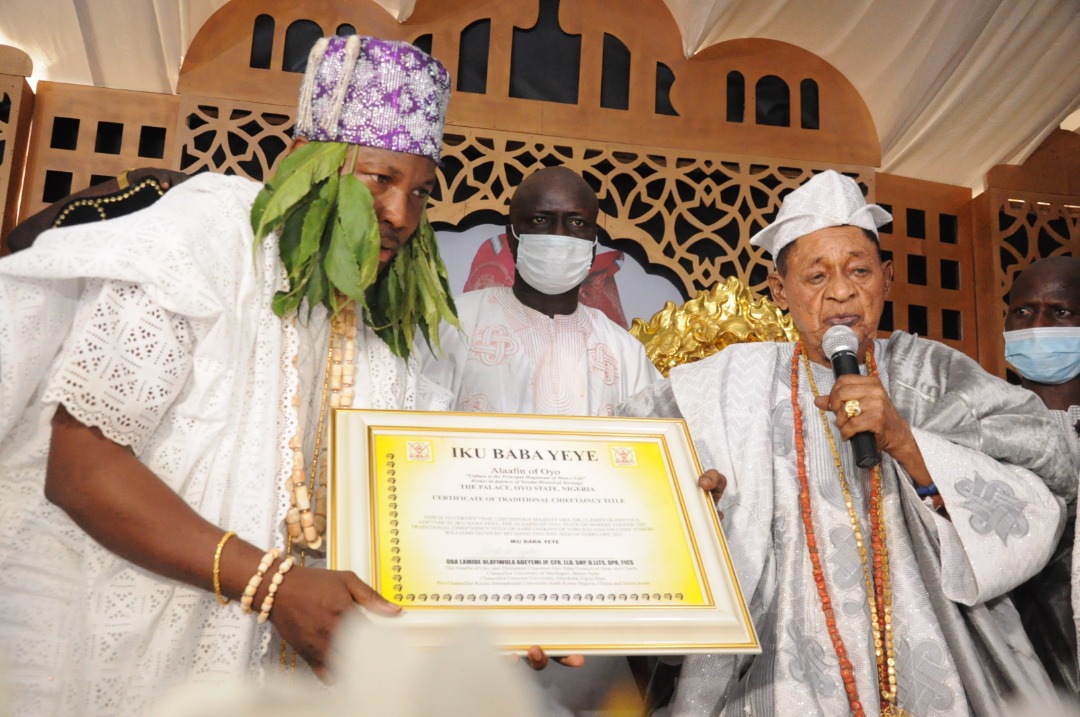 Kicking off at 10: AM, the palatial marquee, the venue of the event stood tall at the Aganju Forecourt of Alaafin's palace. Indeed, it was a sight to behold as it was tastefully designed with drapes of delicate fabrics, chill air conditions, metal detectors, and what have you.
Indeed, such a marquee had never been spotted in the history of the town, as a lot of people confessed.
While the massive marquee served as the venue of the event, a smaller one was made available for the comfort of food vendors. It was indeed mind-blowing.
As expected, inside the marquee was a gathering of who-is-who, as almost all the important personalities in the southwest were in attendance.
Present at the event were notables such as Oyo State Peoples Democratic Party Chairman, Alao Akala, House of Representative member, Hon. Shina Peller, Elegushi of Ikate Kingdom, Oba Saheed Elegushi, Akinsiku of Lagos, Olalekan Dosunmu, and Olofa of Offa, Oba Mufutau Oloyede Gbadamosi.
Also present were Oloyan of Oyankingdom, Oba Kelani and his Olori, Alara of Ilara Epe, Oba Folarin Ogunsanwo, the Lagos/mainland council of white cap chiefs, Osolo of Isolo, Oba Kabiru Agbabiaka, Onibogun of Ibogun, Oba Ifakayode Ajigbotifa, Chief Executive Officer of Sodium Brand Solutions Limited, Bisoye Fagade, Chief Olawale Andus, the Aro of Oto, representative of Olubadan of Ibadanland, Oba Saliu Adetunji, Mogaji Nureni Akanbi; the Aare Ona Kakanfo of Yorubaland, Iba Gani Adams and Onishagisha of Magodo.
Others at the event were Ambassador Ayanlakin, Oloye Akin Fijabi, Chief Wale Saranda, Chief (Mrs) Kadijat Bakare, Bashiru Fakorede, Mustapha Dodo among others.
Music was supplied by King of Fuji music, Wasiu Ayinde Marshall, and Mayegun of Yorubaland who ensured that guests dance into the evening, as he dished out both old and new songs to the amazement of guests present.

Presenting certificate of office to the newly installed Aare Onikoyi of Yorubaland, Oba Adeyemi described Aare Tomori Williams as a brave successful businessman whose philanthropic gestures can't be overemphasized.
Aare Tomori Williams is the MD/CEO of T. Williams Construction Nig. Limited, the Managing Director of Olaleye Property and Investment Limited, MD Maintek Property, and MD Olaleye New Town Developments Ltd. His various working expertise includes Real Estate Developments, Construction, and Consultancy.
Indeed, history will remember Aare Tomori Williams for a long time to come.
Sanwo-Olu, Kenny Martins, Dele Momodu, Others To Attend IntegrityReporters 4th Annual Public  Lecture .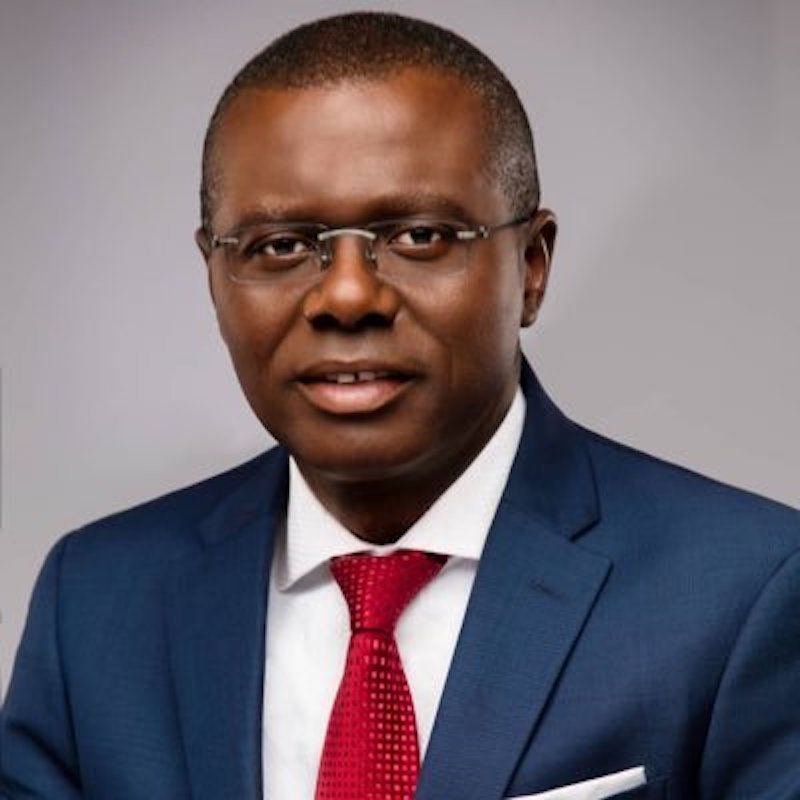 Governor of Lagos state, Babajide Sanwo-Olu, Chairman, Ovation Media Group, Basorun Dele Momodu ,Kenny Martins and other eminent personalities across the country are billed to attend the IntegrityReporters newspaper  4th  Annual public lecture series.
According to the press release signed by the publisher of integrityreporters newspaper and convener Mr. Adewale Ogunniran, says that the programme is slated for Thursday 25th march, 2021,at Sheraton Hotel, Ikeja, Lagos while the title of the lecture is "Security Challenge And Implication On National Development".
The event will be chaired by Chief Dele Momodu,one of the most decorated media mogul in Africa, governor of centre of excellence ,Lagos state will be Special Guest Of Honour and the opinion leader Chief Kenny Martins will do the justice to the topic as Guest speaker.
Others that will do justice to the topic as discussants are,AIG Dasuki Galadmach FCID, Alagbon,Lagos, the popular essayist and columnist a trained lawyer Dr. Festus Adedayo, Aare Ona Kakanfo of Yorubaland Aare Gani Adams,  Lagos state Commissioner of  police Hakeem Odumosu,Otunba  Olusegun Abiru,Rtd. Comdr Olawunmi among many security experts and opinion leaders.
WOMEN SHOULD ENGAGE IN PROFITABLE VENTYRE AND GAIN INSPIRATION TO LIVE FULFIFILLED LIVES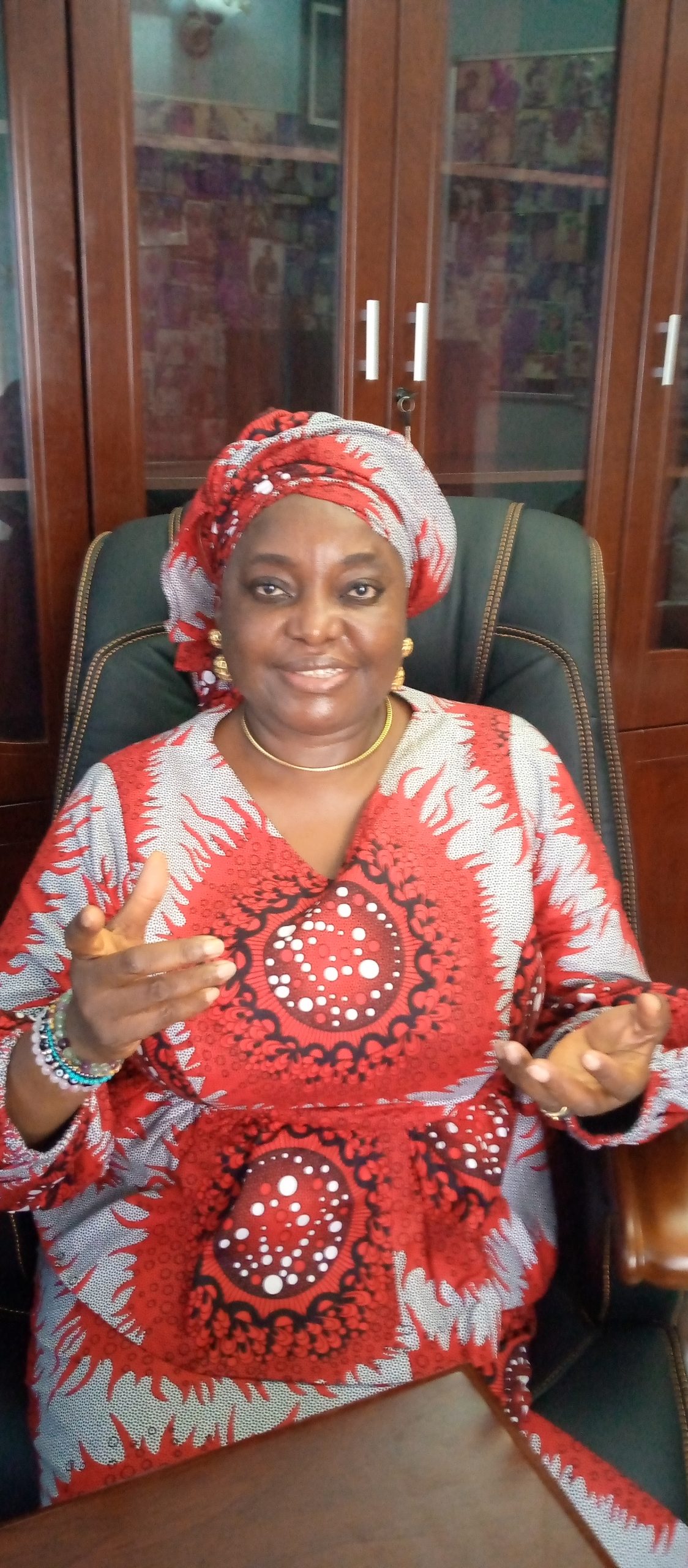 Mrs Iyiola Olatokunbo Edun is the Executive Director, Grace Schools, comprising of both primary and secondary arms .Grace School is also the official Representative of the Loyalist College of Technology, Canada in Nigeria. Edun bagged a Bachelors of Arts Degree in History from the University of Kent at Canterbury and a Masters of Arts Degree in Comparative History from the University of Essex, all in the UK.She later completed a Post Graduate Diploma in Education from the University of Lagos. She speaks on the role of women in the society, impact of Covid-19 on learning, Parental issues among others.
MEASURES IN ENHANCING THE LEARNING PROCESS
We have embarked on several measures to accelerate learning and deliver qualitative teaching for our students.Covid-19 has also enabled us to be more pro-active and dynamic in our teaching endeavor. We had to adopt 3 approaches as students were not forced to come to school. The three learning methods are online , Hybrid- 3 days in school , 2 at home and 5 day physical attendance in school. The strategy we adopted was the use of questionnaires for parents to choose what they want. The fees were different and they had choices. Basically learning remains the same thing but it is now left to parents to supervise their children.
HUGE COST OF COVID-19
It should not be overemphasized that Covid pandemic affected schools more than any other sector. We invested huge sums of money on data for our teachers. We also had to procure Germicidal lamps from overseas. We paid in dollars and they came through courier in order to facilitate speedy delivery. We obtained the lamps before school resumed and they were faced in all the classrooms. We also invested a lot of funds in sanitizing the entire school compound. We had to invest huge funds with view to cushion the effects of covid-19. The school had to stop some extra-curricular activities to aid social distancing.
IMPACT OF COVID-19 ON LEARNING
Before the advent of Covid, we actually prepared about the possibility of setting up online learning schooling for our students. We started the test run already before lockdown and it now launched the school into a new technology. We already installed things place and the process commenced with the training of all our teachers. There were some teething problems associated with such novel ideas but we were able to overcome. Some parents were not patient during this period but it eventually became a success. It is an innovation we adapted to aid learning and facilitate the teaching process. Some of the students also took time to get accustomed to it but eventually, they enjoy the system better through interactions and engagement session with their peers online. It is impressive to note that some the students even in the primary school developed their own videos and started their own YouTube channels. These are primary school pupils who are brilliant. The students are more independent and more technically sound. I joined some of the classes through zoom it was a great experience.          The investment in ICT has impacted positively on our students as well as our teachers. The role of Technology cannot be underestimated in view of its relevance to accelerate the learning process.
PARENTAL ROLES AND RESPONSIBILITIES
Parents need to be alive to their responsibilities. A lot of Nigerian parents have abandoned their functions to the school. It is the responsibility of the parents to teach their children basic values such as politeness and courtesy. It should be emphasized that the school is meant to reinforce the training parents give their children. Parents should not abdicate their responsibilities to the school. Parents should teach their children basic values so that schools can deliver qualitative learning. Charity actually begins at home. Parents blame schools for performance but they also need to be involved in the learning process. It has been observed over time that parents are non-challant about the performance of their children academically. The other side of it is that they (Parents) blame the school while neglecting their own roles and responsibilities. Parents need to exercise patience in rating schools and this is more of a Nigerian mentality as parents are quick to blame schools for poor standard. Teachers need to be accorded respect as we are more like parents to the children.
THE ROLE OF WOMEN IN THE SOCIETY
I was brought up by a very strict mum. My mother had strength in talking which she used in passing across key messages.   My mum didn't give anything on a platter of Gold. She ensured that I work to earn whatever I deserve. I was exposed to several things through my mother and she ensured that I had the basic fundamentals of becoming a woman of repute. It has become imperative for women to create an enabling environment and monitor their children. The role of women cut across the home and the society. It is also important for women to know Know the peculiarities of every individual child.  Women should engage in profitable ventures and gain inspiration to live a fulfilled life. It is important for women never to be discouraged in any way. There are myriad of challenges facing women in our society but women should not quit. I have had strong women in my life who have also provided the platform for me to rise beyond my challenges. My Master's thesis was on women and how they cope with challenges and life in my life generally. It is important for women to have confidence in themselves. Women should strive to be independent and never be a burden on the society.  In Nigeria being a woman is at disadvantage because we are referred as second class citizens already. Women should also endeavor to obtain sound education, which no one can take away from them. They need to have the courage and Confidence to face life. They should not see themselves as inferior in any way. A lot of women are undergoing stress and they are unable to seek professional counsel and this causes serious threat to their health. They should belong to a network of positive women who can tackle challenges together and discuss issues . Women should seek help when they have challenges. There are professionals to seek and find people. There are professional counselors in churches. They should also engage in hobbies and some activities that will give them inspiration. The older women should also provide counseling for the younger ones in order to support them in life