PROPERTY MAGNATE OLU OKEOWO TAKES DELIVERY OF A ONE OF A KIND AUTOMOBILE. A STUPENDOUS BIRTHDAY GIFT TO SELF.
He only recently (7 months ago now-December 2016 to be more precise) moved to his humongous Parkview palatial home, known to all as the "Palacio de Okeowo", which still induces gasps from all and sundry who has seen it, for the sheer opulence. That property is conservatively valued at about ₦4billion Naira, land was bought for ₦1billion Naira and building built for ₦3billion, the edifice that we start describing from now till tomorrow is said to be a copy of one the most decadent and luxurious French palaces. The white 3 floors Victorian styled building overlooking the sea at one part, is said to be the biggest property of its kind bar none in Parkview, Ikoyi, Lagos area. What that means in actual fact, is that it has 'dusted' the former number 1 biggest one said to be owned by Musa Danjuma, younger brother of General TY Danjuma retired. Imagine someone sandfilling and claiming a good 5000 square metres of the sea to add to his land to build his property! The building took all of 11 months for it to be ready. The gargantuan edifice is built on 5 acres of prime land. This house which can stand side by side with any from any part of the world, has all the comforts that money can buy. It is stupendously cladded with marble in and out. The penthouse's view can take one's breath away as it overlooks the sea on one part and the stupendous view of Parkview on another part. It came with its own helipad, jetty and 40 seater private chapel, where the angels themselves would attest to the upscale taste of the owner of the property, the place is called "Solomon's Chapel of Faith, named after the avowed wisest king of all to have ever lived. The facilities are 5-stars to 7-stars all the way, from the Lawn Tennis Court, to the Basketball Court, to Olympic Size Swimming Pool. It is a 16 room wonder of opulence that other confirmed rich men, admire and pray to be able to build too. Fountains and figurines of Roman era mythical characters share space all over the expansive compound. Everything is super well appointed and detailed. Obvious attention to detail is noticed everywhere. From the gargantuan pillars to ornate doors etc. Sir Olu Okeowo, just clocked 52 years old, just a few days ago and the dazzler of mean repute tickled every one's fancy all over again last week, in a way and manner they hadn't been tickled of recent, when his standout, dual toned chariot of an automobile landed with much aplomb and razzmatazz! The car is a special one by all ramifications, one that was made to strict specifications for him. It even has a special number plate. From the little information we could garner, there are [only just 50] of the cars made in the whole world and one of these special cars is owned by the property Czar and exemplary philanthropist, Olu Okeowo. That the Knight of the Anglican church (John Wesley Church to be more precise) is a car buff, is like saying he eats food and drinks water. His extraordinary garage speaks "hyperbolic volume", of how far gone his love for special machines goes. He has in good numbers some of the best ones money can afford. Just imagine one man already owning 6 out of this world Rolls Royce. We hear that Sir Olu Okeowo was the only Nigerian and probably African that was recently invited to a special gathering of Rolls Royce owners held just last month, May of 2017. Apart from the many Rolls Royces, which would have set him back by a few million Pounds or Dollars, (6 Rolls Royce at an average cost of $200000, which is just starters would total a whopping $1.2 million Dollars), this wealthy property owner, also owns a few other, talk of the town automobile likes of Range Rovers, Mercedes Benz G Swag, Bentley and other gasp inducing range of cars. All of which are specially parked in their own, well air-conditioned homes (garages) to keep them in the best atmosphere and conditions. The value of cars in the garage(s) of this "philanthropist par excellence", who we hear doesn't play with anything that has to do with God, we hear can be as conservatively valued as $3million plus, that's close to ₦1.2 billion Naira, if not more. Someone we know who is also very liquid spoke of Sir OKEOWO in awe and very hyperbolic terms saying, he is in a class of his own. Quoting the person, the dude said "Mate knows their mate", this dude is world's apart from many. This newly arrived baby, for which we heard a red carpet was set up to welcome it, is in a class of its own and most definitely takes the cake. It is valued at several hundreds of thousands of dollars and it is intimidating by all standards. The car in question is a "Bentley Mulsanne Extended WheelBase Limited Edition", of which only 50 were made, Olu Okeowo's own been the 13th one in the series. Meanibg he his one of the 50 envied owners of such a car. The car is a 2-tone wonder (better referred to as dual tone) masterpiece, with the top a bronze goldish colour and body part grey-silvery colour. The Blue 2 tone colour of the Mulsanne range was bought in March 2017, by Davido's dad for his birthday, only that it's not a limited edition extended wheel-base super car like the Okeowo's type. Sir Okeowo's masterpiece which is reputed to be a full option, is said to be about $400000 dollars, that's ₦160,000,000 million Naira at $1 to ₦400, shipping cost about $6000 dollars, that's another ₦2,400,000 Naira added, and car was probably cleared for another humongous amount making a total of ₦222,400,000 million Naira only, just for one car!!!! Heard the car was a birthday present for his 52 birthday. One of those at that birthday party was his very good friend, the former President of Ghana, John Dramani Mahama. We head Sir Okeowo and President Jacob Zuma of South Africa are also very good friends. The "Bentley Mulsanne Extended Wheel Base" is the most comfortable and luxurious of the Mulsanne range. It offers first class air-travel experience on road. It is said to be the "new benchmark in comfort and refinement", moving from 0-60mph in 5.3 secs. Truly when you are big, you are B.I.G!!! And for the man whose surname "Okeowo" loosely translates as 'carer of money' "lord of money" or better put "Custodian/owner of Wealth" he is totally and totally in an esteemed class of his own. Salute to the "Generalismo in the field of wealth". Like someone rightly said, it is not about having the money and you be rated as rich this, rich that, it is about you being able to spend it! So can you do like Sir Olu Okeowo?
EFCC quizzes ex-Women Affairs Minister Pauline Tallen over N2 billion fraud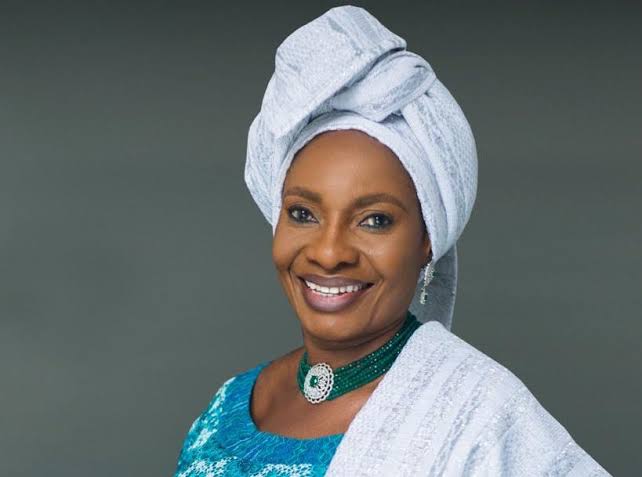 The Economic and Financial Crimes Commission (EFCC) on Friday quizzed the former Minister of Women Affairs, Pauline Tallen, over alleged fraud.
A source close to the commission said the ex-minister, who arrived at the Abuja zonal command of the commission on invitation at noon, was still being grilled by investigators of the commission till late Friday night.
Though details of the allegations against the ex-minister were sketchy, a source familiar with the case informed that it bordered on alleged corrupt enrichment to N2 billion.
Part of the money was allegedly diverted from the African First Lady Peace Mission Project.
The spokesman of the commission, Wilson Uwujaren, could not be reached for confirmation.
Gov. Makinde Appoints Perm. Secs, Accountant General, Executive Secretaries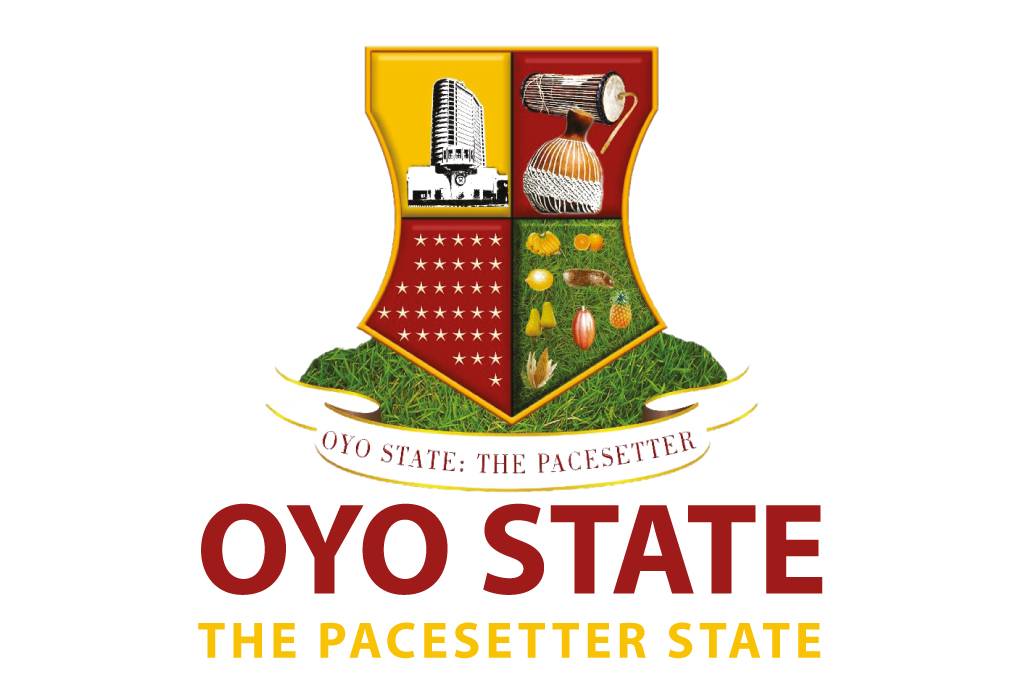 Governor Seyi Makinde has approved the appointment of Kikelomo Adijat Adegoke as the substantive Accountant General of Oyo State.
The Head of Service, Mrs. Olubunmi Oni mni, made this known in a statement on Friday in Abuja.
Oni said the appointment took effect on Thursday, May 26, 2023.
The Oyo State Governor has also approved the appointment of eleven Permanent Secretaries in the civil service.
The Permanent Secretaries include: Dr. Olabode Ladipo; Dr. Oyewole Tunde Aremu; Abosede Esther Owoeye; Ismail Abass Adebukola Bioku; Folajinmi Daramola Oni; Dolapo Oluremilekun Popoola; Hakeem Toyin Salami; Tajudeen Raji; Paul Amole Okunloye Oyekunle; Bassir Kolawole Kazeem and Taiwo Olafimihan Adewale.
Governor Makinde also appointed two Executive Secretaries. They include Olusola Orobode and Muibat Olaide Lasisi.
The Head of Service said the appointments came as a result of thorough screening and outstanding performance of the affected officers.
Austin Avuru's books now available following vacation of court orders.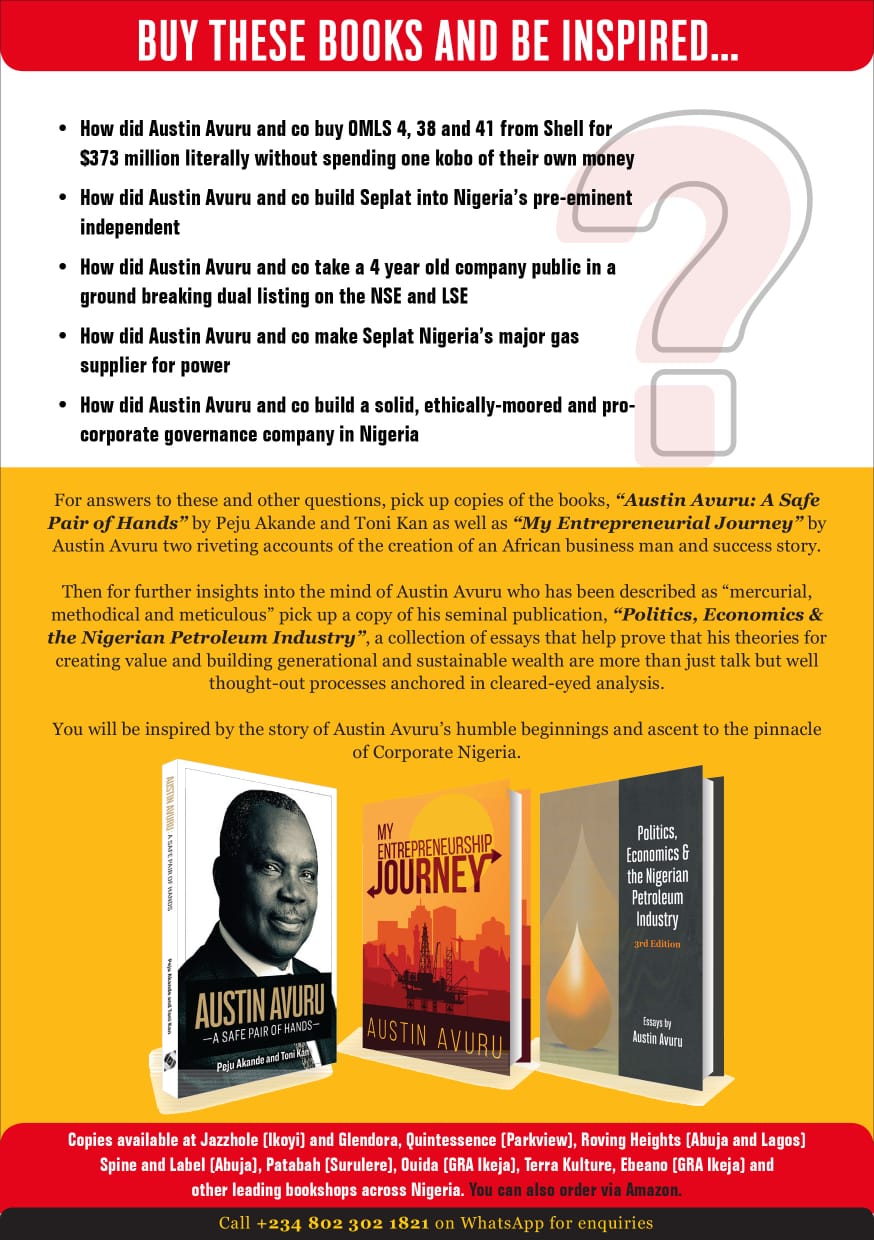 Austin Avuru's books are now available for purchase following the vacation of court orders issued by Federal High courts in Abuja and Lagos.
The Abuja court issued the injunction in July 2022 following a motion exparte filed by Tochukwu Peter Tochukwu, Esq but moved by Nsikan Samuel Ekpeyong Esq with motion No. M/9442/2022 dated 26th Day of July 2002 at an an Abuja High Court presided over by Justice SB Belgore.
The injunction was issued days to the scheduled public presentation of the books – My Entrepreneurship Journey and Politics, Economics and the Nigerian Petroleum Industry all by written by Austin Avuru – Founding CEO, Seplat Energy. The third book, Austin Avuru: A Safe Pair of Hands is a biography of the mercurial and methodical oil man written by the duo of Peju Akande and Toni Kan
Avuru had informed his invited guests of the suspension of the event and sale of the books via an e-message personally signed by him: "this event has been suspended by an Abuja High Court Injunction. Our lawyers are at work and, when we are permitted, we shall re-assemble at a later date."
The retirement party and book presentation event had been scheduled for the 4th of August, 2022 at the Eko Hotels and Suites Victoria Island.
The court order had, among other prayers, restrained "the defendants, their privies, assigns, agents and howsoever described from proceeding to temper with the res – by taking any step geared at releasing or public presentation of the book titled or any other book(s) or any other venue pending the hearing and determination of the motion on notice."
With the vacation of both injunctions, the reading public and friends of the author can now purchase copies of the books – My Entrepreneurship Journey, A Safe Pair of Hands and Politics, Economics and the Nigerian Petroleum Industry – from leading bookshops like Jazzhole, Terra Kulture, Quintessence, Glendora, Roving Heights, Spine and Label, Patabah etc as well as via amazon.com.
The books provide incisive and unique insights into the Nigerian oil and gas industry with special emphasis on the emergence of indigenous oil and gas players as well as Avuru's place in the mix as founding partner and pioneer CEO of Seplat Energy Plc, a Nigerian and African success story that is listed both on the Nigeria and London Stock Exchange..
Geologist and publisher, Toyin Akinosho described My Entrepreneurship Journey as "a narrative on how to build, grow and sustain an upstream oil company" and "a masterpiece of economic and business analysis," while A Safe Pair of Hands has been described as telling "a compelling story of excellence, resilience, doggedness and that unique can-do Nigerian Spirit," and a "must-read for anyone who believes in potential."
The third book, Politics, Economics and the Nigerian Petroleum Industry, is made up of 74 essays written and published between 1991 and 2022, in which Austin Avuru, "oil man, corporate mandarin and public intellectual shows by the example of thriving companies he has founded, nurtured and built into successful enterprises that his theories for creating value and building generational and sustainable wealth are more than just talk but well thought-out processes anchored in cleared-eyed analysis. In the book, Avuru provides clear insights that should guide policy and decision making at the highest levels."