Popular Nigerian Artiste, Davido Lands In Fresh Trouble, May 'Go In' For It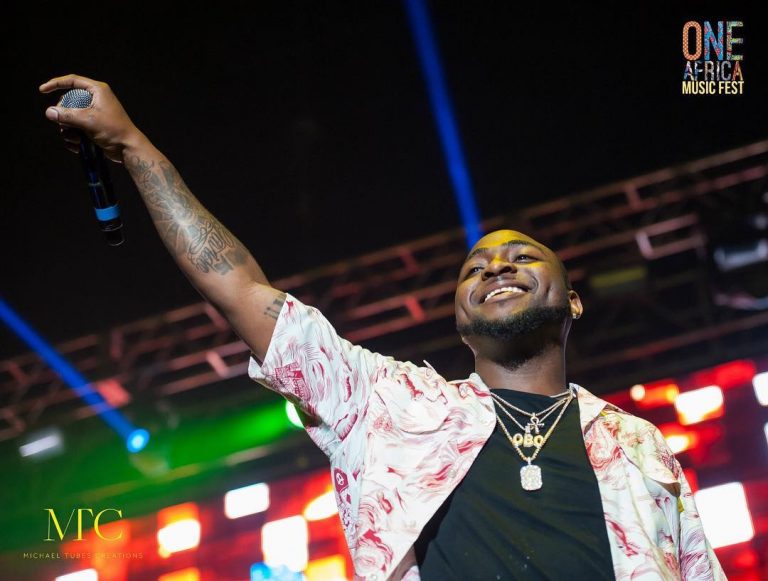 Nigerian pop star, David Adeleke, popularly known as Davido, may be in for fresh troubles following the cancellation of his one-year compulsory NYSC scheme, SOCIETY REPORTERS reports.
The 'Fall' crooner said the scheme cancelled his service in a comment on Instagram.
The 26-year-old ace singer has come under fire lately for travelling out of the country when he is supposed to be at the Lagos camp observing the mandatory three weeks orientation period of the one-year National Youth Service Corps (NYSC) program, thereby breaking the scheme's by-laws.
The bye-laws of NYSC states the following conditions for corps members during orientation period.
It states that, "During the period of orientation, every member shall: (i) Attend regularly, punctually and participate fully in all official engagements on the field, at lecture and all places of work; (ii) Not leave the Orientation Camp or absent himself from any official activity without the written consent of the State Director or his representative; (iii) When absent from his duties on account of illness ensure that such absence is covered by an Excuse Duty Certificate issued by a medical doctor then on duty at the camp."
The bye-laws however stipulates that "Leaving the camp without permission of the State Director" will attract "extension of the service year by double the number of days for which the member was absent from his camp and forfeiture of his allowance for the same number of days of which he was absent."
However, just after his registration, Davido is said to have travelled out of the country to Boston for his 'Locked Up' U.S tour. This has, however, raised some arguments among Nigerians as to whether Davido was permitted to travel and or; whether or not he flouted the NYSC bye-laws. While some said he did flout the bye-laws, others said he did not.
Other NYSC by-laws violated by Davido include:
• Bringing vehicles into the orientation camp;
• Disclosing official information;
• Engaging in private practice;
• Taking part in partisan politics;
• Reporting late to duty;
• Traveling outside the country without the service' permission, among others.
Our correspondent observed from his Instagram page that just after a few days in the camp, Davido travelled to Boston, Massachusetts, as he embarked on a tour of the United States.
He, therefore, violated the first law of the NYSC, which states that all corps members must participate in all activities in the camp.
It cannot be ascertained if he violated the second law, which states that corps members leaving the orientation camp should get written permission from the state coordinator; as he may have obtained that before jetting out of the country.
But the 'Assurance' crooner did not stop at Boston, as he continued globe-trotting, visiting Philadelphia, New York, Washington DC, Georgia, Minnesota, London, Sao Tome, Accra, Mayotte, Lebanon, UAE, among others.
Davido within the period was also actively involved in the electioneering of his uncle, Demola Adeleke, a gubernatorial candidate of the Peoples Democratic Party in Osun State.
For weeks, the artiste shuttled between Lagos State, where he was based, and Osun State, where the election held.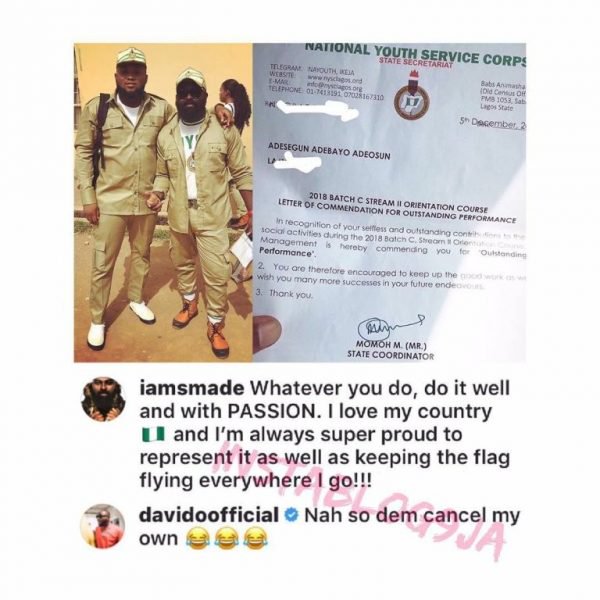 But the NYSC law not only prohibited participation in partisan politics but said corps members should not leave their place of primary assignments without the permission of their state coordinators.
"Any member who takes part in partisan politics is liable to extension of service for a period not less than three months without pay," Section 9 under the Miscellaneous Offences and Penalties, read.
Davido's manager, Asa Asika, declined comment, saying he does not speak to the press.
However, the National Youth Service Corps says it has communicated with David Adeleke, over his activities during his service year.
The NYSC Director of Information, Adenike Adeyemi, however, did not say what punishment had been meted out on Davido, who has broken several NYSC bye-laws.
Reacting to a post made by Adesegun Adeosun, Nigerian music promoter better known as Smade who just finished his three-week NYSC orientation program, and got a letter of recommendation, Davido wrote "Naso dem cancel my own".
Davido, a graduate of Music from Babcock University, had registered for NYSC in 2018 Batch 'B' stream II alongside corp members who were sworn in on August 30.
The NYSC programme is mandatory for all graduates to qualify for gainful employment in Nigeria.
Speaking on why he registered for the scheme, Davido said he was tying all loose ends.
"I am a youth and I am delighted to serve my fatherland," he said at his swearing-in ceremony.
"NYSC is also a leadership development programme and since I will not remain a youth forever, I have to start preparing myself for the future."
Exclusive: Burna Boy Celebrates His Grammy Award At Lagos Strip Club..(Video)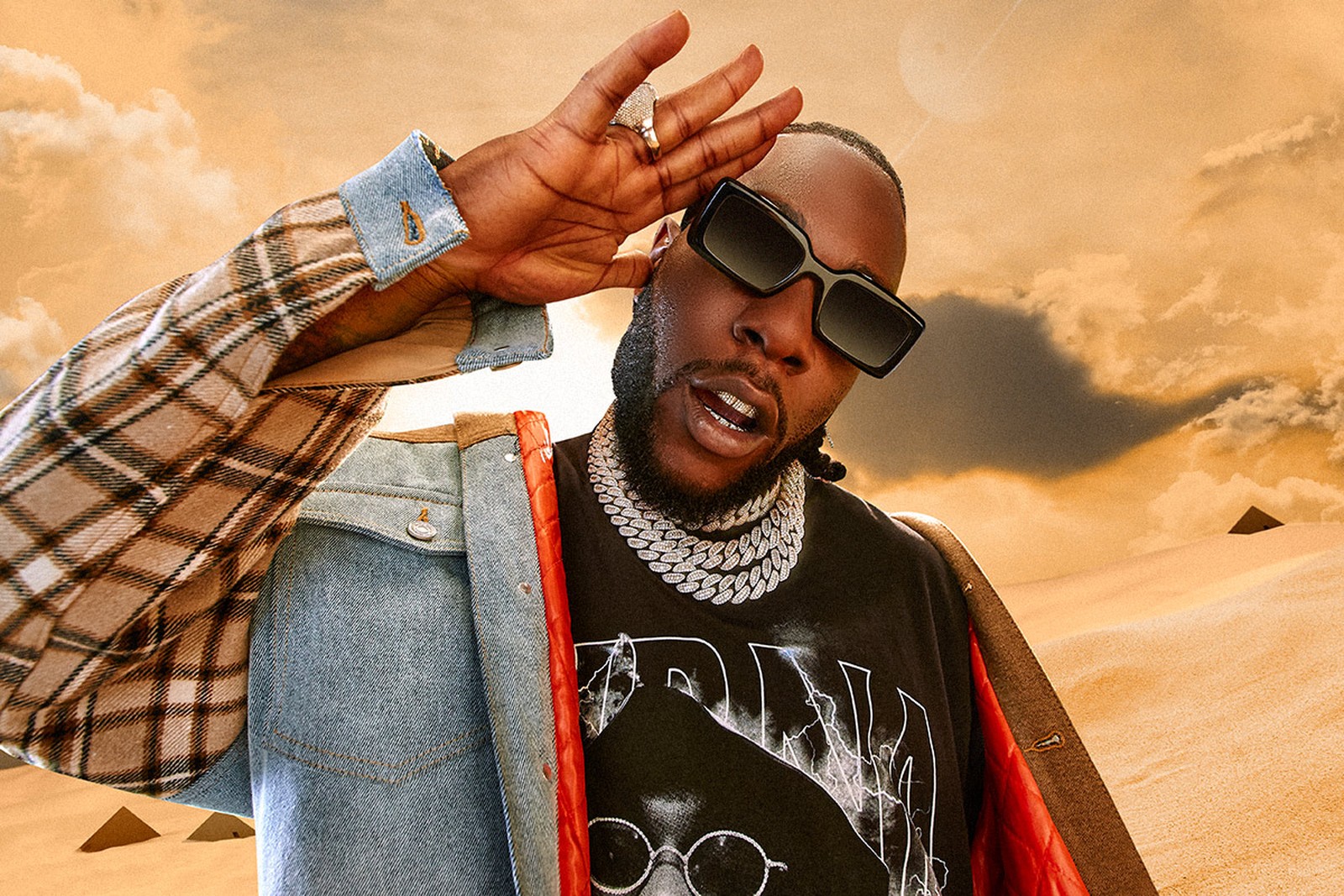 Grammy Awards-winning sensation artist, Burna Boy we gathered celebrates his awards with the strippers in Lagos club. Information reaching Society Reporters revealed that he was at the BayRock Strip Club yesterday night Saturday, June 12, 2021, with his Grammy Awards plaque and had good fun at the strip club. Also present in the club was Super Eagles Leicester City midfielder Wilfried Ndidi
Below is the video:
Burna Boy won Best Global Music Album for Twice As Tall at the Premiere Ceremony of the 63rd GRAMMY Awards. This marks his first career GRAMMY win. They are the first winner of the recently renamed category, formerly known as Best World Music Album.
SUNDAY ADEBAYO
AFRIMA APPOINTS SALIF "A'SALFO" TRAORÉ AS COTE D'IVOIRE'S COUNTRY DIRECTOR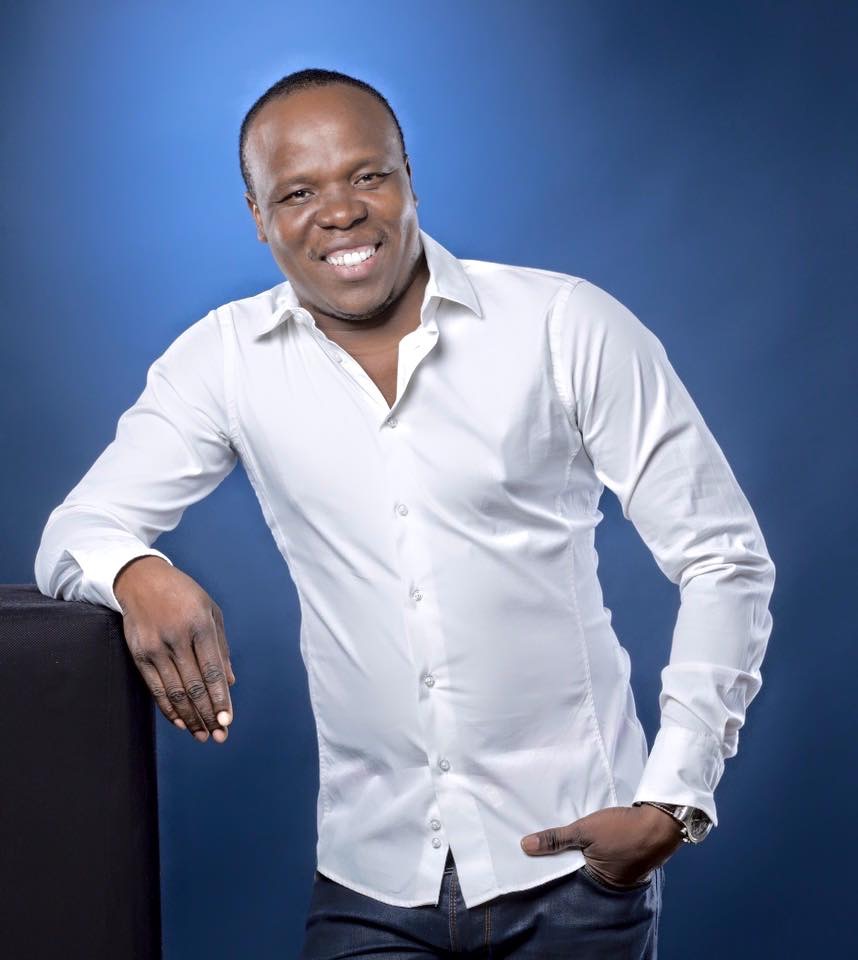 The International Committee of All Africa Music Awards, AFRIMA, in
partnership with the African Union Commission, has appointed Mr. Salif
"A'salfo" Traoré as the Country Director of Côte D'Ivoire, West Africa
for All Africa Music Awards, AFRIMA.
The appointment was announced on the 17th of May, 2021, in Casablanca,
Kingdom of Morocco following the unanimous decision of the International
Committee of AFRIMA.
According to the Manager, Brand and Communication, AFRIMA, Ms. Zineb
Seyad, "the core of AFRIMA's mandate is to unify the African continent
through music, and the role of the country director in achieving these
objectives is key. Thus, the appointment of Mr Traore is a significant,
strategic step in the right direction specifically for the African
creative industry and largely, the continent, as he possesses the skills
and fortitude to contribute towards realizing the vision of AFRIMA."
The appointment comes as no surprise as Mr Traoré is acknowledged as a
giant in the African music and creative industry; his experience in
music as a musician; songwriter; producer; and record label owner spans
over 20 years. His band, Magic System, in 1999, pioneered a new sound in
the Ivorian music scene, recorded a song "1er Gaou" which became a smash
indie hit in Africa and France three years later. The song meant the
breakthrough of the little-known Magic System and setting the pace for a
new generation of music in Côte D'Ivoire and Africa.
In 2012, Mr Traoré was appointed UNESCO Goodwill Ambassador by Irina
Bokova for his messages for peace. His popularity among policy makers,
as well as his expertise in music production, event project management
and media positions him as an exemplary ambassador to the values and
goals of AFRIMA.
The Country Director plays a key role in the International Committee of
AFRIMA's comprehensive and stakeholders-based approach through a high
level of strategic leadership and partnership. He carries out direction,
leads, builds and maintains partnerships and relationships among the
stakeholders; government and policy makers; entertainment, music and
creative industry; the media and fans of African music. He is ultimately
accountable in his country office for all aspects of AFRIMA's strategic
partnerships, leading the consolidation and development of AFRIMA's
programme.
In partnership with the African Union Commission, (AUC), All Africa
Music Awards, AFRIMA, is a music and cultural initiative developed to
celebrate, reward and showcase the rich musical heritage of Africa,
stimulate conversations among Africans and between Africa and the rest
of the globe about the great potentials and values of the African
culture and artistic legacy for the purpose of creating jobs, reducing
poverty, calling attention of world leaders to Africa and promoting the
positive image of Africa to the world.
Popular Filmmaker, Dotun Taylor, to Produce Docu-drama on Diasporan Blacks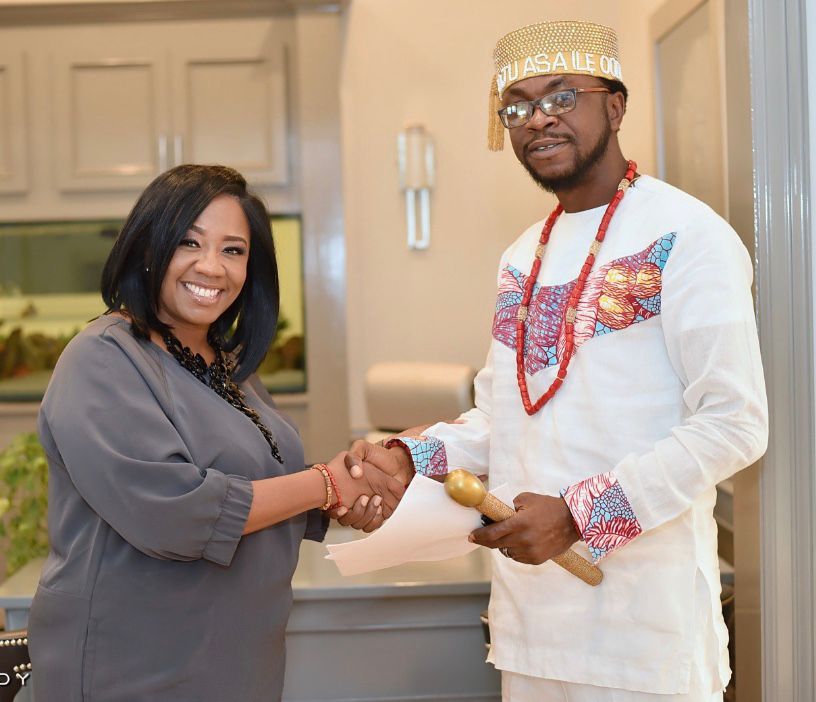 Popular filmmaker and cultural ambassador, Dotun Taylor, has finalised plans to produce a docu-drama titled, 'Did You Sell Us'. Taylor disclosed that the production is centred on millions of blacks in the Diaspora that are desirous of tracing their roots and heritage but without any institutional support or proper lead.
He added that the idea derives from the contentious historical theory that there were Africans that colluded with foreign slave trade merchants during the slave trade era in Africa. According to him, "It is high time that we as Africans rose to help our brothers and sisters in the Diaspora many of whom have lost their identities and origin due to no fault of theirs. This has been a part of my missions as a cultural ambassador. They are in millions. We need to find and link up with them.
The documentary is a partnership between Taylor's Roots and Heritage Renaissance Initiative (RHRI), and two American entrepreneurs, Gena Hampton and TaShunda Scott. "I will be leading my two Black American partners to Nigeria and, particularly, to the cradle of mankind, the palace of the Ooni of Ife, HRM Oba Adeyeye Ogunwusi, Ojaja II, on a fact-finding mission as part of production activities for this project. To my African brothers and sisters across the globe who are in this dilemma, I say, help is on the way."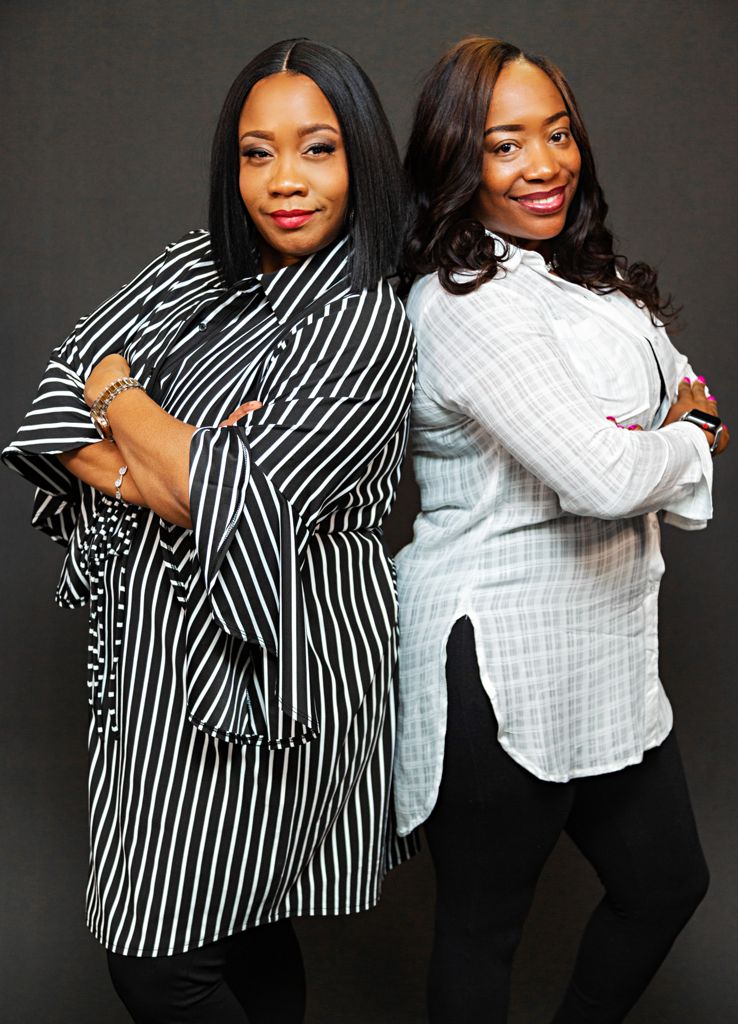 Hampton, a professional business consultant and American radio broadcaster, said, "I am more than happy to be working with Ambassador Taylor on this very insightful and humanitarian project. Everyone deserves to know their identity, their true origin irrespective of wherever they live and work or find themselves across the world. I am so passionate about this and I will do everything within my capacity for the actualisation of this fantastic project."
Similarly, TaShunda Scott, a public service expert in the city of Texas, USA, said, "For me, this is just one of the reasons for our existence, to be our brother's keeper. This project will help the millions of Africans in the Diaspora who can't trace their origin. African governments need to do more in tracing and identifying their citizens scattered across the world and they should also support initiatives like this."
Thus, he tasked the Hon. Abike Dabiri-led Nigerians in Diaspora Commission (NIDCOM) and other similar commissions and agencies across the African continent to do more in tracing and identifying Nigerians and Africans at large in the Diaspora that are eager to trace their origin.
Appointed a cultural ambassador by the Ooni of Ife for his passion and commitment to the elevation of Yoruba culture and tradition some years ago, Taylor announced that the revered monarch will play a key role in actualizing the project because of his advocacy for unity among blacks across the world.
Indeed, as part of his efforts to foster peace among Africans in the Diaspora and reunite the descendants of the Yoruba race, the Ooni, on a visit to Bahia, in Brazil, pronounced the city the headquarters of Yoruba Nation in the Americas.
Taylor and his partners would be chaperoned to the Ooni's palace by his co-ambassador, Morounranti Ashabi Alebiosu, a cultural enthusiast and former Senior Special Assistant to former Governor Babatunde Raji Fashola of Lagos State on Tourism and Inter-Governmental Relations. Also an accomplished broadcaster, baritone-voiced Taylor has lent his voice to hundreds of movies, reality shows, radio programs, jingles, and documentaries e.t.c. He is also the brain behind many contemporary music videos.