Popular Nigerian Artiste, Davido Lands In Fresh Trouble, May 'Go In' For It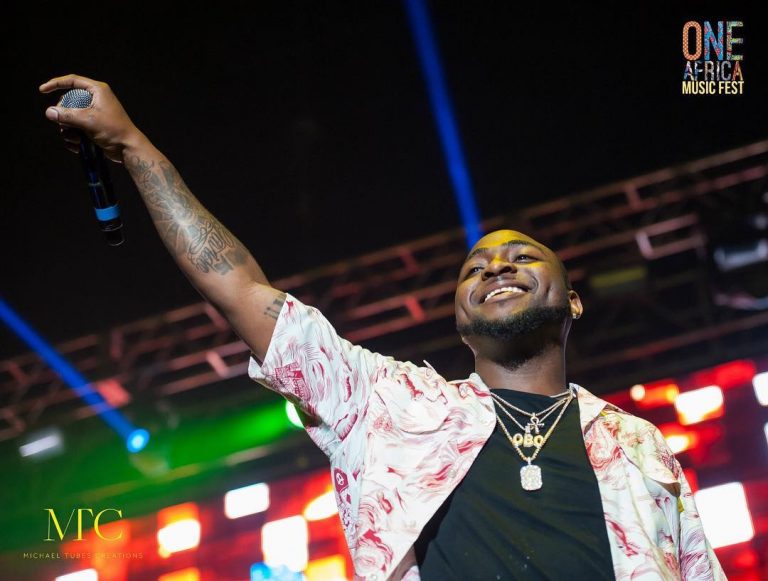 Nigerian pop star, David Adeleke, popularly known as Davido, may be in for fresh troubles following the cancellation of his one-year compulsory NYSC scheme, SOCIETY REPORTERS reports.
The 'Fall' crooner said the scheme cancelled his service in a comment on Instagram.
The 26-year-old ace singer has come under fire lately for travelling out of the country when he is supposed to be at the Lagos camp observing the mandatory three weeks orientation period of the one-year National Youth Service Corps (NYSC) program, thereby breaking the scheme's by-laws.
The bye-laws of NYSC states the following conditions for corps members during orientation period.
It states that, "During the period of orientation, every member shall: (i) Attend regularly, punctually and participate fully in all official engagements on the field, at lecture and all places of work; (ii) Not leave the Orientation Camp or absent himself from any official activity without the written consent of the State Director or his representative; (iii) When absent from his duties on account of illness ensure that such absence is covered by an Excuse Duty Certificate issued by a medical doctor then on duty at the camp."
The bye-laws however stipulates that "Leaving the camp without permission of the State Director" will attract "extension of the service year by double the number of days for which the member was absent from his camp and forfeiture of his allowance for the same number of days of which he was absent."
However, just after his registration, Davido is said to have travelled out of the country to Boston for his 'Locked Up' U.S tour. This has, however, raised some arguments among Nigerians as to whether Davido was permitted to travel and or; whether or not he flouted the NYSC bye-laws. While some said he did flout the bye-laws, others said he did not.
Other NYSC by-laws violated by Davido include:
• Bringing vehicles into the orientation camp;
• Disclosing official information;
• Engaging in private practice;
• Taking part in partisan politics;
• Reporting late to duty;
• Traveling outside the country without the service' permission, among others.
Our correspondent observed from his Instagram page that just after a few days in the camp, Davido travelled to Boston, Massachusetts, as he embarked on a tour of the United States.
He, therefore, violated the first law of the NYSC, which states that all corps members must participate in all activities in the camp.
It cannot be ascertained if he violated the second law, which states that corps members leaving the orientation camp should get written permission from the state coordinator; as he may have obtained that before jetting out of the country.
But the 'Assurance' crooner did not stop at Boston, as he continued globe-trotting, visiting Philadelphia, New York, Washington DC, Georgia, Minnesota, London, Sao Tome, Accra, Mayotte, Lebanon, UAE, among others.
Davido within the period was also actively involved in the electioneering of his uncle, Demola Adeleke, a gubernatorial candidate of the Peoples Democratic Party in Osun State.
For weeks, the artiste shuttled between Lagos State, where he was based, and Osun State, where the election held.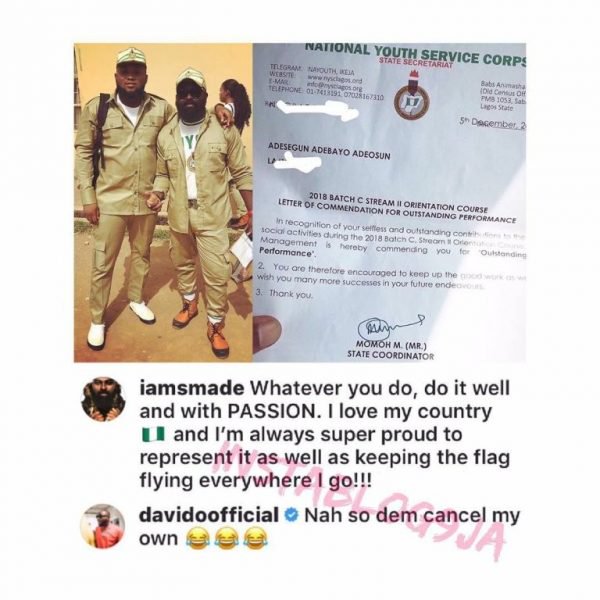 But the NYSC law not only prohibited participation in partisan politics but said corps members should not leave their place of primary assignments without the permission of their state coordinators.
"Any member who takes part in partisan politics is liable to extension of service for a period not less than three months without pay," Section 9 under the Miscellaneous Offences and Penalties, read.
Davido's manager, Asa Asika, declined comment, saying he does not speak to the press.
However, the National Youth Service Corps says it has communicated with David Adeleke, over his activities during his service year.
The NYSC Director of Information, Adenike Adeyemi, however, did not say what punishment had been meted out on Davido, who has broken several NYSC bye-laws.
Reacting to a post made by Adesegun Adeosun, Nigerian music promoter better known as Smade who just finished his three-week NYSC orientation program, and got a letter of recommendation, Davido wrote "Naso dem cancel my own".
Davido, a graduate of Music from Babcock University, had registered for NYSC in 2018 Batch 'B' stream II alongside corp members who were sworn in on August 30.
The NYSC programme is mandatory for all graduates to qualify for gainful employment in Nigeria.
Speaking on why he registered for the scheme, Davido said he was tying all loose ends.
"I am a youth and I am delighted to serve my fatherland," he said at his swearing-in ceremony.
"NYSC is also a leadership development programme and since I will not remain a youth forever, I have to start preparing myself for the future."
UBA's REDTV Premieres Third Season of Africa's Biggest Online Series –The Men's Club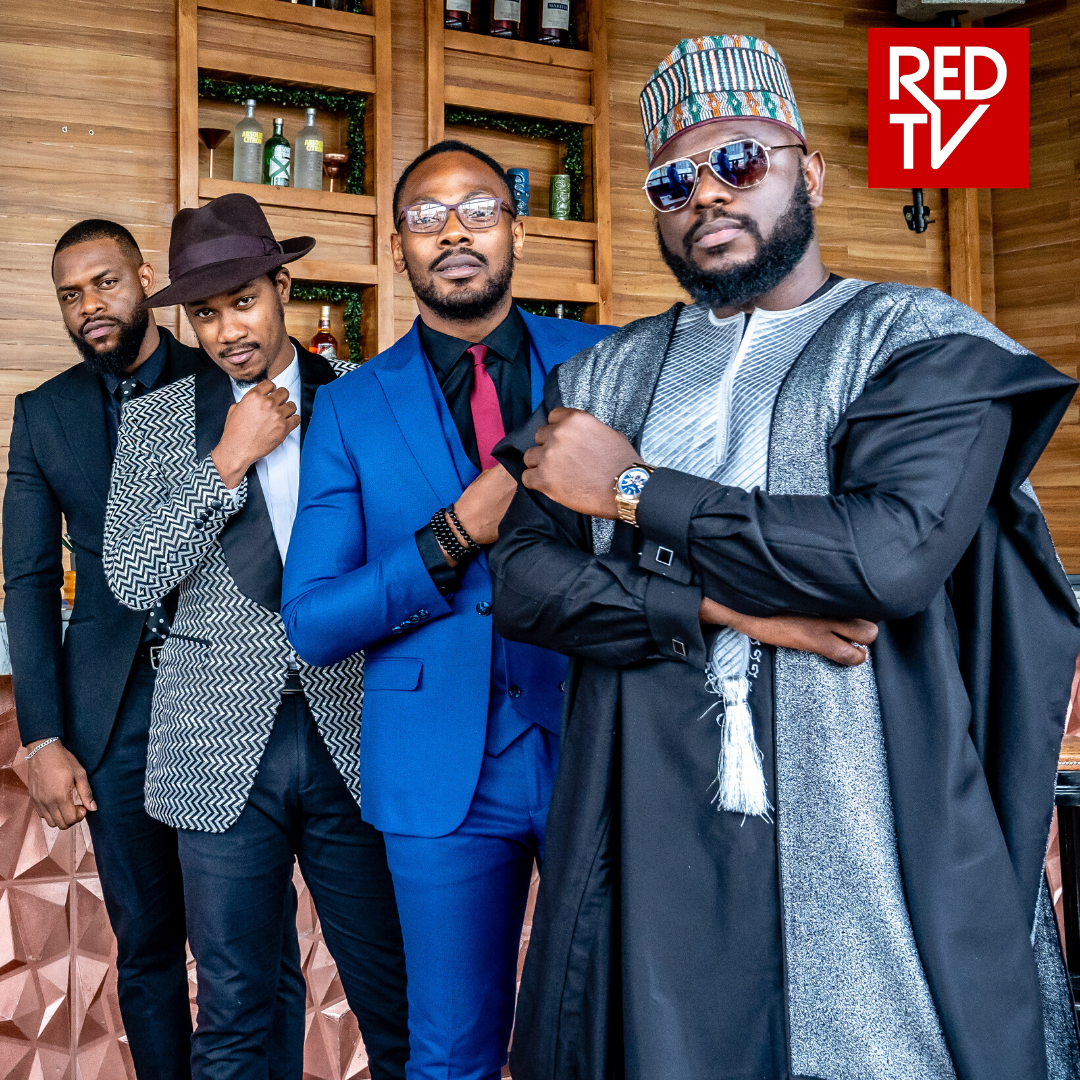 The buzz was palpable as Africa's highly anticipated online series, The Men's Club (TMC), hit the screens for its third season on Wednesday.
The 13-episode smash series is powered by the United Bank for Africa's Lifestyle and Entertainment channel, REDTV, producers of hit shows such as Our Best Friend's Wedding, Inspector K, Assistant Madams, Red Hot Topics, Hotel Boutique and many more.
The blockbuster series, TMC, which has enjoyed a huge following since its first release in 2018, has taken viewers on a roller-coaster ride with Africa's most eligible young men – Ayoola Ayoola, Efa Iwara, Daniel Etim and Baaj Adegbule, on their adventure filled with love, friendship, fear, betrayal and Romance. The show also stars top female acts: Sharon Ooja, Mimi Chaka, Folu Storms and features some of Nollywood's finest legends like Sola Sobowale and Shaffy Bello.
The new season which was premiered on REDTV's Youtube channel on Wednesday was an instant hit as thousands of people from all over the world watched the 90-minute premiere event.
The Executive Producer of REDTV, Bola Atta, who spoke shortly before TMC3 came on screen, noted that although there had been a slight delay in production of the hit series thirds season due to the lockdown occasioned by the Covid-19 Pandemic, there were efforts taken to ensure that this delay was not prolonged.
"TMC is one of our major hit series brought from the REDTV stables and powered by the United Bank for Africa(UBA). We worked really hard to ensure we were bringing the best this season despite all the delays. The TMC fans have been so loyal and we needed to give them what they wanted. The Covid -19 lockdown meant that we had to halt production right in the middle and this caused quite a bit of stress for us. However, the minute the lock down eased up, we put the very best measures in place for safety and security for cast and crew, limited the numbers and went back into production.
Atta  emphasised UBA's continued support for the creative industry to ensure that more youth are gainfully employed and presented with opportunities that showcase their talent, boosting economies across Africa.
She said "REDTV was birthed by the United Bank for Africa, to support the creative industry in Nigeria and across the African continent and for over four years now, we have been creating employment and honing creative talent through entertainment. The potential revenue that can be generated in this industry is often under-estimated and it is only in recent times that more people have had the courage to leave traditional professions and embrace the creatives."
Also speaking about TMC3, CEO Urban Vision and Director of The Men's Club, Tola Odunsi, expressed delight at the reception which the series has received over the years. He also praised UBA and REDTV for the continuous support towards ensuring that viewers are always provided with the best quality entertainment.
"We are extremely pleased to partner with UBA and REDTV to create top quality content and jobs. Working with UBA and REDTV has been amazing and with their support, more jobs continue to be created in the entertainment sector.  On TMC 3 production we were able to hire a lot of people in different capacities and that ultimately equates to impacting many families, many lives. All thanks to UBA's support," Odunsi said.
REDTV is a fast-paced lifestyle channel that puts Africa on the global stage. Proudly powered by UBA, the network is here to entertain and inform with rich content that feature the very best of African entertainment, fashion, news, design, music, sport, movies and travel and so much more.
REDTV collaborates with the most talented visionaries and creative minds daring to believe in a New Africa.
Watch the new season of The Men's Club on you tube @itsredtv.
BBNAIJA SEASON 5: Meet Big Brother's New 20 Housemates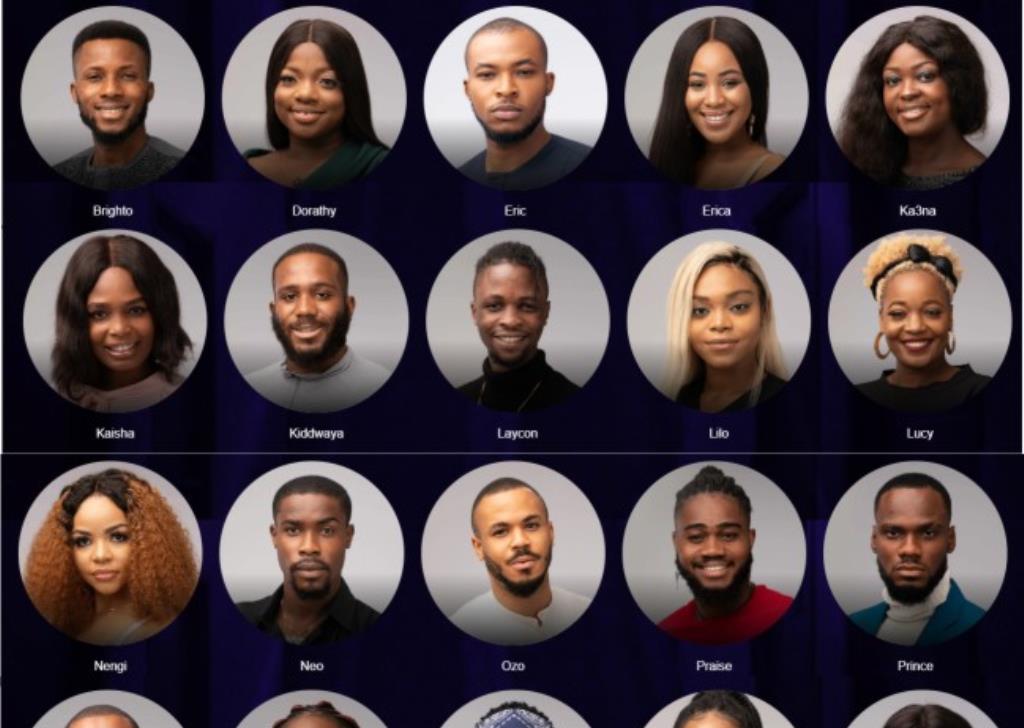 BBNaija , Big Brother Naija 2020 started on 19 July 2020, and the battle to win the N85 million prize has begun.
The BBNaija 20 housemates will entertain Nigerians for the next 10 weeks. We bring you the profile of the new housemates.
1. Ozo
Consultant and entrepreneur Ozoemena "Ozo" Chukwu (27), is from Imo State. One of his greatest achievements is working with a UEFA Federation in Europe. It is no surprise then that when he is not busy consulting or managing his urban clothing line, you'll find him analysing sports and watching documentaries and TV shows.
2. Vee
Victoria "Vee" Adeyele (23) is a musician based in Lagos, Nigeria. Vee, as she is affectionately known, was born and raised in London and moved to Lagos almost a year ago to begin her music career where she has already made great strides.
3. Prince
Nelson Enwerem Prince (24) is an entrepreneur from Abia. A jack-of-all-trades whose portfolio includes modelling, fashion designing and interior decoration. He enjoys active sports and reading about ancient religions and African history. He's a graduate of pure physics from the University of Calabar and is currently living in Lagos. He will be entertaining Nigerians in BBNaija house.
4. Lilo
Boluwatife "Lilo" Aderogba (23) is a dietitian from Lagos, Nigeria. Lilo, as she prefers to be known, is also an entrepreneur and describes herself as "a product of God's grace".
5. Lucy
Lucy Essien is a 30-year-old entrepreneur from Lagos. Though she is a self-proclaimed simple girl and assures everyone that she is far from average. She believes in fairy tales, and hopefully, Biggie's House will deliver just that for her.
6. Trikytee
Timmy Sinclair is a 35-year-old creative artist and Lagos resident who hails from Bayelsa State, Nigeria. Tricky Tee as he is also known considers himself a storyteller who uses the mediums of film, and music to express himself.
7. Dorathy
Dorathy Bachor is a 24-year-old entrepreneur from Lagos. She believes she is the only one who should make you smile. Her sassiness will definitely prove to be an asset in Biggie's house.
What new habit or skill did you acquire during lockdown? I can sleep for more than four hours. I also discovered the ability to adjust to a new environment quickly, the BBNaija housemante said .
8. KiddWaya
Terseer Kiddwaya (27) is self-employed and comes from Benue State. Being a Big Brother Naija season 5 Housemate has Kiddwaya anticipating a better and crazier 2020. He describes himself as confident, good looking, ambitious, a daredevil who is highly motivated. It is no surprise then that "bringing back the fun into the House" is what he won't compromise on this season.
9. Praise
Praise Nelson is a 28-year-old dancer from Enugu. Not new to fame or competing, he was a winner at the K-Pop World Festival, South Korea 2015 and won third place at a national Dance Competition in 2010. He is also a fitness and personal trainer and a certified Latin ballroom expert.
10. Wathoni
Florence Wathoni Anyansi is a 29-year-old fashion entrepreneur This multi-talented single mother juggles a fashion business and a parenting blog. She is also bilingual and speaks and writes in Swahili fluently.
11. Tochi
Tochukwu Okechukwu Tochi is a 28-year-old rapper and real estate agent from Imo state. He lives and breathes entertainment. He confesses to being clumsy on some days.
12. Ka3na
Kate "Ka3na" Jones (26) is an entrepreneur from Rivers, Nigeria. She describes herself as a strong woman who wants more from life. Her dream is to be famous and own the biggest luxury fashion brand in the world. She also believes she will make the perfect Housemate because she is ready to do all it takes to compete and win Big Brother Naija season 5.
13. Eric
Eric Akhigbe (24) is a final year student at the University of Lagos and hails from Edo State. The bodybuilder is a confident hunk who takes pride in his 1.95m height. He describes himself as a fun, competitive sports and fitness enthusiast who enjoys winning. In addition, Eric also describes himself as a shy person who takes his time to unveil his wild side.
14. Brighto
Ezekiel Bright "Brighto" Osemudiame is a 29-year-old sailor from Edo State. Brighto, as he is fondly called, is the youngest of six kids. He holds a degree in Marine Engineering from Arab Academy for Science Technology and Maritime Transport in Alexandria, Egypt with several other professional certifications. He also had a stint in the aviation sector. He considers himself an avid entertainment lover and a people's person.
15. Kaisha
Aisha Umaru is a 25-year-old entrepreneur from Sokoto state. This adventurous young woman considers herself a great team player who gets along with people. She relies on a healthy diet and is God-fearing.
16. Erica
Ngozi "Erica" Nlewedim (26) is an actress and commercial model from London, England. Erica is the name she goes by and she returned to Lagos after studying screen acting at the Met Film School in London.
17. Tolanibaj
Tolani Shobajo is a 27-year-old media personality from Lagos state. Tolani is an energetic gingered babe. People always call her the life of the party. When she's not entertaining, she's dancing and cooking.
18. Laycon
Olamilekan "Laycon" Agbeleshe is a 26-year-old singer and rapper from Lagos. He's a graduate of philosophy from the University of Lagos who started his musical journey at an early age and has now emerged as one of Nigeria's most promising new school acts. He describes himself as being versatile and able to coin words together to soothe scenarios and moods.
19. Neo
Emuobonuvie "Neo" Akpofure (26), popularly referred to as Neo, is a ride-hailing app driver and a Delta State native. Although he describes himself as fun, tolerant, loving and smart, he won't hesitate to be Indaboski Bahose when it comes to issues concerning bullying and inequality.
BBNaija is aired on DSTV .
Ikeja Rotary Hosts District Governor, Empowers Artisans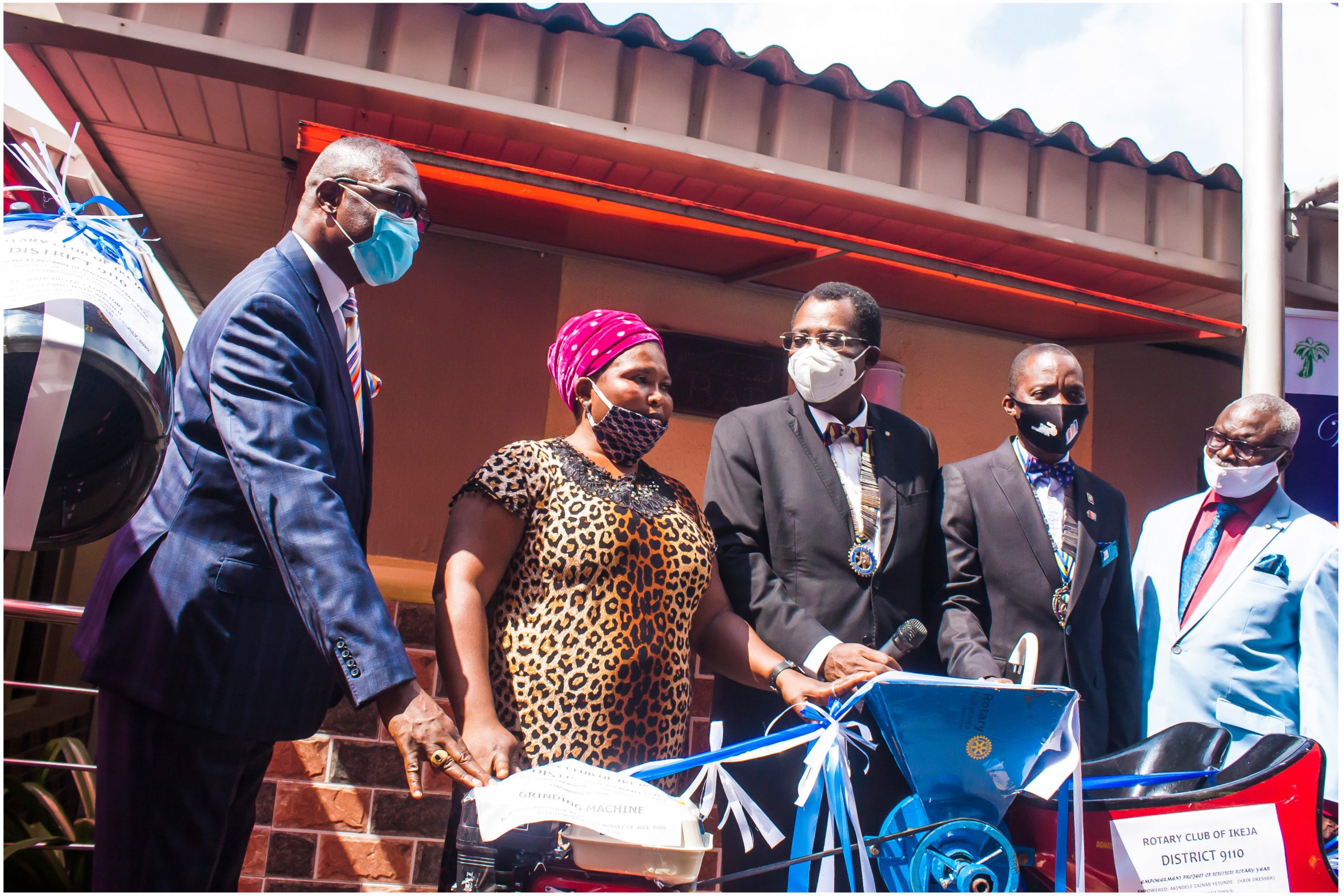 Rotary Club of Ikeja has brought sunshine and smiles to some artisans drawn from the club's adopted community, Ikorodu.
The presentation of the items, which included hair driers, sewing machines, washing machines and grinding machines took place during the first official visit of the Governor of Rotary International District 9110, Bola Oyebade to Rotary Club of Ikeja.
While presenting the items to some of the beneficiaries at the event, Oyebade extolled the virtues of excellence in the club, describing Rotary Club of Ikeja as a beacon of hope in the District.
According to him, ''The Rotary Club of Ikeja has always been one of the top clubs in the District and we were not surprised that the club stood out during the last Rotary year, winning several awards.
''In fact, I must commend the Immediate Past President, Rotarian Olumuyiwa Fagbola and I am sure the current President, Rotarian Dotun Lampejo would surpass the achievements recorded last Rotary year.
This presentation to these beneficiaries has shown that the club is on the right course this Rotary year.''
Speaking during the presentation, the President of the club Rotarian Dotun Lampejo said the club had been empowering beneficiaries for years, adding that they also go beyond the presentation to ensure that the beneficiaries made use of the items.
"We have been doing this for years and we have the Service Project Directorate of the club who identify needy beneficiaries on a yearly basis. More importantly, we go beyond this official ceremony by paying periodic visits to the beneficiaries and ensuring that the items add value to their lives.''
Some of the beneficiaries commended the club for sustaining the project over the years, describing it as life-changing business project.