A PEEP INTO THE STRANGE WORLD OF BILLIONAIRE MIKE ADENUGA – Works at odd hours and alone, doesn't pick his calls and letters, loves his women busty and fleshy and enjoys Chinese food and champagne…
Dr. Mike Adeniyi Ishola Adenuga, Jr., the Chairman of Globacom and Conoil, is not your regular billionaire. The man is simply in a world and class of his own – strange, unusual and eccentric. Sources who know him very well told us that he hates to play the second fiddle. "Adenuga loves to rule his world and dominate his environment…he also doesn't like being taken unawares and enjoys being in charge totally".
Dissecting him further, the sources said: "His appetite for work is out of this world and that is why at 1am, 2am, 3am, you can still find him in the office working; sometimes all alone. Most of his key staffers like Bode Opeseitan and co don't have any closing time. The man can call them up at any time and summon them to the office. But he compensates them immeasurably for this. He knows all his key staffers by name. Not only that, no major staff can be employed in any of his companies without his input. He must see the person before the final decision can be taken.
"You may describe this as queer, but Adenuga doesn't pick his calls. Even letters are not accepted in his office, no matter where they are coming from. All his calls must pass through someone before getting to him. You can't just reach him on the phone directly. One of his oldest staffers, Nora, from Sierra Leone, usually serves as the link between him and whoever he wants to establish contact with or talk to. She's the person that takes his calls most times. You equally don't remind him of anything. He does his things at his own time". Rarely seen in public, Adenuga, sometimes, doesn't even attend his own events – no matter how important and who and who have been invited. "He hardly laughs outside, but in the midst of his friends, you will see him rolling in laughter. He has only a handful of friends – and in that category are Otunba Niyi Adewunmi, a long time pal whom he has made a Director in some of his companies; former military President, General Ibrahim Babangida (rtd); erstwhile Vice President, Alhaji Atiku Abubakar; ex-Abia Governor, Dr. Orji Uzor Kalu; one-time Minister of Police Affairs, General David Jemibewon (rtd) and Senator Tunde Ogbeha. He's so, so close to Ogbeha, because I remember vividly that on Monday, October 22, 2000, he personally drove to the airport (here in Ikeja) to pick up Ogbeha. But you know he hadn't become this big and popular then; but that is to tell you how close they are. And during any of his rare public appearances, the man won't smile, won't eat, won't drink and will usually keep to himself, with his bodyguards keeping watch and ensuring that no intruder comes close. "However, any time he wants to enjoy himself, he goes for champagne and Chinese food. There's this particular Chinese restaurant that he normally goes to in VI; not too far from his office". A very, very intriguing character, we gathered that Adenuga, GCON, likes his women busty and fleshy. His second wife, Titi is a good example. His path and that of the 51-year-old mother of two (Shade and Adeniyi) crossed during her NYSC programme (after graduating from OAU, Ile-Ife) at Adenuga's bank. This was years after his first marriage to Bolaji Marquis ended on an unpleasant note – after five children – Jide, Bella, Paddy, Oyin and another.
A native of Oru in Ogun State, the no-nonsense business mogul – born on April 29, 60 years ago, does not give up on things. As a matter of fact, he detests the words no, can't, won't and impossible. Remember how hard he fought to join the GSM business and all the millions he lost. None of his staff can also be poached unnecessarily – except those he's not crazy about. And this explains why some of his key staffers usually go and come back. "You can go o, but anyday he remembers you, he will send for you and make you an offer that you can't refuse". Fondly called The Guru or Chairman by his disciples, Adenuga is very, very shy, which is unknown to many. It is also the reason he keeps more to himself. In love with agbada, Senegalese kaftans, buba and sokoto, short-sleeve safari suits and lately, smart casuals – with his trademark Yoruba fila – all his tops now carry his initials – MAJ. And on his table, in his office in VI, the full meaning – Mike Adenuga Jr. – is there for all to see. In love with hailing people, especially when happy, as awe ooo!, nearly everything inside his office is coated in gold, with his favourite animal and king of the jungle, a lion emblazoned on them. From the door to the letterhead and envelops, there's no mistaking The Guru's beautiful and spacious office. Business-like and serious-minded, there are telephones here and there and some comfortable seats for his guests. Kind hearted to a fault and unarguably one of the most generous souls that the Almighty God created, nobody encounters him without having his or her life radically transformed. "You don't meet him one on one without a huge smile plastered on your face". At variance with politics and laziness, the taciturn and evasive bulky billionaire is always changing his phone numbers. And except he gives you the number himself, calling him could spell doom in certain quarters. One of Africa's richest men, the chairman of The Mike Adenuga Group indeed plays big in telecoms (Globacom), oil and gas (Conoil), real estate, banking and so on. Interestingly, he started out as a cabbie in the United States of America – which he later combined with exporting tomato puree and wine to Nigeria. Educated at North West University and Pace University, both in US, where he read Business Administration, his late mother, Mama Oyin Adenuga, a major distributor for Nigerian Bottling Company, Guinness and Nigerian Breweries had already indoctrinated him into the world of business, which he didn't forget while outside our shores. Blessed with two brothers and two sisters, two of them, late Yetunde Adegbola, then Chairman of Equatorial Trust Bank and Demola, said to be a businessman, seem to be the closest to him. Hitherto residing in a marble cum mosaic house on Oko Awo, Victoria Island, Adenuga now has a better palace inside Banana Island, in Ikoyi, Lagos. Not given to flamboyance and any form of extravagance, there's also The Gold Digger's Place in Iyaganku GRA, Ibadan, where he still spends most weekends and other cute pads like the one in York Terrace, Regent Park and St. Johnswood, both in London. Driving himself more often than not, his favourite automobile may be his G-Wagon Benz which he is mostly seen in. And not forgetting his private jets, with which he could easily monitor his many businesses, keep very serious appointments and also savour the fruits of his labour. Alleged to be one of the largest owners of prime properties on Victoria Island, Adenuga who they say shouts on his staffers when upset is large; very large. Forbes Magazine, as a matter of fact, just rated him as Africa's 2nd richest man and No. 325 in the world.
By: Azuh Arinze
Gov. Makinde Appoints Perm. Secs, Accountant General, Executive Secretaries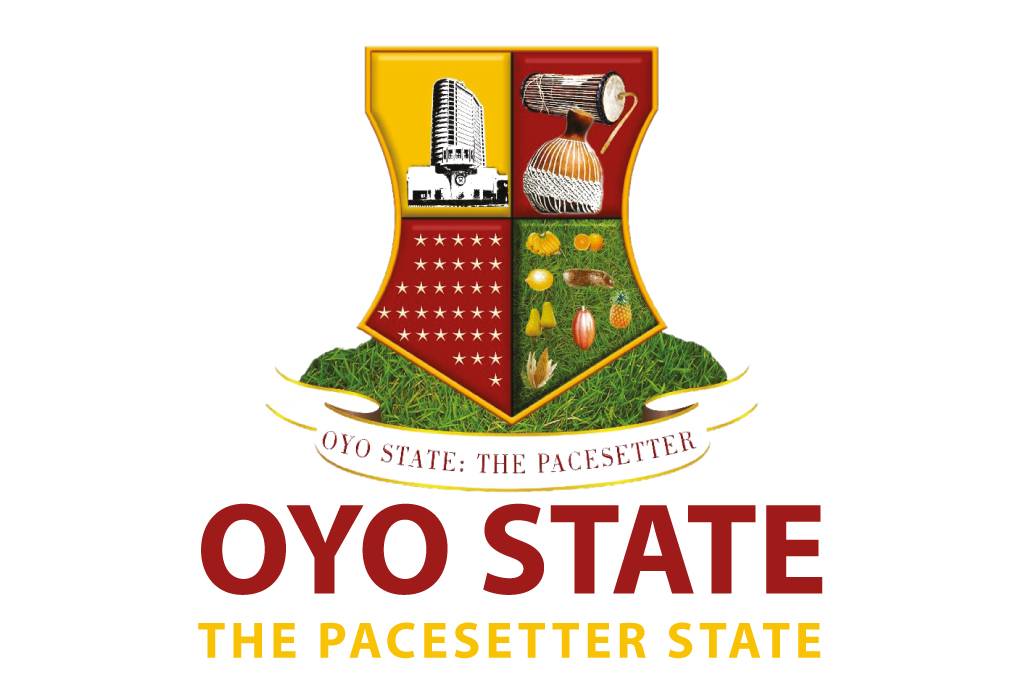 Governor Seyi Makinde has approved the appointment of Kikelomo Adijat Adegoke as the substantive Accountant General of Oyo State.
The Head of Service, Mrs. Olubunmi Oni mni, made this known in a statement on Friday in Abuja.
Oni said the appointment took effect on Thursday, May 26, 2023.
The Oyo State Governor has also approved the appointment of eleven Permanent Secretaries in the civil service.
The Permanent Secretaries include: Dr. Olabode Ladipo; Dr. Oyewole Tunde Aremu; Abosede Esther Owoeye; Ismail Abass Adebukola Bioku; Folajinmi Daramola Oni; Dolapo Oluremilekun Popoola; Hakeem Toyin Salami; Tajudeen Raji; Paul Amole Okunloye Oyekunle; Bassir Kolawole Kazeem and Taiwo Olafimihan Adewale.
Governor Makinde also appointed two Executive Secretaries. They include Olusola Orobode and Muibat Olaide Lasisi.
The Head of Service said the appointments came as a result of thorough screening and outstanding performance of the affected officers.
Austin Avuru's books now available following vacation of court orders.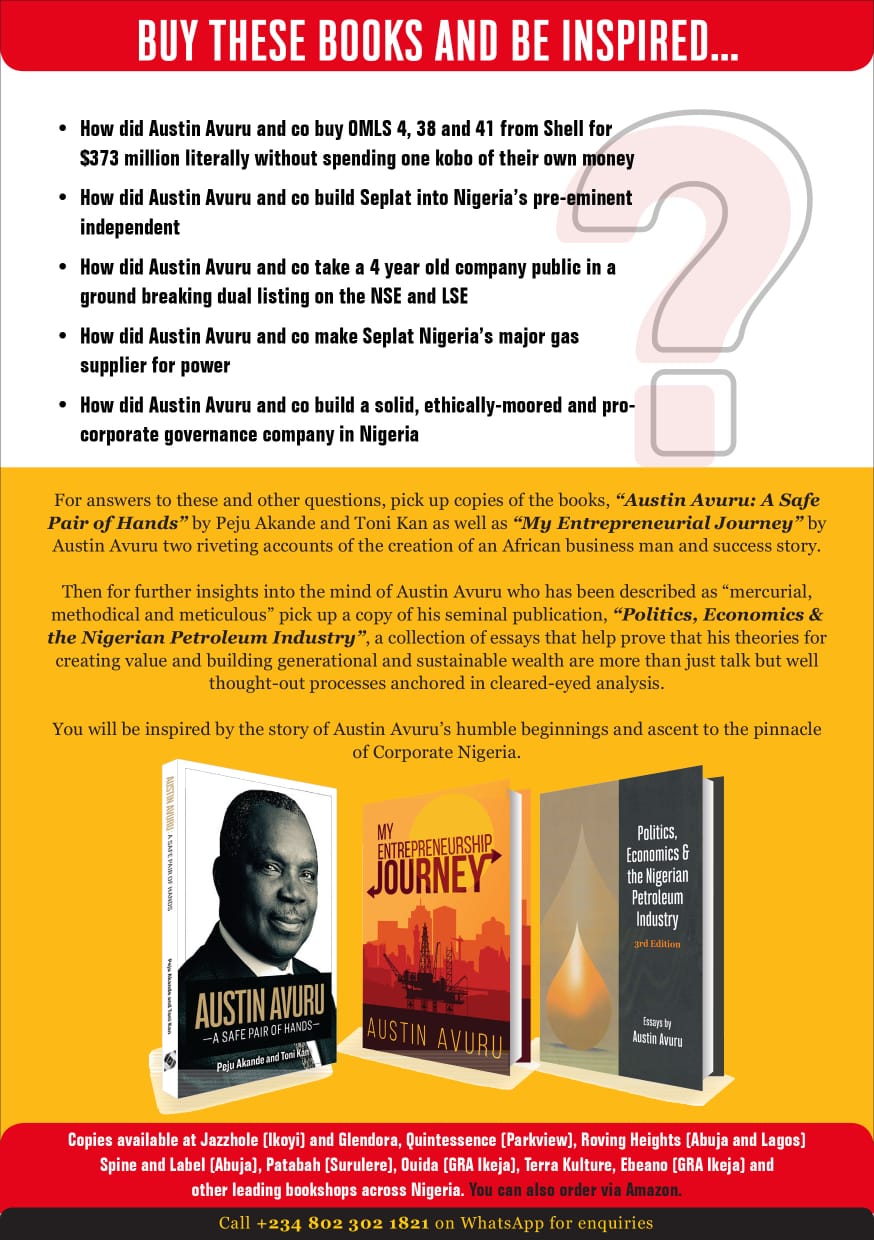 Austin Avuru's books are now available for purchase following the vacation of court orders issued by Federal High courts in Abuja and Lagos.
The Abuja court issued the injunction in July 2022 following a motion exparte filed by Tochukwu Peter Tochukwu, Esq but moved by Nsikan Samuel Ekpeyong Esq with motion No. M/9442/2022 dated 26th Day of July 2002 at an an Abuja High Court presided over by Justice SB Belgore.
The injunction was issued days to the scheduled public presentation of the books – My Entrepreneurship Journey and Politics, Economics and the Nigerian Petroleum Industry all by written by Austin Avuru – Founding CEO, Seplat Energy. The third book, Austin Avuru: A Safe Pair of Hands is a biography of the mercurial and methodical oil man written by the duo of Peju Akande and Toni Kan
Avuru had informed his invited guests of the suspension of the event and sale of the books via an e-message personally signed by him: "this event has been suspended by an Abuja High Court Injunction. Our lawyers are at work and, when we are permitted, we shall re-assemble at a later date."
The retirement party and book presentation event had been scheduled for the 4th of August, 2022 at the Eko Hotels and Suites Victoria Island.
The court order had, among other prayers, restrained "the defendants, their privies, assigns, agents and howsoever described from proceeding to temper with the res – by taking any step geared at releasing or public presentation of the book titled or any other book(s) or any other venue pending the hearing and determination of the motion on notice."
With the vacation of both injunctions, the reading public and friends of the author can now purchase copies of the books – My Entrepreneurship Journey, A Safe Pair of Hands and Politics, Economics and the Nigerian Petroleum Industry – from leading bookshops like Jazzhole, Terra Kulture, Quintessence, Glendora, Roving Heights, Spine and Label, Patabah etc as well as via amazon.com.
The books provide incisive and unique insights into the Nigerian oil and gas industry with special emphasis on the emergence of indigenous oil and gas players as well as Avuru's place in the mix as founding partner and pioneer CEO of Seplat Energy Plc, a Nigerian and African success story that is listed both on the Nigeria and London Stock Exchange..
Geologist and publisher, Toyin Akinosho described My Entrepreneurship Journey as "a narrative on how to build, grow and sustain an upstream oil company" and "a masterpiece of economic and business analysis," while A Safe Pair of Hands has been described as telling "a compelling story of excellence, resilience, doggedness and that unique can-do Nigerian Spirit," and a "must-read for anyone who believes in potential."
The third book, Politics, Economics and the Nigerian Petroleum Industry, is made up of 74 essays written and published between 1991 and 2022, in which Austin Avuru, "oil man, corporate mandarin and public intellectual shows by the example of thriving companies he has founded, nurtured and built into successful enterprises that his theories for creating value and building generational and sustainable wealth are more than just talk but well thought-out processes anchored in cleared-eyed analysis. In the book, Avuru provides clear insights that should guide policy and decision making at the highest levels."
El-Rufai's son, Bello, takes second wife in Abuja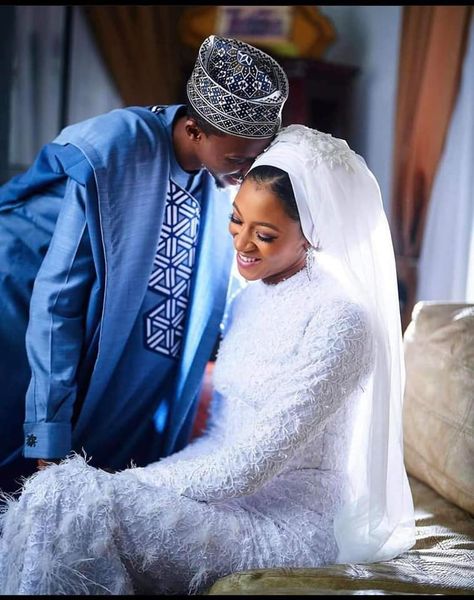 Bello El-Rufai, the son of the Governor of Kaduna State, Nasir El-Rufai has taken a new wife, Aisha Habibu in a private wedding in Abuja.
Aisha is the daughter of the former Military Administrator for Plateau and Niger states, Colonel Habibu Shuaibu.
Bello is a House of Representatives member-elect representing Kaduna North while Aisha is an entrepreneur who manages multiple personal businesses.
The private Nikkah held on Friday and the wedding will be celebrated with events in the coming month.
Recall that Bello in 2015 married Kamilah in Kaduna and Harrow Park, Abuja.
Kamila's aunt, Maryam is the wife of the former Head of State, Ibrahim Gbadamosi Babangida.