PASTOR ITUAH IGHODALO'S WIFE, IBIDUN IGHODALO DUPED, LOSES N10M IN DESPERATE SEARCH FOR BABY, ACCUSES FRAUDSTERS OF PLOTTING TO KILL HUSBAND AND SLEEP WITH HER……
The search for the fruit of the womb has driven former Miss Lux, Ibidun Ajayi(now Mrs. Ibidun Ituah-Ighodalo) to take extreme steps.
Married to Pastor Ituah Ighodalo (Senior Pastor of Trinity House Church) in 2007 after his first marriage to Lucy-Ann Summer packed up, the couple have been childless, and even though they are ministers of the word, they have searched for the fruit of the womb endlessly.
It would be recalled that Pastor Ighodalo and Lucy's marriage was not blessed with the "supreme gift" either. Ighodalo was the pastor of the Christ Church Parish of the RCCG, in Gbagada but was forced to quit by the church after he declared his intention to remarry, ten years after his first marriage collapsed.
However, we gathered that following the couple's failure to conceive and bear children eight years into their marriage, the huge psychological toll made Mrs. Ighodalo to fall prey to fraudulent people.
The couple's dogs trainer, Abdulkareem Mohammed, security guard, Paul Eke, and one Akeem Makinde-Ewuosi fleeced N10m from her. ibidun
Akeem who was introduced to the University of Lagos alumna as a herbalist and well-versed in magic relating to childbearing by the security guard and dog trainer got N10m from her to perform some rituals, which would enable the former beauty queen to conceive naturally.
But having waited with bated breath for the fruit of the womb for several months, it recently dawned on Mrs. Ighodalo that she has been duped.
Sources said she dragged the fraudsters before Tinubu Magistrate's Court , claiming they attempted to kill her husband at their 4b Ogun Street, Osborne Foreshore Estate, Ikoyi home.
It was also alleged that the 24-year-old dog trainer, Mohammed had sexual fantasies towards Mrs. Ighodalo, and planned to kill her husband so that the affection she has for her pastor husband will be transferred to him.
Additional Report From: Orijo Reporters.
Gov. Makinde Appoints Perm. Secs, Accountant General, Executive Secretaries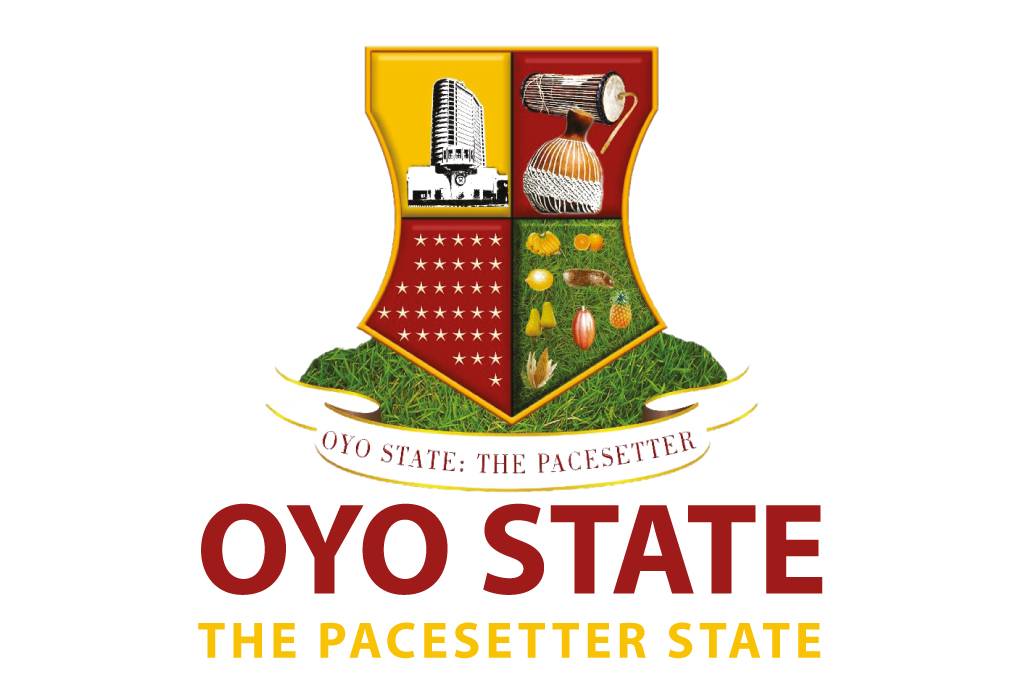 Governor Seyi Makinde has approved the appointment of Kikelomo Adijat Adegoke as the substantive Accountant General of Oyo State.
The Head of Service, Mrs. Olubunmi Oni mni, made this known in a statement on Friday in Abuja.
Oni said the appointment took effect on Thursday, May 26, 2023.
The Oyo State Governor has also approved the appointment of eleven Permanent Secretaries in the civil service.
The Permanent Secretaries include: Dr. Olabode Ladipo; Dr. Oyewole Tunde Aremu; Abosede Esther Owoeye; Ismail Abass Adebukola Bioku; Folajinmi Daramola Oni; Dolapo Oluremilekun Popoola; Hakeem Toyin Salami; Tajudeen Raji; Paul Amole Okunloye Oyekunle; Bassir Kolawole Kazeem and Taiwo Olafimihan Adewale.
Governor Makinde also appointed two Executive Secretaries. They include Olusola Orobode and Muibat Olaide Lasisi.
The Head of Service said the appointments came as a result of thorough screening and outstanding performance of the affected officers.
Austin Avuru's books now available following vacation of court orders.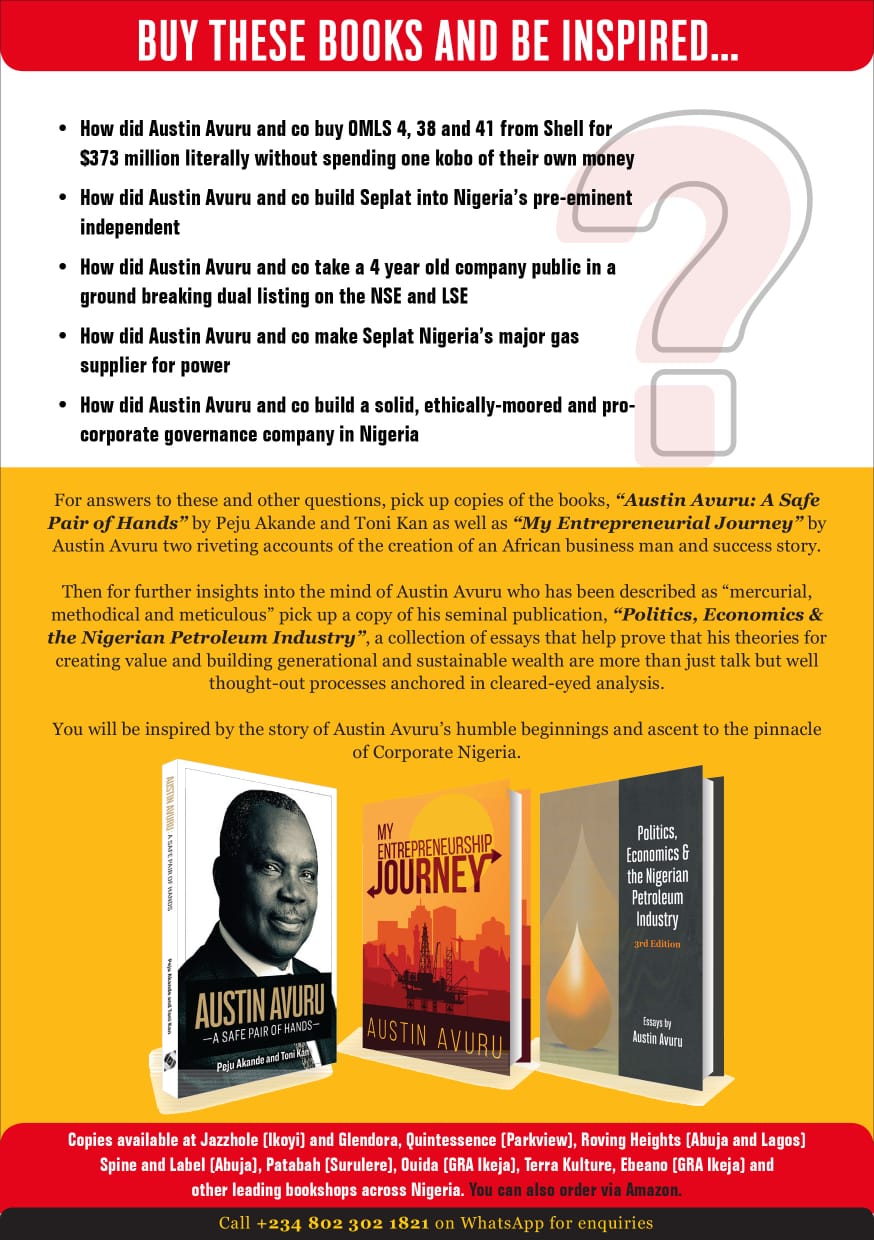 Austin Avuru's books are now available for purchase following the vacation of court orders issued by Federal High courts in Abuja and Lagos.
The Abuja court issued the injunction in July 2022 following a motion exparte filed by Tochukwu Peter Tochukwu, Esq but moved by Nsikan Samuel Ekpeyong Esq with motion No. M/9442/2022 dated 26th Day of July 2002 at an an Abuja High Court presided over by Justice SB Belgore.
The injunction was issued days to the scheduled public presentation of the books – My Entrepreneurship Journey and Politics, Economics and the Nigerian Petroleum Industry all by written by Austin Avuru – Founding CEO, Seplat Energy. The third book, Austin Avuru: A Safe Pair of Hands is a biography of the mercurial and methodical oil man written by the duo of Peju Akande and Toni Kan
Avuru had informed his invited guests of the suspension of the event and sale of the books via an e-message personally signed by him: "this event has been suspended by an Abuja High Court Injunction. Our lawyers are at work and, when we are permitted, we shall re-assemble at a later date."
The retirement party and book presentation event had been scheduled for the 4th of August, 2022 at the Eko Hotels and Suites Victoria Island.
The court order had, among other prayers, restrained "the defendants, their privies, assigns, agents and howsoever described from proceeding to temper with the res – by taking any step geared at releasing or public presentation of the book titled or any other book(s) or any other venue pending the hearing and determination of the motion on notice."
With the vacation of both injunctions, the reading public and friends of the author can now purchase copies of the books – My Entrepreneurship Journey, A Safe Pair of Hands and Politics, Economics and the Nigerian Petroleum Industry – from leading bookshops like Jazzhole, Terra Kulture, Quintessence, Glendora, Roving Heights, Spine and Label, Patabah etc as well as via amazon.com.
The books provide incisive and unique insights into the Nigerian oil and gas industry with special emphasis on the emergence of indigenous oil and gas players as well as Avuru's place in the mix as founding partner and pioneer CEO of Seplat Energy Plc, a Nigerian and African success story that is listed both on the Nigeria and London Stock Exchange..
Geologist and publisher, Toyin Akinosho described My Entrepreneurship Journey as "a narrative on how to build, grow and sustain an upstream oil company" and "a masterpiece of economic and business analysis," while A Safe Pair of Hands has been described as telling "a compelling story of excellence, resilience, doggedness and that unique can-do Nigerian Spirit," and a "must-read for anyone who believes in potential."
The third book, Politics, Economics and the Nigerian Petroleum Industry, is made up of 74 essays written and published between 1991 and 2022, in which Austin Avuru, "oil man, corporate mandarin and public intellectual shows by the example of thriving companies he has founded, nurtured and built into successful enterprises that his theories for creating value and building generational and sustainable wealth are more than just talk but well thought-out processes anchored in cleared-eyed analysis. In the book, Avuru provides clear insights that should guide policy and decision making at the highest levels."
El-Rufai's son, Bello, takes second wife in Abuja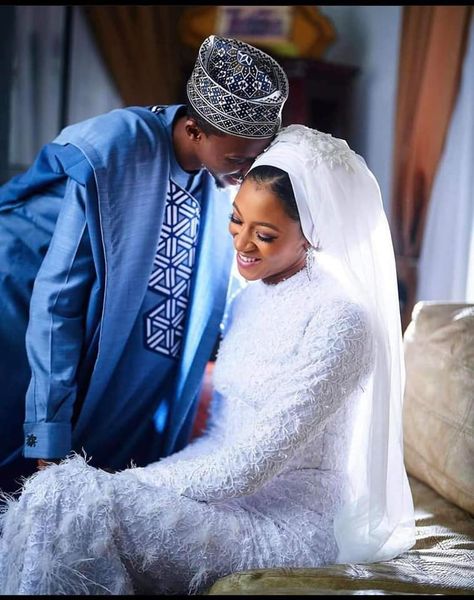 Bello El-Rufai, the son of the Governor of Kaduna State, Nasir El-Rufai has taken a new wife, Aisha Habibu in a private wedding in Abuja.
Aisha is the daughter of the former Military Administrator for Plateau and Niger states, Colonel Habibu Shuaibu.
Bello is a House of Representatives member-elect representing Kaduna North while Aisha is an entrepreneur who manages multiple personal businesses.
The private Nikkah held on Friday and the wedding will be celebrated with events in the coming month.
Recall that Bello in 2015 married Kamilah in Kaduna and Harrow Park, Abuja.
Kamila's aunt, Maryam is the wife of the former Head of State, Ibrahim Gbadamosi Babangida.