Panics In Skye Bank As New CEO Faces N7billion Fraud….
The new management of Timothy Oguntayo-led Skye Bank Plc, no doubt, must have been running from pillar to post to find a lasting solution to what looks like a landmark legal action presently rocking the financial institution, almost to its base.
Skye Bank Plc, we gathered reliably is facing one of the toughest fraud cases of all time, a whopping N7billion suit preferred against it by one of its clients, Jorotom International Agency Nigeria Limited.
According to the statement of claims, the plaintiffs-Jorotom and its subsidiary, National Clearing and Forwarding Agency are alleging fraud, excess charges, greed, high handedness, betrayer and large scale scam on the part of Timothy Oguntayo-led bank and has since sought a legal redress to get its pound of flesh as a result of the monumental racket the bank has perpetrated.
Tracing the genesis of the chumming business relationship that later went sour, we gathered that, the managing director of the international agency, Jorotom, Snr. Evangelist John Omotosho had approached the management of Skye Bank in his bid to acquire one of the multi-billion Naira federal government agencies, National Clearing and Forwarding Agency, NACFA when it was declared to be sold years back.
We were reliably informed that, Skye Bank, as the financier had injected a whopping N3.6billion into the acquisition with a view to supporting Jorotom's vision and later get its investment back through a mutual conformity and business co operation both parties had agreed.
Informed sources disclosed to this office that, no sooner the company commenced business than Skye bank moved in by forcefully demanded that, some of its top staffers be drafted on the company's (NAFCA) board as directors and not just that, they were planted in strategic positions to run the affirs directly.
Quoting the court papers made available to us, "the agents/staff of Skye Bank which were drafted to NAFCA as directors and the offices they held are:  Kehinde Durosinmi-Etti (Chairman), Olorunfemi Peter (Executive Director) and Bayo Sarunmi (Finance Director) respectively. These top echelon of Skye Bank which include the immediate past managing director were forcefully planted to run the day to day affairs of the company including receiving and disbursing of funds in a bid to equip their money by fire by force.
We were told that, in its process of running the company, Skye Bank via its agents was excessively charging the company aside other frivolous spending that almost dwindle its fortune. Sad enough is the fact that, the bank later withdrew its agents and declared the firm unfit to pay its bills, thereby inviting the Asset Corporation of Nigeria-AMCON, another federal government agency created as a key stabilizing and re-vitalizing tool to revive the financial system by efficiently resolving the non-performing loan assets of the banks in the Nigerian economy to take over.
All efforts by Jorotom International agency's management to resolve the matter amicably via its auditors, Biyi Adeniran & Co. were futile as even when the auditors detected a large scale fraud, Skye Bank was so adamant in offering the company for AMCON in order to safe its face.
There are other damaging expose which the auditors, Biyi Adeniran uncovered against Skye Bank, all these are what the Plaintiff, Jorotom International agency is relying on to prosecute its case and its team of lawyers have promised to make the full report of the large scale fraud against Skye Bank available to this office as events unfold in court.
Efforts to reach those in the corporate affairs department of the bank proved abortive as at the time of filing this report.
Jite Usman
FCTA uncovers illegal oil refining warehouse in Abuja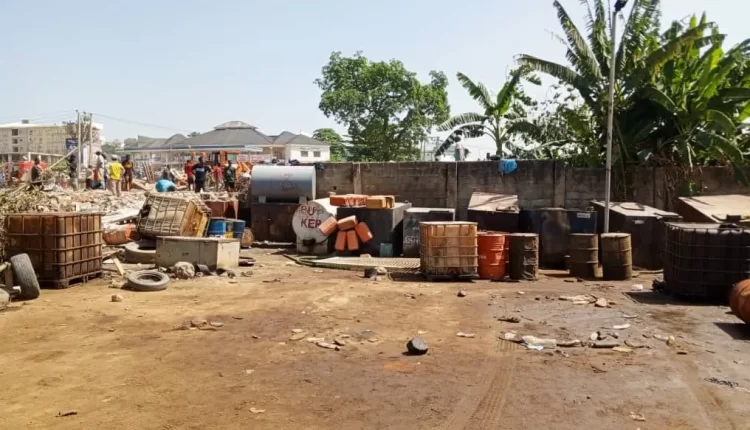 In continuation of the city cleaning exercise, Authorities of the Federal Capital Territory Administration (FCTA) with operatives of security personnel have uncovered an illegal oil refining warehouse in Mabushi, opposite Mobile filling station on Ahmadu Bello way in Abuja.
The Director, Department of Development Control, FCTA, Mukhtar Galadima after the operation on Thursday, said the illegal refining site was discovered during the continuation of the city cleaning exercise.
According to him, about three to four plot of lands designated for commercial purposes have been converted to an area where oil and diesel are being adulterated and circulated to other parts of the city.
Galadima explained that the city sanitation task force will look into the provision of the law and make necessary recommendations to the FCT Administration for further actions on the plots used for the activity.
He said there was no arrest but the items used in carrying out the illegal refining have been impounded.
Galadima said, "During the continuation of our city sanitation exercise in Mabushi opposite Mobile filling station on Ahmadu way, we discovered an illegal refining site where oil and diesel are being adulterated, we have done the needful by moving the items to Nigerian Security and Civil Defence Corps.
"From what we have seen so far, about three or four pilot of lands designated for commercial purposes have been converted to unapproved activities, which we believe the owners are fully aware, there will be consequences.
"We are going to look at the provision of the law and make necessary recommendations to the FCT Administration"
He said the administration will continue to go tough on activities being carried out without government approval,  especially revocation of the titles.
Collaborating, Head, operations FCT Directorate of Road Traffic Service (DRTS), Deborah Osho said the city management team during the exercise also discovered that most of the areas in the Nation's capital have been converted to illegal car mart and motor parks.
She disclosed that fifteen vehicles have so far been impounded since the operation commenced about two days.
Central Bank To Freeze Accounts Without BVN, NIN From April 2024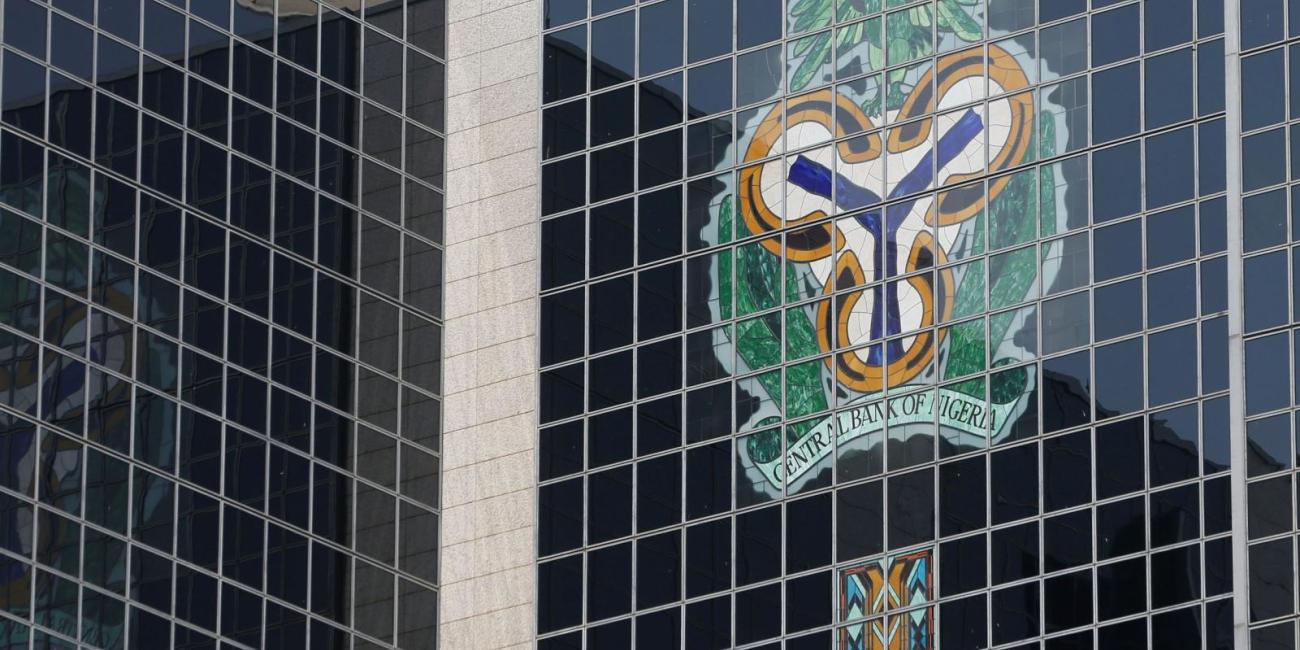 The Central Bank of Nigeria (CBN) said on Friday that it will freeze accounts without a Bank Verification Number (BVN) or National Identification Number (NIN) from April 2024.
This is according to a Friday circular by the apex bank which said a BVN or NIN verification will be "conducted shortly".
It also said all BVN or NIN attached to accounts/wallets must be electronically revalidated by January 31, 2024, according to the circular by the CBN Director of Payments System Management Department Chibuzo Efobi, and the Director of Financial Policy and Regulation Department Haruna Mustapha.
More details later….
Adebayo Alli: Guinness Nigeria gets new Managing Director, Its first Nigerian CEO since 2015 …..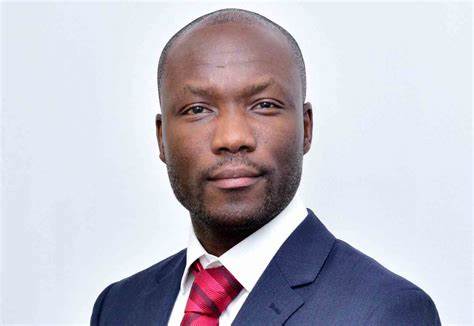 Guinness Nigeria has announced the appointment of Mr Adebayo Alli as its new Managing Director, its first Nigerian MD since 2015.
The appointment comes after John Musunga, the now erstwhile MD of Guinness Nigeria moved to become Diageo Africa's Managing Director for Southern, West, and Central Africa.
The announcement was given after the company's board meeting held on Monday, November 27, 2023.
According to the corporate filing on NGX's website signed by the Company Secretary, Abidemi Ademola, Adebayo Alli would resume his new role within the company on January 1, 2024.
Profile of Adebayo Alli …..
Adebayo Alli, a mechanical engineer by training, holds a B.Sc. in Mechanical Engineering from the University of Ibadan and an MSc in Advanced Process Engineering from Loughborough University, UK.
He joined Diageo, owner of Guinness Nigeria in 2005 as a Packaging Operations Support Manager. Since then, he has gone on to work as project lead for a business transformation project in Meta Abo Brewery Limited, Ethiopia, another of Diageo Africa's businesses. In 2014, he became a plant manager at the Meta Abo Brewery, and in 2015, Supply Chain Director.
Upon his return to Nigeria in 2017, he assumed the role of Operations Director at Guinness Nigeria before shifting his focus towards general management, venturing into multiple senior commercial sales positions within Guinness Nigeria PLC.
His trajectory saw a brief tenure between 2019 and 2020 as the Director for IPS, Reserve & Modern Trade. Subsequently, in 2020, Bayo ascended to the role of Commercial Director at Guinness Nigeria.
What you should know….
Guinness Nigeria's last Nigerian MD was Seni Adetu who served between 2012 and 2015. Since him, John O'Kefee an Irish man became the MD, followed by Peter Ndegwa, a Kenyan, Baker Magunda, another Kenyan, then John Musunga, also another Kenyan.
Guinness Nigeria Plc is majorly owned by Diageo Plc with a 58% stake. In the past, Diageo's only footprint in Nigeria was through Guinness Nigeria and the Managing Director of Guinness Nigeria also doubled as the head of the Diageo brand in the country.
However, after Diageo announced a discontinuation of its import deal with Guinness Nigeria, which meant Guinness Nigeria would no longer import Johnnie Walker and Baileys into Nigeria, it was also announced that Diageo was creating a new "wholly owned spirits-focused business" to manage the importation and distribution of those premium spirits brand in West and Central Africa. Presumably, John Musunga is resuming to head this new business.