Oyedepo, Mbaka: A Terrible Day for Religion(Must Read)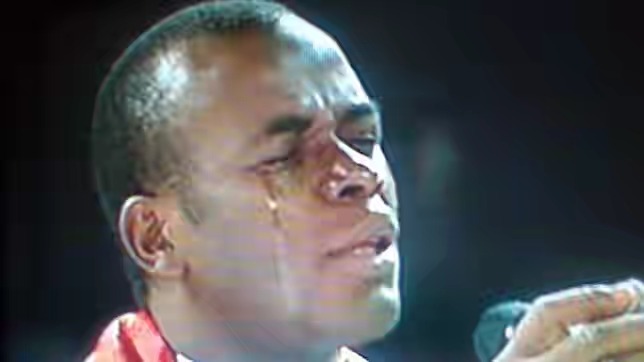 It was a terrible day for religion in Nigeria this past week as the overseeing Bishop of the Living Faith Churches, David Oyedepo, and the man at Adoration Ministries, Enugu, Fr. Ejike Mbaka, made various gaffes in their sermons that caught the attention of Nigerians. What might have been more tragic about these statements was that these popular charismatics ministers may not have realized the mistakes in their statements. Instead their followers have stood with them, while the pastors utilize age old silence to subdue their critics who have drawn their attention variously to these matters.
David Oyedepo, while ministering to members of his church at Otta, Ogun State, spoke of the growing rumour among Nigerians that an impersonator has taken the place of Muhammadu Buhari, the Nigerian President, at the nation's seat of power in Abuja. To lend credence to his position, Oyedepo quotes Olatunji Dare article of 27th November, 2018, titled "Buhari's Double". Oyedepo, reading from a script, said:
"This disturbing information came from the Nation Newspaper of Tuesday, 27th November 2018, written by one Olatunji Dare, exploded with 'authoritative assertions', he said, claiming among others: That President Buhari had died in the U.K. in 2017, whilst he was undergoing medical treatment. HOW? That the entrenched cabal in Aso Rock had procured 'President Buhari's double' in Sudan and pressed him to serve as Nigerian President. What? That the representatives of the 'Jubril' family having discovered the gigantic swindle, suddenly showed up in Abuja and demanded to be compensated with power-sharing arrangement at the Federal level in perpetuity plus 50% of Nigerian oil revenues for 10 years in the first instance."
What the Bishop read was precisely what Mr. Dare wrote. What the revered minister failed to see in the write up was the satire in the whole piece. Olatunji Dare had been discussing the matter of Nnamdi Kanu and his propagating of the "Buhari Double" rumour. Mr. Dare, in his bid to make Kanu's position sound even more ridiculous, went further to say that the family of Buhari's impersonator, Jibril, were blackmailing the Nigerian government on the whole matter. Dare made up the satire to make Kanu's position sound preposterous. This is what David Oyedepo read to his congregation as news!
The other gaffe that made the news in the past week was the one from Fr. Ejike Mbaka of the Adoration Ministries, Enugu. The revered Catholic Charismatic pastor did not conceal his love for money when he took the Nigerian president through his legendary caustic tongue. Mbaka said that he had prayed for the recovery of President Buhari and in return the President should have come to Adoration Ministries to "thank God". He said no one cheats God and goes free. He warned that Buhari's illness may return if the President did not come to him and offer thanksgiving.
While many where still in the dark as to the nature of the gratitude the President should offer, Mbaka embarks on a tirade of other political figures. He says that Peter Obi is stingy. That all he could offer his ministry was a miserly half a million naira. He said:
"(Gov. Dave) Umahi (of Ebonyi State) donated 1,000 bags of rice and 1,000 tubers of yam to us, but it meant nothing to me until he handed N10 million cheque to me and promised to build a project for the ministry. This is the type of gesture we require from Obi."
At the end of the tirade, it was clear that pecuniary reasons were the factors that were engendering the latest statement from the popular Enugu reverend father.
These two incidents have quite unexpectedly revealed certain realities about popular figures in Nigerian religious life. Speaking on the incident, Bamidele Ademola-Olateju gave this advice on her Facebook wall: "…Good education is sweet! Read classics, great biographies & good fiction. You can't achieve depth by reading; Rich Dad, Poor Dad…" She was saying, in other words, that if David Oyedepo was adept in reading, beyond the prosperity/faith jargon he writes, he would have recognized satire from what Olatunji Dare wrote.
The fact of the matter is that some of the least informed set of people in the country today are Pentecostal Pastors and their followers. Beyond whatever professional career they may be involved with, Pentecostals do not read anything but Prosperity/Faith theological books. At the end, they are usually wholly uninformed when it comes to dealing with other matters in the real world.
On the other hand, and quite unfortunately, Fr. Ejike Mbaka has revealed what many of us have long suspected is the underlying motive for his kind of ministry: MONEY. Mbaka spoke from the abundance of his heart, and since Catholic Charismatics are usually not the object of criticism in the religious sphere, he felt free to speak about the pecuniary undertone of his ministry. Unfortunately for him, he revealed too much.
In November this year, I was in Enugu to market my book Victor Banjo. My friends, who were taking me around to see the city, pointed out to me that Mbaka's bottled water Aqua Rapha was the leading bottled water company in Enugu and environs. In fact it was initially named Healing Waters. But NAFDAC had a running battle with Mbaka and forced him to change the name, so that the public are not deceived to using the water for healing purposes.
Yet, the bottled water is all that Enugu folks drink. Why? They hold that Mbaka's healing powers are in the water. Besides, the term "Aqua Rapha" is still "healing water" in Greek. That experience with Aqua Rapha remains the only let down to my wonderful experience while visiting the beautiful city of Enugu.
What is my point?
For too long we have centred our attention on Pentecostals and their use of God to make money in ministry. Very few people are commenting on Catholic Charismatics. The fact, as revealed in the latest Mbaka gaffe, is that there is practically no difference in all of them. Mbaka is in this thing for the money; just like his Pentecostal counterparts.
The lesson is simple: men's hearts are revealed from the multitudes of the words they proclaim. The wise speak little so as to reveal less folly. The foolish utter it all to his own disgrace. It was a terrible day for religion in Nigeria with these various gaffes from David Oyedepo and Ejike Mbaka.
By: Deji Yesufu, the author of the book Victor Banjo. He can be reached on newdejix@gmail.com
WEMA BANK STAFF DONATE TO SUPPORT COMMUNITIES AFFECTED BY COVID-19 PANDEMIC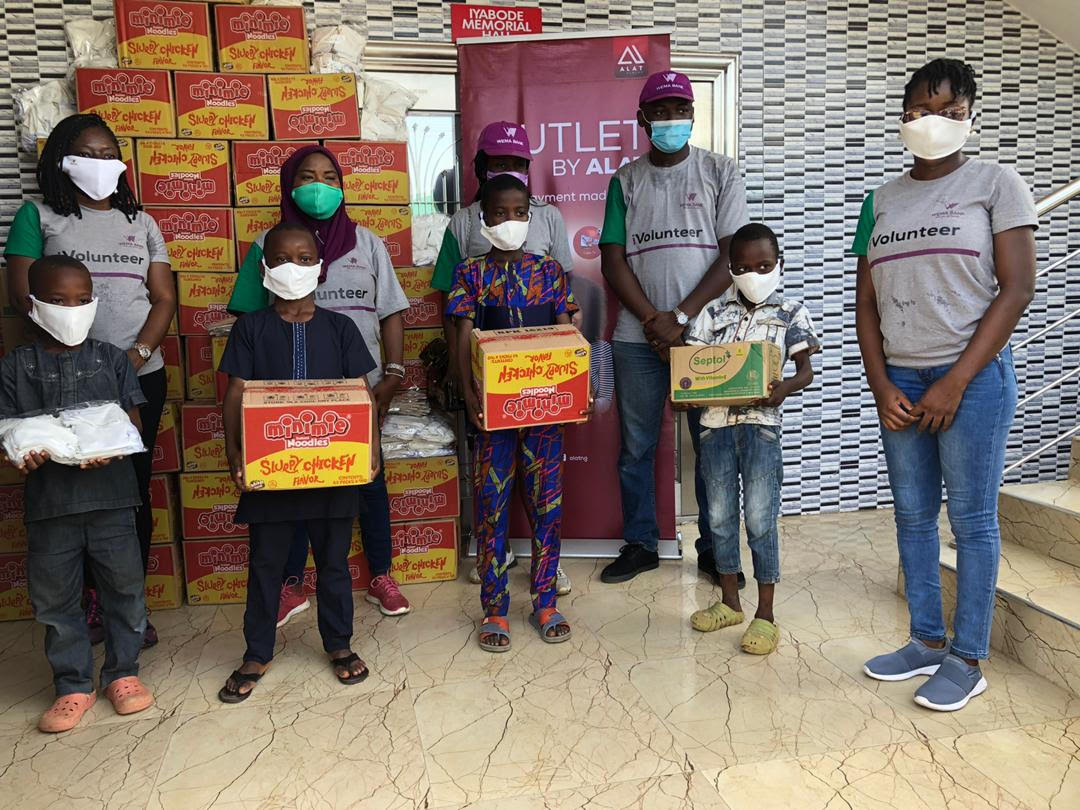 Nigeria's leading innovative Bank, Wema Bank Plc. has deepened its service to humanity as the bank's staff made "salary for love" donations to help cushion the impact of the global COVID-19 pandemic.
In line with our corporate social initiatives in the Bank, the "Salary for love" is a one-day basic salary donation which is a voluntary contribution by staff of Wema Bank to assist the Nigerian government and health workers in fighting the spread of the virus.
"As a Bank and a responsible organization, we recognize the need to support the government and citizens of the country at this period," said MD/CEO of Wema Bank, Mr AdemolaAdebise.
"The "Salary for love" donation will contribute to the cause in helping to fight and reduce the spread of the virus in Nigeria. It is a selfless cash donation from members of staff of Wema Bank PLC, and we are proud of everyone who contributed"
In a statement released by the bank, over four million naira has been raised and used in purchasing palliatives such as face masks, antiseptic soaps, foodstuff among others. The palliatives were shared to families in communities affected by the lockdown.
The bank also created a COVID-19 account to enable members of staffdonatevoluntarily towards the fight against the spread of the virus in Nigeria.
"Last month, we donated palliatives to state governments and communities, and this is something we will continue with the understanding that some of us have had to face harsher economic realities during this pandemic," Mr Adebise added.
"We believe that our contribution will not only help curb the spread of the virus, it will also help soften the impact of the pandemic on Nigerians."
Wema Bank remains committed to its responsibility in supporting communities where it operates, creating initiatives and partnering with platforms that work to build human and societal development.
Develop Homegrown Solutions, Human Capacity and Invest in Agriculture to Rebuild Africa; Experts say at UBA Africa Day Conversations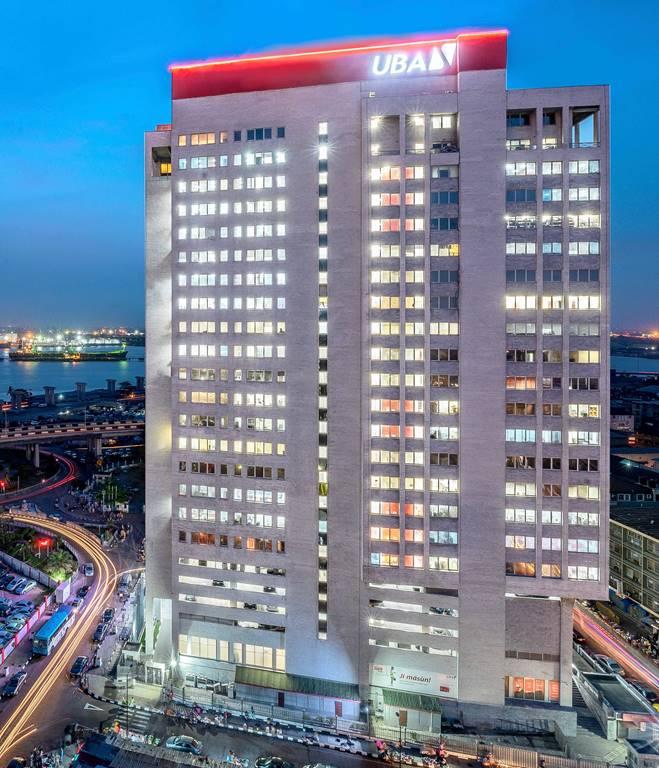 Prioritise SMEs Development
Advocate Partnerships between Private Sector and Government
African thought leaders and great minds have noted that the development of homegrown solutions and adequate investment in human capacity building and agricultural expansion are key steps that will help to rebuild Africa and put the continent on a stronger footing post Covid-19.
Analysing the theme 'Domestic Policies, Regional Development and a Global Agenda: SDGs and African Development at Crossroads; the speakers collectively gave this submission during the second panel session of the 2020 edition of United Bank for Africa (UBA) African Day Conversations.
The virtual session, which was moderated by Veteran Journalist and Media Consultant, Eugenia Abu, was made up of thought leaders from across Africa, including the Regional CEO, UBA West Africa, Abiola Bawuah (Ghana); Senior Program Coordinator, Regional Network of Agricultural Policy Research Institutes, Dr Nalishebo Meebelo (Zambia); Leadership Coach and Chairman, Go Ahead Africa Ltd, Roland Kwemain (Cameroon); Founder and Executive Director, Social Change Factory, Sobel Aziz Ngom (Senegal); Special Assistant to the President Muhammadu Buhari on Digital and New Media, Tolu Ogunlesi (Nigeria); and Social Entrepreneur and Founder, LEAP Africa, Ndidi Nwuneli (Nigeria).
Abiola Bauwah who emphasised how Africa should rely less on foreign donors, said, "There are five areas we should work on more for us to reach the SDG goals; the private sector; rapid industrialization; institutions and the rule of law; develop our human capital; remove the barriers across Africa. We should institute Africapitalism which is an economic philosophy that says that the human and capital resources of Africa are the only ways in which we can develop Africa."
Nalishebo Meebelo noted that there's a lot that young people can do along the value chain of manufacturing, transporting, technology and marketing, adding that, "Government cannot do it alone, they need to work with other stakeholders. Cut and paste solutions do not work for us here in Africa, we need to have our own homegrown solutions to fight this pandemic."
Eugenia Abu, who focused on the huge role that women and youth must play in rebuilding the continent, said that Africa had to work together to provide solutions to its numerous challenges. "Women, entrepreneurial champions, young people and collaborations between African countries are very key to developing Africa," she stated.
Ndidi Nwuneli who was saddened that the agricultural sector remained hugely untapped, emphasised the need for a change of mindset where people usually equated agriculture to poverty. "This is a $1 trillion industry and we are neglecting it; therefore my charge to you is that we invest in the agricultural sector, prioritize it, leverage it, transform our educational system to prepare our young people for this sector, change the mindset and trade with each other," she explained.
Sobel Aziz Ngom pointed out the need for the youth to take charge in Africa. "It is time to not just serve young people, but to trust them to lead. The challenge that we have at the domestic and continental level is making the change in our structure and in the political system that give the place to young people to be 100% engaged," Ngom stated.
In his own submission, Tolu Ogunlesi, said, "All over the countries young people are seizing opportunities, and we need to start thinking about how to make sure that this is not just for the age of COVID but for now and beyond COVID-19. Even if the pandemic was to disappear today, I hope that the lessons we're learning, we're not going to forget them and go back to where we used to be."
For Roland Kwemain, more institutions need to tow the line of UBA in events such as UBA Africa Conversations. "If 100 multinationals in Africa were doing that UBA is doing, we would go far because CSR is an amazing leverage not just for the brand but also for supporting people & women in terms of activities. The truth is that we need partnership between the government, corporates and the civil society," he said.
The United Bank for Africa is a leading pan-African financial institution offering banking services to more than twenty million customers globally. With footprint in 20 African countries and presence globally in the United Kingdom, the USA and France, UBA is connecting people and businesses across Africa through retail, commercial and corporate banking, innovative cross border payments and remittances, trade finance and ancillary banking services.
Mustapha Deserves Commendation, Not Condemnation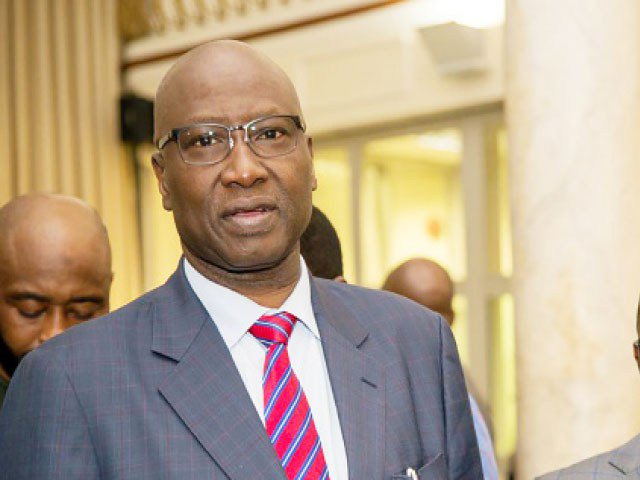 The Secretary to the Government of the Federation, Boss Mustapha, deserves the support and commendation of all for demanding that disciplinary measures in Ministries, Departments and Agencies should follow defined procedures and not the familiar autocratic approach by some of the ministers.
Chairman of Nigerian Collective, a non-governmental organisation in pursuit of good governance, Mr. Adeola Adewunmi, in a statement by the group's Media Executive Officer, Otunba Femi Davies, said it was shocking that some Nigerians would rather encourage the culture of impunity as against the standard procedures as exemplified in saner societies.
According to him, reports about suspension of Managing Directors or Executive Secretary of agencies of government are becoming almost an every day affair, often times without logical explanation as to why such a person deserves the suspension.
"But a recent decision taken by the federal government through the office of the SGF is not only a breather from this ugly tradition but an indication that Nigerian can actually embrace the right path while addressing our collective challenge.
"It belies logic that some ministers just wake up some day and suspend certain heads of their agencies, even without hearing them out. And this was beginning to look like the new normal before this timely intervention, which is billed to go a long way.
"Take for instance the suspension of Damilola Ogunbiyi, the Rural Electrification Agency (REA) boss, she would have lost her international job had the presidency not reversed her suspension, even when there was no defensible justification for her suspension by the supervising minister. For how long shall we continue that way? Does it mean we are learning anything or progressing? No, we don't think so.
"We are not saying erring heads of agencies should not be disciplined, when they err, our position, which aligns with that of the SGF and the federal government, is that the right procedure should be followed. Let it be properly established the individual in question erred through a properly identified due process and the offence affirmed.
"This is why we are disturbed by the deluge of attacks by certain funny characters, who should know better, calling out the SGF for saving the day and rescuing the country from further embarrassment arising from the typical abuses of Ministers and others. That choice cannot go on and that, the SGF has just done the needful to the matter."