HOW OGUN STATE IMMIGRATION OFFICERS MOLESTED A LADY OVER RENEWAL OF DRIVING LICENSE…
One of our readers sent this to us alleging that some officers of the ogun state immigration office, Abeokuta molested her and forced her to write a statement under duress…… Below is her claim, pleading for this to get to the necessary superior officers for immediate actions…..
Read on:
I wish to state the issues that occurred yesterday at the Nigeria Immigration Service office Abeokuta.
Date: 11th April 2016.
I arrived at the centre yesterday just after 11am and waited for hours until around 4pm when I had not been attended to for the passport picture which will be used issuing the renewed passport I required.
Prior to that, I was told to pay N28,000 to an uniformed man which I did. No receipt was issued.
Around 4.05pm , I walked over to an officer in the picture capture room and explained that I had been sitting there since morning and that I needed to travel away from the city early tomorrow morning , so he told me to sit in the office and will attend to my request. His name is Officer Umoh. After sitting for almost an hour and not attended to but others being attended to, I mentioned that others who had come in after me had been attended to apart from me, the officer Mr Umoh heard and got visibly angry. He ordered that I leave the room.
"Get out of here " he screamed and I did. Afterwards, I stood onthe corridor before two men in mufti- one in a white top and the second in a t-shirt screamed what are you still doing here. Get out my friend. I responded that I have complied with the officers iinstructions and had left the place and they should stop screaming at me. After all, they are not officers.
The older one in white just came to hold my right arm and started twisting it and hitting me that who am I to tell him not to talk to me anyhow . At this stage, I started screaming that you are assaulting me Sir and other people heard. Then he threatened to throw me down from the first floor down if he wished. A female officer in uniform Kadiri by name then came and told the man to leave me alone. She took me away and calmed me down as I was in tears at this stage.
After some minutes, I took my assistant's phone and took pictures of the older man. I kept the phone away, waited for like half an hour and went to speak to Mr Umoh again to ask if I should wait today to get the picture taken and if I would get it done. He said heh didn't know anything about my file and it was no where to be found again. I asked what the next thing could be but he said I should go and meet the person I paid to but I said he was not in uniform and i could not find him again.
The younger man who had screamed at me before had threatened that my file will not be found came out and said you will suffer for nothing and that will be the end of the matter.
I later stood away and took his pictures too. Not up to ten minutes after, I was rounded up as I moved close to the stairs to walk downstairs. The young man started screaming that I hand over my phone and bag and that failure to do so will result in being beaten . He came close to slap me when another man from the crowd pulled him back.
The man who first assaulted me started slapping my back again and pulled my arm to follow them downstairs to a place. I asked where they were taking me to but they didn't answer. At this stage, I started screaming that he's assaulting a woman and he should not. Then he screamed that a woman comes downstairs to hit me. She came and started slapping the back of my neck and asked me to walk faster to the hidden, obscure location. I walked as I could and she hit me again for being slow.
As we walked on, I saw a tiny, dingy cell with someone on the ground chained. When I saw that, I knew that was where I was being led to with my assistant. I had asked that she be left alone but they refused . When I saw the cell, i picked a fast race and ran away towards the gate screaming they want to put me in a cell. This was around 6pm or 5.50pm as jt was getting a bit dark.
The four officers started running after me but couldn't reach me as I was too fast but the lady who had been called upon started screaming " catch that lady. Shoot her. Shoot. We will shoot " but I kept on running. By the time I got to the gate, I had been rounded up by like 6-8 officers who caught me and this lady came again to hit me. They called her name " Makinde, leave her alone. She will follow you ".
The men promised that I will not be placed in a cell and that they will follow me but I was hesitant. Eventually, I followed them and when we got to that office, I was asked to write a statement that first I was not put under duress to write, to write my name and address and my contact phone numbers. I said I didn't know the phone numbers by heart and couldn't write under such stress. Eventually, I wrote a statement of what transpired to the point of the first assault and i was asked to stop while the young officer kept screaming at me to write before he slaps me .
I was led upstairs to get my picture captured and then to give fingerprints because they didn't want to deny me my rights. I did and then was led by the young man, older man and lady all in mufti to an office. There sat two men whom I know to be passport comptrol.
They said I had committed great offences on secured military grounds and therefore will not be issued a new passport, my old one will not be given to me and my phones -mine and assistant's will be confiscated.
That was my experience last week at the immigration office in Abeokuta. Please i need your support in making a report to the highest authority about these officers – Mr Olatunji
Ms Makinde
Mr Taiwo Romiluyi
Mr Kola-Kayode
Contempt: Again, court commits EFCC boss, Abdulrasheed Bawa, to prison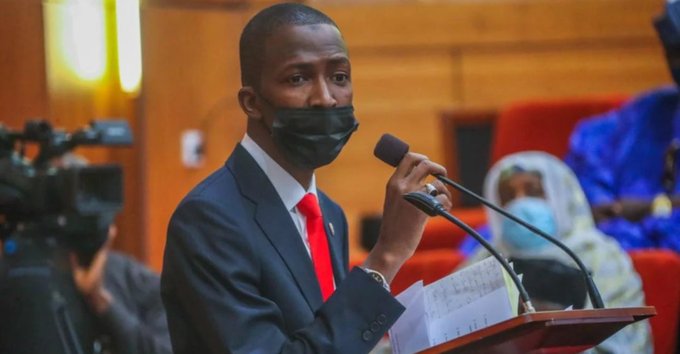 The Chairman of the Economic and Financial Crimes Commission, Abdulrasheed Bawa, has been committed to prison for allegedly disobeying court order.
The court also directed the Inspector-General of Police, Usman Baba, to effect Bawa's arrest and remand him in Kuje prison for the next 14 days until he purges himself of the contempt.
Justice R.O. Ayoola of the Kogi State High Court, in his judgement on Monday, granted the application for committal to prison of the EFCC chairman for disobeying a court ruling delivered on November 30, 2022, wherein the EFCC chairman was directed to produce the applicant in the case, Ali Bello.
Ali Bello had dragged Bawa to court for arresting and detaining him illegally, with the court ruling in his favour, only for the EFCC to arraign him for alleged money laundering three days after the ruling.
The EFCC's applications for setting aside and stay of execution of the ruling were refused for want of merit.
The Court had, in Form 49, Order IX, Rule 13, marked, "HCL/697M/2022" and titled, "Notice to Show Cause Why Order of Committal Should not be Made," asked the EFCC Chairman to appear before it on January 18, 2022 to explain why he should not be jailed for flouting the order given on December 12, 2022 in a case filed by Ali Bello against the EFCC and Bawa, as the 1st and 2nd respondents, respectively.
The court ordered that the EFCC and Bawa be served the motion of notice together with Form 49 by substituted means.
The court had declared the arrest and detention of the applicant in the face of a subsisting court order made by a court of competent jurisdiction and without a warrant of arrest "or being informed of the offence for which he was arrested" as unlawful, unconstitutional, and in contravention of the personal liberty and dignity of human person guaranteed under Chapter IV of the Constitution of the Federal Republic of Nigeria 1999 (as amended).
The court had also ordered the respondents to tender an apology to the applicant in a national newspaper and awarded N10 million compensation for him.
Court Jails Fidelity Bank MD, Onyeali-Ikpe, Bank's Secretary.. (CTC documents attached)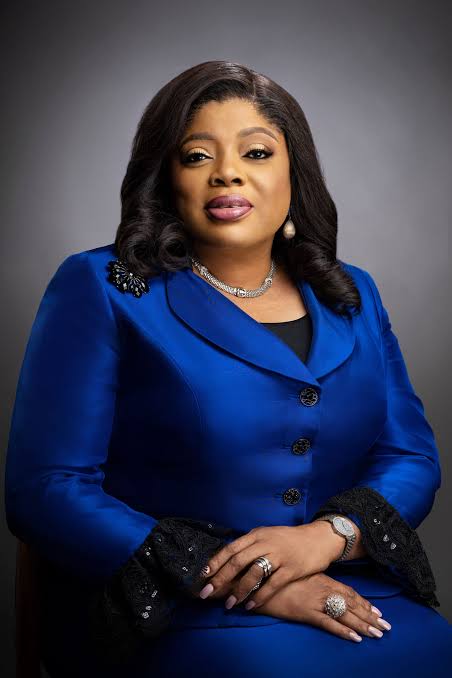 A Chief Magistrate Court at Ogba, Lagos on Monday morning sentenced the Managing Director of Fidelity Bank, Nneka Chinwe Onyeali-Ikpe to six weeks imprisonment over disobedience of a garnishee order of court restraining the bank from allowing a judgment debtor access to his account.
Joined with the Managing Director to serve the imprisonment is the Company Secretary of the bank, Ezinwa Unuigboje.
Magistrate Lateef Owolabi gave the sentence sequel to a garnishee order he gave on December 6, 2022 asking 16 banks not to allow a judgment debtor, Prince Enabulele Ozaze access to his bank accounts pending the payment of N2.8 million judgment debt in suit involving the sale of a Toyota Corolla car.
In the main suit, Magistrate Owolabi had given judgment on October 13, 2022 in favour of the plaintiff, Jibrin Ahmed who sued the defendant over the payment of N2.8 million he made to the defendant for the purchase of a Toyota Corolla car. Magistrate Owolabi in the judgment said that the claim before the court is summons used in action for debt or liquidated money demand with or without interest. Liquidated demand, according to him, is one ascertainable as a matter of arithmetic precision without further investigation.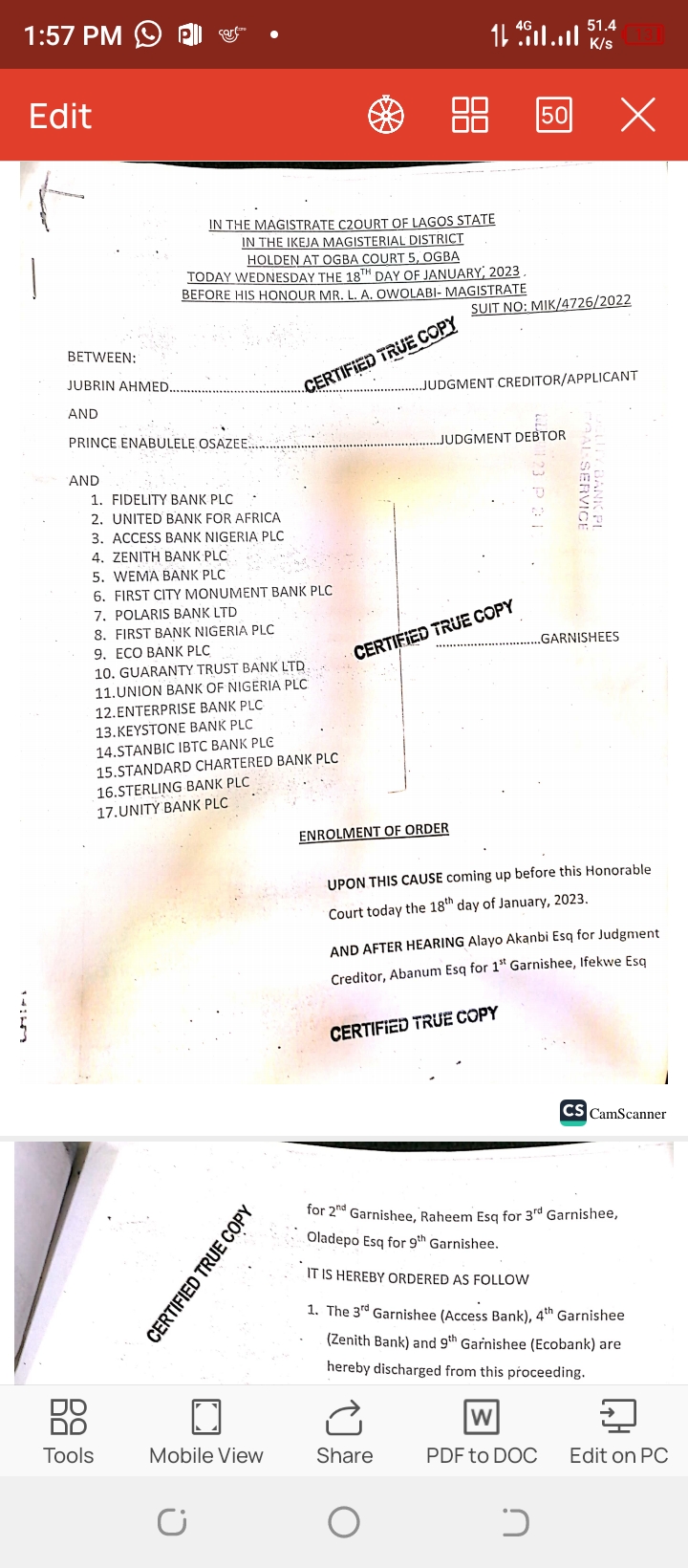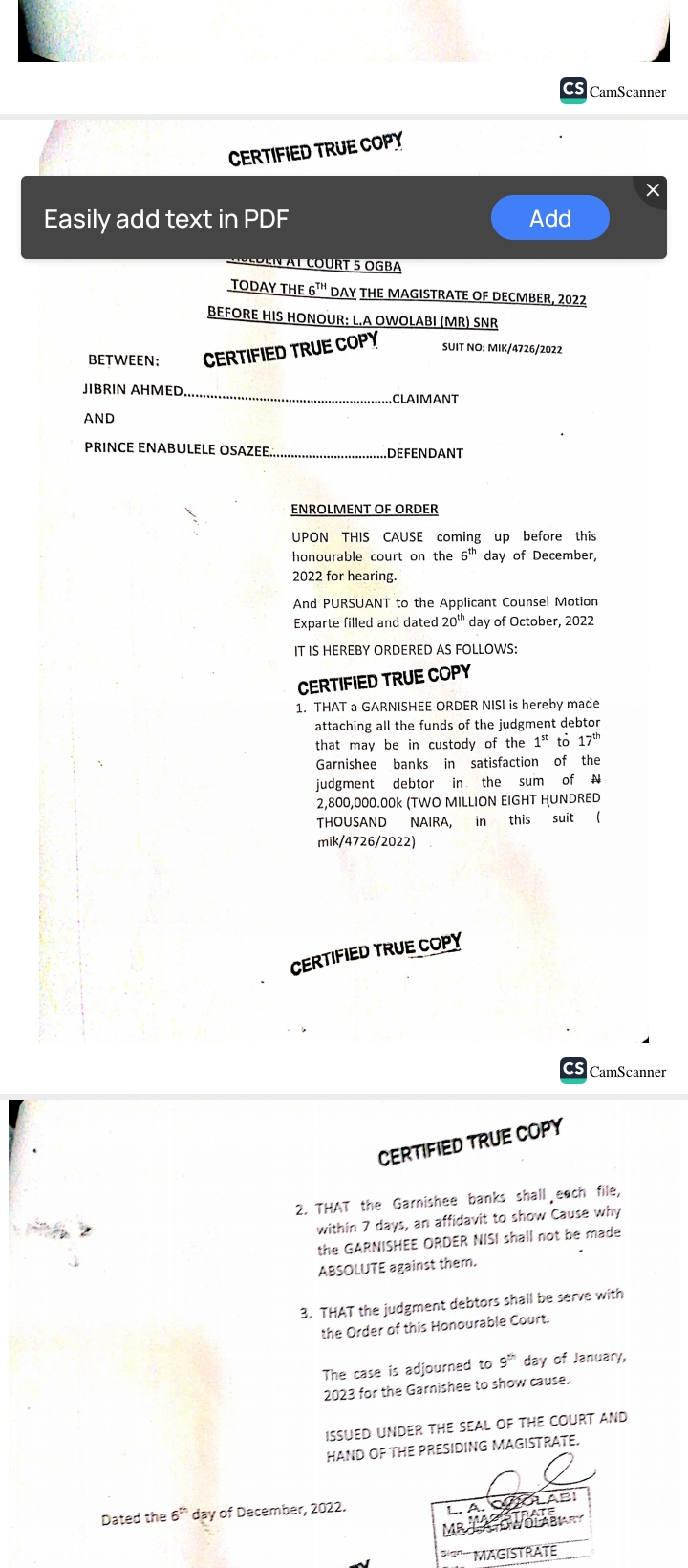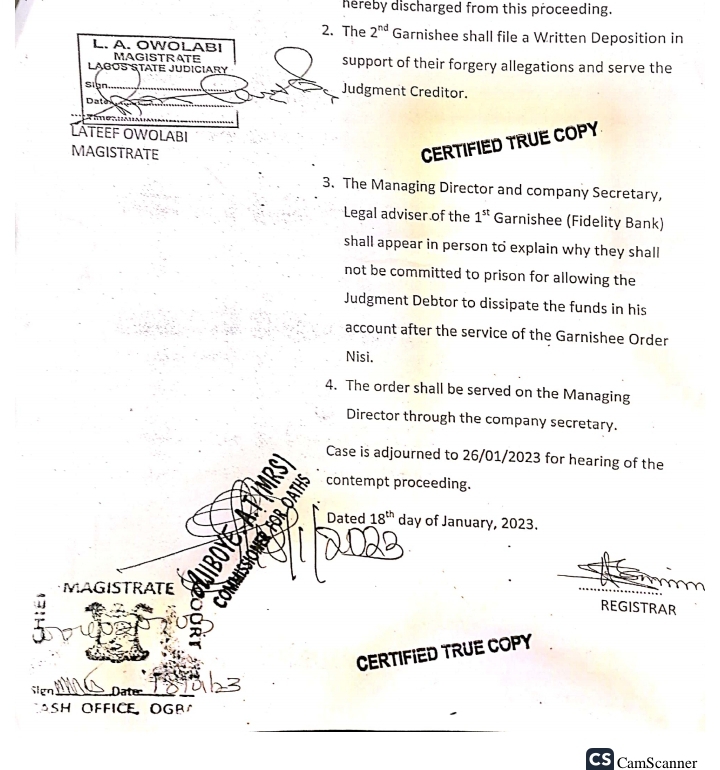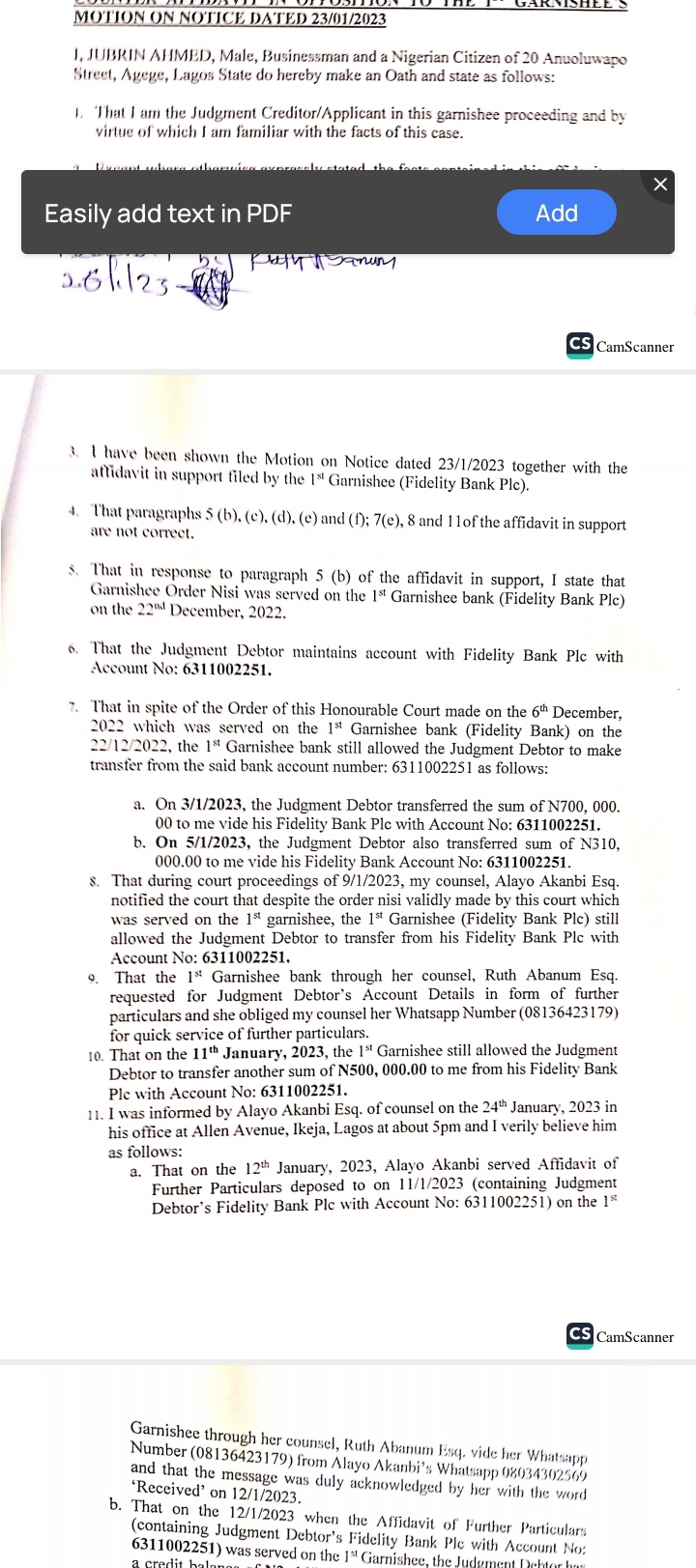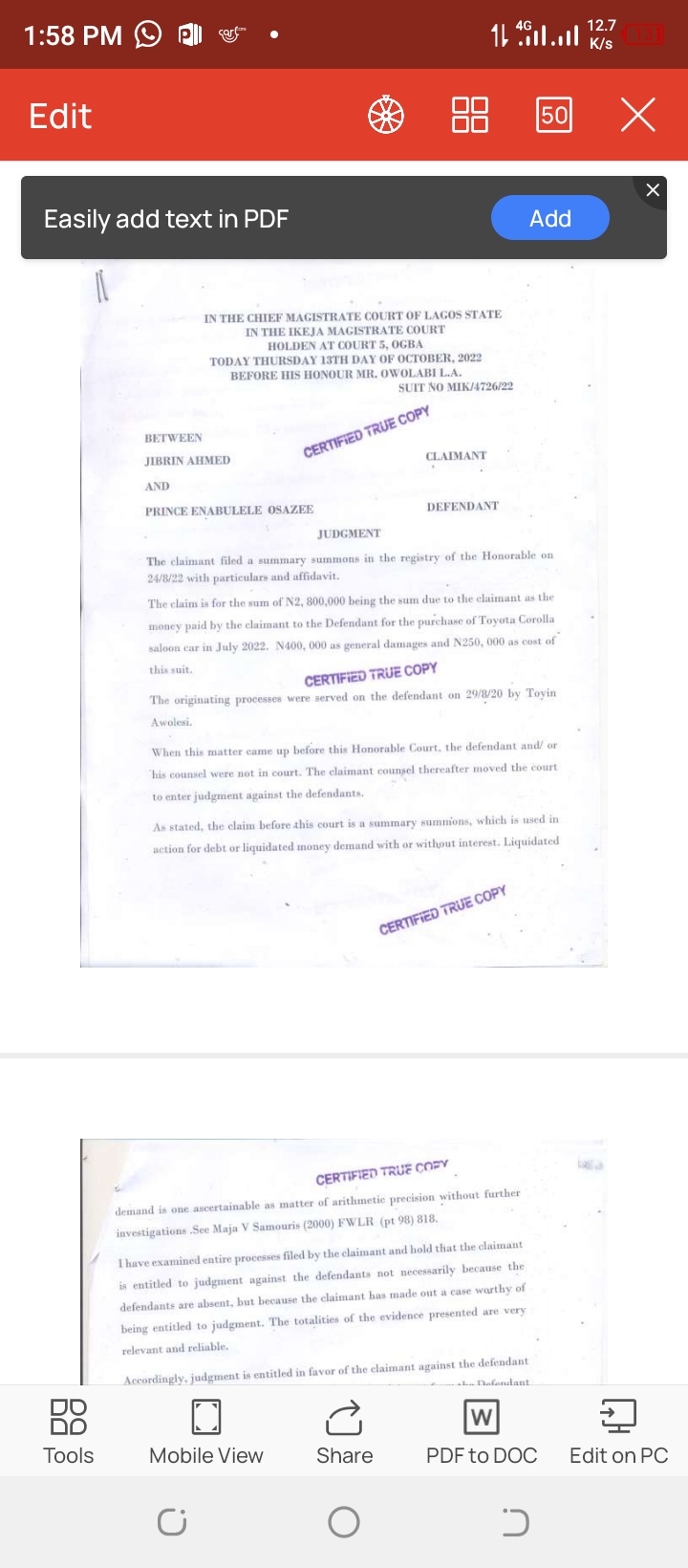 He then said: "I have examined the whole process filed by the claimant and hold that the claimant is entitled to judgment not necessarily because the defendant is absent, but because the claimant has made a case worthy of being entitled to judgment. The totalities of evidence presented are relevant and reliable".
There magistrate thereafter entered judgment against the defendant in the sum of N2.8 million which is due to the claimant over the transaction that took place in July 2022.
In order to reap the fruit of the judgment, the claimant's lawyer, Alayo Akanbi filed a garnishe proceeding before the court and attached 17 banks, and asked the court to stop the banks from allowing the defendant to draw money from his accounts with them pending the liquidation of the debt. The garnishe order was granted on December 6, 2022.
However, on January 25, 2023, the claimant, now judgment creditor deposed to an affidavit before the court where he showed that the garnishe order have been flouted by Fidelity bank. He showed instances of how the judgment debtor had been withdrawing funds from his account to the extent that he had depleted the funds in his account with Fidelity bank. He claimed that the judgment debtor has N3, 165, 759.05k in his account with Fidelity bank as at January 12, 2023 when the garnishe order was served on the bank.
By January 15, three days after service, the judgment debtor had withdrawn N725,547.80k from the account. The following day, January 16, 2023, another N251,305.90 was transferred out of the bank. On January 17, the legal officer of the bank Obianuju Nwosu confirmed service on the bank as at December 22, 2022 and further apologized for the transactions on the account.
On January 18, 2023, the court ordered that ordered that the Managing Director, and Company Secretary to appear in person before the court to explain why they should not be committed to prison for allowing the judgment debtor to dissipate the funds in his account after the service of the garnishe order nisi.
At proceeding on Monday February 6, the Managing Director and Company were not in court as ordered. Lawyer to the judgment creditor told the court how the two had disobeyed the garnishe order of the court.
Magistrate Owolabi in his ruling sentenced the Managing Director and Company Secretary to six weeks imprisonment each. He further ordered Lagos State Commissioner of Police and any officer under his command to arrest the duo, bring them to court for onward transfer to the appropriate correctional center.
Petition signatures to Emefiele over new naira hit 1653..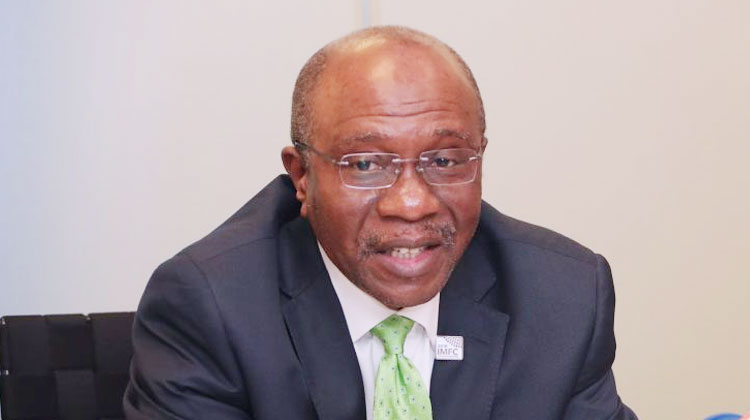 Petition signatures to Emefiele over new naira hit 1653
Following the crisis over the non-availability of the redesigned N100, N200, N500 and N1000, over 1653 Nigerians have petitioned the Central Bank Governor, Mr Godwin Emefiele, to end what they termed 'hardship' on the citizens.
The petition, hoisted on the global change website, change.org, which was started on Friday, garnered over 1653 signatures on Saturday.
As of the time of filing this report, many bank customers have yet to access the new notes as many automated teller machines are either not dispensing cash or completely shut down because of the crowd.
Protests have erupted over the situation in some parts of the country and some banks vandalised by hoodlums, demanding access to their money lodged in several accounts.
There have also been controversial videos showing bank officials sabotaging the process by hiding the new notes behind old ones in vaults.
The President, Major General Muhammadu Buhari (retd.), has requested seven days from Nigerians to fix the mess.
Part of the petition stated, "The recent shortage of physical cash in Nigeria has caused major untold hardship to Nigerians. People are spending hours in long lines at banks just to withdraw cash, and many are forced to rely more on digital transactions which tend to be unreliable due to poor bank networks.
POS operators also charge outrageous amounts; as much as N1000 for a N10,000 withdrawal. The Central Bank of Nigeria has stated that the shortage is temporary, but it is causing serious disruption to the daily lives of many Nigerians.
"We call on the government, stakeholders, law enforcement agencies and the CBN to take urgent action to address the cash shortage crisis in Nigeria. We demand that the CBN increase the distribution of physical cash to meet the demand, and also any POS operator found charging outrageous amounts for withdrawal should be arrested.''
Meanwhile, the National Association of Nigerian Students has expressed displeasure over the issue, noting that the process was not only ill-timed but also not well thought out.
Speaking to Sunday PUNCH during a telephone interview on Friday, National Vice President (External Affairs), Akinteye Afeez-Babatunde, said, "The whole situation is crazy. We are tired. Students are crying and complaining. They can't get cash. The leaders have confirmed to us that they don't care for the people. The policy is fine but the process to get it done is to the detriment of our own lives as Nigerians. Our day-to-day activities have been disrupted. Nigerians are suffering.'