Ogun border communities lament abandoned roads, frequent accidents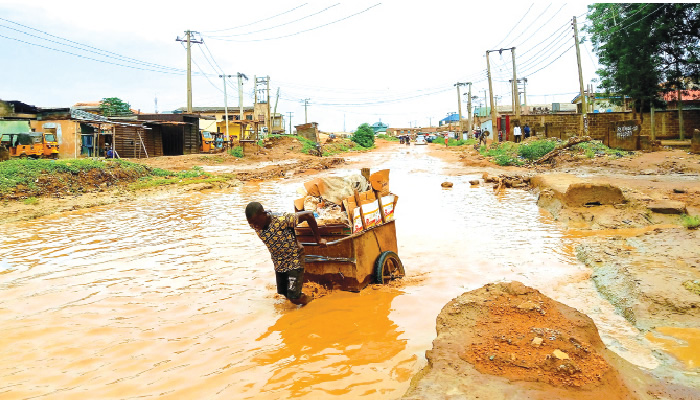 In this piece, VICTOR AYENI examines the hardship inflicted on residents of some Ogun State communities bordering Lagos State due to the neglect
For many residents of communities such as Alagbole, Akute, Lambe, Giwa, Agbado and Oke-Aro, in Ogun State, bad road is one challenge they have had to contend with for years, despite the successive governments in the state. The hardship it has foisted on them is easily imagined.
However, one thing central to these communities is that they border Lagos State.
Sunday PUNCH gathered that the Ogun State Government had in 2013 commenced the construction of the road linking the Ogun-Lagos border communities in the Ifo Local Government Area, from Ojodu to Oke-Aro.
To this end, many properties were demolished to pave the way for the dualisation of the road despite resistance from several property owners.
In spite of former Governor Ibikunle Amosun's lofty promise to complete the road in 24 months, after a decade, the road project has been abandoned leading to a series of road accidents and loss of lives.
When our correspondent visited Alagbole and Lambe communities during the week, it was observed that the road remained in bad shape as only one lane of it was being used by motorists, while the abandoned lane had been filled with deposits of mud.
A resident of Alagbole, Wale Ayanbisi, told Sunday PUNCH that the abandoned lane that the government did not fix had made many motorists to resort to one-way traffic, which has caused accidents.
He said, "The condition of this road is very bad. From Ojodu down to this place is a double lane, but only one of the lanes was fixed by the government, the other was not. So, most of the vehicles avoid taking the abandoned lane and this has led to a series of accidents that have resulted in the loss of lives.
"I have lived here for over four years and there have been cases of pedestrians crossing the road being knocked down because they were not expecting oncoming vehicles. I have seen people's blood splashed on these roads due to accidents.
"This past month, I was told someone was crushed to death by a car, and afterwards, the task force came around and began to arrest vehicle owners who took one-way traffic and fined them huge sums of money. It was baffling that they didn't seem so bothered about the state of the road that prompted vehicle owners to resort to taking one-way traffic."
Ayanbisi added that about a week ago, a commercial motorcyclist told him how he witnessed a collision between a vehicle taking one-way traffic and an oncoming motorcycle.
"This road is actually taking lives and causing much damage to vehicles. My neighbour has complained numerous times about the frequent damage to his car by the bad roads, which had continued to cost him a lot of money to fix."
A resident of Lambe, Bolaji Gbolahan, recalled that when Amosun was the governor, he embarked on demolition from Akute to Lambe to expand the road but that he reconstructed only one lane out of a two-lane road.
He added, "The project was abandoned. Not only were the owners of the demolished structures not duly compensated, the road was abandoned.
"There was also a bridge that the governor constructed that had even made things rather worse because whenever there is a downpour, the water flowing around it doesn't move due to the blockage of the water channels. In fact, most drivers prefer to bypass it.
"Prior to the 2023 election when people complained, only a lane of the road was fixed. Since then, vehicles can pass through the road, but whenever it rains there is traffic because the road is not motorable and cars are unable to pass through it due to potholes. A lot of vehicles frequently break down there."
Another resident of Lambe, Dayo Agbede, told our correspondent that oftentimes he avoided taking the road unless the outing was compulsory, because the road poses risks to commuters.
He added, "It has been like this for as long as I can recall and it seems to be getting worse. The road has big potholes and vehicles have no choice but to pass through them.
"The alternative is for commuters to pass through Abule Egba, Ijaiye going towards Sango side instead of passing through Agbado. I have seen motorcycles having accidents, especially during the rainy season because of the deep, thick mud that fills the road. There are times when tricycles spin and haul occupants into the flood. It's so traumatic.
"In 2013, they constructed flyovers in Alagbole, Akute, Giwa and another at Agbado. Up till now, only the one at Alagbole has been completed. The rest of these bridges have been abandoned."
On his part, a commercial driver in the area, Ibrahim Bada, accused the Governor Dapo Abiodun of being non-responsive to the discomfort that residents experience on the road.
He added, "Our governor has not been responsive to our persistent cries about the problems we are facing on this road. During the dry season, the dust here is terrible and during the rainy season, it is flooded.
"During the rainy season, there is heavy traffic and you would see people trekking from Ojodu Berger to Alagbole. The governor should please help us and do something. Our vehicles are getting spoilt on this road.
"This is why the transport fare on this route is higher than it is supposed to be. Commercial drivers and motorcyclists have to add the expenses of fixing their vehicles and bikes due to the bad state of the road to the fares levied on passengers."
A landlord in Akute, Mr Bayo Okelola, bemoaned how the road had disrupted economic activities in the area and caused people to relocate out of the community.
He said, "The bad road is really affecting economic activities because business owners are also badly affected. Every one of us is affected; even tenants have relocated and refuse to rent houses here knowing the ordeal they will be subjected to.
"The road project has been stalled several times since 2013 and we are tired of talking because we have done everything we know we could do to see things change, but will the government listen?"
However, the governor in a tweet via his official Twitter handle @dabiodunMFR on Monday, said in line with the current realities in the country and as part of efforts to ameliorate the effects of the removal of fuel subsidy on residents of the state, his administration had approved several measures for immediate implementation.
It partly read, "Immediate road infrastructure intervention, with all the local governments working with Community Development Associations and community leaders to submit three roads that require immediate intervention as part of the palliative programmes and support for Micro, Small, and Medium Enterprises through special schemes to boost production capacity and employment generation."
When contacted, the Chairman of Ifo Local Government, Moji Tawa, told Sunday PUNCH she would not comment on the telephone.
She stated, "Sorry, I won't give any comment on the phone. I have been quoted a number of times. When I talk like this, I will be quoted and I don't want to be quoted again, please. When we see, I can talk."
When contacted, the Special Adviser to the Ogun State Governor on Works and Infrastructure, Ade Akinsanya, said the road construction was ongoing and would be done in phases.
"The construction is ongoing from Sango-Ijoko and also from the Akute area. Construction is being done in phases. You can visit the ongoing work along Sango-Ijoko," he told our correspondent.
of crucial roads under construction
EFCC arraigns couple for alleged N500m fraud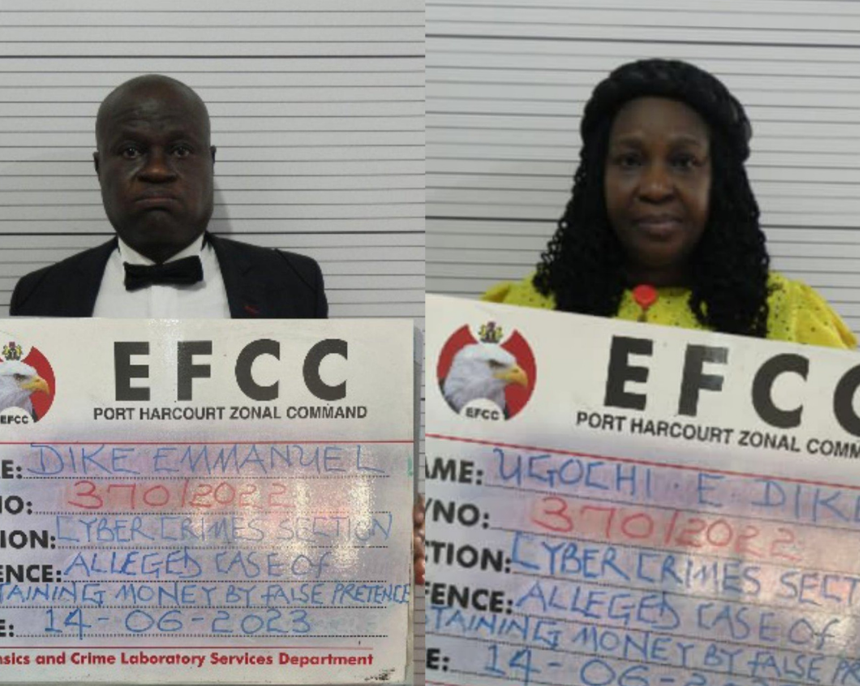 The Port Harcourt Zonal Command of the Economic and Financial Crimes Commission has arraigned a couple, Emmanuel Dike and Ugochi Eziaku Dike, for an alleged N500 million investment scam.
This was disclosed in a statement posted on the official X handle of the EFCC on Thursday evening.
According to the statement, the couple was arraigned alongside their company, Dike & Phil Associates Ltd, on Wednesday, November 29, by the EFCC on five-count charges bordering on conspiracy, obtaining money under false pretence and criminal conversion of funds to personal use.
One of the charges read, "That you Ugochi Eziaku Dike, Emmanuel Dike, Dike & Phil Associates Ltd; Kelechi Chigozirim Ahiawe (still at large), and Ampletech Integrated Services Ltd, sometime between the 24th day of August, 2020 and 15th day of February, 2021, at Port Harcourt within the jurisdiction of this honourable court with intent to defraud obtained the sum of Five Hundred Million Naira only from one Captain Chukwuemeka Stanley Ikeri, a Nigerian citizen and his company- Clipboard Office Superstores Limited, under the pretext that it was for investment purposes that will yield him 10% interest, which you all claimed to have the capability to deliver to him, which pretext you knew to be false and thereby committed an offence contrary to Section 1(1) (b) of the Advance Fee Fraud and Other Fraud Related Offences Act, 2006 and punishable under Section 1(3) of the same Act".
The statement further read that the couple pleaded not guilty to the charges read to them.
In view of their pleas, prosecution counsel Dr. B. Ubi, prayed the court for a trial date, while counsel to the defendants, J. C. Okeke, informed the court of his application for the bail of the first and second defendants. He prayed the court to grant the defendants bail to enable them prepare for trial.
Justice Ajoku granted the defendants bail in the sum of one million Naira each, with two sureties in like sum.
The defendants were remanded in the Port Harcourt Correctional Service pending the perfection of their bail conditions, and the matter was adjourned to January 30, 2024 for commencement of trial.
Gbenga Shaba Wins Online Publisher Of The Year Award At NMNA 2023
Gbenga Shaba, Editor-in-Chief and founder of multiple award winning Online Newspaper, Omonaijablog.com.ng, has emerged winner at the 17th edition of the Nigeria Media Night-Out Awards, NMNA, 2023 in the Publisher of the Year award category.
Nigeria Media Night-Out Awards, NMNA is the leading award dedicated to the celebration of outstanding journalists and media practitioners in Nigeria and this year's edition was a stand-out.
The greatly valued awards which most media practitioners always look forward to was held at the prestigious B-Event hall of the Lagos Airport Hotel and had other media heavyweights, top politicians, and society bigwigs in attendance.
Gbenga Shaba, a multiple award-winning journalist with decades of experience in journalism and public relations was declared winner in the category where he was nominated alongside other experienced newspaper and online platform Publishers.
Speaking on the nomination process for each award category, Sola Olugbenro the Convener of the NMNA noted that "as usual the nomination process is usually the toughest for the Award Committee, but in the end after proper analysis and vetting of the votes, a winner eventually emerges".
A graduate of Mass Communication, Gbenga Shaba joined Encomium Magazine in 2011 as a reporter, where he grew to become one of the finest young reporter being courted by several other organizations including notable online media platforms.
He later joined Yes! Magazine, another award winning tabloid in Lagos as an entertaining Editor and a Columnist.
This accomplished Public Relations Practitioner, Online Media Strategist, Social Media influencer and a dedicated journalist, later established Omonaijablog in 2016 to meet the needs of large percentage of people who craves for credible news online.
Winner of Yomafa Global Awards 2021 as the Best Social Media Blogger the young and energetic writer cum actor is a member of several Media Professional Associations.
He is also an associate member of Institute of Strategic Management, Nigeria.
He is married to a beautiful wife, Folake and blessed with two girls, Ireayo and Iremide, and a boy, Jesukorede.
He loves sporting, cooking, traveling and investigating.
Glo congratulates Nigerians on independence anniversary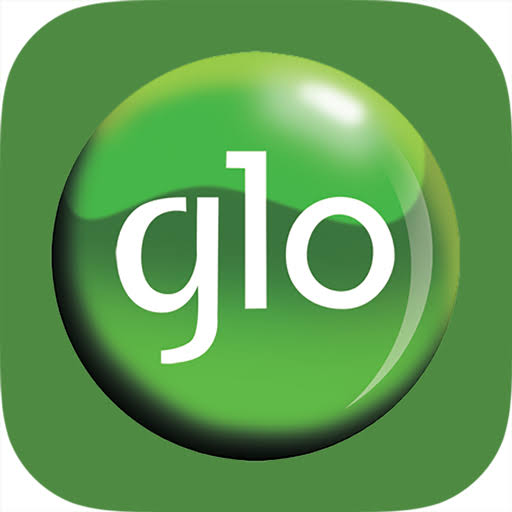 Total telecommunications solutions provider, Globacom, has congratulated Nigerians on the occasion of the country's 63rd independence anniversary celebration.
The company noted that the resilience of Nigerians since independence has been resposible for keeping the country forging ahead despite developmental challenges it has faced over the years.
In a statement released in Lagos on Saturday, Globacom said, "There is cause for Nigerians to celebrate as we have over the decades weathered the storm and made appreciable progress in several areas in our march to development".
"We believe that a major reason for joy is the resilience of Nigerians to rise through every obstacle and remain one united country bound in freedom, peace and unity. Our diversity has become a strong pillar in keeping us stronger to forge ahead with greater optimism".
The statement also encouraged Nigerians to look into the years ahead with positive expectations as the country continues to strive to overcome the challenges that other developing economies are also going through.
Globacom promised to continue to empower Nigerians with world-class telecommunication services to aid individual enterprise and national development.