November 17, 2020: SBI Media hold Maiden Edition of Media Workshop, Rewards Upcoming Mediaprenuer, other Youths
SBI Media Limited, a leading media agency in Nigeria has reaffirmed its commitment towards youth's empowerment and development during the maiden edition of its corporate social responsibility (CSR) workshop titled "The SBI Media Workshop" where some upcoming media entrepreneurs and other innovators were rewarded with cash gifts in grant for their viable ideas and a lucky round-trip ticket winner, courtesy the Turkish Airlines.
The SBI Media Workshop is a CSR initiative of SBI Group aimed at encouraging young Nigerians by giving them a push to be creative and innovative towards birthing unique ideas.
With the theme "How to Monetize the Media in Your Hands", the workshop had many Nigerian youths in attendance with industry facilitators who shared hands-on experience.
The workshop unveiled seven winners who won a grant of N200, 000 each for sharing the most valuable ideas in media. Elvis Boniface, one of the most inspiring and most valuable idea winner is building an online platform that can connect parents with home school teachers thereby creating an ecosystem that provides jobs for teachers and knowledge to students within the comfort of their homes.
In his opening remarks at the two-day workshop which held at Radisson Hotel Ikeja, Lagos with other corporate sponsors like Turkish Airlines, British Council, 7UP among others, the Managing Director of SBI Media, Rotimi Bankole made it known that 'for the upcoming generations to really feel the impact of the older ones, it is time to stop talking and start doing".
Rotimi explained that he is convinced that the informative and practical sessions experienced by those who won and other participants will spur them to become better media entrepreneurs, innovators and thought leaders in the nearest future.
While congratulating participants for making time out to be a part of history at the workshop, Rotimi implores them to remain focused and committed.
He also expressed gratitude to the facilitators and for their selfless exposés which according to him will birth great ideas towards nation-building in the nearest future.
Highlight of the event was a fireside session on the first day with Lawyer turned comedian, Michael Sani popularly called MC Lively, where Tele Aina, the Chief Executive Officer (CEO) of Digital Republic drilled him on his journey into comedy. The event had other facilitators like Bola Bello Popoola, Marketing Manager, Sport Bet, Olakanmi Amoo-Onidundun, Managing Consultant, OMP Consult Limited, Oladapo Adefolajo, Head Commercial/ General Procurement & Contract Management, 9mobile and Chidi Okere, Digital Entrepreneur/Social Media Influencer.
During the second-day fireside session, Oke Umorhohwo, Marketing Manager, Itel Mobile with Tomi Kolawole, a Marketing & Communication Expert shared their wealth of experience.
The session also featured facilitators like popular tech Youtuber, Fisayo Fosudo, Kayode Adegbite, MD CEO, Mediacrush Outdoor Advertising Ltd, Barrister Tolulope Aderemi, Partner Perchstone & Graeys LP, Samuel Odusami, Group Head, Strategy & Data, SBI Media among others.
While commending the agency's initiative geared towards youth creativity and engagement, MC Lively stirred the youth to turn what they have in their hands to money. In his words: "Your smartphone is your new television" create and get all the values you can from it.
Also speaking, Olakanmi Amoo Onidundun pointed out to the youths that "your life is God's gift to you, what you make of is your gift to God, don't just be creative but be innovative as well". He expressed delight at the establishment of the SBI Media Workshop which he described as a platform that the current generation needs to help improve their creativity in order to reduce unemployment and poverty among youths.
Witness Revealed How N1.5Bn Was Transfered To Maina's Private Account From The N14Bn Stolen From Pension Account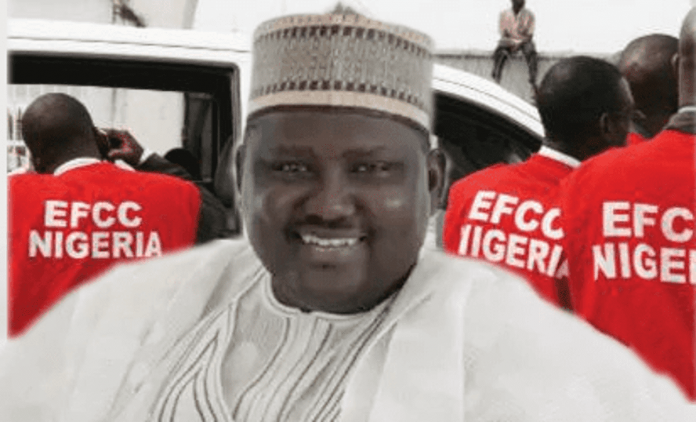 The trial in absentia of Abdulrasheed Maina, former Chairman, Pension Reform Task Force Team, (PRTFT) continued on Wednesday, November 25, 2020 before Justice Okong Abang of the Federal High Court, Abuja.
The Economic and Financial Crimes Commission, EFCC is prosecuting Maina, alongside his firm, Common Input Property and Investment Ltd on 12-count charge of operating fictitious bank accounts, corruption, and money laundering to the tune of N2 billion.
At the trial, counsel to Common Input Property and Investment Ltd (the second defendant), Adeola Adegbite told the court of his intention to disengage as the company's counsel, but even though Prosecution counsel, M.S. Abubakar, acknowledged the receipt of the defence counsel's disengagement application, dated November 25, 2020, and made
no objection to it, Justice Abang, ruled that Adegbite remained counsel to the second defendant by the court records.
The testimonies against Maina, continued with that of the ninth prosecution witness, (PW9), Rouqayyah Ibrahim, a principal investigation officer with the EFCC in Anti Money Laundering and Combating Terrorism Financing (AML CFT) unit of the Commission and member, Pension Fraud Team, who stated that he knew Maina and Input Property Investment Ltd, following the invitation of the EFCC in 2010, to join in the pension
verification exercise.
According to him, a payment mandate, bearing the names of several individuals, totaling N94 million was discovered during the cause of the verification, and that some of the pensioners' names on the list were fake, for which a report was made to the EFCC by the team, leading eventually to the creation of the Pension Fraud Team.
The Pension Fraud Team, he said, wrote to about 30 banks, requesting the bank accounts of Mr. Steven Oransanya as the Head of Service, in which it turned out that Mr. Oransanya at that time, operated 66 illegal bank accounts, unknown to the Accountant General.
"Our investigation revealed that there were five modus operandi that the suspect whom we were investigating at that time was using to steal money from the pension account. In total we were able to deduce that N14 billion was stolen from the pension account. In the five modus operandi was payment to fake pensioners, non-existing contracts, illegal payment
to National Union of Pension NUP and illegal payment to another association called Association of Retired Federal Civil Servants.
"We discovered that the suspect will often pay companies for non-existing biometric contract and once the payment is made, they withdraw cash and hand it over and likewise payment to the two association of NUP and Association of Retired Federal Civil Servants.
They will withdraw the money cash and hand it over to the person who
asked them to supply the account.
"Once we concluded the investigation of those who were indicted, they were charged to court, and some have been convicted," the witness said.
According to him, Abdulrasheed Maina was part of those indicted and charged before Justice I. Ekwo of the Federal High Court, Abuja, but that he ran away for six years. And was arrested and charged before the present court.
The PW9 revealed that Maina as chairman, PRTT was deeply involved in stealing pension funds. One of the things discovered was the payment of N133 million for a non-existing contract to Xanjhi Technology, a company he appointed to computerize the pension payroll. The money was withdrawn in cash, converted to dollars and handed over to Khalid Biu (PW5), a staff of Fidelity Bank and handed over to Maina's secretary, Ann Igwe Oluchi, who is now standing trial at FCT High Court Gwagwalada. Xanjhi Technology and its owner, Ahmed Mazangari are also standing trial for inserting about 15 fake persons into the pension payroll which they were engaged to computerize.
According to the witness, "We also discovered that Frederick Hamilton Ltd, owned by Osa Afe, presently standing trial with Steven Oransanya who received payment for a non-existing biometric contract handed over about N250 million to Maina.
"Our investigation further revealed the existence of six accounts with Fidelity Bank, out of the six, five were linked to Abdurrasheed Maina. We discovered that there was nowhere in the accounts opening packages of these accounts where the name, birthday or signatures of Abdurrasheed Maina appeared. These account are: Nafisatu Aliyu Yeldu (PW4) Drew
Construction, also an account Kangolo Dynamic Cleaning Services Ltd, Cluster Logistics Ltd, Fatima Aliyu, he also had a personal account in his own name with Fidelity Bank, and also in the name of Dr. Abdullahi Faizal.
"For example Nafisatu Aliyu Yeldu's account bears the name of Abdurrasheed Maina's sister. It also bears her passport, photograph. On the face of it, it appears the account belonged to her, but when we invited her for investigation, we discovered she didn't know anything
about the account, even though it contains her name and children but it was not her signature. She informed us that she remembers at one point that Toyin Meseke (PW2), who is a Fidelity Bank staff requested for her PHCN (power utility) bill but she wasn't sure what he wanted it for and that was one of the document that was used in opening the account. She also informed us that when she started receiving alerts, she contacted
Toyin Meseke and he promised to deal with the issue."
The turnover in Yeldu's account, the witness said, was over N300m. The analysis of the identity used in the opening of Abdullahi Faizal's account, (one of the many variants of the name Maina used for his son and himself) showed that it was forged, even as Meseke, the account officer, confirmed that Maina had complete control over the account, though his name, signature and photograph did not appear anywhere in the account opening packages. The account had a turnover of about N1.5 billion within nine months from mostly cash deposits from unknown sources.
"We called for the statement of Drew Construction and of his Fidelity Bank, and discovered the same modus by Maina, concealing and stealing the identity of his family members, registering companies in their names, opening corporate bank account without their knowledge.
"In the case of Drew Construction, it was the name of his other sister, Fatima Abdullahi Aliyu. When she was confronted, it showed that she had no knowledge of the account, even though it bore her name and other similar information that belonged to her. The turnover was about N55 million all from cash deposits within a few months.
"We also discovered from Common Input, a company registered by Maina and his wife, using the details of his sister (PW2), taking advantage of his sister-in-law, Mairo Bashir (PW1), who deliberately allowed Maina to conceal his identity without doing the 'Know Your Customer' and allowing him to operate the accounts as Fatima Abdullahi. When Fatima was
invited, we confronted her that her BVN was linked to Common Input and Kongolo Dynamic Cleaning Services Ltd and she confirmed that she did not know about the existence of the company and that Maina requested her to give her BVN so that she will be removed as a signatory from the company and she wasn't aware of being a signatory of any company but innocently gave them the BVN, believing that will make her stop being a signatory
of the said company.
Justice Abang adjourned the matter till December 3, 2020 for the continuation of trial.
ICPC Arrests DG NABDA, Alex Akpa, For Alleged N400m Fraud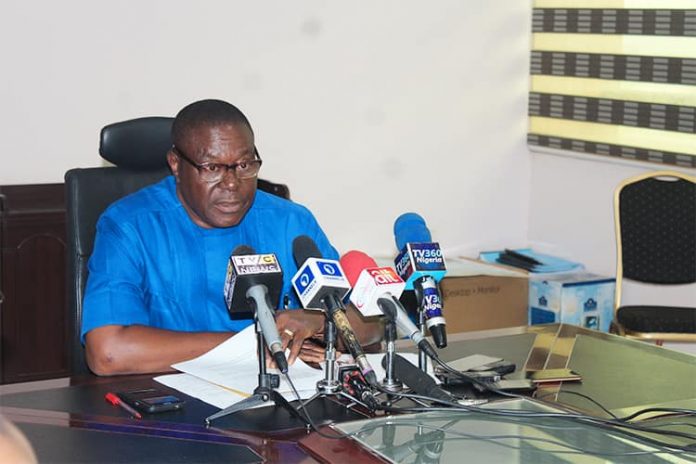 The acting Director-General (DG) of the National Biotechnology Development Agency (NABDA), Alex Akpa, is currently cooling his heels in the cell of Independent Corrupt Practice Commission, ICPC for allegedly defrauding the federal government of N400 million.
In a statement signed by the commission's spokesperson, Azuka Ogugua, Wednesday, the agency said it is also investigating the official for abuse of office.
According to the report, Mr Akpa, who is a professor of microbiology, was arrested by operatives of the commission to answer questions on how the said amount was misappropriated under his watch.
The ICPC also said investigations revealed that the money, which the acting DG had claimed to be an intervention fund for the biotechnology agency, was diverted into private pockets.
The agency also accused Mr Akpa, who was recently appointed in June, to have allegedly shared the money with top management staff of the agency.
The commission said his offence is contrary to and punishable under sections 19 and 26 of the Corrupt Practices and Other Related Offences Act, 2000.
The NABDA acting DG is a Fellow of the World Health Organisation (FWHO); a Fellow of the Royal Society of Tropical Medicine and Hygiene (FRSTMH) and a Fellow of the Institute of Corporate Administration of Nigeria (FCAI).
Magu begs Buhari's Chief of Staff, Gambari to stop CCB probe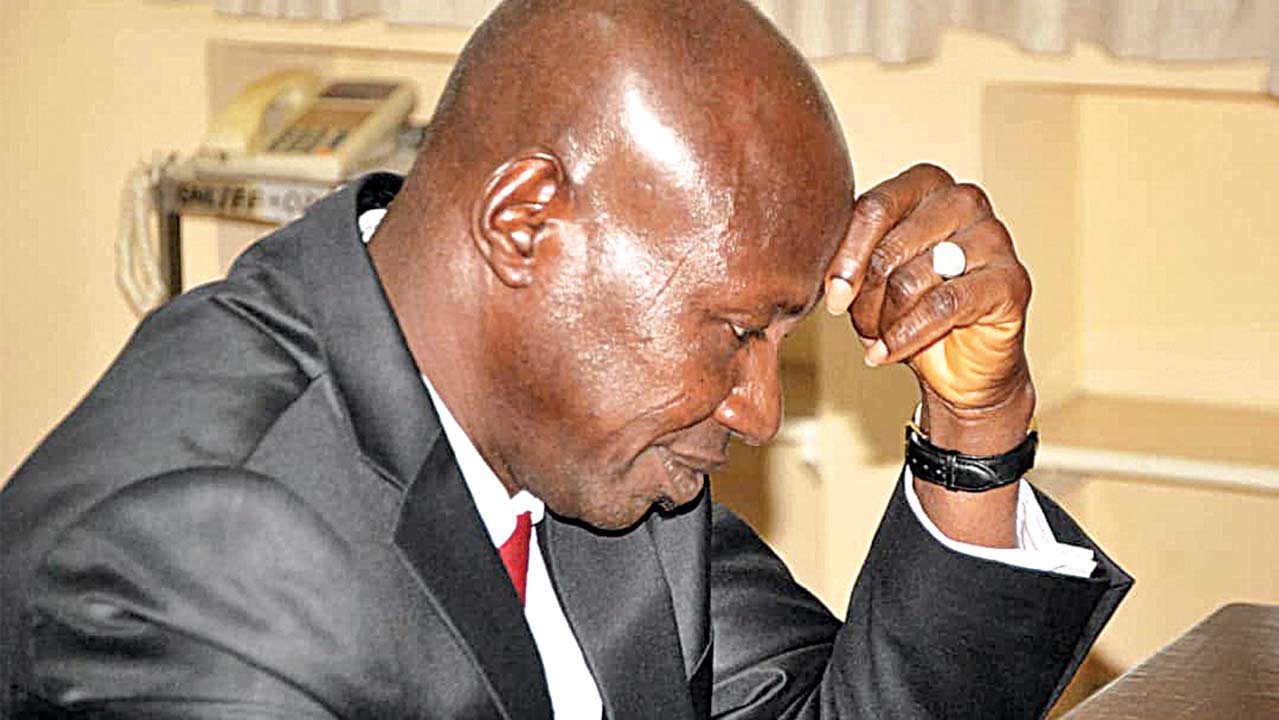 Suspended acting chairman of the Economic and Financial Crimes Commission, EFCC, is said to have reached out to President Muhammadu Buhari's chief of staff, Ibrahim Gambari, to intervene and stop a fresh investigation on him by the Code of Conduct Bureau, CCB, report says.
The CCB is currently investigating Magu for failing to declare some of his accounts and assets on his asset declaration form.
In a letter dated November 2, 2020, with reference number CCB/HQ/II&M/007/2093 and signed by its Director of Intelligence, Investigation & Monitoring, Gwimi S. P, the CCB asked Magu to appear before the anti-corruption agency on November 17, 2020. The suspended EFCC boss was asked to come along with acknowledgment copies of all asset declaration forms since joining the public service as well as his pay slips and land documents.
It was, however, learnt that Magu failed to honour the request of the CCB but wrote a letter instead, explaining that he would not be able to do so.
In the letter, the suspended EFCC boss said all the necessary documents were in his office at the EFCC headquarters and he had been denied access to the office due to his suspension. He subsequently informed the CCB that he would not be able to honour its invitation.
However, sources in the know reliably informed us that Magu is said to be begging the chief of staff to the president through a top All Progressives Congress (APC) chieftain to help plead with the president to order for a stop to further probe on the matter.
The chief of staff is, however, said to have rejected the plea stressing that justice should be served as no one is above the law.
"Magu must face the law like any other individual. Nobody is above the law, not even him. If he is suspected to be on the other side of the law, justice must take its course in its fullness; it must be fully served as all of us are equal before the law," he was quoted to have said.
Magu was suspended in July 2020 following allegations levelled against him by a panel set up by the attorney general of the Federation, Abubakar Malami.
He was accused of buying a home in Dubai worth over N570m and being unable to account for the interest accrued to over N500bn recovered by the EFCC, but he denied the allegations.
President Buhari subsequently set up a panel headed by a former president of the Court of Appeal, Justice Ayo Salami, to look into the allegations. Over 13 senior EFCC officials loyal to Magu, including the EFCC secretary, Ola Olukoyede, were suspended by the president pending the outcome of the probe.
The Justice Salami panel, which submitted its report to the president on Friday, we learnt, has however, recommended the sack of Magu and also asked the president to appoint a new EFCC chairman in an interim position for two years.
The Witness