NORDICA BOSS REVEALS WHY HE IS PASSIONATE ABOUT FERTILITY TREATMENT FOR COUPLES
Dr. Abayomi Ajayi, a consultant Obstetrician & Gynaecologist, is the Managing Director, Nordica Fertility Centre, Lagos, a multi-million naira centre that deals on In-Vitro Fertilisation (IVF), Compatibility Screening, Cosmetic Surgery among others. Nordica Fertility Center has branches in Lgaos, Abuja, and Asaba. He is eldest of the three children of Mr. and Mrs. Ebenezer Oludotun Ajayi from Abeokuta in Ogun State. He had his primary education at Salvation Army, after which he moved to CMS Grammar School. He obtained his first degree in medicine at the University of Lagos, Akoka and did a Post Graduate Programme at University College Hospital, Ibadan. He talks about his life, job and family in this interview with Sunday Adebayo
INFERTILITY CHALLENGES IN NIGERIA
Nordica Fertility center readily comes to mind whenever fertility challenges are mentioned within Lagos and Nigeria, and that is not just because they have their clinics in major areas within the country, but because they treat fertility cases and also use IVF as an option for fertility challenged inidviduals. Dr Ajayi is very passionate about infertility, especially after noticing the huge gap in fertility treatments in nigeria. before now, couples who could afford it travelled out of nigeria for IVF and other fertility options, but with the entrant of Nordica in the healthcare system several years ago, there is absolutely no need for such trips for couples.
This is because in Nordica, they do what is called compatibilyt analysis for intending couples to find out diseases that are recessive in them and the ones that can affect their unborn babies. they also study their DNA to detect chromosomal disorders like Albinism and Down Syndrome, all these diseases in children can be avoided especially when they couples listen top the expert advise of the Nordica staff, in cases where they are advised not to marry.
"The study of genes has affected the treatment of infertility tremendously and positively. A lot of diseases and disorders can now be detected and avoided" Dr Ajayi says.
Both genetic screening and analysis are done for couples and donors, just to ensure that diseases are bred or transferred from the parents to the unborn children. Nordica Fertility Center also does sperm screening to discover sperms that are healthy, which can give healthy embryonic development and reduce DNA damage in sperm. the DNA damage Sometimes causes short term pregancies for women e.g miscarriages and also leads to birth of abnormaal children in some cases. And also sperm that can actually fertilise egg. they also conduct tests on the embryo to determine if any disease in the it is recessive or dominant.
In all, Dr Ajayi insists that giving birth to children with special needs can be prevented if the couples go through thorough screening before marriage, so thay any abnormally can be spotted and corrected or prevented.
STARTING NORDICA
From inception, Nordica Fertility Center was started in a big way, indeed Dr Ajayi's rise in the healthcare sector is not one of grass to grace. He started big and equipped the hospital with everything it needed from the get go. "I started big from day one because I worked in another hospital, which made me to understand that you probably can't start a good business alone, rather you needed to partner with others to raise the funds. So, I didn't start from one room or managing candle or something else. I started with everything required for a good practice".
Taking a good look at the then health sector, the mindset Dr Ajayi had was to achieve the seemingly impossible in that sector and to give the same quality of service and solutions to fertility that poeple travelled outside the shores of Nigeria to get. "In the case of Nordica, the necessity propitiated the need for the center because fertility medicine has always appealed to me. Though a lot of people discouraged me that IVF would not get the needed attention or patronage in Nigeria, but when a UK based returnee started his IVF clinic in Nigeria, that was all the prompting Dr Ajayi and his team needed to start Nordica.
MARRIAGE & LIFESTYLE
Dr Abayomi Ajayi is married to Mrs Tola Olaranti Ajayi, a nurse who he met during his NYSC. They have been married for 29 years and have four children, three girls and one boy. "Where else does a doctor meet a nurse, its in the hospital hahah. I walked into the hospital on my first day and saw this fine dashing young girl, one thing led to another and here we are today. Though I wasn't really ready when we did, I was still enjoying myself, but one day I said 'why not pull the trigger'. The boss of Nordica reveals that he loves spending time with his family, especially when he's not travelling, to him this is payback time for all the years when he was absent from home while developing himself. "I like being with my family. I just want to stay around them"
Dr Ajayi's lifestyle is simple, he loves to dress well, he loves good perfumes, watches football and sometimes plays golf. "I'm ok with any good perfume, I collect perfumes and I dont particularly have what you will call a hobby. Sometimes, I get disconnected, when people say I have achieved many things. I wake up hungry, everyday, saying what can I do to improve our health care system?". Dr Ajayi's only claim to jewelry are his wrist watches and rings. "Come on! I'm a man. I don't do jewelry". he concludes our interview with a big smile.
FCMB Manager Arrested For Hoarding New Naira Notes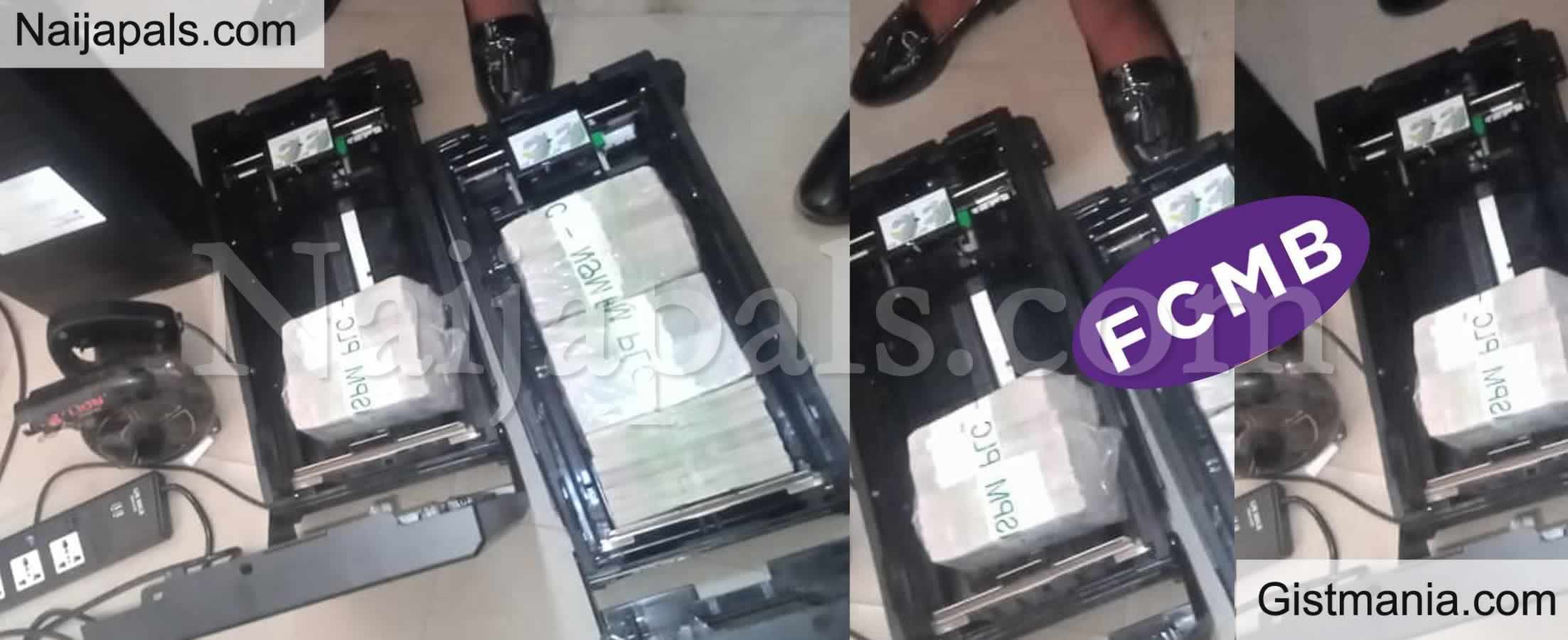 A manager of the First City Monument Bank (FCMB) branch in Osogbo, Osun State capital, has been arrested for allegedly preventing Automated Teller Machines (ATMs) loaded with cash from dispensing money to customers.
The spokesperson of the Independent Corrupt Practices and other related offenses Commission (ICPC), Azuka Ogugua, in a statement on Friday said the cash bundles were loaded into the ATMs while still wrapped, and as such, could not be dispensed through the machines
"The ICPC Compliance Team in Osogbo has busted an FCMB in Osogbo, Osun State, where some ATMs were loaded with cash with their wrappers un-removed, thus preventing the cash from being dispensed.
"The Team, therefore, directed that the wrappers be removed, and the cash loaded properly'.
Similarly, seven Point of Sale (POS) operators as well as a security guard were arrested during the ongoing exercise in Osun State for charging exorbitant commissions for cash.
Investigations, however, revealed that they got the money from Filling Stations that collect new notes from fuel buyers, but they then resell the cash to the public at exorbitant rates.
The arrested persons are helping the Commission with information to assist investigations and bust any syndicates involved in the hoarding or sales of the redesigned notes.
New naira: ICPC arrests Stanbic IBTC Bank manager over sabotage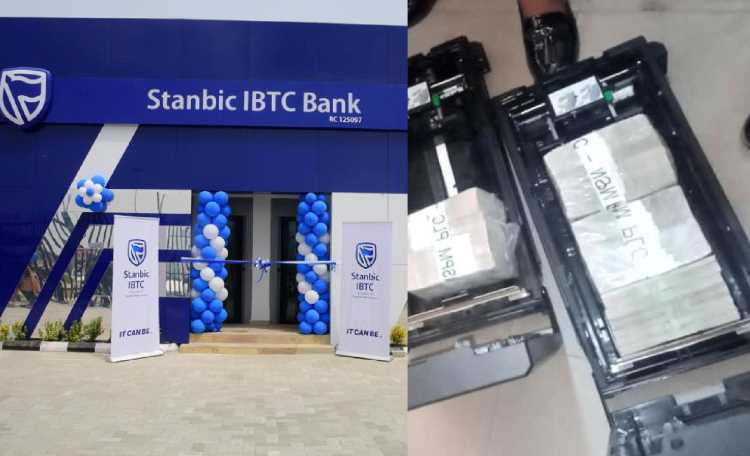 The Independent Corrupt Practices and other related offences Commission (ICPC), has arrested an official of Stanbic IBTC Bank in Abuja for alleged sabotage.
The ICPC spokesperson, Azuka Ogugua, said the development was in continuation of ICPC's clampdown on elements frustrating efforts in making the redesigned Naira notes available to members of the public.
The bank official, who is the branch service head of Stanbic IBTC Bank, Deidei Branch in Abuja, was taken into custody for her deliberate refusal to upload cash into the branch's Automated Teller Machines (ATMs) even when the cash was available and people were queuing at the ATM points.
The statement reads: "When the ICPC monitoring team stormed the bank at about 1:30pm on Friday to ensure compliance, and demanded explanation as to why all the ATMs were not dispensing cash, the team was informed by the branch's head of operations that the bank just got delivery of the cash.
"However, facts available to the ICPC operatives indicated that the branch took delivery of the cash earlier around 11:58am and either willfully or maliciously refused to feed the ATMs with the cash.
"Against this backdrop, the ICPC team compelled the bank to load the ATMs with the redesigned Naira notes and ensured that they were all dispensing before arresting the culprit.
"The ICPC said investigations were still ongoing and the Commission will take appropriate actions as soon they are concluded.
"Similarly, seven Point of Sale (PoS) operators as well as a security guard were arrested during an ongoing exercise in Osun State for charging exorbitant commissions for cash.
"Investigations, however, revealed that they got the money from Filling Stations that collect new notes from fuel buyers, but they then resell the cash to the public at exorbitant rates.
"The arrested persons were helping the anti-graft commission with information to assist investigations and bust other syndicates involved in the hoarding and sales of the redesigned Naira notes," the anti-graft agency said.
N24Billion Fraud: Appeal Court Okays Trial Of Ex-Accountant General, Otunla, After Refunding N6.4 Billion To Nigerian Government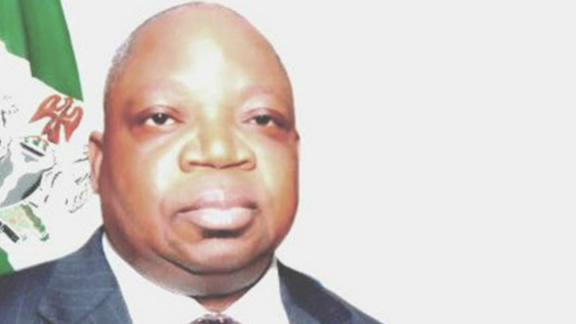 The Court of Appeal in Abuja has set aside the judgment of a lower court barring the Economic and Financial Crimes Commission, EFCC, from initiating either civil or criminal proceedings against former Accountant-General of the Federation, AG-F, Jonah Oguniyi Otunla.
In a judgment, a three-member panel of the Court of Appeal marked: CA/A/657/2021, on Monday, January 30, 2023, held that Otunla failed to prove that there was actually a non-prosecution agreement between him and the EFCC.
The court upheld the arguments of the lawyer for the Economic and Financial Crimes Commission, Sylvanus Tahir, SAN, and resolved the four issues, identified for determination, in favour of the Commission.
Justice Danlami Senchi, who read the judgment, noted that Otunla did not provide any written commitment, except his words and that of his lawyer, that such an agreement existed.
Justice Senchi held that Otunla could not halt his prosecution by merely claiming that there was an agreement, which existence he failed to establish with any credible evidence.
"In the instant case, there is no evidence to support the pleading of the respondent (Otunla) that he will not be prosecuted; that criminal or civil proceedings should not be instituted or initiated against him.
"There is no plea bargain or any documentary evidence relating to the President Panel for the Recovery of Funds. On the whole, the appeal is meritorious and it is allowed. The judgment of the Federal High Court, in suit number: FHC/ABJ/CS/2321/2021 delivered on the 16th day of July 2021 delivered by honourable Justice I. E. Ekwo is hereby set aside," he said.
Other members of the panel – Justices Stephen Adah and Elfreda Williams-Daudu – agreed with the lead judgment.
The EFCC investigated Otunla in relation to two cases: The alleged diversion of about N24 billion meant for disengaged staff of the defunct Power Holding Company of Nigeria (PHCN) and the N2 billion allegedly received from the office of the National Security Adviser, ONSA.
In July 2021, Justice Inyang Ekwo of the Federal High Court in Abuja upheld Otunla's claim of an existing verbal agreement between him and the then-acting Chairman of the EFCC, Ibrahim Magu, that he would not be prosecuted if he made a refund to the Federal Government.
Justice Ekwo, in the 2021 judgment on the suit, marked: FHC/ABJ/CS/2321/2021 filed by Otunla, held among others, that, in view of the assurance given to him by Magu, which informed his refund of the money, he could no longer be prosecuted for his actions while in office between 2011 and 2015.
Otunla had, in an affidavit, claimed that Magu promised him that he would not be prosecuted should he return funds traced to him and companies linked to him and his associates.
He stated that sometime in 2015, he was invited by a team of EFCC investigators to probe the alleged diversion of funds from the office of the National Security Adviser, ONSA, and the Power Holding Company of Nigeria, PHCN, pension funds. Otunla said he later met with Magu, in the course of the investigation, when the then acting EFCC chair told him in person to "refund the monies linked to your companies and nobody will prosecute you."
He said, based on Magu's promise, he had a reconciliatory meeting with the team of investigators, where he immediately undertook to make available some funds as refunds.
In line with the agreement, Otunla said one of the companies linked to him – Stellar Vera Development Ltd – refunded N750 million, another company – Damaris Mode Coolture Ltd – refunded N550 million, while the two firms later made an additional joint refund of N2,150,000,000.00 (Two billion, One Hundred and Fifty Million Naira only).
He added at a point, he raised several managers' cheques for N10 million in favour of the EFCC, which he handed to the Economic Governance Section.
Otunla said, in all, he made a refund of N6,392,000,000.00 (Six Billion, Three Hundred and Ninety-Two Million Naira only) to the Federation Account through the EFCC.