The Media can make or break economy, says Bunmi Oke. President AAAN
Bunmi Oke is the President of Association of Advertising Agencies of Nigeria (AAAN) and the representative of the industry at the national conference going on in Abuja. Aside all that, she is the Chief Operation Officer/Executive Director of 141 Worldwide, an advertising service company. She recently clocked 50 having put in 28 years in the industry.
In this interview with GODDIE OFOSE and REGINA WHENU in her office in Lagos, Oke speaks on the role of the media in building business and nation, and on how Nigeria will remain one of the most attractive markets for foreign direct investment.
With all sense of responsibility and humility, there is a subject called crisis management. And if it wasn't a difficult situation, it wouldn't have to be a subject of research on its own. One unfortunate thing about any crisis is that nobody knows how they are going to act because you cannot rehearse or prepare for a crisis.
Some people are experts in crisis management because they've managed so many. The reaction and the time must be looked at because it's a new problem which nobody has encountered before in the history of Nigeria.
I don't think anybody prepares for crisis in this part of the world. Advanced nations have learnt that they need to prepare for crisis management but we are yet to learn.
There is need for a new level of communication management. Appropriate method of reaction to crisis situations and the communication strategy to handle these periods must be implemented. The National Emergency Management Agency (NEMA) must step up its game by educating Nigerians on how to prepare for crisis management.
An average individual cannot just handle communication crisis. You need a team of professionals to do this. We do not realise how important communication management is during any challenge in the country. Foreign intervention so far, even in terms of measurement of achievement, is not much. But the difference is that they are communicating what they are doing daily.
Look at the Malaysian Airline crash. Nothing has happened since that day, they still have not found even a bicycle spoke, but they've managed the emotions of the people, families of victims and everyone around the world because of adequate communication strategy. Now, people are prepared for the worst. Everybody dreads the unforeseen, but it is well managed. That has been communication management.
We are at a level in Nigeria where we've got to start doing things professionally. It looks like everybody can do that, but no, you need to have professionals.
How best can the government address insurgency, especially in respect of security information?
We need to be frank and match ourselves with countries that have fast-tracked development, like Dubai, which took a conscious effort. They are now marketing those countries in such a way that would make them attractive. It is driven both by the government and private sector. We must remember that there is collective effort in security in the sense that everybody must be their neighbour's keeper.
We must not turn a blind eye when things happen. There should be a national re-orientation for citizens and the government at all levels where everybody takes up the responsibility to be informal ambassadors. If people meet, what impression would I create in their minds? You must be an informal ambassador of your country, of yourself, of your local government and of course of your state.
And until we all take up that mantle to say I must play my part, the government cannot do everything. By doing the right thing, the government can also be forced to take responsibility at their own level by the time we take up our own.
You don't see most foreigners talk negatively about their country, yet their countries are not perfect. You see foreigners coming here on a daily basis. They were all here at the World Economic Forum, which got negative publicity because of insecurity in the country.
The government will do its best, people will come because risk is part of life, but my point is, if it was so bad there must be something good. In every situation, something good will come out of it.
That is why I say the media is powerful. The media has the power to make or break any business or country. The media should embark on a conscious campaign to rebuild Nigeria. Besides, media marketing communications also have a huge role to play. We can write the copy line, media can do the press releases; we can work with government to expose these materials. This conscious effort would produce good result for us instead of waiting for the government all the time.
How close are we to that Nigerian dream?
I have no prophetic capability, so I cannot answer that question categorically. Many things defy the odds. When people say this is how things are done globally, you find out that it defies the odds here.
For instance, it is only in Nigeria that a 36-year-old is still referred to as youth. You will see a man who is 75 years old, who will say he is just starting life when he should be in the departure lounge.
In all sense of responsibility, I think united we stand, divided we fall. When the house is not united, you cannot do anything. I think we should wait and let time tell, because who would have believed that Chibok was going to be a global issue. It has brought out our humanness; it has brought out the importance of the media, the importance of digital technology, and borderless communication, and so many things.
As time goes on, many Nigerians will understand the power of social media, and by the time we get to conclusions, and it is an open discussion, Nigerians will take up the topic they agree with or don't agree with. Those days when you put things under the table are gone, that is why proceedings are done in the open. Everybody finds out that you are speaking not just for yourself.
Why are there no mergers and acquisitions in advertising when banking, oil and gas, manufacturing and other sectors thrive on them?
We shouldn't take any industry in isolation of its growth chart. Just like in marketing. Look at the life cycle of advertising in Nigeria, let's face it, a lot of the pioneer advertising have been individuals. They are entrepreneurs who have paid their dues. Therefore if you build something, it's unlikely that you want to let it go just like that. It's the sentiment.
In other countries the life cycles of the companies are different. They've come to a point when they realise that united we stand, divided we fall. They've realised that a one man-business normally dies with that person. That's why you find out that a lot of the multinationals have passed from two or three generations to what they are today. They are not in the first generation of the owners, so to speak. The life cycle of different countries reflect on that type of thinking.
As we all get to the middle age and start moving up, the thinking is going to change. In digital technology, we are going to see a new crop of thinking that might be totally different. Things are going to change. There are still going to be multinational and local industries that require the services of marketing communications consultants.
How has marketing communication faired in the past three decades?
I started my career in Grant advertising at 22, and if I'm going to be 50, that means one way or another I've been in the industry for 28 years. I only took a break, a biological break when I had my children. I have always been in media and marketing communications.
One thing I have learnt is that our industry is very much dynamic. You have to always change with the time to remain competitive. The education you have today is only going to be valid for two years, not to talk of now with digital technology. The point I'm bringing out is that I learnt two things. Always try and anticipate the need to develop yourself at any point so that you can be relevant. You must be consistent with what goes on. The body will age, but the brain does not have to age. So to keep the brain youthful, you have to keep in touch with reality. Dynamism is what determines this industry.
The second thing I discover is that if you want to play, I always like the idea of playing at the international level but with local knowledge. And that has been a personal dream. I want to be able to go to anywhere in the world and fit in. This means that I have to keep myself abreast of communication language.
The other part I also discovered is that you need very much to be a good team player to be able to evolve. I have had the opportunity to work with different people and discovered that everybody has individual skills that are harnessed when the strength is brought together. If somebody is a good copywriter and doesn't have a product to sell, he will languish in the dark.
Is the advertising industry immune to falling standards?
We have to be careful, because standard can be misconstrued. In marketing communication, we must evolve communication plans that help to project the businesses, services and products that have a brand issue or a communication issue at hand. Don't forget that businesses are also evolving. When you say falling, it could be relative and that is why I find it very difficult to answer your question.
For instance, more people attend school now in Nigeria; but in terms of quality, written and spoken English, three decades ago, if somebody finished Standard Six in Nigeria, they would write very good English. Now you have people who are leaving university who cannot construct good sentences in English. And they would say more people are now getting tertiary education.
I have my personal standards, but that does not mean it is something that must come across the board. For example, I do not like to use fingers to eat food like eba and amala, and it's not a matter of being posh. I just don't want the thing to get stuck in my fingers because I keep long nails.
Professionalism is what I like to measure against world class standard. That is in terms of delivery, turn-around time and ability to solve problems. It doesn't mean that the materials that come from the UK are necessarily the material that would fly here. But we can meet some certain basic standards.
What is the industry's position at the confab?
For now, what we are trying to do is let the government understand the need to use marketing communication services to market Nigeria for greater development, and that starts by using the mixture of both professionals and those who work in communication mix to come together and reposition Nigeria. Without it, there is nothing we would do.
Whatever the government comes out with, I still believe it is critical to have an organ of government that has established marketing communication. For instance, every embassy should be a marketing outlet for Nigeria, and we must also have a unified structure there. Even our orientation campaign should be internally generated.
So there is a lot of work to be done, but professionally. Let's borrow a leaf from what the multinationals do when they are launching a new product, they see it as a business which must bring in returns. Why can't we see Nigeria as a business, and do everything to re-position it so that it can bring in the much-needed returns?
More Troubles For Umo Eno As Court Rejects Stay-of-execution Request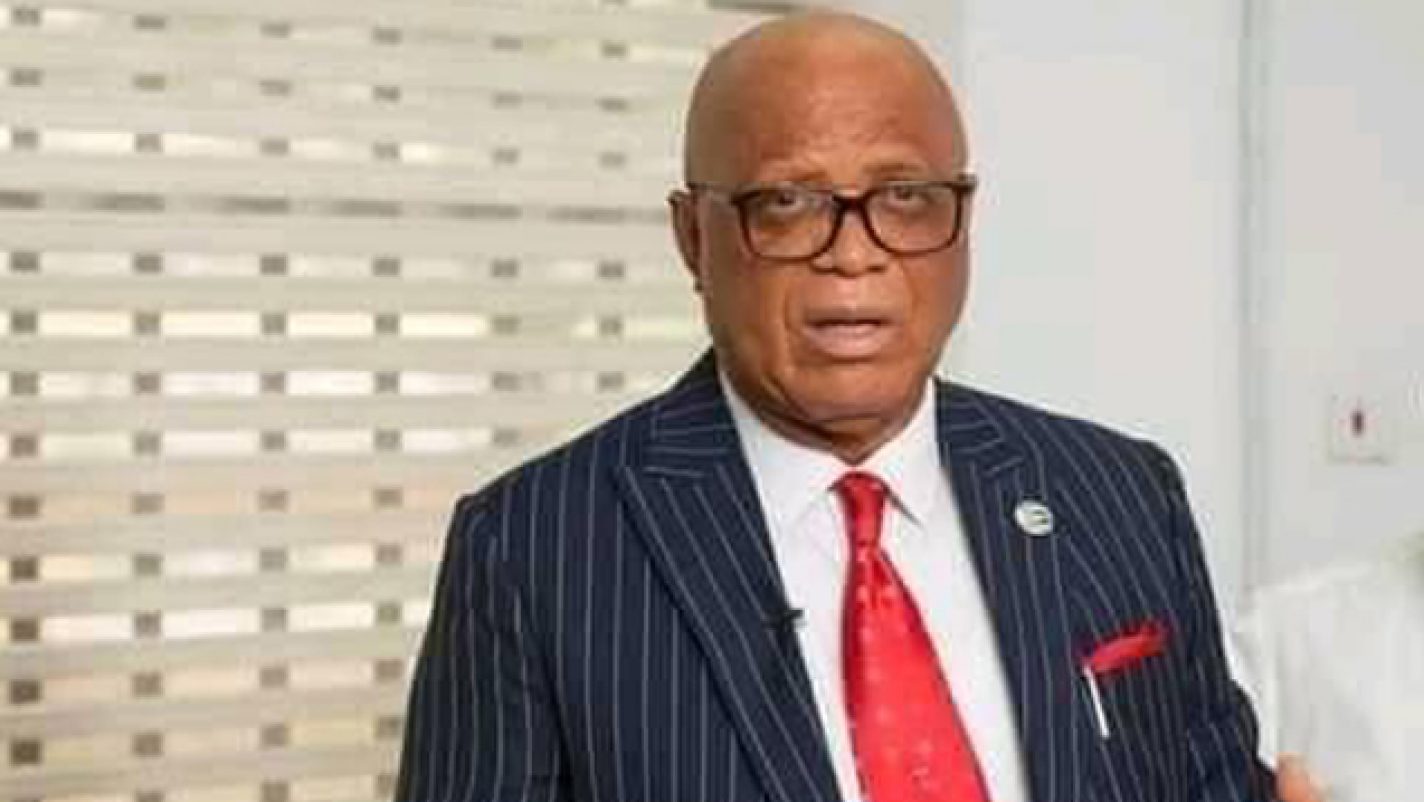 A Federal High Court in Abuja on Tuesday dismissed an application filed by Pastor Umo Eno seeking a stay-of-execution of the Order which had nullified his nomination as the PDP governorship candidate in Akwa Ibom State.
The court which nullified Eno's nomination, ordered that he should be replaced with Rt. Hon. Michael Enyong as the authentic PDP candidate.
In throwing out the request for stay of execution, the Court ruled that Umo Eno was never a party to the case filed by Enyong, and so his request could not be entertained by the COurt. The court therefore described Umo Eno as ''meddlesome interloper'' for seeking to file an application in a matter he was never a party of.
Recall that in a judgement delivered on January 20, Justice Fadima Aminu of the FHC, Abuja, had ordered the PDP to submit Enyong's name to INEC as its candidate. In a suit marked FHC/ABJ/CS/1295/2022 filed in August, Enyong had submitted that he won the party's primary held on May 25. The defendant in the case was PDP. Enyong did not join Eno as a party in his case. How clever!
This means that it is only the PDP that has the locus to file an appeal or stay of execution application against the judgement which sacked Eno. So far, the PDP's National Legal Adviser (NLA) is not willing to participate in the matter especially since he was never carried along in all the Umo Eno legal matters. Rather, the Akwa Ibom State Chapter of the Party had always engaged Barr. Emmanuel Enoidem (the former NLA) as its legal counsel, totally sidelining the current National Legal Adviser. Recall also that the PDP National Legal Adviser had a few weeks ago issued a public statement announcing that it is only the NLA that has the authority to brief and engage lawyers holding briefs for the party. The public statement had also warned party members to desist from engaging lawyers without his knowledge.
Meantime, I understand that Enyong's lawyers had served INEC with the Court order and his name would soon be published by the electoral umpire as PDP's authentic governorship candidate.
My Take:
1. The chances of Umo Eno returning to his former status as the governorship candidate is very, very slim. It probably will not happen.
2. Gov. Udom Emmanuel and the PDP have yet to come to terms with the fact that Umo Eno's name has been deleted as the candidate. They are inconsolable in anger, grief and pain. ''They are experiencing a great sense of separation, akin to the overwhelming feeling of loss which one experiences when he is bereaved'', says a political analyst and business man, Elder Aniefiok Isatt.
3. This development is also the greatest setback and the most devastating blow the PDP has ever suffered in the state since 1999. This case might just be some kind of ''Nunc Dimittis'' for the PDP in the State.
4. Privatively, PDP stalwarts are quick to blame the governor for the woes that has befallen the party this season. They believe that by imposing a very unpopular person as the candidate, the governor had bruised and hurt the majority of the members.
5. The question many are pondering is: Will Udom Emmanuel take to Enyong and accept him as the PDP candidate, thus conceding that Umo Eno was never God's revelation, contrary to what he told the people; or will the governor leave Enyong to his own devices and embrace a different person?
Our Client Wanted To Say 'Pupsy', Not Her Private Parts — Lawyer Defends Embattled Nigerian Polytechnic Female Graduate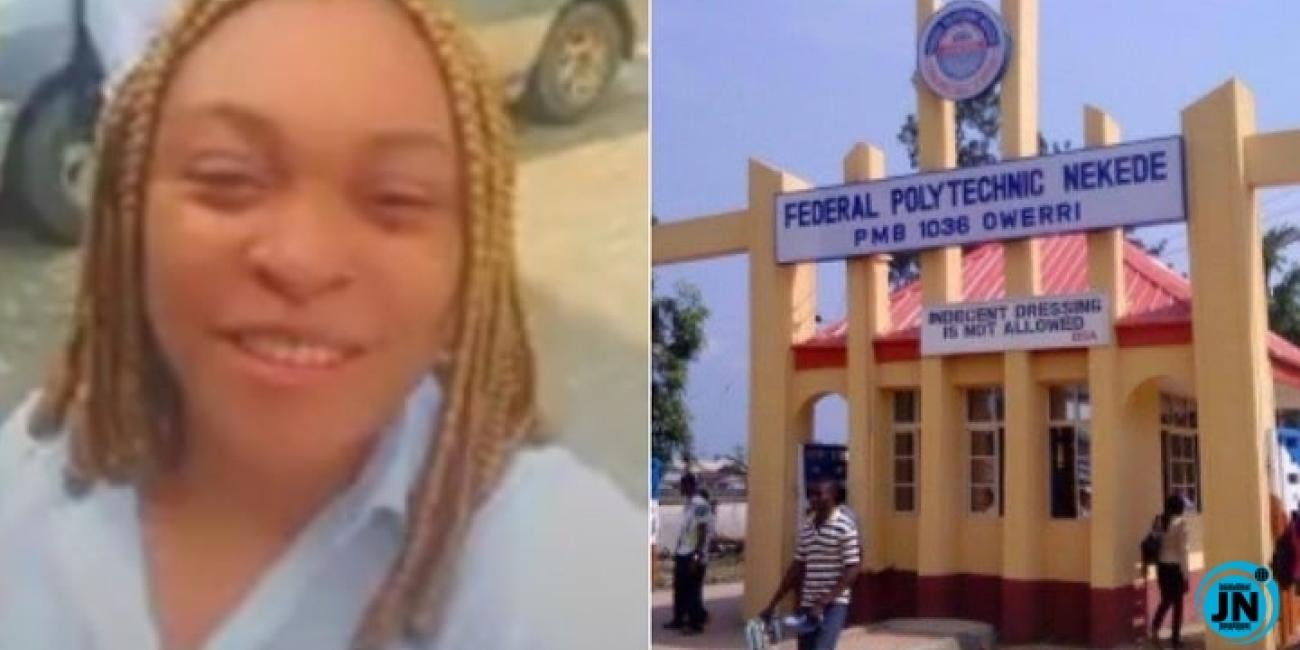 Barrister Ikechukwu Nwaopara, a legal practitioner representing the interest of Sharon Ogechi Okoroafor, the graduating student of the Federal Polytechnic Nekede, Owerri, Imo State, who went viral on social media for saying that she graduated with the help of God and her private parts, has said his client was misinterpreted.
The lawyer, who made the appeal to the institution's management in a statement made available to newsmen, claimed that their client had no intention of disparaging the institution's reputation, standards or integrity.
The statement reads: "We are solicitors to OKOROAFOR OGECHI SHARON (our client under our Pro Bono (Free Legal Services) on whose behalf we write this memo to you.
"We are aware that she will be facing the school disciplinary panel this morning, and we wish to use this medium to express our confidence that the panel will carry out their duties in compliance with the principles of Fair hearing, good conscience and natural justice, devoid of harassment, intimidation, and threats.
"We have met and discussed with our Client and evidence before us shows that she has no intention to defame the character, standard and integrity of the institution. In her words what happened in the said viral video was a slip of tongue as a result of her uncontrollable ecstasy over her graduation. Her intended words were "God and Pupsy" in appreciation of the Almighty God and her dad.
"It is clear, therefore, that she had no intention whatsoever to use such a "foul word" in the said viral video to cajole or blackmail the institution, as no lecturer or name of the institution was mentioned or referred to in the said viral video.
"Our lawyers are already on ground at the institution now to follow up the proceedings at the panel against any form of intimidation or harassment. The integrity and standard of the said institution is not in doubt especially since my senior brother, Rev Dr Arimanwa took over as the Rector. Indeed, justice is for all parties."
We had reported that after Sharon's video went viral on the internet, the management of the institution announced that it would investigate her action as it was capable of dragging the reputation of the school to the mud.
Alleged N1.4bn Fraud: Witness Reveals How Kogi Assembly Candidate, Atumeyi Fraudulently Benefitted N681m from Union Bank Customers' Accounts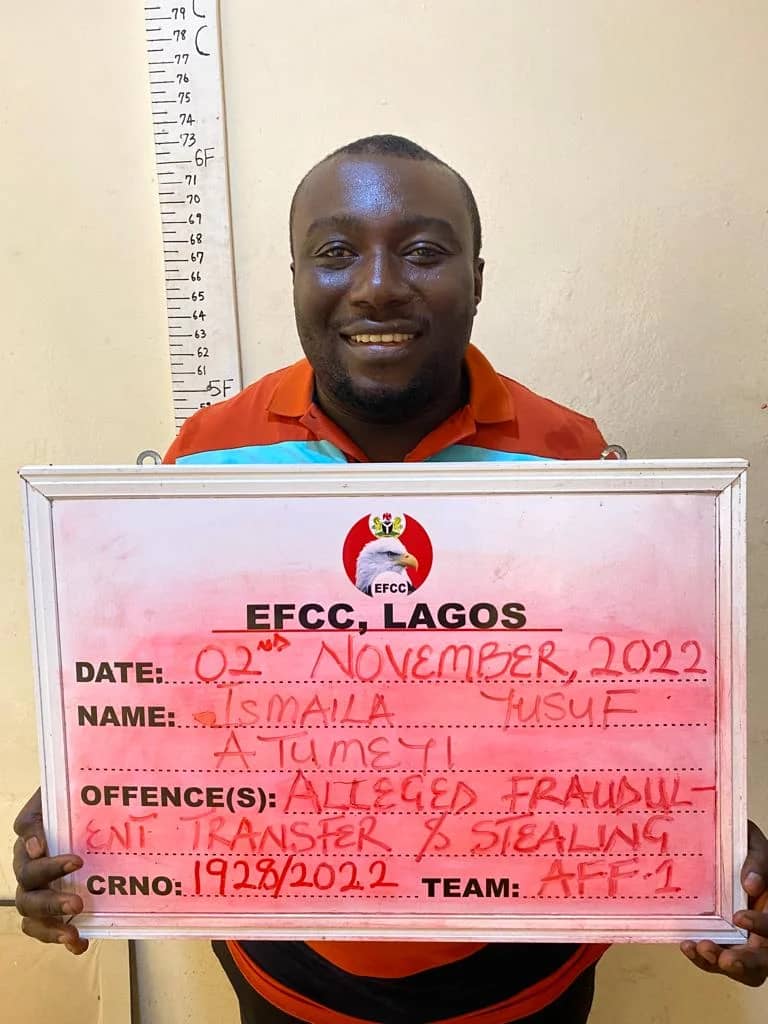 The first prosecution witness, PW1, Olusegun Falola, in the ongoing trial of Ismaila Yousouf Atumeyi, a Kogi State House of Assembly candidate of the New Nigeria Peoples Party, NNPP, and two others, on Monday, January 31, 2023, told Justice Tijani Ringim of the Federal High Court sitting in Ikoyi, Lagos how the sum of N681m (Six Hundred and Eighty-one Million Naira) was paid into Atumeyi's business account.
Atumeyi is standing trial alongside Ngene Joshua Dominic and Abdulmalik Salau, a former employee of Union Bank Plc, on an 18-count charge bordering on alleged cybercrime and money laundering to the tune of N1.4bn.
Led in evidence by the prosecution counsel, Rotimi Oyedepo, SAN, Falola, an Internal Auditor and Team Lead, General Investigations, Union Bank Plc, told the court that "sometime in October 2022, during the periodic internal review of accounts of customers, we observed that some accounts that were placed on No-debit were debited.
"In the course of our review, it was observed that the methodology employed in debiting the said accounts was different from the way accounts are being debited in the normal banking activity.
"Based on this, the case was assigned to me for further internal investigation. During the review, I observed that beyond the few accounts that were referred to me for investigation, there were other numerous accounts that were being debited.
"Furthermore, the debits on these accounts were traced to two beneficiaries, Atus Homes Limited account and Fav Oil and Gas Limited.
"These two accounts received the sum of N681m and N1.38bn, respectively from the account of 429 customers."
He also told the court that further investigations revealed that Atumeyi is the signatory to the Atus Homes Limited account, while the signatories to Fav Oil and Gas are Shuaibu Yusuf and Nurudeen.
According to him, all illicit debits on the customers' accounts were done via internet banking on one of the bank's platforms known as Union 360.
Giving further testimony, he said: "As at the time of investigation, over 600m had been withdrawn from the account of Atus Homes Limited and over N800m withdrawn from Fav Oil and Gas.
"We also realized that they were able to make those fraudulent transfers because the bank system was fraudulently manipulated.
"It was this realization that made us know that only a person with privileged information on the bank's information technology could have carried out such illicit transactions.
"It was based on that knowledge that we reported the matter to the EFCC for further investigation."
Oyedepo sought to tender the petition written to the EFCC, the correspondences between EFCC and the bank as well as the defendants' statements of account that had been identified by the PW1.
However, counsel to the third defendant, Babatunde Ogunwo, objected to the admissibility of the attached statement of account on the grounds that the prosecution had not sufficiently complied with Section 84 (2) 2(4) of the Evidence Act.
"I strongly believe that the prosecution has not satisfied the provisions of Section 84 (2) 2(4) of the Evidence Act. All I heard the witness say is questions put to him by the prosecution.
"However Section 84(2) of the Evidence Act gives conditions more than what the witness has stated.
"There are four legs as stated by the Evidence Act and the witness has only answered one. These conditions have to be complied with.
"I humbly submit that the prosecution has not complied with the conditions stated for the admissibility of the statements of account", Ogunwo argued.
Responding, Oyedepo said that the argument of the defence counsel was misconceived and also missed its target.
He, therefore, urged the court to discountenance the objection of the defence.
He also submitted that the certificate of identification as enshrined in the Section of the Evidence Act "is not a ritual that must be performed in achieving admissibility of computer-generated evidences."
He further argued that "where the issue is as to the failure to comply with procedural steps towards admissibility, the order the court will make is not to reject the document, but to urge the tendering party to regularize.
"This document is relevant in the determination of this matter and I urge my Lord to so hold."
In a short ruling, Justice Ringim overruled the objection of the defence and admitted the evidence in exhibit.
Justice Ringim also granted the second defendant, Dominic, bail on the same terms of the 3rd defendant, as granted on January 6, 2023.
The matter was adjourned to February 2, 2023 for continuation of trial.