Leading in Africa: UBA to expand footprint to 25 African countries Group Chairman Elumelu reconfirms Africa network as strategic priority, pledges further capital for African growth
The United Bank for Africa (UBA) Group recently held its first ever Senior Leadership Forum reflecting the strategic importance and growth potential of its pan-African business. UBA Group Chairman Mr. Tony O. Elumelu convened the Forum to review the impressive growth that the bank's African network had made over the past 11 years and to provide a platform to reaffirm and embolden its strategic goals.
The Forum brought together 90 participants, including the entire Board of UBA, all Chairmen and all CEOs of UBA subsidiaries across Africa and the United Kingdom. It was timed to coincide with UBA's Annual General Meeting and Group Board Meeting.
"We are one bank, the United Bank for Africa", Mr. Elumelu said as he opened the Forum. "Bringing together our senior leadership talent from across the continent and the distinguished leaders who chair our subsidiary businesses is a powerful demonstration of our commitment to forge one bank for Africa."
"As long-term investors and, may I say, pioneers in pan-African commercial and investment banking, we are deeply committed to the markets in which we operate and to harnessing the potential represented by the wider African economy. Our intention is to be the leader in African financial services, and our recent transactions show this. We see clearly the potential of Africa" said Mr. Elumelu.
UBA subsidiaries operate in 18 African countries and now contribute more than 25 per cent to Group operating revenue. UBA is increasingly recognized as a strong pan-African brand, hailed for democratising banking in its countries of operation whilst participating in landmark financial transactions, including:
· A USD$1.2 billion oil financing agreement with NNPC and Chevron where UBA provided funding for Chevron and NNPC to develop 36 new oil wells that will significantly expand Nigeria's oil production capacity
· A USD $315 million facility to the Government of Ghana for road projects on the strength of Road Fund levies domiciled with UBA Ghana
· A US$250 million Crude pre-payment facility for Democratic Republic of Congo-based Orion Oil representing the largest reported transaction structured by an African investment bank in 2015 involving fresh capital within the African market.
· A 234 million Euro oil and gas financing deal with Société Africaine de Raffinage (SAR) of Senegal, which underscored its capacity to fund big ticket transactions across Africa
· A USD $180 million to Delta Energy Zambia for the procurement and supply of petroleum products to marketing companies in Zambia
· A USD$90m University of Dakar hostel construction project financed solely by UBA Senegal – African capital, building African infrastructure for African education
"We have done a lot but in many senses we are only beginning to reap the rewards of our network and potential. We are a truly pan-African institution and after this period of consolidation, we know that the continuing expansion of our Africa footprint is a key goal. We must ensure that we have presence in at least 25 countries in the near to medium term, starting from the UMOA and CEMAC zones," said Mr. Fogan Sossah, Chairman of UBA Senegal during the Forum.
In keeping with the objective of creating an institution worthy of the patronage of clients and the trust of regulators and governments, the three day forum focused on the critical issues and drivers for success across the continent. Seminars were held on Corporate Governance, Corporate Institutionalisation, Board Effectiveness, Compliance, Accountability and more.
Speaking on the breadth and depth of the Forum's individual sessions, Mrs. Gisele Mudiay, Chairman of UBA Democratic Republic of Congo said: "! Our aspiration for the next five years is to pool knowledge of our individual operating environments and leverage that knowledge to help our customers realize their business goals."
Noting the difficulties that exist in operating in the diverse economic environments across the African continent, Mr. Ekoto Mukete, Chairman UBA Cameroon said: "While we operate in challenging business environments, we benchmark ourselves against global standards, which means we are able to add real value to our stakeholders. This forum has ensured that we are an army of one, working in each corner of Africa and driving toward one common goal."
The approval of additional injection of capital into its East African subsidiaries in Uganda, Kenya and Tanzania was communicated at the forum as the group re-affirmed its committment to growth in its countries of operations across the continent.
Commenting on the importance of consolidating pan-African financial expertise and exporting the successful Nigerian model, incoming Group MD/CEO and previous head of UBA Africa, Kennedy Uzoka said: "I have experienced the potential of our pan-African businesses. I know that we can and I commit to ensuring our leadership across Africa. The Senior Leadership Forum reaffirms UBA's ambition to be the leading pan-African Bank across key indices – brand equity, human capital, customer service and profitability."
Other items on the agenda at the forum included Know Your Customer (KYC) and Anti-Money Laundering (AML) policies and compliance standards across the Group. The Group Compliance Officer Uche Ike stated that "compliance is non-negotiable. We operate as a global bank, in global centres. We have seen how swiftly internationally and within Africa banks have lost hard earned reputations through laxity in policy compliance and we will not tolerate this in UBA Group".
The Forum coincided with the 54th Annual General Meeting of UBA(where participants were also able to celebrate the Bank's strong financial performance) as the week long activities culminated in the dedication of staff at the annual UBA CEO awards ceremony.
UBA reported strong financial results in 2015, in what is largely recognized as a challenging macro environment. Gross earnings were N315bn whilst operating profits stood at almost N70bn. UBA Africa operations currently contribute approximately 25% of these earnings but are expected to grow significantly and over time contribute as much as 50% to overall Group profitability.
Controversial Sterling Bank caught in the act! CBN sanctions, parades officials for hoarding new naira notes [VIDEO]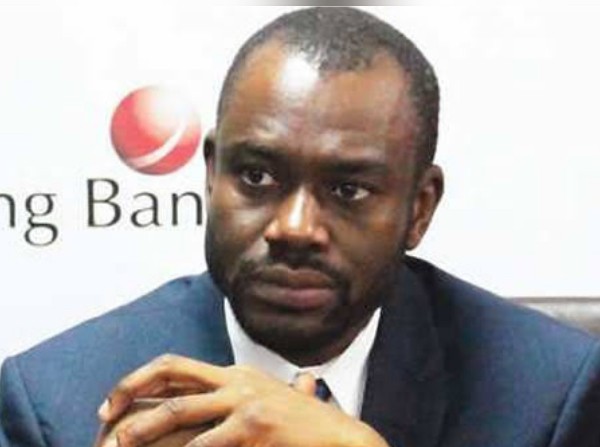 Officials of the Central Bank of Nigeria (CBN) have discovered N6 million of the new naira notes hoarded in Sterling Bank Plc, Ado Ekiti branch on Bank Road, Ado Ekiti in Ekiti State, having received the funds for over two weeks, THE WITNESS reports.
In a trending video on social media, seen by THE WITNESS, a man who identified himself as Oluwole Owoeye, a deputy director of CBN, while monitoring the distribution of the new naira notes in the state, was seen questioning the bank officials as to why they have not uploaded the funds into their Automated Teller Machines, (ATMs), despite having six of the machines in place.
The CBN director also announced a fine of N1 million for each day the fund was in the bank's custody.
The CBN official said, "I am currently at Sterling Bank, on Bank Road as part of the new naira notes monitoring compliance with the guidelines by CBN. They have N6 million, which they collected from the bank for almost two weeks, they have not disbursed any. They said they are yet to configure their ATMs, I do not know why that and I have brought attention to the penalty clause of N1 million per day, because they have five ATMs here, they have no reason for keeping this money.
"The zonal service manager, Tunde Onipede promised that by 10:00am latest tomorrow (Monday), because I told him by latest 10:00 am I'll be here and I want to see the machine dispensing this money.
"What is the name again? Olumide Owolabi (Service Manager, Ado) & Motunrayo Babayele. My name is Oluwole Owoeye and I am a deputy director of CBN."
WATCH VIDEO HERE:
FCMB Manager Arrested For Hoarding New Naira Notes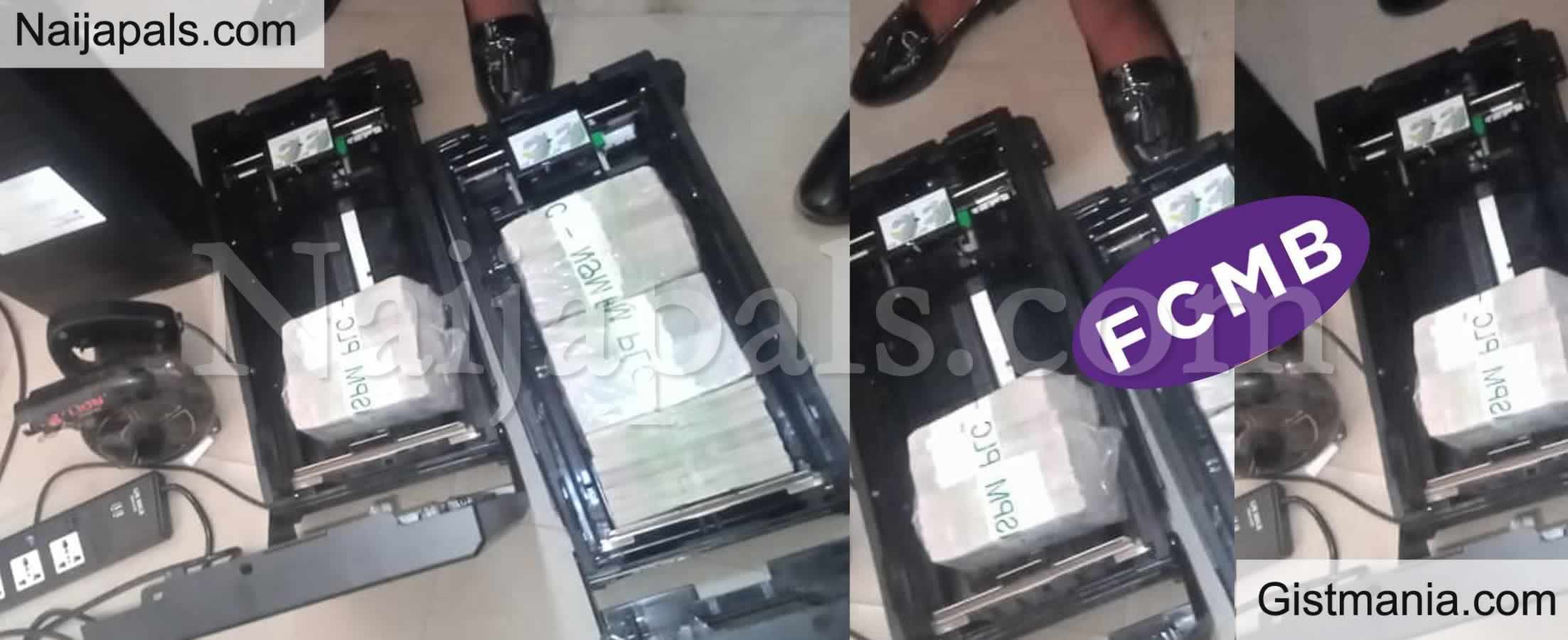 A manager of the First City Monument Bank (FCMB) branch in Osogbo, Osun State capital, has been arrested for allegedly preventing Automated Teller Machines (ATMs) loaded with cash from dispensing money to customers.
The spokesperson of the Independent Corrupt Practices and other related offenses Commission (ICPC), Azuka Ogugua, in a statement on Friday said the cash bundles were loaded into the ATMs while still wrapped, and as such, could not be dispensed through the machines
"The ICPC Compliance Team in Osogbo has busted an FCMB in Osogbo, Osun State, where some ATMs were loaded with cash with their wrappers un-removed, thus preventing the cash from being dispensed.
"The Team, therefore, directed that the wrappers be removed, and the cash loaded properly'.
Similarly, seven Point of Sale (POS) operators as well as a security guard were arrested during the ongoing exercise in Osun State for charging exorbitant commissions for cash.
Investigations, however, revealed that they got the money from Filling Stations that collect new notes from fuel buyers, but they then resell the cash to the public at exorbitant rates.
The arrested persons are helping the Commission with information to assist investigations and bust any syndicates involved in the hoarding or sales of the redesigned notes.
New naira: ICPC arrests Stanbic IBTC Bank manager over sabotage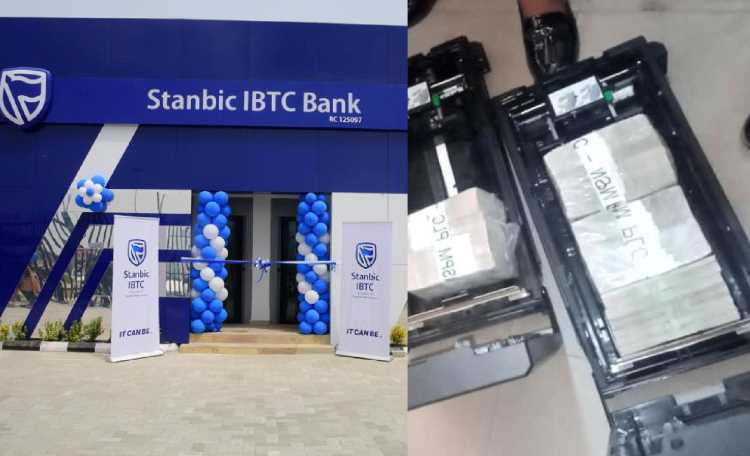 The Independent Corrupt Practices and other related offences Commission (ICPC), has arrested an official of Stanbic IBTC Bank in Abuja for alleged sabotage.
The ICPC spokesperson, Azuka Ogugua, said the development was in continuation of ICPC's clampdown on elements frustrating efforts in making the redesigned Naira notes available to members of the public.
The bank official, who is the branch service head of Stanbic IBTC Bank, Deidei Branch in Abuja, was taken into custody for her deliberate refusal to upload cash into the branch's Automated Teller Machines (ATMs) even when the cash was available and people were queuing at the ATM points.
The statement reads: "When the ICPC monitoring team stormed the bank at about 1:30pm on Friday to ensure compliance, and demanded explanation as to why all the ATMs were not dispensing cash, the team was informed by the branch's head of operations that the bank just got delivery of the cash.
"However, facts available to the ICPC operatives indicated that the branch took delivery of the cash earlier around 11:58am and either willfully or maliciously refused to feed the ATMs with the cash.
"Against this backdrop, the ICPC team compelled the bank to load the ATMs with the redesigned Naira notes and ensured that they were all dispensing before arresting the culprit.
"The ICPC said investigations were still ongoing and the Commission will take appropriate actions as soon they are concluded.
"Similarly, seven Point of Sale (PoS) operators as well as a security guard were arrested during an ongoing exercise in Osun State for charging exorbitant commissions for cash.
"Investigations, however, revealed that they got the money from Filling Stations that collect new notes from fuel buyers, but they then resell the cash to the public at exorbitant rates.
"The arrested persons were helping the anti-graft commission with information to assist investigations and bust other syndicates involved in the hoarding and sales of the redesigned Naira notes," the anti-graft agency said.