Just In: Covid-19: Socialite Bolu Akin-Olugbade passed on at Paelon Covid Centre, Ikeja.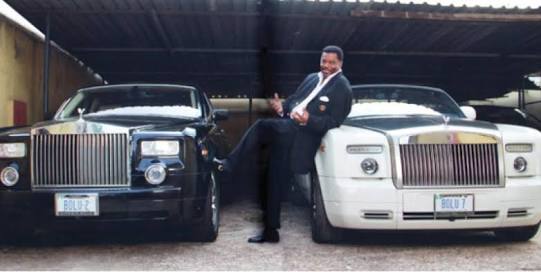 Billionaire Dr. Bolu Akin-Olugbade the Aree Ona Kakanfo of Owu Kingdom is dead.
Information reaching Society Reporters revealed that he died of Covid-19 at the Paelon Covid Center, Ikeja Lagos.
Dr. Akin-Olugbade, Until his death, he was the chairman of Bolu Akin-Olugbade Limited, and GMT Limited, a successful lawyer with a doctorate in Company Law from Cambridge University, and an unabashed lover of high-end Rolls Royce cars are globally reputed as one of the largest collectors of Rolls Royce.
More details about his death would be revealed as soon as we get more information.
May His Soul Rest In Peace.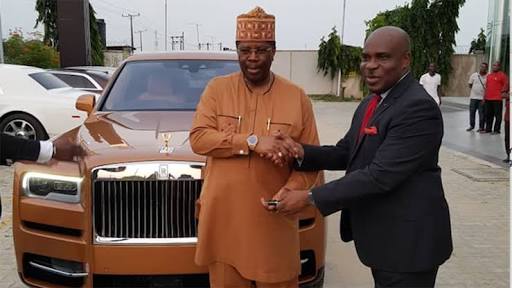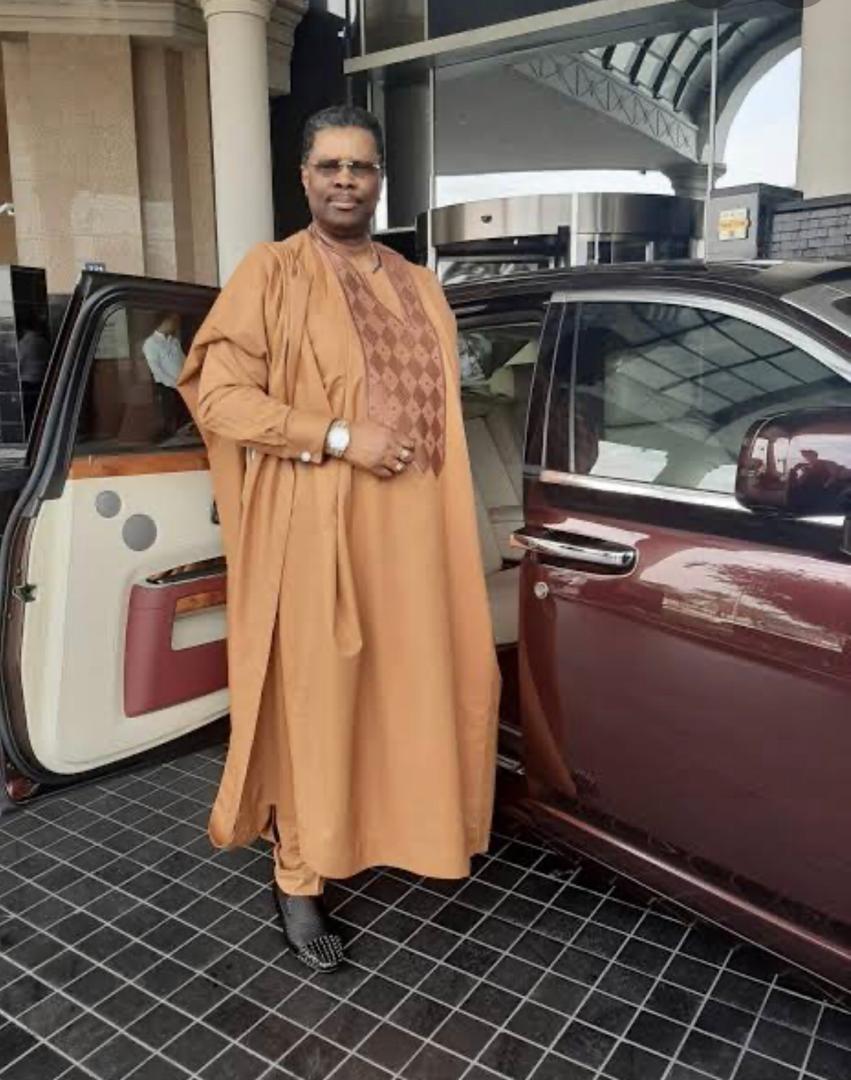 John Chuks Okose Becomes ECOWAS Youth Ambassador and True Heroes Awards Honouree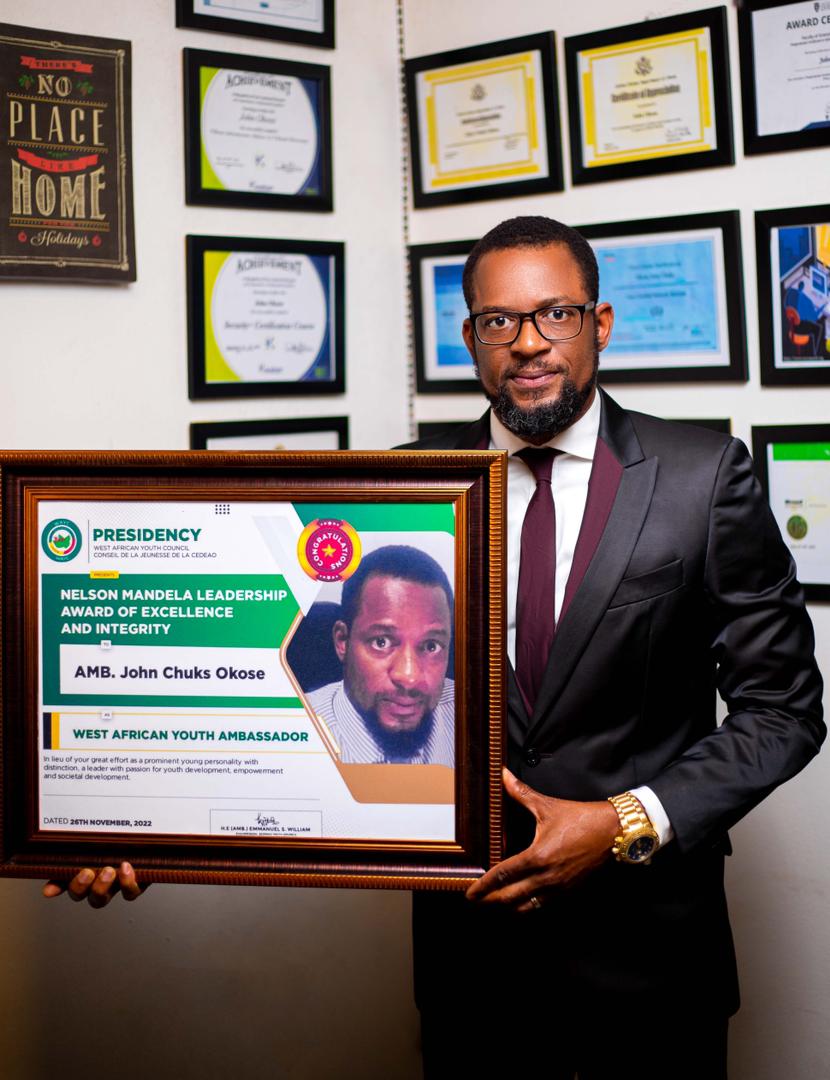 John Chuks Okose, now being referred to as Amb. John Chuks Okose is the newest addition to the Ecowas Youth Council organization as one of its members and a special recipient of one of the most sort after recognitions from the True Heroes Awards organisation.
Saddled with the responsibility of qualitative representation, Amb. John will now join over 500 Nigerians with the same honour in chatting new courses for youths' participation and development across the globe.
Prior to his honour, Amb. John is a team-oriented information systems consultant with experience in both project management and network security, infrastructure and software development, has about two decades of experience on the field and has contributed immensely in capital development having worked with notable brands and organizations like the FCT Pensions Board, Katsina State Government, Ministry of Interior, National Population Commission, Nigeria Centre for Disease Control and Prevention, Federal Ministry of Health, NIWA Lokoja and Nigerian Communications Commission in Nigeria just to mention a few.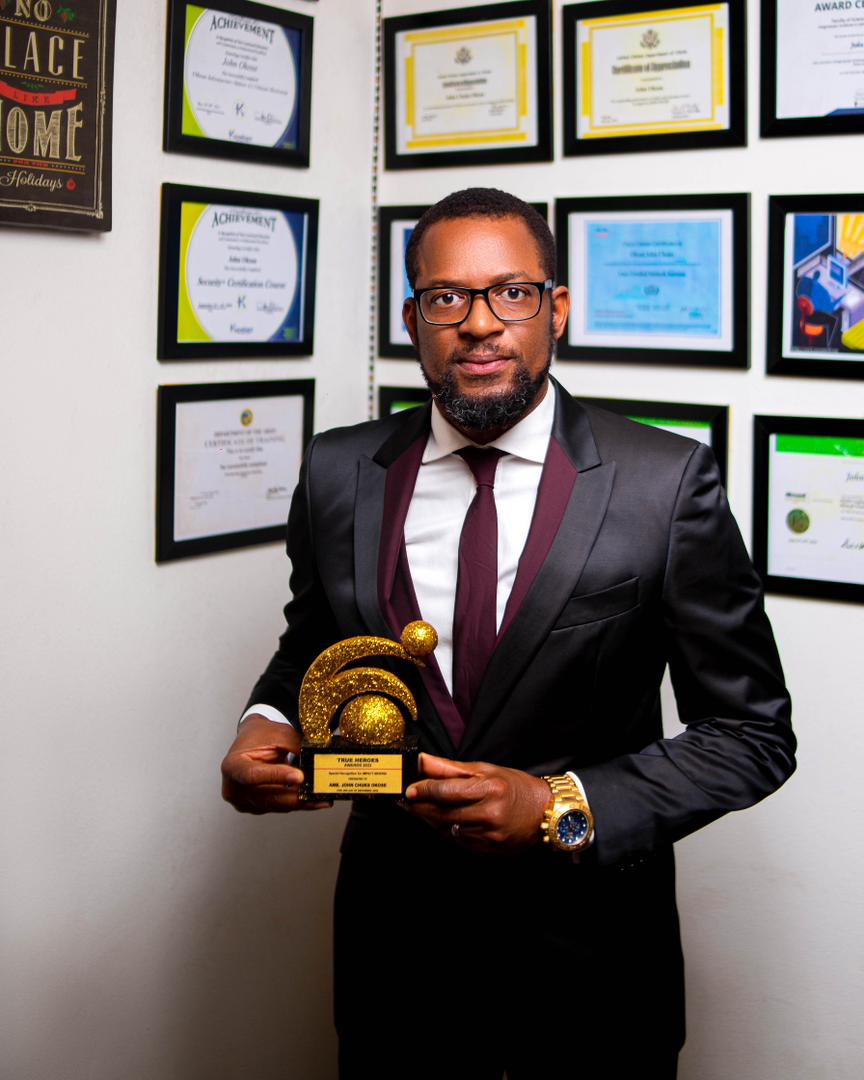 Amb. John Chuks Okose has also offered his professional information technology skills and services to aid the effective and successful operations of the US Embassy in Nigeria and the US Department of Defence (Walter Reed Program Nigeria), Helmholtz Centre for Infection Research Germany, Food and Agriculture Organization of the United Nations and the United Nations Industrial Development Organization.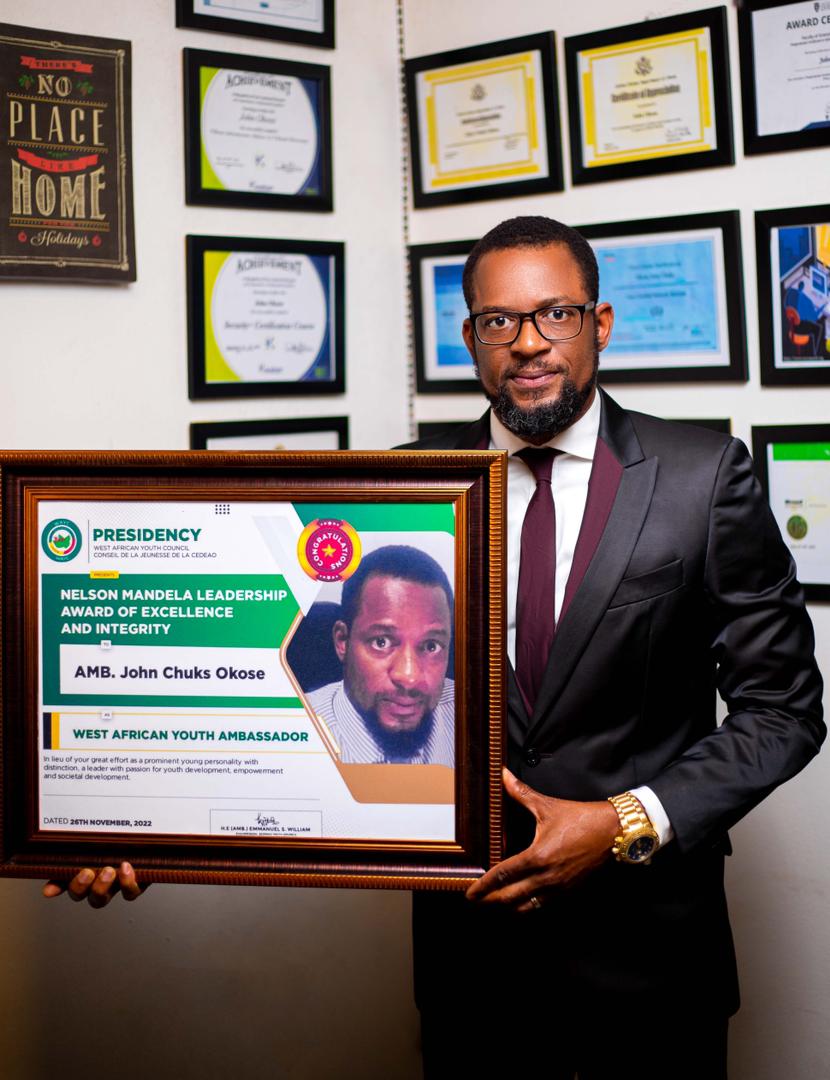 In addition to his professional career, Amb. John is also involved in philanthropy. He is the Head of ICT for Global Foundation for Hope Care and Development (GFHCD); a Non- Governmental Organization dedicated to caring for and giving hope to the vulnerable Nigerian Child; by providing access to amenities such as food, potable water and healthcare via collaboration with orphanages, hospitals, government agencies, and schools.
With these two powerful honors to his resume from the Ecowas Youth Council and True Heroes Awards organizations, we are enthused of the value he would add to their operations. From our management we say a big Congratulations to you Amb. John Chuks Okose and wish you more success stories.
2023: Many Odds Races Against Hon. Adesegun Adekoya Attacker's 3rd Term Reps Ambition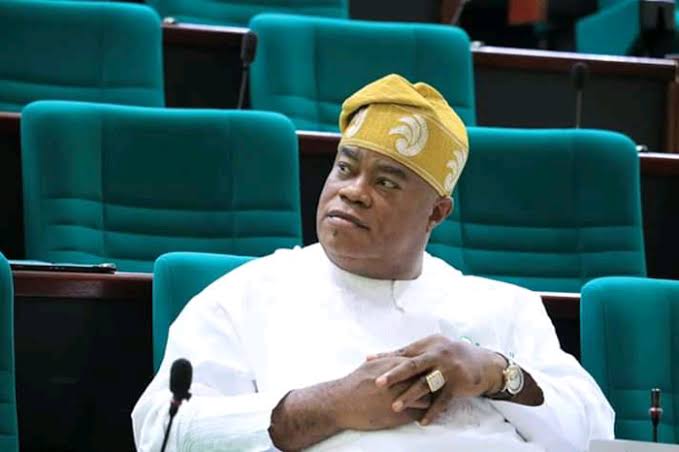 The much touted ambition of Hon Adesegun Adekoya to return for a third term to the National Assembly may end up been an exercise in futility if information at our disposal is anything to go by.
Hon. Adekoya who is popularly known in Ogun state as Attacker or Jesu Iwoye hailed from Ago Iwoye in Ijebu North local government area of Ogun state.
Our sources gathered that Hon Adekoya who is presently representing Ijebu North, Ijebu East and Ogun waterside federal constituency is eyeing his third term agenda on the umbrella of Peoples Democratic Party(PDP).
A former commissioner in Ogun state, Adekoya got his first term into the House of Representatives through the influence of Sen Buruji who was reported to have also spent several millions in making his dream comes through.
Sources in the know argued that there was a mutual agreement between PDP stakeholders in the federal constituency that Attacker will only spend a maximum of two terms before the pendulum should swing to Ijebu East or Ogun waterside LGs.
But at a time Adekoya should be planning his exit in the House of Representatives to honour the gentleman's agreement, he was said to be using his clout in the national secretariat of the party in Abuja to impose himself on the party followers.
According to another source, it was for this reason, Hon Kehinde Bello, a fresh blood in the party who hailed from Ijebu East and Hon Tele Ogunjobi, a former council Chairman of Ijebu North and prominent son of Ago Iwoye instituted a litigation against Attacker.
Though, the first round of the litigation was said to have gone in Adekoya's favour, the appellants have resolved to pursue the case to a logical conclusion. And also see to the exit of Adekoya from the House of Representatives race in 2023.
Another of his Achilles hill was that Adekoya was alleged to be running a one man show in the party in Ogun state as he has refused to identify with the Governorship candidate of the party in the state, Hon Ladi Adebutu as well as the leadership of the party in Ogun state.
All the aggrieved party leaders and followers have however made up their minds to scuttle his ambition at the polls in 2023.
To compound his electoral woes, the senatorial ambition of former Governor of Ogun state, Otunba Gbenga Daniel will play a big dent on Attacker's third term agenda.
OGD is contesting on APC platform while Adekoya's arch rival and the House of Representatives candidate of APC, Adegbesan is from Awa-Ijebu, same constituency with Attacker.
The people of the three local governments that formed the federal constituency are of the views that Attacker has had a fair share of the slot, as he had spent over seven years in office as at December 2022.
EFCC to arrest APC senatorial candidate, A.A Zaura over alleged US$1.3million Fraud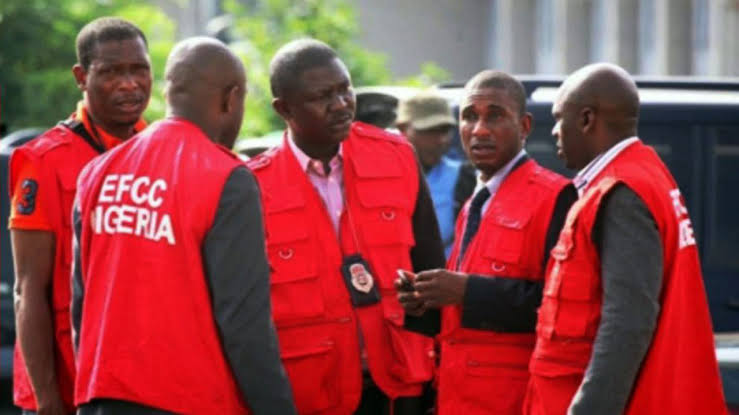 EFCC to arrest APC senatorial candidate, A.A Zaura over alleged US$1.3million Frau
Economic and Financial Crimes Commission (EFCC) says it will arrest Kano central senatorial candidate under the ruling All Progressives Congress (APC) AbdulKareem AbdulSalam Zaura.
EFCC lawyer, Ahmad Rogha disclosed this to journalists on Monday at the resumption of the criminal trial of US$ 1.3 million slammed on Zaura at the Federal high court sitting in Kano.
Although the trial scheduled for arraignment could not hold because of the absence of the trial Judge, who was to be attending another national issue outside Kano, the EFCC lawyer declared that Zaura was supposed to report himself to the commission.
According to him, " We are looking for Zaura and he would be arrested as soon as we found him. Ordinarily, he was supposed to be in our custody and the court has affirmed that but I can assure you he would be arrested and brought to court for the next adjourned date 30th January 2023″.
In his counterargument, counsel to the accused person, Ibrahim Garba Waru faulted the position of EFCC and insisted that the commission did not possess any legal authority to arrest his client.
When asked why Zaura refused to appear for arraignment, Waru said there was no need for him to appear since the court was not sitting.
Before the adjourned date, the trial Judge, Justice Mohammad Yunusa ordered EFCC to produce the accused person for arraignment on the allegation of fraud against a Kuwaiti national.
Justice Yunusa had overruled Zaura's application that challenged the jurisdiction of the court to hear the case and other addresses bothering on whether the accused must appear in person to take a plea.
Zaura's attorney, Barrister Ibrahim Waru had argued that his client under the law was not compelled to appear before the court, insisting Zaura's appeal was pending before the Supreme Court.
The arraignment is adjourned to 30th January 2023.