Illegal Data Exposure Crisis Rocks Tomi Somefun Led Unity Bank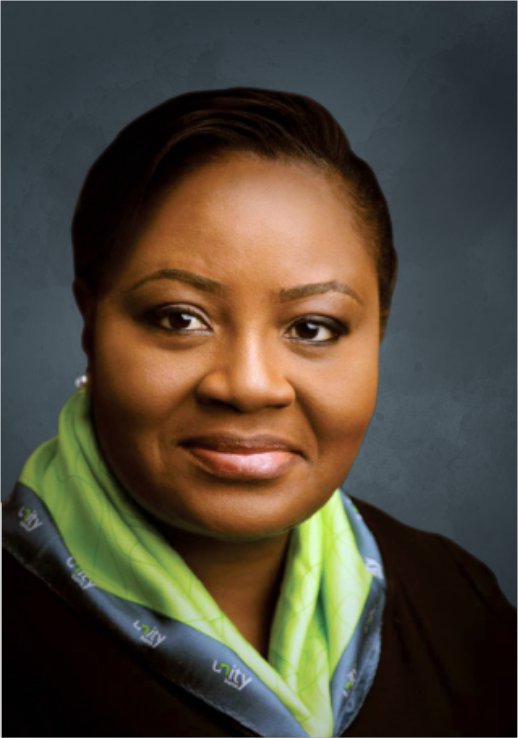 It would be recalled that the bank was dragged to the National Industrial Court of Nigeria recently where committal proceedings were started against the bank's managing director/chief executive officer, Oluwatomi Somefun to commit her to prison for flouting orders made by the court in a motion filed by 25 ex-staff of the bank, in whose favor the Lagos division of the court had given a monetary judgment on July 3, 2019.
The latest of its many troubles is a personal data breach suit filed by the Digital Rights Lawyers Initiative against the lender following the unauthorized exposure of over 53,000 job seekers on the bank's job portal.
In Suit No. FHC/AB/CS/85/2020, filed on 28 August 2020, the applicant sought:
"A declaration that the Respondent's privacy policy on its website – "https://www.unitybankng.com/privacy" violates the provision of regulation 2.5 of the Nigeria Data Protection Regulation 2019.
"A declaration that the Respondent's unauthorized exposure of personal data of data subjects on the Internet constitutes a personal data breach under regulation 1.3(11) of the Nigeria Data Protection Regulation 2019.
"A declaration that the Respondent's unauthorized exposure of personal data of data subjects on the Internet constitutes a violation of the data subjects' right to privacy guaranteed by section 37 of the Constitution of the Federal Republic of Nigeria 1999 (As Amended).
"A declaration that, by virtue of regulation 2.10(a) of the Nigeria Data Protection Regulation 2019, the Respondent is liable to a fine of N10, 000, 000.
"An order mandating the Respondent pay the sum of N10, 000, 000 (Ten million Naira only), to the account of the Federal Republic of Nigeria through the Remita platform within seven days of delivery of judgement in this suit.
"Perpetual injunction restraining Respondent, its officers, agents and/or data processors from further interfering with the privacy rights of its data subject.
The Page!
Global Day Of Prayer With Rev Chris Oyakhilome Starts This Friday (See Posters & Dates)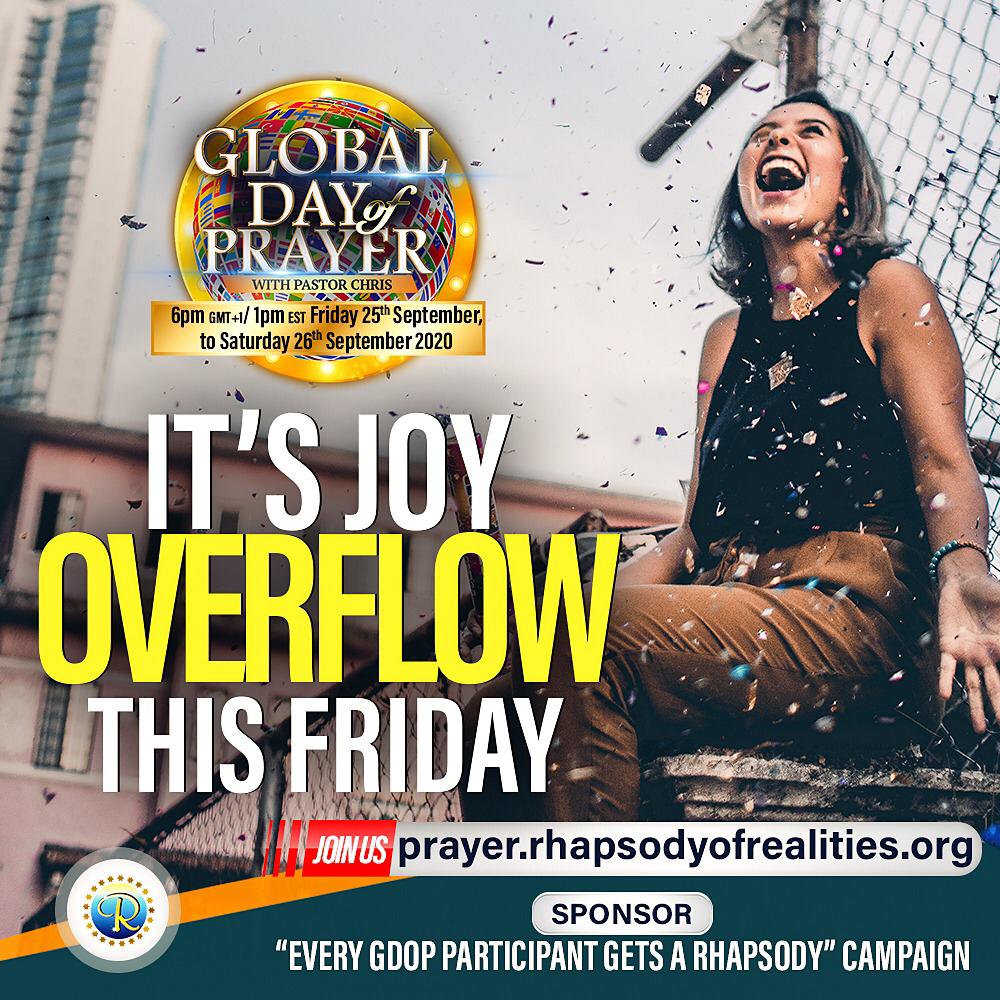 As you get ready for overflowing joy this Friday 25th September 2020, you will receive answers to your prayers. #globaldayofprayer #gdop #pastorchris.
Report by online media platform, TRIXX NG stated that the Believers Loveworld Incorporated also known as Christ Embassy will begin its international day of intercession 2020 Friday 25th by 6pm to Saturday 26th September 2020.
Being a Man sent from God and a unique minister of the gospel of Jesus Christ, Rev Chris Oyakhilome's Spirit-filled and anointed leadership will continue to propel a dynamic, multifaceted and global ministry at this year's programme.
You can join in
https://prayer.rhapsodyofrealities.org/ And on all their social media handles. You will surely share your testimonies with joy overflow.
NIS releases entry procedures as international flights resume Saturday, Sept 5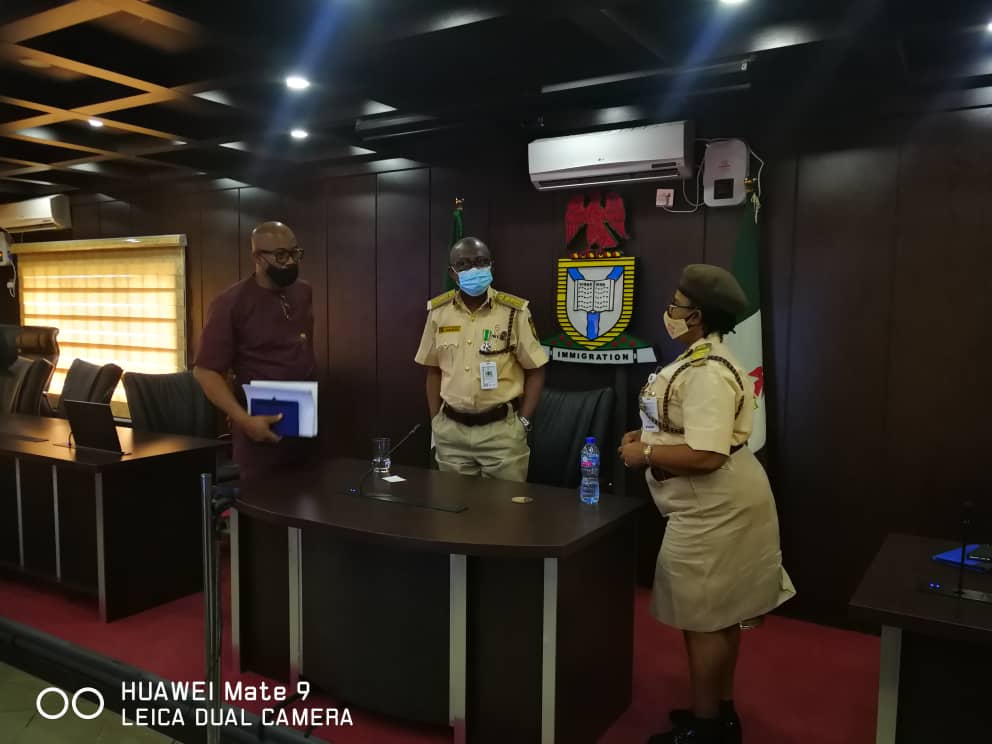 The Comptroller General, Nigeria Immigration Service, Mr. Muhammad Babandede says the NIS has implemented procedures for international flights resumption and visa payment.
Babandede said this during a virtual meeting with stakeholders to address travel concerns and automation of Travel Work Permit on Wednesday in Abuja.
In a statement issued by the NIS Public Relations Officer, Mr. Sunday James, Babandede said the procedures were in line with Federal Government's approval for the commencement of international flight operations from September 5.
Babandede said Murtala Mohammed International Airport, Lagos; and Nnamdi Azikiwe International Airport, Abuja, were earlier approved by the Minister of Interior, Rauf Aregbesola, for the implementation.
This, he said, was vide letter Ref. No. MI/PM/16012/S.366/Vol.ll/ dated 6th April, 2020 on waiver for visa payment due to COVID-19, closure of land borders and suspension of international flights.
According to him, the NIS, in exercising its statutory mandate, wishes to implement as follows.
"All migrants in Nigeria whose permits expired from 23rd March to 5th September, 2020 have extension.
"All migrants with evidence of confirmed return tickets scheduled to travel out of the country were to be issued free extensions to enable them depart on or before 15th September, 2020.
"All migrants whose permit or visitor's pass expired before 23rd March, 2020 will pay overstay penalty for the number of days stayed before the lockdown on 23rd March, 2020.
"All resident migrants whose permits expired outside the country from 23rd March, 2020 shall be allowed entry into Nigeria with the expired permits on or before 25th September, 2020.
"Such returning holders of expired permits and their dependents are to renew the permits within 30 days of arrival to Nigeria to avoid sanctions under relevant Immigration laws.
"All migrants who processed payments for visa-on-arrival and other categories of visas from the Nigerian Missions before 23rd March 2020, are to apply for re-validation.
"This should be done by uploading copy of the previous payments via cis-evisa@immigration.gov.ng not later than 15th September, 2020.
FacebookTwitterWhatsAppShare
Heritage Bank to stimulate economic growth with youth empowerment schemes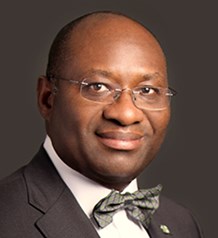 As part of its further response to deal with the global economic challenge occasioned by COVID-19, Heritage Bank Plc has reiterated commitment to deepen its support to young entrepreneurs in Nigeria to grow their businesses either as start-ups or prospective business owners. This, the bank said, is in line with its culture as timeless wealth partners, which would impact positively on the nation's socio-economic development.
The MD/CEO of the bank, Ifie Sekibo stated that Heritage Bank was mindful of the devastating impact of the pandemic to the nation's economic system, hence as an institution at the forefront of investing in human capital development for critical economy recovery, "we will up our game to empower Nigerian youths who are one of the bedrock of any vibrant economy," he added.
He disclosed that one of the channels churned out in partnering the youths to leverage their talents and contribute their quota to the growth of the economy, was the use of financial inclusion strategy which would be adopted to boost entrepreneurship development, as this is critical to Heritage Bank's mission to create, preserve and transfer wealth across generations.
He further explained that Heritage Bank's various entrepreneur schemes in the support for business had always focused on dependable job-creating sectors, such as agricultural value chain (fish farming, poultry, snail farming), cottage industry, mining and solid minerals, creative industry (tourism, arts and crafts), and Information and Communications Technology (ICT).
Sekibo restated that the aim of Heritage Bank being at the forefront of youth empowerment is to emancipate the latent entrepreneurial spirit in the teeming youths to unleash their support to the growth of the economy.
His words: "At Heritage, nothing else is more fulfilling than to groom-to-empower young aspiring start-up entrepreneurs, as we mentor them to grow and become large corporates enlisted on the Nigerian Stock Exchange.
"In recent times, we have worked with private and public sectors- The Next Titans, HB Lab, Creative Nigerian Summit, National Festival of Arts and Culture (NAFEST), NYSC and the Central Bank of Nigeria to support youths and young entrepreneurs to grow their businesses as a start-up or prospective business owners.
He also reiterated that the bank had continued to make efforts to lead the recovery of the Nigerian economy through championing several empowerment schemes such as the Prime Women Builders Foundation of Nigeria, Youth Innovative Entrepreneurship Development Programme (YIEDP), Centre for Values in Leadership (CVL) on Young Entrepreneurship Business Training Programme (YEBTP), Young Entrepreneurs and Students (YES) Grant and Nigerian Young Professional Forum (NYPF), amongst others.