How Adekaz Boss, Kazeem Adeoti Abandoned His Family In USA To Marry Mercy Aigbe As Her 3rd Husband…… + The Untold story of their over 10 years Secret Romance Exposed!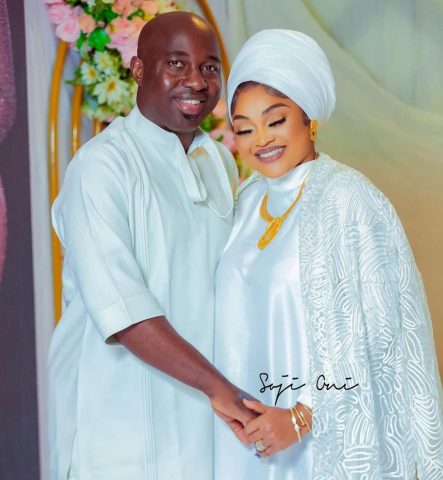 Kazeem Adesoji Adeoti, popularly known as Adekaz, needs no introduction in the Yoruba movie industry. His work has endeared him to the hearts of many Yoruba movie fans. Adeoti is the founder and chairman of Adekaz Production Limited. 
Mercy Aigbe on the other side is a popular Yoruba Nollywood actress who has risen to the top using what she knows how to use best. She is a mother of two and was before now married to a Hotelier, Lanre Gentry, and their marriage hit the wall sometime in 2017 after several counter accusations of infidelity and battering.
Many people in the industry have been spreading the rumors that Mercy and Adekaz were dating long even before her marriage with Lanre Gentry crashed but nobody has been able to confirm the romance until she uploaded the photos of her new husband (Adekaz) on Sunday, January 23, 2022 evening and got a barrage of Likes, knocks and congratulations.
Though she didn't mention that she has remarried, the birthday message she sent to her 'best friend' Kazeem Adeoti, a movie marketer/promoter who founded Ibaka TV, says it all.
Society Reporters gathered reliably that her Union with Lanre Gentry crashed irretrievably, and the estranged couple would always throw shades at each other on social media especially on Father's and Mother's Days.
By September 2021, Gentry got married to another woman amidst pomp. He even granted interviews stating the many courts his former wife dragged him to in order to set a divorce.
Gentry is Mercy Aigbe's second husband.
Meanwhile, the latest wedding in Nollywood by Mercy Aigbe and Adeoti has been applauded by many artists who took to the actress's page on Instagram to congratulate her.
Unknown to many of her followers and fans, Mercy had been in the relationship with Adeoti for a while and always tagged herself as Agbeke Aya D'owner, (Adekaz is D' owner).
But a few of the actress's close friends in the industry were aware already.
On the 31st of December, 2021 we learned that Adekaz and Mercy had a private Nikkai in Lagos, where she was christened Aminah (which she shortened to Minnah). Only a few people were present at the ceremony. There was also a traditional Engagement ceremony held at the same venue. Officially Mrs. Adeoti, an excited Mercy announced the new name to her followers on social media later that day (which was also her birthday eve) with a video of her outfit of the day flaunting her new wedding band. Many of her friends flooded her timelines to congratulate her.
On January 1, 2022, at her house in Ogudu, Lagos where she hosted friends and family to a soiree, Adeoti aka Adekaz was fully on the ground and he played the role of a husband diligently. He was up and about, ensuring that guests had a good time. Also, on January 3, at the New Year dance party headlined by King Wasiu Ayinde Marshall in Lekki, the newlyweds were an item all through the event.
Since she left her ex-hubby, this will be the first time Mercy would be flaunting a man publicly. This doesn't mean that she wasn't romantically linked with some big names either.
But if you think her currently-married ex, Lanre Gentry would be calm about this new union in Nollywood, then you are wrong. A few hours after Mercy's announcement of her 'D' owner's birthday', Gentry had put up a post on Instagram featuring a throwback photo of himself, Mercy, Adekaz, and wife. This insinuated that Mercy must have been sleeping with Adekaz even when he (Gentry) thought Adekaz was a family friend!
Information reaching us further revealed that Adeoti's main wife who has four kids for him is not taking this development likely at all, as we gathered she was one of the pillars that made Adekaz what he claimed to be today.
A source hinted to us that the families of Adekaz are still begging the innocent woman to accept Mercy as their new wife into the family but the woman is quiet about it.
Just six months ago, we gathered that Adekaz still celebrated his wife's birthday with her in a low but classy way with a romantic photo session claiming to love her over everything in this world but unknown to the woman that he has his plans well structured out to marry Mercy officially this last December 2021.
Just In: ICPC, police clears D'banj of N-Power fraud, rape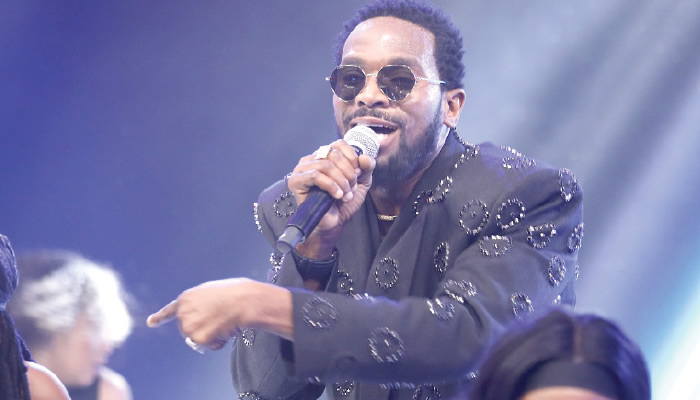 Popular singer, Dapo Oyebanjo, aka D'banj, has been cleared of rape and N-power fraud allegations by the Nigeria Police Force and the Independent Corrupt Practices and Other Related Offences Commission, respectively.
In separate documents exclusively obtained by our correspondent on Friday, the police and the anti-graft agency gave the singer a clean slate in separate clearance reports upon completion of investigations with incontrovertible outcomes on the innocence of the singer.
In an affidavit deposed by Toheeb Lawal of Abuja-based law firm, Law Corridor, before District Court of Abuja, wherein the reports of the NPF investigation, and clearance from the ICPC were exhibited and marked exhibits A and B, the legal practitioner averred that the police and the ICPC cleared the singer of rape and fraud allegations.
Society Reporters reports that in 2020, the singer was accused of rape and the Inspector General of Police ordered an investigation into the allegation.
In a report dated November 14, 2023 with case number CR:3000/X/FHQ/ABJ/SEB/T.1/VOL 18/284, and signed by ACP YY Abubakar of the Special Enquiry Bureau at the Force Criminal Investigations Department at the Force Headquarters in Abuja, the police said the matter was investigated but there was no evidence to substantiate the claim.
The report read in part, "The allegation was investigated.
The complainant, witnesses and suspects made their statement. Investigation was extended to the Glee Hotel Lagos, where the staff on duty on the date of the alleged incident, made their statement.
"The management and staff of the Glee Hotel averred that the first suspect was not seen in the hotel on the date of the alleged incident, neither was he given a spare key to gain access to any room in the hotel, where the complainant lodged, and they have only one key to each room, which completely debunked the allegation of the complainant. The management of the hotel also held that it had no record to show that complainant checked into the hotel as a guest on the alleged date and she did not at any time, raise alarm, complain or report any indecent, assault or rape.
"There is no medical report on the victim to ascertain that she was raped. 4There is no adduced facts and corroborative evidence to substantiate the allegation of rape against the suspect. Prima-facie offences of Indecent Assault, Rape and Intimidation is not made out.
"However, the complainant, through her counsel, Ojoge, Omileye & Partners, submitted a later dated 17th July, 2020, to the DIG Force CID, to voluntarily withdraw the petition and discontinue the investigation."
Also, sometimes late 2022, the ICPC accused D'banj of diversion funds associated with the N-Power Programme of the Federal Government.
However, after its investigation, the ICPC said that D'banj was not guilty of any fraud allegation. In a response to an inquiry, the commission cleared D'banj of any infraction on the matter.
The clarification was dated November 29, 2023 with document number ICPC/OPS/SDD/SPT.LG/31/23.
"The commission investigated issues of fraud in the administration of the N-POWER Scheme where Mr Daniel Oladapo Oyebanjo's name came up. However, there was no prima-facie case of fraud against him.
"Kindly be advised that Mr Daniel Oladapo Oyebanjo is not under investigation with the Commission for any fraud-related offence," the ICPC clearance partly read.
D'banj's lawyer, in his deposition filed before the Chief District Court of the Federal Capital Territory at Wuse Zone 2, Abuja, also averred that the singer was never a government official and never had any access to government funds and that the N-power campaign he supported was free and was never paid a penny by anyone or the government.
15th BON Awards: Osun State To Host Star-Studded Ceremony Celebrating Excellence In Nollywood…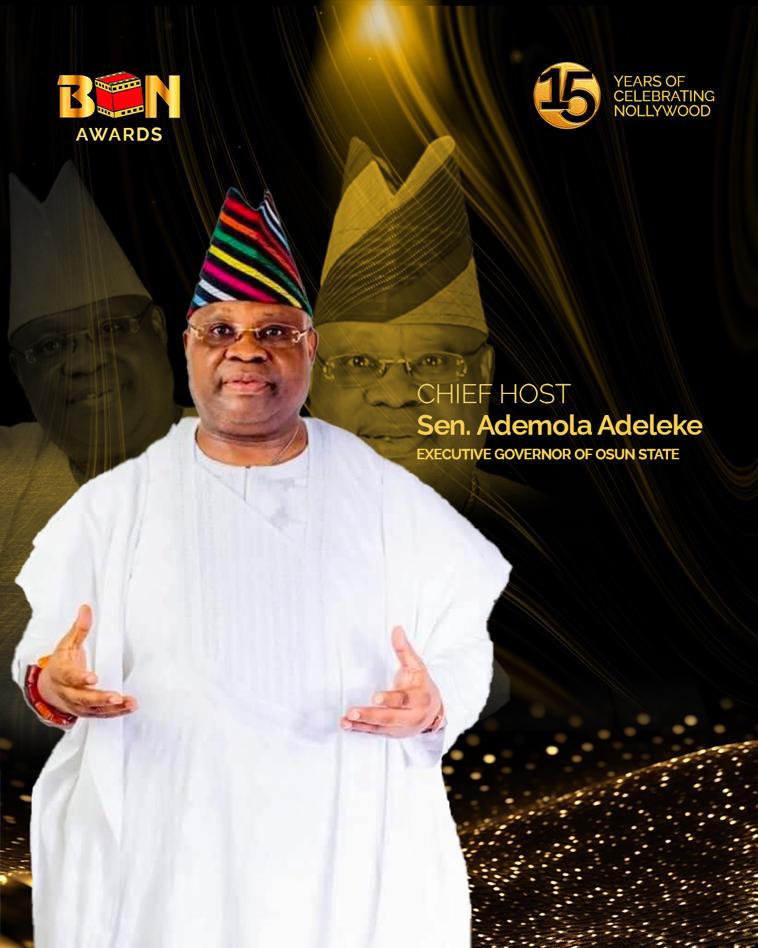 It's official! Organisers of the prestigious Best of Nollywood Awards have announced that the 2023 edition of the annual pan-Nigeria, travelling awards will hold in the ancient city of Osogbo, Osun State, come December 22.
In addition, billed to serve as host for the event is versatile actor, Kunle Remi, while Media Maestro, Toun Cole, will man the red carpet.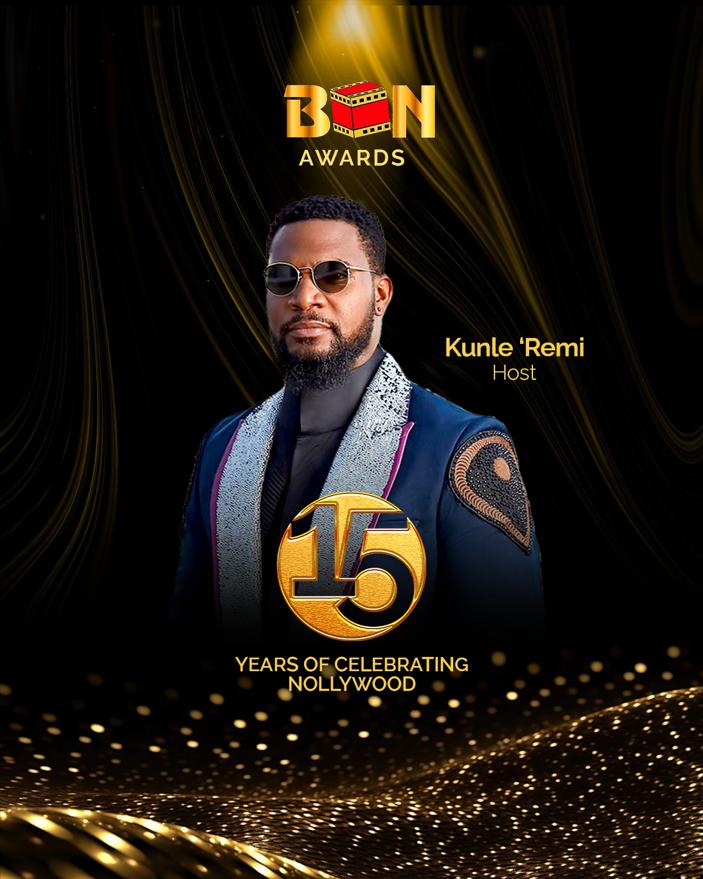 Speaking on Osun State as host, founder of the awards, Seun Oloketuyi stated that the choice of Osun was a long time coming.
"Governor Ademola Adeleke is a big-time lover of the arts. Long before he became governor, he identified greatly with the entertainment sector, and the moment we presented him with our wish, he accepted us wholeheartedly and even asked us to sound the gongs that Osun was going to host the biggest and best BON Awards ceremony the industry has ever seen.
"This is our 15th year as the longest running awards platform in the industry, and having Governor Adeleke on it with us is right on brand and the extra pizzaz that is needed," he stated.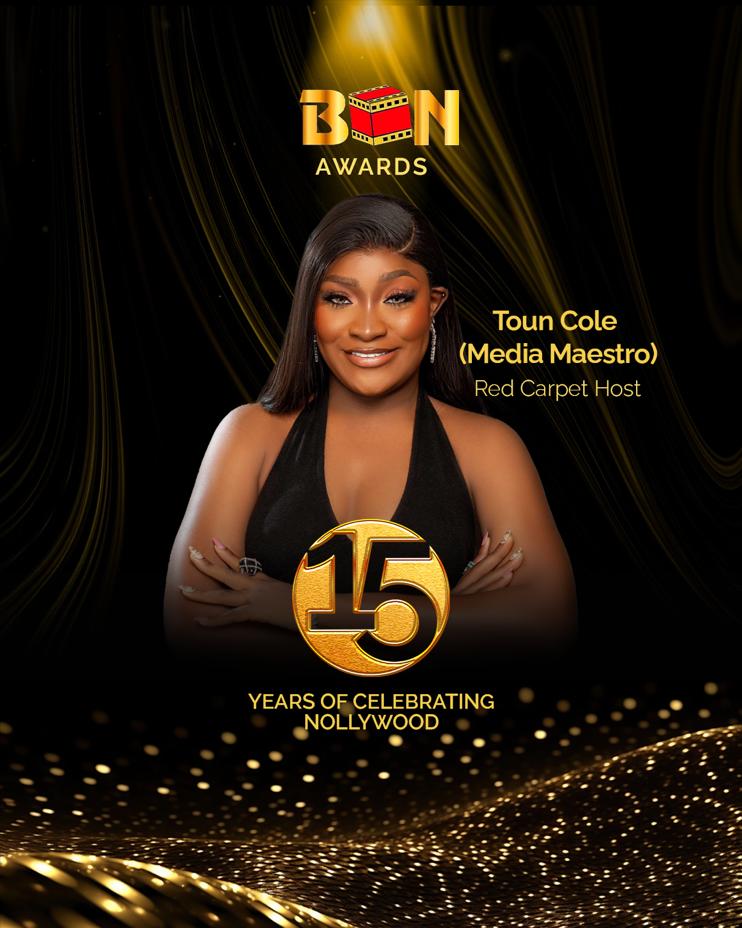 While commenting on the choice of Kunle Remi as the host for the year, Oloketuyi said, "15 is the unofficial entry into maturity. At 15, we are entering our mature phase, and we want to identify with people who are still on fire for Nollywood. Kunle Remi is the poster child for the new blood that has been injected into Nollywood in the last few years, and as an award that celebrates excellence, we identify with that. Who better to do it? Last year in Imo State, we had Lateef Adedimeji and Queen Nwokoye. We are not just interested in getting the rave of the moment, we are focused on people who can deliver value and that is what Kunle Remi represents.
It would be remembered that in the recently-released nominee list, Shanty Town, Herdsmen, and Underbelly dominated the line-up of films nominated in the 29 categories available on the awards platform.
Shanty Town, a 2023 Nigerian crime thriller created by Xavier Ighorodje, Chichi Nworah and produced by Chinenye Nworah, bagged 15 of the total 29 categories of the BON Awards.
Also leading with 11 nominations is Herdsmen produced by Chloe Coko and directed by Toka Mcbaror. The movie which was shot in Kaduna is based on mix fiction and first-hand experience, takes a look at the herdsmen-farmer crisis in Nigeria.
Nonetheless, Underbelly also takes the stage with 11 nominations. The movie is produced by Tunde Aina. The movie is a thrilling and suspenseful epic that explores the themes of love, betrayal, and survival in a harsh and unforgiving environment.
BON Awards which was first held in December 2009, in Ikeja, Lagos State has continued to be a creative strata for the Nigerian movie industry. Every edition of the award ceremony is usually hosted by different states in Nigeria including Ogun, Oyo, Kogi, Kano, Ekiti, Delta, Abia among others.
Why I Dumped DJ Cuppy – Ryan Taylor
Ryan Taylor, the former lover of Nigerian DJ Cuppy, has finally disclosed why he left his exes, which included billionaire Femi Otedola's daughter.
The revelation came after Ryan Taylor made a random post on IG, asking people to tell him something new about his ex.
Responding, a netizen told him his ex is currently learning how to drift.
Engaging the user, Taylor demanded to know which of his exes the guy was talking about. He further stated that all his exes are shit drivers and that's why he left them.
The disclosure generated a buzz among netizens who took to the comment section to drop their opinions, with many stating that DJ Cuppy was the one who dumped him instead.
One dr_godwin wrote: "Dj Cuppy na you leave Naija Boys go Dey look for Onyibo to Pepe us… Cuppy that." itisugochukwu wrote: "You can't dump our Cuppy, na she dump you. Bye 👋."
theamakaxtopher wrote: "Did you break up with Dudu and funfun too? Shebi you use to love them?🥺"
__sopheeyah wrote: "Reason why her daddy was happy that it didn't happen 😂😂😂😂. Allow our soft driver oh."
LEADERSHIP recalls that DJ Cuppy and Taylor parted ways in July, barely seven months after their shocking engagement in November 2022.