How Accountant-General, Idris Acquired Multi-Billion Naira Properties, Shared To Family Members Before Eventual Arrest By EFCC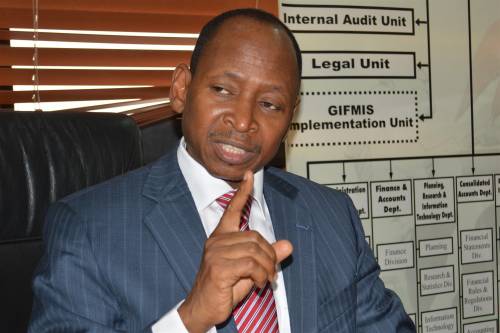 The Economic and Financial Crimes Commission (EFCC) on Monday arrested the Accountant-General of the Federation, Ahmed Idris, over alleged mismanagement of N80billion.
Idris was arrested on Monday in Kano and is currently being moved to Abuja.
"Operatives of the Economic and Financial Crimes Commission, EFCC, on Monday, May 16, 2022 arrested serving Accountant General of the Federation, Mr. Ahmed Idris in connection with diversion of funds and money laundering activities to the tune of N80billion (Eighty Billion Naira) only," a statement by the agency read.
"The Commission's verified intelligence showed that the AGF raked off the funds through bogus consultancies and other illegal activities using proxies, family members and close associates.
"The funds were laundered through real estate investments in Kano and Abuja. Mr. Idris was arrested after failing to honour invitations by the EFCC to respond to issues connected to the fraudulent acts."
SaharaReporters had in a series of detailed investigations exposed how Idris acquired several properties whose values ran into many billions of naira since he was appointed by President Muhammadu Buhari as the administrative head of the treasury in June 2015.
A visit to Gezawa Commodity Market Limited and Gezawa Integrated Farms Limited owned by Idris lend credence to the allegations made by concerned citizens and some stakeholders on how and where the AGF got the money he used in acquiring the multi-billion naira firms, both in Kano through his direct family members.
The shareholdings of both firms indicate a spread of Idris family members on the official board.
Certified copies of the documents from the Corporate Affairs Commission seen by SaharaReporters showed that the shares for Gezawa Commodity Market Limited are distributed among the family members of the AGF as follows:
(1) Zainab Ahmed Idris: 35,000,000 shares
(2) Shamsiyya Ahmed Idris: 35,000,000 shares
(3) Nabila Mu'azu Abubakar: 35,000, 000 shares
(4) Zuhair Ahmad Idris: 22,500,000
(5) Hussain Ahmad Idris: 22,500,000 shares
(6) Abdulrraham Ahmed Idris: 22,500,000 shares
(7) Khadija Ahmed Idris: 18,500,000 shares
(8) Mua'zu Abubakar lll: 40,000,000 shares
(9) Mohammed Chiroma: 60,000,000 shares
(10) Alh Usman Kansila Yahaya: 60,000,000 shares
(11) Baloni Ibrahim Lawal (representing Silvermark Investment Limited) : 60,000,000 shares
(12) Abubakar Nabila Mua'zu (representing Gezawa Integrated Farms Limited) : 20,000,000 shares.
There have also been questions asked about how the AGF bought "Sokoto Hotel" in Kano with N500million cash.
SaharaReporters gathered that Idris upon acquiring the hotel, ordered its immediate demolition with the intention to build a multi-billion naira shopping mall on the property.
Despite clocking 60 years in 2020, Idris succeeded in pulling different strings in the Presidency to secure an extension of his appointment beyond the legal limit.
SaharaReporters gathered that he engaged the services of highly placed persons including governors, senators and emirs who prevailed on President Buhari to give him the extension.
The action is however against the civil service rules, which states that a career civil servant must disengage from service either after attaining 60 years of age or having worked for 35 years, whichever comes first.
It was also against a circular from the office of the Head of Service to all agencies of the Nigerian Government which says, "For avoidance of doubt and in order to maintain discipline and integrity of the extant public service rule which prescribed 60 years of age or 35 years of service for mandatory retirement, should strictly be complied with.
"Accordingly, the following guidelines shall apply. (I) that career officers who take up tenured appointment should at the point of taking up the appointment retire from service to ensure they run their term uninterrupted.
"(II) that career officers who have not retired from service before the commencement of their tenured appointment must leave office on attainment of mandatory age/years of service for retirement and (iii) that career officers who are currently holding tenured appointment are required to retire from service with immediate effect and continue to run their term. Failure to do so would mean that they would vacate office on attaining the mandatory age or at the expiration of their term whichever comes first."
Idris' arrest is also coming few months after he secretly married a 16-year-old Kano State girl, identified simply as Hussain.
SaharaReporters had in a string of reports revealed that despite Hussain's family kicking against the wedding, Idris who turned 61 on November 25, 2021, insisted on marrying her.
"This is our late sister's daughter by name Hussain; she's just sixteen, not long that she clocked sixteen years old but it's very unfortunate that a lady called Amina was the one that linked or brought the Accountant-General to our house in order to seek her hand in marriage.
"This, she did, knowing that this is a very young girl, what does that mean? It shows the accountant general is just after that small girl to take advantage of her youthful age.
"Immediately I heard, I messaged him because when I was working with the then Head of Service, I had the opportunity of having his contact when we met over a serious matter about the country. So I messaged him on WhatsApp regarding his wedding; I sent him my picture, that of my son, my late sister and the daughter, Hussain. He replied that it's a small world which confirmed the wedding was true," a top family source had confided in SaharaReporters.
The family source added that the Accountant-General bribed some media organisations they contacted for help and their request to expose his atrocities was therefore turned down.
"He went as far as bribing this girl with a gold of over N200million, iPhones, buying cars for her, giving her millions of naira – all to buy her attention. He started meeting different people that he wanted to know the girl's family; he married the girl, just like that.
"There was no investigation just because he is the Accountant General of the Federation. Why are things happening in this country like this? He even told the girl to go and look for any house of her choice in Abuja, that he is ready to purchase it for her.
"He is spending the government money and every media house we go to report him, he pays them not to air or report the story. Please help us for justice to be done. This girl is just sixteen years old," the source had added.
FIRSTBANK LAUNCHES SINGLE-DIGIT LOAN FOR WOMEN-OWNED BUSINESSES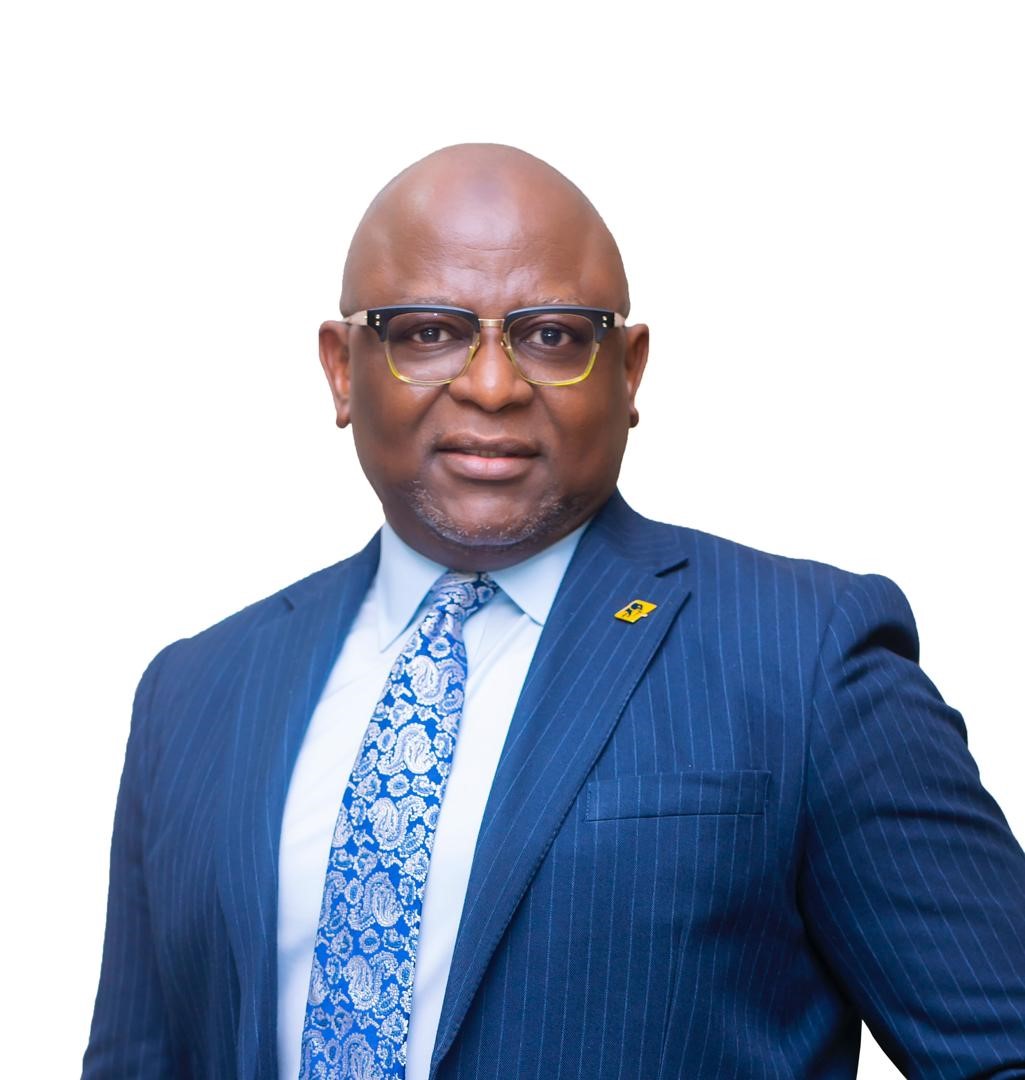 REINFORCES ITS ROLE IN STRENGTHENING GENDER INCLUSION IN NIGERI
The FirstGem fund (FirstGem loan) is a single-digit loan scheme, exclusively designed to put women at an advantage in contributing to the socio-economic development of the country.
The loan scheme covers female-owned or partnered SMEs in various sectors of the economy
Launched in 2016, FirstGem has been impactful in driving financial inclusion, influencing women's empowerment through gender-advancement programmes like savings culture, financial literacy, wealth  management and building an investment portfolio.
In furtherance of its role in promoting female entrepreneurship across the country, Nigeria's premier banking institution and leading financial inclusion services provider, First Bank of Nigeria Limited, has announced the launch of the FirstGem fund (FirstGem loan); a single-digit loan scheme, exclusively designed to put women at an advantage in contributing to the socio-economic development of the country.
The FirstGem loan scheme is designed for female-owned or partnered SMEs  in the following sectors  Food/Beverage processing & Packaging, Beauty and cosmetics, Confectionaries, Catering & Restaurants, Transportation (Logistics) and Agric/Agro-Allied (retail value chain). With an interest rate of 9% per annum, FirstGem loan is a collateral-free loan that is available to the bank's existing and prospective female customers. Based on eligibility, customers can access loans from N500,000.00 to N3,000,000.00.
 To access the loan, Female owned or partnered SMEs can visit the Bank's website – https://www.firstbanknigeria.com/personal/loans/more-financing-options/firstgem-funds/ – to download and fill out the Retail Loan Application Form. The completely filled form should be submitted to the nearest FirstBank branch with accompanying documents.
Speaking on the loan Folake Ani-Mumuney, Group Head, First Bank of Nigeria Limited said, "we are delighted with the role our FirstGem product plays in creating an avenue to enlarge the business activities and endeavours of female entrepreneurs across the country. Our FirstGem value proposition offers real solutions to constraints encountered by female entrepreneurs and working professionals, as it exposes women to opportunities for the advancement of their business. We implore every female business-minded individual to take advantage of the FirstGem loan as it puts them at an advantage to contribute their quota to the national economy."
Launched in 2016, FirstGem has been impactful in driving financial inclusion, influencing women's empowerment through gender-advancement programmes like savings culture, financial literacy, wealth  management and building an investment portfolio. FirstGem is  designed specifically to meet the needs of the female gender, aged 18 years and above.
FirstGem  is targeted at a broad spectrum of women, working professionals, entrepreneurs or market women through an array of benefits such as free business advisory services, access to finance, specialized training on business development initiatives (virtual  and physicalevents),  regular insights on business / investment  opportunities. and mouth-watering discounts at partner merchant outlets (spas, salons, grocery stores) offering  lifestyle products and services.
Recently, FirstBank announced its partnership with CDC Group, the UK Government's development finance organisation to economically empower women-owned and led businesses as well as local small and medium-sized enterprises (SMEs) in Nigeria. The facility, which is in the sum of US$100 million will have a minimum of 30% allocated in the form of credit lines to women entrepreneurs.
Alleged Money Laundering: Permit Me To Travel Abroad For Medical Treatment – Ex-Governor Okorocha Begs Court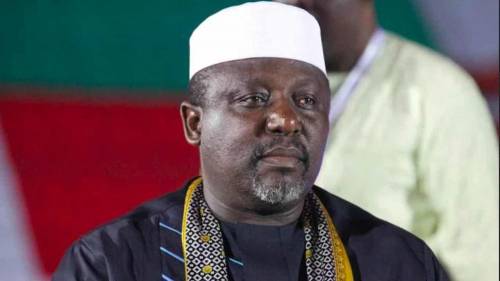 Senator Rochas Okorocha, former governor of Imo State, has appealed to a Federal High Court, Abuja, to permit him to travel to the United States for medical treatment.
This was made known by his lawyer, Daniel Alumun, on Thursday during the trial before Justice Inyang Ekwo.
The lawyer informed the court shortly after his case was mentioned, that he was unable to serve the Economic and Financial Crimes Commission (EFCC), the complainant, respondent motion.
Justice Ekwo consequently adjourned the matter until July 6 for a hearing of the motion due to the absence of the EFCC counsel who was not in court on Thursday.
In a motion on notice marked: FHC /ABJ/CS/28/2022 dated June 22 and filed June 27 by Okey Amaechi, SAN, Okorocha sought an order granting him leave to travel outside Nigeria for medical treatment; and return before November 7, being the next adjourned date for his trial.
He also sought a consequential order for the release of his Nigerian international travel passport booklet, which was deposited with the court registrar in partial fulfilment of the conditions for the bail granted to him and "a consequential order that reliefs (1} and (2) above be communicated by the registrar of this honourable court to the Nigerian Immigration Service, to facilitate the passage of the applicant.
"An order directing the 1st defendant/applicant to return his international passport to the registrar of the honourable court upon his return to Nigeria."
The lawmaker, who gave three grounds why the reliefs sought should be granted, said he was admitted to bail pending trial in charge number, FHC/ABJ/28/2022.
He said he has duly complied with all the terms of the bail including depositing his travel documents with the registrar of the court.
He said before the arraignment, he had "undergone medical surgery at the Ambulatory Surgery Centre, Texas, in the US for distal femur fracture, which he sustained in an accident."
He added that he had been on regular/scheduled care and treatment at the same Ambulatory Surgery Center, where he had been scheduled for further medical tests, observation and treatment on July 19, 2022, or immediately thereafter.
SaharaReporters earlier reported that the former Imo governor was under trial for alleged money laundering during his time in office.
Others defendants in the suit are; Anyim Chinenye, Naphtali International Limited, Perfect Finish Multi Projects Limited, Consolid Projects Consulting Limited, Pramif International Limited, and Legend World Concepts Limited as 2nd to 7th defendants respectively.
ADEDUNTAN SUSTAINS HIS WINNING STREAK, PIONEERS LEADERSHIP EXCELLENCE IN BANKING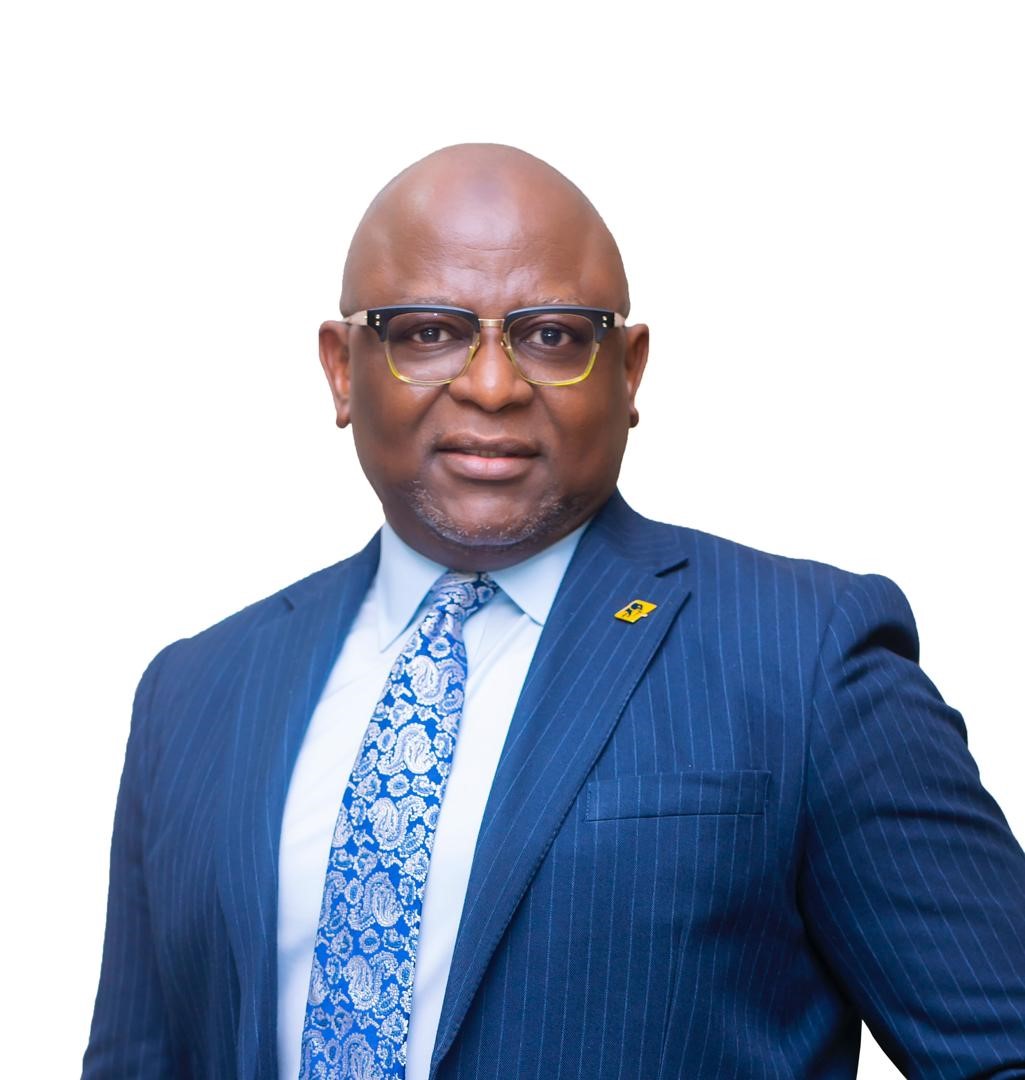 Since his appointment as MD/CEO of First Bank of Nigeria Limited in 2016, Dr. Adesola Adeduntan has completely transformed the financial institution and has made it attractive to every strata of the society. From an institution that used to be perceived as an old-generation bank, FirstBank is now a darling to all as it leverages latest digital tools to meet its customers' needs. Also, under Adeduntan's leadership, the 128-year old bank has made huge contributions to national development, thereby stimulating development, setting standards and motivating excellent output across sectors. Clearly, these contributions to national development were what endeared Adeduntan to President Muhammadu Buhari who recently saluted him on his recognition by Cranfield University, UK, one of the most prestigious citadels of learning in Europe. Adeduntan will on Wednesday, June 22, be conferred with Doctor of Science, Honoris Causa and he would be delivering an address to the graduating class of the university. This feat, the president in a statement by his Special Adviser (Media and Publicity), Femi Adesina, described as, "another testament to the fact that Nigeria is blessed with the brightest and the best in all areas of human endeavor." Buhari lauded Adeduntan for being a role model to the younger generation, showing that hard work pays, and with resourcefulness and doggedness, great heights are achievable.
Adeduntan holds a Doctor of Veterinary Medicine from the University of Ibadan, Master's in Business Administration from Cranfield University, and is Fellow of Institute of Chartered Accountants of Nigeria (ICAN), as well as Chartered Institute of Bankers of Nigeria (CIBN).
The president sent best wishes to Adeduntan and family as he hoisted Nigeria's flag proudly to receive an honor Cranfield University said was in recognition of his outstanding contribution to business. Incidentally, Buhari's commendation came on the day the bank successfully held its AGM which showed a stellar performance in its financials, a transformational result that put the bank on course to reclaiming its leadership position of the financial sector.
Adeduntan has a distinguished career in finance having held senior positions at Citibank Nigeria, KPMG and Arthur Andersen Nigeria. He studied at Cranfield University as a British Chevening Scholar, achieving an MBA in 2005.
Commenting on the honour by Cranfield University, the FirstBank boss said: "I am extremely humbled and most grateful to the university for this recognition. My time at Cranfield served as a catalyst for my professional and personal development propelling me to the leadership position I occupy today.
"I am a firm believer in talent management, being vital to further accelerate Africa's growth to enable it to benefit from its demographic dividend and the opportunities therein. I look forward to sharing my experiences with the students on the universal applicability of the skills the Cranfield MBA provides to positively impact the world."
On his part, the Chief Executive and Vice-Chancellor of Cranfield University, Professor Karen Holford CBE FREng also congratulated Adeduntan, saying: "It is an honour to welcome Dr Adeduntan back to Cranfield to recognise all his professional achievements in this way. His own experience at Cranfield University has propelled his career forward and this serves as a true inspiration for our graduates both this year and in the future."
Indeed, Adeduntan is an accomplished professional with distinctive international and domestic experience in commercial and investment banking, development finance, audit, and consulting; a philanthropist and leader with keen interest in providing platforms for the development of other young leaders.
The FirstBank Group, the commercial banking arm of FBN Holdings Plc, which he heads is made up of First Bank of Nigeria and subsidiaries including FBNBank UK, FBNBank DRC, FBNBank Ghana, FBNBank Senegal, FBNBank Guinea, FBNBank Gambia, FBNBank Sierra Leone and First Pension Custodian as well as Representative Offices in France and China.
Adeduntan is overseeing one of the most extensive transformation programmes in sub-Saharan African financial services industry, with the goal to reposition FirstBank Group to market pre-eminence.
He is leading FirstBank Group on the journey to win the most significant emerging business opportunities in the financial services industry through the development and execution of a digital-led strategy that has established FirstBank as the dominant player in digital banking.
FirstBank Group's transformation programme, under the leadership of Adeduntan has enabled the bank to grow customer accounts from about 10 million in 2015 to over 36 million (including digital wallets), become the second largest issuer of cards in Africa with over 11.8 million issued cards, onboard over 18.6 million active customers on FirstBank's digital banking platforms, and initiate and grow the most expansive bank-led Agent Banking Network in Africa with over 170,000 agents.
His career in banking and finance, spanning almost three decades, has earned him various recognitions and awards including Forbes Best of Africa – Outstanding Leader in Africa, Distinguished Alumnus Award by both the Cranfield University's  School of Management and the University of Ibadan, African Banking Personality of the Year,  African Banker of the Year Award; Banking Icon of the Decade by the Sun Newspapers and induction into the African Leadership Magazine (ALM) Hall of Fame, Honorary Citizenship of the State of Georgia and Congressional Commendation Award from the Georgia Senate – USA, Bank CEO of the Year by the AES Excellence Club and several other awards.
He has attended various executive and leadership programmes at Harvard Business School (USA), Wharton School (USA), London Business School (UK), IESE (Spain), University of Oxford (UK), University of Cambridge (UK), CEIBS (China) and INSEAD (France). He is a fellow of both the Institute of Chartered Accountants of Nigeria (ICAN) and the Chartered Institute of Bankers of Nigeria (CIBN).
Adeduntan's leadership drive also reflected in First Bank Nigeria Limited's recently released full year 2021 financial statement. The results clearly showed the strength and resilience of the iconic African elephant as well as the financial institution's leadership in the industry. The impressive results were a reflection of the robust strength and growth of the iconic African elephant, showing that the bank has taken its rightful position among the industry leaders.
In addition, it showed the level of work the current board, management and staff of the bank have put in to turn the tide in the 128 years old institution with entrenched corporate governance.
The full year 2021 performance by the bank represented a shift in the financial institution's performance trajectory and was made possible through its undeterred commitment in pursuing its transformational agenda; cutting across customer-led innovation, building a digitalised bank, culture change, reinventing the bank's workplace and safeguarding its assets for the digital age.
For the first time, FirstBank Group posted the best result in more than a decade history of the bank by crossing the N100 billion profit line. Specifically, in the full year 2021 financial statement, the FirstBank Group reported a 73.9 per cent growth in its profit after tax to N117.8 billion, as against the N67.8 billion recorded as of December 2020, just as its profit before tax stood at N130.9 billion, which was a significant rise by 77.9 per cent year-on-year, as against the N73.6 billion it was as of December 2020.
FirstBank's gross earnings also increased by 30.3 per cent to N716.8 billion in 2021, up from N550.3 billion it was as of December 2020. Also, it recorded non-interest income of N342.2 billion in the year under review, which was 106.4 per cent higher than the N165.8 billion recorded as of December 2020. As a result of years of strategic restructuring of its balance sheet and operations, its gross earnings also moved northwards by 30.3 per cent, its total assets was up 15.9 per cent to N8.5 trillion as of the end of 2021, as against the N7.4 trillion recorded the previous year, just as its customer deposits also climbed by 19.5 per cent to N5.6 trillion, up from the N4.7 trillion recorded the previous year. The bank's customer loans and advances also improved by 28 per cent to N2.8 trillion in the year under review, up from N2.2 trillion the previous year.
FirstBank has shown innovation, resilience and commitment to growth by significantly reducing its non-performing loans (NPL) from 25% in 2016 to an acceptable level of 6.1% in 2021.
To demonstrate that the bank's performance in 2021 was not a fluke, the Bank equally performed excellently well in Q1 2022. FirstBank recorded 32% increase in gross earnings to N180bn in Q1'22 from N136.6bn in Q1'21. Profit after tax was up 108% to N32.4 billion (Q1'22) relative to N15.6 billion (Q1'21). This impressive performance is hinged on robust loan portfolio, effective cost structure and increased digital services.FirstBank recorded the highest decline in its cost-to-income ratio in Q1 2022, dropping from 79.5% recorded in Q1 2021 to 67.03% amongst tier-1 Banks in the review period.
With FirstBank under Adeduntan, the safety of customers and the security of their transactions come first. This has ensured the bank keeps the trust of Nigerians gained over the many years of its enduring legacy of safety and security.
The bank also delivers unique and bespoke financial services solutions across all customer segments underpinned by its commitment to innovation and the customer experience. It also leverages its strong investment banking capabilities to support clients in defining and executing innovative debt solutions as well as offer strategic advice at the highest level, arrange tailor-made financing structures, manage risk and ultimately help clients to realise their aspirations
Since its establishment in 1894, FirstBank has consistently built relationships with customers focusing on the fundamentals of good corporate governance, strong liquidity, optimised risk management and leadership.
Over the years, the bank has led the financing of private investment in infrastructure development in the Nigerian economy by playing key roles in the federal government's privatisation and commercialisation schemes. With its global reach, FirstBank provides prospective investors wishing to explore the vast business opportunities that are available in Nigeria, an internationally competitive world-class brand and a credible financial partner. It is expected that the leadership excellence and recognitions accorded to Adeduntan would continue to reflect positively on the FirstBank brand and fundamentals of the bank so that the elephant will continue to stand 'gidigba.'