Heirs Life Assurance Partners Avon Medical on World Blood Donor Day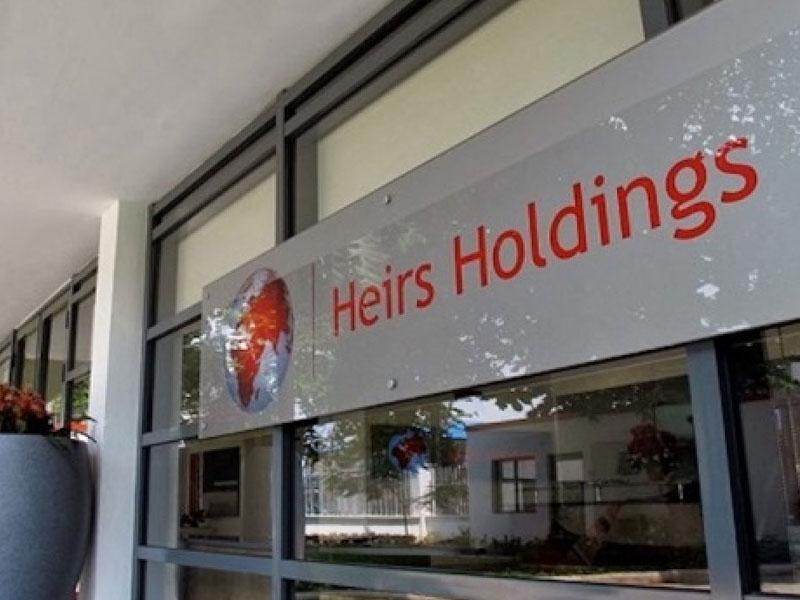 Newly launched specialist life insurance company, Heirs Life Assurance (HLA) has partnered Avon Medical to organize a blood drive in commemoration of the 2021 World Blood Donor Day. The event, which was held on Monday, June 14, 2021, at the ultramodern Avon Medical Dialysis Centre in Ikeja, Lagos had individuals present to donate blood for those in dire need of medical attention.
This year's edition, the first partnership between both companies, set out to increase awareness of the importance of safe blood for transfusion and highlight the critical role voluntary blood donors play in national health. The Chief Marketing Officer, Heirs Life Assurance, Ifesinachi Okpagu confirmed that the partnership is in line with the company's goal of promoting, not just the importance of life insurance, but wholesome living.
'At the core of our business operations at Heirs Life Assurance is care for people and their families and we are pleased to have demonstrated this with our partnership with Avon Medical. There are several statistics that show that blood donation is of much benefit to the end user as much as it is to donors and here today, we are raising awareness for the need to encourage this culture and celebrate as many that have come out to be superheroes', she said.
Shekinah Olagunju, Head, Marketing and Corporate Communications at Avon Medical, also expressed delight in the partnership, describing it as laudable especially as it helps both companies further their commitment to building a healthier nation and, in the process, improving the economy and transforming Africa; values held by the companies within the Heirs Holdings group portfolio.
Since its official launch on Tuesday, June 1, 2021, Heirs Life has continued to actively push its offering of life insurance that is simple, quick, accessible, and reliable with its array of value adding products, served on several easy-to-use platforms. Heirs Life's product offerings comprise of insurance-backed savings plans and life insurance security for individuals, families, children's education, debtors, creditors, entrepreneurs, and employees. The company is backed by top-notch Reinsurers to provide second-layer security for its clients' insurance portfolios.
Just In: Nnamdi Kanu Arrives Court For Trial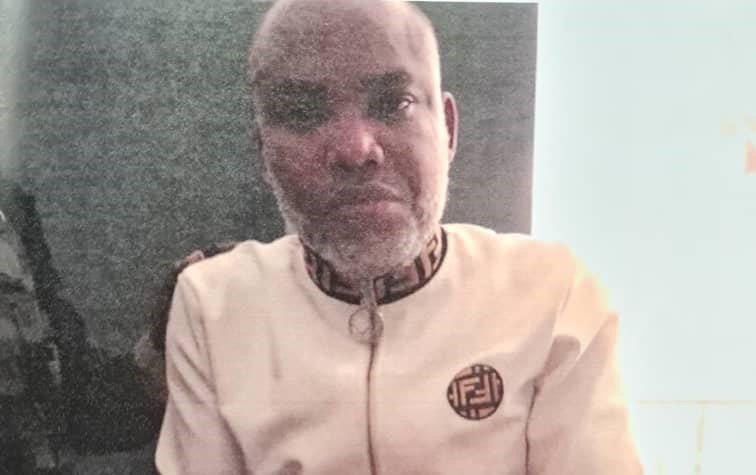 Detained leader of the Indigenous People of Biafra (IPOB), Mr Nnamdi Kanu has arrived the Abuja Division of the Federal High Court, venue of his trial over allegations of terrorism and treasonable felony.
Although his visuals could not be gotten, he was however believed to be among a convoy of about six vehicles that drove into the court premises around 8am on Thursday morning by operatives of the Department of State Service (DSS).
The convoy was led by a black Prado jeep, followed by two Hilux, two buses and other two other Hilux.
Before his arrival, security operatives including DSS, Nigerian Army, Police and the NSCDC had condoned off all enterances leading to the headquarters of the Federal High Court, Abuja.
Even staff of the Federal High Court had to alight from their staff bus to be screened before they were allowed to go in.
Nnamdi Kanu was arraigned alongside four others on six count criminal trial charge bordering on alleged terrorism and treasonable felony in 2016.
He pleaded not guilty to the charges and was admitted to bail in the sum of N100 million with three sureties in like sum, one of which was a serving Senator, Enyinnaya Abaribe.
However, he had jumped his bail in 2017 after his family house in Afarukwu, Abia State was invaded by personnel of the Nigerian Army.
Following the jumping of his bail, trial judge, Justice Binta Nyako had voided the bail and issued a warrant for his arrest.
After nearly four years of being a fugitive, he was re-arrested by security agents in collaboration with interpol and brought to Nigeria in late June to face his trial.
At the proceedings in July, his trial could not go on because of the failure of the DSS to produce him in court.
Justice Nyako had held that the court could not try him in absentia now that he has been re-arrest and in the custody of the federal government.
She accordingly adjourned to today for his rearaignment.
Only few days ago, the federal government had amended the charge to seven.
It would be recalled that the court had in 2019 separated Kanu's trial from the others after he jumped bail and ordered his trial in absentia.
Details later.
Real Reasons EFCC Grills Ex-Kano Governor Kwankwaso Over N10billion Fraud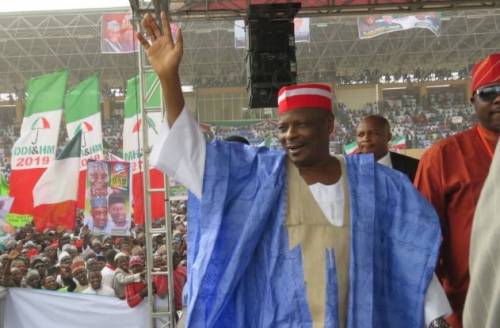 Kwankwaso was invited for allegedly diverting the N10billion meant for the payment of pensions and construction of houses.
Officials of the Economic and Financial Crimes Commission, on Saturday, grilled the immediate past Governor of Kano State, Rabiu Kwankwaso, over allegations of abuse of office, diversion of public funds and fraudulent allocation of government properties to cronies
Punch reports that Kwankwaso was invited for allegedly diverting the N10billion meant for the payment of pensions and construction of houses.
Kwankwaso, a chieftain of the Peoples Democratic Party, was first invited by the EFCC in September but failed to honour the invitation.
The report stated that some retirees are believed to have written a petition to the commission demanding the investigation and possible prosecution of the ex-governor.
The retired employees had told the EFCC that the former governor mismanaged pension remittances to the tune of N10 billion between 2011 and 2015, to fund a housing project for his cronies.
"Kwankwaso came in today. He is responding to questions on alleged fraud following a series of petitions the EFCC received against him. In one of such petitions, the former governor was accused of diverting N10bn meant for the payment of pensions and construction of houses," an EFCC detective said.
The former governor, who is a chieftain of the Peoples Democratic Party, is among those rumoured to be nursing a presidential ambition for 2023.
ADVAN rejects APCON standard of practice document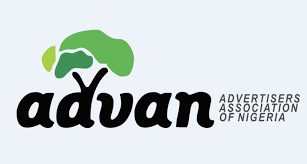 The Advertisers Association of Nigeria ADVAN rejects the implementation of the new Advertising Industry Standard of Practice as it makes an unconstitutional attempt to infringe on the rights of private entities to determine their contractual terms.
ADVAN is very supportive of the plan to create a Standard of Practice for the advertising industry, a key objective of ADVAN is to facilitate and support progress in the advertising and marketing communications industry. ADVAN is excited to be a part of any initiative towards the development of industry best practice which will facilitate business and economic growth.
.
The Supreme Court has in many decisions, pronounced that the rationale for freedom of contract is founded on public policy: i.e., parties of full age and competent understanding are deemed to have the utmost liberty of contracting, and that their contracts when entered freely and voluntarily must be held sacred and be enforced by courts of law,
Furthermore, as principal benefactors of Advertising services our role and input with regards to this AISOP has not been fully onboarded, the current AISOP is void of critical elements that protect the rights and interest of the ADVAN community.
It is the submission of ADVAN and all its members, that the current AISOP does not serve collective interest, but rather permits unfair authority of certain parties over others and   creates an unfriendly business framework. It portrays a clear indication of discriminatory standards where the AISOP document in section 5 sub section b (Discounts and Commissions) states that "No party will unilaterally dictate or impose rates on another party except as may be mutually agreed by upon by the parties" however in the summary submitted to the press there is a clause that states "Media rates may be increased at any time provided that at least 30 days' notice is given prior to implementation". Latter of which was not included on original documents, further portraying an inconsistency in expectation.
ADVAN requests that in all instances, the condition of a mutually agreed terms by both parties be upheld and not only as it applies to expectations from Advertisers.
Government has a specific and critical role in supporting industry development by providing fair and enabling legislation and guidelines for ethical business practices, this involvement however, should not overrule the constitutional rights of business entities to conduct legitimate business activities.
The perception of a discriminatory regulatory system will be counterproductive to the collective objective of creating a conducive business environment.
Consequently, in the interest of creating an inclusive free, fair, and transparent industry standard of practice, ADVAN has sent in a clear representation of expectation. ADVAN is on standby for the acknowledgment of this position and further engagement on a standard of practice framework that is in the mutual interest of all.