HAPPENSTANCES AT THE MBGN 2014…… + HOW IHEOMA NNADI EMERGED WINNER.
The Most Beautiful Girl in Nigeria pageant has been going on for the past 26 years, and this year 2014, marked the 27th year of this foremost pageantry, which has produced Nigeria's finest ladies who have also represented the country in other international pageantries, sometimes coming out tops. The emergence of Agbani Darego MBGN 2001, who went on to win the Miss World in South Africa, gives credence to the fact that indeed the MBGN is a pageantry where excellence is top priority.
But that is not surprising, considering the fact that the MBGN has the privilege of working with renowned professionals such as, Juliette Hagerman (US trained choreographer), Derek Baum (US trained director) and Preere Opoufom (Nigerian based choreographer). All mentioned names have amazing credentials and wealth of experience, which they have brought to the MBGN pageantry thus making it at par with any international pageantry.
The 2014's which was hosted by Bayelsa State Government on Saturday 19 July, 20014 started with a red carpet reception while the event proper kicked off at exactly 7:30pm, with a line-up of all the contestants in their respective local costumes. It was a feast of cultural fiesta as they all dazzled in their various native costumes, which represented each state. The outfits were also a means of showing creativity as they were allowed to infuse their personal styles and twists in the costumes for an edgier fashion representation. The contestants danced to the music while some background information of the states they represented was shared to the viewing audience. Thus providing an opportunity for people to learn more about the various states in Nigeria.
The 2014 MBGN was hosted by Ik Osakioduwa and Yvonne Vixen Ekwerre, both of whom have been previous hosts of the pageantry. The amiable duo introduced the panel of judges made up of, Dr Ikeora May, Eniye Ambakederemo Ukpeh, Ini-Ibehe Okorie, Sylvia Nduka, Mrs Gbemisola Awoniyi-Foloyan, Garth Deacon and Bryan Okwara. The hosts continued to thrill the audience with jokes and banter, as the judges went about the serious business of judging the pageantry objectively.
The Deputy Governor of Bayelsa State, Rear Admiral Gboribiogha Jonah (rtd), gave a great speech and affirmed that "We are unlocking the beauty of Bayelsa, and this we are doing in an organised way, and as we always say, this is just the beginning. We have much to offer from what we've seen so far, from dependence on oil to an economy that can stand on its own. And that is why the government is creating an enabling environment for tourism to flourish".
He went further to state that "Last year we had two Bayelsan girls, and the government said next year we are going to have our own pageant and we will select them for the state level pageant." He ended his speech by welcoming everyone to Bayelsa and enjoining them to have a sweet stay in the state.
Then came dancing time, the contestants came out in a red attire and sashayed to Davido's, (Aye), their choreographic performance was on point. As the crowd clapped to their dance.
Yeka Onka, winner of Nigerian Idol 2011 singing contest, came out and gave a dazzling performance of one of her singles (Somewhere in the world).
This year's MBGN also incorporated the social media as Chioma Okpala, a presenter with STV read out tweets sent in by viewers, she also revealed all the razzmatazz happening back stage in a segment of the pageantry called "My Corner".
Sheyi Shay, sensational up and coming music act emerged and performed a skit (Oluwaloseyi) on stage. As usual her performance was fair and energetic, and had the crowd asking for more. Immediately after Sheyi's performance was the swimsuit segment and the crowd went berserk, especially the male audience as the beautiful contestants emerged in their sexy swim suits. They came in four batches of ten contestants each.
Doctor Lee, gave a great performance of his song (I Go Dance) as soon as the contestants made their exit from the stage. Then came another parade from the intended beauty queens, but this time in their night wears. They all looked beautiful and the audience clapped and clapped. The last set of parade by the contestants was in their evening wears and as the host IK said, the girls indeed looked absolutely stunning.
As the 30 contestants stood in their evening gowns, it was time for the judges to make their first selection of the best 15 and they were…
1. Miss Plateau—Josephine Oghonoghor
2. Miss Bayelsa—Bisola Mohammed
3. Miss Kogi—Erica Nlewedim
4. Miss Ondo—Obafunke Braithwaite
5. Miss Adamawa—Anita Omofonma
6. Miss Delta—Fortune Woko
7. Miss Abuja—Princess Dennar
8. Miss Kano—Violet Okwazu
9. Miss Edo—Queen Celestine
10. Miss Imo—Analoo Ibadin
11. Miss Anambra—Angel Ineh
12. Miss Lagos—Michelle Adepoju
13. Miss Kwara—Chinyere Adogu
14. Miss Osun—Endurance Akpoyibo
15. Miss Akwa-Ibom—Iheoma Nnadi
Amidst claps of encouragement from the audience, the 15 contestants were separated from the rest and after that came the presentation of awards to the topmost outstanding contestants among the best 15, and they are
Awards…
1. Miss Photogenic: Miss Kogi. (Erica Nlewedim)
2. Miss Charismatic: Miss Kwara (Chinyere Adogu)
3. Best Traditional Costume: Miss Delta. (Fortune Woko)
4. MBGN Model: Miss Gombe. (Precious John) who also wins an authomatic modelling contracts with Isis Modelling agency.
5. Miss Amity: Miss Edo (Queen Celestine)
The judges were then asked to select the best five among the 15 contestant and from which the queen would eventually emerge. The judges had a hard time in making this selection as they argued back and forth, agreeing and disagreeing.
While that was going on, Patoranking and Sheyi Shay came on stage. Patoranking first performed his hit single Alubarika and the crowd danced to the song, afterwards Sheyi Shay joined him on stage and they performed their duet (Murder). He ended his gig with his song (Girlie o).
As the crowd clapped for him, then came the moment to select the best five contestants from the initial 15 beauties and they were—
1. Miss Edo– Queen Celestine
2. Miss Kwara—Chinyere Adogu
3. Miss Osun—Endurance Akpoyibo
4. Miss Akwa Ibom—Iheoma Nnadi
5. Miss Abuja—Princess Dennar
Then came the interview session. The five outstanding beauties were each asked one question and their intelligence was assessed through their answers.
After that, whilst the judges were making their final decision as to whom should be crowned MBGN 2014, the outgoing MBGN, Miss Anna Ibiere Banner, came on stage and walked her final walk, while commenting about how exciting her journey had been for the past one year. She also wished the in-coming queen success.
Then sensational soul singer and Bayelsa born Timi Dakolo was called out to serenade the potential queens. He came to the stage singing John Legend's (All Of Me). Ending his performance with (Iyawo Mi) his latest single, Timi made his exit for Guy Murray Bruce, the Vice President of Silverbird Group.
Mr Guy made a brief speech and reiterated the importance and duties of a beauty queen, he also named the various benefits attached to each position and then announced the sequence of the final selection from the judges.
Fourth Runner up–Miss Abuja
Third Runner up– Miss Osun
Second Runner up–Miss Kwara
First Runner up–Miss Edo
And the winner is!!!
Miss Akwa-Ibom! Iheoma Nnadi.
By: Sunday Adebayo (Who was in Yenagoa, Bayelsa State)
AFRIMA CONDOLES WITH MOROCCO, LIBYA OVER EARTHQUAKE, FLOOD, URGES GLOBAL UNITY AND SUPPORT IN CRISIS RESPONSE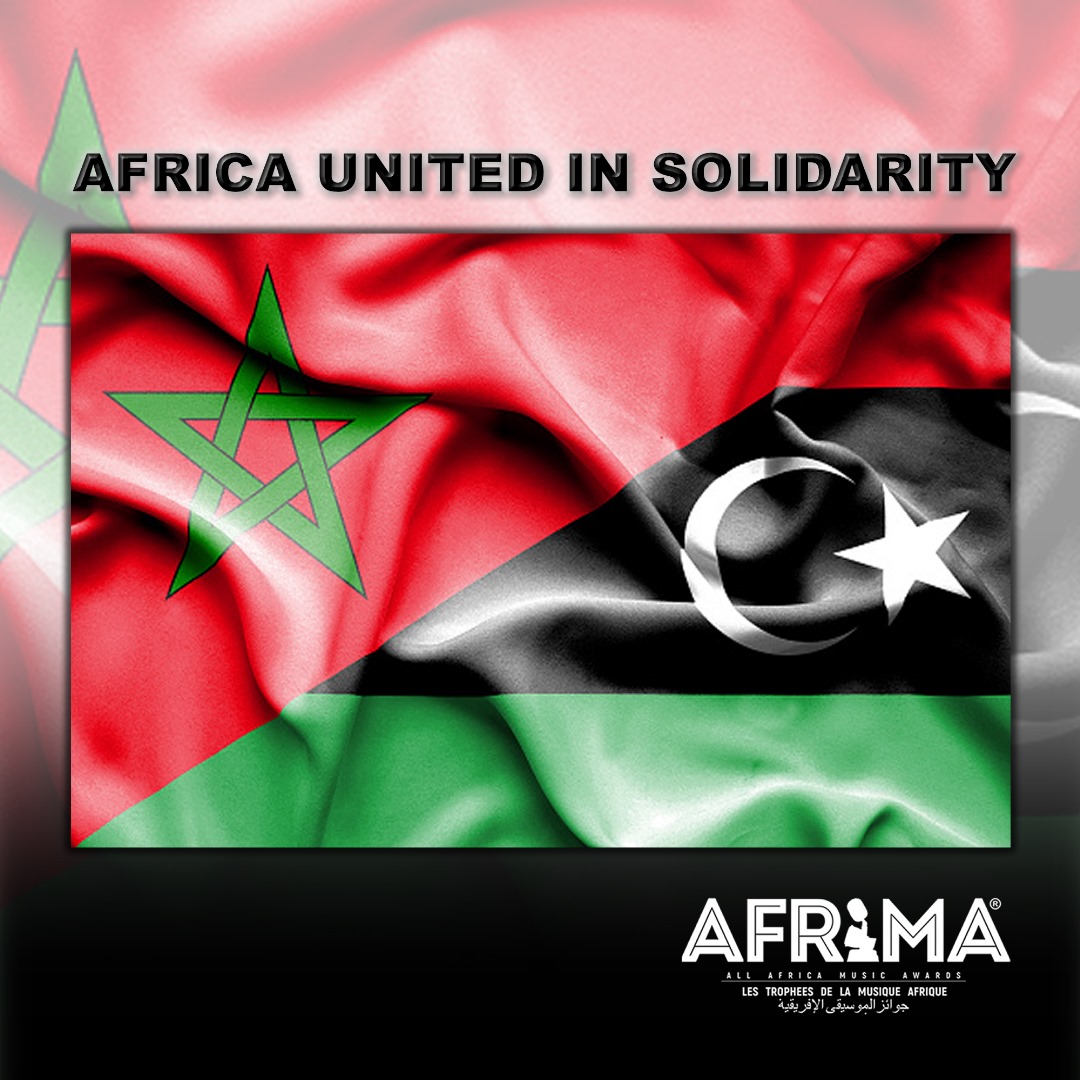 In a sombre update on the situation in Libya's coastal city of Derna, and Morocco's Marrakesh, All Africa Music Awards (AFRIMA) extends its deepest and most profound condolences to the People and Government of Libya and Morocco. The catastrophic flooding following a powerful storm has tragically claimed the lives of 3,958 individuals, displaced more than 43,000 people, leaving a void that can never be filled.
Moreover, the heart-wrenching news of the earthquake in the High Atlas Mountains, southwest of Marrakesh, Morocco leaving at least 2,900 people dead and over 5,500 injured underscores the enormity of the crisis. Families are anxiously searching for their loved ones amidst the aftermath of this natural disaster.
AFRIMA reaffirms its unwavering commitment to assisting in the recovery and reconstruction efforts in Derna and Marrakesh. The healing power of music and art can help mend the hearts of shattered souls and communities.
Describing the situation as "catastrophic", Regional Director, Northern Africa, AFRIMA, Janatte Haddadi called upon the entire global community to join in this moment of solidarity with the Moroccan and Libyan people in their hour of need.
According to her, "The powerful display of unity is a testament to the values that AFRIMA shares in both individuals and African societies.
"As an organization rooted in the sustainable growth of the African music industry and contributor to African economies through music promotion, AFRIMA believes in the power of solidarity, compassion, and love for our nations, irrespective of their religion or race," Hadadi said.
The President and Executive Producer, AFRIMA, Mike Dada expresses the gravity of this situation, saying, "Our hearts are heavy with grief as we stand with the people of Derna and Marrakesh during this time of immense loss. The scale of devastation is beyond words, and our thoughts are with those who are still searching for their missing relatives.
During this time of immense sorrow and distress, AFRIMA calls upon the world to come together and stand with Derna and Marrakesh. The people of Libya and Morocco need our collective strength and solidarity more than ever."
Underscoring the urgency of global cooperation, Director of Communication & Sponsorship, AFRIMA, Matlou Tsotsesi stated "The rising death toll and the vast number of missing persons in Derna demand a united response from the international community. We must act swiftly to provide relief, support, and hope to the survivors and families affected. Our thoughts and prayers are with you as you face this unparalleled tragedy."
AFRIMA (All Africa Music Awards) is the Pinnacle of African Music Globally.
GLOWFUX '23: FANAFILLIT Embarks on a Mission to Break Barriers and Foster Love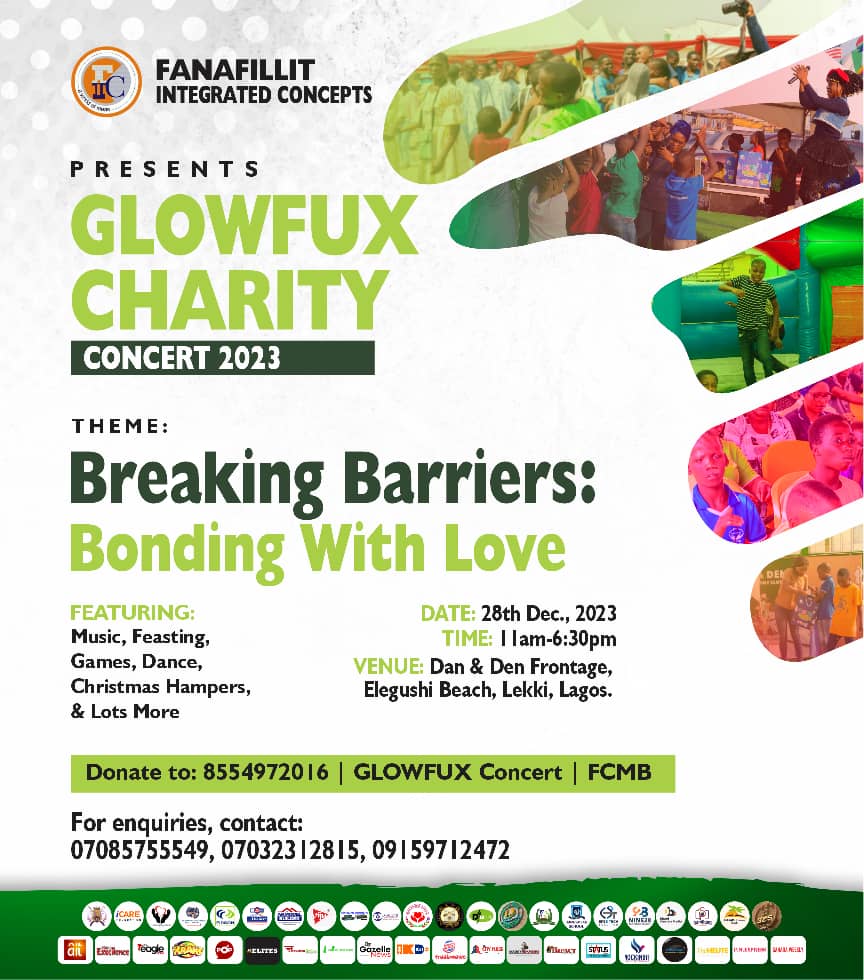 Fanafillit Integrated Concepts, the driving force behind the annual GLOWFUX Charity Concert, has unveiled its ambitious plans for the 2023 edition. This eagerly anticipated event, scheduled for December 2023, aims to unite well-meaning Nigerians in a heartwarming endeavor to bring joy to the lives of special children.
In an official statement signed by Queen Adetutu Oshinowo, the coordinator for this year's event, Fanafillit Integrated Concepts announced the theme for the 2023 GLOWFUX Charity Concert as "Breaking Barriers: Bonding With Love." This theme carries a profound message, focusing on the need to bridge the socio-economic gap that divides our society and connect everyone through the power of love.
"This year's theme, 'Breaking Barriers: Bonding with Love,' encapsulates our mission to obliterate the social disparities in our community and bring everyone together through love," states the press release.
Now in its eighth year, the GLOWFUX Charity Concert continues to raise awareness about the importance of extending love and support to children in orphanages, rehabilitation centers, and other specialized facilities, especially during the festive season. The Lagos leg of GLOWFUX Concert is billed to hold on December 28, 2023, at the Dan and Den Frontage, Elegushi Beach, Lekki, Lagos.
In line with its tradition, the GLOWFUX Charity Concert is open to the public, offering an opportunity for individuals to join in celebrating these special children from organized need homes who are honored as VIP guests. Attendees from the public are encouraged to participate by registering and bringing gift items for the children in need.
In an exciting development, this year's edition will also mark the launch of an NGO under the GLOWFUX banner. This step, according to the organizers, solidifies GLOWFUX's transition from a one-time annual celebration to an institution committed to quarterly outreach programs that extend beyond the holiday season.
Furthermore, the organizers are introducing the "GLOWFUX TOP 50 GIVERS" initiative, which celebrates 50 compassionate and benevolent individuals in society. Leading up to the main event, these kind-hearted individuals will be featured on the GLOWFUX social media platforms.
The 2023 GLOWFUX Charity Concert promises a wealth of entertainment, gifts, food, and refreshments for all attendees. While renowned entertainment practitioners, including Da'Fresh Olorin, Vanessa Jones, Ogbono, Talk Talk, Princephelar, Meyrah, First Class Comedy, FKM, and Chief Adigun Olowe, are already confirmed for the event, talk are ongoing to bring in other prominent entertainment brands like Makayla Malaika, Bimbo Oshin, Ikorodu Bois, and more.
The GLOWFUX Charity Concert 2023 boasts the support of esteemed brands such as Elegushi Royal Stool, iCare Foundation, Courteville Solutions PLC, Hands Lifting Hearts Initiatives, Fidson Healthcare, Beloxxi Biscuits, AkModel Properties, Elegushi Private Beach, VIJU Industries, Corsican Brothers, MALENS Diagnostics, Seniors Well Being Foundations, Headway Events, DJ MAPS Productions, Dan & Den Lounge, Zekod Farms, Epee Tech Solution, DBard Creative Media, Sangloos Media, and 3Zs Fabrics. Similarly, efforts are ongoing to secure the participation of brands like 928 Multimedia, KingsMead Schools, Rite Foods, Flour Mills of Nigeria, Digital Landlord, and others.
The event is guaranteed of garnering substantial media support from notable media platforms such as AIT, Global Excellence magazine, theeagleonline.com.ng, KRAKS TV, newspop.com, theelitesng.com, freedomonline.com.ng, saharaweeklyng.com, Hottestgistinnaija.com, thegazellenews.com, IKD 106.1 FM, pmexpressng.com, freelanews.com, thecitypulsenews.com, societyreporters.com, theimpactnewspaper.com, thestatusng.blogspot.com, mockinbird.com.ng, omonaijablog.com.ng, theheute.com.ng and others.
The GLOWFUX Charity Concert is an annual end-of-the-year charity concert that brings together children from orphanages and special needs homes for a unique end-of-the-year celebration with the general public.
All enquiries for participation, partnership, sponsorship etc can be forwarded to:
– 07085755549
– 07032312815
– 09159712472
To support the noble cause, donations can be made to:
Account Number: 8554972016
Account Name: GLOWFUX Concert
Bank: FCMB
GLOWFUX Charity Concert… Giving Happily to Live Happily
Lagos Boxing Initiative To Hold 3rd Edition Of 'Rumble At The Park' October 15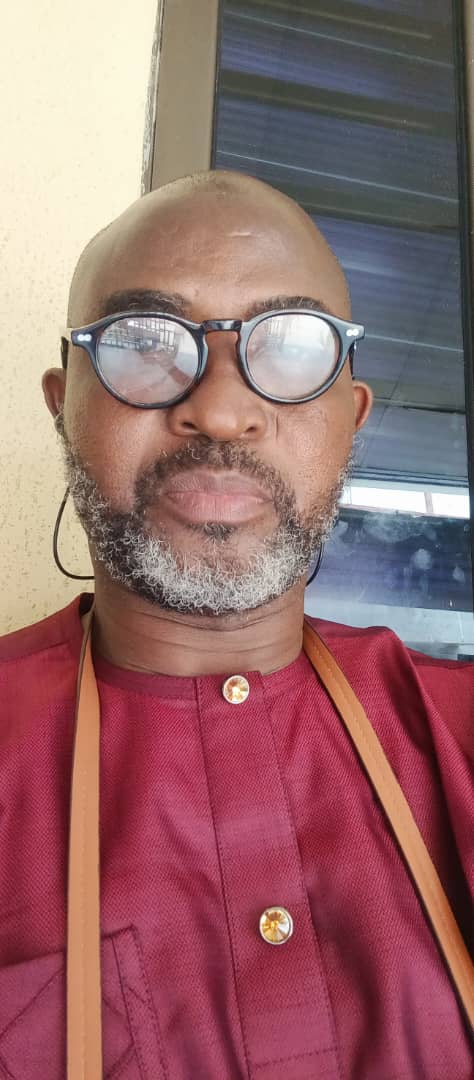 Lagos Boxing Initiative in conjunction with Freedom Park Management, in Lagos, has announced plans to hold the third edition of 'Rumble At The Park' on October 15th, 2023.
The exercise will parade the best of Nigerian professional boxers both males and females, who are set to compete against their counterparts from the West African coast and other nations of the world.
The 10bouts exercise is a professional boxing showpiece and the 3rd edition is designed as the grand finale of a week-long musical annual entertainment program 'Felabration', in memory of the foremost Nigerian music maestro, Fela Anikulapo kuti.
According to Mr Theo Lawson, the Director of Freedom Park located on Campbell St. Lagos Island, the activity, which is a quarterly entertainment programme, will be bringing the best of Nigerian professional boxers to compete against their counterparts around the globe and thus provide boxers the opportunity to earn their living.
He said: "This will enable our boxers take care of themselves and families through their God's given talents. It is being regulated by the Nigerian Boxing Board of Control."
In the words of Remi Aboderin, who is the General Secretary of the Nigerian Boxing Board and President of the West African Boxing Union (WABU), Nigerian boxers are capable of projecting the nation positively if the enabling environment is provided.
Aboderin however called on the government and corporate entities scattered all over the nation to support the Association
Recall that the first edition of the show held in January 28, 2023 with over 1,500 people in attendance including the Ambassador of Netherland and his vice.
The second edition, which was equally successful, took place on the 12th of June, 2023, and the third edition is scheduled for the 15th of October 2023.