Exposed: Real Reasons Tunde Gbadamosi was thrown out of Amen estate, + All the dirty details inside!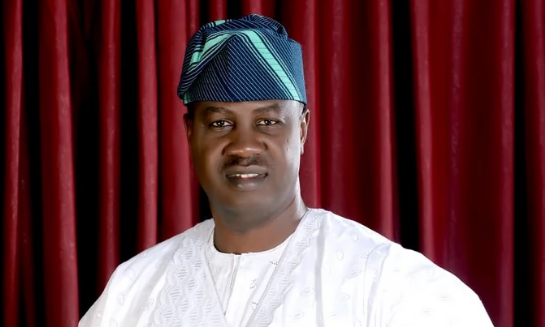 More details on the frosty relationship between former Lagos governorship candidate and politician, Babatunde Gbadamosi and his ex wife, Sade Balogun have emerged.
While Gbadamosi has been all over the place crying foul and claiming part ownership of Amen Estate, a Highbrow Estate in Lagos, Sade who is Chief Executive Officer of the holding company, Redbricks Home International Limited, has renounced her former husband and disclosed that he was nothing more than a mere sleeping partner who did not have a single financial commitment in the business and had since voluntarily resigned from his position as a director of the company.
Trouble started brewing between the duo when Babatunde Gbadamosi met and married the London based daughter of a top politician, Yinka Balogun, now Yinka Balogun Gbadamosi.
While Gbadamosi has been putting out statements warning clients not to do business with Redbricks Homes, his ex wife, Sade released a statement proving that the politician willingly resigned in the presence of his lawyer and a witness, with proof of his resignation letter.
The statement which was released in top national dailies reads:
PUBLIC NOTICE TO ALL INVESTORS AND POTENTIAL INVESTORS
The attention of the Management of Redbrick Homes International Ltd, developers of Amen Estate phase 1, phase 2 and phase 3, has been drawn to certain materials in circulation to the effect that Mr Babatunde Olalere Gbadamosi is associated with Redbrick Homes International Ltd and its real estate projects.
For the avoidance of doubt, once upon a time, Mr Gbadamosi, a full time Politician, used to be a sleeping partner/shareholder without any financial investment and one of the Directors of Redbrick Homes International Ltd, but he has since voluntarily transferred, for consideration, the entirety of his shares in Redbrick Homes Intl Ltd and has also resigned his directorship of its Board since July 1, 2021.
The Board composition, shareholding structure and share capital of Redbrick Homes International Ltd has accordingly changed completely. Folasade Balogun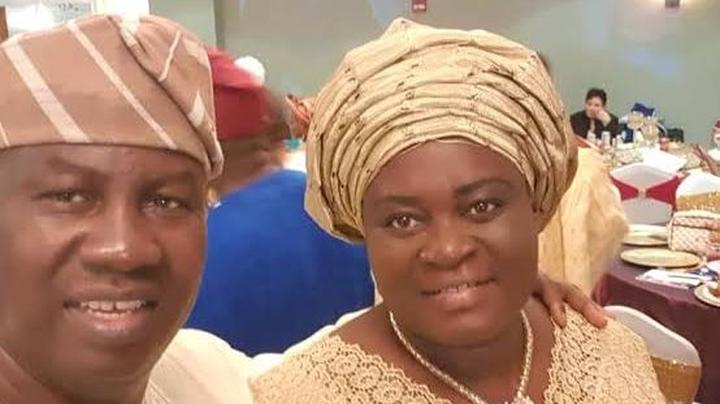 (formerly Folasade Gbadamosi) remains the Chairman and Chief Executive Officer of Redbrick Homes Intl Ltd, a position she has served in since the inception of the
company and under her leadership, Redbrick Homes Intl Ltd has continued to deliver quality service to its customers uninterrupted. These facts can easily be verified at the Corporate Affairs Commission.
However, we are aware that Babatunde is challenging his own voluntary resignation, that was signed in front of two of his counsel, two of our counsel and a notary public, on the grounds that he signed under duress.
Our Lawyers, Babalakin & Co are dealing with this. The Suit No is: FHC/L/CS/742/2021 at the Federal High Court, Lagos before Justice A.O Faji.
For over 12 years, Redbrick Homes International Ltd have been one of the leading and most reliable posh properties provider in Nigeria. Our dedication and commitment to our cause remain unwavering, and you all can be rest assured that your satisfaction and the safety of your properties and investments will never cease to be our topmost priority now and always. Our doors are open, and we also reassure you that acquiring lands and properties with us are not only completely safe and risk-free, it is also the choice thing to do.
We use this opportunity to express our sincere appreciation to all our customers and potential customers for standing by us over the years and wish to reassure them even more, that we would not compromise on our excellent service that they have become accustomed to. Thank you.
Folasade Balogun (formerly Folasade Gbadamosi)
Chairman/CEO
Redbrick Homes Intl Ltd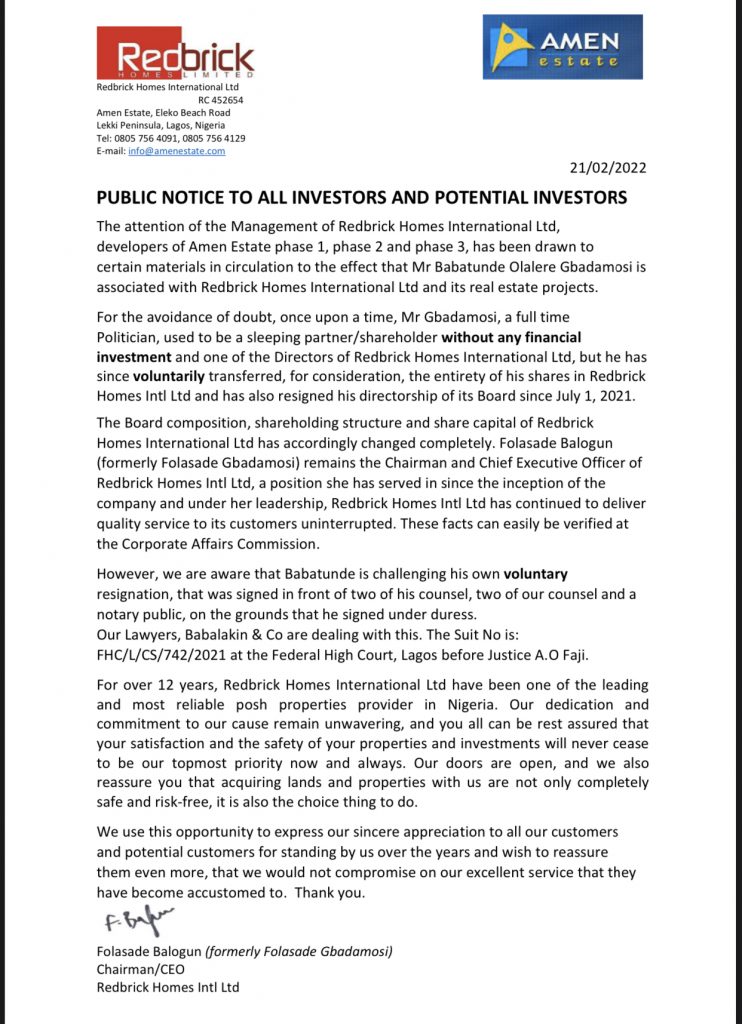 Concerned society watchers are wondering why Gbadamosi is filled with so much bile, after hurting his ex wife so badly and why his new found wife has embarked on a smear campaign against her.
According to a resident of Amen Estate, home owners were very pleased when Gbadamosi was sent packing by Sade:
"This was a man who strutted the estate with so much arrogance and high handedness. He was always fighting with residents. There was a time a driver was waiting to pick up his boss and Gbadamosi began to raise hell because the driver packed on the road just outside the boss' house.
He interfered in almost every home, would be quarrelling over sprinklers, people going about their normal life, jogging around the estate, as if they had no right. He was a menace that we are so happy is gone. Good riddance to bad rubbish"
Those in the know say Sade picked the former guber aspirant from ignominy and gave him a bearing through which he could even vie to be governor but he broke her heart and her trust:
"The best thing to happen to Sade is kicking out that man from her life.
He was a serial womaniser who even caused problems between a couple in that estate.
It's so funny that he is the one now accusing her of infidelity when we all know how he ran after women, married and unmarried.
Do you know that this man was always going behind collecting ten percent money from contractors, behind Sade's back?
One good thing though is that Sade was smart enough not to give him full control of the business, he would have wrecked it.
This is a man who would corner intermediary agents wanting to sell homes and tell them home owners must approach the company and the company must act as agent to sell any house within the estate. All he wanted was to corner the money.
He was a big man without cash.
Why else will a wife throw out a husband with his clothes and only one car? Director my foot!" Said another resident.
Many wonder why Sade has remained silent especially as the marriage between Tunde and Yinka was contracted when they were still legally married.
"Do you know she endured eight months of cyber bullying from that woman and kept quiet?
She should sue him for bigamy. The man is just a gold digger but she is considering the children, poor woman." Said a family source.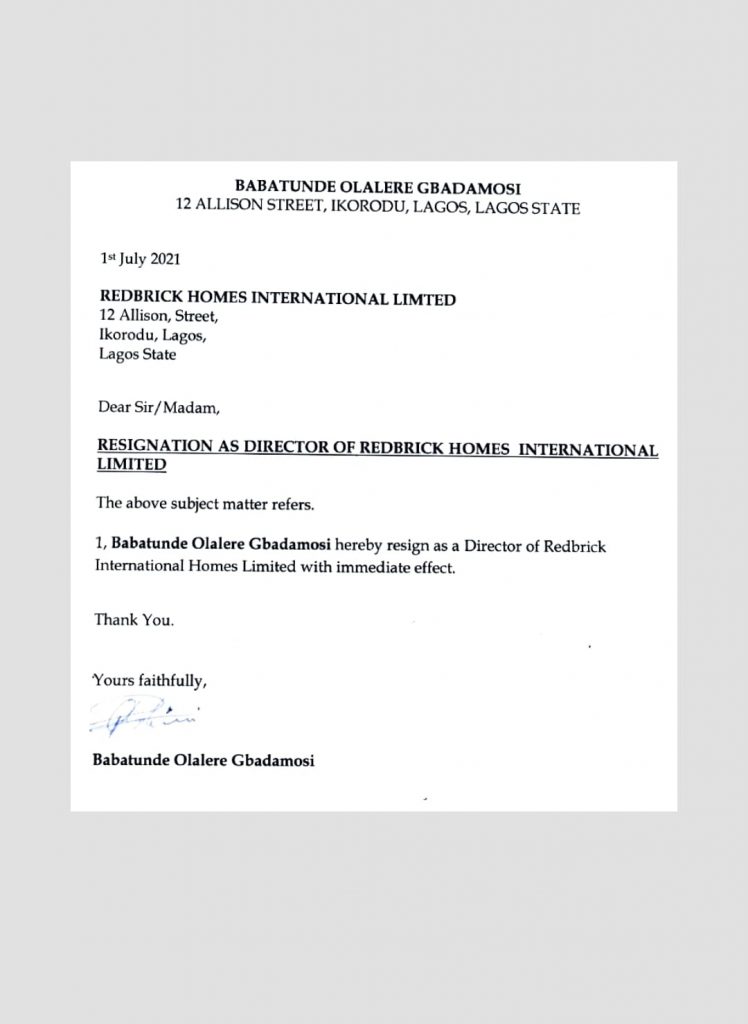 Social media watchers are regaled with mudslinging directed at Sade by the new wife, Yinka Balogun Gbadamosi and wonder why a woman who came to snatch another woman's husband is now the aggressor.
A keen observer noted that Sade has been the target of Yinka's post for almost six months now:
"She behaves so foolishly, she thinks she has seen husband, she has forgotten that the cane used in beating the first wife is waiting for the second wife.
Gbadamosi is a smooth talker and liar who has simply latched on this new one for political and other gains, her own day will come…these London girls should start using their brains".
Another source close to the family said,
"Obviously, Tunde is using Yinka to fight his ex.
Gbadamosi himself is not talking about any infidelity, it is Yinka who came to take another person's husband who is talking.
As someone who has worked in government house, has properties to her name, she should be very careful herself. I learned she has moved into another Estate on the Island with her new husband, I hope she knows that he drove the new car close to Amen Estate just to show off?
This new woman who is obviously over exuberant thinking she has seen husband, should listen to the advice of her elders. A word is enough for the wise. A Gigolo is always a Gigolo.
"The truth of the matter is that, Yinka Balogun thought he was chairman of Amen Estate and probably still believes that lie.
Gbadamosi too was hoping to leverage on her dad's position.
Gold digger met gold digger." The source stressed further.
Giving more insight, sources close to both parties disclosed that Gbadamosi met his new wife Yinka Balogun on Facebook and got married to her on his wedding anniversary to Sade, which according to the source, is very sinister:
"Do you know Tunde and Yinka met on Facebook and coincidentally Yinka and Sade share same surname, Balogun.
As if there is something else behind the whole affair, Tunde chose his wedding anniversary to Sade to wed his new found lover.
Where we come from, we would say, you want to cancel one to replace another. God has been on Sade's side because we learned that her ex husband is allegedly very fetish".
As it stands now, it is obvious that the tumultuous business relationship between Babatunde Gbadamosi and Sade has broken down irretrievably and Gbadamosi has been kicked out of the business for good.
_ First Weekly
Full List: Newly Sworn In Lagos State Executive Council And Their Portfolio……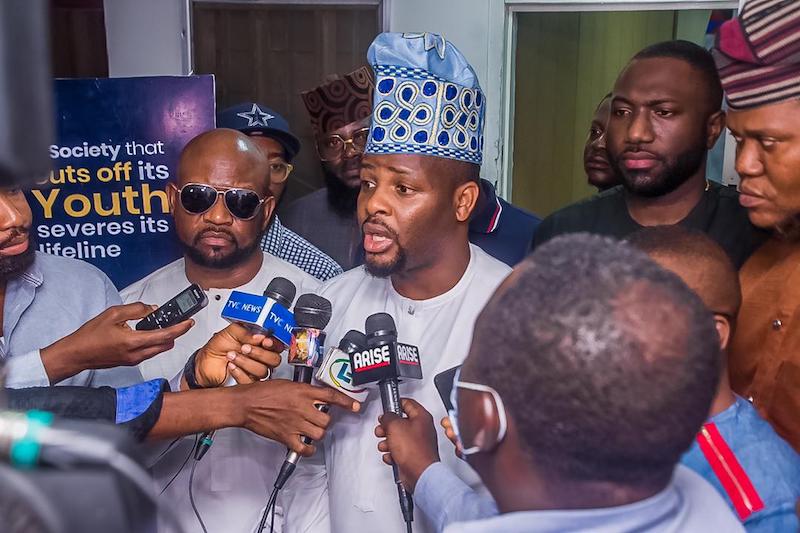 Governor of Lagos State, Mr Babajide Sanwoolu swears-in the Lagos State Executive Council, today at the Adeyemi Bero Auditorium, Alausa Ikeja.
Here are the executive council and their portfolio…….
Mr. Afolabi Ayantayo – Commissioner for Establishment Training and Pensions
Mr. Jamiu Alli-Balogun – Commissioner for Basic Education
Mr. Gbenga Oyerinde – Commissioner, Special Duties
Mr. Lawal Pedro (SAN) – Attorney-General and Commissioner for Justice
Mr. Mobolaji Ogunlende – Commissioner for Youth and Social Development
Hon. Ibrahim Layode – Commisioner for Home Affairs and culture
Mrs. Toke Benson-Awoyinka – Commisioner for Tourism
Olakunle Rotimi-Akodu – Special Adviser, Environment
Mr. Abdulkabir Ogungbo – Special Adviser, Taxation and Revenue
Engr. Abiola Olowu – Special Adviser, Commerce and Investment
Dr. Adekunle Olayinka – Special Adviser, Works (to report to the Deputy Governor)
Mrs. Bolaji Cecilia Dada – Commissioner for Women Affairs and Poverty Alleviation
Mr. Idris Aregbe – Special Adviser, Tourism Arts and Culture
Mr. Yakubu Adebayo Alebiosu – Commissioner Waterfront Infrastructure
Mr. Tokunbo Wahab – Commisioner for Environment
Hon. Bola Olumegbon – Special Adviser, Central Business District (CBD)
Dr. Oreoluwa Finnih-Awokoya – Special Adviser Health
Mr. Kayode Bolaji-Roberts – Local Government Affairs
Mr. Moruf Akinderu Fatai – Commissioner for Housing
Mr. Seun Osiyemi – Commissioner for Transportation
Ms. Barakat Bakare – Special Adviser, Housing
Prof. Akin Abayomi – Commissioner for Health
Mr. Gbenga Omotoso – Commissioner for Information and Strategy
Dr. Rotimi Fashola – Special Adviser Agriculture
Mr. Mosopefolu George – Commissioner for Economic Planning and Budget
Mr. Tunbosun Alake – Commissioner for Science and Technology
Ms. Ruth Abisola Olusanya – Commissioner for Agriculture
Mrs. Kaosarat Folashade Ambrose – Commisioner for Industries, Trade and Investment
Dr. Olumide Oluyinka – Commissioner for Physical Planning
Mr. Yomi Oluyomi – Commissioner for Finance
Dr. Jide Babatunde – Special Adviser E-GIS
Dr Afolabi Abiodun Tajudeen – Special Adviser, Political, Legislative and Civic Engagement
Hon. Sola Shakirudeen Giwa – Special Adviser Transportation
Dr Mrs Iyabo Oyeyemi Ayoola – Special Adviser, Central Internal Audit
Mr Ajigbotafe Akinyemi – Commissioner, Weath creation
Mr Nurudeen Lanre Yekini-Agbaje – Special Adviser, Rural Development and Chieftaincy Affairs
Mr Tolani Sule Akibu – Commissioner for Tertiary Education
EFCC arraigns Lee Fakino Nigeria Limited Director, Emmanuel Ajibola Obakin over N251.6m fraud in Ibadan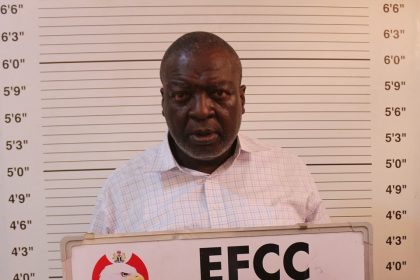 The Ibadan Zonal Command of the Economic and Financial Crimes Commission has arraigned Emmanuel Ajibola Obakin for allegedly stealing N251,685,000 belonging to a firm, Lee Fakino Nigeria Limited.
The EFCC made these declarations via a statement issued on Tuesday.
Wilson Uwujaren, Head, Media and Publicity of EFCC, in the statement, noted that the commission on Tuesday arraigned the suspect before Justice Ladiran Akintola of Oyo State High Court.
He added that the commission dragged the suspect to the court on a four-count charge bordering on alleged stealing.
It maintained that the suspect, one of the two directors of the company and a signatory to the company's account, committed the alleged offence in December last year.
The commission, while speaking further, revealed that the suspect allegedly withdrew the money without authorization and consent of the Managing Director and Chief Executive Officer, Akindele Fajemiyo.
The prosecution counsel, Oyelakin Oyediran, asked the court for a trial date.
It also prayed the court to remand the defendant in the correctional facility pending the determination of the case.
But, counsel to the defendant, Ibrahim Lawal, in his remarks, urged the court to admit his client to bail.
Akintola, after listening to the two parties, admitted the defendant to bail in the sum of N50 million and two sureties, preferably the wife and younger brother to the defendant, in like sum.
The judge then ordered that the defendant provide the court with his National Identification Slip and residential addresses.
He, however, adjourned the matter till 23rd October, 2023 for further hearing.
Former Managing Director Of NDDC, George Turnah, Two Others Jailed Six Years Over N2.9bn Fraud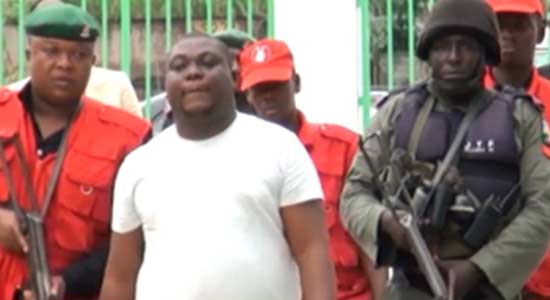 A Federal High Court in Port Harcourt, Rivers State, has convicted and sentenced George Turnah, a former Special Adviser to Dan Abia and former Managing Director of the Niger Delta Development Commission, and two others to six years in jail for acquiring money by deception.
Ebis Orubebe and Uzorgor Chidebere, who were sentenced alongside Turnah by Presiding Judge Justice A. T. Mohammed, were also found guilty of money laundering, conversion of funds, and forgery, all in violation of Section 1 (1) (a) of the Advance Fee Fraud and Other Fraud Related Offences Act, 2006, and punishable under Section 1(3) of the same Act.
The defendants were first arraigned by the Economic and Financial Crimes Commission (EFCC) in May 2017 and re-arraigned on January 25, 2021, on 23 counts of acquiring by false pretense, money laundering, and abuse of office totaling N2,894,500,000.
This was contained in a statement issued on Monday by the EECC spokesman, Wilson Uwujaren, and made available to newsmen.
The statement said, "They were jailed on Thursday, September 7, 2023, having been found guilty of charges preferred against them by the Port Harcourt Zonal Command of the Economic and Financial Crimes Commission.
"Count six of the charge reads: 'that you, George Turnah Alabh, Uzogor Silas Chidiebere, El-Godams Global Services Ltd., Turnoil and Gas Nigeria Ltd, Kolo Creek Petroleum Dev. Ltd, Celtic Pride Consult and Events Ltd, Yenagoa Mall Ltd, the Incorporated Trustees of Concerned Niger Delta Initiative, Adaka Boro Marine Services Ltd, Sugarland Integrated Farms Nig. Ltd, Geohan Telecommunication Nig. Ltd and others at large, on or about the 24th day of November 2014, at Port Harcourt, within the jurisdiction of this honourable court did take possession of the sum of Seven Hundred and Eight Million Five Hundred Thousand Naira (N708,500,000.00) which you reasonably ought to know that the money was obtained by a false pretence from the Niger Delta Development Commission purportedly for the purpose of providing quick win jobs for 300 youths and women groups and thereby committed an offence contrary to Section 15(2)(d) of the Money Laundering (Prohibition) Act, 2011 as amended and punishable under 15 (3) of the same Act.'"
It added, "Count 23 of the charge reads: 'that you George Turnah Alabh in 2014 within the jurisdiction of this honourable court did receive the sum of $1000,000.00 (One Million United State Dollars) (at the exchange rate of N184 to a Dollar) cash from one Umar Lawal of Hakuri Global Concept exceeding the statutory limit without going through a financial institution and thereby committed an offence contrary to Section 1 (a) of the Money Laundering (Prohibition) Act 2011 (as amended) and punishable under Section 16 (2) (b) of the same Act.'"
According to the statement, they pleaded "not guilty" to the charges.
It added that the prosecuting counsel, I. Agwu, called several witnesses and tendered documents to prove the case against the defendants.
Justice Mohammed convicted and sentenced them to two years imprisonment each, starting from the date of their arrest.
The 1st defendant was ordered to pay N1,000,000 as an option of fine while the 2nd and 3rd defendants were to pay N500,000 into the Consolidated Revenue Account of the Federal Republic of Nigeria.
Additionally, the 4th, 6th and 10th defendants were to return the sum of N180,000,000. Other restitutions include, N5,000,000 traced to the 1st convict, N100,000,000 traced to the 6th and 10th convicts, and N50,000,000 traced to Optimal Standard. They are to be forfeited to the NDDC.
Others are N46,760,843.61, N494,371.86, N13,000,000, and N23,500,000 to be forfeited to the NDDC by the 9th, 4th, 2nd and 3rd defendants respectively.
Turnah was the political godson of former President, Dr Goodluck Jonathan.