Exposed: Real Reasons Tunde Gbadamosi was thrown out of Amen estate, + All the dirty details inside!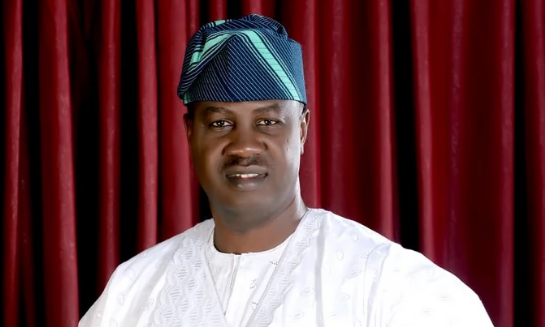 More details on the frosty relationship between former Lagos governorship candidate and politician, Babatunde Gbadamosi and his ex wife, Sade Balogun have emerged.
While Gbadamosi has been all over the place crying foul and claiming part ownership of Amen Estate, a Highbrow Estate in Lagos, Sade who is Chief Executive Officer of the holding company, Redbricks Home International Limited, has renounced her former husband and disclosed that he was nothing more than a mere sleeping partner who did not have a single financial commitment in the business and had since voluntarily resigned from his position as a director of the company.
Trouble started brewing between the duo when Babatunde Gbadamosi met and married the London based daughter of a top politician, Yinka Balogun, now Yinka Balogun Gbadamosi.
While Gbadamosi has been putting out statements warning clients not to do business with Redbricks Homes, his ex wife, Sade released a statement proving that the politician willingly resigned in the presence of his lawyer and a witness, with proof of his resignation letter.
The statement which was released in top national dailies reads:
PUBLIC NOTICE TO ALL INVESTORS AND POTENTIAL INVESTORS
The attention of the Management of Redbrick Homes International Ltd, developers of Amen Estate phase 1, phase 2 and phase 3, has been drawn to certain materials in circulation to the effect that Mr Babatunde Olalere Gbadamosi is associated with Redbrick Homes International Ltd and its real estate projects.
For the avoidance of doubt, once upon a time, Mr Gbadamosi, a full time Politician, used to be a sleeping partner/shareholder without any financial investment and one of the Directors of Redbrick Homes International Ltd, but he has since voluntarily transferred, for consideration, the entirety of his shares in Redbrick Homes Intl Ltd and has also resigned his directorship of its Board since July 1, 2021.
The Board composition, shareholding structure and share capital of Redbrick Homes International Ltd has accordingly changed completely. Folasade Balogun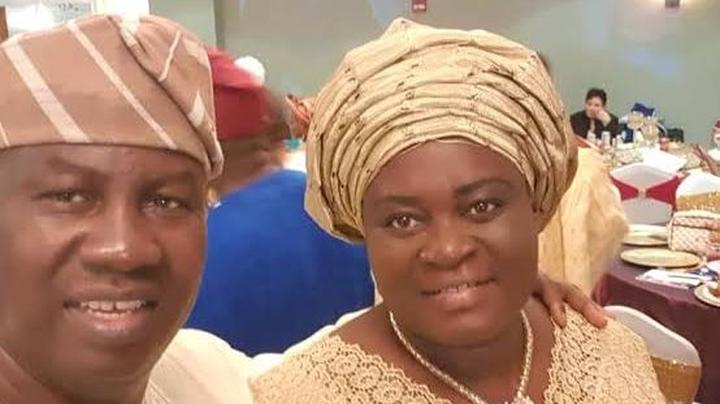 (formerly Folasade Gbadamosi) remains the Chairman and Chief Executive Officer of Redbrick Homes Intl Ltd, a position she has served in since the inception of the
company and under her leadership, Redbrick Homes Intl Ltd has continued to deliver quality service to its customers uninterrupted. These facts can easily be verified at the Corporate Affairs Commission.
However, we are aware that Babatunde is challenging his own voluntary resignation, that was signed in front of two of his counsel, two of our counsel and a notary public, on the grounds that he signed under duress.
Our Lawyers, Babalakin & Co are dealing with this. The Suit No is: FHC/L/CS/742/2021 at the Federal High Court, Lagos before Justice A.O Faji.
For over 12 years, Redbrick Homes International Ltd have been one of the leading and most reliable posh properties provider in Nigeria. Our dedication and commitment to our cause remain unwavering, and you all can be rest assured that your satisfaction and the safety of your properties and investments will never cease to be our topmost priority now and always. Our doors are open, and we also reassure you that acquiring lands and properties with us are not only completely safe and risk-free, it is also the choice thing to do.
We use this opportunity to express our sincere appreciation to all our customers and potential customers for standing by us over the years and wish to reassure them even more, that we would not compromise on our excellent service that they have become accustomed to. Thank you.
Folasade Balogun (formerly Folasade Gbadamosi)
Chairman/CEO
Redbrick Homes Intl Ltd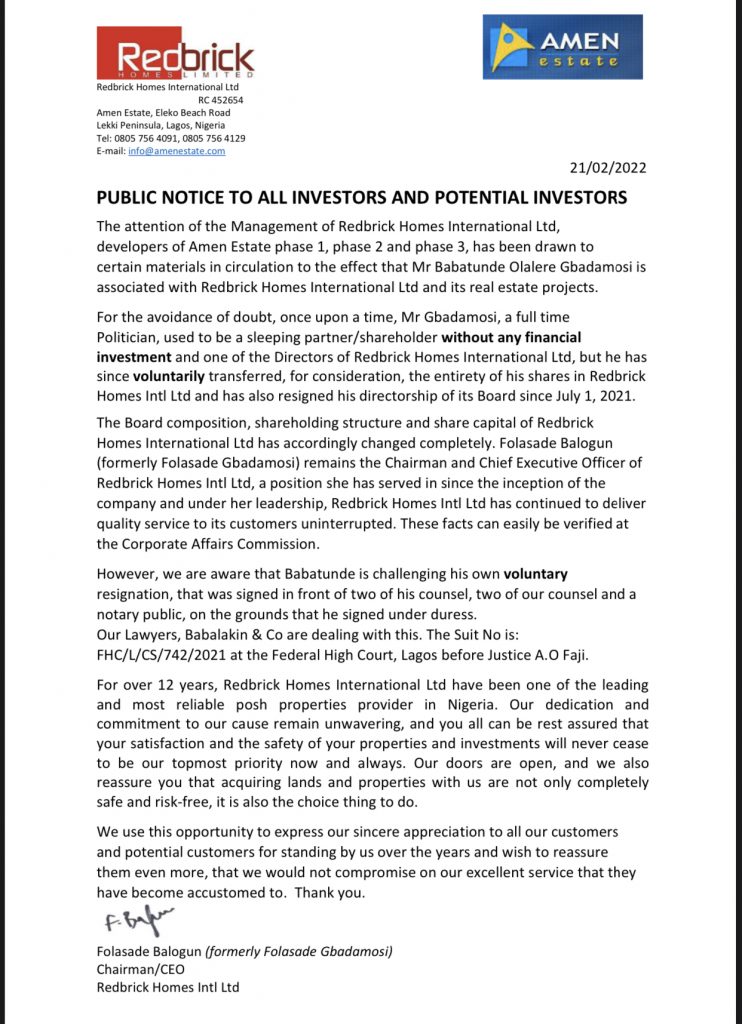 Concerned society watchers are wondering why Gbadamosi is filled with so much bile, after hurting his ex wife so badly and why his new found wife has embarked on a smear campaign against her.
According to a resident of Amen Estate, home owners were very pleased when Gbadamosi was sent packing by Sade:
"This was a man who strutted the estate with so much arrogance and high handedness. He was always fighting with residents. There was a time a driver was waiting to pick up his boss and Gbadamosi began to raise hell because the driver packed on the road just outside the boss' house.
He interfered in almost every home, would be quarrelling over sprinklers, people going about their normal life, jogging around the estate, as if they had no right. He was a menace that we are so happy is gone. Good riddance to bad rubbish"
Those in the know say Sade picked the former guber aspirant from ignominy and gave him a bearing through which he could even vie to be governor but he broke her heart and her trust:
"The best thing to happen to Sade is kicking out that man from her life.
He was a serial womaniser who even caused problems between a couple in that estate.
It's so funny that he is the one now accusing her of infidelity when we all know how he ran after women, married and unmarried.
Do you know that this man was always going behind collecting ten percent money from contractors, behind Sade's back?
One good thing though is that Sade was smart enough not to give him full control of the business, he would have wrecked it.
This is a man who would corner intermediary agents wanting to sell homes and tell them home owners must approach the company and the company must act as agent to sell any house within the estate. All he wanted was to corner the money.
He was a big man without cash.
Why else will a wife throw out a husband with his clothes and only one car? Director my foot!" Said another resident.
Many wonder why Sade has remained silent especially as the marriage between Tunde and Yinka was contracted when they were still legally married.
"Do you know she endured eight months of cyber bullying from that woman and kept quiet?
She should sue him for bigamy. The man is just a gold digger but she is considering the children, poor woman." Said a family source.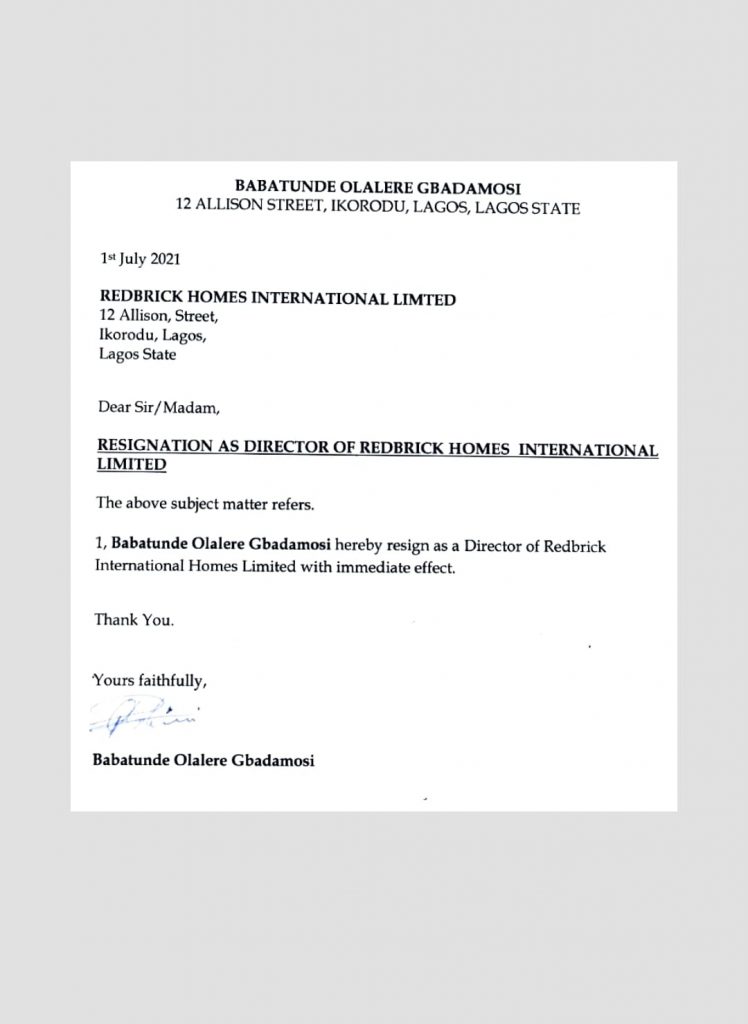 Social media watchers are regaled with mudslinging directed at Sade by the new wife, Yinka Balogun Gbadamosi and wonder why a woman who came to snatch another woman's husband is now the aggressor.
A keen observer noted that Sade has been the target of Yinka's post for almost six months now:
"She behaves so foolishly, she thinks she has seen husband, she has forgotten that the cane used in beating the first wife is waiting for the second wife.
Gbadamosi is a smooth talker and liar who has simply latched on this new one for political and other gains, her own day will come…these London girls should start using their brains".
Another source close to the family said,
"Obviously, Tunde is using Yinka to fight his ex.
Gbadamosi himself is not talking about any infidelity, it is Yinka who came to take another person's husband who is talking.
As someone who has worked in government house, has properties to her name, she should be very careful herself. I learned she has moved into another Estate on the Island with her new husband, I hope she knows that he drove the new car close to Amen Estate just to show off?
This new woman who is obviously over exuberant thinking she has seen husband, should listen to the advice of her elders. A word is enough for the wise. A Gigolo is always a Gigolo.
"The truth of the matter is that, Yinka Balogun thought he was chairman of Amen Estate and probably still believes that lie.
Gbadamosi too was hoping to leverage on her dad's position.
Gold digger met gold digger." The source stressed further.
Giving more insight, sources close to both parties disclosed that Gbadamosi met his new wife Yinka Balogun on Facebook and got married to her on his wedding anniversary to Sade, which according to the source, is very sinister:
"Do you know Tunde and Yinka met on Facebook and coincidentally Yinka and Sade share same surname, Balogun.
As if there is something else behind the whole affair, Tunde chose his wedding anniversary to Sade to wed his new found lover.
Where we come from, we would say, you want to cancel one to replace another. God has been on Sade's side because we learned that her ex husband is allegedly very fetish".
As it stands now, it is obvious that the tumultuous business relationship between Babatunde Gbadamosi and Sade has broken down irretrievably and Gbadamosi has been kicked out of the business for good.
_ First Weekly
Despite his "expulsion", ADC presidential candidate, Kachikwu, makes INEC list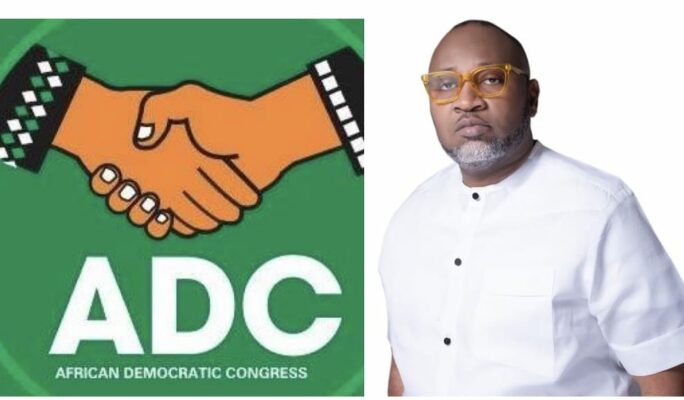 Mr Kachikwu was expelled from the party last Friday by the Ralph Nwosu-led NWC.
The embattled presidential candidate of the African Democratic Congress (ADC), Dumebi Kachikwu, has been named among candidates validly nominated by political parties for the 2023 presidential election despite his "expulsion" from the party.
Mr Kachikwu was among the 18 presidential candidates approved by the Independent National Electoral Commission (INEC) on Tuesday.
The Ralph Nwosu-led National Working Committee (NWC) of the party announced the expulsion of Mr Kachikwu from the party last Friday for alleged anti-party activities.
He was expelled along with seven other key party leaders following the recommendation of a seven-member disciplinary committee earlier set up by the ADC NWC. The NWC had earlier on 2 September placed the presidential candidate on suspension.
Mr Nwosu, in a statement issued late Friday, said the disciplinary committee found Mr Kachikwu guilty of allegations of gross misconduct, and gross violations of its constitution, among others.
But in its reaction the following day, the interim leadership of the ADC dismissed Mr Kachikwu's purported expulsion.
The interim National Chairman of the Party, Patricia Akwashiki, in a statement, described the action of the erstwhile chairman, Mr Nwosu, as the antics of a sinking man clutching at straws.
The crisis rocking the ADC has its genesis in the call for the resignation of the national chairman by 27 state chairmen of the party, having spent 17 years in the office.
At the time of filing this report, we could not confirm if the party's leadership had made formal or legal requests to the commission to remove the candidate from the list.
Stella Obasanjo's brother, John Abebe, arraigned for fraud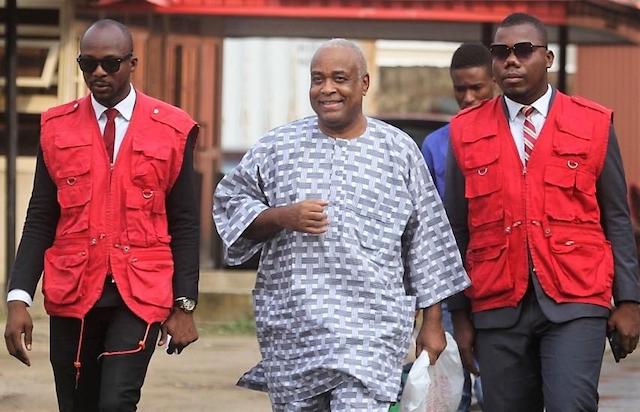 Dr. John Abebe, the younger brother of a former First Lady, Stella Obasanjo, was on Monday arraigned by the Economic and Financial Crimes Commission on Monday before the Lagos State Special Offences Court in Ikeja over allegations of fraud.
Abebe was arraigned alongside a former Head of Firstbank Plc, United Kingdom Correspondent Office, Kamoru Alade Oladimeji, before Justice Olubunmi Abike-Fadipe on six charges of conspiracy, stealing, and obtaining money under pretence.
Part of the counts against the defendants read: "That you, Dr. John Abebe and Kamoru Alade Oladimeji, on or about the 4th day of June 2013 in Lagos within the jurisdiction of this Honourable Court conspired amongst yourselves to commit felony to wit; stealing the sum of N120 million worth of property of Arsenal Technologies Limited."
"That you, Dr. John Abebe and Kamoru Alade Oladimeji, on or about the 4th day of June 2013, in Lagos within the jurisdiction of this Honourable Court conspired amongst yourselves to commit felony to wit; obtaining by false pretence the sum of N120 million property of Arsenal Technologies Limited under the pretence that your property lying being and situate at 9, Magbon Close, Ikoyi-Lagos State, which you pledged as the security to the Arsenal Technologies Limited was unencumbered, which representation you knew to be false."
"That you Dr. John Abebe and Inducon Nigeria Limited, on or about the 4th day of June 2013, in Lagos within the jurisdiction of this Honourable Court, with intent to defraud and to gain for yourself the sum of $1,000,000.00 or its Naira equivalent from Arsenal Technologies Limited by false pretence to procure the execution of valuable security to wit; a deed of assignment between Inducon Nigeria Limited and Arsenal Technologies Limited, wherein you falsely claimed that the property lying being and situate at No. 9, Magbon Close, Ikoyi-Lagos was unencumbered and that you have full powers to assign and transfer the said property to the assignor; Arsenal Technologies Limited.
According to EFCC, the offences committed are contrary to Sections 280(1), (12), 8 (7), 285(1) and 278(1)(b) of the Criminal Laws of Lagos State, 2011.
The defendants, however, pleaded not guilty to the charge.
Following their plea, the prosecutor, Sulaimon urged the court to fix a trial date and to remand the defendants in the custody of the Nigerian Correctional Services until the hearing and determination of the charge.
However, the defense counsel, Anthony Popo and Sam Etaifo urged the court to grant their clients bail in the most liberal terms.
While moving the bail application on behalf of Abebe, Popo told the judge that the matter before her is a commercial transaction between the first defendant and the nominal complainant, which he is ready to settle out of court.
He also claimed that Abebe had paid back the sums of $100,000 and N30 million to the complainant and had also deposited the title document of 26 acres of land and the documents of a property in London to show his seriousness to resolve the matter.
The lawyer further submitted that the defendant would not jump bail since he never violated the terms of the administrative bail granted to him by the EFCC.
The prosecutor did not oppose the application but urged the court to impose stringent terms that will ensure the defendant's appearance in court for their trial.
In her ruling, Justice Abike-Fadipe granted the first defendant bail in the sum of N20 million with one surety in like sum.
She directed that the surety must be a resident of Lagos and must deposit the title document of a land property whose value must not be less than N20m
The judge also admitted the second defendant to bail in the sum of N10m with one surety in like sum, who must be a resident of the state.
Justice Abike-Fadipe further ordered that the defendant shall continue to enjoy the administrative bail earlier granted to them by the EFCC but if they failed after seven days to perfect the terms of the bail she granted them, they shall be arrested and remanded in prison.
She adjourned the case to December 6 for commencement of trial.
HIGHGARDEN CELEBRATES WORLD CLEANUP DAY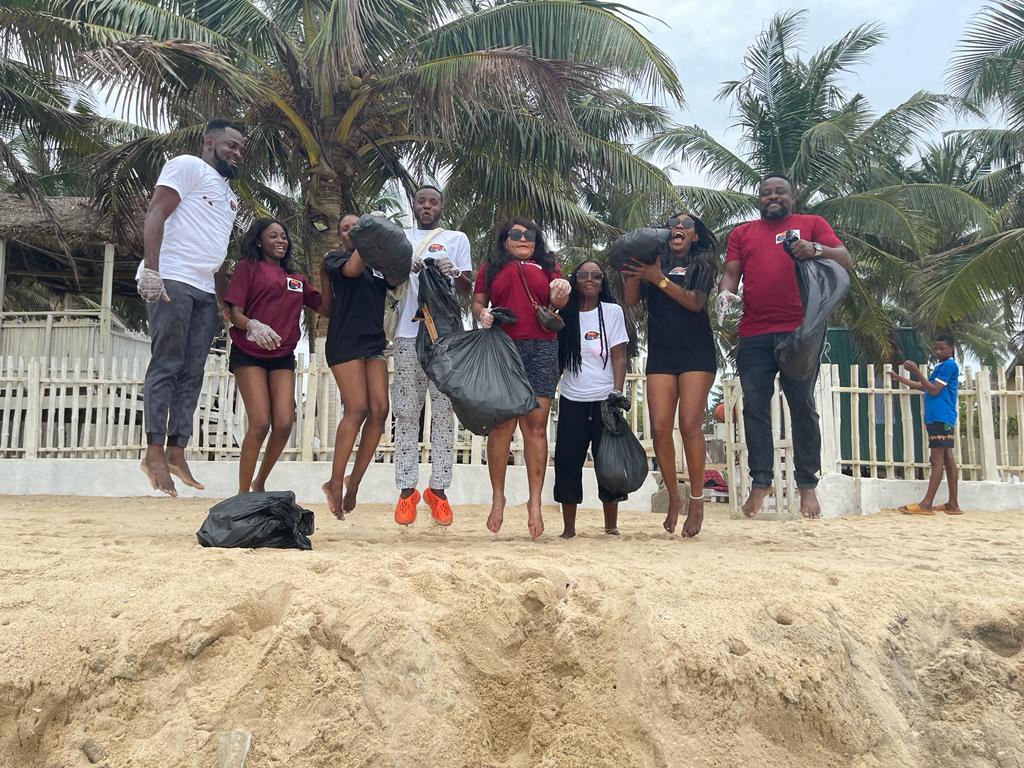 The Eleko Beach stretching over 5km was cleaned on the 17th of September 2022 by Volunteers from HighGarden Private Beach Club to celebrate the world Cleanup day.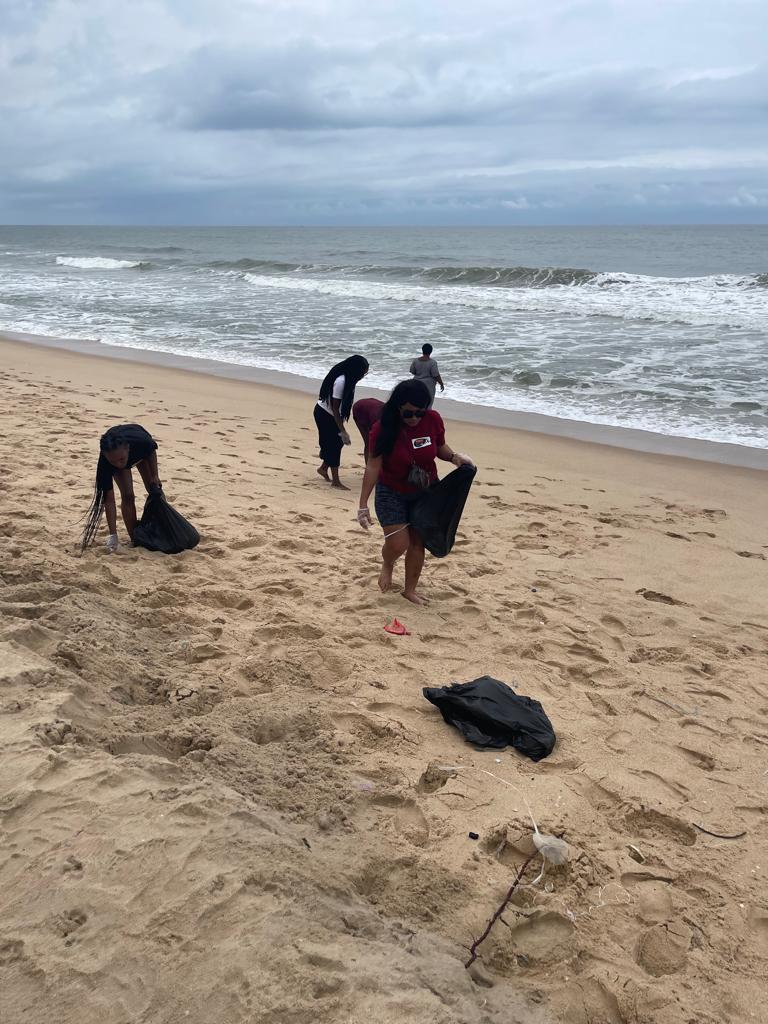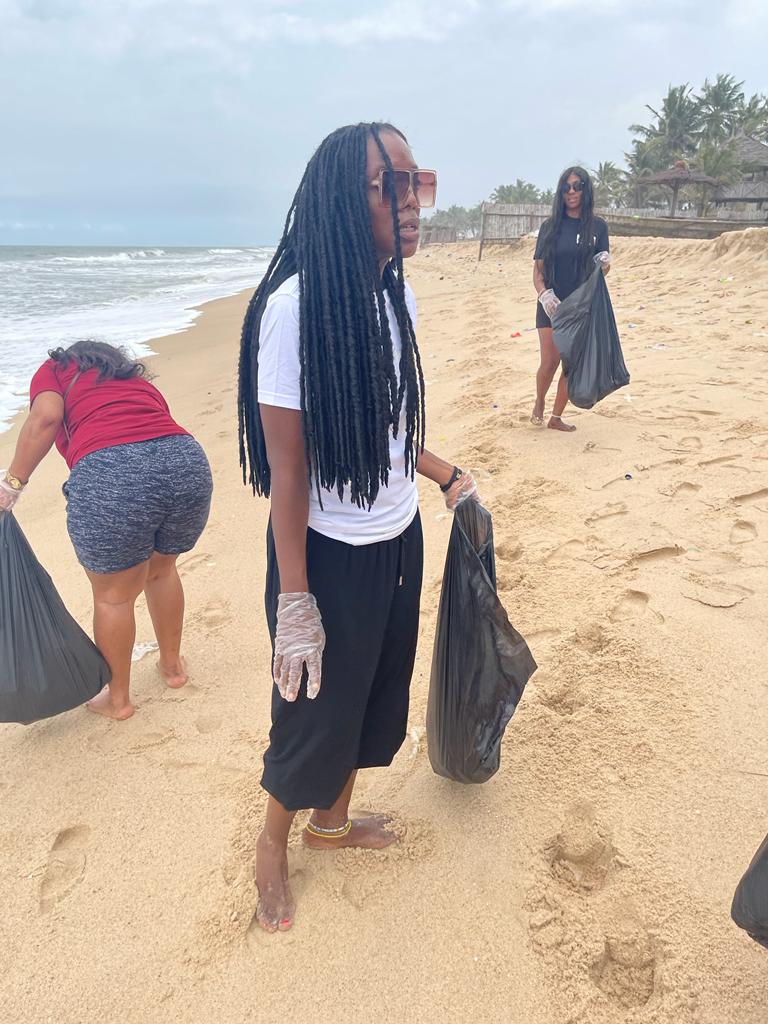 World Cleanup Day is an annual global social action program aimed at combating the global solid waste problem, including the problem of marine debris. It is coordinated by the global organization Let's Do It! World.
According to the MD of Highgarden Mr Wale Ewedemi "Environmental cleanliness and awareness is key to our values as a lifestyle brand, so we use the world Cleanup day to indoctrinate our customers and friends into one of our core lifestyle values"
The event that started at 9am rounded up about noon. Plastics and debri Collected were separated and marked for pickup.
The HighGarden Private Beach Club in Eleko boast of the first Glamping site in Nigeria.
@highgardenprivatebeach