Events That Shaped Nigerian Entertainment scene in 2014…….. Marriages, Deaths, Separations, Failures Among Others!
The year 2014 would go down in the history of Nigeria's entertainment industry as one of the most eventful for many reasons. From good to bad, beautiful to ugly, the industry saw it all as headline-grabbing events dominated the sector all year round. While tragic incidents such as deaths and collapsed marriages almost robbed the sector of a brilliant streak of successes, the formation of new marriages, arrival of babies and mega endorsement deals for some ensured 2014 wasn't all about the gloomy news. Here in this piece, We highlight some of the most remarkable moments and incidents that rocked the entertainment industry in Africa's most populous country over the last 12 months
Weddings
Tiwa Savage and Tunji 'Tee Billz' Balogun
It was one of the most talked about weddings in the year as the couple had a fairly tale ceremony under the warm embrace of Dubai's alluring weather and scenery. The colourful occasion, staged earlier in February in the capital of the United Arab Emirates, was attended by close friends, family members and business associates. Though, weeks later, the rumour mill went agog that the marriage was on the brink of collapse, the Mavin Record First Lady and her hubby have waxed on stronger, slicing off wagging tongues. They are now expecting their number one baby.
Ibinabo Fiberesima and Uche Egbuka
The Actors Guild of Nigeria's President, Ibinabo Fiberesima, recently tied the knot with her long time university friend – Uche Egbuka. According to the actress who admitted to have prayed and wept relentlessly in the search for a husband, her life changed since she met Egbuka whom she was finally married to last weekend.
Toke Makinwa and Maje Ayida
After an unstable relationship spanning over a decade, Toke and lover, Maje, decided to walk down the aisle in January. Prior to their wedding ceremony, there were rumours that the pair had gone their separate ways without hope of reconciliation. But 'haters' got a rude shock soon afterwards when the lovers became husband and wife.
Toke and Maje elected for a quiet, private ceremony with close friends and family members only in attendance.
Dr. Sid and Simi Osomo
In August, Surulere crooner, Dr. Sid of the Mavins crew, bade bachelorhood farewell. The gifted singer, a ladies' man, shunned all the attention from other quarters to take Simi Osomo home. The marriage which held in Lagos, remains a reference point in the entertainment circle especially with the calibre and quality of guests on parade.
Celebrity births
The year was not all about marriages but their products as well. The family of popular singer and photographer, TY Bello, welcomed a set of twins after nine years of marriage without a child. The children came about less than a week after Bello released her second album. The former member of the all-girl gospel band, KUSH, was delivered of the babies in the United States of America.
Mercy Johnson
Award-winning Nollywood actress, Mercy Johnson Okojie fondly called Mama Purity, gave birth to her second child – a baby boy. The 30-year-old actress gave birth to the boy in the early hours of October 15 at St. Joseph Hospital, University of Maryland, Baltimore, United States.
Helen Paul
On November 24, popular comedienne, television and radio host, Helen Paul, welcomed her second child, a baby boy, too. Helen and husband, Femi Bamisile, who got married in 2010 have a 3-year old son as well.
J-Martins
Popular hiplife musician, Martins Okey Justice, popularly known as J-Martins and his pretty wife, Nnezi Diana Mbila, welcomed their first child, a baby boy in the United States of America also in the year.
The bundle of joy came a few months after the couple got married in Lagos, the country's commercial and entertainment headquarters. She was delivered at the Gwinnett Medical Centre, Atlanta, Georgia, on February 4, 2014.
The deaths
Amaka Igwe
The death of Amaka Igwe, one of Nigeria's foremost film producers, a writer, director and leading player in the motion picture industry, came as a shock to her fans and stakeholders in the entertainment industry.
According to reports, the producer of popular television show, Fuji House of Commotion, had gone to Enugu with her husband for a pre-production preparation for a new soap when she suffered an asthmatic attack and was immediately rushed to a hospital. Unfortunately she died before help could reach her.
Kefee
The news of the death of gospel singer, Kefee, was one that dampened many hearts in 2014. Initially, speculations had it that the singer, who was said to be six months pregnant, suffered pre-eclampsia. But family members denied the reports, insisting instead that it was lung failure which took her life.
Kefee collapsed while on board a United States bound flight. She slipped into coma and was in a critical state for about two weeks before eventually losing the battle. Her painful demise remains one of the low points for the entertainment industry in 2014.
Clem Onyeka
The demise of this very promising actor is another tragedy the industry had to deal with this year. The actor died after being hit by a stray bullet while returning from a movie location in Asaba.
Onyeka bumped into the men of the underworld during a shootout with the police and was hit by bullets. He died in a hospital in October.
Taiwo Oshadipe
Also in October, the life of another promising talent, Taiwo Oshadipe, was cut short. The mother of one died a month after her birthday, leaving her twin sister, Kehinde, family members, close friends and fans as well completely shattered. Taiwo succumbed to death after a brief illness.
Marriage failures
Ini-Edo
Ini got married to America-based businessman, Phillip Ehiagwina, in November 2008. Since they tied the knot, there had been speculations that their marriage was not stable before it finally crashed this year. It was reported that the marriage broke down due to strong allegations of infidelity but the actress has since debunked those claims, describing them as mere insinuations.
Ehiagwina was said to have demanded for the bride price he paid to marry Ini and her people obliged him.
While announcing her break-up on twitter, the soft-spoken actress said, "I asked for a divorce from my ex-husband because of a lot of irreconcilable differences. I never cheated on my husband. There is a conscious and malicious attempt at tarnishing my image. This whole saga is familiar, let's not forget the past. Thanks and God bless."
Uche Ogbodo
Barely seven months after popular Nollywood actress, Uche Ogbodo's engagement to America-based ex-footballer, Apo Arthur, the union collapsed.
Some years back, the actress concluded marriage arrangement with a Holland-based businessman fondly known as Cross, but the 'project' never saw the light of day.
However, Ogbodo said that her recent relationship was dissolved because it was based on lies and deceit.
The heavily pregnant Uche in an interview revealed that she wasn't really married as it wasn't fully formalised.
"We were still in the process of formalising it when all hell broke loose, so I was merely engaged. I walked into a no-win situation. All I can say is that barely one month into the engagement and in the process of planning a formal wedding, I realised I had made the greatest mistake of my life. The foundation of the union was based on lies and deceit, shocking lies," she stated.
Lola Alao
Over the weekend, news went round that the one-year-old union between popular actress, Lola Alao, and her husband, Olawale Ajibola, had also crashed. It was alleged that the actress' husband left her for one of her closest friends. She secretly tied the knot with Olawale last year August at a civil ceremony in Atlanta.
This is Lola's second attempt at marriage. Her first marriage was to a US-based car dealer, Dare, whom she married in 2002. They separated after a few years. They both had a daughter, Omowunmi, who is now 10.
Politics
Desmond Elliot
Popular Nollywood actor, Desmond Elliot, decided to try his hands on politics and was lucky enough to clinch the ticket to contest for a seat at the Lagos State House of Assembly. Not many people knew the actor was from Lagos and when his posters surfaced, many people were surprised.
But interestingly, Elliot won the primary ticket and would represent Surulere Constituency 1 in the state assembly.
KSB
For KSB, who is also the Vice President of Kennis Music International, it has been an outpouring of consolation from her fans and fellow entertainers. She lost the ticket to represent Ikeja Constituency 1 at the Lagos State House of Assembly to Kabir Lawal, son of the Publicity Secretary of All Progressives Congress, Lai Mohammed.
9ice
Another celebrity-entertainer who lost out after being widely considered as 'the chosen one' is Abolore Akande, popularly known as 9ice.
The singer vied for the ticket to represent Ogbomosho North/South/Orire Federal Constituency of Oyo State under the platform of the APC.
It is still not clear what really went wrong but 9ice has vowed to appeal his defeat at the party's primaries.
Dayo 'D1' Adeneye
On his part, celebrated on-air-personality, Dayo Adeneye, also referred to as D1, lost the APC ticket for Odogbolu Constituency in Ogun State.
Though D1 had a colourful declaration ceremony and was said to be very popular within his constituency, he lost to Governor Ibikunle Amosun's ex-aide, Adebowale Ojuri.
Apart from the highlighted incidents, there were also dozens of historic events that made the Nigerian entertainment industry thick in 2014. It was a year that produced both winners and losers in equal proportion. But above all, the sector was better for it as the quality of entertainment improved from what was seen in previous years, leaving many practitioners laughing to the bank.
Source: The Punch
AFRIMA 2022: PUBLIC VOTING STARTS SUNDAY AS PWC AUDITS AWARDS PROCESS

The voting portal for the 2022 edition of the All Africa Music Awards (AFRIMA) opened on Sunday, September 25, at 21:00 (CAT), to the public, globally, to decide the winners of each of the 39 award categories. 
The International Committee of the All Africa Music Award (AFRIMA), in conjunction with the African Union Commission (AUC), made this announcement, encouraging African music lovers to vote intensively using the voting portal live at www.afrima.org, before the portal closes on December 10, 2022, which is the eve of the awards.
More information on the voting process, which would also be audited by the International auditing firm, PriceWaterHouseCoopers (PWC), can also be found on the website, as well as AFRIMA's social media (Instagram/TikTok – @Afrima.official; Facebook – Afrimawards; Twitter – @afrimaofficial).
Like it did at the AFRIMA 2021 edition, the PWC, which has audited other major global awards including the Oscars, will audit the voting portal, collate the votes and present them at the awards.
According to AFRIMA's Executive Producer/President, Mike Dada, "AFRIMA'S core values of FACE IT – Fairness, Authenticity, Creativity, Excellence, Integrity and Transparency remain at the heart of our operations. With PWC, we are further reinforcing these value drivers, ensuring that we remain as inclusive, credible and authentic as always."
The list of nominees were unveiled globally, penultimate Wednesday, revealing a total of 382 nominations across all 39 categories.
The nominations, which have been greeted with positive acclaim across the world, are the fruit of a rigorous 10-day adjudication held by AFRIMA's 13-member jury, in July.
Also, only entries within the validity period of August 20, 2021 to August 5, 2022, were considered for nomination for this year's awards.
According to Mike Dada, the awards body remains the ultimate recognition of African music globally, also serving as a muse to other award bodies across the continent.
"We are not oblivious to the fact that there are some other award bodies that copy our nominations every year. As the ultimate recognition of African music, globally, we are a source of inspiration to both music gatekeepers and music lovers across the entire industry. AFRIMA continues to blaze the trail in celebrating African talent and developing our creative ecosystem, and this year's edition is a step further in that direction," he said.
On her part, the African Union Commission's Head of Culture, Mrs Angela Martins encouraged music lovers to vote decisively and objectively.
She said, "We have done our part. It is left to you the fans to now decide your winners. Remember that these categories are highly competitive and are based on merit. Let your votes help the best person(s) emerge as champion."
The 2022 All Africa Music Awards will now be held from the 8th to 11th December, 2022.
A special announcement will be made on the host country and location for the awards, on 30th September, 2022.
The AFRIMA awards ceremony will feature a 4-day fiesta of music, glitz, and glamour aimed at celebrating Africa, recognising talents and expanding the economic frontiers of the culture and creative industry on the continent.
The event is scheduled to commence with the welcome soiree, followed by the AFRIMA Music Village, the host city tour, Africa Music Business Summit, and the exclusive nominees' party and concluded with the live awards ceremony broadcast to over 84 countries around the world.
African music lovers can take part in the events on social media, live stream on the AFRIMA website at www.afrima.org and visit the social media platforms (IG/TikTok – @afrima.official; Facebook – Afrimawards; Twitter – @afrimaofficial; LinkedIn – AFRIMA) ), and they can watch the event coverage by tuning in to their local and cable TV providers.
In partnership with the African Union Commission, AFRIMA is a youth-focused music platform that recognizes and rewards the work and talents of African artistes across generations.
AFRIMA primarily stimulates conversations among Africans, and also the rest of the world, especially on the potential of the creative arts for fostering real human enterprise, as well as contributing significantly to social cohesion, as well as sustainable development in Africa.
The Programme of events is in line with the AU Agenda 2063 which outlines Aspiration 05 as the development of the arts and culture sector including its cultural and creative industries, to boost the development of the African economy.
Bad Boy Timz, SB Live, Others Set For Sinatra's 'A Night Under The Sky'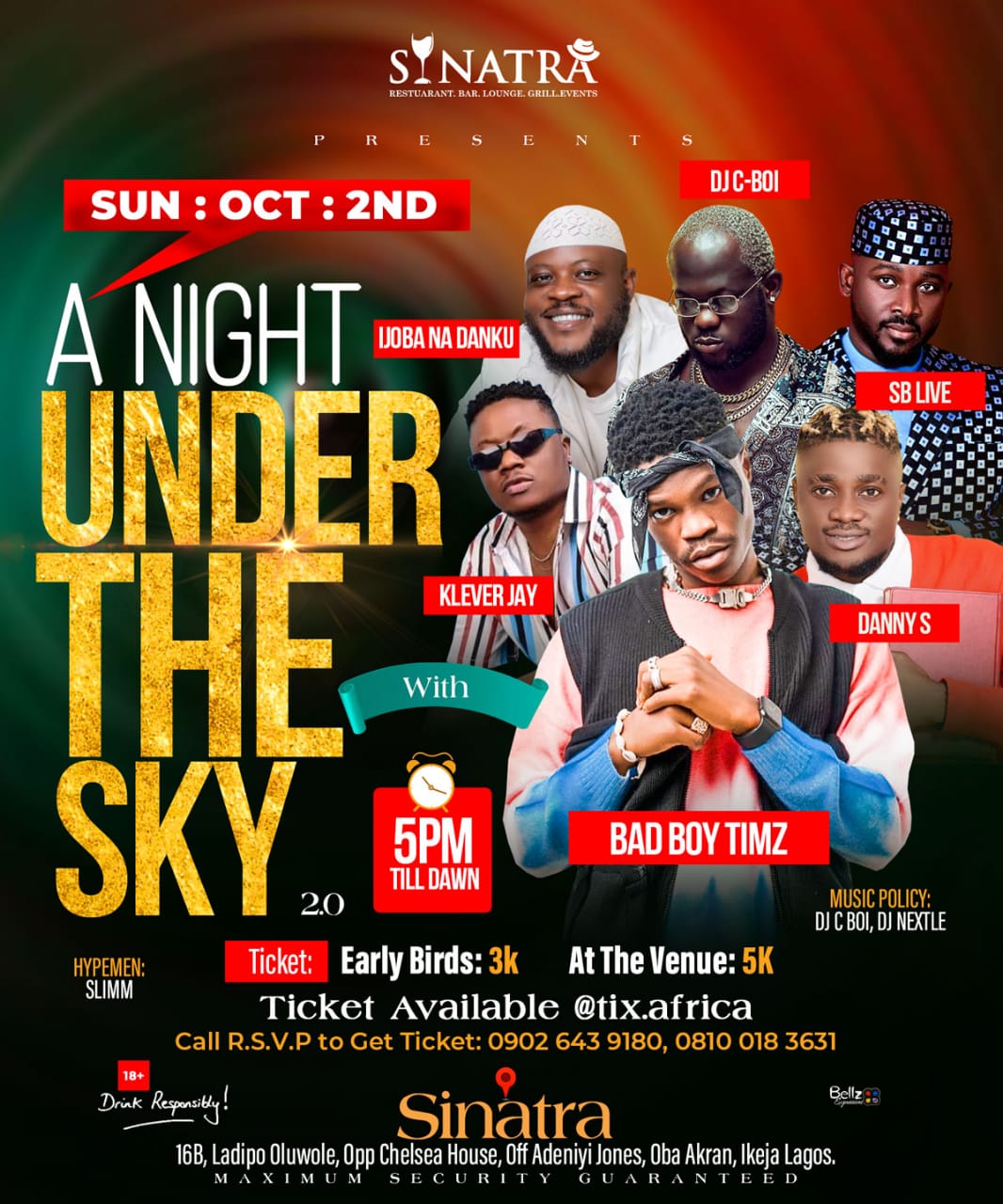 Bad Boy Timz, SB Live, Klever Jay, Ijoba Na Danku, Danny's and five others are set for Sinatra's Place's second instalment of 'A Night Under The Sky', scheduled to hold on Sunday, October 2.
Following an explosive maiden edition with Ahmed Ololade, popularly known as Asake, Mr Money in July, the second edition with a lineup of 10 talents, including DJ C-Boi promises to be bigger and better.
'A Night Under The Sky' is a series created by Sinatra for fun lovers and party people who love to dance and vibe to good music away from the confines of enclosed walls.
Held in the open-air Sinatra garden, the event, which traditionally starts at 6 PM in the evening spills into the early hours of the following day.
With the skies getting clearer and the rainy season fading, the series is back with a 2.0 edition that is bigger and better.
Also, while the headline liquor brands for the 1.0 edition were Jägermeister and Glenfiddich, this edition promises to have even more especially with the lineup of artistes billed for the event.
In the past, Sinatra's Place, located in the heart of Adeniyi Jones on Ladipo Oluwole has been a hub for lovers of good music, quality entertainment and relaxing ambience. Stars like K1, Pasuma, Peruzzi, Bella Shmurda and many others have graced Sinatra's stage and its adjoining club, Carica.
King Sunny Ade Finally Agrees To Meet 52-year-old Woman Claiming To Be His Daughter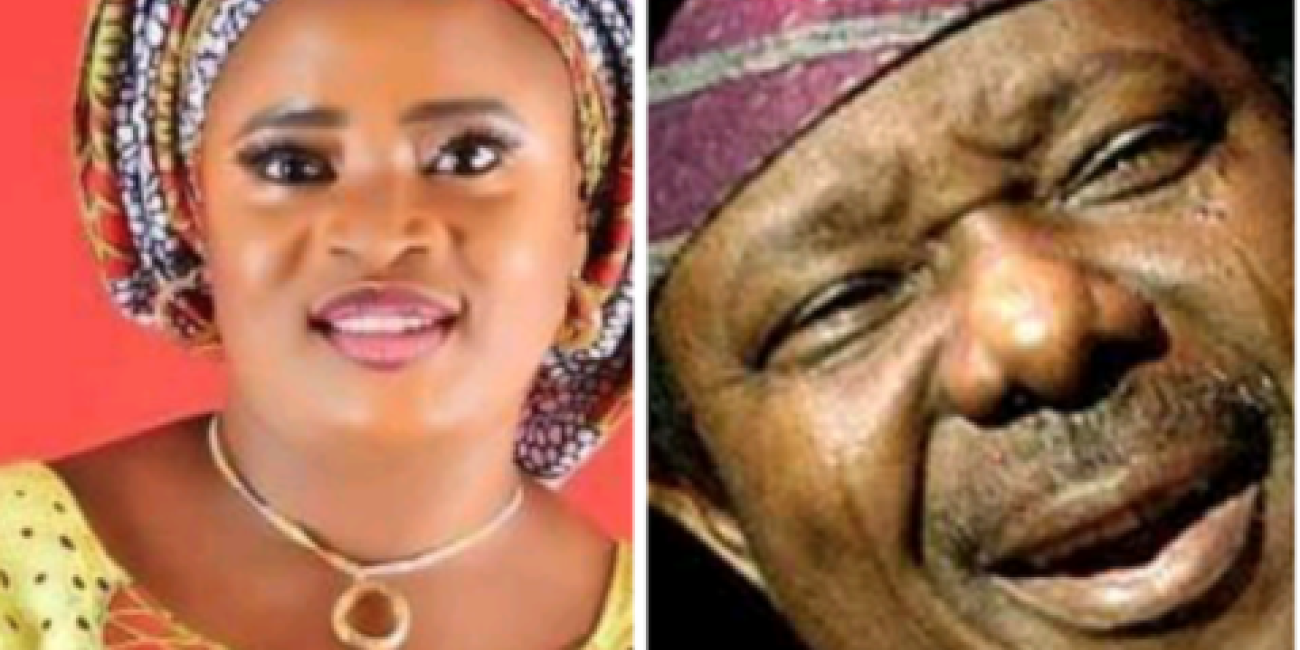 His lawyer, Donald Ajibola, told an online newspaper on Monday that a meeting would be set up with Ayeni and the musician said he would meet her when he had some free time.
Veteran "juju" musician, Sunday Adegeye, more commonly called King Sunny Ade (KSA), has agreed to see Elizabeth Ayeni, 52-year-old woman, who claims to be his daughter.
His lawyer, Donald Ajibola, told an online newspaper on Monday that a meeting would be set up with Ayeni and the musician said he would meet her when he had some free time.
Ajibola said, "I contacted Ayeni some days back and told her that I had spoken with Sunny Ade. What I told her was that I spoke with him and he agreed to meet her.
"The only thing is that he is too busy and cannot meet her now. It was even difficult for me to meet him. When he has time, he will meet with her."
The woman also confirmed that Ajibola had reached out to her and spoken of a meeting, but did not give a specific time.
Now 52, Ayeni said she intended to conduct a DNA test to confirm her paternity and get a sense of identity.
In June, SaharaReporters reported that Elizabeth Temitope, her mother, told her the man she had always known as her father was not her biological father but King Sunny Ade was.
However, several efforts to get in contact with King Sunny Ade had proved abortive, she said.
The woman said she approached the Human Rights Commission and wrote Sunny Ade twice but there had been no response from the musician.
She noted that she was not making efforts to contact Sunny Ade for his fame or riches but she wanted to confirm if she was his father or not.
The juju king, singer, songwriter, and multi-instrumentalist has been hailed as one of the most influential musicians of all time and is regarded as one of the first African pop musicians to achieve international recognition.
Sunny Adé formed his own backing band in 1967, eventually known as his African Beats.
After achieving national success in Nigeria during the 1970s and founding his own independent label, Sunny Adé signed to Island Records in 1982 and achieved international success with the albums Juju Music (1982) and Synchro System (1983); the latter garnered him a Grammy nomination, a first for a Nigerian artist. His 1998 album Odu also garnered a Grammy nomination.