EFCC ARRESTS LAGOS BIG BOYS ARMANI AND SUMBO OWNERS OF POPULAR LAGOS BAR OVER $35M FRAUD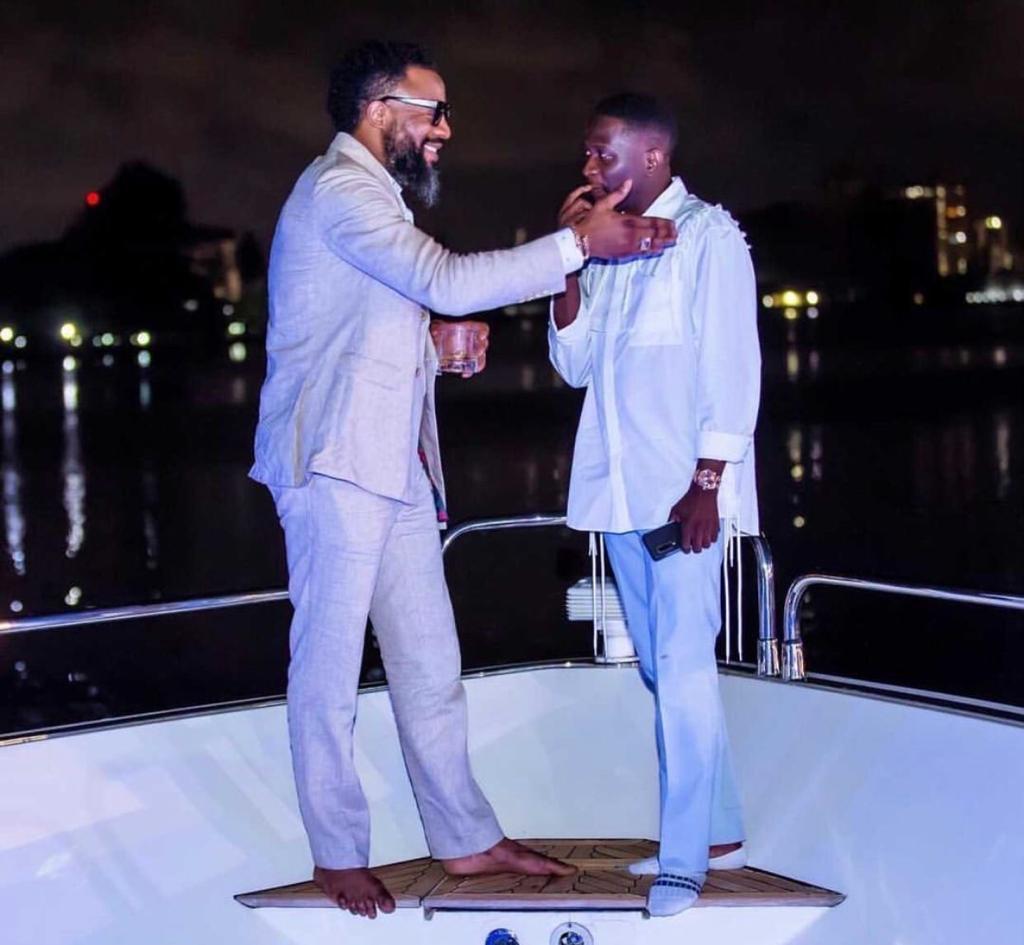 These 2 young men are most probably in their 30s and are undoubtedly also 2 of the wealthiest, most liquid young men in town and they are actually referred to by all as the kings of floss and flash and super luxury, as they seem to have unlimited access to funds which they have always used to satisfy their cravings and lives of fun, luxury, and floss. When these guys go on a spending spree at any point it is always so intimidating that the ground always quakes!
Their car collections alone are intimidating, to say the least, and it includes a spanking white Bentley Bentagya, 2 humongous and sparkling white Lexus 570 SUVs, 2 S Class Benz saloon cars, a black one and a white one for that and a G Wagon, a conservative estimate of their cars would be about N1B Naira and most likely far more!
These guys are probably the closest friends in the world, that you may even think they are unidentical twin brothers as they do nearly all things together, to the extent of buying their apartments next to each other and more. Sumbo is married to Tiana Omotayo, a well-known supremely beautiful, light-skinned (mixed-race at that), young and quite popular designer, who in her much younger days was the love interest of a well known, quite successful award-winning musician. The husband (Sumbo) is of Yoruba extraction just like his mixed-race wife and they have just a child. Tiana in the past has so much gist that was not necessarily palatable. His designer-obsessed tall and handsome brother/partner coolest cat of a dude, Armani. This particular dude (Armani) is a walking GQ magazine 24/7 and you can't but admire him for his swagger. Men like him admire him and want to be like him, while ladies of all hues and shapes swoon under his spell and magical tool of emancipation. Stories abound about his dexterity as per the head game and use of his standing pole, aptly ascribed as the magic wand of excellence!
Both guys love the luxury goods-clothes, jewelry, watches, cars, and more, that they flaunt to high heaven, and both own one of the most popular and most beautiful Bar/Lounge in Lagos BUZZ BAR. Though the 2nd dude is not married, his list of conquest is immensely staggering, to say the least, and includes his darling FF who owns a world-class spa, a mother of one for a young lord, scion of a political dynasty. The lady has transformed into a staggering beauty and respectable entrepreneur over the years and very many more. To show the extent of these 2 dudes wealth, they once sprayed on a very popular musician, a high chief at that, King Wasiu Ayinde popularly known as K1 D Ultimate, who they are extremely close to N25M cash at just a party, which left everyone at the event gobsmacked in shock and admiration.
Both guys were unceremoniously arrested in a Gestapo-style raid just a day before yesterday, 29/06/2021 at about 3 pm, by nothing less than 30 well-equipped, well-armed no-nonsense EFCC men. Just before they were picked up, the security men first surrounded the whole area around their houses, which is around the Palace not too far inside Oniru. They even carried their house or door-breaking equipment, just in case of resistance of any kind. Then they made sure to collect every gadget that could be used for recording purposes from everyone and then they began their arrests. The 2 dudes were apparently taken by surprise by the raid and in the aftermath of it, their impressive garages were emptied of those impressive machines as exhibits.
Though most do not actually know the particular reason or reasons they were picked up, it is been speculated that it was either a joint action with or that it was actually instigated by the FBI! It is speculated that they may have been under surveillance for a while now, without both having any inkling whatsoever what was coming.
According to the unconfirmed gist, 7 guys have already been picked up in the US in connection to a deal of some $35M dollars, and it was one of those guys that pointed accusing fingers at both the Lagos, Nigeria based dudes, who are his acclaimed partners on deals for several years now.
Incidentally, both guys used to also live abroad too, where they also used to live the super-luxury lives of the rich and famous too, before they totally relocated here to continue their life of floss and more. It looks now like the chicken has come home to roost.
If the speculation been spread should ring true for any reason, what that portends for them is that both guys may later be extradited to the US like HushPuppi and Co, to go face the music and if like the other guy that was picked up and sentenced already and is already doing his time, if they are both found wanting, it might be the gallows for them for some years to come, probably a decade away in the cooler.
From our little findings currently, the guys, for now, feel it may have been some local business gone bad here that may be the issue and that they may be getting out of it in the next few days at the latest. But if it's actually what we are hearing, it may be far more than that. The thing though is, they are very connected even to the political class who we gathered is their alleged adviser , and are already throwing their weights as we speak. And these highly placed people, who may want to stand up for them now in their time of urgent need are actually heavyweights. Can they actually rouse the lion to come to their aid? Would the lion be willing to get involved in this kind of case or situation, even when he himself is supposedly under investigation by the same body? Let's just wait and see.
If the law would have its way through, then most of the assets owned by these flash boys may just come under the hammer! But peradventure they have always been smart like they try to showcase always, then they may escape from this bad time with just a little scar as a warning to cease and desist from such smartness that can easily always catch up to one.
Some are saying if they are willing to play ball that it may work out for them, with between $1M and $2M, but that can only be if it's only just a Nigerian case and doesn't involve the FBI has it has been speculated.
Let's just wait and see how things turn out. Hope good for them or it's the gulag for sure
Madam Hushpuppi: How Former Oyo State Local Government Pencom Secretary Aderemi Muili Allegedly Used Pension Funds to Acquire Properties In Dubai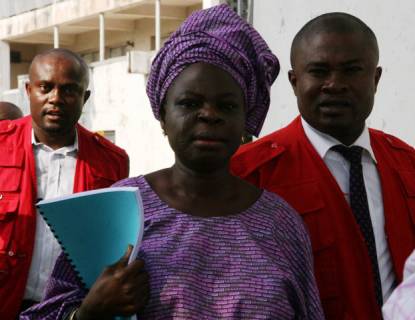 While the tears of pensioners in Oyo state may have led to the uncovering of a looting gang which for years have feasted on pension funds meant for primary school teachers, findings have shown that the radar of Nigeria's anti-corruption agencies may have been limited in bringing the perpetrators to book. Documents obtained by us indicate that Hakeem Aderemi Muili, the embattled former Executive Secretary, Oyo State Local Government Pension Board, may have used her share of the loot to acquire properties in safe havens outside Nigeria.
Aderemi Muili was one of the Principal suspects arrested in August 2013 as part of a syndicate by the Economic and Financial Crimes Commission (EFCC) over the stealing of N1.7billion pension funds meant for retirees of Oyo State Primary Schools. Though some of the properties in Nigeria were seized in 2014, after she was arraigned alongside others, Aderemi trying to outsmart Nigerian Anti-graft agencies, employed the services of first-rate real estate agents. These agents helped her move some of the funds offshore as findings reveal that in 2013, the same year she was indicted, she acquired a flat in Al Barsha South Fourth, a luxurious residential area located in the heart of Dubai where most apartments are sold between N130,000,000 to N150,000,000. While the exact payment date was not listed, documents attached to the property as seen by this online news medium showed that the former Oyo State Pencom Secretary acquired the flat using her International Passport as her means of identification.
We further learned that the said passport with number A045495** was issued on 2/7/2013, 38 days after Aderimi Muili celebrated her 49th birthday. Also linked with the property was a contact number +2348074313315, belonging to one Alhaji Muili Omo Ajorosun. It will be recalled that on Thursday, the 22nd day of March 2018, an appeal by Mrs. Aderimi Muili against the ruling of the Oyo State High Court delivered on the 24th day of January 2017 by M. L. Abimbola, C. J. in suit No: I/1EFCC/2014 was dismissed for lack of merit by Haruna Simon Tsammani J.C.A., as the Appeal Court upheld the decision of the lower court to have Mrs. Muili's properties seized by the EFCC pending the outcome of its investigation.
Olugbo of Ugbo Set to Host Second edition of Turf Club Federation Tournament, Pledges to Nigeria Unity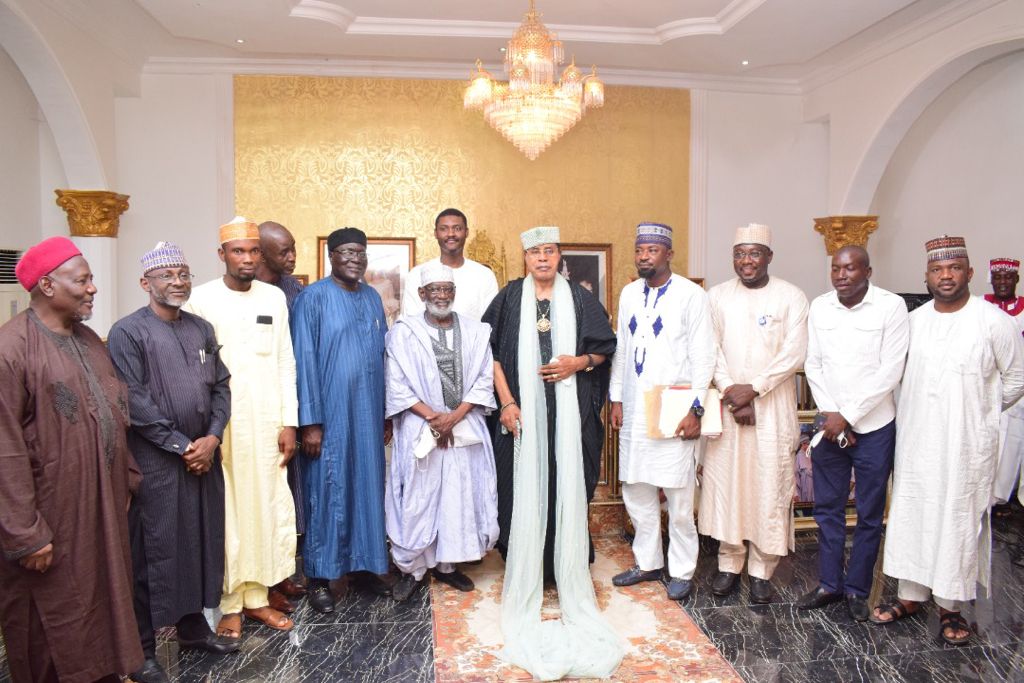 In a bid to foster continuous unity among Nigerians at a time when Nigeria is struggling to remain united as an entity; members of the Turf Club Federation of Nigeria is doing everything within their capacity in line with its core values and mission statement in maintaining peace, stability and unity within Nigeria as they visited the Olugbo of Ugbo, Oba Dr. Fredrick Enitiolorunda Akinrutan OON at his palatial palace in Ode-Ugbo; Ilaje Ondo state last week on a courtesy visit and to show appreciation for the pivotal role he played in the maiden edition of its Turf games held in Bida; Niger state recently.
The delegation's visit was to further commend Olugbo for finding time out of his tight itinerary to attend the maiden edition of the Turf game dedicated for horse lovers across the country where they converge under one umbrella to display cultural aesthetics among other things to further solidify Nigerians beyond the tribal narrative that is used to weaken our unity.
In the cause of the courtesy visit; members of the turf club through the leadership of the Sultan of Sokoto, His Eminence Sultan Muhammed Saad Abubakar III, disclosed their readiness to allow South-West Nigeria host the sophomore edition which would be hosted within the kingdom of Olugbo and Kabiyesi Akinrutan as the host. This information was contained via a duly signed letter, dated 10th of August which states that: "The federation has resolved to honor your majesty with the hosting rights of the 2nd edition of the prestigious National Horse Racing Derby in your kingdom; this will be the first of its kind to have horse lovers, jockeys owners and sports enthusiast hosted outside of Northern Nigeria"
After the parley; Olugbo's cultural team displayed the rich Ugbo cultural heritage via songs, dance and its menu. Thereafter, members of the Turf Federation gifted Olugbo a horse as a sign of appreciation for his immense support for the sport and how he has worked assiduously to foster unity and peace within the country. A substantial date for the second edition to be hosted in Ugbo is yet to be announced but Kabiyesi disclosed that; after due consultation with stakeholders and chiefs within the kingdom; an appropriate time will be fixed so the whole kingdom will be in top gear to host visitors who would be coming for the event. "We are willing to make the second edition an experience that would never be forgotten. We would make sure we put every necessary plan in place to make sure the event is successful. We will also make sure that everybody who attends will never forget in a hurry. We Ilaje people are accommodating and our sense of hospitality is unmatched. We are ready to host the tournament and i thank the members who found me worthy of such a great gesture. I appreciate you all. we will keep working creating a positive synergy to make sure Nigeria is stronger in Unity". Oba Akinrutan disclosed.
Lawyers, youth leaders, CSOs condemn Washington Post's attack on AITEO, Peters

A consortium of lawyers for human rights and justice and the Council of Ethnic Youth Leaders of Nigeria (CEYLN) in conjunction with some Civil Society organizations have said that there is an ongoing global media campaign plot against the Aiteo Group of Companies and its founder, Mr. Benedict Peters, using an international media organization, The Washington Post.
In a joint press conference by the different groups, they alleged that the allegations being peddled against Mr. Peters and Aiteo were the same issues which had already been conclusively determined by courts of competent jurisdiction or pending in court and the purpose of the publication could only be to impugn the integrity of Mr. Peters and the company.
"Out of the five questions Mr. Whoriskey inquired about, question 1 has been resolved by a competent court of law in Nigeria and the decision widely publicized. A simple internet search would have availed  Mr. Whoriskey of the judgment of the case and the present state of affairs. Further, questions 2-5 were directly extracted from untested allegations contained in a first amended verified complaint filed before the United States District Court, Southern District of Texas, Houston Division," the groups said.
They called on media houses not to yield their platforms to people whose objectives were not noble.
They added,"There is a plethora of questions which The Washington Post rather has to answer and which directly calls to question its genuineness in permitting this to happen.  It is bad for the image of The Washington Post that its staff have yielded the platform to be used for a global smear campaign and unhealthy business rivalry."
Mr. Tochukwu Ohazuruike who addressed the press on behalf of the groups, said, "Mr. Peters has stated several times that he has never received any favour by way of facilitation or otherwise from Dieziani Alison-Madueke, and there was therefore nothing to be grateful for. "He has several times denounced any such attempt to link the purchase of his property with Dieziani under such premises. His purchase of the furniture was in furtherance of his desire to furnish a property that belonged to him, and the furniture can be found, even today, at his said property at 58 Harley House. No furniture that belonged to him can be found at any other place other than in his property. "The furniture found at the UK address of Dieziani Alison-Madueke does not belong to him, and certainly could not have been the same found in his said property at 58 Harley House."
The groups said that the answers they provided should discourage future smear campaigns, saying that was not the first time it happened.
They added, "We hope that with these answers we would have satisfied  Mr. Whoriskey and got him to alert his sponsors that the plot is dead on arrival and cannot be revived.
"We also say to all such persons who would in the future want to reopen these issues that the answers are already available in the public space as there is nothing hidden and there is nothing any media house can unearth again so no need taking any jobs from the sponsors of this smear campaign."