Document Exposes How Wema Bank Officials Offered Policeman Bribe To Stop Investigation On N1.7billion Money Laundering, Fraud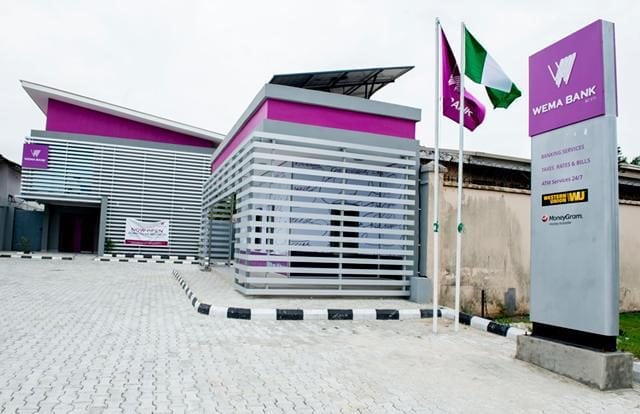 A report by the Nigeria Police Force has exposed how Wema Bank Plc offered bribe to the police officer investigating the N1.7billion illegally moved to account number 0122367964 domiciled in the financial institution and operated by one Isaac Adewole, a pastor of the Redeemed Christian Church of God by top officials of the bank.
The Wema Bank staff members fingered in the fraudulent activities are the bank's Executive Director, Wole Akinleye; Head of Cooperate Banking, Emmanuel Edah, and Head of Oil and Gas, Kingsley Ananwude.
The report signed by the Commander of Area G, Lagos, ACP Ibrahim Zungura, said multiple fraudulent transactions were carried out through the account.
"The culpability of WEMA Bank officers was further confirmed when the officers tried to bribe investigating officers with large envelopes that contained money.
"The officers declined the bribes but the Bank persisted. The officials spent time begging and persuading the inestigating officers to drop the case. The Executive Director of the Bank, Mr Wole Akinleye, was also invited and he tried hard to derail and stop the investigation. He also wrote a letter to ask that he be exonerated from the case when it was clearly established that the bank could not explain the transactions, that the movement of funds was a form of stealing from the bank which is sometimes referred to as 'pay off source'.
"This is shown by the facts that the funds deposited were not removed in that order or in the sums deposited but carefully removed in different tranches as it is shown on the account statements. For his own part, Mr Adewole refused to cooperate with he investigations but instead did everything he could to assist the bank in covering up," the report exclusively obtained by SaharaReporters read.
Meanwhile, the police has charged one Ojo Oladipupo, Chief Security Officer of Wema Bank Plc, to court for attempted bribery.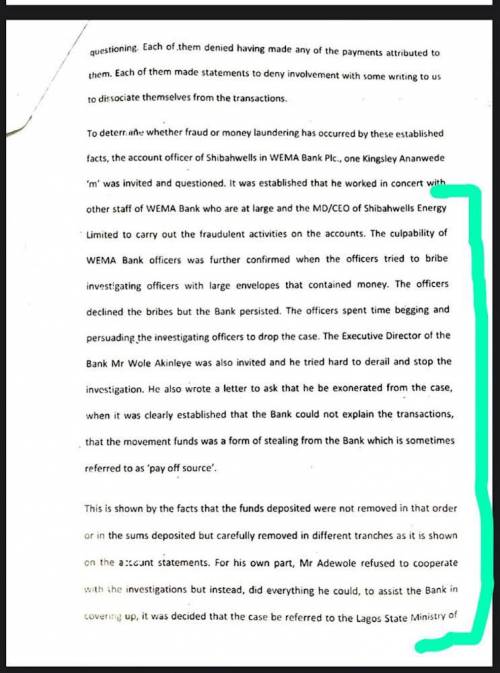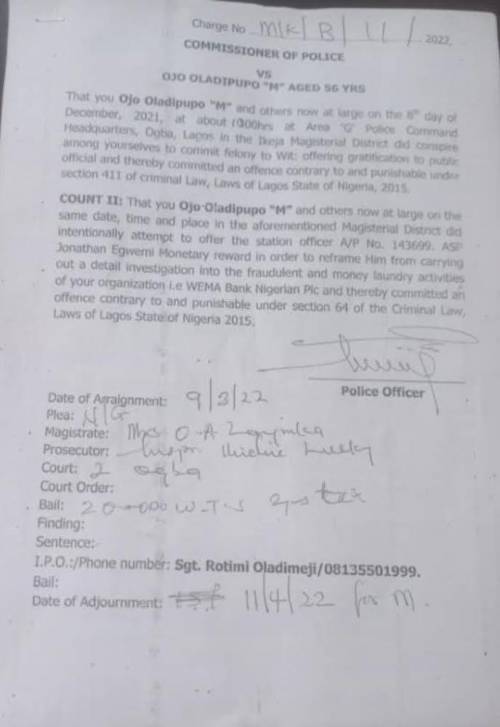 He was accused of offering a policeman, ASP Jonathan Egwemi (A/P No: 143699), monetary reward in order to stop him from carrying out a detail investigation into the fraudulent and money laundering activities of the bank.
"That you Ojo Oladipupo "M" and others now at large on the same date, time and place in the aforementioned magisterial district did intentionally attempt to offer the station officer A/P No: 143699 ASP Jonathan Egwemi monetary reward in order to reframe him from carrying out a detail investigation into the fraudulent and money laundering activities of your organization i.e WEMA Bank Nigeria Plc and thereby committed an offence contrary to and punishable under section 64 of the criminal laws of Lagos State of Nigeria," one of the charges read.
SaharaReporters had reported how N1.7billion were fraudulently moved to account number 0122367964, domiciled in the financial institution and operated by Adewole.
Multiple sources familiar with the fraud said Adewole, who is also the Managing Director of Shibawells Energy Limited, approached the bank in 2018 for a loan to boost his oil trading business using his neighbour's assets as collateral.
Granting the loan to the pastor, the financial institution opened an account for him where the money was paid.
The account was, however, used to illegally move N1.7billion from the bank in 2021 to multiple accounts operated by top staff members and their proxies.
"He used his neighbour's house for collateral of the loan which was granted to him and promised to return it within six months. But three years after, the man approached him for his house document, that was when he told him of the fraudulent act. He said the bank paid N1.7billion into the account using different multinational companies like Dana Airlines, Caverton Helicopter and two others, one N300million, one N270million, one N600million and like that, it's only one of the transactions that they didn't put a name there," a policeman involved in the case had told SaharaReporters.
"Guess what they do after, they now moved that N1.7billion from Adewole's account into different bank accounts in tranches. Like the one I told you —N600million, they immediately put it in another account in form of N150million, N100million, N100million, N90million. The pastor's account is known as Shibawells Energy Limited. The one for Dana that they moved N160million to, that was how they did it too, they immediately sent it to another account in smaller units as well.
"So the pastor approached the bank instead of the police. The top management staff involved called him and asked him what he wanted, they now ended with an agreement that the bank would give him an extra loan of N1.5billion and he agreed. Remember I told you this man is the Managing Director of Shibawells Energy Limited, a company that does supply aviation fuel. So we realised it was well planned and the names of Dana, Caverton and others were intentionally used to cover up the fraud so people won't notice. We also realised in our investigation that this money was given to the banks by the CBN and these top officials had to use an account to move it out and use it for something else.
"He has a partner, we called him and realised he wasn't aware of the transaction. He was shocked, he realised the statement presented to him was forged to hide the fraudulent transaction."
According to Adewole's statement of account obtained by SaharaReporters, on January 28 2021 via transaction ID No: M35660, he received the sum of N424,811,000 from Caverton, N160,000,000 from Dana and N630,000,000 from Beam Energy, all with the same transaction number.
On June 18, 2021 via transaction ID No: M104031, the pastor received the sum of N300,000,000 via NIP transfer from an undisclosed account source.
Also on same June 18, 2021, via transaction ID No: M104031, Adewole received the sum of N270,000,000 from Messrs Morrifoil Oil and Gas Ltd., all totalling N1,784,811,000.
When contacted, a source at Dana Air said the airline didn't do any transaction with Adewole nor his company, Shibawells Energy Limited.
"If I tell you we aren't aware of this case, then I'm lying, the police some time ago invited us and we were surprised that the company's name was used for such a fraudulent transaction. It will be wrong for me to share our bank statement with you but such a transaction wasn't authorised by us," a source at Dana Air told SaharaReporters.
"We weren't involved in such a deal, only the bank management can tell you why they use Dana's name for the transaction. Go to the bank tomorrow and send money to anyone and use Dana as the sender they won't stop you from doing that. Jokes apart, if we have that kind of amount, my brother, we don't have any problem," the source added.
In January 2022, a group, Transparency Nigeria Group, asked the Central Bank of Nigeria to dismiss the Chief Executive Officer of Wema Bank, Ademola Ademise, over alleged fraud.
The group in a statement by Dahiru Mohammed, its Communications Director, alleged that Ademise had grossly abused his office as CEO of the bank and contravened several extant regulations of the CBN.
According to the group, Wema Bank, under Ademise's watch, covered up a massive fraudulent scheme perpetrated by companies and proxies of the National Leader of the All Progressives Congress, Bola Tinubu.
Calling for his immediate removal, TNG said, "In doing this, Mr Ademise failed in his fiduciary duties and allowed a powerful politician to use Wema Bank as a clearing house for laundered funds."
The group referred to a story dated November 23, 2020 by Peoples Gazette where bank records showed that Ocean Trust Limited, a company linked to Tinubu, shuffled billions of naira between its accounts with Wema Bank.
The newspaper documented the transaction between January and June 2019 on how Ocean Trust summarily moved N16.4billion from its operations accounts into a fixed deposit account all domiciled in Wema Bank.
This was after the court case involving Dayo Apara, a former Managing Director of Alpha Beta, a company partially owned by Tinubu.
Ocean Trust was specifically mentioned in Apara's court documents as one of the firms allegedly used to siphon funds from Alpha-Beta, the controversial Lagos tax contractor.
According to the report, Alpha Beta has received billions of naira from the Lagos treasury since Tinubu was governor.
Apara claimed the firm received N150billion in the past 15 years from Lagos.
Union Bank, WACOT Rice Kick Off Financial Inclusion Drive for Smallholder Farmers in Kebbi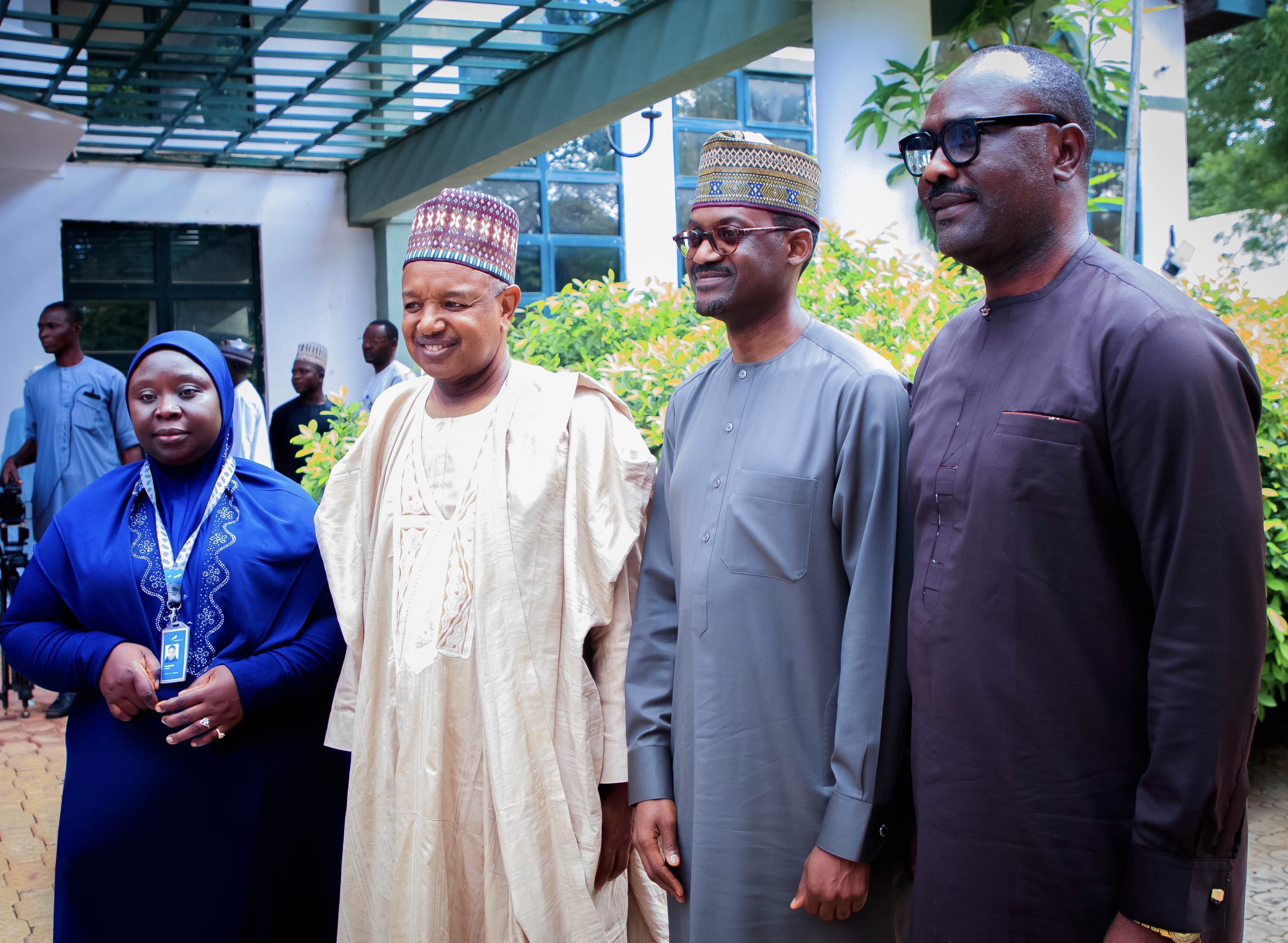 As part of Union Bank's commitment to driving financial inclusion in Nigeria, the Bank has partnered with WACOT Rice Limited – a rice processing company, to financially include 6,000 local farmers including youth and women in Kebbi State.
The Kebbi Financial Inclusion Drive (KFID) which will cover four Local Government Areas – Argungu, Augie, Suru, and Dandi – is a critical part of WACOT's Argungu Outgrower Expansion Project funded by United States Agency for International Development (USAID) West Africa Trade Hub. This program is set to resolve the overwhelming financial inclusion deficit within rural communities in Kebbi.
The financial inclusion initiative is being implemented with technical support from National Identity Management Commission (NIMC), to help the farmers acquire the relevant documentation and identification required to open bank accounts.
Union Bank will facilitate account opening and expand its agency banking network to cover the areas while supporting its agents on ground with digital banking solutions to enable seamless transacting and account management.
Farouk Gumel, Chairman WACOT and Board Chair, Union Bank was on ground in Kebbi State to kick-off the drive and paid a visit to the Kebbi state Governor, Senator Abubakar Atiku Bagudu to discuss expanding the programme state-wide.
In his recent keynote address at the recently concluded and  Chartered Institute of Bankers of Nigeria (CIBN) Conference, Mr. Gumel said:
 "As we work towards achieving financial inclusion to reach the unbanked, we must commit the same resources and investments to rural-local customers as we have done to urban-global clients to help create the growth that will lift us all to collective prosperity."
WACOT Rice is a subsidiary of TGI Group. TGI Group, through another of its subsidiary Titan Trust Bank, recently acquired Union Bank in a landmark transaction which was announced in 2021.
FIRSTBANK PARTNERS VERVE INTERNATIONAL, MAKES CUSTOMERS MILLIONAIRES IN THE FIRSTBANK VERVE CARD PROMO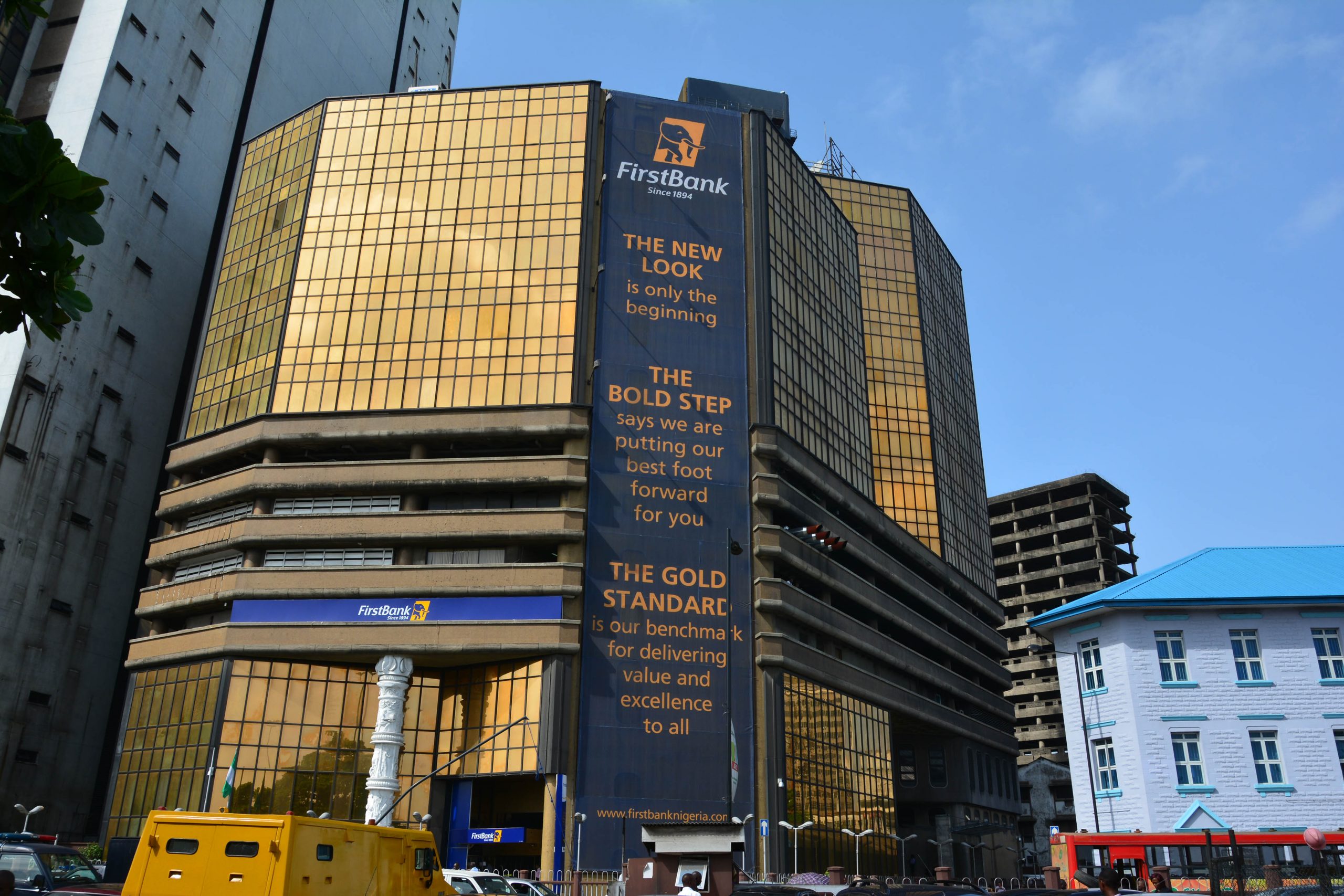 In partnership with FirstBank – Nigeria's premier and leading financial inclusion services provider – Verve International, Africa's leading payment technology and card business, has launched its third National Consumer promo designed to reward users of FirstBank verve card with exciting gifts and cash prizes to appreciate their patronage and use of the card to carry-out their electronic banking transactions.
The ongoing 2-month promo will end on 30 October 2022 as 20 customers (10 customers per month) with the highest transaction count during the promo will be made millionaires, winning the sum of N1 million each. Also, N20,000 will be won by 25 customers monthly.
On the other hand, 2620 FirstBank verve cardholders that double their transactions every week, stand a chance to enjoy 10% cashback capped at N2,000 per customer.
Speaking on the promo Chuma Ezirim, Group Executive, e-Business & Retail Products, FirstBank said "we appreciate our partnership with Verve Card through the years; a partnership of empowerment and opportunities which include growing the economy, supporting new businesses and preventing unemployment. FirstBank verve card holders are encouraged to keep using their cards as it is a card offering that promotes safe, convenient and rewarding digital banking experience with 20 customers standing a chance to be millionaires at the end of the promo."
Verve card is a secure debit card that allows cardholders to conveniently meet their daily financial needs such as payment for goods and services, airtime recharge, bill payments, funds transfer, etc. Verve card is accepted across all ATMs, POS, Web and Mobile Platforms in Nigeria.
The promo is also opened to new verve cardholders as non-verve cardholders are encouraged to visit the nearest FirstBank branch today to pick up a Verve card and start getting rewarded!
Only recently, FirstBank – in partnership with Verve – rewarded over 2601 FirstBank verve cardholders with various prizes; including N20,000 cash prize, N10,000 cash prize, N10,000 worth of airtime; power generating sets, refrigerator, cooking gas, smart TV and the grand prize of a brand-new car to a lucky winner.
Federal Government Orders University Vice-Chancellors To Reopen Schools, Begin Lectures Amid 7 Months Lecturers' Strike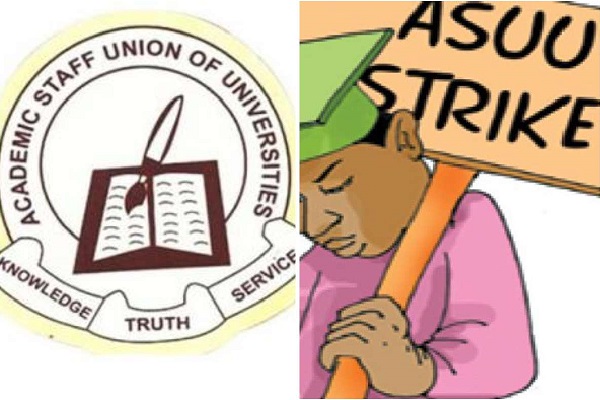 The government issued the directive through the National Universities Commission (NUC), and a letter signed by its Director, Finance and Accounts, Sam Onazi, on behalf of the Executive Secretary of the commission, Professor Abubakar Rasheed.
The Nigerian government has directed vice-chancellors to re-open universities and allow students to resume lectures immediately.
The government issued the directive through the National Universities Commission (NUC), and a letter signed by its Director, Finance and Accounts, Sam Onazi, on behalf of the Executive Secretary of the commission, Professor Abubakar Rasheed.
The letter which The PUNCH obtained on Monday, was reportedly addressed to all vice-chancellors; Pro-Chancellors and chairmen of governing councils of federal universities.
"Ensure that ASUU members immediately resume/commence lectures; Restore the daily activities and routines of the various University campuses," the letter partly reads.
We had reported that the National Industrial Court of Nigeria (NICN), on Wednesday, September 21, 2022, ordered the Academic Staff Union of Universities (ASUU) to call off its ongoing nationwide strike.
It reported that the umbrella body of the lecturers in public universities had declared a warning strike on February 14, to force the Nigerian Government to implement agreements it earlier signed with the union.
The agreement stipulated how university education would be funded for better improvement.
The strike has since rolled over and is now in its seventh month following the government's failure to implement all the agreements.
Several meetings between ASUU and the Federal Government have ended in a deadlock.
Consequently, the Federal Government went to court to challenge the strike.
The government through its counsel, James Igwe, prayed the court for an interlocutory injunction restraining ASUU from taking further steps as regards the strike, pending the determination of the substantive suit.