Diamond Bank Of Fraud: Abuja Business Woman Narrates How Diamond Bank Staff Defrauded her of N4.2M……
Why You Need To Think Twice About Your money In Diamond Bank
An Abuja based business woman, Ada Ann, has lamented the rate at which Diamond Bank Plc defraud unsuspecting customers of their hard earned money. The young nursing mother narrated the tale of her missing money.
The embattled boutique owner stated that the bank and their staff duped her since 2014 and all efforts to recover the said money have fallen on hard rocks as Diamond Bank has "failed, refused, declined, rebuffed and or neglected" to do anything about her case.
Ann said the bank officials literally asked her to "go to hell."
In her alarming tale to our correspondent, Ann said, "I am a young nursing mother, married to a loving husband who believes in the old fashioned tenets of hard work, industry, grit and determination. I have never cheated anyone in my life, neither have I ever enjoyed unfair advantage in all my dealings all through my years on this earth- either in private or in the course of doing business, yet I have been robbed blind by the very people I trusted with my life's savings.
"Bad things are not supposed to happen to good people right? Yes, but my case is unfortunately different. I am asking why this kind of fate should befall me now, losing all the savings I ever worked for, for the simple reason I chose to bank these savings, the proceeds of my business with Diamond Bank.
"All my business earnings and life savings from my boutique- four million, one hundred and eighty thousand naira, accumulated over several months of sales have been stolen by this bank and their staff since 2014, and all efforts to recover this money have proved futile as Diamond Bank have failed, refused, declined, rebuffed and or neglected to do anything about my case.
"The bank literally told me to go to hell- hell is where I presently am, because having stolen my life's savings, I had no funds to buy new stock and my fledgling business has almost collapsed, throwing my six staff into the labor market, making me near destitute.
"In this biting recession, and having no one to fight for me, I have now been forced to voice out after several months of outright negligence, lies, disrespect, and snobbery by this contraption of con men called Diamond Bank."
Asked how it all happened, Ann said,
Quote
"Sometime in 2011, in my quest for financial independence, I decided to register a boutique at the CAC, with intent to open one around the Wuse axis once I had money. I wanted my boutique to serve Abuja residents especially the womenfolk with good female wears and accessories. I scrounged money from family, friends and savings to rent a shop at Suite F15 and 45, Old Banex, in Wuse 2, Abuja.
"A Cube Boutique was thus born- it was tough, but I succeeded, only to start another battle, trying to raise money to stock it. I managed to do so successfully again months later, such that by 2012, I had commenced operations. I put in my all- body, soul and spirit as my modest efforts soon began to pay off. By the following year, 2013, I was already doing good business, turning over a tidy profit.
"Up until this point, I was still using my personal account for business, but I soon realized I couldn't operate in that manner- I needed to separate my personal money from my business earnings. I decided to open a corporate bank account where all my sales proceeds would be paid into as I was getting more and more patronage. I was looking at doing so in Zenith or GT or any of the old traditional banking institutions.
"Around that same period, I was approached by marketers of Diamond Bank close to my shop at the Old Banex to open a business account with them. I declined, telling them I intended to open this account with the more reputable banks I have mentioned above. I told them I was about going across the road to open this account with Zenith Bank, at one such aggressive marketing session with them, but they would hear none of it.
"Since they were so desperate, I reluctantly decided to push business their way and take my money to their branch- my biggest mistake. On the 16th January, 2013, I reluctantly opened a corporate account in the name of my boutique, A Cube with Account Number: 0030126504 with initial deposit of N200,000 at the Banex Plaza branch of Diamond Bank, Abuja.
"This account practically had a No Debit Status, as I hardly ever withdrew from this account. All I ever did was pay sales proceeds into it. Having no need to frequently transact on it myself, I needed no further banking platforms to be operative thereon- no mobile banking, no internet banking, no ATM card even.
"Maximum withdrawal limit for this account was the statutory default authorized across board by Diamond Bank for all corporate customers- maybe N500,000 daily or so. I never bothered to find out the daily limit for this account as I had never debited it to any tune. I paid money regularly into this account without let or hindrance till November 2014 when I had to travel on a business trip to London.
"While there, I got a good deal for my boutique and needed money to close this transaction. I had money in this my diamond corporate account, but couldn't withdraw as I was overseas. I called my then account officer, a certain Mr Toochukwu, to ask how I could get money from this account. He said I could only do so if I was an internet banking customer- I had to be enrolled on the internet banking platform of the bank.
"Could I do this from London? Enroll for this online banking service? No, he said. I must be physically present to be enrolled. Thank you very much, I said and hung up. Case closed. This was on the 24th November, 2014.
"A day later, unbeknownst to me, a Diamond Bank staff- probably this account officer, Toochukwu and their branch manager, Lillian Gbadeyan, both knowing I was away, conspired to forge my signature (a forgery that was so poorly done even an untrained eye would have seen the difference right away) to authorize an online limit reset of N5million, from I guess, the daily limit of N500,000.
"Yet the day after- that is just two days after my call, they then went ahead, with the active collusion of a customer service official, of the bank, one Mrs Ifeoma Ndukwe, to approve this request limit reset and fraudulently transferred N4.18m electronically from my account leaving me only N23, 345 of my life savings. Just twenty three thousand!!!!
"By then they had blocked, retrieved and reactivated my mtn line to make sure I didn't get any debit alert, moving the money to the diamond bank account of a certain Mr Ogunmuyiwa Paul, with account number, 008880562, a purported bureau de change operator hawking dollars in zone 4.
"I didn't know this at the time as they had blocked and taken control of my line, more so since I was abroad. On returning sometime in December, I continued operating on the account as usual, without suspecting anything. I had by then retrieved my line again, so when I had a customer deposit N900,000 into the account, I was expecting to see a credit balance of almost five million naira. Imagine my shock when I saw my total savings not amounting up to even a million naira.
"I got in touch with the bank and my account officer, Mr Stanley Idomeh- a new account officer, by the way, as the other one, Mr Toochukwu (who I had called from london) had by now been sacked- and asked about this happenstance. I was told that N23,000 bar the new deposit was my balance and this was so because I had authorized a transfer of N4.18m sometime in November- the previous month!
"Authorizing such a huge transfer while I was away? Without internet or mobile banking? Making a N4.18m withdrawal on an account whose highest ever single debits were bank charges of no more than eight naira at the most? Highest being three hundred naira over that entire year?
"How could this be? I asked? I had traveled home for Christmas, by then so on my return to Abuja in January 2015, I went to the branch. They repeated the same story and I told them, I don't operate internet banking on that account, so there was no reason to increase my daily limit from whatever it was to N5million.
"I showed them my passport and told them I was not even in the country at the time of the afore said transaction, and could they refund my money?
They said no, and we dragged back and forth. I later requested for the said reset letter request and a hazy, poorly done letter was pulled from some file. It was quite clear my letter head was forged and even clearer, my signature was forged as well. Even a child would have seen it was forged , yet they insisted it was not, and that they had confirmed it.
"I was told to write a letter of complaint, which I did sometime that January. It took months for Diamond Bank to reply me, and when they did via a letter reference BANEXPLAZA/ABJ/BK/IO/12/03/2015 dated 23rd of March last year, the bank said were not liable for this unauthorized transfer and as such were unable to accede to my request for a refund.
"They went further to aver that they could not refund me because they had enrolled me on their online application on December 19, 2013 (but failed to show documents wherein I applied for such) and that they had sent transaction codes to my phone number (please since when have banks started sending access codes and transaction details to phones?)
"I have never requested for online or mobile banking on my account and I have reiterated this to them severally. I tried to explore mechanisms of dispute resolution within the next few months to no avail. After waiting several months, with no sign of any resolution from their part, I had to get my solicitors to write to them.
"My petition was a request for Diamond Bank to investigate fraud on my account and theft of my money. They didn't even bother to reply my solicitors. When I saw my peaceful approach was leading to nowhere, I had to finally report the matter to the police, late last year.
"The indicted Diamond staff were called in, so was their collaborator, the bureau the change man into whose account the money was paid. The bank and the syndicate behind these fraudsters stepped in, and they were let off the hook from the police station.
"Since this year, the case has swinging without momentum while my money is still in the possession of these fraudsters. Even if these fraudsters and their bankers try to manipulate the judicial process, if and when I institute one, they cannot rig the court of public opinion once I layout the facts.
"I have been compelled to put out these facts in the public domain after two years of Diamond Bank silence and inaction. Elementary business finance educates us on the concept of the Time Value of Money, which is crucial in the business process and this is money I would have since quadrupled, but have now lost.
"This is a last ditch action as I am by this medium reaching out to the shareholders of Diamond Bank, the Dozie family as well as the Board and the management of this Bank to compel their operatives, or their online application or any such platform to refund the N4.18million of my sweat, stolen illegally from my account, so as to salvage any semblance of dignity or integrity this bank still has.
"Failure of Diamond Bank to heed this well meaning appeal will lead me to petitioning them at the CBN, and instituting criminal and civil proceedings against them, their agents, collaborators and the vicious syndicate that links these three leprous arms together .
"I may be small, but I know that the God I serve will fight and slay these goliaths my sake and for the sake of the little baby I am Bosom feeding now, even as I write. His cry of anguish will rise up to God against them and they shall know no peace, till they return my money.
"Help me in crying up to God against this injustice,"
Ann lamented.
Meanwhile, we contacted a Senior Diamond Bank Cooperate Communications Officer, Udoka Uguamanam, who said he was in a meeting as at the time of filing this report.
All efforts to get in touch with him again after a while were abortive.
Source: Celebrity Mag
Ovie Omo-Agege Promises Deltans A Better Tomorrow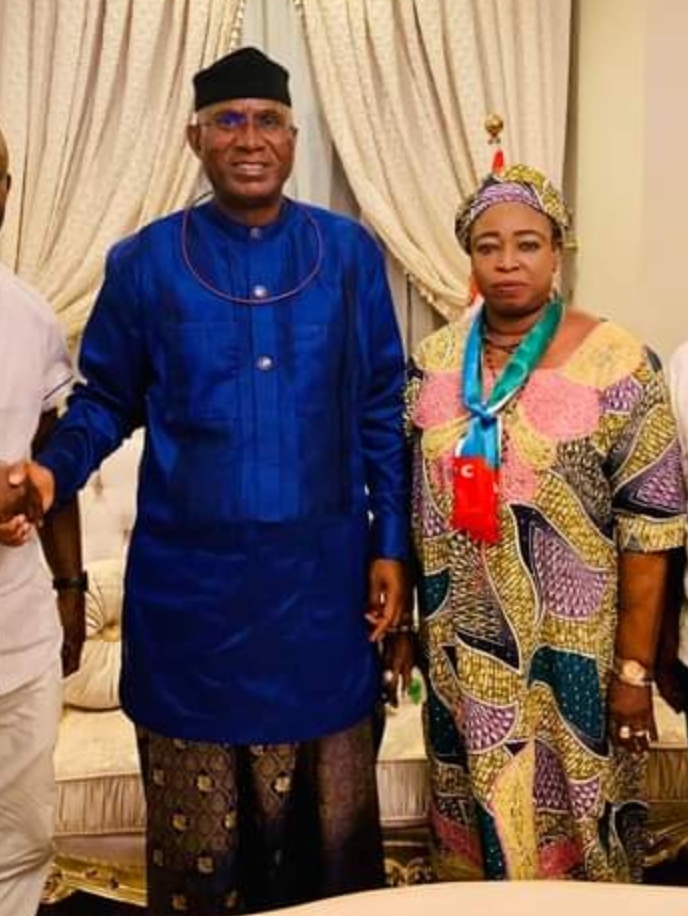 Against all odds and every intimidation, we will continue to visit voters in every nooks and crannies of the state, share our message of 'A Better Tomorrow' with them, and gain their support and partnership.
As told by His Excellency, Ovie Omo-Agege, Frontline Governorship candidate of the All Progressive Congress, APC to all the Delta State Civil Servant, that we are more than willing and capable, of building a robust industry that would Favour every one in the state.
According to Chief Mrs Faith Majemite, that Omo-Agege have the tract record and capacity. Agege will not make excuses why we didn't succeed, rather, those challenges that exist, would be the reason for our testimony that we succeeded, regardless, says Faith .
More Troubles For Umo Eno As Court Rejects Stay-of-execution Request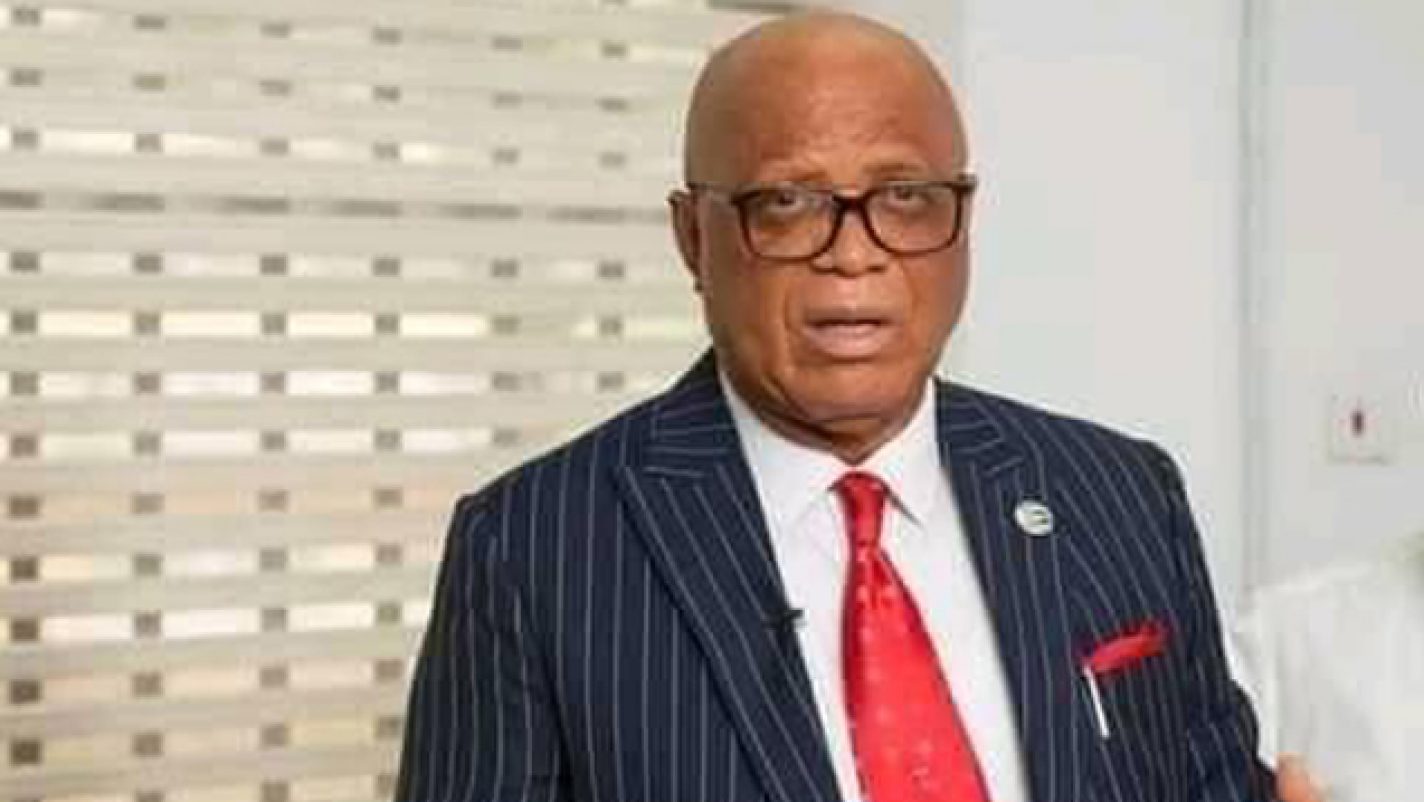 A Federal High Court in Abuja on Tuesday dismissed an application filed by Pastor Umo Eno seeking a stay-of-execution of the Order which had nullified his nomination as the PDP governorship candidate in Akwa Ibom State.
The court which nullified Eno's nomination, ordered that he should be replaced with Rt. Hon. Michael Enyong as the authentic PDP candidate.
In throwing out the request for stay of execution, the Court ruled that Umo Eno was never a party to the case filed by Enyong, and so his request could not be entertained by the COurt. The court therefore described Umo Eno as ''meddlesome interloper'' for seeking to file an application in a matter he was never a party of.
Recall that in a judgement delivered on January 20, Justice Fadima Aminu of the FHC, Abuja, had ordered the PDP to submit Enyong's name to INEC as its candidate. In a suit marked FHC/ABJ/CS/1295/2022 filed in August, Enyong had submitted that he won the party's primary held on May 25. The defendant in the case was PDP. Enyong did not join Eno as a party in his case. How clever!
This means that it is only the PDP that has the locus to file an appeal or stay of execution application against the judgement which sacked Eno. So far, the PDP's National Legal Adviser (NLA) is not willing to participate in the matter especially since he was never carried along in all the Umo Eno legal matters. Rather, the Akwa Ibom State Chapter of the Party had always engaged Barr. Emmanuel Enoidem (the former NLA) as its legal counsel, totally sidelining the current National Legal Adviser. Recall also that the PDP National Legal Adviser had a few weeks ago issued a public statement announcing that it is only the NLA that has the authority to brief and engage lawyers holding briefs for the party. The public statement had also warned party members to desist from engaging lawyers without his knowledge.
Meantime, I understand that Enyong's lawyers had served INEC with the Court order and his name would soon be published by the electoral umpire as PDP's authentic governorship candidate.
My Take:
1. The chances of Umo Eno returning to his former status as the governorship candidate is very, very slim. It probably will not happen.
2. Gov. Udom Emmanuel and the PDP have yet to come to terms with the fact that Umo Eno's name has been deleted as the candidate. They are inconsolable in anger, grief and pain. ''They are experiencing a great sense of separation, akin to the overwhelming feeling of loss which one experiences when he is bereaved'', says a political analyst and business man, Elder Aniefiok Isatt.
3. This development is also the greatest setback and the most devastating blow the PDP has ever suffered in the state since 1999. This case might just be some kind of ''Nunc Dimittis'' for the PDP in the State.
4. Privatively, PDP stalwarts are quick to blame the governor for the woes that has befallen the party this season. They believe that by imposing a very unpopular person as the candidate, the governor had bruised and hurt the majority of the members.
5. The question many are pondering is: Will Udom Emmanuel take to Enyong and accept him as the PDP candidate, thus conceding that Umo Eno was never God's revelation, contrary to what he told the people; or will the governor leave Enyong to his own devices and embrace a different person?
Our Client Wanted To Say 'Pupsy', Not Her Private Parts — Lawyer Defends Embattled Nigerian Polytechnic Female Graduate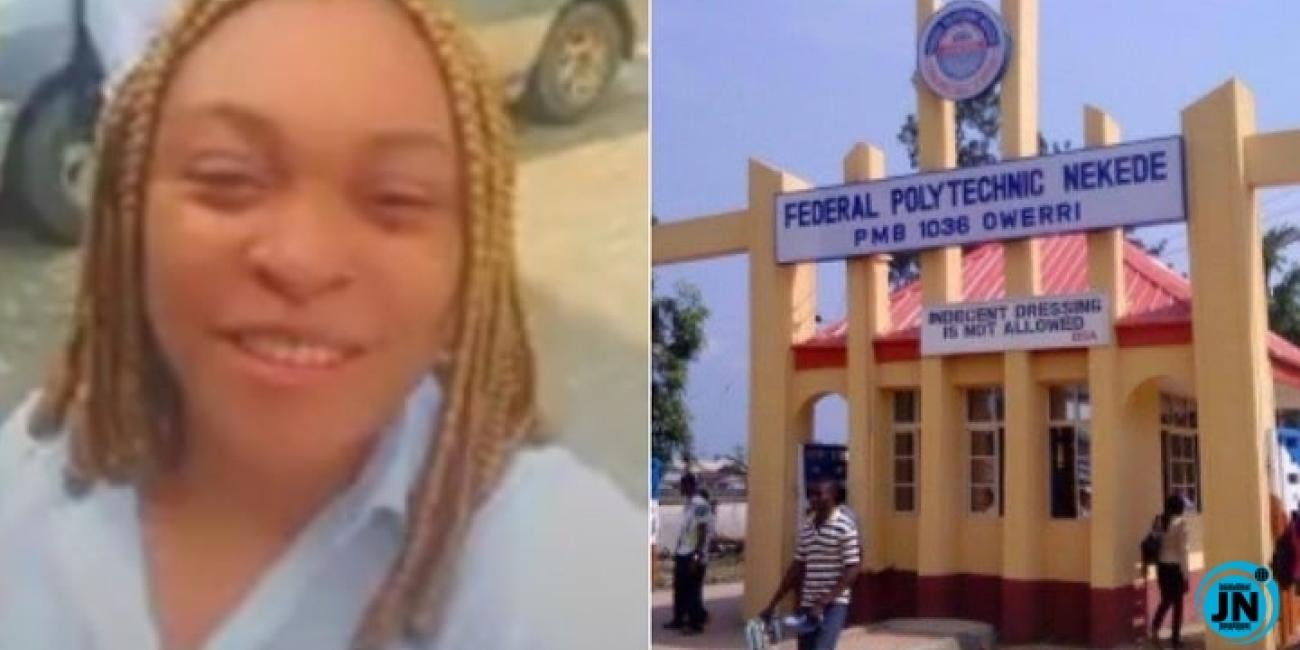 Barrister Ikechukwu Nwaopara, a legal practitioner representing the interest of Sharon Ogechi Okoroafor, the graduating student of the Federal Polytechnic Nekede, Owerri, Imo State, who went viral on social media for saying that she graduated with the help of God and her private parts, has said his client was misinterpreted.
The lawyer, who made the appeal to the institution's management in a statement made available to newsmen, claimed that their client had no intention of disparaging the institution's reputation, standards or integrity.
The statement reads: "We are solicitors to OKOROAFOR OGECHI SHARON (our client under our Pro Bono (Free Legal Services) on whose behalf we write this memo to you.
"We are aware that she will be facing the school disciplinary panel this morning, and we wish to use this medium to express our confidence that the panel will carry out their duties in compliance with the principles of Fair hearing, good conscience and natural justice, devoid of harassment, intimidation, and threats.
"We have met and discussed with our Client and evidence before us shows that she has no intention to defame the character, standard and integrity of the institution. In her words what happened in the said viral video was a slip of tongue as a result of her uncontrollable ecstasy over her graduation. Her intended words were "God and Pupsy" in appreciation of the Almighty God and her dad.
"It is clear, therefore, that she had no intention whatsoever to use such a "foul word" in the said viral video to cajole or blackmail the institution, as no lecturer or name of the institution was mentioned or referred to in the said viral video.
"Our lawyers are already on ground at the institution now to follow up the proceedings at the panel against any form of intimidation or harassment. The integrity and standard of the said institution is not in doubt especially since my senior brother, Rev Dr Arimanwa took over as the Rector. Indeed, justice is for all parties."
We had reported that after Sharon's video went viral on the internet, the management of the institution announced that it would investigate her action as it was capable of dragging the reputation of the school to the mud.