Despite Historical Debts We Met, NTDC Has Recorded Landmark Achievements- Folorunsho Coker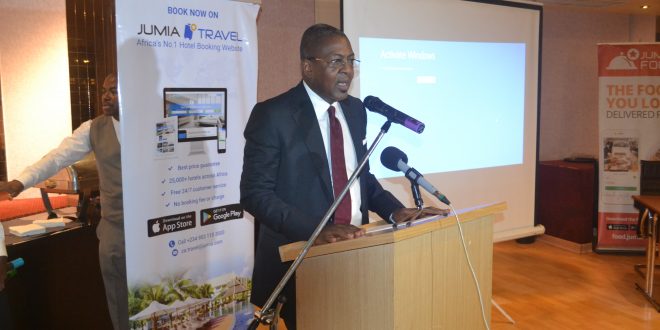 The Senate has passed the Nigerian Tourism Development Corporation (NTDC) (Repeal renactment) Bill 2017 into law. The law, which was initiated to reposition NTDC, is awaiting President Muhammadu Buhari's assent. NTDC Director-General Folorunso Coker speaks with Assistant Editor (Arts) OZOLUA UHAKHEME on his expectations of the law and its relevance to global tourism objectives.
Nigeria Tourism Development Corporation (NTDC) Director-General, Mr. Folorunso Coker, has described the new NTDC bill awaiting President Buhari's assent as the needed legal framework to grow the nation's tourism potential. He said the new bill when passed into law will prompt a financial framework that allows the agency to operate as a business entity capable of generating huge revenues for the economy.
He likened the NTDC's legal framework to the required foundation (the financial framework inclusive) laid in the communication, banking, oil and gas sectors, which resulted in their huge revenue returns.
He lamented that most tourism operators are now unable to access loans from the banks because tourism does not generate individual returns, which may allow it to withstand 25 per cent interest rate. This, according to him, is because tourism is not seen as a serious business.
Coker, who spoke in Lagos, said it is not profitable for the corporation to sit on the fence as a regulatory body and being unable to behave like a private sector concern in terms of understanding people's needs.
He noted that since he assumed office in 2017, he has refrained from performing assignments on the pages of newspapers, but focused carefully on building blocks on a foundation that will allow subsequent development plans.
"In tourism, the legal framework for the commercialisation of tourism world best practices was not there. The law was really old. The law has also been handcuffed by a Supreme Court order, so it was not a law that could allow tourism industry generate the kind of revenues the oil and communication industries have. That is the significance.
"With the legal framework required for the financial framework to sit on, with the global best practices locked into that, you can see that the lip services that tourism was paid can not achieve much, except the legal frame work is in place. For instance, tourism operators cannot conveniently borrow from the bank because tourism is not seen as a business, because there is no legal framework that supports it. Now, hopefully that will change as soon as the bill is passed into law," he said.
According to Coker, despite these challenges, tourism has been very lucky with the on-going infrastructural development (roads, rail, security, power) embarked upon by Buhari's administration across the country. He added that for every naira President Buhari has spent in making the life of every Nigerian better is what tourism requires.
He commended Nigeria for investing in agriculture, manufacturing, power, rail, road and other infrastructure, noting that the best off taker for these industries is tourism because it consumes almost all the products. "Tourism will create more intense demand for agricultural products, manufacturing, power, etc. and 'we will see good value for the investment," he said.
"Every naira spent benefits tourism. Even though tourism is angling for more funds for specific tourism projects, a lot of things are being done that benefit tourism as it benefits the larger society. Also, we have started the process of Tourism Satellite Account, (TSA), which allows you to measure what is going right or wrong," he said.
On the journey so far, Coker said: "This is not something one would particularly want to publicise. But, in terms of NTDC, I met a lot of historical debts. And with limited funding it was important that I discharge some of the historical debts, but I also kept the organisation alive. The financial engineering was required to balance that historical debts that I did not create, but keep people running and paid off little by little, without fear or favour." The implementation of that is what attracted the initial protest by staff of the organisation. "If you have very limited resources, you must close loopholes. And when you do that, there will be crisis. In terms of human capital, our focus has been digital. I am glad that the staff have embraced the digital training because the future is digital. Today, the richest companies in the world are not in the oil and gas sector, but digital, where Apple, Google etc. are leaders. Everybody's life in the future will be disrupted by this new technology."
Promoting tourism brands
"Within the NTDC's Tour Nigeria and Nigeria Flavour the digital marketing brands we created, we can generate in-bound tourists from the Diaspora as witnessed in Ghana last month, which might have been subsidised by that government. By virtue of our population, we have the strength to bring good number of Diaspora to Nigeria. We are pleading for financial institutions to make funding of tourism cheaper for tourism stakeholders because tourism does not generate individual returns yet that allows it to stand 25 per cent interest rate.
"If you go to Dubai or London, most of the tourism facilities are domestic first and foremost, but expanded to accommodate international plugging.
"In fact, Nigeria offers value for money when compared to other cities. As long as we have good value for money, we will get the international tourists. All we need to do is get our fundamentals right. That is what I am trying to do."
Tourism Development Fund
"This is to aggregate the taxes that are due to tourism and allow the identification of tourism tax that will go into the development fund, which will be managed by a board. For instance, if NTDC wants to build a small motel in Gurara Fall, we need to bring a seed money as counterpart fund to execute such project. This is to encourage the host state.
Use of data for development
"We have a very good relationship with National Bureau of Statistics (NBS). The Bureau examined the performances of tourism related industry in the economy and declared that tourism was responsible for 34 per cent of the country's GDP and 20 per cent employment generation. These figures are incredibly encouraging to me.
"It is good Nigeria is investing in agriculture, manufacturing, power, rail, road and other infrastructure. The best off taker for these industries is tourism because it consumes almost all the products. Tourism will create more intense demand for agricultural products, power, etc and we will see good value for the investment. By investment, I mean the seed money we need to put into the sector to encourage state and private operators. In fact, the bill is not punitive to anybody as it is more by collaboration than enforcement."
Hotel standardization
"Hotel standardisation and grading across the world are done by countries and not by states. We are going through the motion with UNWTO to put ourselves in a position to grade all our hotels so that we can deliver value for money. We cannot force any state to subscribe to standardisation of hotels because it is in the state interest to subscribe. Will anyone wish to have many standards or one standard that is uniform across board?
Expectations from the law
"I see a future where NTDC is a technological company in the sphere of tourism regulation just like UBER in the sphere of transportation, Inter-switch in the provision of switching system in the banking sector. That's is my vision for NTDC."
Global Day Of Prayer With Rev Chris Oyakhilome Starts This Friday (See Posters & Dates)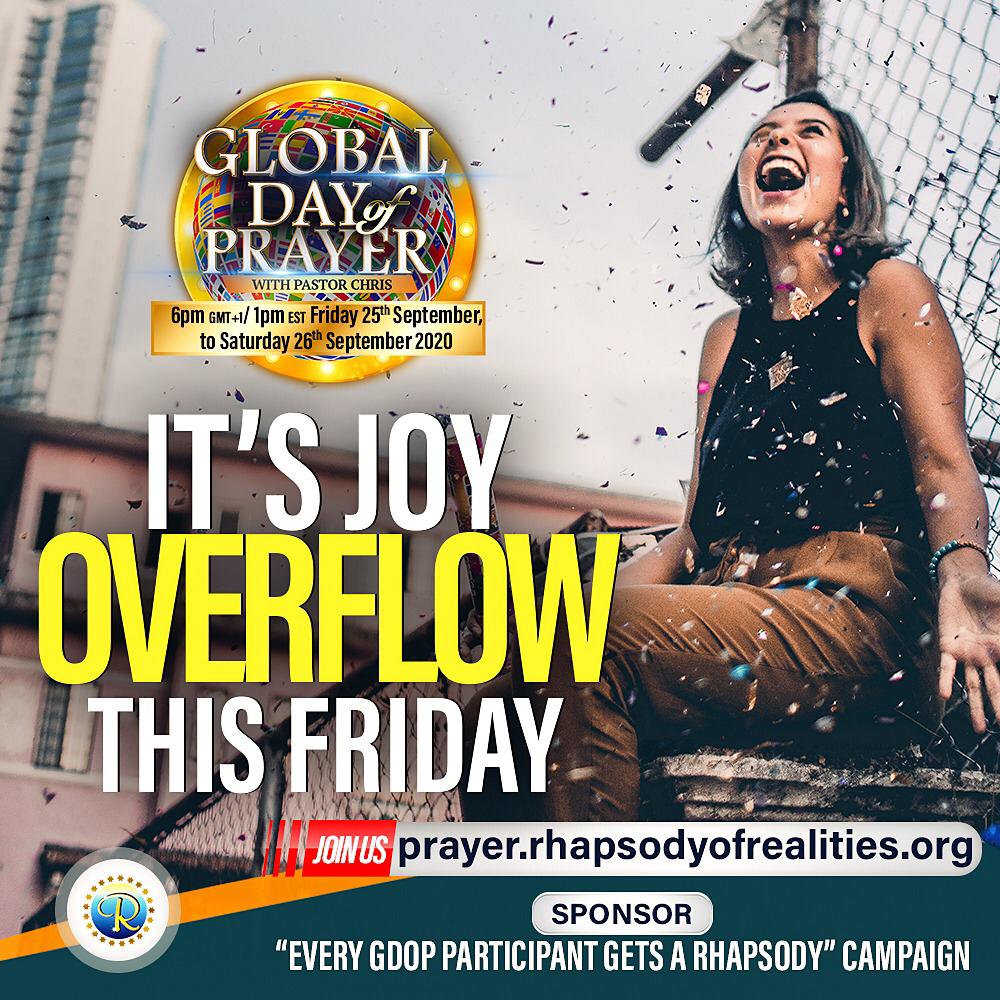 As you get ready for overflowing joy this Friday 25th September 2020, you will receive answers to your prayers. #globaldayofprayer #gdop #pastorchris.
Report by online media platform, TRIXX NG stated that the Believers Loveworld Incorporated also known as Christ Embassy will begin its international day of intercession 2020 Friday 25th by 6pm to Saturday 26th September 2020.
Being a Man sent from God and a unique minister of the gospel of Jesus Christ, Rev Chris Oyakhilome's Spirit-filled and anointed leadership will continue to propel a dynamic, multifaceted and global ministry at this year's programme.
You can join in
https://prayer.rhapsodyofrealities.org/ And on all their social media handles. You will surely share your testimonies with joy overflow.
NIS releases entry procedures as international flights resume Saturday, Sept 5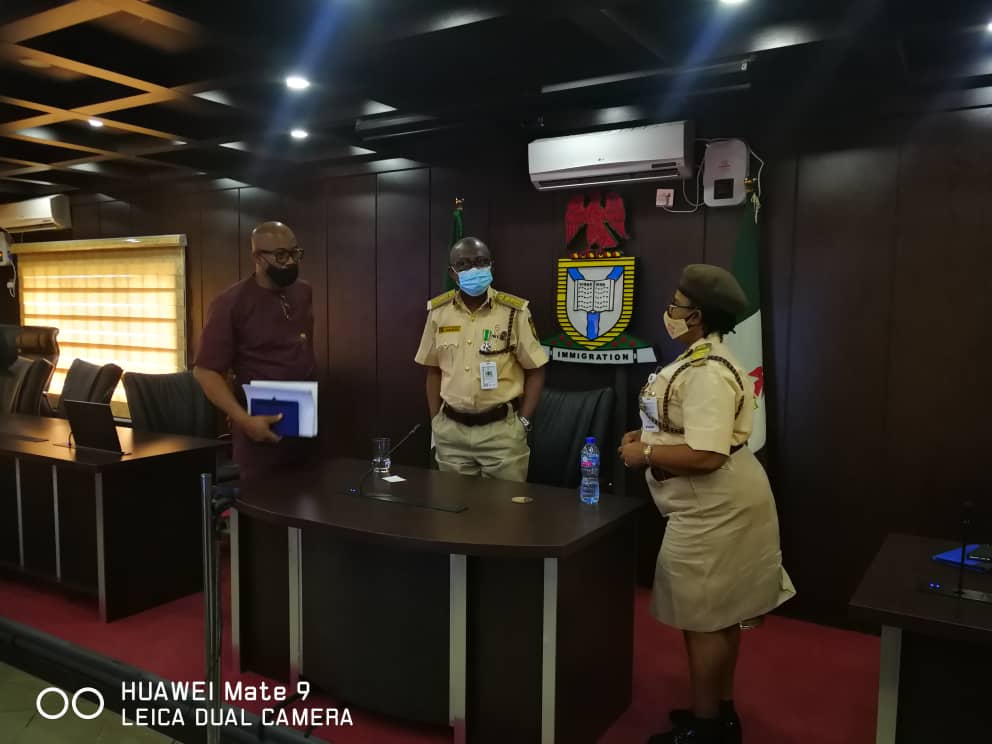 The Comptroller General, Nigeria Immigration Service, Mr. Muhammad Babandede says the NIS has implemented procedures for international flights resumption and visa payment.
Babandede said this during a virtual meeting with stakeholders to address travel concerns and automation of Travel Work Permit on Wednesday in Abuja.
In a statement issued by the NIS Public Relations Officer, Mr. Sunday James, Babandede said the procedures were in line with Federal Government's approval for the commencement of international flight operations from September 5.
Babandede said Murtala Mohammed International Airport, Lagos; and Nnamdi Azikiwe International Airport, Abuja, were earlier approved by the Minister of Interior, Rauf Aregbesola, for the implementation.
This, he said, was vide letter Ref. No. MI/PM/16012/S.366/Vol.ll/ dated 6th April, 2020 on waiver for visa payment due to COVID-19, closure of land borders and suspension of international flights.
According to him, the NIS, in exercising its statutory mandate, wishes to implement as follows.
"All migrants in Nigeria whose permits expired from 23rd March to 5th September, 2020 have extension.
"All migrants with evidence of confirmed return tickets scheduled to travel out of the country were to be issued free extensions to enable them depart on or before 15th September, 2020.
"All migrants whose permit or visitor's pass expired before 23rd March, 2020 will pay overstay penalty for the number of days stayed before the lockdown on 23rd March, 2020.
"All resident migrants whose permits expired outside the country from 23rd March, 2020 shall be allowed entry into Nigeria with the expired permits on or before 25th September, 2020.
"Such returning holders of expired permits and their dependents are to renew the permits within 30 days of arrival to Nigeria to avoid sanctions under relevant Immigration laws.
"All migrants who processed payments for visa-on-arrival and other categories of visas from the Nigerian Missions before 23rd March 2020, are to apply for re-validation.
"This should be done by uploading copy of the previous payments via cis-evisa@immigration.gov.ng not later than 15th September, 2020.
FacebookTwitterWhatsAppShare
Heritage Bank to stimulate economic growth with youth empowerment schemes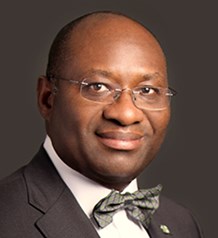 As part of its further response to deal with the global economic challenge occasioned by COVID-19, Heritage Bank Plc has reiterated commitment to deepen its support to young entrepreneurs in Nigeria to grow their businesses either as start-ups or prospective business owners. This, the bank said, is in line with its culture as timeless wealth partners, which would impact positively on the nation's socio-economic development.
The MD/CEO of the bank, Ifie Sekibo stated that Heritage Bank was mindful of the devastating impact of the pandemic to the nation's economic system, hence as an institution at the forefront of investing in human capital development for critical economy recovery, "we will up our game to empower Nigerian youths who are one of the bedrock of any vibrant economy," he added.
He disclosed that one of the channels churned out in partnering the youths to leverage their talents and contribute their quota to the growth of the economy, was the use of financial inclusion strategy which would be adopted to boost entrepreneurship development, as this is critical to Heritage Bank's mission to create, preserve and transfer wealth across generations.
He further explained that Heritage Bank's various entrepreneur schemes in the support for business had always focused on dependable job-creating sectors, such as agricultural value chain (fish farming, poultry, snail farming), cottage industry, mining and solid minerals, creative industry (tourism, arts and crafts), and Information and Communications Technology (ICT).
Sekibo restated that the aim of Heritage Bank being at the forefront of youth empowerment is to emancipate the latent entrepreneurial spirit in the teeming youths to unleash their support to the growth of the economy.
His words: "At Heritage, nothing else is more fulfilling than to groom-to-empower young aspiring start-up entrepreneurs, as we mentor them to grow and become large corporates enlisted on the Nigerian Stock Exchange.
"In recent times, we have worked with private and public sectors- The Next Titans, HB Lab, Creative Nigerian Summit, National Festival of Arts and Culture (NAFEST), NYSC and the Central Bank of Nigeria to support youths and young entrepreneurs to grow their businesses as a start-up or prospective business owners.
He also reiterated that the bank had continued to make efforts to lead the recovery of the Nigerian economy through championing several empowerment schemes such as the Prime Women Builders Foundation of Nigeria, Youth Innovative Entrepreneurship Development Programme (YIEDP), Centre for Values in Leadership (CVL) on Young Entrepreneurship Business Training Programme (YEBTP), Young Entrepreneurs and Students (YES) Grant and Nigerian Young Professional Forum (NYPF), amongst others.