Dangote women empowerment program reaches N4.3billion in disbursement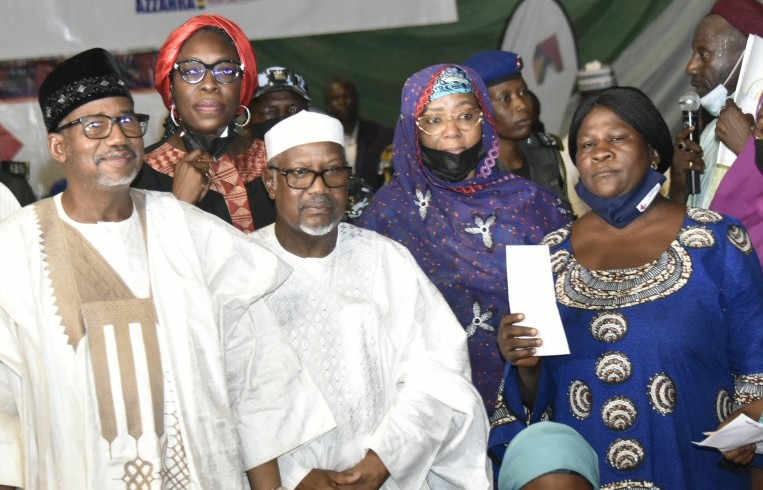 …He understands Nigeria better than some politicians-Gov
The Aliko Dangote Foundation (ADF) has doled out a whooping N4.2billion as part of its unconditional Micro Grant Programme for empowering women in the rural areas across the country.
Speaking at the flag-off of its one-off unconditional Micro-grants Programme Tuesday in Bauchi, Chairman of the Aliko Dangote Foundation empowered twenty thousand vulnerable women across the 20 Local Government Areas of the State.
Dangote who was represented by the company's Group Executive Director Government and Strategic Relations, Mansur Ahmed said so far over four hundred thousand poor women have benefited from the programme in the country.
He said in Bauchi State, N200million is currently being disbursed to vulnerable women across the 20 Local Government Areas.
According to the Africa's top philanthropist, the unconditional micro grant is aimed at supporting the government effort's in empowering poor families in the State.
He said the Foundation had earmarked N10billion to be disbursed to vulnerable women across the 774 Local Government Areas in the country.
Dangote said states that have also benefitted from the scheme include: Lagos, Kano, Jigawa, Kogi, Adamawa, Borno, Yobe, Niger, Nasarawa, Sokoto, Katsina and Kwara state.
He added that the next states to benefit from the programme are: Osun, Edo, Ogun, Rivers, Anambra and Ebonyi state respectively.
"The Micro-grants programme is one component of the Economic Empowerment pillar of the Aliko Dangote Foundation. It provides disadvantaged and vulnerable women with a one-off, unconditional N10,000,00 cash transfer to boost their household income generation. This we believe will help reduce their vulnerability and meet their livelihood needs," he added. 
He said it is gratifying to note that majority of women who benefitted from the scheme have been able to grow the seed capital.
While thanking Aliko Dangote Foundation to coming to assist the vulnerable women in  Bauchi State,  Governor Senator Bala Abdulkadir Muhammad said he was very elated with ADF's intervention across the country and especially in his state.
He expressed optimism that the intervention will support lives and livelihoods of women, children and families in Bauchi State.
According to him: "Aliko Dangote is a beacon of hope for the Bauchi people. He has been creating not only business institutions at the highest levels but also touching lives at the lowest level. He seems to understand Nigeria more than some of us who are politicians. He's supporting our mothers who will help put food on our tables and train their children in schools.
"We've just named the school of nursing and midwifery after him. This is to mark his huge contribution to our societies in Bauchi."
"We are also using this opportunity to inform him that he should come and invest in Bauchi. We have the highest deposit of limestone in the country. We have the largest arable land and the largest forest. Bauchi is also very peaceful and secured."
The Governor also presented a book to the Aliko Dangote Foundation.
The book was written over a 100 years ago by Sheik Uthman Danfodio, and titled: The Principle of Leadership.
Speaking also, the Speaker, State House of Assembly Rt Hon Abubakar Y. Suleiman described the intervention as huge saying it would go a long way in supporting the poverty alleviation stride of the state government.
He said the state will continue to collaborate with the state in area of economic empowerment of womenfolk.
Commending the foundation, First Lady and wife to the Governor Mrs Aisha Bala Muhammad  said the intervention will help lift families from economic problems, even as she urged the women to invest it wisely.
Speaking, one of the beneficiaries Amina Musa, 50, said she would start micro business and use the profit to support her family.
Another beneficiary Jumai Rabiu, 47, described the intervention as huge and timely, adding that she will use the money judiciously and employ others too.
Ebenezer Onyeagwu: Zenith Bank GMD Preaches increased impact investment for Africa at global summit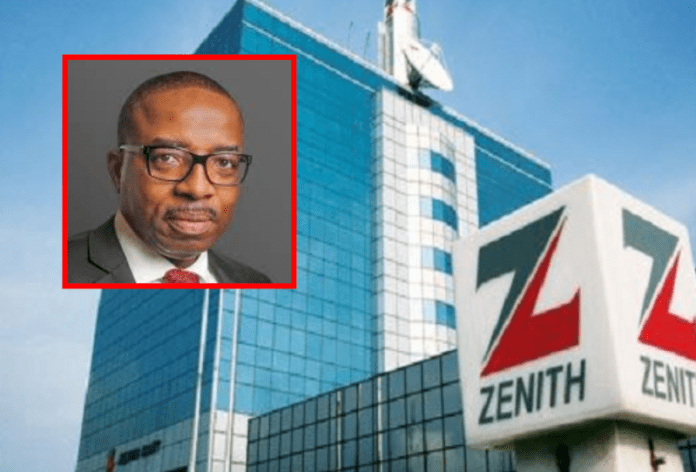 Group Managing Director/Chief Executive of Zenith Bank plc, Mr. Ebenezer Onyeagwu, has called for increased impact investing in Africa to enable it attain its full potential. He made the call during his keynote address at the Africa Investment Risk & Compliance Summit 2021 organised by the Emerging Business Intelligence & Innovation (EBII) Group which held at the prestigious University of Oxford, United Kingdom, at the weekend.
Onyeagwu delivered his keynote address after the special keynote address by President Nana Addo Dankwa Akufo-Addo, who was Special Guest of Honour.
Also at the event was Dr Amani ABOU-ZEID, African Union Commissioner in charge of Infrastructure and Energy, who delivered a keynote address at the Summit.
Delivering the keynote address with the theme "Leveraging Impact Investment Opportunities for Growth in Africa", Onyeagwu described impact investing as an investment that yields optimal returns for investors, value for all stakeholders, and guarantees continued sustenance and existence of humanity. He decried the shallowness of Africa's financial market as reflected in the fact that no African exchange is among the Morgan Stanley developed markets index, with only two African exchanges (Egypt and South Africa) in the MSCI Emerging Markets Index, and just six African exchanges in the MSCI Frontier Market Index.
He noted that although the International Finance Corporation (IFC) estimates that the global investors' appetite for impact investing could total as much as $26 trillion, only approximately 8percent of the assets of impact intent funds are focused on Africa. According to him, this is not significant enough, and Africa appears to be in the room but not on the table, considering that the continent is in dire need of investment with its estimated 1.3 billion people represent about 17percent of the global population of about 7.8 billion.
Citing the immense opportunities in Africa that represent enormous investment proposition for discerning investors, including the huge population, large market and active labour force, and the rich natural endowment, Onyeagwu described Africa as "the new frontier" for global growth. He made a case for increased impact investment in in the continent noting that investment opportunities cut across agriculture, healthcare, housing, infrastructure, electricity, and the creative sectors.
Onyeagwu expressed optimism on the coming into effect of the African Continental Free Trade Area (AfCFTA) initiative, targeting to create a single, continent-wide market for goods and services, business and investment that grants investors access to the entire continent. He also called on investors' attention to Africa's rich natural endowment, which includes 60percent of the world's uncultivated arable land and 9 percent of the world's freshwater bodies, noting that Africa holds enormous potential for organic food production. He, therefore implored investors in the agribusiness value chain to focus attention in Africa for organic food production instead of genetically modified food in other climes.
Onyeagwu also noted that as a socially responsible organisation, Zenith Bank would continue to promote impact investment in Africa, stressing that the bank has maintained strong advocacy for investment in Africa through its flagship sponsorship of "Inside Africa" on CNN for 16 consecutive years, which is helping to highlight the immense creativity and talent that abound on the continent and the enormous investment opportunities on the African continent. He also said that the bank leverages its in-depth knowledge of the African market to guide investors and hedge their exposures. According to him, the bank has been on a steady Environment, Social and Governance (ESG) investment journey, which started with ESG integration as a business strategy as well as being a signatory to the Nigerian Principles for Sustainable Banking and the United Nations Environment Programme Finance Initiative (UNEP FI) Principles for Responsible Banking.
EFCC arraigns four for N900 million POS fraud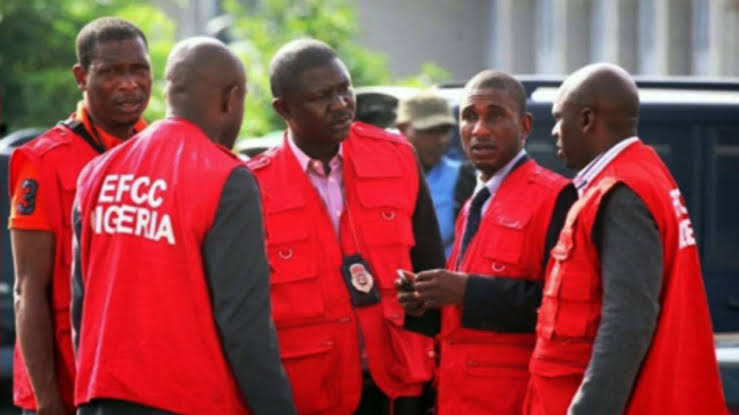 The anti-graft agency says the prime suspect connived with some staff members of First Bank to defraud customers using a POS terminal allocated to him.
The Economic and Financial Crimes Commission (EFCC) on Monday arraigned four defendants for fraud involving over N900 million Point of Sale (POS) transactions.
A statement by the commission said Naankang Dawan was arraigned along with his companies – Taen Nigeria Ltd, Lataen Engineering Ltd – and Moruf Tunji Olukanmi, at the Federal High Court in Jos, Plateau State.
Wilson Uwujaren, EFCC's spokesperson, who signed the statement, said the defendants were arraigned on 31 counts of "conspiracy, money laundering and obtaining N908, 108, 974.52 by false pretence."
The commission alleged that Mr Dawan who inherited some companies including a petrol station from his family, connived with some staff members of First Bank, including Moruf Tunji Olukanmi (fourth defendant), to defraud customers using a POS terminal allocated to him.
They pleaded not guilty to the charges when read to them before the trial judge, D. V Agishi, the statement said.
READ FULL STATEMENT
EFCC Press Release
EFCC Arraigns Four for N900m POS Fraud in Jos
The Economic and Financial Crimes Commission, EFCC, today July 12, 2021 arraigned Naankang Dawan, his companies: Taen Nigeria Ltd, Lataen Engineering Ltd alongside Moruf Tunji Olukanmi before Justice D. V Agishi of the Federal High Court, Jos, Plateau State on a 31-count charge bordering on conspiracy, money laundering and obtaining N908, 108, 974.52 (Nine Hundred and Eight Million, One Hundred and Eight Thousand, Nine Hundred and Seventy Four Naira and Fifty Two Kobo) by false pretence.
Naankang Dawan (first defendant), who allegedly inherited some companies including a petrol station from his family, connived with some staff of First Bank, including Moruf Tunji Olukanmi (fourth defendant), to defraud costumers using a Point of Sale (POS) terminal allocated to him.
Count two of the charge reads, "That you, Naankang Dawan being the Managing Director and Chief Executive Officer of Taen Nigeria Limited, Taen Nigeria Limited, Doyin Adesanya (at Large), Samuel Temitope Falese (at large), Ebenezer Oni Kehinde (at large) and Mariam Babatunde Olabisi (at large) between October 2017 to November 2017 within the jurisdiction of this Honorable Court, with intent to defraud, manipulated First Bank of Nigeria Plc Point of Sale (POS) terminal issued to Taen Nigeria Limited and by so doing fraudulently credited Tean Nigeria Limited account Number: 2025956973 domiciled with First Bank Nigeria Plc with the sum of N908,108,974.52 (Nine Hundred and Eight Million, One Hundred and Eight Thousand , Nine Hundred and Seventy Four Naira and Fifty Two kobo) only and thereby committed an offense contrary to Section 30(1) of the Cybercrime (Prohibition, Prevention, Etc.) Act, 2015".
The defendants pleaded not guilty to all charges.
Based on their pleas, prosecution counsel Benjamin Manji asked for a trial date and that the suspects be remanded at the Correctional Centre pending trial.
But defence counsel, A.G Yirvoms informed the Court of a pending application for the bail of his clients.
Justice Agishi adjourned the case till July 26, 2021 for consideration of bail application and October 6, 2021 for trial.
Wilson Uwujaren
Head, Media & Publicity
ALAT to reward customers with cash prizes for Referrals throughout 2021.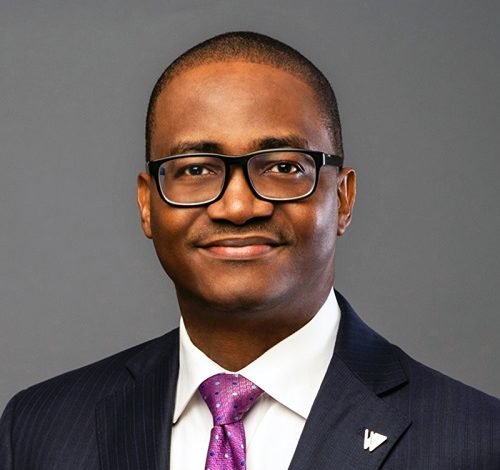 ALAT users nationwide with active accounts who have done at least three transactions in the last six months as well as referring other users are to be rewarded with cash prizes and may also win one of the three star prizes in the ongoing earn on the go campaign.
At the beginning of this year, ALAT, Wema Bank's revolutionary digital banking app, launched its earn on the go campaign, allowing members of its Trybe to not only earn money on the app but also stand a chance to win one of the three grand prizes at the end of the year.
For the duration of this campaign, all ALAT users with an active account, who have carried out at least 3 transactions in the last 6 months will be given a unique referral code.
"This code is used to track the number of referrals made from a single account, whereby a customer receives one thousand Naira for every successful invitation to join the ALAT Trybe.
"While referrals are ongoing, we will be tracking all our users' progress and by December reward the top three referrers with prizes worth our one hundred thousand Naira", the bank said in a sattement..
The first-place winner will receive the grand prize worth N350,000, while the second place and first runner up, will get a prize worth N200,000.00, and finally in the user that makes it to third place will be giving a prize worth N150,000.00.
To reward the efforts of all participating users, a quarterly raffle draw will be held twice in the year, where twenty people from the list of top hundred referrers will stand a chance to win Ten thousand Naira each.
Founded in 2018, Alat by Wema is the first fully Digital Bank in Nigeria, providing banking services through the bank's Andriod, iOS, and Web apps to over a hundred thousand users in Nigeria.