Could Mercy Aigbe Be Kazim Adeoti(ADEKAZ) Missing Rib? ….. As the two are now alleged to be romancing eachother!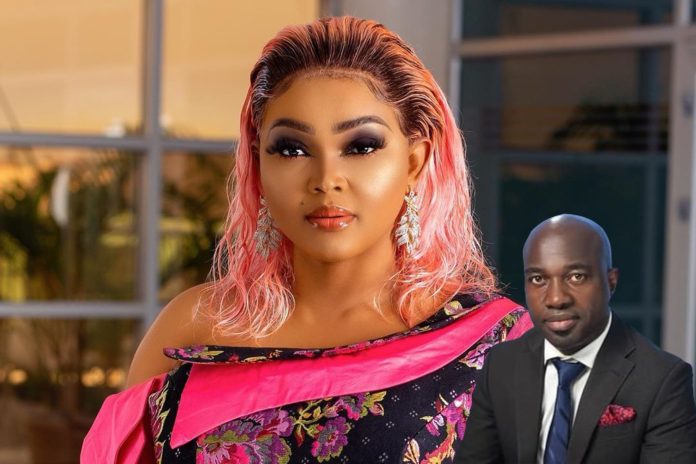 Nollywood actress and entrepreneur, Mercy Aigbe seems to have found love again after she left her marriage of five years. The actress who was formerly married to top hotelier, Lanre Gentry left her marriage in 2017 on allegations of domestic violence and infidelity. The mother of two is rumoured to be in a relationship with movie producer, Kazim Adeoti, the boss of Adekaz Production, a movie production outfit. The two have allegedly been together for a while now and there is hardly any movie produced by Kazim that has not featured the actress. She often plays lead roles in his movies.
Kazim has also produced some of Mercy's movies and always attends her events. He doesn't hesitate to celebrate her for any little achievement on his social media space. Mercy in turn calls him boss and he is the one she allegedly refers to as "di owner" in most of her social media posts while hailing herself as "Agbeke aya di owner". Although Kazim has been married for more than 20 years, his relationship with the actress allegedly poses a threat to his marriage.
Funsho Adeoti, wife of the movie producer, is a notable fashion designer and the owner of Asiwaju Couture. Her upscale store boasts of high-profile clientele in the National Assembly and social circles. Since she allegedly got to know about her husband's closeness with Mercy Aigbe, she has not had peace. She is said to be worried sick that Mercy might soon become her husband's second wife.
THE WILL
EFCC Arrests Scott Tommey, Alleged Bribe Collector For Godswill Akpabio Over N200 Million Bribe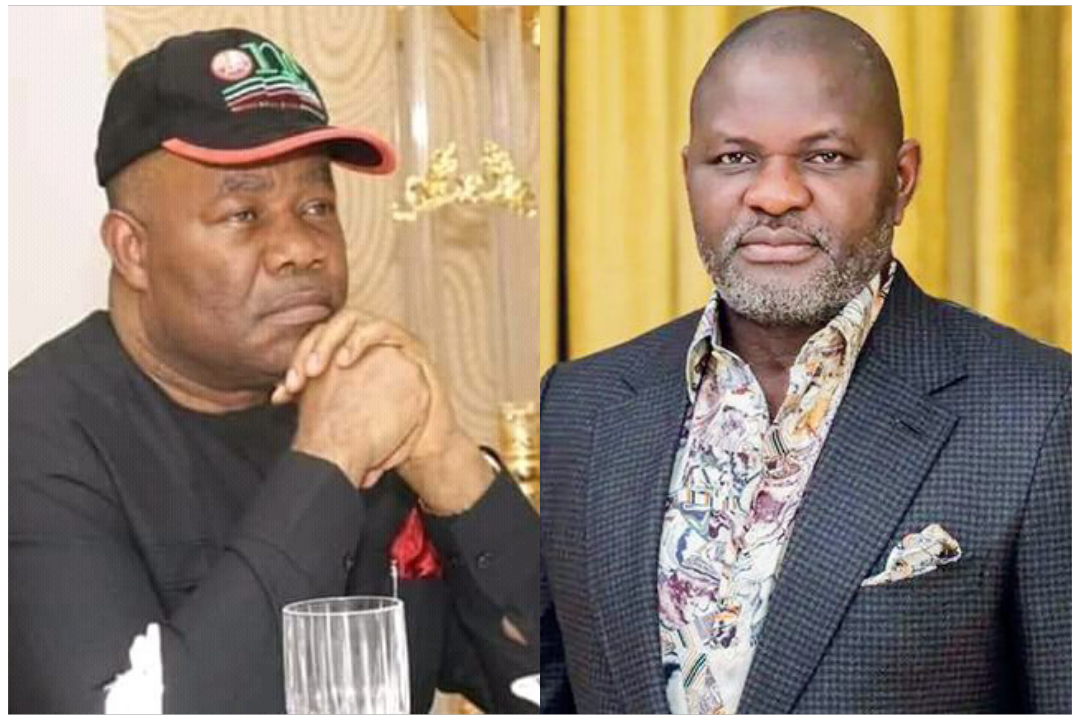 Barely few hours after descending on a current senator, former governor, and a presidential aspirant of the All Progressives Congress (APC), Rochas Okorocha, the Economic and Financial Crimes Commission (EFCC) in Nigeria, possibly on a corruption cleanup exercise has landed its sledgehammer on Scott Tommey, an alleged notorious bribe collector and ally to the former governor of Akwa Ibom State, Godswill Akpabio who is also contesting to fly the party flag of the APC in the 2023 general elections.
We learned that the arrest implicates Godswill Akpabio, who may soon be visiting the commission as the principal suspect to explain his role in the N200 Million bribe after the contractor petitioned him to the EFCC, who swung into action by arresting Mr Scott.
It will be recalled that sometimes in December 2021, The United Kingdom Serious Fraud Office, SFO, recieved petitions against the former Niger Delta Affairs Minister, Godswill Akpabio, including his associate Scott Ikot Tomey, a private contractor operating and acting as front for money laundering unbehalf the Minister.
According to credible sources, Akpabio, during his days as the Minister of Niger Delta Affairs, assured a contractor of payment by the Niger Delta Development Commission (NDDC) but could not fulfil his promise before he resigned. The amount worth over N4 billion saw the contractor paying the sum of N200M in dollars equivalent to the former Minister of Niger Delta Affairs through Scott Tommey, a proxy allegedly used by the former governor in receiving kickbacks from contractors. Identified as one of Nigeria's silent billionaires, Scott Tommey, an Akwa Ibom State business tycoon, has been on the radar of the EFCC.
His company Osmoserve Global LTD was in the news in 2020 over its involvement in the questionable N4.9Billion Covid-19 intervention fund handled by the Niger Delta Development Commission (NDDC). This was after it reportedly got the contract for the "emergency supply and delivery of medical equipment and consumables" at the sum of Seven Hundred and Twenty-Nine Million, Two Hundred and Three Thousand, One Hundred and Thirty-Seven Naira, Fifty Kobo (729,203,137.50) despite being an indigenous company that provides marine and engineering services to the oil and gas industry, States and Federal Government parastatals among others.
With the recent arrest of Mr Scott, we gathered that the commission might be sending an invitation letter to Akpabio to explain his role in the whole saga or face similar treatment meted out to his colleague Rochas Okorocha.
More details later…………..
'FRAUDULENT LAND ACQUISITION' COURT CONVICTS FORMER REPS MEMBER, CHUMA NZERIBE, OF IMPERSONATION, FORGERY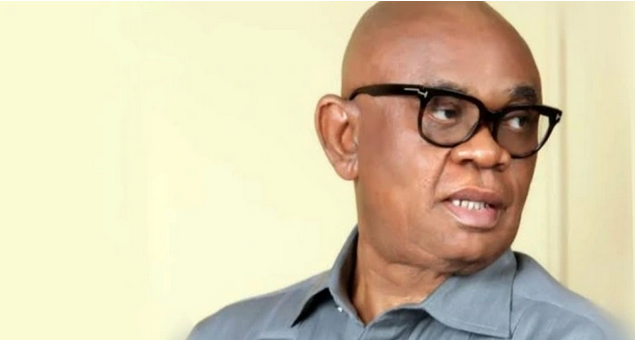 A former member of the House of Representatives, Chuma Nzeribe has been convicted of possession of false documents, impersonation and cheating.
Justice Yusuf Halilu of the High Court of the Federal Capital Territory (FCT) on Monday found him guilty of a four-count charge proffered against him by the Federal Government.
The FG accused Nzeribe of being in possession of Federal Government documents of which he used to fraudulently acquire land at Maitama District of Abuja.
Mr Nzeribe, who was absent in court today, allegedly committed the offences in 2005, 2007 and 2013.
In 2013, the alleged defendant had a document in his possession which contained false pretence with reference number MFCT/LA/FCT 1302, dated June 18, 2003, bearing the name of Ramatu Alhassan and thereby committed an offence contrary to Section 6, 8(b) of the Advance Fee Fraud and Other Fraud Related Offences Act, 2006 and punishable under Section 1 (3) of the same Act.
He was accused of using the alleged document as genuine, thereby committing an offence contrary to Section 366 of the Penal Code Act Cap 532 Laws of the Federation of Nigeria (Abuja) and punishable under Section 364 of the same Act.
When he was first arraigned, he pleaded not guilty to the charges against him.
When the matter was called up today, A. A. Maryam the prosecuting counsel prayed the court to deliver judgement in line with the provision of the Administration of Criminal Justice Act (ACJA), 2015.
She told the court that it was the choice of the defendant to be absent in court despite being served with a hearing notice.
Ms Maryam also sought the court to make an order against the defendant for misconduct as he was absent on the last adjourned date.
Nzeribe's Counsel opposed the prayer of the prosecution, he argued that judgement cannot be delivered in the absence of the defendant as stipulated by law.
Delivering judgement, Justice Halilu held that the prosecution was able to prove its case against Nzeribe beyond any reasonable doubt. Consequently, the judge convicted him on all the four-count charges.
He held that the convict indeed made false pretence and is guilty of forgery and using same to be genuine.
However, following his absence, the judge deferred the sentencing of the convict to a time that either the Inspector-General of Police or the EFCC arrest Nzeribe and brought him to court to be sentenced appropriately.
The judge also ordered that land in Maitama acquired with the forged documents be immediately retrieved by its original owner Mr Ishaya Madi.
Amen Estate Owner, Sade Balogun Accuses ex-husband, Babatunde Gbadamosi Of conspiring to frame her for threat to life – presents audio and WhatsApp evidence……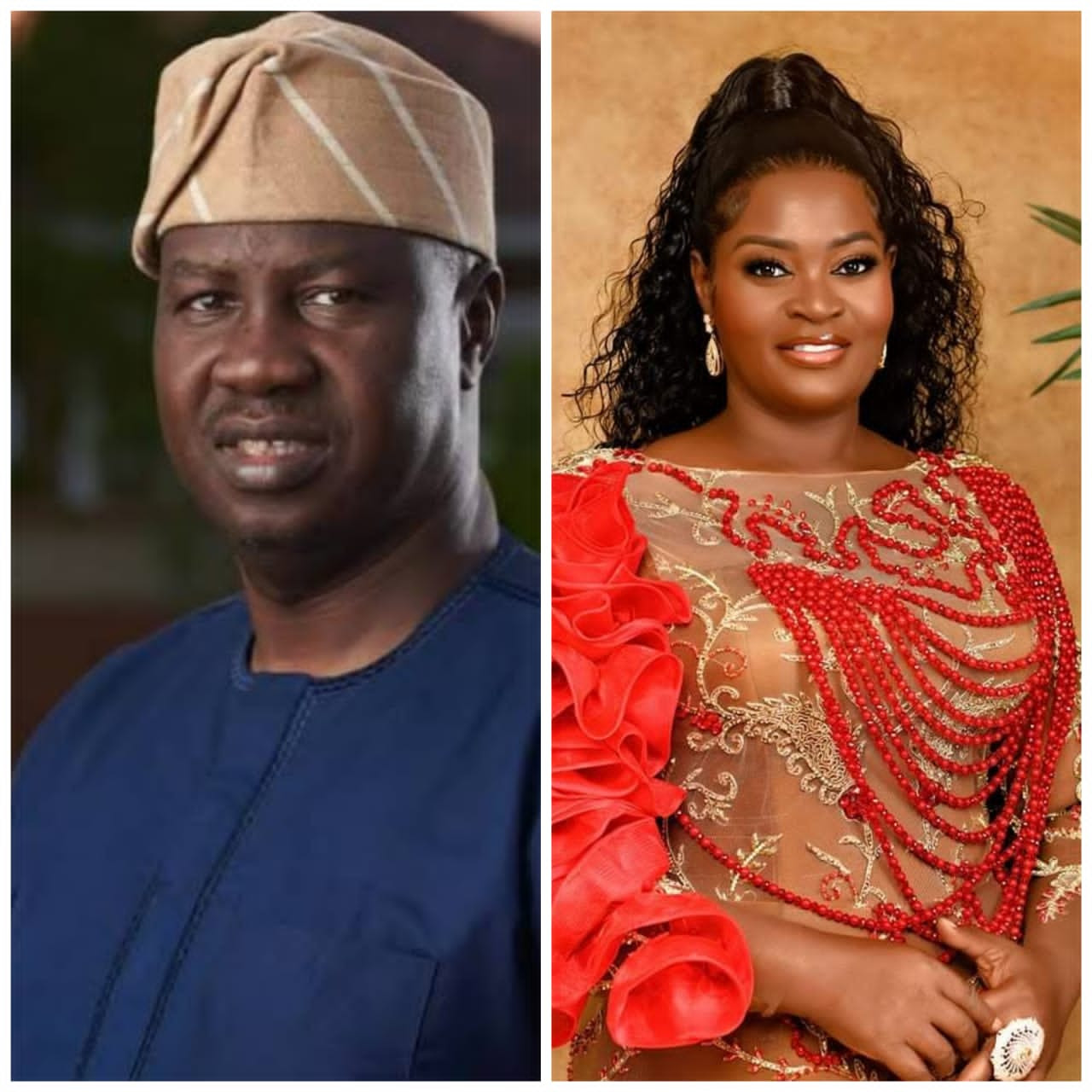 My name is Sade Balogun, Chairman/CEO of Redbrick Homes International Ltd.
Usually I would not react to media reports but when it comes to blatant lies concocted by people whose only aim is to malign my name, I draw the line, especially regarding the recent story being bandied about my person.
They are mostly lies cooked in the pit of hell.
I am amazed as to how many so called professionals jumped on this false news without requesting for my side of the story.
In the case in question, all I tried to do was to play the part of an arbitrator between the two parties as saved WhatsApp messages will reveal.
I am old enough to be the mother of the people involved in this case. I did my best to sort out the matter. My very best. I went out of my way, as a matter of fact to try to install peace.
If they were both my biological children, I couldn't have done better for them in terms of arbitration. Saheed Mosadoluwa swore to me that he did not break Adeyinka Igbinoba's leg. While Adeyinka said he did it and she has a video of him doing it. She apparently told the police the same thing!
I therefore asked for the video, so I could confront him with it. I never got the video. Nevertheless I pressed for the balance of N15m from Saheed, less the usual agency fees, but Saheed refused saying that the EFCC case was not withdrawn and more police stations were being contacted on the matter.
I gave Adeyinka the feedback, not knowing that I had offended her by asking for the video evidence with which I would confront Saheed with. She refused to produce the said video which I believed anyone will quickly forward as evidence to support their allegation, especially to someone trying to make peace and help her get back the balance of her money.
From what I later learned, the video she has, is the surgery video. Yet, she did not forward even that to me. I did not disbelieve her and I could not disbelieve Saheed either. I was only acting as a neutral peace maker.
The fact known by everyone is that I had a very difficult separation from my ex husband whom I kicked out of my Estate after discovering his plan to bring to my house his newly impregnanted wife. He has since relocated his abode with his new wife but Babatunde Gbadamosi has been fantasizing over how he will get rid of me and then claim ownership of my estate.
He has been using his social media handles to disparage me and my business ever since the revealation that he was only a sleeping Director in my company.
Between Adeyinka and my ex-husband, Babatunde Gbadamosi who is on a rumour mongering spree, perhaps after concocting the lie with Adeyinka, out of the blue and only possible in this NIGERIA, my role has been twisted to "threat to life and attempted murder of Adeyinka Igbinoba".
To put it mildly, I was shocked, when I found out that they had completely deformed the fact.
Apparently, my ex- husband saw the opportunity to malign me and continue his revenge, by managing to rope me into something I knew nothing of and had worked so hard at sorting out.
In the attached recorded voice note to my domestic staff, he boasts about this very clearly and he also contacted several of our shared contacts, spreading these fake stories to them.
He also sent a WhatsApp (attached) message to the same domestic staff telling her to call him and to delete the message he sent after reading.
He keeps calling my domestic staff, when they block him, he uses another number.
In the recorded message that was recorded by one of them, he said: "Sade will go to jail, things will soon change".
The world should please help me ask Babatunde Gbadamosi what he means by: "Things will soon change." What were his plans against me? I have now presented the recorded message for the whole world to hear.
This man formed numerous facebook accounts to cyberbully me. He has been on a vengeful mode ever since I was forced to publish his resignation letter and a company disclaimer spelling out his exact role of just a sleeping partner in my company, with no financial contribution, as a response to several months of cyberbullying.
Concerned mutual friends and Amen subscribers contacted me and sent me screengrabs of his messages to them, showing him maligning my person and defaming my character. All these people are concerned for my safety and their own safety too as he appeared unhinged, according to many of them. Most of my conversations with Adeyinka happened on whatsapp attached below: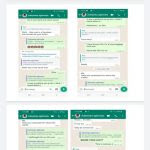 This is the first few days of the incident.
This shows clearly that I knew nothing about the reported incident, until a very serious engineering of events and misuse of police contacts, by a bitter ex-husband called Babatunde Gbadamosi, that led to a ludicrous charge of "Threat to life and Attempted Murder". This below captures our conversation before my visit to the hospital and after my visit to the hospital. Obviously I can't be charged to court because there is no single shred of evidence to support their allegation. They therefore resorted to cyber bullying.
These two must realise that the rule of law exists in Nigeria. They are hereby warned to desist from spreading false news about me as an individual or my corporate entity henceforth.
Signed: Sade Balogun.
Culled From: First Weekly MAgazine