BRING BACK IKEDI OHAKIM (PART 2)
I will never forget my friend Jenifer. I have told you this story before. Situation demands that i say it again. I remember the first day when she walked into my room drunk. That was in 2012. She sat down. 'I've come' she said, 'to tell you the latest news about Rochas Okorocha ,your Governor in Douglas House, Owerri. He is sacking more workers. After the 10,000 workers, he has sacked another 30,000 workers '
Everybody knows Jenifer in the neighbourhood. She was among the 10,000 Imo State Civil Servants popularly known as Ohakim 10,000 jobs that Governor Rochas Okorocha sacked on the 6th of June 2011. Today, she hates Rochas with a passion for making her and her sister unemployed. She took up the vodka drinking habit when she lost her job. She has dark skin, tiny boobs, long shiny dark hair, and brown eyes. She looks very athletic. Her cloth hugs her body; the lightest of cotton.
When Jenifer told me that day of another mass sack in Imo State, it shocked me. I quickly made phone calls and discovered that the news was true. Jenifer pulled her hair up and piled it on top of her head. She let her eyes look at my eyes, and then she dropped her hair and let it fall down in front of her face. When I saw Jenifer in that mood, I felt her pains of unemployment and the sadness was so great. Today Jenifer is still drinking. She and her sister are still unemployed.
On that first day that she entered my room, i stood up , touched her wrists and hands. I felt sorry for her. Okorocha overlooked the fact that the average Nigerian worker has four dependents – at least two living with him and he removed food from the table of the masses that voted him into power. Jenifer walked away from the mirror and said something that is true today. ''This is not what we bargained. All the things we were told during the election, all the love we chased, all the good campaign promises, what happened to them?' 'We now have an Imo state of unemployed youths; Imo state were minimum wages are denied workers, Imo state were workers are owed salaries, Imo state were the people are being denied employment in spite of their potentials; Imo state of escalating executive lawlessness, Imo state were LGA funds are looted, Imo state of disregard for constitutional rights. Government in Imo today is Owelle only . Those in government today are suffocating. The teachers are suffering. The civil servants are suffering. Business men are suffering. Even the traders are suffering. What we have now in Imo State is the more you look the less you see' she said
Just like Jenifer pointed out, politically, economically and socially, the government of Owelle Rochas Okorocha has shown inability to move Imo State forward. With Imo's huge resources and financial allocations from FG the present state of socio-economic and political paralysis and unimaginable underdevelopment and mass misery of the vast majority of Imolites in all the LGA's and sectors, provide an irrefutable proof of failure of the rule of Governor Okorocha.
For example, pension in Imo which previously is automatic for any worker that has worked for a certain period is now a cash pot for some capitalist thieving elements to embezzle and become financially bloated while thousands of Imo citizens entitled to pensions in Imo live or die in penury due to a backlog of unpaid pensions under one spurious excuse or another. The governor recently said he is going to pay pensioners but na so we dey always hear. Retired workers of Imo Broadcasting Corporation are still crying. Retired primary school teachers are crying. Staff of General Hospitals and Imo Transport Company are crying. I can go on and on to mention them.
Youths like Jenifer today, are completely without jobs. Governor Okorocha sacked 10,000 Imo graduates in the civil service and another 30,000 workers in our LGA's . Why,why, why? Today he claims to have employed 15,000 teachers and 25,000 public servants when it is all scam. The great improvement, which the Imo working masses had previously got in the last administration vis-à-vis their working conditions have been drastically rendered ineffectual under the current and vicious neo-liberal, capitalist, anti-poor policies and practices of Okorocha.
He is not interested in genuine effort at developing public infrastructures or the economy through which millions of jobs can be provided. To him, economic growth is defined by the amount of billions that he can amass so as to compete with elements within his class. For me, Imo with its allocation and mostly untapped wealth, can guarantee decent and secure jobs for Imolites without tears. I cry for the members of the House of Assembly Service Commission that Okorocha sacked. I cry for the members of the Civil Service Commission that he sacked. I cry for the members of the Local Government Service Commission, Local Government Development Areas, Judicial Service Commission and Imo State Council of Traditional Rulers that he sacked. These are statutory commissions with fixed tenures that he illegally dissolved before the expiration of their tenure of office. I also cry for the 10,000 workers, people like Jenifer.
Okorocha's government has also earned its name in the corruption hall of fame. His government's corruption is gargantuan. Aside superintending over massive looting, the Okorocha's government has openly and unashamedly associated with every tom, dick and harry in the corruption business. Financial scam is now everywhere in Imo State. What happened to the N13.3 Billion Bond Proceeds out of the N18.5 taken by the Imo State Government during Ohakim's regime? What happened to the N3 Billion SUBEB project account? What is happening to our Sure-P funds? What happened to the N2.5 Billion Local Government Joint Project Account? What happened to the N3.6 Billion left in JAAC Account by the previous administration? What about the N488 Million in VAT account? Who squandered the N132 Billion Local Government Allocations for 27 Local Government Areas in Imo State from May 2011 to December 2013? Who squandered the N16billion ISOPADEC funds? Who squandered N670 Million Imo children funds? Who squandered the flood assistance funds of Imo State?
Where is the money stolen in Connivance with Jpros Company Limited from the Construction of Warehouse-Orlu-Road Junction? Governor Okorocha's administration paid JPROS a total of N1.35 Billion Naira for the above road. Where is the N458 Million Naira laundered to Dubai and Lebanon with the connivance of the Governor's former Special Adviser on Project Monitoring and strong political associate Prince Macdonald Akano and Mr. Joseph Dina of JPROS International Limited? I can go on and on.
Today he claims to be paying monthly stipend to pupils and students in all the public schools in Imo State when the payment is occasional. He claims to have spent millions of naira procuring free school uniforms, bags, sandals, desks, books etc for pupils and students in all the public schools in Imo State but provided only few uniforms and canvass to few wards. What about the sale of ADAPALM to Roche Group(his company), the sale of Imo Transport Company (I.T.C.), Concorde Hotel, Children's Park (opposite Concorde Hotel Owerri), state General Hospitals etc for many years.What about the Sale of Imo Road Maintenance Agency (IROMA) graders, bulldozers, pay-loaders etc to himself . What about the alleged auction of world-class Printing and Sword Machines worth over 200 million naira belonging to Imo Newspapers to his private printing press in Lagos. What about the borrowing of many Billions of Naira from banks and denying that no money was borrowed?
My brothers we must get Imo out of this one chance vehicle. The people of Imo must first and foremost remove from power this ruling capitalist thieving elite and in his place institute a workers and poor people's friendly government whose central strategy would be based on the mobilization of Imo's human and natural resources to meet the needs of full economic development and decent living for all Imolites and not just for a few thieving capitalist elements. We need someone to proffer genuine anti-capitalist, pro-masses economic and political alternatives to the ruinous policies of the present capitalist thieving cabal in Imo State.
Who is the popular candidate with grass root support that will help us out among the lot? I will desire that all aspirant will engage all Imolite as Ohakim is doing. It is better we pick Ohakim from this point, give him all our expectations of responsible future leadership in Imo State.Let us give him an audience and hear him. He has realised that power really belongs to the people and is ready to lead the people with uncommon service. Imo must learn forgiveness from Ekiti so that the fresh air in Ekiti can get to the virulent section of the South East. Yes we needs someone that is more popular at the grass root than the lot and only a popular and experienced candidate can defeat a sitting governor. Let's take the step to support Ohakim. As I said before it is better to bring out the diamond in Ohakim. Imo state need strong leadership-Men and Women who are simple,wise,humble, creative and above all courageous. Let's Bring Back Ikedi Ohakim to give our youths jobs and to make Imo better.
Controversial Sterling Bank caught in the act! CBN sanctions, parades officials for hoarding new naira notes [VIDEO]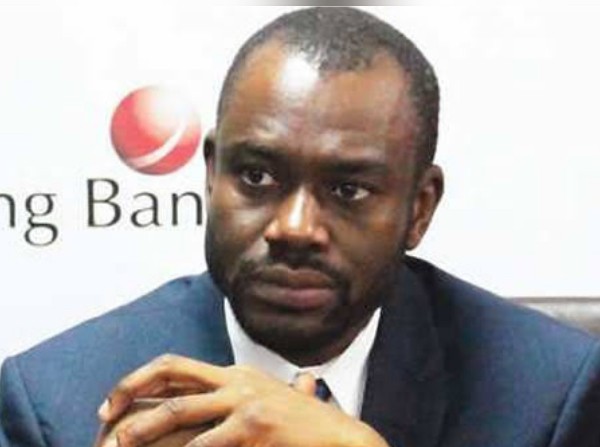 Officials of the Central Bank of Nigeria (CBN) have discovered N6 million of the new naira notes hoarded in Sterling Bank Plc, Ado Ekiti branch on Bank Road, Ado Ekiti in Ekiti State, having received the funds for over two weeks, THE WITNESS reports.
In a trending video on social media, seen by THE WITNESS, a man who identified himself as Oluwole Owoeye, a deputy director of CBN, while monitoring the distribution of the new naira notes in the state, was seen questioning the bank officials as to why they have not uploaded the funds into their Automated Teller Machines, (ATMs), despite having six of the machines in place.
The CBN director also announced a fine of N1 million for each day the fund was in the bank's custody.
The CBN official said, "I am currently at Sterling Bank, on Bank Road as part of the new naira notes monitoring compliance with the guidelines by CBN. They have N6 million, which they collected from the bank for almost two weeks, they have not disbursed any. They said they are yet to configure their ATMs, I do not know why that and I have brought attention to the penalty clause of N1 million per day, because they have five ATMs here, they have no reason for keeping this money.
"The zonal service manager, Tunde Onipede promised that by 10:00am latest tomorrow (Monday), because I told him by latest 10:00 am I'll be here and I want to see the machine dispensing this money.
"What is the name again? Olumide Owolabi (Service Manager, Ado) & Motunrayo Babayele. My name is Oluwole Owoeye and I am a deputy director of CBN."
WATCH VIDEO HERE:
FCMB Manager Arrested For Hoarding New Naira Notes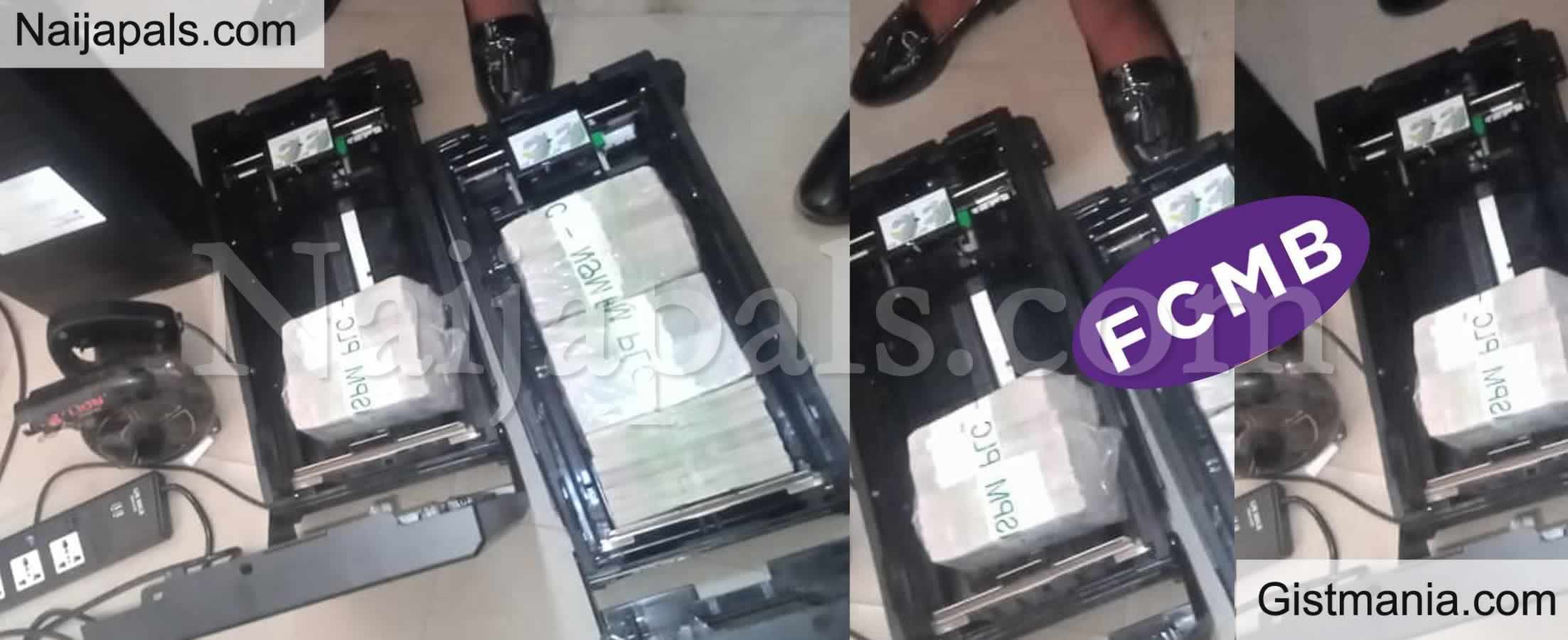 A manager of the First City Monument Bank (FCMB) branch in Osogbo, Osun State capital, has been arrested for allegedly preventing Automated Teller Machines (ATMs) loaded with cash from dispensing money to customers.
The spokesperson of the Independent Corrupt Practices and other related offenses Commission (ICPC), Azuka Ogugua, in a statement on Friday said the cash bundles were loaded into the ATMs while still wrapped, and as such, could not be dispensed through the machines
"The ICPC Compliance Team in Osogbo has busted an FCMB in Osogbo, Osun State, where some ATMs were loaded with cash with their wrappers un-removed, thus preventing the cash from being dispensed.
"The Team, therefore, directed that the wrappers be removed, and the cash loaded properly'.
Similarly, seven Point of Sale (POS) operators as well as a security guard were arrested during the ongoing exercise in Osun State for charging exorbitant commissions for cash.
Investigations, however, revealed that they got the money from Filling Stations that collect new notes from fuel buyers, but they then resell the cash to the public at exorbitant rates.
The arrested persons are helping the Commission with information to assist investigations and bust any syndicates involved in the hoarding or sales of the redesigned notes.
New naira: ICPC arrests Stanbic IBTC Bank manager over sabotage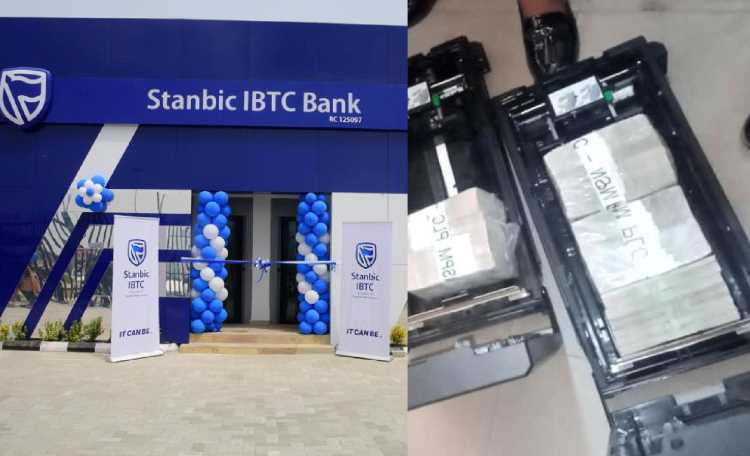 The Independent Corrupt Practices and other related offences Commission (ICPC), has arrested an official of Stanbic IBTC Bank in Abuja for alleged sabotage.
The ICPC spokesperson, Azuka Ogugua, said the development was in continuation of ICPC's clampdown on elements frustrating efforts in making the redesigned Naira notes available to members of the public.
The bank official, who is the branch service head of Stanbic IBTC Bank, Deidei Branch in Abuja, was taken into custody for her deliberate refusal to upload cash into the branch's Automated Teller Machines (ATMs) even when the cash was available and people were queuing at the ATM points.
The statement reads: "When the ICPC monitoring team stormed the bank at about 1:30pm on Friday to ensure compliance, and demanded explanation as to why all the ATMs were not dispensing cash, the team was informed by the branch's head of operations that the bank just got delivery of the cash.
"However, facts available to the ICPC operatives indicated that the branch took delivery of the cash earlier around 11:58am and either willfully or maliciously refused to feed the ATMs with the cash.
"Against this backdrop, the ICPC team compelled the bank to load the ATMs with the redesigned Naira notes and ensured that they were all dispensing before arresting the culprit.
"The ICPC said investigations were still ongoing and the Commission will take appropriate actions as soon they are concluded.
"Similarly, seven Point of Sale (PoS) operators as well as a security guard were arrested during an ongoing exercise in Osun State for charging exorbitant commissions for cash.
"Investigations, however, revealed that they got the money from Filling Stations that collect new notes from fuel buyers, but they then resell the cash to the public at exorbitant rates.
"The arrested persons were helping the anti-graft commission with information to assist investigations and bust other syndicates involved in the hoarding and sales of the redesigned Naira notes," the anti-graft agency said.