BEWIAfrica Charges Youth to Get Involved in National Activities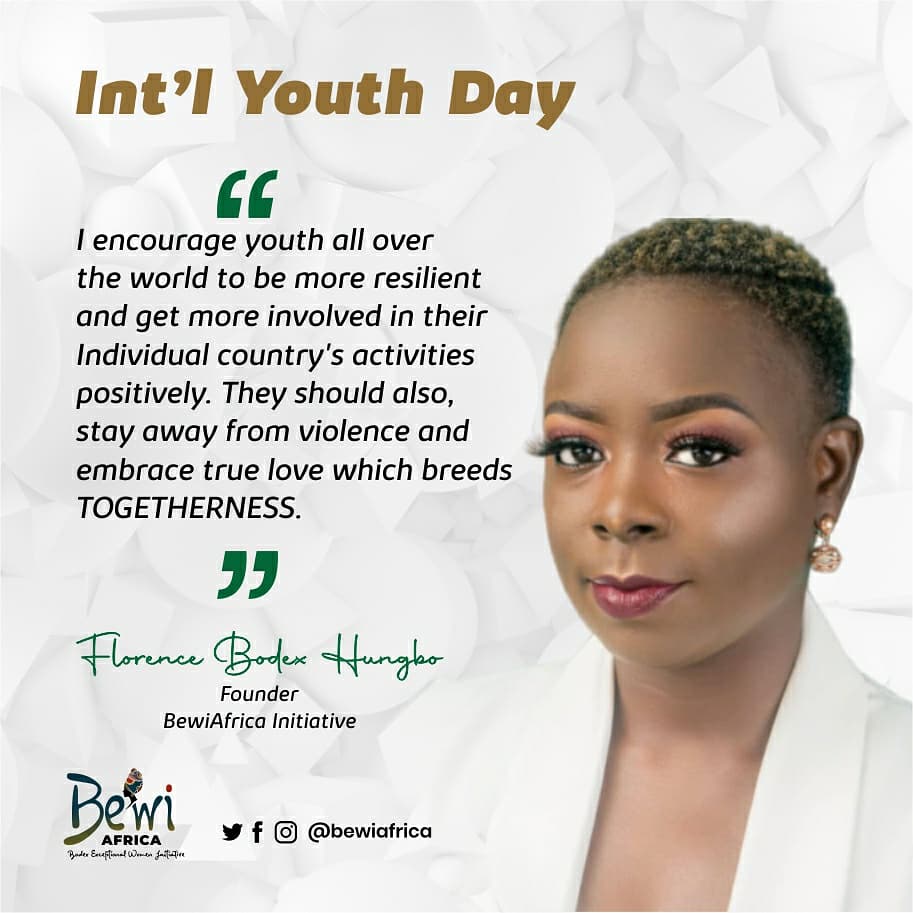 In line with World International Youth Day 2020, BEWIAfrica a social enterprise committed to gender empowerments and developments, is urging youth all over the country to be more resilient and get involved in their individual country's activities positively.
The NGO, which is consistent with its personal ethos and conforms with the tenets of Sustainable Development Goal (SDG) 5, made this known in a media release it issued to mark World Youth Day on August 12.
The Founder and CEO, Florence Bodex Hungbo, hinted that youth should steer clear from violence and embrace true love which breeds togetherness.
Her words, "And most importantly, they should always be each others' voice in any circumstances as they say 'youths are the pillars of any nation'. Hence, they should live up to that so as to be ready to lead when leadership finally hits them."
Although BEWIAfrica is dedicated to promoting entrepreneurship amongst women by mobilising support for women-owned ventures and businesses, children and female students, it has plans for the
youth.
"Over the years, BEWIAfrica has encouraged some enterprising women to muster the courage to defy the inhibiting stereotype that prevented female entrance into jobs considered the exclusive preserve of men because of their technical and vigorous nature,"Hungbo noted.
According to her, her NGO is joining the United Nations and the world to identify with the youth. "We would have had a conference to properly address and empower the youth. We, however, are not oblivious of the pandemic and safety measures.
"We want to assure our youth that we haven't forgotten them and we have very appealing plans set specially for their enhancement," she assured the youth.
Celebrity Couples Chef Challenge C4 Berths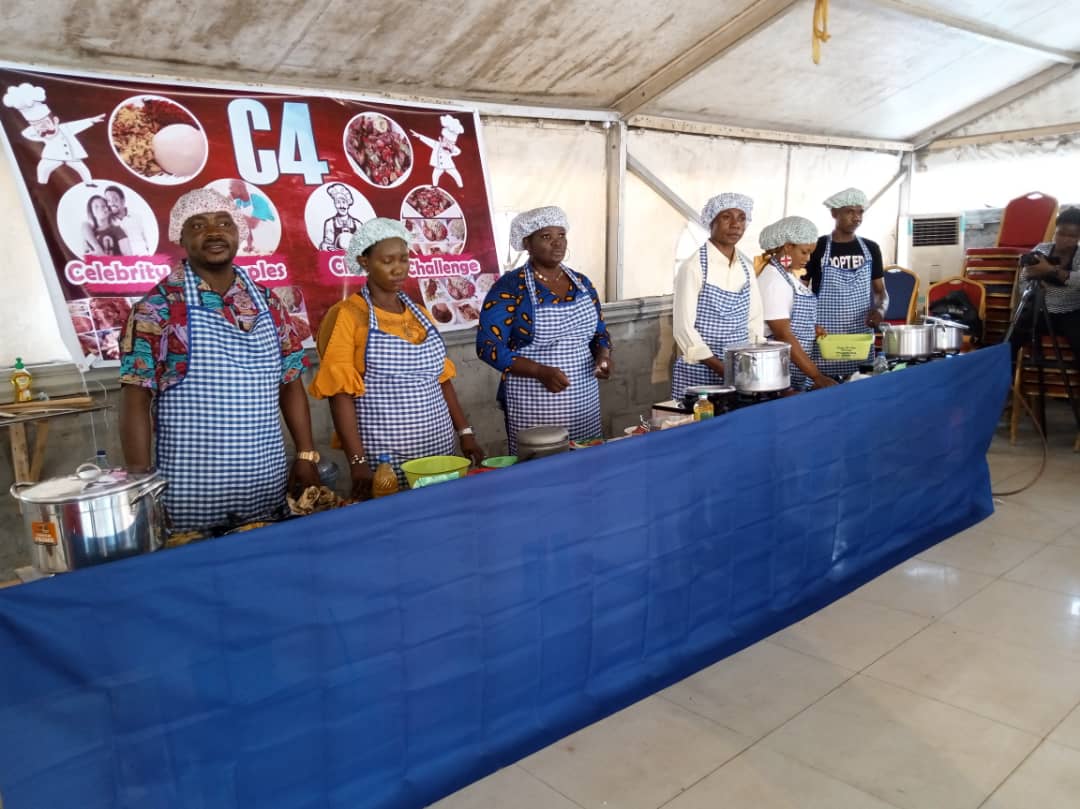 Top Entertainment Celebrity Journalist, Chilaka Patrick is set to roll out a new family based TV show tagged, "Celebrity Couples Chef Challenge", C4.
Celebrity Couples Chef Challenge is a cooking competition that involves celebrity couples, showing off their culinary skills to the delight of their Nigerian fans and audience.
The show will see the super duper celebrities doing what no one has seen their favorite celebs doing outside their usual spotlight.
 Chilaka disclosed that "the show is out to promote the unity, love, harmony and togetherness among couples, who depend on each other to make their homes a lovely place to live in".
He also opined that "the project seeks to promote our cultural heritage, as it concerns our food and other culinary delicacies, and couples participating in the challenge will display their knowledge of the Nigerian dishes".
Celebrity Couples Chef Challenge, C4, which will kick-off within the first quarter of next year, is also proposed to have Lagos State as its location,  due to its host of the many celebrities living in the state , and Lagos being the center of excellence when it comes to entertainment.
The Celebrity Couples Chef Challenge, will see 20 couples battling each other for the title of being the best Chef Couple outside their normal celeb status.
A star prize of 20 million naira for the best celebrity power chef is up for grabs,  other compensation prizes, mouth watering prizes for the other winners in the challenge.
The show is open to all married celebrity couples in Nigeria's entertainment industry , who have a verifiable status of being married irrespective of their age.
 Celebrities who are not married are not eligible to take part in the show.
The project will have a setting where an anchor, a female celebrity will take charge of the show and ensure that all laid down rules relating to the show are adhered to.
The show will also x-ray to Nigerians the bond their entertainment role models share at home.
The project also will bring the likes of Paul (Rude Boy) and Anita Okoye, Mercy Johnson and  Prince Odianosen Okojie, Yul  and May Edochie, Ebere Okaro Onyuike and husband, Tuface and Annie Idibia, Ejike and Oge Asiegbu, and many more.
The show surely is pregnant with a lot of excitement and fun as it runs its full course of 14 days.
The show will also see celebrity couples being eliminated as it progresses, until the last 5 finalist couples enter a final competition that will produce the eventual top three winners.
Celebrity Chef Couple Challenge will run through a knockout stage, where couples will be eliminated on how they approach their cooking tasks given to them by the anchor of the challenge.
The contestants will be made to choose from the list of Nigerian foods available, and given ample time to cook and present the final cooked food to the panel of judges, drawn from a list of celebrities and professionals from the hospitality sector.
There will be an audience for each episode, and they will form part of the crowd that would add bite to the show.
 In the end, the program hopes to use entertainment celebs to promote Nigeria's cultural heritage as it concerns various local Nigerian dishes.
It will also show and promote love among couples, and how each couple compliments the other in their home as it relates to helping out with kitchen cooking chores.
African Arts, Music and Culture Takes Centre Stage on Ujima Radio Bristol UK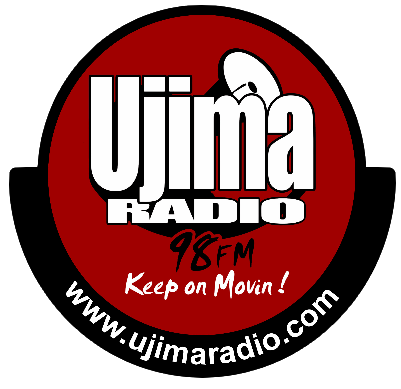 ……….with Beats Fuzion UK's "Hello Africa!" Show
Ujima Radio based in Bristol UK is a very unique platform with so much pedigree in the radio broadcasting industry in the United Kingdom. Launched in 2008, it has created a lasting impact on not just the wider Bristol Community but also globally with a web based digital player and DAB radio. It is also worthy to note that one of the former presenters Marvin Rees is currently the Mayor of Bristol. Hence, the contributions of this radio station in showcasing the rich diversity of the Bristol community has not only won numerous awards for the city as the Best Place to Live In the UK but for the station as well with the 2015 National Diversity Awards – Race, Faith & Religion and the 2016 Community Radio Awards – Station of the Year
So, it is no wonder that Beats Fuzion UK, the Bristol based Music and Events Promoter chose to take their one-of-a-kind radio Show "Hello Africa!" to Ujima. And the results of this radio program have been outstanding.
According to the Producer and Presenter of "Hello Africa!", Leslie Anyanwu aka Uncle Les, "Hello Africa!" is a two hour musical journey of the African continent aimed at showcasing the very rich African art and culture as captured by the multi-genre music forms and expressed by the talented artists both from the Motherland beyond. It not only features the old and nostalgic sounds but also the contemporary and emerging artists as well. "Hello Africa!" cuts across ages, races and the different listener demographics who listen to and appreciate good music."
So far, the radio show is finding new listeners all over the world with people tuning in from the United States, South America, Asia, all over Europe, Africa and even Australia. And thanks to the Ujima Radio "Listen Again" service which can be found on the Ujima Radio website and the Beats Fuzion UK MixCloud.com account, listeners can playback and enjoy previous episodes of the show down to the very first one which was aired in April 2020.
"Hello Africa!" is a weekly show which airs every Saturday afternoon from 2pm to 4pm (British Standard Time) According to Uncle Les, it is the ideal family show modelled after "more music and less talk" and boasts of a really positive and refreshing vibe. And it continues to attract the attention of music artists who see it as the credible platform to offer and showcase their art and talent not just to the UK listener public but also to the whole world.
Beats Fuzion UK can be contacted via their social media channels on Facebook, Instagram and Twitter and also via email with beatsfuzionuk@gmail.com.
AKAD RECORDS SET TO TAKE LIL DEE TO THE NEXT LEVEL IN NIGERIA MUSIC SCENE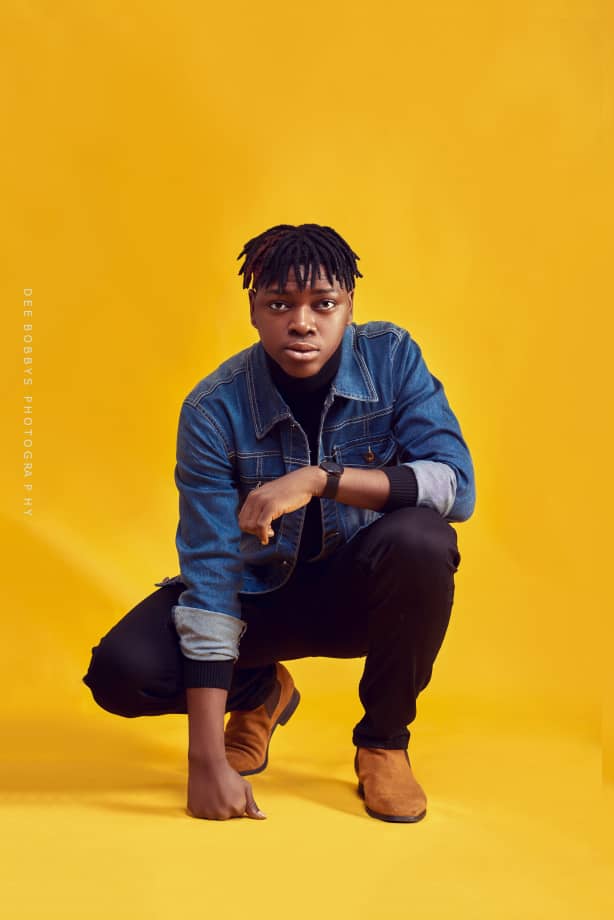 MONEY MATTER: LIL DEE TELLS GOOD MUSIC LOVERS ABOUT HIS NEW SINGLE-'OWO' (MONEY)
The unassuming new gift to the Nigerian music industry born Damilola Samuel Ogunsanya and popular known as Lil Dee is ready to change the music scene in Naija under the reputable record label, Akad Records. DEBUTS
The talented Afro Hip Hop singer with a unique powerful vocal delivery and extraordinary stagecraft is doing everything possible to make a statement in the most competitive music playground in this part of the world, Nigeria.
The young and talented street pop act who started doing music in 2011 and recorded his first single in 2012 is the second born from a respectable family of five and he is from the South-West in Ekiti State.
Music comes to him naturally because he loves music and he listens to the best of Afro music while growing up.
Lil Dee was inspired to do music when he listened to Olamide's Rhapsody Album and the single titles- Apatijabo and Eniduro were his best tracks.
No doubt, he writes good songs and he is very spontaneous in composing most of his song's lyrics and he often enters the studio to do his thing without actually writing the songs down, disclosed an associate in Akad Records.
Further findings revealed that music makes him happy and alleviates his worries and the consciousness of good music takes him anywhere, anytime. And, more so hearing good beats always trigger his creativity.
Lil Dee, as he is fondly called has been uniquely different since he joined Akad Records who now manages his talent and music promotions under their record label.
Akad Records has dropped his latest trending single and nothing is going to stop the new acclaimed king of Afro-Hip Hop in Nigeria from doing what he knows how to do best.
Surprisingly, those who should know squealed that the airwaves will experience the new hit released by Lil Dee entitled- Owo (Money) which is already unleashing fun in the music and entertainment industry.
We also gathered from the industry watchers that the new single by Lil Dee featuring Jaywon and proudly produced by 3 Brain is recorded to send out warning signals to the self-acclaimed heavyweights in the music industry that he is ready to take over the scene with Owo (Money) that would soon be the power play for most Disc-Jockeys in Nigeria and abroad.
Lil Dee is officially and presently signed to Akad Records an entertainment biased company who is passionate about building and managing good talents in and outside the country.
Believe it or not, Lil Dee stands tall among his peers and he has shown what he's got to send the mediocre off the stage with his delivery, lyrical gusto, and persona, which were drawn from him an undying passion for Afro Hip Hop music.
The CEO of Akad Records, Mr. Akinwale Ademokoya a reputable young businessman in Nigeria has concluded plans to take Lil Dee to the next level in the show business after waiting for the right time and those in the know disclosed that he's got the right talents such as Lil Dee to make his music entertainment outfit proud in a matter of time.
For your listening pleasure, you can download Owo (Money) the new spanking single by Lil Dee on major online music hubs or follow him on Instagram: @Lildee_9ja and @Akadrecords