THE BERTH OF AMAZING AMAZON INITIATIVE
Women in their throngs came out on the 6th of March 2016 to receive the best Mother's day gift any woman could get! It was the launch of the first real action oriented Support Group for women in Nigeria; the AMAZING AMAZON INITIATIVE which held at Berkeley Hotel, GRA, Ikeja.
AdenikeOgunlesi, the owner of Ruff n Tumble who also happens to be the Chairperson of the Board of Trustee, chaired the occasion. Also in attendance was Laila St Matthew Daniels, a No Domestic Violence and Abuse advocate and EmekaOparah, the Vice President Corporate Communications Airtel Nigeria who are also members of the Board. The special guests who graced the occasion includes some of Nollywood's finest, Caroline Danjuma, and Adunni Ade who spoke to the women about their personal experiences and life's lessons that left an indelible impression on them. Mrs. Toyin Collins, Pastor EdebiOtefe amongst others shared valued thoughts too.
The Visioneer and Founder of the initiative Mercy Makinde spoke extensively on her life's journey from when she was given out in early marriage from the tender age of 18 years to a man older than her father till when she decided to take her destiny in her hands by walking away from the abusive marriage that lasted 11years of her early life.
She purported that it took her that long to leave and run for her dear life because of the lack of a support system in our society for women in troubled marriages. Rather than support, the society generally turns around to stigmatize and labels the victim even when there is clear evidence that the woman's life is at stake!
She emphasized the need for women to come together to form a strong bond and create a platform for them to get support, coaching, mentoring, business and networking opportunities. Hence, the birth of AMAZING AMAZON initiative, which is a real ACTION oriented Women Support Group.
Mercy added that even though in our culture women rarely get to "hang out" or "seal deals over drinks" like the men folk, they however still need gatherings where they come together to celebrate, nurture, get mentored, get trainings, encouragement, console one another, network, learn and grow their business. She emphasized that women need, intimacy support and consolation, particularly during difficult times especially now that face-to-face interactions within our communities are becoming rare.
"We sometimes get support from family and friends, but sometimes they cannot easily understand what it's like to be in our situation because they haven't really walked in our shoes. But being in a group with people who have been in your same situation can help fill the void as they may be able to provide the needed succor and share proven and practical steps they once used in dealing with the situation. Whether a woman is dealing with illness, emotional problems, marital issues, parenting issues, life transitions, or a temporary situational crisis, we would come together with people in the same situation to offer each other support and encouragement''…she said.
Amazing Amazon Initiative will provide a places where women can share personal stories, express emotions and be heard in an atmosphere of acceptance, understanding, and encouragement. Participants will get helpful information from Resources persons and Facilitators who are experts in their different fields of endeavor. By helping others, people in this support group will strengthen and empower themselves as these support from group members will enables personal growth and change in a way that individual therapy cannot achieve.
Beyond the usual sermons of a seminar and coaching sessions, the initiative will take practical steps to alleviate whatever travails a woman is going through. The group will be the "WHO" and "WHERE" that every woman should run to in her times of need and this network is open to women of all walks of life everywhere in Nigeria. After the Lagos launch, the next stop now is Abuja to be followed by Port Harcourt as women from these locations are already registering to become a part of the initiative.
In demonstration of their claim to support and not just talk, a lady in the attendance yesterday who owned up to currently being a victim of domestic violence was immediately given free legal services from a lawyer in the network from the Federal Ministry of Justice. Her case was immediately taken up and she will get whatever help and support she requires of the group. Others had employment issues, which the group had taken up to assist.
UBA Foundation also in solidarity and support of the initiative donated a hundred branded school bags to the group. These would be given out to the less privileged kids through their mothers.
The Chairman, Board of Trustees MrsAdenikeOgunlesi spoke at length on how the women can still live a fulfilled and happy life even though it is difficult if not almost impossible to achieve a perfect balance in life. She did using a graphic illustration of life's circle and the women excitedly joined in on the "wheel of life" exercise. She ended her session by emphasizing how important it is for women to join the network and she encouraged them all to sign up and join the forum as a lot awaits them.
Other speakers also shared some very valuable life lessons with the women who were yearning to hear more at the end of the programme. The event, which was proudly supported by Airtel Nigeria and Guardian Nigeria, left the women with a renewed vigor and hope.
To learn more and become a part of this great initiative, all you simply do is click on this link www.theamazingamazon.org
My son's death a test from God – Heartbroken Gov. Sule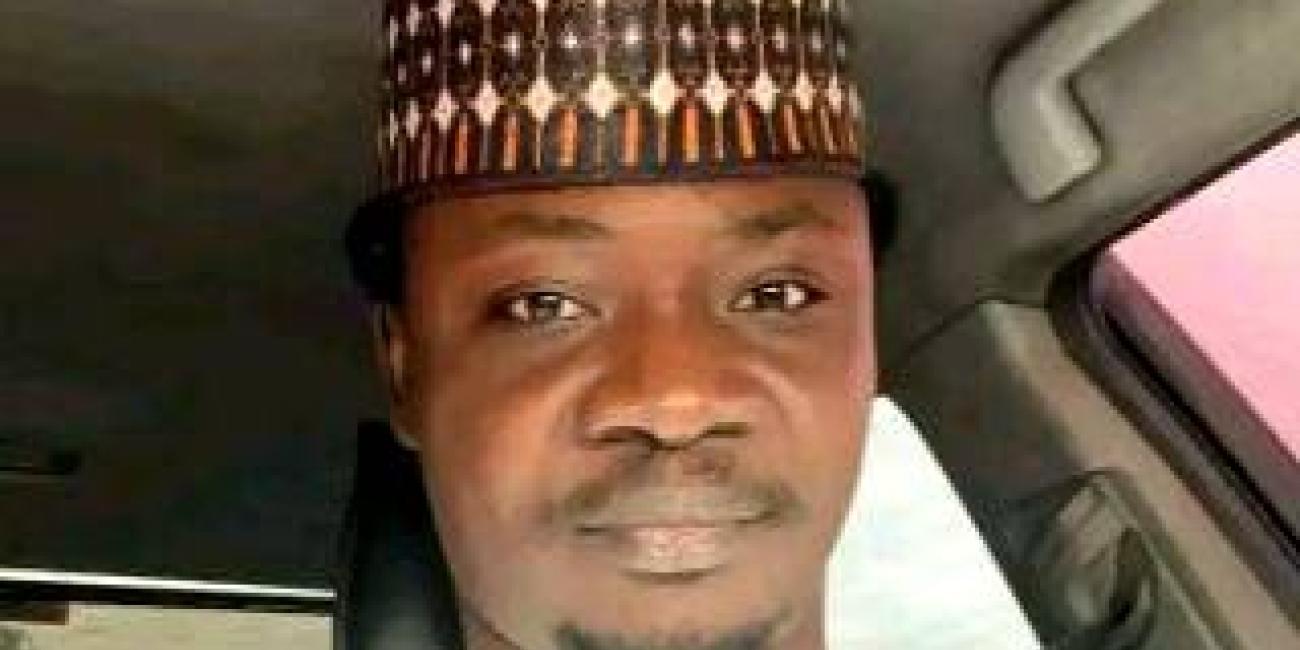 Heartbroken Governor Abdullahi Sule of Nasarawa State on Friday said the death of his son, Hassan, is a test from God.
Hassan, 36, died on Thursday after a brief illness.
He spoke while receiving condolences at the palace of his father, the Sarkin Gudi, Alhaji Sule Bawa, in Akwanga LGA.
Sule said he was the one consoling somebody who lost his nine children and 70 cows the previous day and that today God decided to test him, to see whether he was sincere in consoling that bereaved father.
"This is my time to be tested. I see this as a test from God. I was the person consoling somebody that lost his 9 children and 70 cows yesterday, and today God decided to test me, to see whether I was sincere in consoling that bereaved father," he said in a report by The Punch.
According to him, his son grew up carrying all his siblings along, saying that it was only God that has the power to take him away.
Sule added that his son was the one taking decisions on their businesses, saying that he was always on hand to advice him on what next to do, as his schedule would not allow him to run any business.
The governor insisted that God took him away to test hi resilience and faith.
"God didn't seek my advice when he gave Hassan to me and he will not seek my advice when he takes him away," he said.
Senate summons Kyari, CEO NNPCL over N48 billion pipeline surveillance contract awarded to Tompolo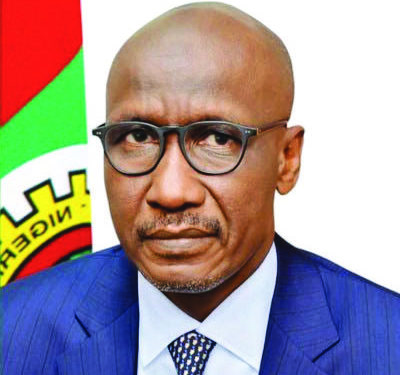 The Senate Committee on Ethics, Privileges and Public Petitions has summoned the Group Chief Executive Officer of the Nigerian National Petroleum Company Limited (NNPCL), Mr. Mele Kyari, over a N48 billion pipeline surveillance contract awarded to stakeholders in the Niger Delta region.
The pipeline surveillance contract was awarded by the Federal Government to Global West Vessel Specialist Limited, a private maritime security firm founded by Government Ekpemupolo, an erstwhile Commander of the Movement for the Emancipation of the Niger Delta (MEND) also known as Tompolo.
The Tompolo-owned firm was expected to protect all the oil pipelines criss-crossing nearly all the states in the Niger Delta in collaboration with other major stakeholders in the oil bearing communities in the region.
Specifically, Tompolo is expected to carry out the N4 billion per month contract that covers Delta, Ondo, Imo, Rivers and some parts of Bayelsa State in collaboration with major tribes along the communities that host the oil pipelines.
However the Isoko Ethnic Nationality has petitioned the Senate alleging that their young men were not being carried along in the multi-billion naira project.
The Isoko people under the auspices of Interested Isoko Youth Groups, through a petition sent to the Senate on their behalf by Stanley Okonmah, said they were completely marginalised in the contract award.
The lsoko Ethnic Nationality requested the Senate to probe the award of the contract and prevail on the NNPCL's management to award a fresh contract to a company owned by an Isoko person.
Specifically, the people urged the Senate to look into the matter and urged the Minister of Petroleum Resources and the Group Chief Executive Officer of Nigerian National Petroleum Company Limited (NNPCL) to correct the anomaly.
They want the NNPCL to award the pipeline surveillance contract to a company to be chosen by stakeholders of Isoko nation.
The Chairman, Senate Committee on Ethics, Privileges and Public Petitions, Senator Ayo Akinyelure (PDP – Ondo Central), at a session in Abuja, said the GCEO of the NNPCL was being summoned to the Senate for him to come and assure the Isoko people that the agency would do the needful to avoid economic sabotage by the aggrieved youths of the area.
He said, "The GCEO of the NNPCL is hereby summoned by the Senate Committee on Ethics Privileges and Public Petitions (to appear before this committee) on January 25.
"We want him to come and assure Nigerians that he would do the needful to calm down the youths so that they will not engage in pipeline vandalism."
Earlier, the leadership of the Isoko youths told the panel that since oil was discovered in their land and pipelines installed there in 1958, till date, no case of vandalism had been recorded in the area.
Confusion at Lagos Airport as Workers Embark On Strike…… Passengers Stranded!(Photos)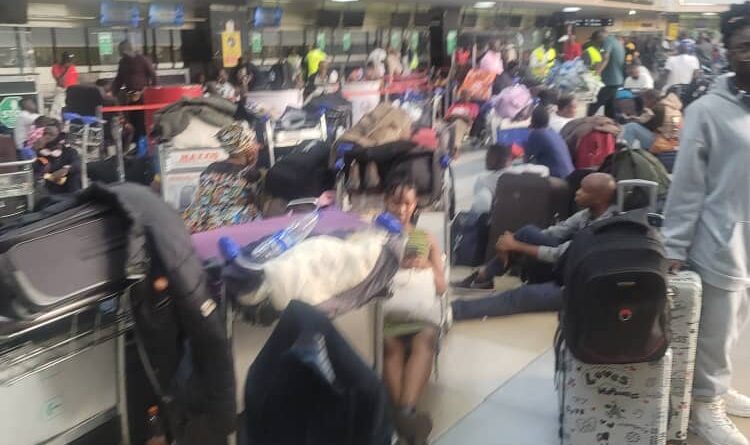 Several passengers were stranded this morning at the Murtala Mohammed International airport as airport workers began strike starting from midnight.
passengers were spotted all around with airlines having little information on the way forward.
for instance, virgin Atlantic passengers that were due for London trip this morning were helpless as many had to reschedule their flights and many left loitering around
more details………