Atedo Peterside, Onari Duke, Yemi Alade, Timi Dakolo, Waje, Storm Cobhams Asquo's Album Launch
For 16 years Cobhams Asuquo has worked behind the scenes helping artistes achieve their album dream, but on Sunday, March 12th Cobhams stepped into the spotlight and launched his highly-anticipated debut album at an exclusive high-profile command performance.
In tune with character, Cobhams who is known for his touch of brilliance pulled all stops to deliver a concert that left a lasting impression on the minds of the audience. With companies like Wisemen Apparel, Malta Guinness, BillionaireBet as co-sponsor of the concert, guests were feted with world-class music and a delicious menu of intercontinental and continental dishes.
The well-decorated interior of the Civic Center, Victoria Island, Lagos was at once both a classic concert setting and a banquet for the royalty. The mood was induced with theatrical display of lights that combined seamlessly with well-distilled sound. For his technical team, Cobhams flew in US-based, lightning expert, Charles Ford who has done lights for the likes of Chris Brown, Prince, TraySongz. Sola Raji of P3Multimedia LLC Texas also came on board as the sound and technical consultant for the command performance.
Tagged the For You Album Launch Concert, the album release was witnessed by corporate and bank executives, artistes, Christian community leaders and captains of industries.
Some of the well-known personalities in attendance included Sammie Okposo, Falz, Waje, Omawumi, Toke Makinwa, Seyi Shay, Yemi Alade, Timi Dakolo, TY Mix, Paul Okoye, Kamal Ajiboye, Gloria, Elvina Ibru and Nosa. Other eminent personalities at the occasion include Atedo Peterside, the chief launcher, Dr. Tony Rapu, Adesuwa Onyenokwe and former First Lady of Cross River state, Mrs. Onari Duke.
Like an appetizer, the duo of Fome Peters and Edaniels, both talented artistes, set the tone for the evening in separate live performances. Their brief performances provided a fodder for what was to come.
Dressed in sparkling white tuxedo with black collar outlines, Cobhams was ushered on stage by compere, IK Osakioduwa amidst a rapturous ovation. He was led onto the stage by his beautiful wife, Ojuola Asuquo who stepped aside once Cobhams was seated by his piano. From that moment, it was about the music.
With lyrics displaying on the giant LED screen, Cobhams complemented with his full band and background vocalists. He opened with the first song on his album, Make Our Hearts and continued flawlessly with other tracks.
A highpoint of the concert was the ceremonial unveiling of the album which was performed by Atedo Peterside, chairman of Stanbic IBTC Holdings Plc and Cadbury Nigeria Plc and his wife Mrs. Dudu Peterside. After the unveiling of the album, physical copies officially went on sale along with digital platforms including iTunes, Apple TV, Music+, Spotify, Amazon, Googleplay.
In between Cobham's performance was an interview session with popular TV show host and magazine publisher, Adesuwa Onyenkwe. While fielding questions, Cobhams explained frankly that he had to wait patiently for the right time. He said further that while the album might be classed a gospel album, it had a broad appeal to humanity in general with themes of societal transformation and love.
According to Cobhams, the For You album is a product of five years of labour and cost as much as $100,000 to produce. He went on to leave no one in doubt that a new career phase has started with broad plans for national and international road tour.
As they say that every journey begins with a step, for Cobhams, that step will begin with the first stop of the For You Album Tour on Sunday, March 28th at the Pistis Centre, Lekki after the fourth round about, Lagos.
EFCC quizzes ex-Women Affairs Minister Pauline Tallen over N2 billion fraud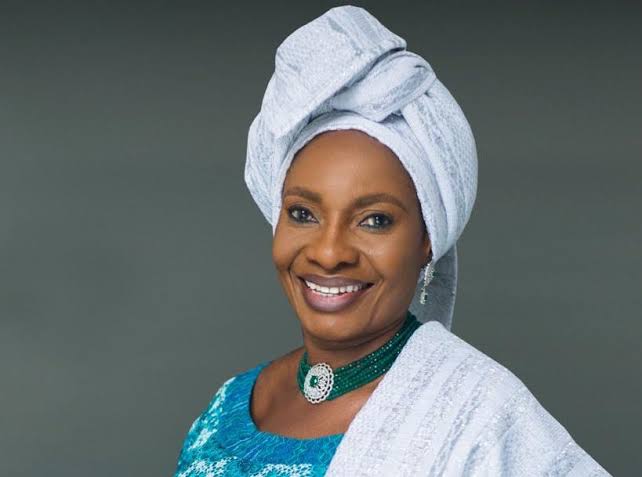 The Economic and Financial Crimes Commission (EFCC) on Friday quizzed the former Minister of Women Affairs, Pauline Tallen, over alleged fraud.
A source close to the commission said the ex-minister, who arrived at the Abuja zonal command of the commission on invitation at noon, was still being grilled by investigators of the commission till late Friday night.
Though details of the allegations against the ex-minister were sketchy, a source familiar with the case informed that it bordered on alleged corrupt enrichment to N2 billion.
Part of the money was allegedly diverted from the African First Lady Peace Mission Project.
The spokesman of the commission, Wilson Uwujaren, could not be reached for confirmation.
Gov. Makinde Appoints Perm. Secs, Accountant General, Executive Secretaries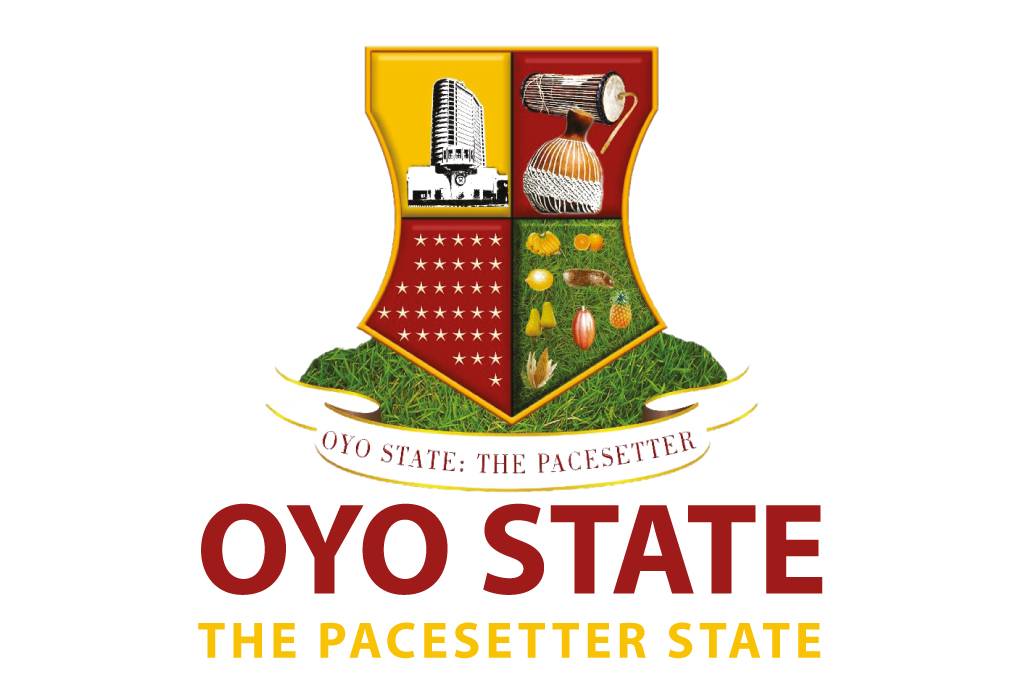 Governor Seyi Makinde has approved the appointment of Kikelomo Adijat Adegoke as the substantive Accountant General of Oyo State.
The Head of Service, Mrs. Olubunmi Oni mni, made this known in a statement on Friday in Abuja.
Oni said the appointment took effect on Thursday, May 26, 2023.
The Oyo State Governor has also approved the appointment of eleven Permanent Secretaries in the civil service.
The Permanent Secretaries include: Dr. Olabode Ladipo; Dr. Oyewole Tunde Aremu; Abosede Esther Owoeye; Ismail Abass Adebukola Bioku; Folajinmi Daramola Oni; Dolapo Oluremilekun Popoola; Hakeem Toyin Salami; Tajudeen Raji; Paul Amole Okunloye Oyekunle; Bassir Kolawole Kazeem and Taiwo Olafimihan Adewale.
Governor Makinde also appointed two Executive Secretaries. They include Olusola Orobode and Muibat Olaide Lasisi.
The Head of Service said the appointments came as a result of thorough screening and outstanding performance of the affected officers.
Austin Avuru's books now available following vacation of court orders.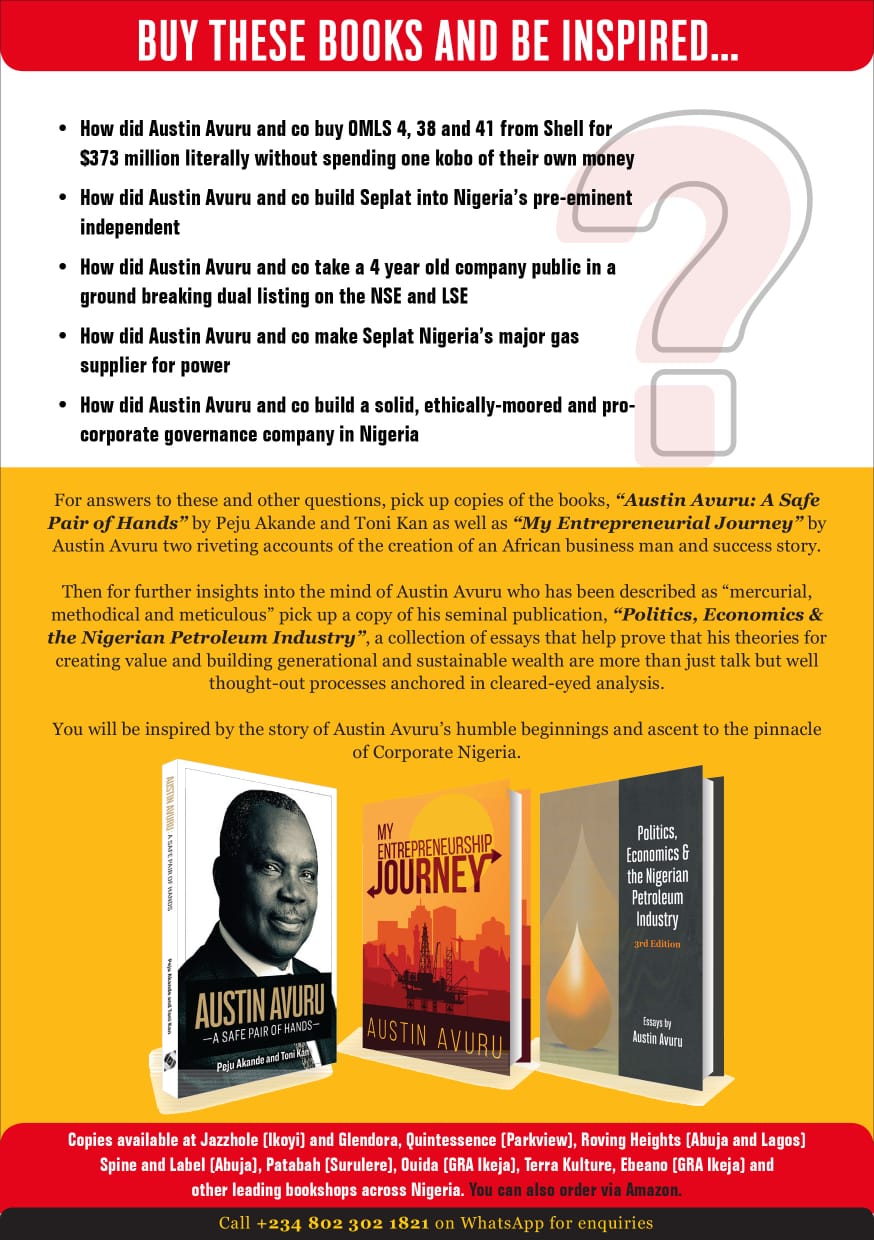 Austin Avuru's books are now available for purchase following the vacation of court orders issued by Federal High courts in Abuja and Lagos.
The Abuja court issued the injunction in July 2022 following a motion exparte filed by Tochukwu Peter Tochukwu, Esq but moved by Nsikan Samuel Ekpeyong Esq with motion No. M/9442/2022 dated 26th Day of July 2002 at an an Abuja High Court presided over by Justice SB Belgore.
The injunction was issued days to the scheduled public presentation of the books – My Entrepreneurship Journey and Politics, Economics and the Nigerian Petroleum Industry all by written by Austin Avuru – Founding CEO, Seplat Energy. The third book, Austin Avuru: A Safe Pair of Hands is a biography of the mercurial and methodical oil man written by the duo of Peju Akande and Toni Kan
Avuru had informed his invited guests of the suspension of the event and sale of the books via an e-message personally signed by him: "this event has been suspended by an Abuja High Court Injunction. Our lawyers are at work and, when we are permitted, we shall re-assemble at a later date."
The retirement party and book presentation event had been scheduled for the 4th of August, 2022 at the Eko Hotels and Suites Victoria Island.
The court order had, among other prayers, restrained "the defendants, their privies, assigns, agents and howsoever described from proceeding to temper with the res – by taking any step geared at releasing or public presentation of the book titled or any other book(s) or any other venue pending the hearing and determination of the motion on notice."
With the vacation of both injunctions, the reading public and friends of the author can now purchase copies of the books – My Entrepreneurship Journey, A Safe Pair of Hands and Politics, Economics and the Nigerian Petroleum Industry – from leading bookshops like Jazzhole, Terra Kulture, Quintessence, Glendora, Roving Heights, Spine and Label, Patabah etc as well as via amazon.com.
The books provide incisive and unique insights into the Nigerian oil and gas industry with special emphasis on the emergence of indigenous oil and gas players as well as Avuru's place in the mix as founding partner and pioneer CEO of Seplat Energy Plc, a Nigerian and African success story that is listed both on the Nigeria and London Stock Exchange..
Geologist and publisher, Toyin Akinosho described My Entrepreneurship Journey as "a narrative on how to build, grow and sustain an upstream oil company" and "a masterpiece of economic and business analysis," while A Safe Pair of Hands has been described as telling "a compelling story of excellence, resilience, doggedness and that unique can-do Nigerian Spirit," and a "must-read for anyone who believes in potential."
The third book, Politics, Economics and the Nigerian Petroleum Industry, is made up of 74 essays written and published between 1991 and 2022, in which Austin Avuru, "oil man, corporate mandarin and public intellectual shows by the example of thriving companies he has founded, nurtured and built into successful enterprises that his theories for creating value and building generational and sustainable wealth are more than just talk but well thought-out processes anchored in cleared-eyed analysis. In the book, Avuru provides clear insights that should guide policy and decision making at the highest levels."