Atedo Peterside, Onari Duke, Yemi Alade, Timi Dakolo, Waje, Storm Cobhams Asquo's Album Launch
For 16 years Cobhams Asuquo has worked behind the scenes helping artistes achieve their album dream, but on Sunday, March 12th Cobhams stepped into the spotlight and launched his highly-anticipated debut album at an exclusive high-profile command performance.
In tune with character, Cobhams who is known for his touch of brilliance pulled all stops to deliver a concert that left a lasting impression on the minds of the audience. With companies like Wisemen Apparel, Malta Guinness, BillionaireBet as co-sponsor of the concert, guests were feted with world-class music and a delicious menu of intercontinental and continental dishes.
The well-decorated interior of the Civic Center, Victoria Island, Lagos was at once both a classic concert setting and a banquet for the royalty. The mood was induced with theatrical display of lights that combined seamlessly with well-distilled sound. For his technical team, Cobhams flew in US-based, lightning expert, Charles Ford who has done lights for the likes of Chris Brown, Prince, TraySongz. Sola Raji of P3Multimedia LLC Texas also came on board as the sound and technical consultant for the command performance.
Tagged the For You Album Launch Concert, the album release was witnessed by corporate and bank executives, artistes, Christian community leaders and captains of industries.
Some of the well-known personalities in attendance included Sammie Okposo, Falz, Waje, Omawumi, Toke Makinwa, Seyi Shay, Yemi Alade, Timi Dakolo, TY Mix, Paul Okoye, Kamal Ajiboye, Gloria, Elvina Ibru and Nosa. Other eminent personalities at the occasion include Atedo Peterside, the chief launcher, Dr. Tony Rapu, Adesuwa Onyenokwe and former First Lady of Cross River state, Mrs. Onari Duke.
Like an appetizer, the duo of Fome Peters and Edaniels, both talented artistes, set the tone for the evening in separate live performances. Their brief performances provided a fodder for what was to come.
Dressed in sparkling white tuxedo with black collar outlines, Cobhams was ushered on stage by compere, IK Osakioduwa amidst a rapturous ovation. He was led onto the stage by his beautiful wife, Ojuola Asuquo who stepped aside once Cobhams was seated by his piano. From that moment, it was about the music.
With lyrics displaying on the giant LED screen, Cobhams complemented with his full band and background vocalists. He opened with the first song on his album, Make Our Hearts and continued flawlessly with other tracks.
A highpoint of the concert was the ceremonial unveiling of the album which was performed by Atedo Peterside, chairman of Stanbic IBTC Holdings Plc and Cadbury Nigeria Plc and his wife Mrs. Dudu Peterside. After the unveiling of the album, physical copies officially went on sale along with digital platforms including iTunes, Apple TV, Music+, Spotify, Amazon, Googleplay.
In between Cobham's performance was an interview session with popular TV show host and magazine publisher, Adesuwa Onyenkwe. While fielding questions, Cobhams explained frankly that he had to wait patiently for the right time. He said further that while the album might be classed a gospel album, it had a broad appeal to humanity in general with themes of societal transformation and love.
According to Cobhams, the For You album is a product of five years of labour and cost as much as $100,000 to produce. He went on to leave no one in doubt that a new career phase has started with broad plans for national and international road tour.
As they say that every journey begins with a step, for Cobhams, that step will begin with the first stop of the For You Album Tour on Sunday, March 28th at the Pistis Centre, Lekki after the fourth round about, Lagos.
ONDEA Unveiled as Headline Sponsor For 2023 Lead Awards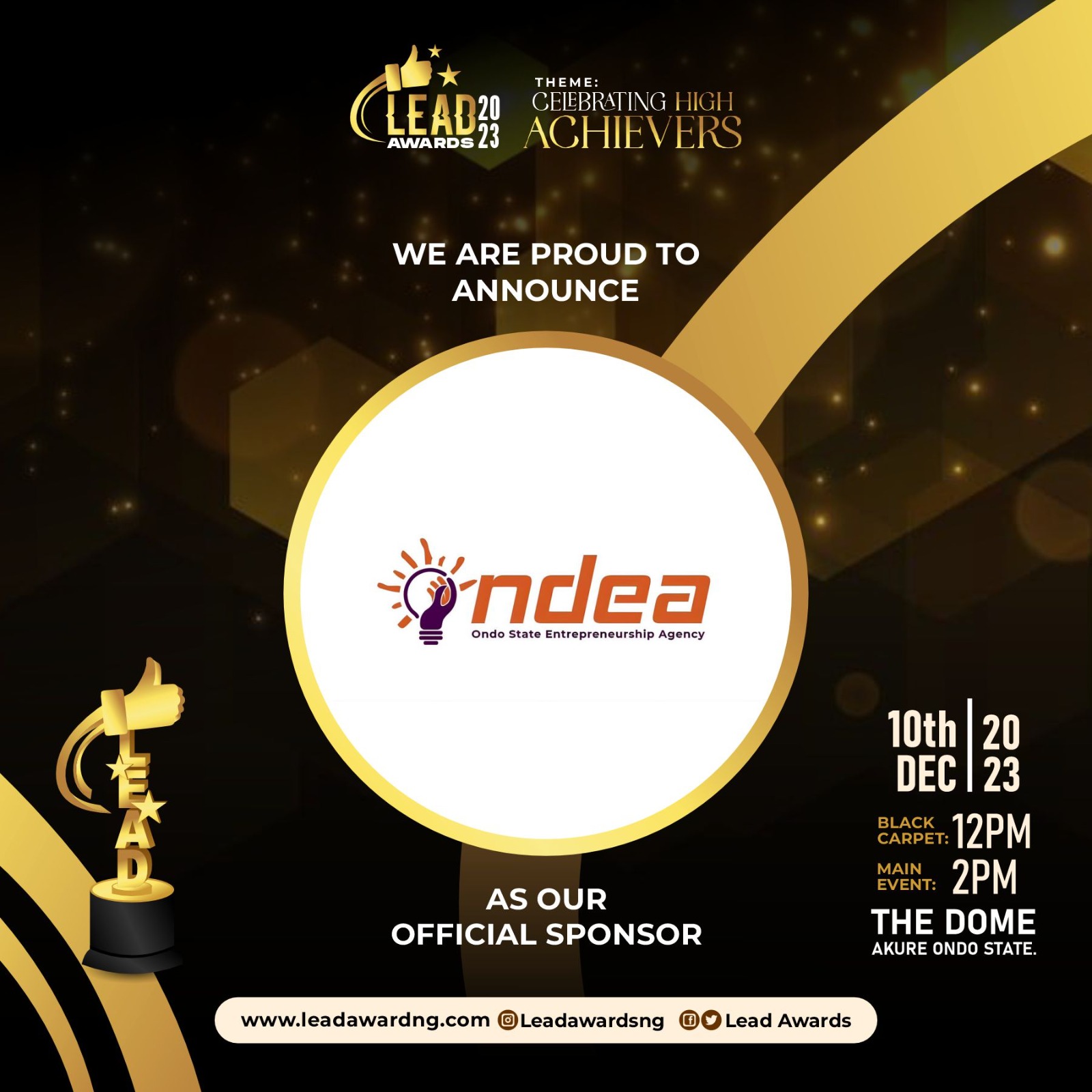 Project Lead Africa is thrilled to announce Ondo State Entrepreneurship Agency (ONDEA) as the official sponsor for the 2023 Leadership Excellence and Dignity Awards. According to the organizers, the 2023 Lead Awards ceremony promises to be bigger and better, with the support of leading organizations driving innovation and growth within and outside Ondo State.
In a press statement made available to journalists in Lagos, the Principal Consultant and Executive Director, Project Lead Africa, Mr. Abiola Alaba Peters said "We are glad of this collaboration, having Ondo State Entrepreneurship Agency (ONDEA) as our headline sponsor for this year, is such a honor, the aim is to inspire more these generations to keep doing more for our dear Sunshine state".
Also referred to as "Ondo State Most Prestigious" Leadership Excellence and Dignity Awards is an annual award ceremony that celebrates individuals and organizations that are proudly Ondo State indigenes.
Themed, 'Celebrating High Achievers", "the 2023 Lead Awards aims to unearth the giants of the Sunshine state that are yet to be celebrated" says the Project Director, Adebukola Oba, who also confirmed that the event will showcase a new wave of super creative and talented individuals, including organizations that are eager to take Ondo State to the next level.
On his part, the Special Adviser to the Ondo State Governor on Entrepreneurship Development, Dr. Summy Smart Francis (hc) stated that the ONDEA's decision to sponsor the 2023 Lead Awards was borne out of the desire to inform, educate and encourage creative's and other professionals, particularly young people in Ondo State.
Mr. Smart who is also the founder and President Africa's Young Entrepreneurs (A.Y.E) while thinking His Excellency, the Executive Governor of Ondo State, for providing the platform for young people to thrive in the state, express his enthusiasm to speak and interact with fellow compatriots at this year Lead Awards.
While Lead Awards aim to drive collaboration, foster partnerships, and provide a platform for quality leaders to share insights that can shape future generations, Ondo State Entrepreneurship Agency (ONDEA) which is an initiative of Akeredolu led administration, aimed at providing professional guidance to local entrepreneurs, empowers SMEs and MSMEs in Ondo State.
Associate sponsors for the 2023 Lead Awards include Dejavu Hotels, AutoProbe, Shaunze Royal and Aristo Games & Bristrol among others.
EFCC ARRAIGNS COUPLE FOR ALLEGED N2.7BN FRAUD IN LAGOS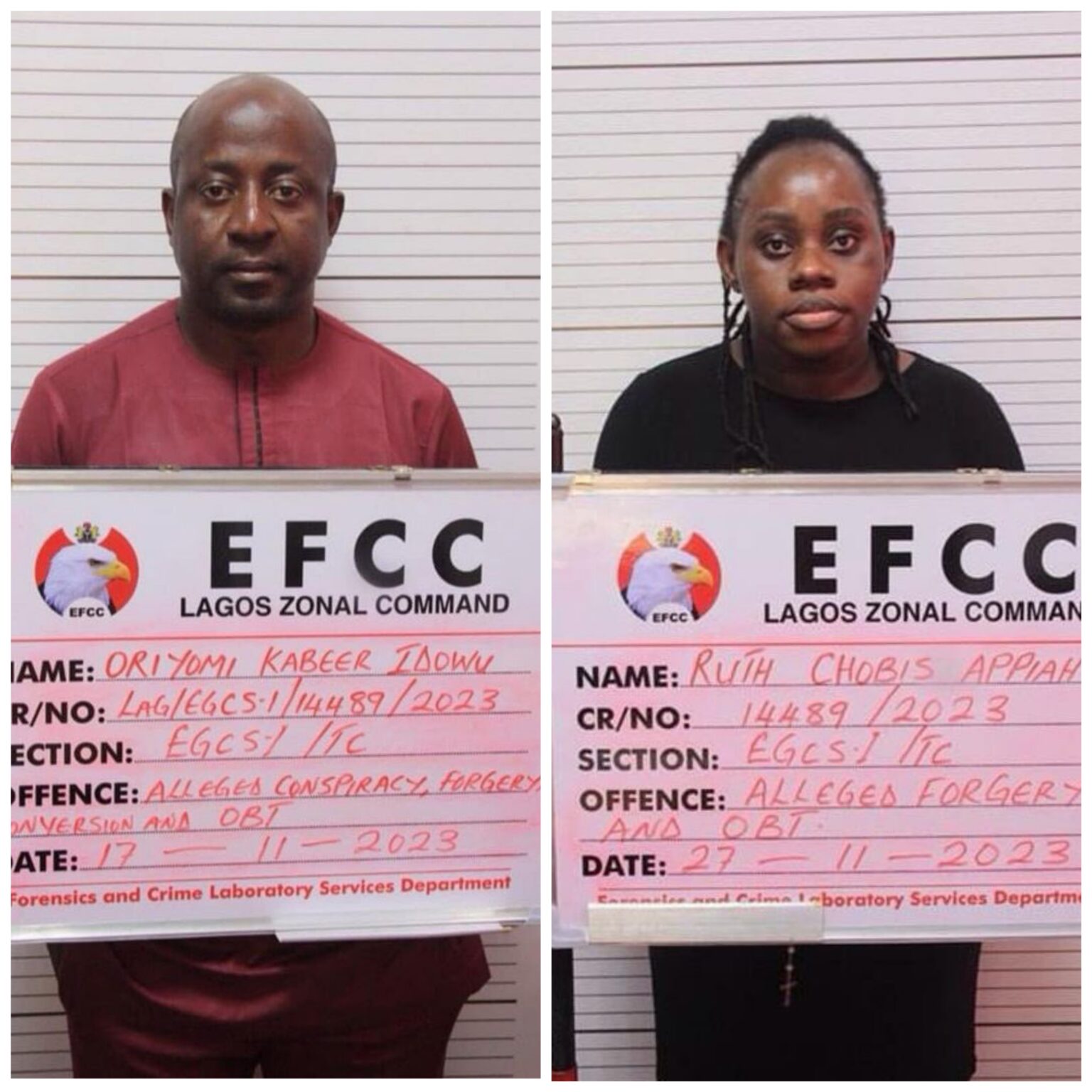 The Economic and Financial Crimes Commission, EFCC, on Tuesday 28 November arraigned a couple, Oriyomi Idowu and Ruth Idowu, before Justice Mojisola Dada of the Special Offences Court sitting in Ikeja, Lagos on 20-count charges bordering on obtaining money by false pretence, money laundering, stealing, retention of stolen property, and forgery to the tune of N2,757,188,000.00 only.
The couple were arraigned alongside Food Commodity Processing Enterprise, Bonway Food Processing Company Limited, Samee Idowu Company Limited and Farmex Integrated Companies Limited, which all belong to Ruth Idowu.
One of the counts reads: "Ruth Sameeha Idowu, aka Loiry Ventures, Oriyomi Kabeer Idowu, aka Yocli Ventures, Food Commodity Processing Enterprise, Bonway Food Processing Company Ltd, Samee Idowu Company Limited, Farmex Integrated Companies Limited, sometime in 2023 in Lagos, within the jurisdiction of this Honourable court, converted the sum of N10,000,000 to purchase a GLK Benz, purchase sum derived from converting the sum of N500,000,000 belonging to Creditpro Business Support Services with the aim of disguising the illegal origin of the funds."
Another count reads: "Ruth Sameeha Idowu, aka Loiry Ventures, Oriyomi Kabeer Idowu, aka Yocli Ventures, Food Commodity Processing Enterprise, Bonway Food Processing Company Ltd., Samee Idowu Company Limited, Farmex Integrated Companies Limited, sometime in 2023 in Lagos, within the jurisdiction of this Honourable court, dishonestly retained the sum of N936,619,876 in your UBA bank account, property of Creditpro Business Support services knowing same to be funds fraudulently obtained from Creditpro Business Support Services."
The defendants pleaded "not guilty" to the charges when they were read to  them.
In view of their pleas, prosecution counsel, Bilikisu Buhari, prayed the court for a trial date and the remand of the defendants  at a Correctional Facility.
Counsel to the first defendant, G. Onwubuya, informed the court of the bail application of his client, which had yet to be served on the prosecution.
He prayed the court to remand the defendants in the EFCC custody and also sought a short adjournment for the hearing and determination of the bail application.
In her objection, Buhari informed the court that the holding facility of the EFCC was already overstretched.
She also told the court that the appropriate place, following arraignment, was a Correctional Centre.
The Judge held that there was no bail application before the court for the second defendant, whose counsel, J.J. Ogunyemi, had yet to file.
Consequently, Justice Dada adjourned the matter till December 15, 2023 and ordered that the defendants be remanded at the Correctional Centre "pending hearing and determination of their bail applications".
EFCC Arrests Music Executive, Ogbeni In Lagos For Alleged $250,000 Fraud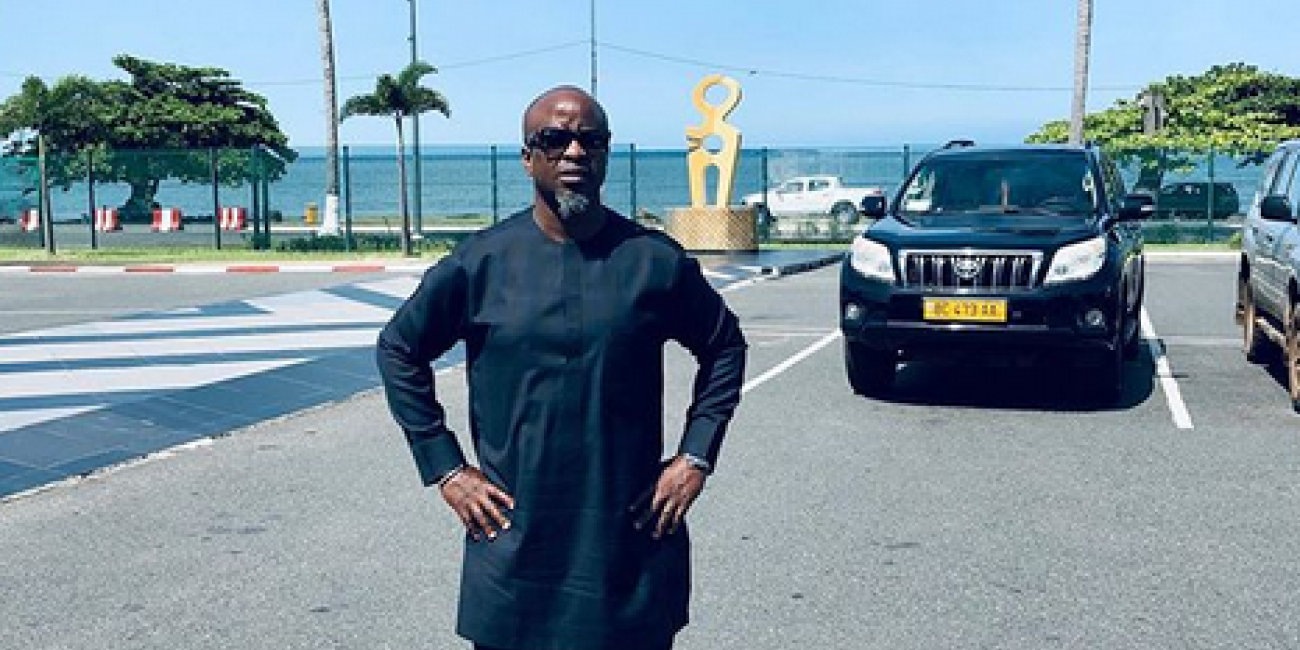 The Economic and Financial Crimes Commission (EFCC) has arrested a Nigerian music executive, Mr Efe Ogbeni, for alleged $250,000 fraud committed in the United States of America.
Ogbeni was arrested in Lagos State on Tuesday by EFCC operatives after he was traced to a hotel in the posh Ikoyi area, SaharaReporters gathered.
A source in the anti-graft commission also confirmed the arrest to SaharaReporters on Wednesday evening.
"He has been arrested by the EFCC. He was arrested at a hotel in Ikoyi, Lagos, on Tuesday," he said.
SaharaReporters had in July 2022 reported that Ogbeni was dragged before a United States District Court of Western Tennessee by Prime Reality Ventures LLC, a Venture Capital Company in the US, for allegedly defrauding the company and its Principal to the tune of $250,000.
The defendants, Onefeme Ogbeni, Olayinka Odunlami and Nelly Wambugu were facing numerous charges on conspiracy of obtaining money by false pretences.
According to the court documents obtained by SaharaReporters, Ogbeni alongside two others committed the crime between July 2021 and September 2021 in the US.
Prime Reality Ventures (the Company), said the suspected fraudsters intentionally and under false pretences presented a dummy investment opportunity in the African oil and gas industry which turned out to be a sham.
According to the company, sometime in July 2021, the defendants approached the organisation and its owners about investing in the African oil and gas market.
"Efe Ogbeni and his co-defendants falsely presented themselves as being versed and having the requisite skill and expertise and contacts in and outside of Africa," it said.
"Interested to diversify their investment portfolio, the company arranged meetings between the plaintiff and the defendants. Along the line, the defendants intentionally told Reality Ventures LLC and owners that there were other investors involved in the project and one of them is willing to sell his equity in the project.
"The Company was asked to wire the sum of $250,000 which will be used in purchasing the equity of Quantex Oil and Gas in the project. The Company was meant to believe that the valuation of Quantex Oil and Gas in the project is worth $10,000,000.
"Relying upon all the representations made by the defendants, on or about September 17, 2021, the plaintiff invested and wired the sum of $250,000 from their bank account at Patriot Bank in Tennessee to the defendants.
"Prime Reality Ventures LLC was asked to wire the fund to Stealth Management Inc, a company allegedly owned by the defendants claiming it had a binding agreement with Quantex Oil and Gas. The plaintiff amongst others is asking for damages of $1m, the repayment of the initial $250,000 invested in the project as well as other costs and expenses of this litigation plus punitive damages," the company said.
SaharaReporters had reported that the case was also referred to the EFCC in Nigeria for further action.