Africa Film Academy: Epe Class Premiers Long Walk To Forever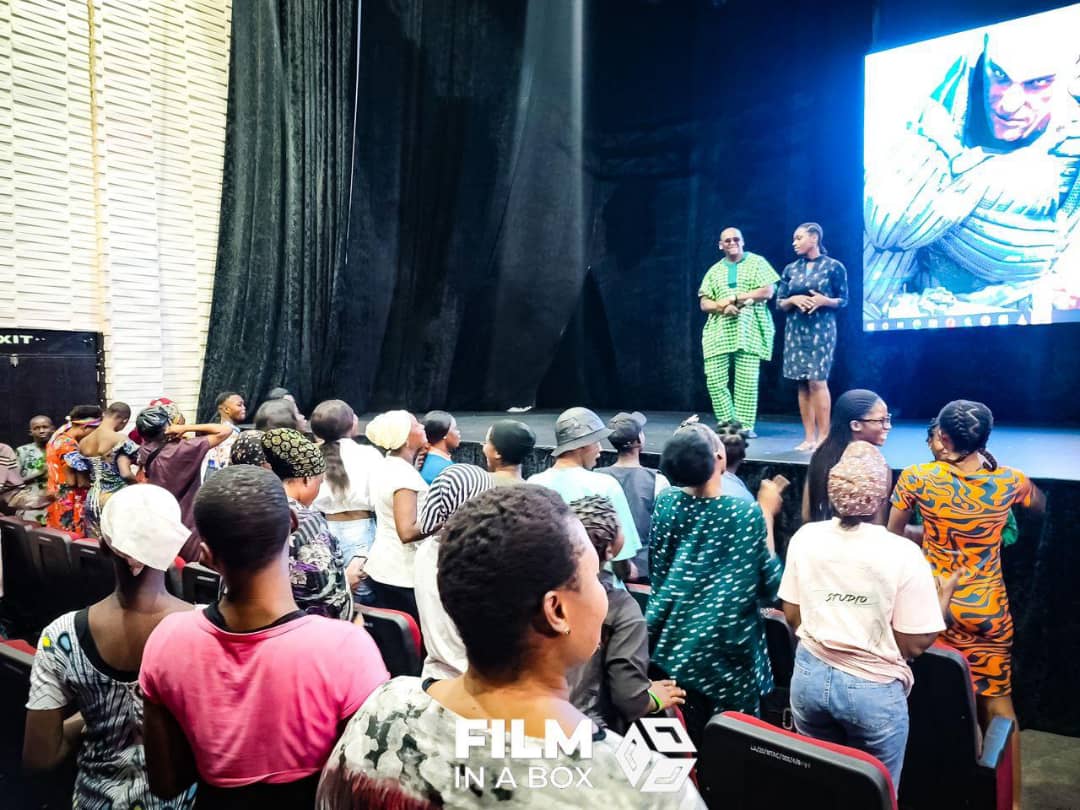 The excited faces and applause at the Lagos Theatre, Epe, Lagos could pass for the performance of A-list acts on the big screen. However, the noise were those of family members, friends, parents and classmates of the Epe class of the film project of students of Africa Film Academy (AFA) – Film in a box -premiering their 10 minutes short film; Long Walk To Forever.
The initiative by Peace Anyiam Osigwe in conjunction with the Lagos state government in building capacity in the entertainment industry in three local governments of Alimosho, Badagry and Epe is yielding positive results.
According to Enwai, the coordinator of the Epe project, the students had a four-week theory before embarking on the practical aspect of the project.
She said:  The purpose of the premiere is towards actualizing their project for Africa Film Academy (AFA). We came in and had a workshop with the students in different departments like acting, directing, scriptwriting, cinematography.  AFA  in conjunction with Lagos State put together a workshop for the indigenes of Epe, creative , people  who are interested in joining the entertainment industry. We had facilitators coming to take the students on acting, directing, scriptwriting , cinematography and then CDGN craft like costume design, makeup, production design, and set design. Unfortunately here in Epe, we have more of the makeup creatives. They finished with their workshop and the students out together a short film to showcase what they have learnt. We are hoping this would help the students move on from here into something bigger.  Lagos state has been good with grants and the rest. We are hoping they get some money and continue from where they have started but basically what happens is that after the workshop , they are broken into companies and each company is going to continue from where they stopped. They put together stuff and hopefully, they would be empowered. We wish for the best for them. We have a mentoring session that hasn't ended should they have any question, project or anything that they need help with."
For Habeeb Seidu,  Head, Strategy and Training, it was an amazing experience  having 220 students participate  in Epe alone which cuts across other areas like sound, editing and same for the film director, Olaoluwa Owoduni, indigene a graduate of Business Administration who described his experience as joyful. He plans to make good use of the knowledge he has gathered to climb to the next level.
The Producer, Toba Obafemi informed that the major cast were 14 but all the 25 students of the class including crew members were given roles.
Peter Chukwuemeka DG, the Executive producer who in his personal capacity has produced a flick is also grateful for the Lagos state for the opportunity and vowed to continue in production, directing and acting.
Though she agreed that her role was challenging and even got to a point of frustration, the lead actress, Nimot Hassan, weathered the storm and currently preparing for greater challenges in acting.
From this smile, one can observe that loverboy lead actor, Olayinka Rotinwa gave a good account of himself on screen.
Assistant director, Oluwaseyi Jimoh said that that it was not his first time in directing but he is happy to be part of the project.
Dickson Omolara Florence, who played the role of the bride's mother debunked her role as not her actual person off screen as she said that she is a gentle and kind woman.
Adding his voice to the many thanks showered on the Lagos state government as well as giving an overview of the project, Dean of the faculty, veteran actor, Keppy Ekpeyong –Bassey said: "What we do is to recruit interested participants in about Nine (9) departments of filmmaking. We have the mandate to capacity build the three local government areas; Alimosho, Badagry and Epe. And we have been doing this six (6) months at a stretch,  we have done it for some time, we have recruited some of the best brains as facilitators in the industry and the good part of it is that they are not just from the academia, we are having working practitioners also sharing experiences. We bring in people like Jide kosoko, probably Saidi Balogun, to share their experiences and encourage the participants at all levels. Today, the students in Epe have produced their first short film. They put a premiere together and that is what they are screening. They are now more motivated now than ever because they have seen themselves for the first time on the big screen. They are hearing the applause from their classmates, parents, friends who they invited and they are realising that they can do it. The important thing is not size of building capacity, it is the fact that it is translative and already they are producing films.
And the next level after this first short film which is like a class project, it is like that in each of the local governments where we are building capacity. We break the students into four companies randomly, everybody is mixed up with all participants and they are challenged to produce films. So, we have repertoire of short films which they have produced and all the things that would be uploaded shortly and you would see what these people have done in a short time is unbelievable. What that means is not that they are the best at teaching, it is the fact that they are hungry. The participants are rather enthusiastic and they also demonstrate a lot of passion and they are translating it. We are really excited about the Lagos state government. This is about the only government that is investing heavily in entertainment. Averagely we have 250 students in each of our local government. In this present exercise, we have built capacity in over 750 people. During the exercise because of the long duration, we give them a meal a day and we found out that some of them are not really as healthy as they look, so there is a medical team that comes in and check their sugar levels, heart beats and subsequently advise them on what to do. The scope our curriculum goes beyond the focal areas , so we included project management , mental health issues, personal hygiene, branding – those key areas to give them a more rounded feel about real life and help them key into that and take off. For instance, we started from Alimosho and since then, they have been producing their own films and sending us what they have done. We broke them into companies so that we can keep supervising what they do. Lagos state has also volunteered to give them loans and grants, all they have to do is, come together of the companies which we have created for them and pitch, then they will consider their pitch and give them grants or loans. It doesn't just stop now, it is a continuous exercise for them. This is a success story for me. I am waiting to see more. This vision of AFA is a Peace Anyaiam Osigwe initiative; the rest of us are just executing on her behalf."
Nigerian pop star D'banj arrested, detained by ICPC Over Fraud…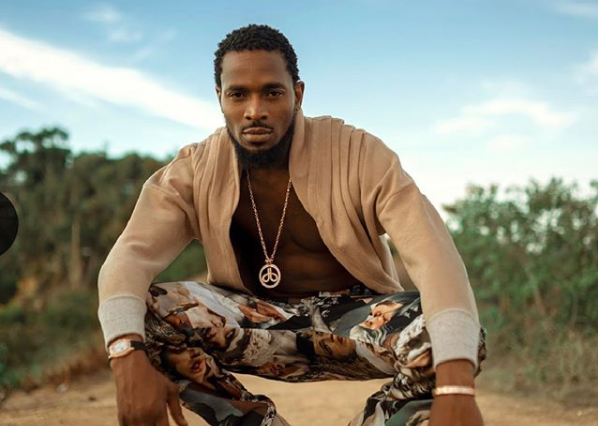 The Independent Corrupt Practices and other Related Offences Commission, (ICPC) has arrested and detained Oladapo Oyebanji, more known by his stage name, D'banj, PREMIUM TIMES can exclusively report.
The musician was arrested and detained Tuesday after ICPC operatives closed in on him, forcing him to surrender himself at the agency's headquarters in Abuja, Nigeria's capital, sources familiar with the matter said.
D'banj, insiders said, had dodged summons for weeks, claiming to be overseas for scheduled concerts each time he was invited to appear for interrogation over fraud allegation.
The pop star, a wealthy Nigerian celebrity, is accused of fraudulently diverting hundreds of naira earmarked by the Nigerian government for N-Power project, an empowerment programme set up by the Nigerian government in 2016 to address youth unemployment and increase social development.
Investigators allege that D'banj colluded with some compromised government officials to introduce ghost beneficiaries into the payroll of the scheme. The stipend paid to those beneficiaries are then paid to accounts that have now allegedly been linked to the pop star.
After the musician failed to show up for interrogation despite multiple invitations, the ICPC moved to arrest him anywhere in Nigeria and abroad, forcing him to show up at the commission's office on Tuesday.
On arrival, D'banj was subjected to a prolonged interrogation session after which he was detained. His plea for administrative bail was rejected by officials who said the musician could not be trusted to attend his trial if released on bail.
Our sources said the ICPC might approach the court on Wednesday for an extended remand order to enable the agency complete its investigation before charging the musician to court.
The spokesperson for the ICPC, Azuka Ogugua, could not be reached to comment for this story. She is said to be attending a programme abroad. Being in detention, the musician too could not be reached for comment
D'banj, 42, also known as the Kokomaster, was born on 9 June, 1980 in Zaria in Kaduna State, north-west Nigeria, to a military officer who commanded an artillery regiment and a businesswoman from Shagamu in Ogun State (South-west Nigeria), his profile on Wikipedia says.
The musician has twins as siblings — Taiwo and Kehinde Oyebanjo.
A songwriter, singer, rapper and television personality, D'banj has been active in the vibrant Nigerian music scene since 2004. He sings afrobeat, hip pop, pop, and R&B.
– Premium Times.
"Jameson" Set To Takeover Lagos At Sinatra Place Ikeja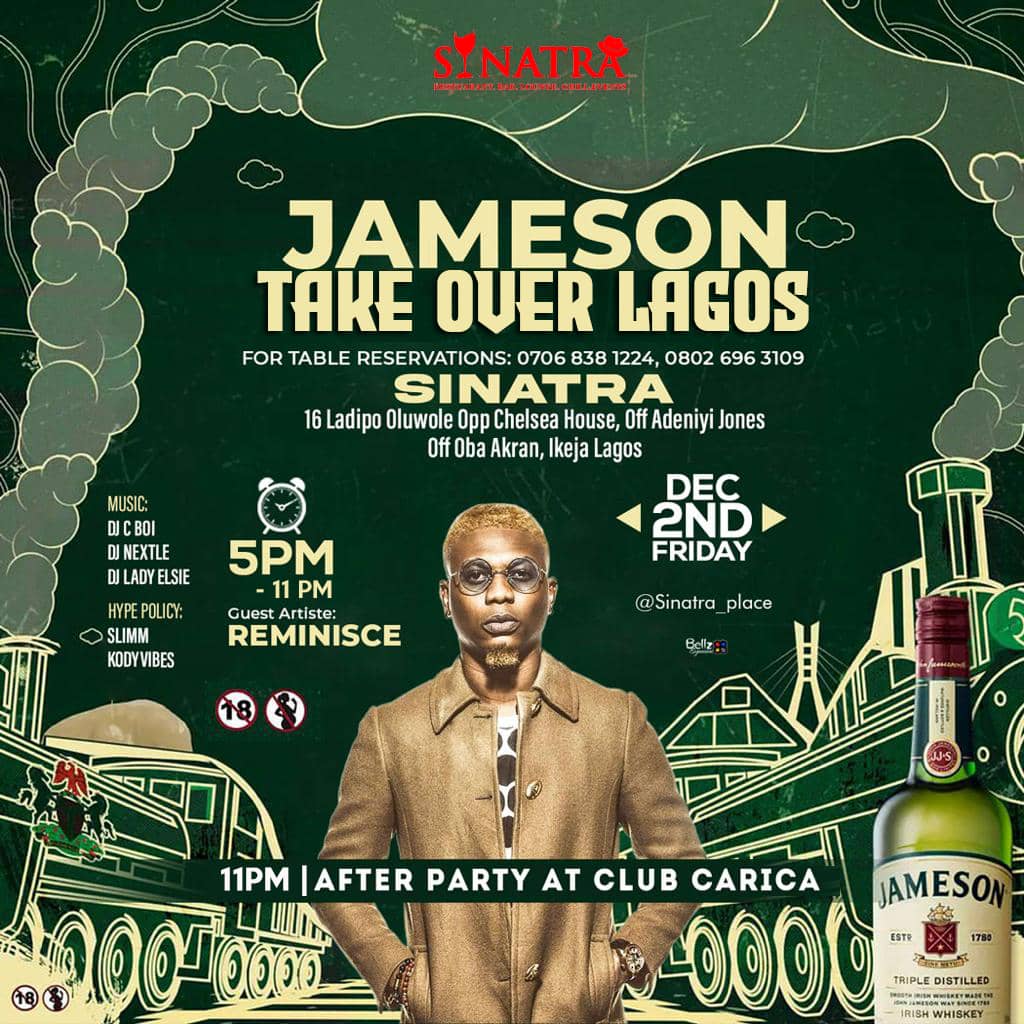 Lagos mainland, the one stop-spot where fun-seekers rev up their nightlife, Sinatra Place is set to bring the fun and enjoyment to the people to usher them into the Yuletide season as they set to staged a show tagged 'Jameson Takeover Lagos'.
The show, sponsored by Jameson Irish Whiskey, is billed for Sinatra Place, 16B, Ladipo Oluwole Street, off Adeniyi Jones, Opposite Chelsea House, Ikeja, Lagos, on the 2nd of December, featuring top Nigerian artist, Reminisce, to thrill fun lovers to an exciting time.
Other entertainers expected at the show that will start at 5pm and end by 11pm include DJ C Boi, DJ Nextle and DJ Lady Elsie while Slimm and Kody Vibes are the hype-man for the day.
There is also another show which is the after party of the 'Jameson Takeover Lagos' at the prestigious Club Carica which will start by 11pm till day break.
According to the General Manager of the hospitality outfit, Tunji Lawal, said, Sinatra is a place for unforgettable fun and memorable events that is why, 'Jameson Takeover Lagos' is going to be an event and a night to remember in the history of entertainment on Lagos mainland.
'We decided to bring Reminisce and many other entertainers for the pleasure of our numerous customers to enjoy themselves in a serene and safe environment.
"Sinatra is a place where the interest of our customers are placed first and this is something we do with quality. we are fully prepared to ensure proper fun and we also guarantee full-time and maximum security. When it comes to premium entertainment in Ikeja and its environs, Sinatra remains the choice, and our previous events have continued to be memorable to our patrons."
8TH AFRICA: SENEGAL'S PRESIDENT, H.E MACKY SALL, HOSTS AFRIMA PRESIDENT, PLEDGES SUPPORT FOR THE 'TERANGA' EDITION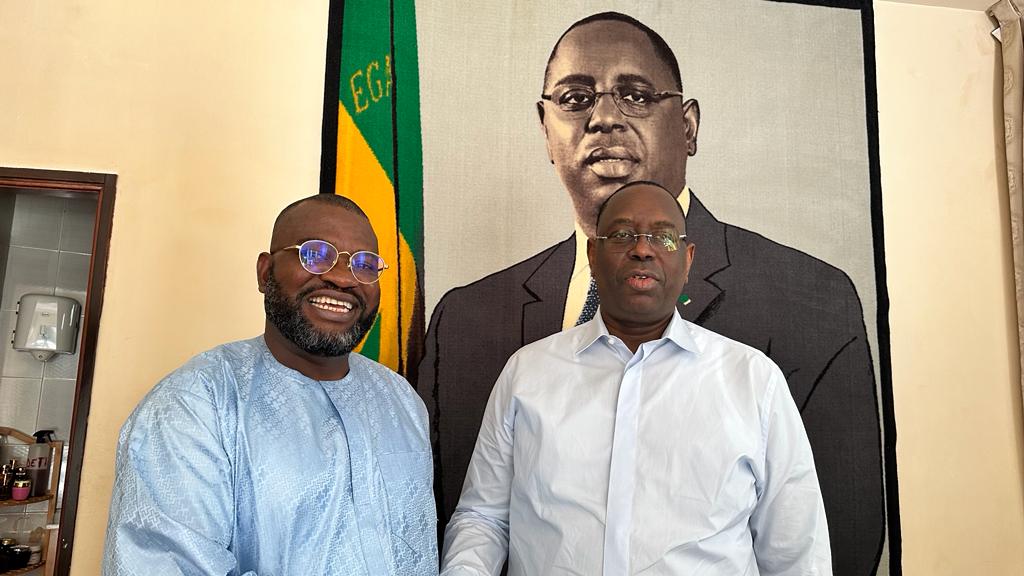 Ahead of the highly anticipated 8th edition of the All-Africa Music Awards (AFRIMA) tagged 'Teranga Edition' scheduled to hold in Dakar, Senegal on 12-15 January 2023, the President of the Republic of Senegal, His Excellency, President Macky Sall, over the weekend, at his official residence in Dakar, hosted AFRIMA's Executive Producer/President, Mr Mike Dada, assuring him of the government of Republic of Senegal's unwavering support towards a successful hosting of AFRIMA in Senegal.
President Sall met with the AFRIMA President, after a world media conference/unveiling ceremony, held at the King Fahd Royal Palace hotel, in Dakar, on November 4, 2022, where Senegal was announced as the official host country by the African Union Commission and the International Committee of AFRIMA.
According to President Macky Sall, who is also the 2022 Chairperson of the African Union (AU) ''The present and future of Africa, particularly Senegal in this case, is very important to our government and the youths represent that future. AFRIMA speaks to the empowerment and engagement of young people in the creative economy as well as the celebration of our continent and global promotion of our cities for tourism benefits, hence the support and partnership from the Republic of Senegal. I am very happy and honoured to host the Teranga edition of the biggest music award in Africa, AFRIMA right here in Senegal, the people of Senegal are excited about this historical feat, given that this is the first time the awards will be held in a Francophone country"
He assured the AFRIMA team and the rest of the world of premium hospitality rights and support from the Senegalese government and her people, to ensure that the 8th AFRIMA will be an impactful, successful, and laudable affair for visitors and the people of Senegal.
On his part, the AFRIMA's President and Executive Producer, Mr Dada thanked His Excellency, President Macky Sall, the government and the people of the Republic of Senegal for undertaking to partner with and host the 8th AFRIMA for the benefit of the Music industry in Africa in general and the creative economy in Senegal in particular. He promised on behalf of the International Committee of AFRIMA to ensure that the Teranga edition will go down in history as AFRIMA's best and biggest edition so far.
As the whole world gears towards the 8th edition of the All Africa Music Awards, AFRIMA, which will be held from January 12 to 15, 2023, African music lovers are encouraged to keep voting intensively for their desired winners, using the voting portal live at www.afrima.org and take part in the events on social media platforms (IG/TikTok – @afrima.official; Facebook – Afrimawards; Twitter – @afrimaofficial; LinkedIn – AFRIMA). The voting process that determines winners at AFRIMA is audited by a globally renowned auditing firm, Pricewaterhousecoopers (PWC).
The event is scheduled to commence on Thursday, January 12, 2023, with a host Country Tour, Courtesy Visit to the President of the Host Country, school visit and gift presentation (as part of AFRIMA's Corporate Social Responsibility), as well as welcome Soiree will be held on the same day at Hotel Terroui -Bi, Dakar. The 4-day event continues Friday, January 13, 2023, with the Africa Music Business Summit at Centre International de Conference Abdou Diouf (CICAD) and the AFRIMA Urban Music Fest at Grand Theatre; while the main rehearsals, media engagements and nominees' exclusive party will be held on Saturday, January 14, 2023; the event will climax on Sunday, January 15, 2023, at the 15000 capacity Dakar Arena with the live Awards ceremony broadcast by 104 TV Stations to over 84 countries around the world.
In partnership with the African Union Commission, AFRIMA is the pinnacle of African music globally