AFRICA DAY 2020: Mass Support from Music Stars as AU, AFRIMA Fight COVID-19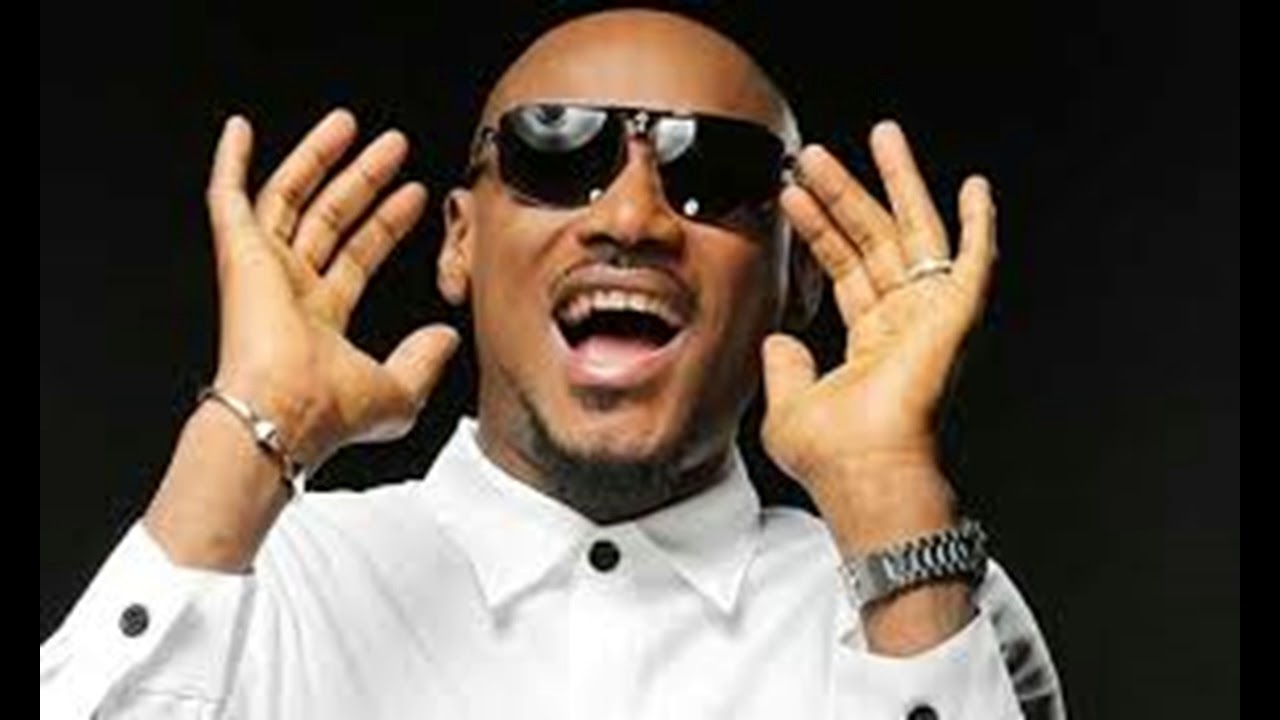 The commemoration of the 2020 Africa Day organized by the African Union, AU in partnership with All Africa Music Awards, AFRIMA held on Monday, May 25 as a virtual live Solidarity Concert for the African Union COVID-19 Response Fund drawing participation and performances from diverse African music talents across the continent and the diaspora.
Broadcast on multiple electronic and digital media channels in Africa, the Concert, staged under the theme: "Health Security in the Context of COVID-19" and featuring electrifying and inspiring live performances from more than 20 African music superstars, also conveyed motivating messages to viewers using the tag #StrongerTogether #StrongerthanCovid.
The Concert opened with the official anthem of the African Union, followed by addresses by the African Union Chairperson, His Excellency,Moussa Faki Mahamat, Commissioner for Social Affairs, African Union Commission, Her Excellency, Mrs. Amira El Fadil during which they appealed for donations in cash or in kind to the Africa COVID-19 Response Fund to aid the AU's fight against the CoronaVirus. Other speakers included the Director, Africa Centre for Disease Control, Dr. John Nkengasong; the President & Executive Producer of All Africa Music Awards, AFRIMA, Mike Dada and the African Union Youth Envoy, Ms. Aya Chebbi who respectively reiterated the importance of collective action and donations to defeat the COVID-19 pandemic in Africa.
However, the highpoints of the Solidarity Concert were captured during various performances by the different music stars that came together to use their influence and talents in a show of solidarity with the African Union and AFRIMA. The carefully curated concert reinforced the pan-Atlantic diversity of the continent's music and showcased a blend of mellow, mid tempo and high-energy performances. In order of performing appearance live from their different locations were: Rudeboy (Nigeria); Pape Diouf (Senegal); Becca (Ghana); Salatiel (Cameroon); Nikita Kering (Kenya); Toofan (Togo); Salif Keita (Mali); Aminux (Morocco); Hiro (DRC); DJ Moh Green (Algeria); Kanvee Adams (Liberia); Daphne (Cameroon); Lizha James (Mozambique): Nadya Shanab (Egypt); Busiswa (South Africa); DJ Spinall (Nigeria); Naiboi (Kenya); Sarkodie (Ghana); 2Baba (Nigeria); Betty G (Ethiopia); Ahmed Soultan (Morocco) and Master KG (South Africa) who closed the Solidarity Concert with his hit single 'Jerusalema'.
In his message after the concert, the International Advisor for AFRIMA, Mr. Rikki Stein, who watched the live stream from London the United kingdom, said,
"That was a beautiful show. I salute all concerned. Whether or not money was raised, the message was, more importantly, strongly and eloquently presented urging viewers to do everything possible and necessary to hopefully avoid another CoronaVirus related disaster or huge loss of lives anywhere on the Continent".
Hosted by three of Africa's finest entertainment personalities; Eddie Kadi (Democratic Republic of Congo DRC); Chidinma Ekile (Nigeria) and Pamela 'Miss P' Happi (Cameroon), main broadcast partners for the event were Trace TV Africa, African Independent Television (AIT); other media partners included: HipTV, Nigezie, WAPTV, Goldmyne TV and Facebook.
The 2020 Africa Day #StrongerTogether Solidarity Concert was aimed at inspiring action with key messages on the prevention, protection and response measures to contain CoronaVirus. The Concert leveraged the power of music and the crucial role of African artists in advocating for the curb of COVID-19 on the continent as well as galvanizing solidarity for financial and in-kin contributions to the Africa COVID-19 Response Fund.
Actress Faithia Williams Calls On Nigerians To Stop Glorifying Fraud.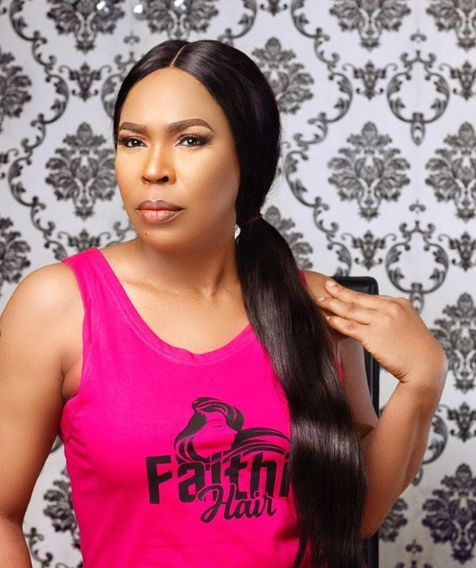 …… Denounces Fake Page Using Her Image To Defraud People
Nollywood actor, Faithia Williams calls on Nigerians to stop glorifying fraud, encouraging it or supporting it weeks after an attempt of impersonation of her by a certain page on Instagram identified as @gra_ce657.
The Instagram page, @gra_ce657 which is currently making use of the actress's image as her profile picture continuously posts pictures of the actress and her giveaway transactions in order to impersonate her and defraud people of their hard-earned money.
Reacting to this, the actress took to her Instagram page to speak on fraud, the negative impact on victims and also denounce knowing the account using her page to perpetuate this evil act, she wrote "I have been informed of @gra_ce657 using my image to scam people all their hard-earned money, let me state this clearly that I do not have anything with this account, scheme or anything that tells people to bring their money. Please beware of this account or any other account using my name or face for any illegal business. Let me state this unequivocally, I know the country is hard and I know a lot of us are trying to survive but please we need to stop doing fraud, encouraging fraud and defending those who do fraud simply because they flash money or they have talent. Fraud is a fraud, it is illegal and it hurts other people. Many have been sent to early graves because of some people's fraudulent activities, it is bad when we use celebrity image or status to scam people. Please note that fraud has consequences and let us not encourage it."
Faithia Williams is a talented Nollywood actress who is well known for her amazing role interpretation skill and for her impact on taking Nollywood to the next level.
American Internet Business School Organises 'Digital Survival Workshop' For Entertainers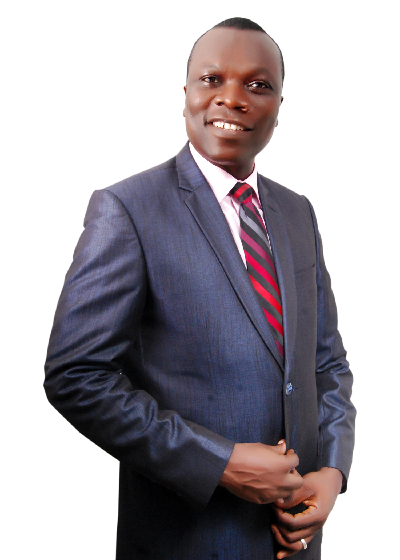 American Internet Business School (AIBS) has announced a free seven days workshop for artistes, musicians, comedians, producers, and entertainment executives.
Dr. Ope Banwo, Chief Executive Officer (CEO) and Founder of AIBS unveiled the workshop from his base in America, as part of a digital business empowerment and awareness initiative for the entertainment industry.
The one of a kind free workshop targeted at operators of the entertainment industry will hold from Monday, June 29th to Saturday, July 4th.
Tagged 'Digital Business Survival Workshop', the online training will avail attendees the opportunity to learn digital business strategies that any creative artiste or executive can tap into to create multiple streams of additional income for their brand, creative works and fan base.
Explaining the rationale behind the workshop, Dr. Banwo said: "The American internet business school recognise that even before the COVID-19 pandemic came and decimated the finances of many individuals and companies in virtually every industry, many creative artistes have struggled to understand how they can generate extra income from their talents, artistic catalog and huge fan basee without the investment of capital, technical skills or digital business experience.
"While most serious creative artists, entertainers, and executives do have some impressive presence online, most have barely scratched the surface of the amazing potential of the internet to multiply the returns on their creative assets and brand and create sustainable levels of income that will far outlast their active days as creative artistes.
"This first of its kind seven days 'Digital Income Survival Workshop', complete with real time case studies of how some of the strategies have been successfully applied in the global marketplace, will provide a simple step by step blueprint that creative artistes, actors, actresses, musicians, producers, and executives can follow in using the internet to create multiple income streams for themselves through their talents, catalog, brand and fan base," Dr. Banwo said.
Highlighting the schedule of the workshop, Training Director at AIBS, Nancy Hicks described the workshop as a special post-COVID-19 economic survival palliative program to provide the much needed strategies for digital monetisation to the highly resourceful and talented members of the entertainment industry.
According to her, AIBS invites all members of the entertainment industry to attend the seven days free breakthrough workshop and get introduced to some very simple streams of digital income that have been specially customized for members of the entertainment industry.
"Every day, for three hours, during the seven days conference, Dr. Banwo and a team from the American Internet Business School will be breaking down one digital business income stream peculiar to the entertainment industry and providing attendees with the blueprint on how they too can get started in monetizing their skills, creative assets, and fan base as entertainers or entertainment executives.
"The seven days workshop is free for all Musicians, Actors, Actresses, Producers, Comedians, Executives and anyone connected with the entertainment industry, but everyone must pre-register to lock down their spot since the digital training room they would be using can provide access to 100 participants only."
Training areas during the seven days workshop include: Affiliate Marketing Income Stream For Creative Industry, Info Marketing Income Stream For Entertainers, Freelancing Income Stream For Creative Artistes, Celebrity Dropshipping Income Stream, Celebrity Membership Sites Income Stream, and Social Media Income Stream For Entertainers.
Affirming the fact that there is indeed a lot to be benefitted from the workshop, Dr. Banwo said: "This is the time for all members of the creative industry to take the ability to generate multiple income streams from their talents, creative assets and fan base to the next level. We encourage everyone involved in the industry to come and benefit,"
The primary objective of American Internet Business School (A.I.B.S.) is to provide modular internet-based training in the form of Online and Live Training; Recorded Training and Home Study courses for doing business on the internet."
The American Internet Business School (AIBS), is renowned for equipping businesses and individuals on how to maximize their productivity and profitability on the internet. Over the years, AIBS has also provided training on key areas of internet business such as brand building, communication, marketing and sales.
For more information visit: www.aibsonline.com/nolly
THE SMELL: A REVIEW ON THE MOVIE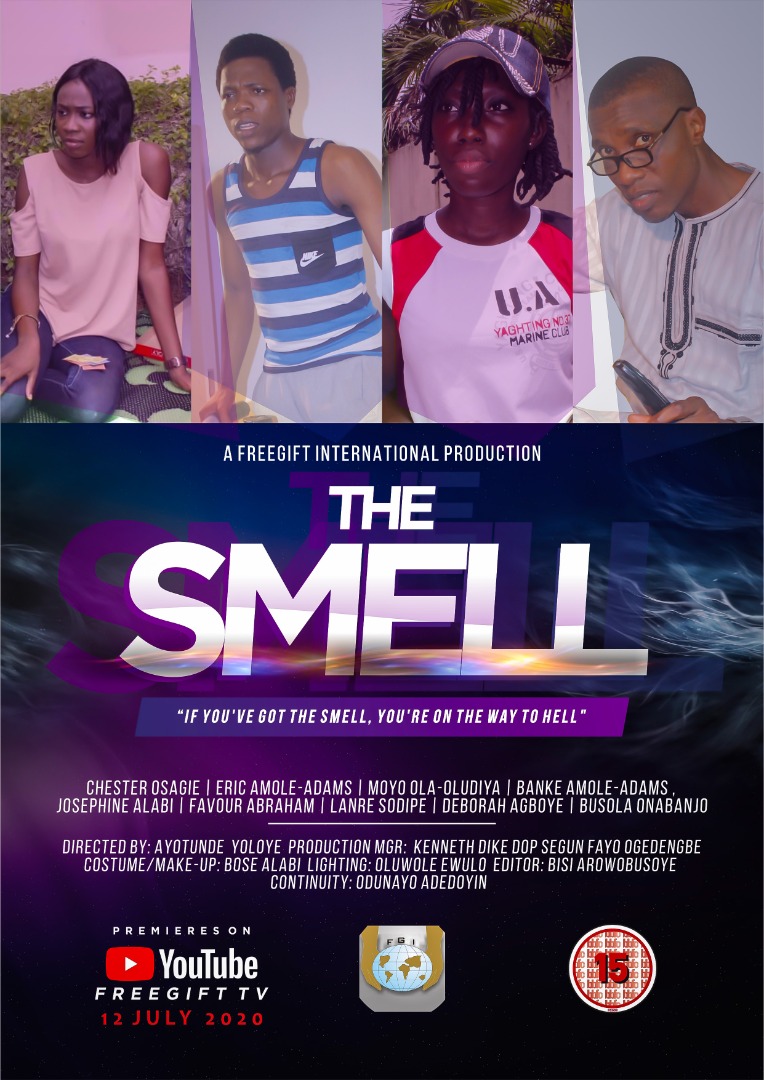 The smell is a new movie produced by Free Gift International Film and theatre Ministry scheduled for release on their YouTube channel FREEGIFT TV on 12 July 2020.
The movie directed by Ayotunde Yoloye is a bold initiative to delve into the many realms of an issue that many are involved in but few people want to talk about. Sex! If ever there was an issue that people need to talk about it is the issue of sex, their sexuality and dealing with sexual pressure (from within and without). The smell talks about it. The movie which was shot on location in Lagos in 90 minutes chronicles the lives of the members of two families that are connected and intertwined by a series of bizarre but yet not uncommon circumstances.
Kate played by Banke Amole-Adams, is a sexually dissatisfied Christian wife that has never really enjoyed sex with her husband but has not been able to communicate this to him. She can share her problems with her close friend Judith (played by Moyo Ola-Oludiya) and leaders in church but not with her husband. In a bid to address this issue she considers using pornography to spice up her sex life. An unplanned pregnancy further complicates her life as she struggles between doing what she knows is right and the easy option of an abortion that will make the problem go away.
Kate's husband Fred played by Eric Amole Adams is unemployed. He is a spiritually sensitive man with a strong passion for evangelism and soul winning. However, he is somewhat inhibited by his weakened financial position and therefore sometimes finds it difficult to put his foot down on issues in his family, particularly when dealing with his wife who is the bread winner of the family.
Mary aged 15, is Kate's daughter played by Deborah Agboye in her first appearance on screen. She is under pressure from her peers to lose her virginity like them. Mary struggles internally not to bow to the pressure but deep down is curious to learn more about and experience the pleasure of sex. Her parents are not talking to her about it so the closest people she has to give her guidance are her friends and Akpan, her parent's houseboy played by Francis Olorunyomi who is constantly looking for young girls he can sleep with. His gentle mien makes him the ultimate (unsuspecting) sex predator.
Kate's neighbor, Deaconess Mary played by Favour Abraham, is a woman who is on fire for the Lord, always actively involved in one programme or the other for the church or ministry. She appears to be in full control of her life, has a happy marriage and a reasonably good relationship with her husband. She is the go to person for many believers for counsel on marital issues particularly on sex related matters. Her husband played by Chester Osagie, is a respected elder in the church. He is a strict disciplinarian who keeps his children and indeed all young people around him on a tight leash, a role his wife really appreciates since her commitment to ministry takes a toll on the time she has available for her children.
Deaconess Mary and her husband have two children – Tony and Feyi each, with personal struggles of their own. Tony played by Lanre Sodipe is a handsome sexually active young man who just must have his regular dose of sex. He doesn't see any problem with having multiple sex partners as long as he takes the right precautions to avoid any unwanted pregnancy. His philosophy is simple: learn how to use your sexual apparatus in your youth so you can enjoy a sexually fulfilling life in future. Once he sets his sights on a woman, he doesn't stop until he has slept with her. His sights are now set on Kemisola (played by Busola Onabanjo in her first appearance on screen), the pretty prude amongst her friends, committed to a life of sexual purity and determined to go to her marriage bed as a virgin. Kemisola is always standing for Jesus in spite of the efforts by her friends to ridicule her or get her to compromise in relationships with the opposite sex. Tony knows this but is still determined to sleep with her anyway.
Feyi played by Josephine Alabi in her first appearance on screen, seems to know a lot more about sex than girls her age. She craves for the attention of her mother who is just too busy working for the Lord to give her the time she needs. Though both her parents are ministers of the gospel she has her doubts about Jesus and his love for her.
As these characters interact with each other some soon get entrapped in a web of lies and the snare of Soul ties and are gradually thrust into the murky waters of sex abuse, Lesbianism, masturbation, pornography, sex outside marriage and the challenge of dealing with sexual pressure in an increasingly sexually permissive world.. Unknowingly they begin to carry unusual smells around and the odour they exude progressively becomes more offensive. Events finally compel them to confront the root cause of the strange smell that follows them.
This movie is a must watch for both the young and old who are sexually active but unmarried, have been sexually abused or are struggling to deal with sexual pressure or deviance. It is a movie for married couples dissatisfied with their sex lives and especially for teenagers and youths under the onslaught of peer pressure for sex. It is an eye opener for parents, church leaders, school teachers and leaders of young people to the multifaceted dimensions of sex and sexuality amongst the youth in today's world. It is a movie for all who seek to be able understand and give sound counsel on the sexual realities and challenges we all face today. It is a movie for all who desire to live sexually compliant lives before God